Critter Catchers Book Two
by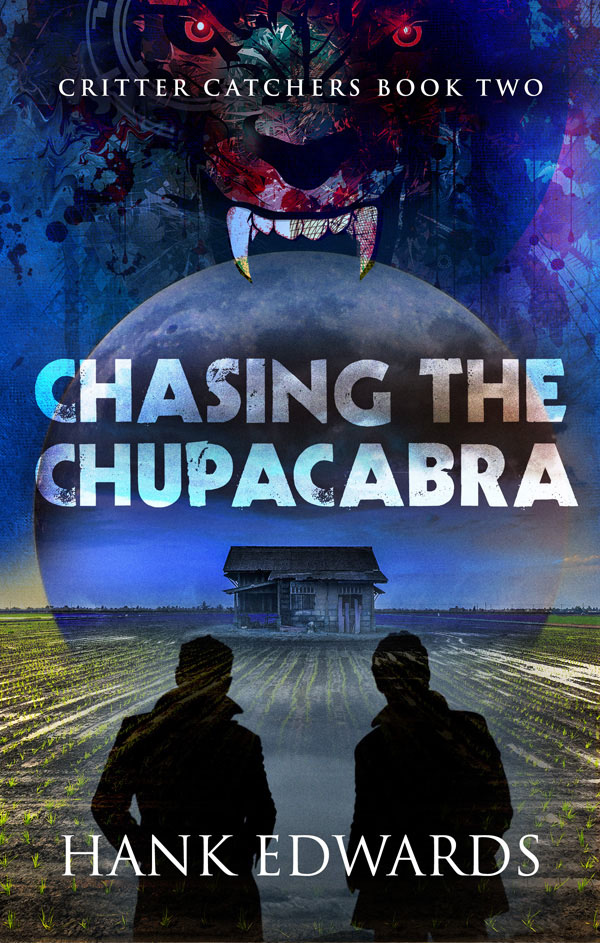 Business is tough for Critter Catchers, the animal control company owned by best friends Demetrius and Cody. Their first big job was a few months ago, but no one likes to talk about it because that critter turned out to be a murderous wolf man. When a new job finally appears, they jump at it, and end up chasing an unidentified creature through the woods around Parson's Hollow. Soon they're smack dab in the middle of another potential paranormal case, complete with a mysterious blood-thirsty creature, a secretive laboratory, and a farmer they're not sure they can trust!
This book is on:
1 To Be Read list
1 Read list
Published:
March 25, 2017
Publisher:
Independently Published
Editors:
Cover Artists:
Genres:
Pairings:
M-M
Heat Level:
4
Romantic Content:
2
Ending:
Click here to reveal
Character Identities:
Bisexual, Gay, Questioning, Straight
Protagonist 1 Age:
26-35
Protagonist 2 Age:
26-35
Tropes:
Friends to Lovers, Gay for You / Straight to Gay, Out for You
Word Count:
43000
Setting:
Parson's Hollow, PA
Languages Available:
English
Series Type:
Continuous / Same Characters
Excerpt:
Demetrius started to turn away from the window to tell Cody to shut the hell up when movement off in the trees caught his attention.
"Hello?" Cody asked. "Oh, now you're giving me the silent treatment? Come on, Demmy, why won't you talk with me about your boyfriend?"
Demetrius kept his gaze locked on the trap in the woods, but raised his hand with his index finger up to Cody to signal him to wait a moment, before saying in a low voice, "I see something."
Cody leaned across the console, his hand warm where it rested on Demetrius's shoulder, and the familiar smell of him—the scent of his deodorant, undercut slightly by the pleasant, salty tang of his sweat—swept over Demetrius. His brain noted it and the familiarity of the smell was oddly comforting even as he kept his gaze locked on the trap in the woods, squinting in an effort to see better in the dark.
"Where?" Cody whispered. "I don't see anything."
READ MORE
"By the trap," Demetrius whispered back.
They stared out the window in silence for a long moment. Finally, Cody moved back to his original position behind the wheel, and Demetrius tried not to notice how cool his shoulder felt when Cody removed his hand from his shoulder.
"Maybe it was a raccoon," Cody said. "God knows we've got a lot of them in this area."
"Yeah. Maybe." Demetrius relaxed a bit. He looked at Cody. "What were we talking about?"
"You were going to tell me how you really, truly feel about Ollie and why you never talk about your boyfriends with me," Cody replied.
"Um, no, that will never happen." Demetrius was about to tell Cody to mind his own fucking business, that Demetrius never pressured him to open up about his feelings for the women he dated, but he never got the words out.
A pale shape darted past the front of the truck, moving fast as it crossed from Cody's side of the truck to Demetrius's side, headed right for the goat pen.
"Oh shit!" Demetrius said, at the same time that Cody said, "Did you see that?"
The goats bleated in unison, like a group of teenagers screaming during a slasher movie. Demetrius could hear them running around the pen as he fumbled for his flashlight. Cody opened his door and got out, the dome light coming on and showing Demetrius the location of his flashlight before Cody slammed the door and it faded out.
"Cody!" Demetrius shouted. "Don't do anything stupid! Wait for me!"
Demetrius stepped out of the truck, took a few steps toward the pen, switched on his flashlight, and stopped to stare. The goats stared back at him, and it looked like they were all accounted for. He did a quick count and determined that, indeed, all of the goats were present and alive.
But of the pale creature that had run in front of their truck there was no sign. Nor was there any sign of Cody.
COLLAPSE