Critter Catchers Book One
by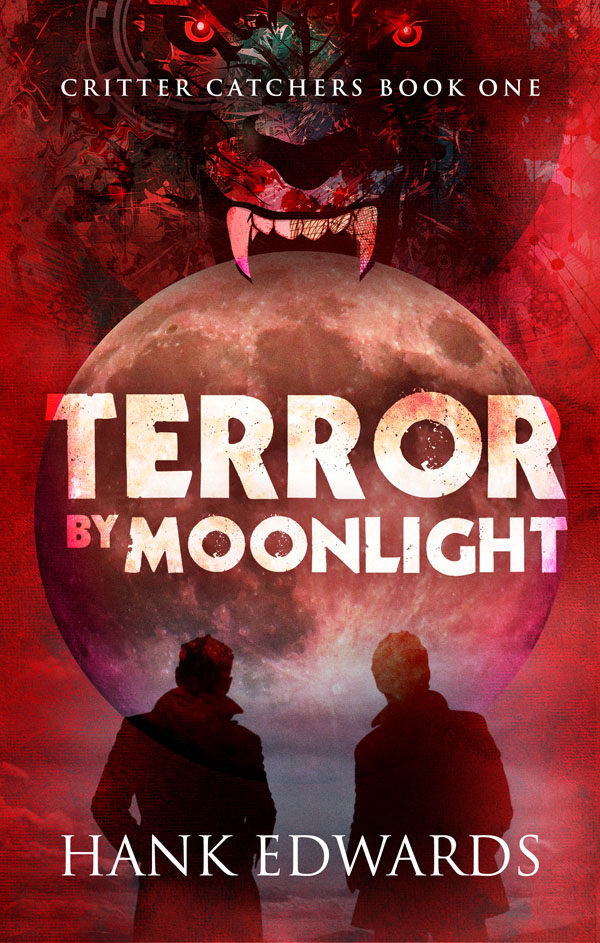 Cody Bower and Demetrius Singleton have been friends for over twenty years even though they are polar opposites. Cody is tall, handsome, athletic, and straight, and Demetrius is average height, more of a thinker, and gay. They have started an animal control business together and have to figure out how to be business partners without letting it affect their friendship, but that's the least of their problems. When one of their first clients ends up brutally murdered in what appears to be an animal attack, the two realize something big and dangerous is stalking their tiny town of Parson's Hollow, and it's up to them to catch it before it kills again.
This book is on:
3 To Be Read lists
1 Read list
1 Currently Reading list
Published:
March 25, 2017
Publisher:
Independently Published
Editors:
Cover Artists:
Genres:
Pairings:
M-M
Heat Level:
4
Romantic Content:
2
Ending:
Click here to reveal
Character Identities:
Bisexual, Gay, Questioning, Straight
Protagonist 1 Age:
26-35
Protagonist 2 Age:
26-35
Tropes:
Friends to Lovers, Gay for You / Straight to Gay, Out for You, Unrequited Love
Word Count:
36000
Setting:
Parson's Hollow, PA
Languages Available:
English
Series Type:
Continuous / Same Characters
Excerpt:
"Thank you for calling Critter Catchers. We're, uh, not in our right fucking minds at the moment and may call you back if we feel like it." Cody mashed the disconnect button and tipped his head back to shout "FUCK!" at the ceiling.
Demetrius shook his head as he sifted through papers on his desk. "I don't really think that message will encourage anyone to leave us their number to bring in business so we can pay off a few of these bills. You might want to rethink your strategy."
Cody looked over, widened his dark brown eyes, and slipped that gorgeous, half-cocky, half-helpless grin into place. "Come on, Demmy, just do this one thing for me, okay? You know I'm not good at stuff like this."
READ MORE
The grin usually worked. Demetrius was a sucker for Cody's grin, had been all the years they'd been friends, but not this time. He had to stand firm, had to get Cody to see that being part owner of a business meant having to do the crappy stuff like phone messages and paperwork and ironing their uniform shirts, and not just the fun field work stuff.
"Nope, not gonna do it." Demetrius shook his head. "Consider it a growing experience for you."
Cody narrowed his eyes before slamming the phone down again. "Fine. I need a moment to collect myself."
"Fine." Demetrius watched him get up and pace the length of their narrow office. Thirty steps to the back of the office, thirty steps to the front, and fifteen feet from side wall to side wall. The office was barely tall enough for Cody's six foot five frame, seemed barely wide enough to accommodate his broad shoulders, and was definitely too small to contain his personality.
"I hope you find your inner phone message muse before someone calls us," Demetrius said. He winced as he opened another bill and saw the amount due. They needed to get some work and soon, or else they'd be forced to close down shop before they'd really even gotten started. Maybe this whole "animal control with heart" business plan hadn't been the right move for them.
"You know, you're being kind of a bitch right now," Cody practically whimpered as he paced by Demetrius's desk. "I mean, we've been friends for twenty-one—"
"Twenty-three," Demetrius corrected automatically as he continued to shuffle through the mail.
"—years now, and you should know the things I have trouble with and the things that are my… well, my strengths." Cody came to a stop right beside Demetrius's desk, his big hands hanging straight down, and a tortured look on a face seven times too handsome for the tiny town of Parson's Hollow.
Demetrius sighed, folded his hands on the stack of unpaid bills, and focused on Cody's dark brown eyes. "Cody Bower."
A slight grin turned up one corner of Cody's mouth. "Demetrius Singleton."
"We have been friends for twenty-three years."
"Twenty-three?" Cody frowned.
"Twenty-three. Ever since kindergarten when you saved me from being beaten up by that fuckwad Shaun Grivet."
Cody sneered. "I hated that kid. Still hate him, actually."
"He is a shit," Demetrius agreed.
"Of the stinkiest variety," Cody expounded.
"Truly." Demetrius cleared his throat. "During these twenty-three years of friendship, I have come to understand your inner workings, and, shall we say, the way you operate."
Cody smirked his seductive smirk and perched one fine, firm ass cheek on the corner of Demetrius's desk. "When you say it that way, it sounds really romantic."
Demetrius sighed and dropped his gaze to the desk, shaking his head. "It would, Cody, if not for the fact that you are unabashedly, undeniably, certifiably straight and I… Well, I am not."
"Fine." Cody pushed off from Demetrius's desk and sat in his chair, lowered almost to the floor as he liked it. He tipped back and put his big boots up on his desk. "You know how a lot of things people do are fun and enjoyable and stay with them the rest of their lives?"
"Yes."
"This is not one of those things."
COLLAPSE