Critter Catchers Book Four
by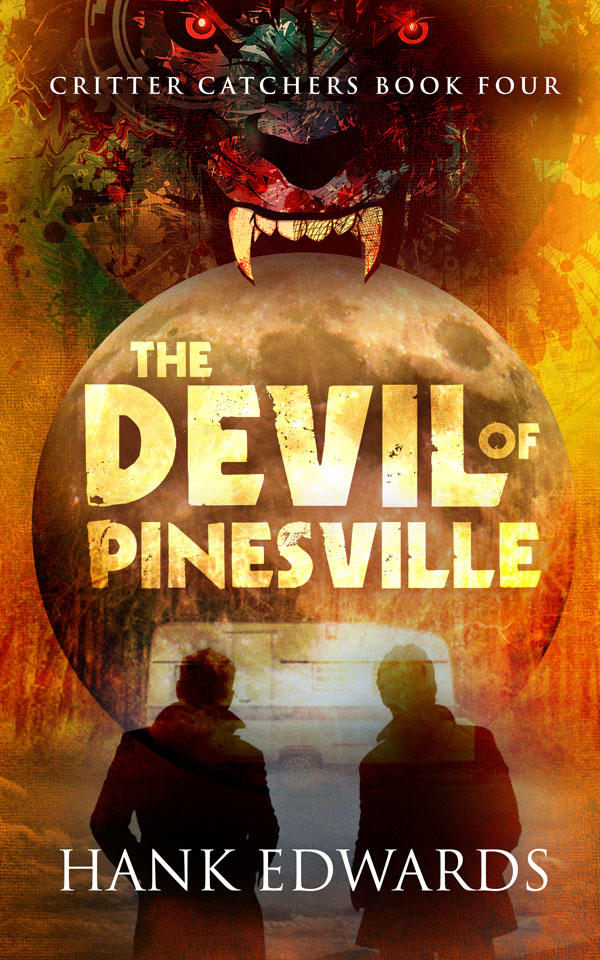 It's business as usual for Critter Catchers Demmy and Cody, with one pretty major change. Now, they're not only juggling their animal control business and decades of friendship, but the beginnings of a romance as well. Cody's always put a time limit on his past relationships, and he's certain he's going to mess things up with Demmy. For his part, Demmy is pretty sure Cody will, too. But trouble arrives in the form of one of Demmy's ex-boyfriends who contacts them about a case they might be able to handle in Pinesville, New Jersey. Sensing not just physical but romantic danger, Cody makes certain to accompany Demmy on the trip.
In Pinesville, they meet up with a handful of residents just as colorful, if not more so, than those in Parson's Hollow. And both are surprised to find they have some competition on this case, namely the Critter Ridders, a pair of very competitive women operating their own animal control business.
As the case intensifies, tempers flare and loyalties are tested, bringing Demmy and Cody to the point where they must decide if they're willing to save the business, their friendship, or their romance.
Published:
October 27, 2017
Publisher:
Independently Published
Editors:
Cover Artists:
Genres:
Pairings:
M-M
Heat Level:
5
Romantic Content:
4
Ending:
Click here to reveal
Character Identities:
Bisexual, Gay
Protagonist 1 Age:
26-35
Protagonist 2 Age:
26-35
Tropes:
Friends to Lovers, Gay for You / Straight to Gay, Out for You
Setting:
Pinesville, New Jersey
Languages Available:
English
Series Type:
Continuous / Same Characters
Excerpt:
Cody set the flashlight on the ground, beam pointed at two of the cages occupied by pacing skunks. He hefted the wet towels, one in each hand, as he looked for the one remaining skunk, of which there was no sign. "And the towels are going to keep their spray from getting out of the cage?"
"That's what the site claimed," Demmy said.
"Well, if it's on the internet, it must be true."
"Are you ready?"
"No."
They stood in place, towels in hand, flashlights on the ground and aimed at the cages.
"How about now?" Demmy asked.
"I'd like to know where that other skunk got off to."
READ MORE
Barking erupted from behind them. It was frenzied and high-pitched, intermixed with shouts of surprise from Jugs. A string of harsh curses quickly followed, and the stink of skunk floated to them on the evening breeze. Moments later, Jugs rushed past them, eyes wide in the glow of their flashlights. His arms were stretched as far out as he could reach, and he held a frantically wriggling Enid Helen.
"She's hit!" Jugs shouted as he ran past. "It got her."
"Guess that answers my question," Cody said.
Demmy nodded. "Let's go."
Cody managed to drape a towel over the first cage with no problem. As he moved to the second cage, he stooped to pick up his flashlight and directed it toward the area of the yard where they'd been sitting. Jugs's lawn chair lay on its side, but there was no sign of the skunk.
With his attention diverted, Cody didn't realize how close he was to the next cage until his foot bumped against it. He cursed as he stumbled over it, the flashlight tumbling from his grip as he stretched out his hands to break his fall. A pungent stink exploded around him. He gagged and turned away to draw in a breath of fresh air as he scrambled to try and stand. His feet went out from under him and he fell flat on his stomach, face turned so he stared at the business end of the elusive skunk. He had just enough time to squeeze his eyes shut and turn his face away before he got blasted a second time.
"Shit!" Demmy shouted from somewhere nearby. "I got sprayed."
Cody kept his eyes closed and held his breath as he got to his hands and knees. He crawled blindly away from the skunks, lungs aching for fresh air. He ran into something and fell on top of it, rolling onto his side as he gasped for breath.
"What the fuck?" Demmy said from beneath him. "Oh, god. You… Skunks!"
Another blast of awful stink erupted around them. Cody's eyes burned and tears streamed down his face as he coughed and gagged, trying to catch his breath. Demmy squirmed beneath him, gagging as well, and suddenly Cody was rolled to the side. He got to his hands and knees and crawled a few feet away. The smell was everywhere, he couldn't get away from it. His nose and throat burned. It felt like steel wool had been packed into his lungs.
He gasped and drew in a deep breath. The searing odor filled his chest and his stomach twisted in revolt. Moments later, everything he'd eaten came up in a burning rush. He blurted out curses between each ugly clench of his gut until there was nothing left. Fuck, he hated throwing up.
A hand touched his back and ran slowly up and down his spine.
Demmy.
And from the lightness of his touch, Cody thought — hoped — that Demmy had forgiven him.
"I covered the three cages," Demmy said. "Can you stand?"
"I can't see anything," Cody said. "It got in my eyes."
"It's all over you. And pretty much all over me as well."
Demmy helped Cody to his feet and they moved away from the cages. The air cleared with each stumbling step, until they reached the chairs. A lingering cloud of skunk stink washed over them and Cody gagged again and went down on one knee.
"Shit." Demmy grunted as he tried to keep Cody on his feet. "This is where Enid Helen got sprayed. Over here. Come on."
Demmy directed Cody across the yard. After they'd staggered a distance from the chairs, Cody went down on his hands and knees. He could barely see his fingers splayed in the thick grass from the tears blurring his vision.
"Fuckin' skunks," Cody managed between coughing fits.
"Stay here," Demmy instructed. "I'll get the hose over here so you can wash your face and flush your eyes."
Cody put his forehead against the cool grass. He took deep, gulping breaths and kept his eyes squeezed shut as he muttered, "Fuckin' skunks."
COLLAPSE