We send out our newsletters on a weekly basis to notify you about new releases, site changes, blog posts and other news. We will never trade or sell your email address.
Every email list sign-up gets five free ebooks. This month's selections are all Paranormal, all from QRI Authors. See the list of books below.
Your books will be sent to you after 7/1. It's a great way to connect with our authors, too. All sign-ups will also be added to our participating author email lists unless you choose to opt out.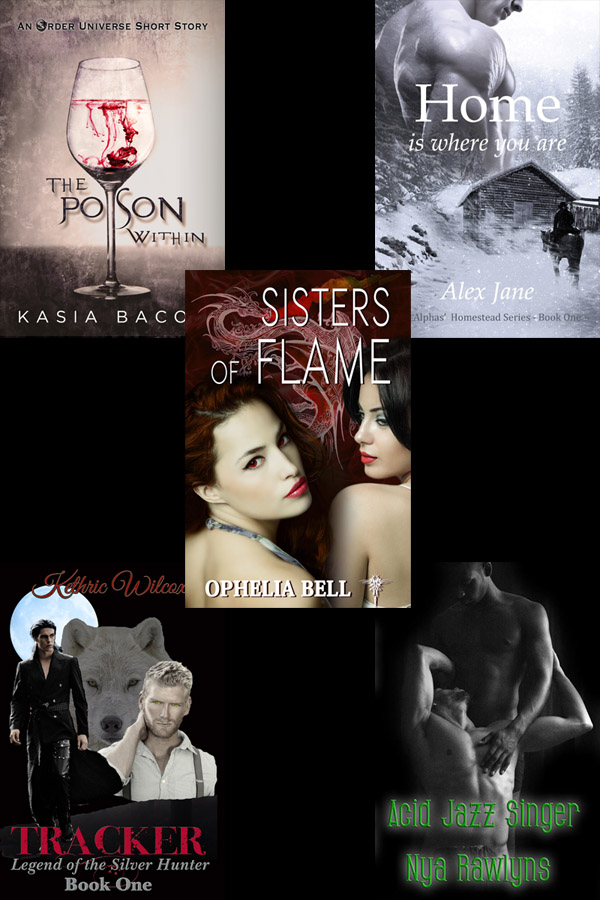 The Poison Within – Kasia Bacon
Black clouds of xenophobia gather over Radvadur, the western province of the Empire. The political climate is strained and fragile. A surge of Nymph refugees has stirred widespread hostility towards non-humans. When the investigation of a gruesome triple murder linked to the refugee camp ensues, it takes Inspector Käyru Skaer and his lover, Count Ellydhar Finn-Jánn, along an unusual path, at the end of which a precious gift awaits. Käyru and Elly are worlds apart in social standing, but they have found common ground in the bedroom—up against the wall and the stable doors, too. The arrangement between them ought to have been temporary and of no consequence. As their circumstances change, will they find the courage to risk their hearts?
Home is Where You Are – Alex Jane
By the winter of 1870, Caleb Fletcher has carved out a sheltered existence for himself in a simple cabin, outside a small town in the backwaters of Nebraska, resigned to living out his days as a solitary wolf. But his quiet life is interrupted when another werewolf lands on his doorstep on the eve of a snowstorm, brutalized almost beyond repair, with nowhere else to turn. When Caleb reluctantly welcomes Jacob into his cabin, and eventually his bed, it forces him to face up to the traumas he's been running from; the shame that made him leave his pack behind, and the horrors of war he endured. As the weeks pass, it seems that Jacob's arrival might not be the coincidence it first appeared. Jacob has an agenda. One that involves Caleb. And if Caleb agrees to it – if he can let go of his past and his prejudices – it will change Caleb's whole world. Maybe even for the better. Without a mate – a family, a pack – a wolf has no home. But what if home finds you?
Sisters of Flame – Ophelia Bell
A Red Dragon's breath is all it takes for most humans to lose their minds with desire. For Erika, all she needs is to lay eyes on her lover, Geva, and she's ready to have his babies. Temporarily separated from the true object of her desire, Erika finds herself increasingly distracted by Rowan, Geva's younger, more powerful, and beautiful sister. It doesn't help that dragons are typically open with their affections, or that Rowan and her pair of mates keep inadvertently taunting Erika with their sexual rendezvous. When Erika is finally offered a chance to fulfill her unending curiosity and longing for a deeper connection with the beautiful female Red dragon, she takes it, and not just because her lover would have wanted her to. After an evening of deep sapphic connection, she may find more than another lover. Will Rowan be able to fulfill a need that Erika didn't even know she had?
Tracker – Kethric Wilcox
Once upon a time there was Beauty and there was the Beast. The spinners of tales would have you believe these two fell in love and lived happily ever after. The spinners lied! The Beast was a shifter and Beauty became a huntress and founded a long line of huntresses aided by the power of silver magic. Kieran Belle is a descendant of the House of Beauty and a tracker who longs to live a life free of killing shifters. Aided by his father he escapes to college in Little Rock, Arkansas where he meets the boy of his dreams, Corwin Cooper. Corwin Cooper is a descendant of a clan of shifters, who has never shifted himself. Having finally decided to go to college, Corwin arrives and meets the mate his inner wolf cries out to claim for his own in Kieran Belle. Ancient prophecy says Kieran is destined to become the legendary Silver Hunter. Dark forces seek to derail prophecy and end the House of Beauty. Can a child of the shifter-hunting House of Beauty and a descendant of shifters find love and happiness or will dark forces and opposing heritage tear them apart?
Acid Jazz Singer – Nya Rawlins
Her name was RayLee. They called her the Acid Jazz Singer, her sultry voice mesmerizing human and demon alike. She'd been running for three years from her maker and only Travis McKenzie stood between her and the darkness that had become her life. Travis hunted the hit squads of demons and paid lip service to the Sheriff of the city. The half-blood had gifts, of the magic, shifting kind—and something more. It made him a stone cold killer and the only thing that mattered in his life was safeguarding the woman he was falling in love with. Vladimira was the oldest of her kind, an enforcer—a gun for hire to the highest bidder. Vamp, human, demon. It didn't matter. It was all about the job … until the stakes changed and she found a reason to care. The singer and the protector had a history. But that history changed when a southern bigot vamp turned Travis' friend into a travesty—neither man, nor woman … but both. Travis fell hard for the trans known as RayLee. He was having a harder time dealing with his best friend, Ray. Then the game changes, and Travis and Ray have to rely on an assassin with a secret agenda and uncertain loyalties. When the demon comes to claim Ray, Travis must walk through the bowels of hell to save the only being on earth he cares about. The problem is … who is going to save Travis from himself?