We send out our newsletters on a weekly basis to notify you about new releases, site changes, blog posts and other news. We will never trade or sell your email address.
Every email list sign-up gets five free ebooks. This month's selections are all Holiday books, and all are from QRI Authors. See the list of books below.
Your books will be sent to you after 11/1. It's a great way to connect with our authors, too. All sign-ups will also be added to our participating author email lists unless you choose to opt out.
Note: Some Safari users are getting a "first line is blank" error when submitting the form. If this happens, email us at scott@queeromanceink.com with your preferred format, and we'll get you added manually. We're working on it.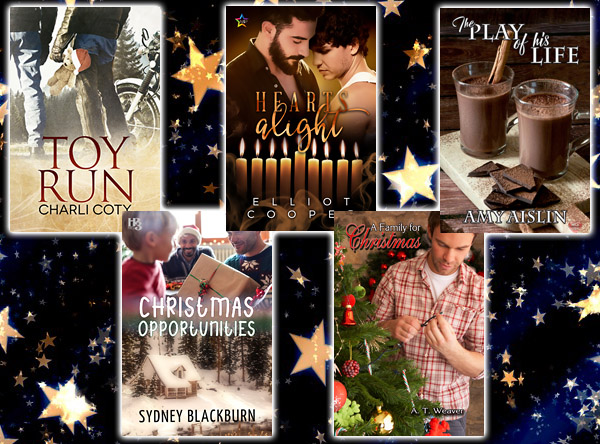 The Play of His Life – Amy Aislin
The last person Christian wants to run into on a visit home to spend time with his mom over the holidays is his former best friend-turned-lover-turned-ex. But there Riley is, in all his tall, chiseled, blondness. The same guy who walked out on him six years ago, breaking his heart in the process. Who knew he's still in love with the jerk? (Oh yeah, he did. What? Who says denial isn't healthy?). Two years ago, Riley was injured out of the NHL, but he's got his own bakery now and a quiet life selling quiches and cupcakes to his customers. Then Christian unexpectedly walks back into his life, forcing Riley to question his choices. Especially that one choice he made six years ago that walked him out of Christian's life. Now if only he had the courage to tell a boy how he really feels about him…
Christmas Opportunities – Sydney Blackburn
Eric is burnt out a work, and struggling with being a single parent since his sister and her husband died in a freak car accident. HIs boss and dear friend decides he needs a winter holiday in Banff to reconnect with his nephew and recharge for work. Brady teaches business at a community college in Banff, aiming for a board position. He partially supports both his mother and his baby sister, and he's not looking for any more family who needs him. But his attraction to Eric is undeniable, even though he knows nothing can ever come of it. Except it might just be Brady who needs Eric and four-year-old Tyler.
Hearts Alight – Elliot Cooper
Dave Cunningham hates the rampant consumerism that's come to dominate his family's Hanukkah celebrations. But a chance to bring a bit of a holiday happiness to his long-time crush, Amit Cohen, helps put him in a more festive mood. In the quest to craft the perfect gift, Dave tries to urge a few personal details out of stoic Amit. Unintentionally, he learns the Cohen family's secret: Amit is a golem. But Amit has a problem that runs deeper than his magical origin, and a Hanukkah miracle might be the only thing that will keep the budding flame between him and Dave from going out.
Toy Run – Charli Coti
Former physical therapist and reluctant loner Ian Bowen has spent the three years since his grandfather's death searching for a man to inspire him to park his Harley—without much hope of finding him. Terrible ideas are one of Ian's specialties so when he shows up for a Toy Run in Oregon and finds ice instead of rain, he's not surprised. Ian meets Ed Gonzalez, another loner with a pile of toys lashed to his bike, and a few beers at the end-of-the-run party turn into an invitation to Ed's for homebrew. Instead of a hot hookup, the unseasonable cold renders Ed immobile with pain. Before Ed can get to his meds, Ian massages Ed's pain away, allowing him a restful night's sleep and creating intimacy neither wants to lose. Ian thinks two men have to follow certain rules to be together, but Ed's prepared to show him how wrong he is.
A Family For Christmas – A.T. Weaver
When Tom and Ken meet, they spend several weeks telling themselves the age gap is too big. However, time and mutual interests change their minds. Through Tom, Ken finds love again, and through Ken, Tom finds a new family to replace the one that threw him away.
SaveSaveSaveSave
SaveSave
SaveSaveSaveSaveSaveSave