Join QRI now for free and get all this:
Six paranormal queer romance eBooks from QRI authors (see below)
Our weekly email newsletter
The ability to add books to your TBR list and "favorite" authors.
Note: by selecting "yes" for your email consent, you are consenting to receive emails from QSF and from each of these authors as well, as noted on the sign-up form. You can unsubscribe from any of those lists at any time. You can also choose "No" and still receive the ebooks.
If you are already a user on the site but were dropped off the newsletter email list when we had to ask everyone to re-consent because of GDPR, you can rejoin here.
Your books will be sent to you after 9/1/18. It's a great way to connect with our authors, too. All sign-ups will also be added to our participating author email lists. We will never trade or sell your email address.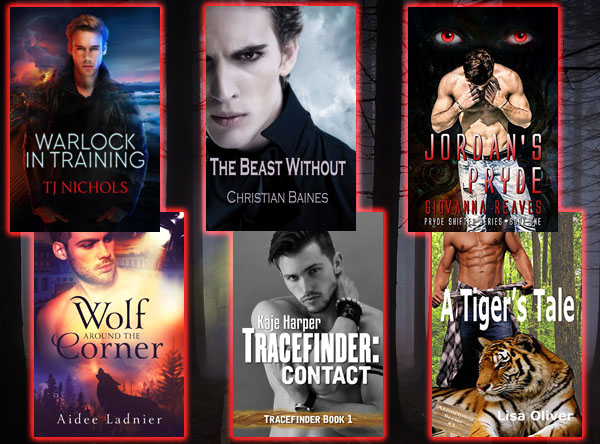 The Beast Without
by Christian Baines
Reylan is everything a Sydney vampire aspires to be: wealthy, handsome and independent, carefully feeding off companions plucked from the gay bars of Oxford Street. When one of those companions is killed by Jorgas, a hot-headed young werewolf prowling his streets, Reylan reluctantly puts his cherished lifestyle of blood and boys on hold to help a mysterious alliance of supernatural beings track down the beast. It can't be that hard… not when Jorgas keeps coming after him. But there's more to this werewolf than a body count and a bad attitude. As their relationship grows deeper and more twisted, Reylan tastes Jorgas' blood, reawakening desires the vampire had thought long dead. And what evolves between them may be far more dangerous than some rival predator in the dark…
Tracefinder
by Kaje Harper
What could an undercover cop and a drug lord's pet psychic have in common? Brian Kerr has spent years hiding behind a facade of mental slowness. His brother and sister got all three of them off the streets and into a cushy life, under the protection of a dangerous criminal. But to keep that safety, Brian has to use his Finding talent to track down the boss's enemies. Although he pretends not to know what he's really doing, each Find takes its toll, and he's trapped in a life he hates, losing touch with his true self. Nick Rugo's job is to protect and serve the people of Minneapolis as an undercover cop. He isn't closeted, but he isn't out at work, and there's a wild, angry side to him that he's managed to keep hidden until now. When he's assigned to bring Brian's boss to justice, he intends to use anything and anyone it takes to do that. Nick initially sees Brian as a pawn to be played in his case, but he keeps getting glimpses of a different man behind the slow, simpleminded mask. As the two men get to know each other, it becomes clear they share secrets, some of which might get them both killed.
Wolf Around the Corner
by Aidee Ladnier
Frank's family taught him that his wolf was dangerous, unwanted. Now his best friend's brother wants him in bed and on stage. But giving into his wolf's need for love could risk the quiet life Frank has created for himself—and his heart. Settled in the small town of Waycroft Falls, Frank is content to be a lone wolf among the white picket fences and dollar book bins until he finds himself sniffing his best friend's brother. Tom smells like hot apple pie and his Broadway smile has Frank lolling his tongue. But when the visiting actor learns Frank's secret and plies him with hot kisses to get him to star in his play, Frank can't help but wonder if Tom is only acting. Tom ran away from family obligations to be a Broadway star. If he could make it there, he could make it anywhere…but he didn't. Trudging home to Waycroft Falls to open his sister's new performance space brings him face to face with a werewolf—a werewolf that would be perfect for Tom's shoestring production of Beauty and the Beast. Staying in Tiny Town USA would be worth it if he can somehow convince the sexy wolf to expose his furry condition on stage and howl privately in Tom's bed. Wolf Around The Corner, a paranormal semi-finalist in Passionate Ink's 2017 Sexy Scribbles Contest, is a full-length fairytale romance with a side of wolf shifter. If you like your romance with gorgeous men, humor, and small town magic, you'll love Wolf Around the Corner! Buy your copy now and settle in to watch the drama unfold!
A Warlock in Training
by TJ Nichols
Angus Donohue doesn't want to be a warlock. He believes draining demons for magic is evil, but it's a dangerous opinion to have—his father is a powerful and well-connected warlock, and Angus is expected to follow the family tradition. His only way out is to fail the demon summoning class. Failure means expulsion from the Warlock College. Despite Angus's best efforts to fumble the summoning, it works. Although not the way anyone expects. Angus's demon, Saka, is a powerful mage with his own need for a warlock. Saka wants to use Angus in a ritual to rebalance the magic that is being stripped from Demonside by warlocks. If Angus survives his demon's desires and the perils of Demonside, he'll have to face the Warlock College and their demands. Angus must choose: obey the College and forget about Demonside or trust Saka and try to fix the damage before it's too late. Whatever he does, he is in the middle of a war he isn't qualified to fight.
Jordan's Pryde
by Giovanna Reaves
All he did was apply for a job and then his world was turned upside down. Thrust into the world he had no idea about, Jordan Sutton's only goal was to get a job working for Duncan Pryde of Pryde Industries. He thought werewolves, vampires, and faes belonged in fairy tales, not in the real world. What will he do when he finds out that there's more than meets the eye to his boss and his family? Duncan Pryde had too much going on in his life. He became the sole guardian of his twin niece and nephew along with the addition of his pack and company. He had no time to think about a mate when trouble came to his front door. What happens when the man he hired for one job turns out to be his destined mate? Does he deny what he feels or embrace it? Disclaimer: Contains Mpreg but not the focus of the story. This book contains explicit language and is intended for adult readers over the age of 18+.
A Tiger's Tale
by Lisa Oliver
Seth Carmichael never did anything wrong, but instead of working at the local library, he was running for his life. His herd was hunting him and with few resources, Seth's options were fading fast. Until, that is, he heard the rumble of a motorcycle. Peeking through the tree he was hiding in, he couldn't believe his eyes. Had salvation come in the form of a badass biker? Ra (no last name and proud of it) was a tiger on a mission. He'd scented his mate and then the little rabbit ran away before his teeth could engage. Ra heard the gossip around Arrowtown; he knew his mate was a hunted man. But if the sweet man was on the run, he needed someone to look after him; Ra figured he was the right man for the job. A meeting, a mating and yet another meeting. What should have been a straight forward relationship turned into so much more on their very first outing as a mated couple. Now Ra has to count on the strength of his mate and the help of his friends, if he and Seth are ever to have the HEA they'd planned for. And what was with all these Fae turning up out of the blue? Warning: Contains a tiger who keeps putting his foot in it; a tiny lop-eared rabbit who is stronger than he looks and a bunch of friends who'll hide a body, no questions asked.