Join QRI now for free and get all this:
Five FF/lesfic eBooks from QRI authors (see below)
Our weekly email newsletter
The ability to add books to your TBR list and "favorite" authors.
Your books will be sent to you after 5/1/18. It's a great way to connect with our authors, too. All sign-ups will also be added to our participating author email lists. We will never trade or sell your email address.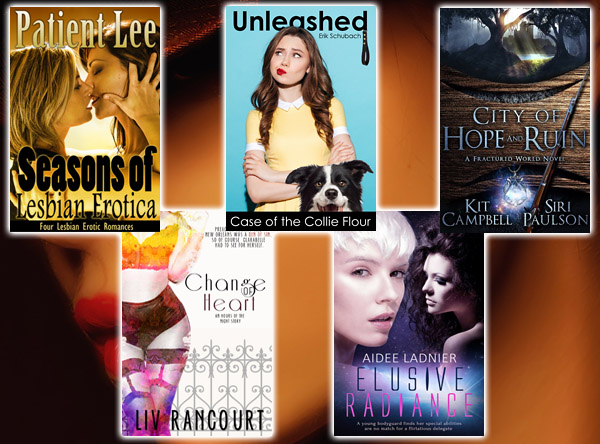 Unleashed: Case of the Collie Flour
by Erik Schubach
Finnegan May has always had a carefree life in New York. Her love of animals landed her in a unique job as the premiere dog walker to the rich and famous in the city that never sleeps. She winds up in the middle of a murder investigation when one of her clients winds up dead and the police are looking at her as the prime suspect. Fin must deal with being investigated while keeping her appointments with all of her waggy tailed clients.
Change of Heart
by Liv Rancourt
A body reaps what they sow, and Clarabelle's planted the seeds of trouble. The year is 1933, and not much else is growing in the Oklahoma dirt. Clarabelle's gone and fallen in love with her best friend, so she figures it's time to go out and see the world. If she's lucky, she'll find the kind of girl who'll kiss her back. Clarabelle heads for New Orleans, and that's where she meets Vaughn. Now, Vaughn's as pretty as can be, but she's hiding something. When she gets jumped by a pair of hoodlums, Clarabelle comes to her rescue and accidentally discovers her secret. She has to decide whether Vaughn is really the kind of girl for her, and though Clarabelle started out a dirt-farming Okie, Vaughn teaches her just what it means to be a lady.
Elusive Radiance
by Aidee Ladnier
Assigned to guard a diplomat at the galaxy trade talks, Security Officer Anais wants to shine during her first solo mission for the Chezeray Palace Conglomerate. An Elusive with the ability to make herself invisible, Anais knows her modified genes designate her servant class, but she yearns to be more than simply a protector to the beautiful delegate. Savea Blackmun arrives alone to the trade talks with the weight of her planet's future resting on her slim shoulders. Flirting with her pretty bodyguard reveals Anais' knowledge of the colony markets and Savea realizes there's much more to her protector than meets the eye. As their attraction grows, will the diplomat and the bodyguard reject society's rules to give in to desire instead?
Seasons of Lesbian Erotica
by Patient Lee
A lesbian erotic romance for each season by Patient Lee. (Four stories, varying in length.) Spring: Alive and Well- A young woman traveling with missionaries in Nicaragua can't leave the country following the March, 1931 earthquake. She writes a letter to her secret lover describing the destruction and reminiscing about their last night together. Just for fun, she details her use of an unconventional sex toy. Summer: Fighting Fire with Fire- A fire breaks out in an RV, and a volunteer firefighter saves the welder's dog, prompting daydreams of falling in love with the hunky owner. When she meets the welder, she discovers desires she didn't know she had—feelings for another woman. Autumn: Ghosts Have Pride- A young woman is unhappy in her relationship with a man until her grandmother's ghost appears to help her discover her desire for women. Winter: Mobile Home for the Holidays (previously published separately on AllRomance)- Two homeless women come together to pool their resources and get off the streets. Finding love together is a bonus.
City of Hope and Ruin
by Siri Paulson
Every night the monsters hunt. A city that is the whole world: Theosophy and her companions in the City militia do their best to protect the civilians from the monsters, but they keep crawling from the Rift and there's nowhere to run. Theosophy knows she'll die fighting. It's the best kind of death she's seen, and at least she can save lives in the meantime. They say the Scarred carve you up while you're still alive. A village in the shadow of a forest: Refugees from the border whisper about the oncoming Scarred, but Briony can't convince her brother to relocate his children to safety. Briony will do anything to protect them. She owes them that much, even if it means turning to forbidden magic. When Theosophy and Briony accidentally make contact across the boundaries of their worlds, they realize that solutions might finally be within reach. A world beyond the City would give Theosophy's people an escape, and the City's warriors could help Briony protect her family from the Scarred. Each woman sees in the other a strength she lacks—and maybe something more. All they need to do is find a way across the dimensions to each other before their enemies close in.