Join QRI now for free and get all this:
Five contemporary queer romance eBooks from QRI authors (see below)
Our weekly email newsletter
The ability to add books to your TBR list and "favorite" authors.
A shot at a $100 Amazon gift certificate provided by QRI, Queer Sci Fi and author J. Scott Coatsworth – winner chosen July 1st
Note: if you are already a user on the site but were dropped off the newsletter email list when we had to ask everyone to re-consent because of GDPR, you can rejoin here.
Your books will be sent to you after 7/1/18. It's a great way to connect with our authors, too. All sign-ups will also be added to our participating author email lists. We will never trade or sell your email address.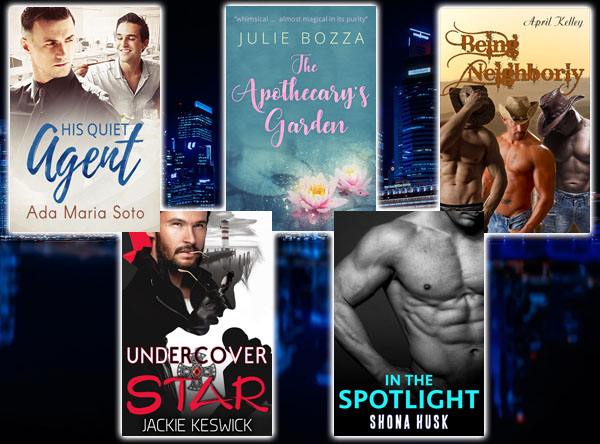 The Apothecary's Garden
by Julie Bozza
Hilary Kent, a Londoner all his working life, retires to Wiltshire after an estranged cousin unexpectedly leaves him an inhabitable tower surrounded by an overgrown physic garden – and that's when graduate student Tom Laurence suddenly erupts into his life, convincing him that together they can restore the ancient garden to its former glory. Tom's cheerful friendship is the best thing that's ever happened to Hilary and he's perfectly content with that until, to his astonishment and confusion, it seems that Tom's affection for him is beginning to grow into something more … something he feels he probably shouldn't allow.
In the Spotlight
by Shona Husk
A diva who lives for the spotlight, a sailor deeply in the closet, a love that will change them both. Ripley Malone is returning to Perth in triumph. A principal ballet dancer in a production that has critics raving, he is an unqualified success, and all the small-minded people that made his life hell can kiss his lycra-covered ass. But behind the makeup and the glitter and the costumes, Ripley is beginning to tire, tire of the competition, the drive, the endless parade of meaningless lovers. For Pierce Lovell, joining the Navy was a way out of rural Victoria, but becoming a submariner comes with its own set of challenges. The close living quarters and long months away are awkward enough without adding any extra tension around his sexuality. The fear is probably in his head, but he isn't taking any chances with his career. He gets by on anonymous one-night-stands every time they come to shore and keeps his heart well-shielded. But one night with Ripley opens the tantalising possibility of more. Through a mistake Ripley is injured. He can't dance. His wings are clipped and he crashes down and hits the earth hard. Pierce knows their affair can't possibly end in anything but heartache, but he can't stay away. As Ripley heals and reassesses his life, he is determined not to make the same mistakes again. That means letting someone see the vulnerable side of him. But vulnerability for Pierce could cost him everything
Being Neighborly
by April Kelley
Isaac's life changed forever the day he meets his two sexy neighbors. From the first day Isaac Gaines came out of the closet, he had been on his own. He thought he did a good job, over the years, getting through the hurt his family had caused him. So what if he never actually dated or formed lasting relationships. One phone call makes him realize some hurts leave lasting scars. Adam and Tanner Murray have a great relationship, one built on love and trust. Their quiet farmer's lives get turned upside down when Isaac comes to town. The question isn't whether they want him in their lives. The question is whether Isaac will let them into his.
Undercover Star
by Jackie Keswic
Detective Inspector Josh Ingram and pop idol Matisse Vervein have not a thing in common. Except for two meddling friends and mutual attraction that's off the scale. Sparks fly when they meet, and when they drop the attitude they're great together, but asking Matisse to help Josh hunt an art thief seems doomed to failure while they judge each other by their job descriptions. Can they stop sniping long enough to realise they're made for each other? A lesbian erotic romance for each season by Patient Lee. (Four stories, varying in length.) Spring: Alive and Well- A young woman traveling with missionaries in Nicaragua can't leave the country following the March, 1931 earthquake. She writes a letter to her secret lover describing the destruction and reminiscing about their last night together. Just for fun, she details her use of an unconventional sex toy. Summer: Fighting Fire with Fire- A fire breaks out in an RV, and a volunteer firefighter saves the welder's dog, prompting daydreams of falling in love with the hunky owner. When she meets the welder, she discovers desires she didn't know she had—feelings for another woman. Autumn: Ghosts Have Pride- A young woman is unhappy in her relationship with a man until her grandmother's ghost appears to help her discover her desire for women. Winter: Mobile Home for the Holidays (previously published separately on AllRomance)- Two homeless women come together to pool their resources and get off the streets. Finding love together is a bonus.
His Quiet Agent
by Ada Marie Soto
Arthur Drams works for a secret government security agency, but all he really does is spend his days in a cubicle writing reports no one reads. After getting another "lateral promotion" by a supervisor who barely remembers his name, it's suggested that Arthur try to 'make friends' and 'get noticed' in order to move up the ladder. It's like high school all over again: his attempts to be friendly come across as awkward and creepy, and no one wants to sit at the same table with him at lunch. In a last-ditch attempt to be seen as friendly and outgoing, he decides to make friends with The Alien, aka Agent Martin Grove, known for his strange eating habits, unusual reading choices, and the fact that no one has spoken to him in three years. Starting with a short, surprisingly interesting conversation on sociology books, Arthur slowly begins to chip away at The Alien's walls using home-cooked meals to lure the secretive agent out of his abrasive shell. Except Martin just might be something closer to an actual secret agent than paper-pusher Arthur is, and it might be more than hearts at risk when something more than friendship begins to develop.