Join QRI now for free and get all this:
Five queer fantasy eBooks from QRI authors (see below)
Our weekly email newsletter
The ability to add books to your TBR list and "favorite" authors.
Your books will be sent to you after 2/1/18. It's a great way to connect with our authors, too. All sign-ups will also be added to our participating author email lists. We will never trade or sell your email address.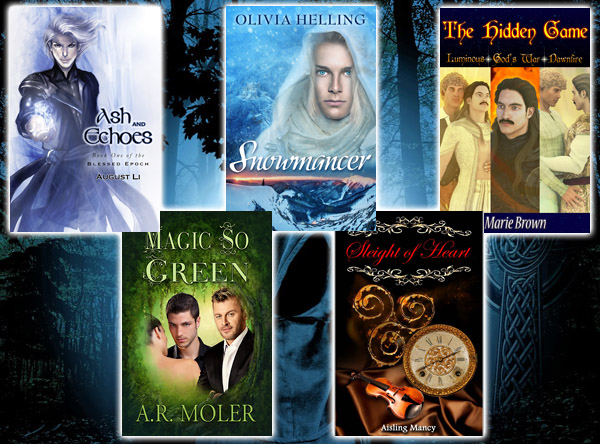 Ash & Echoes (Blessed Epoch Book 1)
by Augusta Li
For the past few years Yarroway L'Estrella has lived in exile, gathering arcane power, but that power came at a price. Now it's time for him to do his duty: his uncle, the king, needs him to escort Prince Garith to his wedding, a union that will create an alliance between the two strongest countries in the known world. But Yarrow isn't the prince's only guard. A whole company of knights is assigned to the duty, and Yarrow's not sure he trusts their leader.
Knight Duncan Purefroy isn't sure he trusts Yarrow either, but after a bizarre occurrence during their travels, they have no choice but to work together—especially since the incident also reveals a disturbing secret, one that might threaten the entire kingdom. But will it ultimately work in their favor?
When a third member joins the precarious alliance, it seems to cement the bonds between all three men. But the arrangement isn't perfect: Yarrow knows the power inside him and fears getting too close. The mysterious newcomer was raised to believe love and trust are weaknesses. And Duncan struggles to accept them as they are. Saving their home will take everything they have—including the fragile relationship they've built.
Snowmancer (Godsbane Prince Book 1)
by Olivia Helling
A future king. A slave's last hope. Can a sacrifice become something more?
Ilyas wants someone he can trust. As the heir to a great kingdom, all he can count on is the treachery of his younger brothers as he protects his future throne. When he receives his latest spoils of war, he meets a slave who's different. A slave with a hidden agenda…
Jem is the last chance for his people. Shunned by his brethren, he yearns to save them with an impossible task: kidnap Prince Ilyas and sacrifice him to Jem's Dark God. Against all odds, he captures the prince and carts him across the frozen wasteland.
Now Jem must keep Ilyas safe for the sacrifice and push down his urges to do more than protect the heir to the throne. Ilyas knows he can't trust the slave, but he feels like he's finally found a man he can love. As their attraction builds, they grow closer to a god that could destroy them both.
Snowmancer is an LGBT dark fantasy novella set in a far-off kingdom. If you like unpredictable plot twists, rich descriptions, and tantalizing chemistry, then you'll love Olivia Helling's incredible tale of adventure, sacrifice, and love.
Magic So Green
A.R. Moler
Val's sister Belinda has just died of cancer and Val is completely at loose ends. His fellowship from the University and his lease has just ended. Mourning his sister, he's not sure what to do next. Fortunately, before she died, his sister asked her friend Keira Marshall to help him out.
Keira Marshall lives in a more interesting world than Val can yet understand. There's magick in her world. And her primary partner is an older bisexual man, Duncan Rothwell. Keira lives with Duncan and now, so does Val. Val's world is about to get interesting too.
Belinda's ex-girlfriend is harassing Val for something of Belinda's. Since she treated Belinda very badly, Val isn't feeling all that forthcoming. This new world that Val is running into? It's all connected. And now Val is connected too.
The Hidden Game (Three Book Set)
by Marie Brown
This omnibus edition contains all three novels in the Hidden Game series: Luminous, God's War, and Dawnfire.
Luminous:
Necessity forces Prince Telion of Amrontil to enter into an alliance marriage with Prince Farven of Vinge. Normal in Vinge, such a thing was completely unheard of in stuffy Amrontil. But Farven brings a cadre of powerful mages with him, and the promise to train any with mage ability to fight against the unstoppable armies of Un. Little does Telion know, his Prince also brings love and adventure…
God's War:
Farven and Telion return in this sequel to Luminous. Transformed from Princes into fugitives by the unbelievable events of a single chaotic night, the two decide to take their followers to the mysterious city of Prime, capitol of Vinge, the land once protected by the magical Barrier. But the aggressive Un warriors have no intention of letting the humans rest and regroup. Neither do the demons…
Dawnfire:
Farven and Telion return in the conclusion to the Hidden Game series. Humanity is given a fresh start on the beautiful, unspoiled world known as Dawnfire, but the two Princes must leave the lovely world behind on a journey through the worst hell of all to rescue God's partner, a Divine held captive in the Obsidian Heartbreak for six hundred years.
Sleight of Heart (Morality of Magick Book 1)
by Aisling Mancy
Lord Taliesin Solitaire was born albino, cursed mute by the fey, and betrayed by a vampire lover. For two hundred years the vampire mage has vowed never to love again and has only used sex as a means to a meal. Until a palm-reading gypsy finds himself in peril and Taliesin can't resist rescuing the beautiful young man.
Pesha is the eldest but smallest son of King Vaida Sinclair, the oppressive ruler of the Kåle RomaniCompania. Deemed impure by his father, Pesha is shunned and mistreated by his band and four half-brothers, and one brother in particular wants him dead. His pale, silent savior gives him safety, security and a love he never could have imagined. As Pesha falls in love with his handsome white knight, his half-brother does the unthinkable.
Can Taliesin rescue Pesha from the cruel clutches of his half-brother a second time?
SaveSaveSaveSave
SaveSave
SaveSave
SaveSave