Critter Catchers Book Six
by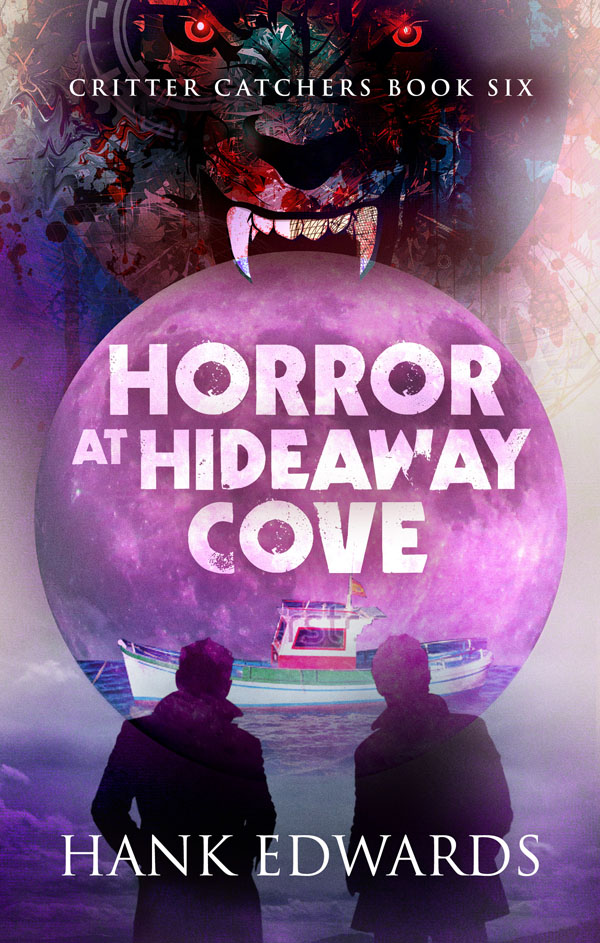 Cody and Demetrius are getting married! Along with the usual wedding details—venue, flowers, catering—they also deal with a sneaky otter and a growing guest list. The big day goes off without a hitch, and Cody whisks Demetrius away on the honeymoon he planned all on his own. When they arrive at the town of Hempstead, Cody is dismayed to discover the small town gets much of its tourism from the legend of Esther, a Loch Ness type monster rumored to live in the depths of Heaversford Lake.
At first the secluded cabin on an island in the middle of a large lake is the perfect setting for a romantic honeymoon. But then the power goes out, and after that they discover large wads of sticky, smelly plastic trash during their morning hikes. When a local resident drowns under mysterious circumstances, Demetrius and Cody realize that no matter how reluctant they might be, their experience with unusual creatures could help these town people solve the mystery of Esther once and for all. If it doesn't kill them first.
Published:
July 27, 2018
Publisher:
Independently Published
Editors:
Cover Artists:
Genres:
Character Identities:
Bisexual, Gay
Tropes:
Friends to Lovers, Gay for You / Straight to Gay, Honeymoon, Out for You, True Love
Setting:
Lake Heaversford, Pennsylvania
Languages Available:
English
Series Type:
Continuous / Same Characters
Excerpt:
The butterflies in Cody's belly had mutated into a flock of pterodactyls. He shifted his weight and cracked his knuckles, then tugged at the collar of his heavily starched white shirt. Sweat had slicked the skin of his back. How fucking hot was it inside this building? Did someone crank up the heater?
"You okay?"
Cody looked at the man standing to his right. He knew it was one of his brothers, but for a few terrifying seconds he couldn't think of his name.
Dave. It was Dave, his younger brother and best man. And he was keeping Cody company while he waited to walk down the center aisle of the chairs filled with their friends and family inside the Parson's Pines Optimum Life Community Center. The ceremony was being held in the Wickersham Room, while the reception would be across the hall in the Langley Room. 
"Huh? Me? Yeah. I'm fine."
"You're a little pale."
"It's the tuxedo. It's washing out my complexion."
READ MORE
Dave chuckled. "Yeah, I don't think a white tuxedo is going to make you look quite this pale. You look like you're going to throw up."
Cody shook his head. "No. Just a little nervous."
"About getting married?"
Cody held his hand up and waggled it back and forth. "Sort of. Mostly just talking in front of everyone."
"Dude, you talk with all of us all the time."
"Yeah, with all of you, not in front of all of you."
"You'll do great. Just focus on Demetrius."
Cody glanced toward the black screen Amelia had asked Otis to put together. It blocked his view of Demetrius who stood at the opposite side of the room. Because they didn't want to assign any kind of gender roles, they had discussed with Amelia how to handle the wedding processional. After some long conversation, she had finally suggested Cody and Demmy enter from opposite sides of the space, to the left and right of the guests. The wedding party would walk down the center aisle, but a screen would be set up to keep Cody and Demmy from seeing each other until it was time. They would walk in at the same time and come down the far aisles, turn at the front and approach each other until they stood together before Amelia.
It had all sounded great and easy and swell when they had been talking about it, but now that it was almost time, Cody was afraid he was going to trip or stumble or fart or belch or throw up or pass out, or any number of other embarrassing things.
The low and calming music faded out, and Cody's heart pounded. His mouth felt dry, and his tongue seemed to have grown to the size of his forearm, complete with hair.
Dave pulled him into a tight hug. "I love you, big brother. And I'm really, really happy for you. You're my best friend, and I wish you and Demetrius every happiness."
"Gark," Cody managed to say in reply.
Dave stepped back, winked, then turned away and lined up behind Jugs and Demetrius's roommate from college, Trent Warburton, who had agreed to be his groomsman. All four men wore black tuxedos, including Demmy's best man, Oliver, who also happened to be his ex-boyfriend. Cody had only griped a little bit when Demmy had told him who he'd wanted to ask to be his best man. The truth was, Cody had gotten to like Ollie over the years, even though he pretended he wasn't very fond of him.
Still, he didn't think he'd want Demmy and Ollie running off on a road trip any time soon.
Now that the music had faded out, Cody could hear the quiet whispering and shifting of their guests. There weren't that many people, he tried to comfort himself. Just everyone they knew.
COLLAPSE