Word Count:
24000
Character Identities:
Gay
Summary: What surprises await Vic and Kellan when their egg finally hatches? Kellan's new life in the magical town of Vale Valley is filled with more love and joy than he'd ever dared dream of. Even more thrilling is the new life growing inside the egg he and his Alpha wolf mate watch over night and day. When their hatchling still fails to appear after several weeks, Kellan fights his growing fears about the uncertainty of a swan mating with a wolf. All Vic wants is to keep his beautiful swan omega and their egg safe. He'd despaired of ever finding the one who was meant for him, and he'll do everything within his power to protect his true love and their baby. Vic might still be bewildered by nesting and swan cuisine, but whatever his omega wants, Vic makes sure he gets. As Valentine's Day draws near, Vic's plan to do something special for their first celebration of the holiday doesn't seem possible. The egg isn't showing any signs of hatching and no one—not even the avian fertility specialist—knows why. Then, the last person they want to see makes an unexpected appearance. Vic is about to discover how tough his sweet little swan truly is… Note: A Hatchling for Valentine's is the 8th book in Season Two of the multi-author series about Vale Valley, a small magical town open to everyone in need of love and a home. Each installment in the series can be read as a standalone, however, Kellan and Vic's story is a continuation from Season One's A Swan for Christmas. This mpreg romance novella features a swan and wolf who are fated mates and are anxiously awaiting the birth of their first tiny hatchling. So grab a box of chocolates, a glass of champagne and put your feet up and enjoy a sweet dose of smexy mpreg.
A Hatchling for Valentine's
Pairing: M-M
February 8, 2019
Word Count:
115,000
Character Identities:
Lesbian
Summary: Life hasn't been easy for Aeley since she arrested her brother, and her role as a political leader leaves her feeling isolated and lonely. Days before her brother's trial, she meets Lira, a quiet and modest scribe who makes Aeley want more than just a professional relationship. When she attends the trial and leaves with a marriage contract, Aeley doesn't know what to do. She must choose one of two brothers, marrying into a family she doesn't know. Then she discovers that Lira is part of the same family—a sister to Aeley's suitors and the family's disgrace. And not at all opposed to an intimate relationship. Except random acts of violence against her people test Aeley's ability as a leader, and a web of lies and deceit threaten not only her chance at happiness, but her life...
A Question of Counsel
Pairing: F-F
October 18, 2019
Word Count:
31000
Character Identities:
Gay
Summary: Michelin Empyrean, a rare white raven, has lived for centuries and he's tired of loneliness. What makes life more burdensome is increasing responsibility and leadership of socially inclined corvid shifters. Preventing his kind, ravens, and especially crows, from robbing and menacing humans who remain unaware of their existence takes its toll. When one wayward creature's thieving antics come to his attention, Mich decides to personally take the man to task. Terrel Slade is a crow. Practically everything he owns is stolen. His stash of pretties, and the fact he's never been caught, makes him proud as a peacock. As much as he'd like to be the beautiful bird he struts around imitating, he believes his crow is sexier. Terre is no more than an omnivorous crow shifter with a penchant for shiny objects. A cunning bird, his existence is crammed with innovative ways to irritate his archenemy, the raven. That's about to change. When Michelin halts Terrel's lifestyle, more than sparks fly—the whole damn forest might burn to the ground. #darkfantasy #drama #enemiestolovers #gay #HEA #paranormal #religerotica #romance #shifters #travel #violence
A Silver Raven's Tale
Pairing: M-M
February 5, 2021
Word Count:
90000
Character Identities:
Bisexual, Gay
Summary:
Dominic Blake spent his teen years being a punching bag for the school's leading athlete, Tristan Jones. That was years ago. He shut down his heart. Never letting anyone in. Only trauma and pain awaited anyone who made it past his icy exterior. With his wit and talent for electronics he rose through society to become a respected inventor. He hadn't heard or thought about his teenage tormentor since he graduated. - Tristan Jones had always been a top performer in any sport he attempted. It didn't matter what it was. If it used muscles, he excelled at it. Home life for him wasn't all peaches and cream, though. He threw himself into sports in order to spend as little time as possible at home. Being around so many who expected him to be manly meant doing what they thought he should. Even if it meant giving the school nerd the beating of a lifetime. When his teammates took it too far, Tristan left and never turned back. - What happens when Tristan falls right into Dominic's world in the most unexpected way?
All Things to Ashes
Pairing: M-M
January 6, 2022
Word Count:
76000
Character Identities:
Gay
Summary: For Andrew Tuttleman, sex is a means to an end. With a mother too sick to pay the bills on her own and college bills to pay, Drew has spent years resorting to sex with strangers to keep a roof over his mother's head and keep himself at school, far away from the hell where he grew up. This summer, his usual tricks are still paying the bills. But there's a new one, Grant, who never got the memo that a trick is a no-strings deal. Convinced that Drew is the answer to a hopeless prayer, Grant seems ready to pursue Drew to the ends of the earth. Drew, on the other hand, isn't so convinced. Grant comes with trouble in the form of a wife and three kids, not to mention a single and unwavering requirement: that Drew give up his livelihood. Grant's kiss makes Drew ache for more, a romance that he never dreamed possible. He finds himself unexpectedly willing to try. Can Drew weather Grant's angry father, wife, and a daughter determined to kick him in the shins so hard that he'll leave Grant's life forever? It all relies on Grant's faith in an impossible prayer.
Andrew's Prayer
Pairing: M-M
September 27, 2017
Word Count: Information not available
Character Identities:
Bisexual, Polyamorous
Summary: The search for the swords brings Douglas and Margaret back to England, where Mystere has hidden the sword Almace -- his own sword. Four months pass with no signs of Mystere, and Douglas and Margaret start to make plans to go in search of him. Then they accidentally become the caretakers of an injured street urchin. The boy — a sweep's apprentice — tells them that there is something invisible haunting the rooftops of London, preying on the children who make their living there. In the absence of Mystere, Margaret insists that they need to help, but Douglas refuses. Margaret defies him and goes anyway, only to discover that what lurks on the rooftops is far worse than she had imagined -- Caedda has taken the rooftops of London as his domain. Worse, he has taken Mystere prisoner, he holds the sword Almace, and he knows that Margaret is there. Trapped on the roofs, unable to reach Douglas, Margaret has to rely on her wits and her memories in order to save Mystere, herself and her unborn child.
Ashes and Light (Swords of Charlemagne, Book 3)
Pairing: M-M-F, M-M-M
July 20, 2021
Word Count:
79,000
Character Identities:
Bisexual, Questioning, Pansexual, Polyamorous, Straight
Summary: A rebel princess. An atomic arsenal. And three galactic heroes hot enough to singe any cybergirl's circuits. After seven days of danger and desire in a race through space against five hundred sexed-up suitors, a galactic mating contest is nearing its climax. Rebel princess Kaia defies centuries of sacred ritual to choose not one mate, but three to bring peace to her war-torn galaxy. Together, the space pirates' hellraising head honcho, the ice-cold imperial enforcer who stalks him, and the galaxy's most lethal telepath will rule at her side—and consummate their blazing passion in her bed. But Kaia's tyrannical father, worshipped as a god by billions, views her unconventional choice as the ultimate betrayal. In a universe where adversaries pretend to be allies and enemies transform into lovers, Kaia must defeat a cunning rival with a nuclear arsenal primed and pointed at her homeworld and enough atomic firepower to incinerate the galaxy she's sworn to protect. Will the fragile trust growing between Kaia, Dex, Zorin and Nero prove strong enough to avert the ultimate apocalypse? Will their risky alliance expose the secret truth to defeat her vengeful father? Or will he command his faithful fanatics to obliterate Kaia and all three of the men she loves? Atomic Angel is a steamy, angsty, enemies-to-lovers, fast-burn MMMF sci fi poly action romance and completes in the Astral Heat Romance series. Laura Navarre delivers turbocharged outer space action with three bi heroes, plenty of M/M and MMMF action, a fearless heroine, a completed cliffhanger series with a guaranteed happily-ever-after ending, and a whole lot of heat.
Atomic Angel
Pairing: M-F, M-M, M-M-F, M-M-M, 4+ or Other
February 8, 2022
Word Count:
97,046
Character Identities:
Bisexual, Gay
Summary: Love, served behind the stick. Kyle McKee lives a charmed life. He co-owns Under, an uptown speakeasy, where he is chief mixologist. Friends poke fun at Kyle's tiny one-bed apartment in Chelsea, but they're the best support system a man could ask for. Unfortunately, Kyle's lackluster love life has led him to take a break from dating. Harlem resident Luka Clarke is a lieutenant with Engine 47, the Pride of Morningside, where he carries on his father's legacy with the FDNY. Luka, who is mixed race and bisexual, has his eye on Kyle, whom he met at a local burger joint and he just needs to make time to visit Kyle's bar. Before work one evening, Kyle is trapped inside the luncheonette when a fire breaks out. Luka's firehouse answers the call and he connects with Kyle again under the most unexpected of circumstances. When Kyle gratefully invites Luka and the firehouse squad to Under, the flirting between the two men leads to a date. Kyle and Luka quickly grow close, but Luka's mother and sister distrust Kyle for being both white and gay. Luka believes his family will come around and accept Kyle in the end, but Kyle is not optimistic and hides his disquiet as attraction blossoms into love. Kyle and Luka's near-idyllic bubble is shattered one evening after a hate crime leaves them scarred, inside and out. Shaken, they put on a strong front but struggle inwardly against fear and personal demons. As the emotions seething beneath the surface finally come to a head, both men must decide if they have the strength to find love enough to conquer hate.
Behind the Stick
Pairing: M-M, 4+ or Other
August 20, 2019
Word Count:
93000
Character Identities:
Genderfluid, Lesbian, Non Binary, Pansexual
Summary: When a change in collective conscious sends the Outsiders, a group of aliens, to the shadows below the city, humans reason that the demonization of their peers is simply more "humane." There's no question, nor doubt. Just acceptance. Lydia had embraced that sense of "truth" for as long as she can remember. The daughter of a powerful governor, she has been able to live her life with more comforts than most. Comforts can be suffocating, though, and when the opportunity to teach Outsider children in their private, "humane" community becomes available, she takes it. What she finds beneath the city is far from the truth she had grown to know. There she meets Alessia, an Outsider with the knowledge and will to shake the foundation of all those who walk above ground. The two find a new and unexpected connection despite a complete disconnect from the technological world. Or perhaps in spite of it. Still, it takes a lot more than an immutable connection to change the world. Lydia, Alessia, and a small group of Outsiders must navigate a system of corruption, falsehoods, and twists none of them ever saw coming, all while holding on to the hope to come out alive in the end. But it's a risk worth taking, and a future worth fighting for.
Beneath the Surface
Pairing: F-F, M-F, M-M
January 19, 2018
Word Count:
123000
Character Identities:
Gay
Summary: Evan St. John, a young fashion photographer running from the pain caused by the death of his younger sister, is thrilled when he is offered a job with House of Nadasdy, a leading fashion house in Paris. What he doesn't know is that Elizabeth Nadasdy, the elegant and powerful owner, is a centuries-old vampire with a penchant for collecting beautiful people. To Evan's horror, he is turned into one of her "children." Unable to bear what he has become, Evan flees to New York and to his best friend, police officer Will Trask. For years, Evan has nursed an unrequited love for Will, but he also knows Will is the one person who might be able to help him. As Evan and Will try to deal with Evan's condition, they are drawn into the world of the theriomorphs: shape-shifters who are guardians of life and the sworn enemies of vampires. Caught in an ancient war between two powerful supernatural forces, Evan and Will find they must choose sides - because if they are to have any chance of a future together, they must destroy Elizabeth Nadasdy before she destroys them.
Blood Bathory: Like the Night
Pairing: M-M
April 9, 2018
Word Count:
100500
Character Identities:
Ace, Genderqueer, Non Binary, Pansexual, Transgender
Summary: For Ress, survival is a complicated nightmare. Caught between two masters on different sides of the law, his life is falling apart one bad decision at a time. All he wants is to be is a good person, a loyal family man, and a successful metalsmith—a dream he can never obtain while he works for the Shar-denn, the violent gang that plagues the republic of Kattal. To make matters worse, he works as an informant for the High Council. He scrapes through both jobs waiting for his last breath. As the Shar-denn motto says: the only way out is dead. No stranger to living complicated decisions, Adren is caught between worlds of cir own. As the child of a Shar-denn faction boss, cir life is a conflicted tangle of expectation and duty. When cir family is arrested, Adren manages to escape, but nowhere is safe. Desperate and on the run, Adren is determined to punish Ress for turning in cir family. No one who betrays the gang can live. Ress must pay the price, even if Adren has to go against everything ce is.
Blood Borne
Pairing: M-NB, Includes NB
August 23, 2019
Word Count:
11500
Character Identities:
Gay
Summary: When two lives entwine, death becomes abhorrent. Hail Patrascu, an ancestor of Transylvania's Draculesti family line, wields unique powers as the world's oldest living vampire. Searching for death, he becomes something phenomenal after drinking venom infused blood. Not only does he possess vampiric powers, he's been imbued with those of an even older creature—a serpentine. A snake, heretofore unable to change form, is animated with Hail's vampire blood and now the monster seeks life of its own! McCall Stephens had one drink; not nearly enough to imagine what he witnesses after being accosted in an alley. A beast so fiendish, it took the life of a man right before Call's eyes. Now it stalks him. He haunts Call with eroticism, each encounter tugging him closer to a dark abyss with impossible promises. Giving in, he may lose everything—including his life! Or will Call's wildest dreams come true? Take his blood—lose your life! A standalone short paranormal MM romance with coarse language, masturbation, explicit sex, abuse flashback, and a little bloody horror. But there's an HEA and no cliffhanger!
Bloodied Venom
Pairing: M-M
April 1, 2019
Word Count:
32200
Character Identities:
Gay
Summary: Phil needs to show Terry some restraint… Terry and Phil have begun what promises to be a very satisfying D/s journey together. Their rough role play was a success, and Terry is ready to allow Phil to have more control over him in all ways. But even Masters have doubts, and when things take an unexpected turn in Phil's film production career, he worries that he's not properly taking care of his boy. Phil's mentor assures him that taking charge of Terry and pushing his boy's boundaries are what's needed more than money. Terry craves his Master's control… Terry now knows that being submissive answers a need within himself he'd never realized existed. Then Phil takes their scenes to the next level as he introduces Terry to more extreme bondage. But will the return of an old nemesis from Master Gerard's BDSM gatherings spell real danger to Terry? Right as the Dom and sub decide to play with Master Gerard and his boy, Marco, the danger becomes even more frightening than they all could've imagined. Bondage Play is Book 2 in the Play Series, and is the continuation of Phil and Terry's D/s journey that began in Role Play. While this could be read as a standalone, it's best read after the first book. However, Phil and Terry still have their HEA with no cliffhangers! Warning: This story is intended for a mature audience and contains explicit content between consenting adults. The characters are a committed, monogamous couple, however, there is a scene of group play.
Bondage Play
Pairing: M-M
October 6, 2016
Word Count:
88500
Character Identities:
Gay
Summary: They both loved an evil man. In a wrenching journey to redemption, leaning on each other will change their lives forever. Grief-stricken Tate Myers can't believe his Daddy and Master is gone. Reeling from the discovery of his dead lover's secret life as a serial killer, he seeks answers from the one person who could help heal his heart. But when coffee shop chats with his Daddy's best friend turn into an intense attraction, Tate wonders if he's found the man to complete his recovery. Former undercover cop, Rogan Steele, is completely blindsided when he learns his long-time buddy was a sadistic murderer. And with his own judgment now in question, he strongly empathizes with the grieving young man left traumatized and helpless. However, as their meetings fan the growing flames between them, Rogan is terrified he can't fill the unfamiliar dominant role that Tate so desperately needs. As their passion overpowers their hesitation, Tate aches to fully succumb to the older man's control. If only Rogan doesn't run away from what he was born to be—then they might stand a chance at forever. Will the shellshocked pair surrender to their destiny and accept love's risk? Or will the scars from their shared tragedy destroy their future as Daddy and boy? Born Daddy is the second book in the steamy Command & Care M/M romance Daddy/boy series, but can be read as a standalone. If you like wounded heroes, dark themes, and triumphs over tragedy, then you'll adore Morticia Knight's decadent descent into deep desire.
Born Daddy
Pairing: M-M
October 30, 2020
Word Count:
102716
Character Identities:
Bisexual, Gay
Summary: Though some struggles have ended in victory, ease and contentment are not the fate of the gods of war. Instead they must contemplate the sometimes terrible and frightening nature of their powers—and the effect those powers have on the people they love. After their campaign in Ummana, the gods of war return to the Valley with their ranks finally complete. Sic is the eighth Emeris to join Renaldo and Canubis in their war against the Good Mother. Even so, they must wait for their powers to manifest, and trials lay ahead. It is only when a tragedy befalls Aegid, Kalad, and Daran that Sic learns the extent of his abilities as a Luksari. What he achieves will change Daran forever—and set him up for trauma that leaves him doubting his relationship with Aegid and Kalad. Daran must affirm his commitment to his lovers and his new status among them through blood and violence. Even though Renaldo and Casto's relationship has improved, they're still struggling now and then, which could prove to be more dangerous than they think—because the Good Mother is already plotting her next move.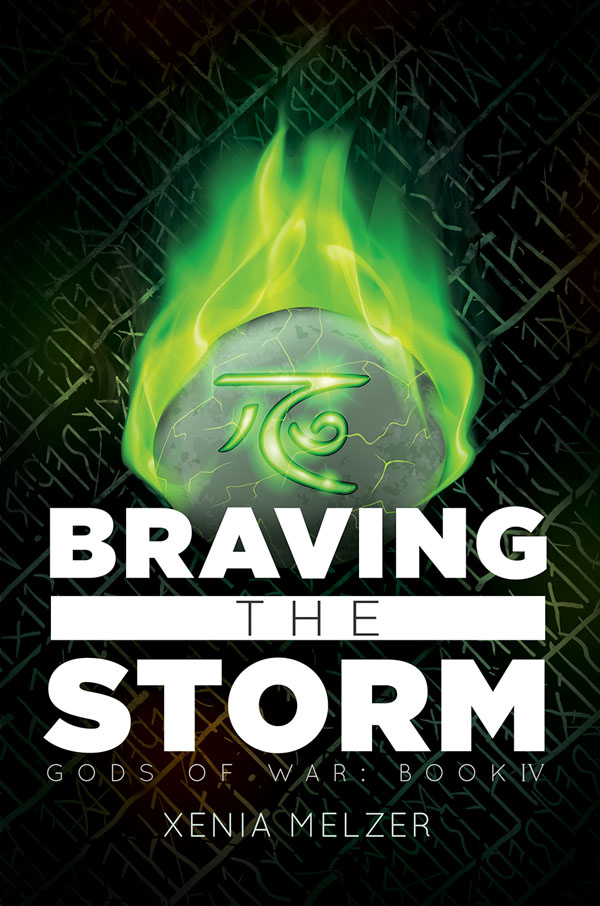 Braving the Storm
Pairing: M-M
November 21, 2017
Word Count: Information not available
Character Identities: Information not available
Summary: Brute leads a lonely life in a world where magic is commonplace. He is seven and a half feet of ugly, and of disreputable descent. No one, including Brute, expects him to be more than a laborer. But heroes come in all shapes and sizes, and when he is maimed while rescuing a prince, Brute's life changes abruptly. He is summoned to serve at the palace in Tellomer as a guard for a single prisoner. It sounds easy but turns out to be the challenge of his life. Rumors say the prisoner, Gray Leynham, is a witch and a traitor. What is certain is that he has spent years in misery: blind, chained, and rendered nearly mute by an extreme stutter. And he dreams of people's deaths—dreams that come true. As Brute becomes accustomed to palace life and gets to know Gray, he discovers his own worth, first as a friend and a man and then as a lover. But Brute also learns heroes sometimes face difficult choices and that doing what is right can bring danger of its own.
Brute
Pairing: M-M
December 3, 2012
Word Count:
54500
Character Identities:
Gay
Summary: Bryson Franklin made bad choices in his past. When he inherits his grandparents' farm outside the small town of Willow River, however, he sees it as a chance for a fresh start. But patterns from his past resurface when Bryson takes up with Daniel Riggs, his bad boy neighbor, and he soon finds himself helping Daniel cover up a murder. After Bryson breaks things off with Daniel, the kindness and attention of handsome sheriff's deputy Sam LeClaire gives him hope, but when Daniel shows up on Bryson's doorstep a year later, will Bryson be able to resist temptation?
Buried Secrets
Pairing: M-M, M-M-M
March 25, 2017
Word Count:
65000
Character Identities:
Gay
Summary: Prince Garrik is the Heir Presumptive of Altan, next in line to be crowned Wytch King. There's only one problem: in order for Garrik to be crowned, he must possess Wytch power of his own, and thus far, whatever power Garrik might possess has shown no sign of awakening. As things stand, it is Garrik's younger brother, Jaire — a dreamer completely unsuited to wear the crown — who will take the throne after their father. Concerned about the future of his kingdom, the Wytch King demands that Garrik's power be forcibly awakened. Hoping to protect his brother from the burden of rule, Garrik allows the attempt — with disastrous results. Now, Garrik must learn to control the fiery dragon that rages within him before he destroys everything he loves. Wytch Master Ilya has been alone for years. Learning to control the icy beast slumbering within him has already cost him his family and his lover, and Ilya will never open himself up to that kind of pain again. Summoned to Altan to avert disaster if he can, Ilya has no intention of allowing anyone to thaw the ice in his heart. When he meets Prince Garrik, sparks fly, and Ilya finds himself fighting feelings he thought he'd buried, long ago. Can Garrik's fire melt Ilya's icy heart? Or will Ilya be forced to use his ice to quench the flames that burn within Garrik once and for all? (~65,000 words)
Burn the Sky
Pairing: M-M
January 11, 2015
Word Count:
66,000
Character Identities:
Demisexual, Gay
Summary: Cameron Hayes believed himself to be a dedicated friend and a good son but destined to be alone. Because in his twenty-one years, he'd never fallen for anyone. Dating never appealed to him when he would rather spend a night at home. Despite his friend's best intentions for Cameron to find a hookup for the night, he stayed at the bar as he nursed a beer. And that's when Cameron spotted him and everything he knew evaporated with one look. Rylan Ellis wanted one night out without complications. To forget about his overwhelming responsibilities and stress at home. He loved to lose himself in the music and ignore everyone around him. But when he happened a glance at the bar and spotted the tall, broad, and sexy-as-sin man, he felt drawn to him. Soon, Cameron and Rylan learn about each other and establish their lives together. They also have to deal with a group of well-meaning friends, loving parents, and unexpected friendships. But most of all, a dangerous threat that could tear their lives apart. Will a chance meeting turn into something more? This novel contains heavy attraction at first sight and first-time gay sex between two men. There is no cheating or cliffhangers and ends with a happily ever after. *Contains a brief mention of a prior sexual assault and violence in later scenes.
Cameron & Rylan
Pairing: M-M
March 26, 2019
Word Count:
58000+
Character Identities:
Gay, Questioning
Summary:
On a lush, tropical island inhabited by rogues, thieves and villains, where men take the law into their own hands, a father and son are thrust into tumultuous events that will change their lives forever.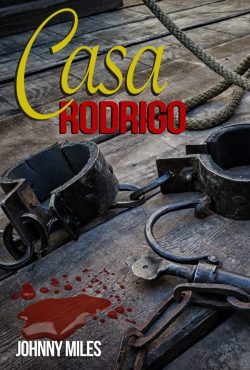 Casa Rodrigo
Pairing: M-M
December 1, 2018