by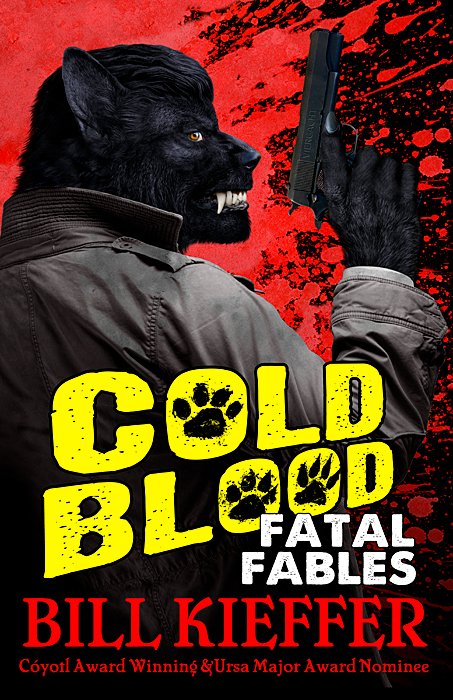 Six Dark Noir stories from Bill Kieffer's Aesop's World (anthropomorphic people) appear in this collection. Four of these stories are previously unpublished.
Shepard (previously unpublished): It's post Prohibition New Amsterdam and the world is full of conspiracies, syndicates, and crackpot cults. Cops have to be tough. Shepard is as hard headed and as hard hearted as they come. He has just one soft spot, an impossible love for Lynne Black, now married to a childhood friend. When Lynne calls to say her youngest boy was kidnapped, he drops everything to get the boy back. The boy that should have been his.
Brooklyn Blackie and the Dudeless Dude Ranch (previously unpublished): Blake Black is a former beat cop who also happens to be a cunning linguist with a lot of baggage. He goes to Las Vegas in search of a missing woman. Between public sex acts and fighting with his ex partner, the Wolf-Dog hybrid realizes the woman he's been chasing is more than likely dead and not a woman...
Brooklyn Blackie and the Rainbow in the Dark (unpublished): When a Dragon is fatally shot on his office steps, Brooklyn Blackie has to work with a Terrier detective that "heard things" about the Wolf-Dog and believes Blackie might be a vigilante. Despite his homophobia and (justified) suspicions of Blackie, he keeps the Hybrid close to keep an eye on him and take full advantage of his polyglot skills. This story explores the religion of the Chromatics.
Brooklyn Blackie and the Unappetizing Menu (Inhuman Acts, 2015): Out of funds, and ready to take an insurance job rather than starve, Brooklyn Blackie visits his closest Reptilian friend, Dice, to boost his spirits. Instead, he finds a tenement building of full of dead Repts, supposedly frozen to death. No one will believe that it was murder but the weirdo tenement owner. The Warm Blooded police force want to keep the case open only long enough for the coroner to sign the paperwork. But everything turns on a loose piece of coal, leading the Wolf-Dog down a darker path than simple murder, leading him down a world where cannibals wear tuxedos and dine in the darkest shadows.
Brooklyn Blackie and the Reverse Badger Game (unpublished, mature): Things are looking up for the bisexual Wolf-Dog and he's ready to start a life with his Otter and his Bitch. The Otter is mobbed up, but, he has an exit plan that will keep them all safe. And the first step is gang-raping Brooklyn Blackie to prove to his crew who the top dog really is.
Unbalanced Scales (Roar 7, 2016): Rap stars like St. George and Dr. Ice are on the cusp of making millions in record deals... and if they don't kill each other first, it might be the start of a new dynasty.
Published:
May 7, 2018
Publisher:
Jaffa Books
Cover Artists:
Genres:
Pairings:
MF, MM, MMF
Heat Level:
4
Romantic Content:
3
Ending:
Click here to reveal
Character Identities:
Bisexual, Straight
Protagonist 1 Age:
26-35
Protagonist 2 Age:
26-35
Protagonist 3 Age:
18-25
Tropes:
Antihero, Badass Hero, Criminals & Outlaws
Word Count:
98000
Setting:
New Amsterdam/Aesop's World
Languages Available:
English
Series Type:
Same Universe / Various Characters
Excerpt:
from Brooklyn Blackie and the Reverse Badger Game, story #5
Rick knew me better than I knew myself. I fought back harder than I had intended to. He smirked at me as I felt punches trying to soften me up. Seven guys were just too many guys to be effective. They hit each other more than they hit me and most of the blows that landed weren't all that hard. There was no room to really swing hard enough. They'd have been better off throwing me to the floor and kicking the hell out of me.
I gave my Otter a look of apology, knowing it would look like I was pleading with him to stop this. I agreed to no scars. For his safety, I had to let him do this. Yet, I could not stop myself.
READ MORE
Rick smiled and began to roll up the ubiquitous Racing Forms. I'd been spanked with that more times than I can count. For a full five seconds, I could not understand what he was planning to do with that newsprint rag. He raised it in his left hand across his chest, just over his right shoulder. He twisted his long torso and then, "No! No! No!"
His body snapped, his left hand swept across my face. Seeing it coming hadn't stopped the pain or the pop of terror when his paper tube smashed into my black nose. I saw stars and nothing else as the pain burned my muzzle. I was trying to drink water from a flame thrower.
Another hit and I collapsed, overwhelmed with pain signals. I saw pain. I tasted pain. I smelled pain. Pain had moved me to the other side of the moon. Another wonderful gift from the Dog side of me. An off button..
I was tied up in the few seconds it took to blink back the stars. I tried to tell myself that it was just pain. My snout weren't buying it. "You bastard," I cursed as tested my bounds. I heard Rick grunt a laugh. We both knew I was the only bastard in the room.
"Roscoe," my Otter said to a Mutt I didn't know, "Mr. Black thinks he has some pretty big balls. Let's give him a bigger pair." In a moment, there was the white cue ball and the 8-ball in the Mutt's hand.
"What do you want, Riveria?" It seemed the thing to say, challenging him. "What I'm working on doesn't have anything to do with you.""Perhaps." Rick tossed a roll of duct tape in the air playfully. "Let's call this an overdue lesson,"" He said with enough spite in his voice to thrill me.
COLLAPSE
Reviews:
Fred Patten

on

Dogpatch

wrote:
"Unbalanced Scales" by Bill Kieffer is a chilling tale of rap music, Cold Blood, and family. Frosty Pine is a thin Bearded Dragon in the Reptile rap group The Knights of St. George, one of the groups of Large Scale Records' tour The Large Scale Event (reptiles – scales – get it?); a roadie double for singer Dr. Ice and younger brother of giant Kudzu who has made himself into their flashy headliner, Saint George: nine feet tall, gold chains, mirrored coated sunglasses, gold capped lower teeth and upper teeth etched with the words ST. GEORGE and inlaid with gold. Others are Jonny Heartland, an Alligator; Mimic, a box Turtle; Bling Bling, an Anole, … Frosty has gone along at his parents' urging to keep an eye on Kudzu, in a dangerous world of Mammal and Avi prejudice against the Cold Blooded Repts. But there is danger within the rap Repts themselves, and as the novelette progresses, the reader wonders if Frosty is looking after Kudzu or if Kudzu is looking after Frosty.

Insanity runs in our family.
Fred Patten

on

Dogpatch

wrote:
"Brooklyn Blackie and the Unappetizing Menu" by Bill Kieffer is another animal-P.I.-investigates-a-friend's-death. And 34 other deaths. Everyone in the turtle's Harlem apartment building is dead. Blackie, a wolf/dog hybrid P.I., is sure that the police are on a false trail and conducts his own investigation. This is another story that makes clever use of the animal natures of its cast. It has my candidate for the best line in the book: "My soul craved justice, but it would take bloodshed instead."
This is a furry collection set in the story verse called Aesop's World. Cold Blood: Fatal Fables collects the Urban Dark Noir Bill Kieffer has written in this setting to date. Recently, Hide and Qibla are two lighter stories from the same storyverse. These take place in the early part of the 21st Century and feature an Alligator and a Cat trying to overcome cultural and generational differences to build a life together.
Hide will be appearing in Fang 9.
Qibla will be appearing in Roar 9.