Book by Cree Storm and Maggie Walsh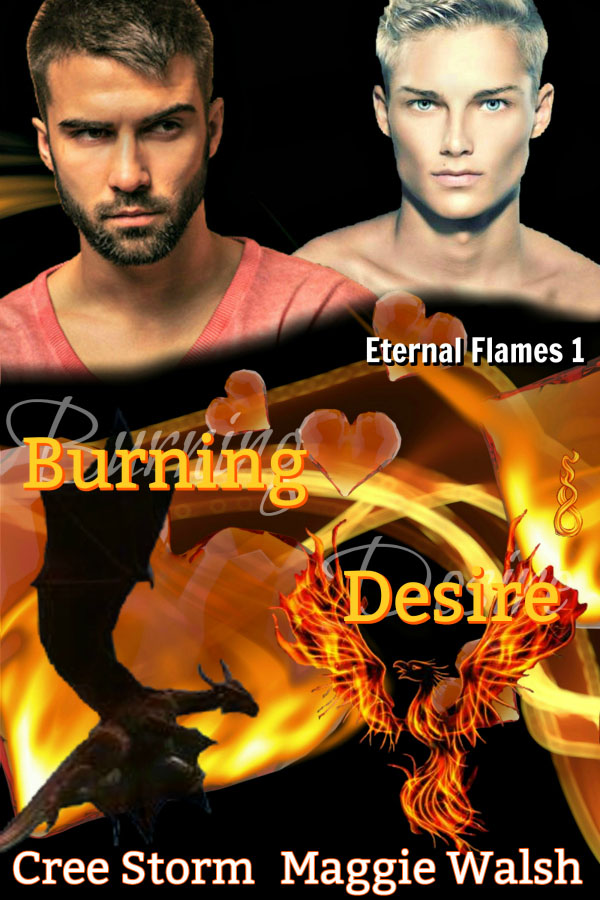 Editions:
Kindle

-

First Edition

:

$ 4.99
ePub

-

First Edition

:

$ 4.99
PDF

-

First Edition

:

$ 4.99
Paperback

-

First Edition

:

$ 12.99

Size:

6.00

x

9.00

in

Pages:

157

This is book 1 of the Eternal Flames series,
Centuries ago the Phoenix and Dragons were a force no one could penetrate. They fought together, mated together, and worked side by side, and then all that changed. The children of the leaders were dead and war had practically destroyed them all. The fighting stopped and they both went their separate ways.
Daytona was the Captain of the Crystal fire department. He loved his small town and he loved his job. However, what none of the small town knew was that he was also a dragon. Crystal was a small location just outside Denver, and it was also the home to the Phoenix. He had lived amongst them for years, hiding his scent, until the day came that he could no longer keep his secret.
When a fire claims his mother's life, Ethan rushes home. Having your mother being a victim of an arson is not something he was prepared to face, but discovering he wouldn't have to do it alone, should have been a relief. The thing is...that relief came in the form of a dragon, and the town believes that his mate is the cause of all the fires around town.
When the arsonist strikes close to home, Day knows he must clear his name and find the culprit that is now trying to kill his mate.
This book is on:
3 To Be Read lists
3 Read lists
Published:
May 25, 2016
Editors:
Cover Artists:
Genres:
Pairings:
M-M
Romantic Content:
3
Ending:
Click here to reveal
Character Identities:
Gay
Protagonist 1 Age:
Ageless/Immortal
Protagonist 2 Age:
Ageless/Immortal
Tropes:
Alpha Character, Big Character / Little Character, Biological Urge to Mate, Coming Home, Death of Parent, Enemies to Lovers, Everyone is Queer, Families/Raising Kids, Fated Mates / Soul Mates, Hurt / Comfort, In Uniform, Love Can Heal / Redemption, Mind Games, Most Mindblowing Sex Ever, Rescue, Reunited and it Feels So Good, Slow Burning Love
Word Count:
45873
Setting:
Colorado, USA
Languages Available:
English
Series Type:
Continuous / Same Characters
Excerpt:
"This is fucking bullshit!" Daytona yelled for the fourth time in less than two minutes.
Daytona couldn't remember the last time he was this pissed off. First those fuck wads see his mate in the most intimate moment, reserved for him and him alone, and now he stood in front of his father, Justice, Angelo, Morgan, and his mate being accused of arson. His dragon was fighting to come to the surface and claw Marco and Frankie's eyes out, and then show these assholes what it meant if a dragon wanted to start a fire.
"Day, I am only telling you what I saw today at the shelter," Angelo said nervously.
Growling Daytona snapped, "What? What the fuck did you see, Angelo? You said you saw me touching the fuse box wires! Well damn it, I told all of you, I would inspect the shelter regularly because it is so fucking old. Of course I touched the damn wires, but that does not mean I started that fire!"
"Daytona, you need to calm down," Illan said softly.
READ MORE
Turning to his father, Daytona went to yell, but stopped himself.
Using a false sense of calm, Daytona asked, "Tell me, father. Do you think I did this? Do you think I started a fire, killing Nina and all of my men?"
Illan looked at Daytona, without giving anything away, replied, "I think we need to understand why it is Angelo had the vision to begin with, Daytona."
Looking around the room, Daytona saw Angelo biting his lip as Morgan stood behind him clenching his jaw. Justice sat behind his desk expressionless, and Ethan sat in a chair with his legs crossed, looking pissed off.
Shaking his head, Daytona walked to the door and opened it wide, seeing Jett, Finn, and Zev listening.
"What the fuck are you three doing?" Daytona snapped.
Jett smiled wide. "Listening so we can gossip about it later."
"Daytona, we aren't finished here," Illan snarled.
Turning back to his father, Daytona, replied, "We were finished a long time ago. This just solidifies it for me. Anyone that knows anything about me, knows I would never purposefully harm another."
"Where are you going?" Ethan asked softly.
Pushing past his friends, Daytona said, "To figure out who the fuck is behind this fire, because it damn sure isn't me."
Daytona didn't feel like waiting for the elevator and took the stairs instead.
"Daytona! Wait!"
Daytona didn't bother looking back. "Ethan, go back to the others."
Just as Day reached the door, he felt a hard grasp to his elbow and Ethan growled, "Would you stop!"
Turning sharply, Daytona, hissed, "Leave me alone, Ethan. You heard them. I'm a big bad arsonist trying to kill everyone!"
"Daytona, you and I both know that is a load of crap. Someone is setting you up and I want to help you figure this shit out. So stop acting like a child and let's find the asshole really responsible," Ethan said gruffly.
"I couldn't have said that better, Ethan," Morgan said from outside the door.
Confused, Daytona asked, "How the hell did you get down here so fast?"
"Elevators are really quick. Plus Morgan made us run around the building. I bet the locals think we stole a purse," Jett yelled out.
"Jett, shut the hell up. We don't have time for your crap. Day needs our help, not your stupid antics," Finn snapped irritably.
"What the hell are you guys doing here? Morgan, I thought you were assigned to Angelo?" Day questioned.
Morgan's eyes shifted away as he seemed to grind his teeth. "I told your father to keep an eye on him because I was helping my best friend figure out who the hell is trying to frame him."
"Yeah, Day. You didn't think we believed that dodo bird do you? We know you had nothing to do with that fire," Jett said emphatically.
"Hey, Angelo isn't a dodo. He sees things and he interprets them. You can't get mad at him because you don't like the vision he had," Ethan argued.
Before Jett and Ethan could argue further, Zev said, "Why don't we all go to that guy Levi's cafe and have some pie and coffee. We can sit and go through what Angelo told you and what we need to do to get this shit straightened out."
Daytona couldn't believe that all his friends and his mate were willing to deny Angelo's vision and honestly believe in him. He just wished his own father would have been as open minded.
COLLAPSE
Reviews:
SiKReviews

on

Goodreads

wrote:
A great collaboration of two author I adore.

A new series with Phoenix, Dragon and other types of Shifters all living in a little town. Daytona and Ethan are brought together by fate when their races need to fight a common enemy.

I really rooted for the two of them to get together despite the harsh past histories and prejudices of the two races.

Can't wait for the next installment.
Crystal Watson

on

Amazon

wrote:
OMG what a great start to a new series. This is Daytona and Ethan's story. Daytona is a dragon hiding in phoenix territory. When a fire threatens to kill innocent people Daytona shifts knowing it will be the end of his fire fighting career. Ethan has just graduated from college coming home to a terrible mess. Ethan mom was in the fire and she can't heal. When Ethan sees Daytona he knows that he's his mate but he's a dragon the immortal enemy. What's a phoenix to do. Why take his mother's dying word to heart. With danger losing in can these to mates find their future? Can they over come centuries of hate between their races? Omg I loved this book and so hope for another one.