The Republic series, #3
by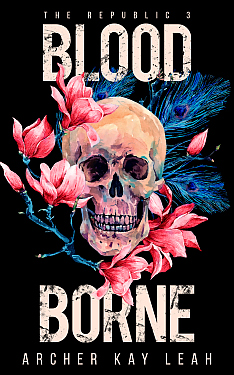 Editions:
Kindle

-

First edition

:

$ 6.99
ePub

-

First Edition

:

$ 6.99
PDF

-

First Edition

:

$ 6.99

For Ress, survival is a complicated nightmare. Caught between two masters on different sides of the law, his life is falling apart one bad decision at a time. All he wants is to be is a good person, a loyal family man, and a successful metalsmith—a dream he can never obtain while he works for the Shar-denn, the violent gang that plagues the republic of Kattal.
To make matters worse, he works as an informant for the High Council. He scrapes through both jobs waiting for his last breath. As the Shar-denn motto says: the only way out is dead.
No stranger to living complicated decisions, Adren is caught between worlds of cir own. As the child of a Shar-denn faction boss, cir life is a conflicted tangle of expectation and duty. When cir family is arrested, Adren manages to escape, but nowhere is safe. Desperate and on the run, Adren is determined to punish Ress for turning in cir family. No one who betrays the gang can live. Ress must pay the price, even if Adren has to go against everything ce is.
Publisher:
Less Than Three Press
Cover Artists:
Genres:
Pairings:
NB, 4+ or Other
Heat Level:
1
Romantic Content:
4
Ending:
Click here to reveal
Character Identities:
Ace, Genderqueer, Non Binary, Transgender
Protagonist 1 Age:
36-45
Protagonist 2 Age:
18-25
Tropes:
Age Difference, Criminals & Outlaws, Enemies to Lovers, May/December, Moral Failure
Word Count:
97000
Setting:
Republic of Kattal
Languages Available:
English
Series Type:
Same Universe / Various Characters
On Sale?:
Yes
Sale Ends On:
2017-07-11
Sale Details::
Less Than Three Press, $5.94 (15% off pre-orders only)
Content warning: Blood Borne contains no explicit content and instances of misgendering/the use of a trans character's deadname.