Website: https://www.pride-publishing.com
Books Published By Pride Publishing
Word Count:

50049
Character Identities:

Gay
Summary: Sooner or later, something, or someone, has to break. Tyr Blackstone is a bodyguard for hire assigned to protect the nephew of a wealthy businessman. He's prepared to babysit a spoiled rich kid but instead finds himself guarding a young man held virtual prisoner. Milo Forbes wants nothing more than to escape his brutal uncle's clutches but is trapped. If he runs, his uncle will withdraw funding for his brother Matthew's care. On his twenty-third birthday, Milo will inherit a vast fortune, but his uncle has been plotting for years to prevent that happening. As the date approaches, his uncle sets in motion a set of plans designed to destroy Milo's mental stability. Tyr, tasked by his mysterious employer with keeping an eye on Milo's uncle as well as his charge, soon realises that Warren Forbes is evil, concealing his greed for wealth beneath a veneer of concern for Milo's wellbeing. Forced proximity with a fragile young man means Tyr's growing feelings for Milo are tempered by guilt. His need for control and Milo's willingness to submit are thrown into stark relief by their circumstances. Can Milo survive the trauma his uncle has subjected him to, accept his found family and find his happily ever after? Reader advisory: This book contains scenes of violence, and of abusive punishment.
Hostage to Fortune
Word Count:

69, 000
Character Identities:

Gay
Summary: Declan Hunt is having a bad week. His kidnapping case is showing little progress, his office assistant has left him on short notice, and his latest investigation has left him literally battered and bruised. But things change when he hires twenty-four year old Charlie Watts to help out at the office. They form an unlikely partnership while trying to solve two seemingly unrelated cases whose threads begin to weave together when the missing person case turns to murder. The investigation takes them from the dark alleys, gay bars and bath houses of Calgary to the richest parts of the city during the world-famous Calgary Stampede. But will they be able to discover who the killer is before another life is lost? And will Declan be able to solve the mystery of his relationship with Charlie, who is clearly attracted to him — especially since it is evident that the attraction is becoming mutual?
Mann Hunt
Word Count:

58408
Character Identities:

Gay
Summary: There's no antidote to the malignant craving for power and wealth. Landry Carran should know better than to get involved in yet another murder mystery, but it was hardly his fault that someone dumped a dead body on the doorstep of Treasure Trove Antiques. He can't resist recruiting his friends to help him play detective. Meanwhile, Landry's partner and Dom, Gage Roskham is doing real detective work that proves hazardous to his health and brings with it the assistance of an annoying Englishman who Gage believes should be behind bars. The case twists and turns across Seattle's antique trade and the bodies multiply. As clues are solved, it becomes apparent that those closest to Gage are in grave danger. He'll need to control his errant sub, deal with the most irritating Brit ever born and solve the case if he wants to prevent more death.
The Poison Bottle
Word Count:

102663
Character Identities:

Demisexual, Gay
Summary: Out of the swirling mix of secrets and a hurricane, can love survive?  Two years later, part of the Charm family, Gavin Hartfield creates magical memories and events. One of those weddings will be for the Charm's owners, Samuel Ashford and Dakota Mitchell, if they ever make up their minds. The other one for his ex-boyfriend and his new partner. In the middle of all this, he keeps tangling with a tattooed brusque EMT. Xavier "Gray" Grayson feels a bit on the outside looking in when it comes to the collection of Charm men. He envies all of them finding love. Pushing his non-existent sex life filled with one-nights at clubs aside, he runs through life as an EMT and college student pushing to better himself. Running along the beach and trails become his relief and sanctuary. Until he keeps tripping over the new event coordinator. An incoming hurricane takes aim at Shore Breeze. The town braces for the impact. Plans falter and change. Will life, love, and a wedding follow these changes?
Saving the Wedding
Word Count:

63,000
Character Identities:

Gay
Summary: Travel writer Rob Hanson has been from the summit of Mount Everest to the markets of Mogadishu. He loves adventure, he loves his job, and he loves the freedom of being single. At least that's what he tells himself. Everything changes when an assignment takes him to a small, idyllic west-coast island where he falls in love with the local woodcarver. From the first moment he sets eyes on Mitch, he feels like he's found his perfect match. But things are never that simple for Rob. Before long he finds himself involved with devious deals, jealous ex-lovers, and secrets from the past that refuse to go away. Rob knows that the only way to get what he needs is to reveal the truth. But does he have the courage to do what must be done in time to save himself and the man he loves?
The Woodcarver's Model
Word Count:

74271
Character Identities:

Bisexual, Gay
Summary: AURA's offices have been quiet since the mage tower incident—as quiet as they can be for an agency dedicated to policing holes in reality—and the department heads have been free to turn their attention back to mundane matters. The return to quiet bureaucracy gives AURA's Director of Research, Kai Hiltas, the time to turn his energy to a new issue—a young drow with unusual and dangerous powers named Ryld. Though his shadows always lurk at the edges of his vision, Ryld does his best to live peacefully and not let them hurt anyone. He has his work, his apartment and a succession of minders assigned by AURA who are, ostensibly, there to keep him safe in his new world and to prevent him from causing any scenes with his shadows. Most of the time, the arrangement works. But one disastrous incident causes Ryld's minder to leave him unattended and lost—the precise thing he was hired to prevent. To replace the faithless minder, Kai suggests Hank, a half-goblin accountant recently in the middle of a string of terrible luck, while Kai works out how best to get Ryld the magical training he so desperately needs. For his part, Hank truly likes Ryld and insists he would be happier working as Ryld's companion rather than as a controlling minder. As Hank and Ryld slowly come to terms with sharing space—and eventually more—Kai's search for a teacher for Ryld takes them out west on the invitation of the Elvenhome's aelfe queen and right into the lap of inter-elven feuds, ancient prejudice, conspiracies and trafficking rings. What should have been a pleasant visit soon turns into more than even forever-scheming Kai can handle.
Ryld's Shadows
Word Count:

59668
Character Identities:

Gay
Summary: Sometimes, using a safe word gets you exactly what you want. Canadian Zac Denman is young, rich and submissive. He's also a kidnap risk who's grown up in the shadow of bodyguards and security precautions. All he wants is to work out what kind of submissive he is in a safe environment and thanks to his very understanding father, he's getting the chance to do exactly that. The Retreat in England is safe, discreet and willing to provide a selection of Doms for Zac to play with—a great way of discovering what he is, and isn't, into. Dale Gastrell is a friend of The Retreat's owner, a member of The Underground BDSM club and a soldier turned landscape gardener thanks to an inconvenient bullet. Two weeks providing covert protection to a wealthy client who won't even know he's there seems like a perfect break from city life. But life is never simple, and when Dale and Zac are thrown together, Dale has to fight his attraction. Zac is from a whole different world of wealth and privilege. He's not for the likes of Dale who has to watch as Doms arrive at The Retreat to give Zac a taste of submission.
Finding Him
Word Count:

60000
Character Identities:

Gay
Summary: For a demon, finding a mate is a difficult, anxiety-inducing process. Or he might just accidentally bite his gaming buddy during a bout of experimental sex and bam—mate found! During a book club meeting where The Witcher is discussed in its entirety, meaning books, series and games, Barion again meets Jon, the zombie, who lives in Sammy's basement, and the two bond over their mutual love of the game. They begin gaming together, doing videos for Jon's YouTube channel where he tests games that are to be released to the public. During one of the videos, they are asked what their ideal game would look like, and the idea for Demon Wars is born. Working together on the game brings Barion and Jon closer together and their friendship deepens every day, which worries Jon's Grann, a zombie like himself and the witch queen of New Orleans. She wants Jon to come back home, while Jon realizes he loves spending time with Barion. After some friendly—and oh so subtle—prodding from friends and family, Barion and Jon decide to explore the potential of their relationship. They have sex, and Barion bites Jon in the heat of the moment, marking him as his mate. They're both over the moon, even though they now have to visit Grann in New Orleans because the family and the ancestors want to check Barion out. They quickly realize that something is wrong there, and it turns out Grann has been challenged by a voodoo priest who practices the blackest of magic. Barion will do his best to save the day, Grann—and his relationship.
Demon's Game
Word Count:

60041
Character Identities:

Gay
Summary: Life would be simpler if X marked the spot. When Landry Carran buys an antique mirror from a pop-up flea market, he doesn't expect it to set him on a treasure hunt originating in the Second World War. He can't resist tracking down the clues even knowing that every step brings him closer to danger. Landry's partner and Dom, Detective Gage Roskam, has his own problems handling a money laundering case that twists and turns as much as Landry's treasure trail. As a decades-old mystery collides with modern-day crime, Landry and Roskam must juggle work, friendships and their relationship to solve both puzzles. It'll be a miracle if nothing gets broken along the way. Reader advisory: This book contains scenes of physical assault, gunshots and expressions of homophobia. There are references to non-nurturing parenting, addiction and attempted abduction.
The Gilded Mirror
Word Count:

53,445
Character Identities:

Gay
Summary: Book seven in the Roughstock series You don't need the use of your eyes to see forever. After his head injury leaves him blind, professional bull rider Jason Scott can only think of one thing. He desperately needs to win the title in the big leagues of bull riding so he can retire and start a new life—one he can live with his best friend and lover, Andy Baxter. Andy—or Bax, as his friends call him—wants to keep Jason safe and alive, but he would never ask his man to be less than he is. With the help of their best friends, they start out on a path that will lead them back to the major events and to a deception that might lose them all their jobs. There's no way the league officials would let Jason ride if they knew he was blind, so Jason and Bax have to figure out how to get Jason back to the top of the leaderboard without any kind of advantage or cheating being called. Meanwhile, they have to figure out what their new life is going to look like and what they'll be if they're not bull riders any longer. Will they get what they want? Or will the whole thing just be a case of the blind leading the blind?
Leading the Blind
Word Count:

79903
Character Identities:

Bisexual, Gay
Summary: When Brayden stumbles into a covert operation, Sam has to keep him alive. Together they navigate their unexpected attraction and the world of the Ukrainian mafia. Brayden Hart needs to find his older brother Mason and time is running out. Mason disappeared after being discharged from the military two years before. While on leave from the army, Bray follows a lead his friend has been able to find. When he knocks on the door of a dingy apartment outside Miami, the last person he expects to meet is the gorgeous but grumpy Sam Wheeler. Sam denies knowing Bray's brother and turns him away. But Sam is Bray's only lead. Luckily, Bray's childhood friend is one of the best hackers in the country and helps Bray follow Sam to Ukraine. In Kiev, Bray falls blindly into the fray of a covert operation and Sam steps in to keep him alive. While navigating the choppy waters of the Ukrainian mafia, Bray and Sam fall into the bedroom. But what happens when the mission ends?
Sweet Hart
Word Count:

45233
Character Identities:

Gay
Summary: Apparently, the path of true love meanders through a minefield. After several years of adventures, submissive Olly Glenn and his Dom, Joe Dexter, are about to tie the knot. Needless to say, all does not run smoothly on the path to matrimony. Only Olly can turn a visit to a cupcake shop into a police incident. While Joe and Olly's friends join forces to make their wedding the most memorable ever, others are not so keen on them getting their happy ever after—or living to experience their honeymoon. So, when Joe walks into a carefully laid trap, it's hard to see a way out. Olly is determined that nobody, not even a sociopathic killer with connections to his past, will ruin the big day. He wants Joe standing next to him, in one piece, and he'll risk anything to make sure that happens, even if they have to be handcuffed together. In fact, that idea has possibilities…
Edging Closer
Word Count:

54000
Character Identities:

Gay
Summary: Sammy is content with running his bookshop and leading a book club consisting solely of paranormal creatures. Despite the persistence of his friends, he has resolved himself to a life without romance, since he doesn't think anybody could find him and his tendency to spill useless knowledge whenever he gets nervous attractive. Dresalantion is a demon prince and slightly—make that majorly—annoyed when somebody persistently tries to summon him. He finally decides to show up and put the fear of Dresalantion into his summoners but finds himself rescuing their sacrifice instead. Sammy intrigues him from the get-go, and when Dre realizes that Sammy can get him the manga he's been hunting for months—not to mention that he refuses a wish he offered him—the sexy demon decides to get to know this fascinating man better. Much better.
Demon's Wish
Word Count:

44,000
Character Identities:

Gay
Summary: ometimes loves shines a light. Devlyn Collins lives with his mum and stepdad in the north of England. He goes out with his mates, drinks a bit too much and works for his Uncle Sid. The trouble is, he's begun to think he wants more. Henry Ward is a man with a secret—he's a multi-millionaire who owns a landed estate on the edge of Exmoor, thanks to a massive win on the lottery. He's also a man with a mission, determined to restore Secoombe Hall and village and find out how he shares a history with the place. He's too busy for love. Christmas brings these two men together when Henry offers Sid and Dev silly money for a last-minute job of putting up Christmas lights. Dev doesn't expect to meet an attractive man in this small village and Henry expects them to be just strangers, passing for one night only. But events conspire to bring Dev back to the village…and keep him there for Christmas. Will this be just a holiday romance, or could it develop into something more?
A String of Lights
Word Count:

18241
Character Identities:

Gay
Summary: Hiding in plain sight is a risky business—in more ways than one. Jamie is hiding from the past and sacrificing a lot to do so. After witnessing a murder, he's on the run from powerful enemies. Taking a job at a rough leather bar, Spikes, is a way to survive off-grid. Bubba is the bouncer at Spikes who takes a personal interest in protecting Jamie's very cute behind, but when Jamie runs from the club in panic straight into the path of a van, there's nothing Bubba can do. Amnesia puts Jamie at risk, but his returning memories are even more dangerous. Desperate to protect his friends, he puts his life on the line for Bubba—the only person he can rely on to save his neck. Reader advisory: This book contains a scene of attempted rape. There are also scenes involving abduction, violence, and the forcible administration of drugs. Publisher's Note: This book was previously released in the Hard Evidence anthology.
Secret's Hold
Word Count:

60343
Character Identities:

Gay
Summary: Antiques and ammunition do not mix well. The antique trade is not known for its life or death excitement and Landry Carran is happy that he has to contend only with furniture polish, woodworm and his irascible boss. He gets all the thrills he needs at his favorite BDSM club, Scorch. Detective Gage Roskam is hunting stolen jewels taken from a Tokyo exhibition then shipped to Seattle. Mired in a deadly race involving the Yakuza, an enigmatic Englishman and too many indecipherable clues, he doesn't have time to indulge in Dominant fantasies. When their worlds collide, neither Landry nor Gage expects things to get quite as complicated—or dangerous—as they do. When Landry steps into the path of some powerful, ruthless people, it's up to Gage to protect him. Along the way they might just discover what they both need.
The Lucky Cat
Word Count: Information not available
Character Identities: Information not available
Summary: Sun, sea and submission…a different kind of dream holiday. When Ben's best friend's appendix throws a wobbly, Ben has to holiday alone. He plucks up the courage to attend their planned mini BDSM break as a solo submissive, determined to have some fun, even if he doesn't find the Dom of his dreams. When he meets handsome local beachcomber Rhys, Ben hopes holiday romance might turn into more—but Rhys isn't quite what he seems and Ben has to reconcile his need to submit with his doubts about Rhys' honesty.
Footprints in the Sand
Word Count:

50,000
Character Identities:

Gay
Summary: Two men, one with a past and one determined to give them a future. Mick Flanagan has kept himself hidden since his only lover died three years ago. He works at night, keeps to his routine, has impressive facial hair and avoids contact with other people as much as possible. Enter Ceri Llewellyn, with his constantly changing rainbow-colored hair, who, for reasons Mick doesn't understand, seems determined to talk to him. Gradually, Mick reveals his traumatic past as he begins to trust Ceri enough to shake himself out of his entrenched routines. Ceri Llewellyn has no idea why Mick intrigues him, but he determines to bring this shy man out of his protective shell, especially when he discovers they share a mutual love of all things Doctor Who. Ceri faces his own turning point, a moment when he must decide on his future. The more time he spends with Mick, the more he realises he wants Mick to be a part of this new life. Can Ceri show Mick he's his perfect companion, give him the new beginning he needs and, above all else, help him find his true self?
His Perfect Companion
Word Count:

94,010
Character Identities:

Ace, Bisexual, Demisexual, Gay
Summary: Love, served straight up. Malcolm Elliott has been keeping secrets. Helping his mom through a financial crisis has nearly emptied his bank account and his kitchen cupboards, despite his thriving career with Corporate Equality Campaign. Malcolm is also bothered by his inability to tell the most important people in his life that he identifies as gray ace. Stuart Morgan has a secret of his own. Though years have passed since the tattooed chef fled the Mormon church in Utah for New York, he's never truly come to terms with the fetish that ruined that rigid but outwardly perfect life. Experience has also taught Stuart that keeping his love of lacy things under wraps is safer than telling the truth. After Malcom's boss, Carter, hires Stuart's restaurant to cater a gala fundraising event, the strait-laced Malcolm is thrown together with badass biker Stuart. Despite their differences and a couple of false starts, the men discover they work well together and a friendship quickly forms. As Malcolm's feelings for Stuart deepen, his sexuality awakens, but he remains tight-lipped about his problems. And though Stuart grows more and more attached to Malcolm, he remains fearful of confessing his fetish. When both of their secrets are finally exposed, they find themselves at a crossroads in which they must choose between playing it safe or finally coming clean to the person they love.
Straight Up
Word Count:

17,600
Character Identities:

Lesbian
Summary: Sometimes life gives you more than this. Two years after whistle-blowing on irregularities in the company she worked for in the US, businesswoman Veronica Smith runs into Cassandra Forster, the woman with whom she had an intense affair back in New York. Cass pushed all Ronnie's buttons as well as her boundaries, and the relationship was becoming something more before Ronnie left without an explanation. When they pick up where they left off, Ronnie finds she still wants more…but does Cass feel the same? Cass wants an explanation. Being with Ronnie had begun to mean more than great sex, but then Ronnie left her high and dry. Cass' feelings haven't changed, but can she trust Ronnie enough not to hurt her again? Can she trust herself to let someone into her life? Over a weekend and a wedding, the two women finally talk and discover they have more in common than the ability to meet each other's desires. But can they take this second chance life has given them to have more than this?
More Than This
Word Count:

58165
Character Identities:

Gay
Summary: When you're a warlock, proving your worth can be fatal. Evrain Brookes had thought that being a warlock was about genetics—a freak offshoot of evolution that somehow allowed him to manipulate the elements. So when his godfather explains there's a deeper purpose for warlocks being around, one that stretches back into the reaches of time, Evrain is intrigued. Warlocks have been using their abilities to tweak the course of history for the better since records began but before Evrain can be allowed to fulfill his destiny, he has to pass a test. This challenge takes him and his life partner, Dominic Castine, back to Scotland, to the Isle of Skye. What they both face there will determine the course of their future. Evrain has no way of knowing if he will prevail, but both their lives depend on it.
Elemental Faith
Word Count: Information not available
Character Identities:

Gay
Summary: It takes more than a shared past to make a future together. When Kwesi—Kez—Zakari, cardiology consultant secretary at St. Cross Children's Hospital, hears that his aunt's building has caught fire, his settled life is turned upside down. Not only is his aunt now homeless, but he's also thrust back in contact with someone from his past—someone he's been trying to forget for five years…and failed miserably. Callum Wright never seems to get things right. He needs to do one more wrong thing before he can get his life back in order. Instead, he undergoes a literal trial by fire, and choosing the path of good returns his old friend to his life. Kez's council-estate-to-professional-world transformation reminds Callum of how he's never been able to get anything right…least of all his feelings for the man. Kez hasn't got over the reckless act of betrayal that caused their separation five years ago. Atoning for the guilt he still harbours at having turned his back on his friend in the past, he helps Callum get his future in some sort of order—a difficult feat when all those quashed feelings resurface for a man who can't, and shouldn't, ever be trusted. All Kez can do is repeat that this time, he really, seriously, most definitely, won't be fooled again. Reader advisory: This book contains references to drugs, threats of violence and scenes of fire and the aftermath of fire. There are references to male sex workers, homophobic insults and verbal abuse of a disabled character.
Won't Be Fooled Again (St. Cross #2)
Word Count:

4364
Character Identities:

Bisexual
Summary: Despite having known each other for half their lives, it took years of heartache before Carter Hamilton and Riley Porter-Wright could admit they were perfect for each other. They're in a great place now, and neither wants to rock the boat, but that hasn't stopped Carter from thinking it's time to ask Riley a certain question that's been on his mind. Publisher's Note: This free story is linked to The Speakeasy series, and features Carter and Riley from Calm and Wake
Southampton Sea Breeze
Word Count:

97,046
Character Identities:

Bisexual, Gay
Summary: Love, served behind the stick. Kyle McKee lives a charmed life. He co-owns Under, an uptown speakeasy, where he is chief mixologist. Friends poke fun at Kyle's tiny one-bed apartment in Chelsea, but they're the best support system a man could ask for. Unfortunately, Kyle's lackluster love life has led him to take a break from dating. Harlem resident Luka Clarke is a lieutenant with Engine 47, the Pride of Morningside, where he carries on his father's legacy with the FDNY. Luka, who is mixed race and bisexual, has his eye on Kyle, whom he met at a local burger joint and he just needs to make time to visit Kyle's bar. Before work one evening, Kyle is trapped inside the luncheonette when a fire breaks out. Luka's firehouse answers the call and he connects with Kyle again under the most unexpected of circumstances. When Kyle gratefully invites Luka and the firehouse squad to Under, the flirting between the two men leads to a date. Kyle and Luka quickly grow close, but Luka's mother and sister distrust Kyle for being both white and gay. Luka believes his family will come around and accept Kyle in the end, but Kyle is not optimistic and hides his disquiet as attraction blossoms into love. Kyle and Luka's near-idyllic bubble is shattered one evening after a hate crime leaves them scarred, inside and out. Shaken, they put on a strong front but struggle inwardly against fear and personal demons. As the emotions seething beneath the surface finally come to a head, both men must decide if they have the strength to find love enough to conquer hate.
Behind the Stick
Word Count:

22697
Character Identities:

Gay
Summary: Life can slide out of control when you least expect it. Of his group of friends, Zach is the only one yet to find his kinky-ever-after. The contract killer, Harlequin, is still on the loose, Zach's dad is ill, a result of the stress caused by knowing the family amusement park is being used as an exchange point by drug runners, and Zach is faced with problems much tougher than the mathematical equations he's used to. Daniel Raynott has had his eye on Zach for some time. Now that Zach is no longer in his class at the university, he can act on his instincts and give Zach the guidance he desperately needs. As a Dom, Daniel demands obedience. As a man, he falls hard for Zach's vulnerable innocence. A boring summer has a lot of appeal, but Zach has about as much control over events as he does a trip down the helter skelter. He finds himself in danger more than once. Will Daniel be able to protect him or will the holiday season culminate in tragedy?
Helter Skelter
Word Count: Information not available
Character Identities:

Gay
Summary: Fate can be written in a tea bag too. Mark Johnson is hitting his forties and is stuck in a rut. He's had the same boring office job for ten years, with no motivation or inclination to change it. The same crumbling house for ten years, with no cash or know-how to fix it. And the same Facebook status for five years—it's complicated. It isn't. He's single. He just doesn't want to correct it. That would be admitting defeat. The day a tea bag splats onto his face whilst he's emptying the dregs of his morning cuppa at Macy's Tea Shoppe is the one that makes him question each of his current life choices…the tea bag and that the shop is currently being run by one rather friendly, rather hunky, but rather young Australian named Bradley Summers. Tea has never tasted so good.
Love & Tea Bags
Word Count:

86000
Character Identities:

Gay
Summary: One merman. Two lives. A love so powerful it tore apart a city and broke the heart of a god. Caspian, the Atlantean God of Justice, has devoted his eternal life to protecting the merfolk. He has no time for romance, not even when the merman he now watches over is his former lover reincarnated. Phoebus, a merman living in the sunken city of Atlantis before the Atlanteans were banished, never intended to fall for Caspian, the most promiscuous of all the gods. Yet, when Caspian offers him immortality, Phoebus doesn't know if he can pay the price, even if refusing means breaking the heart of a god. Back in the present, Marin remembers the love he once had for Caspian, but he's not the same merman now. Caspian might have loved him as Phoebus, but he knows the god cannot give him what he needs. Marin doesn't want Caspian's protection. He wants revenge, and he is prepared to make the ultimate sacrifice to get it, even if it means breaking Caspian's heart a second time
Treacherous Seas
Word Count:

67125
Character Identities:

Gay
Summary: Sometimes you have to start over to get love right. Luke Ryan's life is too chaotic for romance, what with running his business and being the legal guardian to his ten-year-old niece, but he's hopeful he'll find the right man. Trauma surgeon Finn Thomason recently relocated from Chicago to Boston, where his focus on medicine leaves him little space for a personal life. Making a commitment to find a better work-life balance, Finn hopes he'll also find a relationship. Caught in an evening rainstorm, Luke shelters under a sidewalk awning…and encounters a handsome stranger. The two strike up a conversation and Finn offers to walk Luke under his oversized umbrella. Charmed, Luke accepts and asks Finn out for coffee in thanks. Luke and Finn quickly grow close, but, as the summer draws to an end, Luke struggles to keep his connection with Finn while Finn tries to come to terms with caring for a man whose attention is pulled in many directions. Both men are scrambling to get it right, but only time will tell if they'll learn there is more than enough room in their hearts to go around.
Third Time's the Charm
Word Count:

44000
Character Identities:

Gay
Summary: A book written hundreds of years ago holds the key to the future of the last survivors of the human race. Growing up in a massive underground cave network, Jessiah has never known any other world. When he discovers the existence of a time portal he enlists the help of his friends to expose the truth about the greedy scientists who control it. Garrett has no head for science and struggles to earn the respect of both his peers and his father.  With a taste for parties and whores, Garrett is the chosen target for Jessiah and his friends to use to gain access to the laboratory containing the time portal. Impatient and impulsive, Jessiah decides to move things along at a faster pace by playing the role of a prostitute to get close to Garrett.  He is prepared to sacrifice his virginity for their cause, but he doesn't plan on falling for Garrett in the process. With the future of the human race in the balance the stakes for humanity are high. With his heart on the line, the risk Jessiah takes might be even higher. Only together can Jessiah and Garrett change the stars of everyone in the caverns.
To Change the Stars
Word Count:

59495
Character Identities:

Gay
Summary: Trust is hard earned and all too easy to lose. Luke Redding's military background is an asset when it comes to managing The Retreat, but it hasn't helped him find the submissive he longs for. A secluded life in the New Forest, witnessing a stream of happy couples playing out their fantasies, doesn't provide much opportunity to develop a relationship either. When a friend's manipulations lead to him taking on silver-haired Skye as a trainee sub, Luke finds it hard to trust in his own ability to provide the guidance Skye needs. Skye Ingham wants to explore his submissive nature but the noise and crowds at The Underground are overwhelming. He can't believe his luck to be taken under Luke's wing and offered a job at The Retreat. As Luke tests his boundaries, Skye trusts him implicitly, but how can he convince his new Dominant to have faith in himself? Amid the bustle and excitement of a big house party at The Retreat, Luke and Skye edge their way towards a deeper understanding of each other's needs and desires. But it will take a final leap of faith to secure their future and open a path to love.
Trusting Him
Word Count:

88,944
Character Identities:

Gay, Pansexual, Polyamorous
Summary: Love, served extra dirty. Jesse Murtagh loves his life as a wealthy bisexual businessman dedicated to the pursuit of pleasure. With a circle of friends he trusts implicitly, he enjoys a successful career in his family's business and as co-owner of Under, an uptown speakeasy, with his friend with benefits, Kyle McKee. Music teacher and part-time DJ Cameron Lewis lives modestly in a DUMBO loft and isn't interested in serious relationships. However, he's always up for some casual fun. Doing a favor for his friend Carter Hamilton, Jesse meets Cam and is immediately charmed. When Jesse discovers Cam's other life as a DJ, he is further intrigued. Viewing Cam as a challenge, Jesse pulls out all the stops, but his usual methods to avoid serious relationships fail. Though Cam has no intention of becoming attached, he begins to fall for Jesse, unaware that Jesse's feelings are changing. Afraid of heartbreak, Cam pulls away, leaving Jesse bewildered and hurt. They remain friends until a series of misunderstandings widens the rift to breaking point. When Cam steps in to help Jesse through a family crisis, they realize they care for each other more than they've been willing to admit. Jesse and Cam don't want a traditional relationship, but can they build a future that makes them both happy? Reader advisory: This book contains scenes of mmm ménage as well as references to homophobia and recreational drug use.
Extra Dirty
Word Count:

21056
Character Identities:

Gay
Summary: Even the brightest places have shadows. Stevie is sweet and shy—the only hint of an independent spirit comes from his lilac hair. For years he's harboured a crush on his best friend, Adam, who is everything Stevie isn't. The problem? When it comes to love, Adam is a bit slow on the uptake. On top of that, Stevie fears the escaped killer known as Harlequin is targeting his friends, and clings to his role managing the merry-go-round for some semblance of normality. But someone is watching from shadows even the summer sun can't penetrate. Realising that life can be all too short, Adam takes steps to ensure that Stevie will be his. All his protective instincts kick in when Stevie attracts some unwanted—and very dangerous—attention, but he can't take care of him alone. The group of friends needs to band together because the bright lights and whirling horses of the merry-go-round won't be enough to keep Stevie alive. Some killers are far too good at hiding in plain sight.
Merry-Go-Round
Word Count:

73,000
Character Identities:

Gay
Summary: Sometimes you need to listen to your heart, not your head. As a teenager, Dylan Hargreaves fell in lust with a man who had been his father's childhood friend. On his return from university, Dylan is surprised to discover Riley Ormerod is now back living in their small Lancashire village. All Dylan needs to do now is find a way to bring himself and Riley together. Giving a lift to Dylan Hargreaves is the price Riley is willing to pay to recover his friendship with Dylan's father. After living in London for twenty years, Riley came home a year ago to escape heartbreak and take care of his dying father. Here, no one knows his secrets. With Dylan determined to discover more about Riley, and Riley finding himself drawn to this intriguing young man, can they find what they need in each other? And if they do, will they be able to overcome Riley's doubts and the attempts of others to tear them apart?
Two for the Road
Word Count:

74000
Character Identities:

Gay
Summary: Three years ago, Danu banished Diego for a time from the human world. Three years and three days doesn't seem that long to be away from home but living among the wild fae can change a man and the human world returns the favor by changing while he's gone. There's a vampire on Tearmann Island's security force. A curious selkie's followed him home. So much to do to keep the world safe...but Diego's no longer sure he has the right to interfere. Theo Aguilar started his vampire life on the wrong side of the law. He's killed and knows he's dangerous if he doesn't stay in control every moment. But the fae took him in and Prince Lugh has given him a position of trust. So when Diego and Finn are arrested on a diplomatic mission far from home, he knows his duty. He's striking out on his own to rescue them, a lone vigilante once again, this time for the good guys. The only glitch? The selkie, Limpet, can't seem to understand the alone part.
No Fae Is An Island
Word Count:

108000
Character Identities:

Bisexual, Genderqueer, Non Binary
Summary: Fire. Water. Burn. In the two months since the All Hallows' Eve party, Tally has courted Haru, buying expensive gifts, taking the two of them to upscale restaurants and trying to find a balance in earning Haru's fragile trust while being new parents to the Cohen joeys. Tally sees hope in the new domesticity the family has settled into, despite having some bumps along the way. Gifts and treats have satisfied Haru's otter, but the human half remembers the brutal lessons of giving their trust away. How can two lijun who barely know each other anticipate what will happen when times get tough? There are circumstances Tally doesn't understand yet, and Haru struggles to find their feet with an Urusar who doesn't know the rules. A revelation not only throws the tentative relationship between them askew, but also starts Tally and Haru down a path the two of them can't escape, one so heart-wrenching Haru's not sure their heart will survive. Traditionalist concerns that have always nipped at the Bastille clan's heels come roaring to the forefront with demands and ultimatums. Tally needs to fall in line or face further threats to his otter, his family and his clan. Haru needs to find the strength to believe in the good despite the bad. In an environment where it's vital to know ally from foe, Tally and Haru need to stand united or watch the community Tally's family has built fall under the thumb of heartless, greedy autocrats.
Trysts & Burning Embers
Word Count:

20337
Character Identities:

Gay
Summary: The ride of your life could be your last. Garth's summer job running the ghost train at the local amusement park is supposed to be a stress-free way to earn some much-needed cash and his Goth looks are a bonus as far as his boss is concerned. The sunshine is a stark contrast to the macabre, spooky scenes inside the ride, but when one of the corpses proves to be more realistic than it should be, shadows are cast on the summer. Clem sees potential in the moody fairground assistant with spiky hair and pretty blue eyes. He can't wait to explore Garth's submissive nature. But Clem isn't quite what he seems and he might be all that stands between Garth and a violent death. Earning Garth's trust won't be easy in a world where secrets can mean survival.
Ghost Train
Word Count:

79500
Character Identities:

Gay
Summary: Lost beneath the ocean, Atlantis has become a myth. When it rises from the deep everything will change for Kyle, Finn and the merpeople. Jake Seabrook, a human descendant of Medina, the Atlantean Goddess of Love, never asked for magical powers. Unfortunately, not only does he have them, but they are also growing stronger as more of the Atlantean gods wake from their long slumber. When Jake develops the power to hear the thoughts of anyone thinking about love, lust or sex, it is strange and embarrassing, but also reveals cracks in his relationship with his mermen lovers, Kyle and Finn. If they are going to continue to live as a ménage, they will have to learn to be honest with each other. With Jake's powers out of control and their relationship on shaky ground, the last thing any of them need is a crisis in the sunken city. The Atlantean gods want to regain the powers they lost when the Atlantean people were banished from the city, but the solution will leave the mer who live in the city no choice but to evacuate and search for a new home or risk exposing the existence of the mer to the whole world. Kyle and Finn return to Atlantis to help with the evacuation and insure the safety of their families, but time is not on their side. When Atlantis rises, the consequences could tear apart their ménage forever.
Hidden Depths
Word Count:

98000
Character Identities:

Bisexual, Gay
Summary: Zack thought he had a strange job before---Marine medic in a secret government base was odd, but personal assistant to a sidhe prince is downright bizarre and damn dangerous. Zack thought he had a strange job before. Working as a Marine medic in a secret government installation was odd, but working as a human liaison to the /fae/ and as the personal assistant to a sidhe prince is downright bizarre. Throw in the fact that he's pretty damn sure he's fallen in love with his boss, and things are close to unmanageable. Of course, around the fae, one never says 'things can't possibly get any worse.' Unexplained events plague the human world. Strange sightings, spontaneous magical explosions, and odd bends in reality crop up. When Finn falls ill and a monstrous creature attacks Zack, things quickly slide into disaster. Lycanthropy, loose-cannon mages, and Lugh conspire to make a hellish mess of things---but the real peril begins when Diego loses an important piece of his mind.
Semper Fae
Word Count: Information not available
Character Identities:

Gay
Summary: Jamie MacDonald, a young Scot mourning the deaths of his father and brothers in the ill-fated battle of Culloden, decides to take his mother to the New World. But tragedy and unforeseen circumstance dog Jamie's journey and he is pressed into service aboard a pirate ship commanded by a ruthless Spaniard. Antonio Rodriguez is a man with a dark past, but also with an allure Jamie cannot resist. The two men embark on a stormy relationship—but can their feelings for each other survive the danger that surrounds them, threatening not only their love, but their very lives?
The Journey Begins
Word Count:

95295
Character Identities:

Gay
Summary: Love, served with a twist. Nursing a broken heart when his ex-boyfriend, Riley, leaves him for the love of his life, Carter, Will Martin throws himself into teaching at NYU and writing. An invite from Riley to a speakeasy called Under helps Will begin to heal, and he finds himself enjoying both the drinks and the company. Soon after, he's shaken by news of his father's cancer diagnosis and Will reluctantly returns to Long Island to see the man who disowned him after he was outed. Sparks fly when Will meets his father's mentee, Republican Senator David Mori, who is both mixed race and openly gay. Will is looking for a no-strings-attached fling and David is leery of getting involved with his mentor's son, so they keep their affair a secret. As his father's health worsens, Will elects to remain in Garden City and his relationship with David grows beyond casual sex. Now, both men must decide how to bridge the divide between them.
With a Twist
Word Count:

81669
Character Identities:

Bisexual, Gay, Genderfluid, Questioning
Summary: Unearthing the past brings them closer together…and to danger. A maniac is on the loose in London, drugging young women and assaulting them before burying them in shallow graves. When Inspector John Cordiline asks Jake Chivis for his unique assistance as a Fire Elemental with the Cemetery Rapist case, he feels he can hardly refuse. What begins as a simple job—trying to get memories from a suspect to aid conviction—soon takes a darker turn when one of the victims dies and an offer of help comes from an unexpected and unwelcome source. Dr. Mari Gale is disturbed to find that his former lover Tomas Arregui is London and wants to meet with him. Despite his best efforts to avoid the man, fate seems to be pushing him onto a collision course with Tomas. And the impact will cast him into more trouble than he could ever have imagined. Digging deeper for the truth could be the death of them.
Digging Deeper
Word Count:

64092
Character Identities:

Bisexual, Gay
Summary: It takes more than a doctor to mend a broken heart. Ollie Warne is fresh out of nursing school and working his dream job as a pediatric cardiology nurse at St. Cross Children's Hospital. Wanting to start the year fresh from personal heartache and his track record of falling for the wrong man, Ollie's New Year's resolution is to rid himself of emotional baggage and live a life of carefree liaisons. But before the resolution can even begin, Ollie is called to care for eight-year-old Daisy Monroe, who's struggling after heart surgery. Her father, Jacob Monroe, never leaves her side, apart from the times her mother comes to visit. The tempestuous and somewhat estranged relationship of her parents is cause for concern enough, but the father's brooding nature has Ollie investing far more time than usual in his Room One patient. Striking up a friendship of sneaking takeaways into the ward, card playing until dawn and the occasional breaking up of domestic fights, Ollie finds himself drawn to Jacob and becomes a friendly ear for the man who's harboring more guilt and past demons than even Ollie, which is saying something. The growing attraction makes it hard for Ollie to keep his distance, though he has to—not only do the ethics of his profession demand it, but Ollie is still somewhat involved with another man. One who has a huge stake in Ollie's life, both personal and professional. Ollie is risking more than just his job by getting involved with a patient's father—much more even than the success of his New Year's resolution, something that was supposed to ensure that, this time, he won't feel a thing. Publisher's Note: This book was previously released by another publisher. It has been reedited for rerelease with Pride Publishing.
Won't Feel a Thing
Word Count:

57670
Character Identities:

Gay
Summary: An escape from the real world can only ever be temporary. Rowan Stanton knows he is submissive. He loves to look after people but the country hotel he works at can't quite fulfill his need to serve. When he succeeds at getting a new role as houseboy at The Retreat, an exclusive BDSM hideaway in the New Forest, he believes it's his dream job. Inexperienced in many ways, he soon realizes he's not as prepared as he thought for the demands placed upon him. Lorcan Wilder is young, rich and successful. He's also haunted by nightmares and has sacrificed a decade to his business. Selling it gives him the freedom to explore his Dominant side and four weeks at The Retreat are the start of a new life. He doesn't expect the young submissive employed to serve him will have such a profound effect on him. Exploring and pushing Rowan's boundaries is exactly what Lorcan needs to separate himself from his past. Lorcan makes full use of The Retreat's facilities, from the genuine dungeon to the secret toys concealed in every room. He rediscovers his energy for life and gradually reengages with the world. However, his efforts to compartmentalize the past ultimately fail and he comes to realize what he's always known—that true submissives have an inner strength he can only envy. By the end of his stay, Lorcan can't let Rowan go, though he thinks he must. What will convince him that he's allowed a happy ever after, and will he find the courage to accept it?
Serving Him
Word Count:

85000
Character Identities:

Bisexual, Genderqueer, Non Binary
Summary: At the annual Global Lijun Alliance conference in Tokyo, Tally Bastille makes the first impulsive decision of his life. Others perceive his uktena-the enormous legendary serpent that's his dual-spirit-as a threat, which makes him all too aware that he frightens fellow lijun. But an encounter with a passionate, obviously-not-straight otter lijun one evening convinces Tally that he's found his Em'halafi, his destined match. Tally is determined to barrel through all obstacles to make the match happen, including the otter's conservative, traditional family. Trained as a Satislit—a bride son—Haru Tanaka chafes at the strict boundaries set around their life. They rebel against their clan's constant attempts to force an arranged match and wish desperately for someone who will love them. At the conference, Haru is horrified to learn their family has accepted an offer for them, one too lucrative for the clan to refuse. Not only has the Urusar sold Haru to a stranger, but the lijun is also a giant snake and one who believes in the tired old superstitions regarding Em'halafi. Threatened with banishment if they refuse, Haru has no choice but to marry the wealthy American serpent. Back in Tally's home in Wisconsin, Haru and Tally must navigate both the widening gulf between them as they realize how much they've misunderstood about each other and the tricky politics of the lijun clan Tally leads. Murder, intrigue, and increasing hostility threaten to tear apart the little town of Wadiswan and the arranged marriage they've barely managed to begin.
Fireworks & Stolen Kisses
Word Count:

95,502
Character Identities:

Bisexual, Gay
Summary: Sometimes when you don't know what you want, life gives you what you need. When Neil Markovic witnesses the murder of his mother by Bone Men, his world is thrown into turmoil. On the run from the assassins that killed her, his sorcerer father and the police, Neil finds help in the form of a tall half-fae alchemist named Malachai. Mal seems more accepting than most of Neil's demon bloodline but curiously immune to his charms. Malachai Valentine, disgraced scion of a noble leprechaun clan, back in the Old Country, is happy living as an anonymous scrap dealer. Using his talent for alchemy to make fuel and potions, most days he doesn't even think of his ruinous past. When a scared young man with a fancy car crashes into his life, at first, Mal thinks he can do without the hassle. But as Neil begins to get under his skin, Mal reassesses his hopes and ambitions. Harassed by megalomaniac fae and stalked by sorcerous killers at every turn, Malachai and Neil must fight to be free, and to find what they both always wanted.
Demon Familiar
Word Count:

75396
Character Identities:

Gay
Summary: Feel the fear and do it anyway. Extreme photographer Lysander Brock is accustomed to challenging places and situations but nothing can prepare him for the journey that his dominant lover, Kyle Dawson, takes him on. A commission to photograph the cloud forests of the Colombian Andes becomes the cover for a dangerous mission to expose a terrorist group. Brock and Lysander must negotiate treacherous terrain, a hazardous climb and unexplored caves to achieve their goal. When Lysander is captured and tortured, he has no expectations of rescue. He understands that his life comes second to the mission but Kyle has no intention of leaving his beautiful, submissive lover in the hands of a madman. Kyle can deal with the intense pressure of fighting lethal enemies but the guilt of pushing Lysander into a life he never asked for is much harder to accept. Lysander and Kyle journey together into a life of adventure, dominance and submission, and an uncertain future. Publisher's Note: This book was previously released in two parts as part of the What's his Passion? collection at Pride Publishing. It has been revised and reedited for re-release.
Testing Lysander
Word Count:

60000
Character Identities:

Bisexual, Gay
Summary: Diego's impulse to rescue a naked bridge jumper starts as just that—talk the man down and get him to social services. But there's something odd about this homeless person, more than just his delusions of being a pooka, and something so vulnerable that Diego's determined to help him stabilize rather than see him institutionalized or deported. Finn went into the dreaming centuries ago to escape a heartbreak he couldn't bear. Now that he's back, he finds the Veil to the Otherworld closed. The fae courts have abandoned him in a poisoned human world where a displaced pooka has little chance of survival. His human rescuer is kind and compassionate—and shockingly familiar. One thing at a time, though. He needs Diego to believe he's not human first.
Finn
Word Count:

60869
Character Identities:

Gay
Summary: Storms pass and, in their wake, new beginnings can be found. Talented young artist Jonty Trelawn paints the sea as self-inflicted punishment. For almost a year he has hidden away from life, survivor's guilt consuming him, but the time has come to move on. He conceives the idea of a charity art auction in support of the local lifeboat station and the men and women who saved his life. He hopes the tribute to his family will release him from the sea's invisible chains. Carpenter Jed Curnow is bound to the water in a different way. As deputy coxswain of the Govenek, the local lifeboat, his world revolves around the close-knit crew. He thinks nothing of risking his life to save others. Saving Jonty is less dangerous but just as important to him. He wants nothing more than to give Jonty the love and security he needs. Jed's dominant personality calls to Jonty's more submissive nature but will he ever allow himself to be happy? It's up to Jed and his best friend Marmite to help Jonty put his tragic past behind him and live for the future.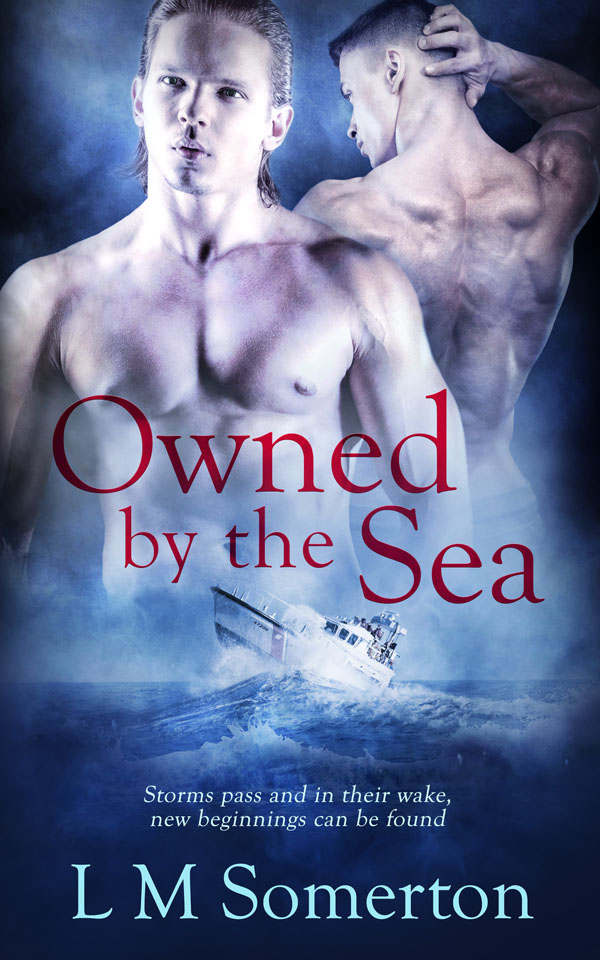 Owned by the Sea
Word Count: Information not available
Character Identities:

Gay
Summary: Sorrow's grip is relentless until a rambunctious ball of fur and a handsome dog wrangler break its hold. Four years after his partner died, leaving him to raise their daughter alone, Mason Ford still grieves his loss. Resigned to devoting his life to their little Nik, Mason goes through his days exhausted by the nightmares that keep him from sleeping. When he and Nik meet Jeremy Coulter, dog wrangler extraordinaire, their cozy world is upended. Mason's attraction to the exuberant man with the teasing smile is unfamiliar and frightening, while Nik's easy camaraderie with Jeremy is instantaneous. When Jeremy saves Nik's life, Mason wonders if he has fallen for the much younger man or are his feelings nothing more than obligation? Is it possible that love at first sight is real?
Mason and the Dog Wrangler
Word Count:

80000
Character Identities:

Bisexual, Gay
Summary: They're Treading Water in an Ocean of Secrets When ex-cop Jake Chivis is woken by the police and questioned about the mysterious death of his neighbor, he thinks his day can only get better. Things go from bad to worse when his lover, Mari Gale, brings him a horrific sex tape which appears to show a man being murdered. As they begin to investigate the origins of the video, nothing is as it seems. Will they find the killers before they strike again? Or will dark secrets rising to the surface in their own lives erupt and tear them apart?
Surfacing Secrets
Word Count: Information not available
Character Identities:

Gay
Summary: In a world where discrimination and segregation are the standard, can tradition be changed through transcendence? Raised in a world of segregation and discrimination, Phoenix Ashe stands on a precipice. He is an Elitist Masc, destined to become mayor of his prefecture. His lineage is revered for its singular preference in matters of the heart and loins. All he must do is make a seminal deposit during the twin-moon solstice to secure his legacy. While contemplating the enormity of the transaction he's about to complete, he meets the irreverent Tristan Faire. Tristan is the renowned Femme attendant for Seminal Depository. It's his job to entice and satisfy the prefecture's Mascs, harvesting their seminal fluids for storage until requested for conception. He enjoys his work and looks forward to someday making a home with a suitable mate. What he doesn't need is to fall in love with a client who deems Tristan a second-class citizen. Mascs for mascs and Femmes for femmes. It's the way of their world. Tristan can't hope to transcend the ingrained beliefs of the arrogant Phoenix and win his heart. But the Divinity has other ideas, and she works in mysterious ways. Will a haughty Masc and irrepressible Femme challenge the prefecture's social mores and prejudices to find happiness?
Transcending Phoenix
Word Count:

50655
Character Identities:

Gay
Summary: 'Old actors never die' shouldn't be literally true. Carrington Loveless III, skim-blood vampire and senior officer of Philly's paranormal police department, has long suspected that someone's targeting his squad. The increasingly bizarre and dangerous entities invading their city can't be a coincidence. So when a walking corpse spouting Oscar Wilde attacks one of his officers, Carrington's determined to uncover the evil mind behind it all. As a rare books librarian, Erasmus Graham thought he understood some of the stranger things in life. Sharing a life with Carrington has shown him he didn't know the half of it. They've survived attack books and deadly dust bunnies together and got through mostly unscathed. Now his world and his vampire's appear ready to collide again. Books are missing from the Rare Book collection—old tomes of magic containing dangerous summonings and necromancy. He's certain whoever has been stalking the Seventy-Seventh is composing their end game. It's going to take a consolidated effort from paranormal police, librarians and some not-quite-authorized civilians to head off the impending catastrophe.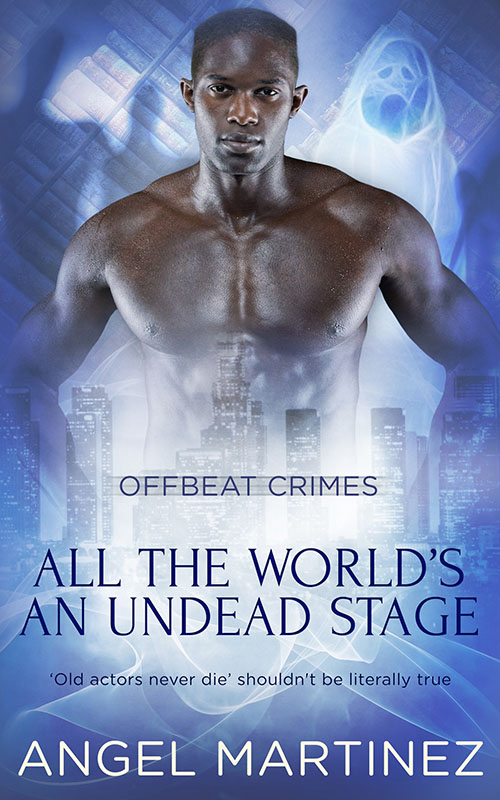 All The World's An Undead Stage
Word Count:

63,160
Character Identities:

Gay
Summary: When everything is taken from you, including the memory of who you are, what possible chance is there for happiness? Edward Lazenby has it all—a rich grandfather, a beautiful home, days spent riding his favorite horse in Hyde Park. What he doesn't have, and feels he never will, is handsome Thomas Marsden, a man who, at first, seems repulsed by Edward's forwardness when they meet. Dalliances with members of the same sex in Victorian England can lead to scandal or even imprisonment, so Edward and a few close friends have formed their own Club where they can meet without fear of persecution. When Edward's grandfather dies, Edward is heir to his estate but before he can lay claim to it, he is brutally assaulted, his injuries resulting in complete memory loss. Months later, Thomas Marsden finds him working as a stable boy on a country estate. Thomas takes him back to London, hoping to find a way to have Edward's memory restored to him, and remind him that just before he disappeared, they had declared their affection for each other. Can the two men build a life together or will Edward's disability be too much of a hurdle to happiness? Reader Advisory: This book contains some violence and attempted sexual assault.
From Upstairs to Downstairs
Pushing Phillip
Word Count:

22219
Character Identities:

Gay
Summary: Secrets don't stay hidden forever. Hatchet has a thing for the enigmatic Mr Smith, Horatio Trap's spokesman. He'd love to get his hands on the pretty man and show him how good it feels to take orders for once rather than hand them out. He's had his eye on Smith for years and he's running out of patience. The Wyverns' involvement in the drug trade is limited to stealing money from the cartels, they don't want junk peddled on their turf. When Trap orders them to destroy a crack cocaine factory in Phoenix, they are happy to oblige. But Smith throws a spanner in the works by posing as a potential buyer, putting himself in mortal danger. Hatchet and The Wyverns come up with a plan to fake Smith's death, muscle in on the deal and convince the cartel to do business with them instead. But when Hatchet's cover is blown he's left to save a bunch of illegals, destroy the drugs and wipe the factory from the face of the planet. It's all in a night's work for The Wyverns—but there are still secrets to uncover and the mysterious Horatio Trap, and his mind games, can't stay hidden forever.
Steel Trap
Word Count:

33.5K
Character Identities:

Gay
Summary: When Adam meets Jack in an airport bar, suddenly the friendly skies become a whole lot more than just 'friendly'. Adam Ritchie is afraid of flying. So much so that as soon as he clears security in San Diego airport he heads straight for the bar. Only, on this day he meets Jack Brenner, a man who is about to change his life, perhaps forever. The two men bond over a drink. Adam explains his fear of flying, telling Jack that the only reason he is getting on a plane is to attend his twin brother's wedding in Seattle. Jack offers to save him a seat next to him, so he can allay his fears through the takeoff and landing. Adam doesn't expect Jack to also hold his hand, and really doesn't expect a kiss from this attractive stranger, but isn't about to refuse either one. Jack proposes they meet again when they return to San Diego, but an impatient Jack shows up at Adam's brother's wedding and they take their mutual desire to the next level. When Adam returns home he looks forward to another date with Jack at the end of the week, but he must suddenly return to Seattle when a friend in distress calls for help. Adam at first sees this as another opportunity to connect with Jack again, but sometimes thoughts and actions can be misunderstood and not everything always goes according to plan. Adam finds he must choose between loyalty to an old friend and the attraction he feels for a relative stranger.
Fear of Flying
Word Count:

103,507
Character Identities:

Bisexual
Summary: A love worth the wait. When Riley Porter-Wright comes out as bisexual and confesses his feelings for Carter Hamilton, it severs their friendship. Carter's rejection forces Riley to move on and he's shocked to learn Carter's marriage has fallen apart. Overwhelmed by his failure as a husband and father, Carter misses Riley, but feels guilty for disappearing after Riley's coming out. After Riley extends an olive branch, the former friends agree to repair their relationship. Slowly, Carter pieces together a new life, admits his attraction to men and confesses his feelings for Riley. Leery of Carter's initial rejection, Riley turns his focus to a new man, Will Martin. Disappointed, Carter fosters new friendships with men like Jesse Murtagh and Kyle McKee, while also navigating new waters with his ex-wife, Kate, as their children learn their parents are dating other people. As they rebuild their friendship, both Carter and Riley draw strength from each other, hoping the choices they've made are for the best. Wake, the prequel to Calm, was published in May, 2017.
Calm
Word Count:

57949
Character Identities:

Gay, Pansexual
Summary: Hoax animals and a consulting vampire on the prowl—Jason never thought having a cop boyfriend would be this hard. All Animal Control Officer Jason Shen ever wanted was a quiet life of rescuing lost kittens and helping animals in need. Having a paranormal cop boyfriend guarantees an end to the quiet part. What at first seems a random encounter with jackalopes in the park might be more than chance and when State Paranormal sends a handsome, charming vampire to consult with the Seventy-Seventh, he finds his relationship with Alex on shaky ground. Officer Alex Wolf hoped his humaning skills were improving but now he can't unravel the strange politics at State Paranormal or why Jason's family seems to hate him. There's no time to puzzle things out either. Bizarre animals are loose in the city, Jason's acting strange, and is the vampire captain from State flirting with him? Wolf's going to have to keep his head in the game if he's going to have any chance of putting the pieces together and keeping the city safe from the strange critters terrorizing its streets.
Jackalopes & Woofen-Poofs
Edward Unconditionally
Word Count:

59470
Character Identities:

Gay
Summary: A warlock's blood gives him life. It can also bring his death. It's no wonder Evrain Brookes, newly fledged warlock, is feeling the strain. A coven of power-hungry witches is after his blood. Literally. A psychotic warlock wants him dead. His godfather's training regime is about as much fun as chewing on nettles and an overweight, scarily perceptive cat has moved into his house. His boyfriend Dominic yearns for a normal life, or at least a safer one. He accepts his role both as Evrain's submissive partner and as the conduit through which he channels his gift – but he's afraid for his lover and the lengths Evrain's enemies might go to in order to fulfil their lust for power. When Evrain falls victim to a plot between the Octis Coven and malevolent warlock Symeon Malus, it's up to Dominic to rescue him. With the help of the two other North American warlocks, a mysterious cat and an old enemy, Dominic takes steps to get his lover back. There's a high price to pay and no guarantee that the risks he must take will pay off but Evrain is worth going through hell for, even if it costs Dominic his life.
Elemental Hope
Rush in the Dark
Word Count:

104,000
Character Identities:

Bisexual, Gay
Summary: Mari Gale's life has been a whirlwind since meeting Jake Chivis. A new job prospect and his mother's health preoccupy him, so when Jake invites him on a date he's ready to cut loose. Their night out turns into a nightmare when a fire breaks out in the basement of the bar and they barely escape. Soon Jake learns that the horrific accident is being investigated as a possible homicide, and it's not the only case. Detective Inspector Cordiline of the London Met hints at spontaneous human combustion but as far as Jake knows, SHC doesn't exist. When Mari looks into a group called Birthright he finds a connection to the victims of the fires and Jake risks himself to go undercover at the shadowy organization. The race is on to determine the truth before Jake becomes the next target.
Burning Boundaries
Word Count:

40000
Character Identities:

Gay, Pansexual
Summary: Officer Alex Wolf responds to a lot of 'paranormal' calls that aren't. Exotic pet birds aren't monsters and unusual dog breeds aren't aliens. It's a good thing he likes the animal control officers, but he both yearns for and dreads those calls where he runs into ACO Jason Shen. Jason's scent is so delicious that Wolf has a difficult time humaning around him. Animal control calls take a disturbing turn, though, when Wolf and his lizard-man partner, Krisk, discover the impossibly mummified bodies of rats and an unfortunate mother cat. The rescue of the cat's sole surviving kitten not only gives Wolf more time with Jason, which is both perplexing and wonderful, but also leads to dangerous discoveries. Something inconceivable stalks the city and its officers of the law. Wolf has to figure out what it is before it can attack and drain the life from the people and the kitten he loves.
Feral Dust Bunnies
Word Count:

20386
Character Identities:

Gay
Summary: Exposing secrets can be lethal. Crow has had his eye on baby-faced Shelton since the young man became part of the Wyverns, but Crow is a committed Dom and unsure that Shelton is ready, or willing, to become his submissive. Getting trapped together during a dust storm provides an opportunity to find out. When the dust settles, the winds have scoured the desert and uncovered a shallow grave full of bodies. Smuggling people across the border is big business and Crow knows that the traffickers will not want their gruesome secret revealed to the authorities. When Shelton is taken and used as collateral, Crow and the Wyverns have to decide just how far they are prepared to go to serve justice and save Shelton's life.
Sand Trap
Word Count:

76000
Character Identities:

Gay
Summary: Can a merman and an Atlantean, separated by centuries and prejudices, find love together? Merman Delwyn is an Oracle of the past. He loves nothing better than observing the comings and goings of those who lived centuries before he was born. His favorite time period to visit is when both Atlantean and mer inhabited the sunken city of Atlantis, and his guilty pleasure is watching lovers come together in passion. Secure in the knowledge that no one can see him when he's viewing the past, nothing can prepare Delwyn for the moment Fabian, an Atlantean living in the past, speaks to him. Fabian is a man with divided loyalties. The demi-god son of the Goddess of Sea Creatures has sworn to serve the Goddess of Prophecy as her Oracle of the present. His unique status gives him the power to see anything in the present, including the mysterious merman voyeur from the distant future. Despite the centuries that separate them, Delwyn and Fabian find they have a lot in common and quickly form a friendship that both hope one day will become something more. But before they can be together in the present, Delwyn and Fabian must unravel the mysteries of the past. Only time will tell if truth about the long-since vanished Atlanteans will bring them together or tear them apart, as the battle for the sunken city of Atlantis begins.
Shifting Currents
Word Count:

73341
Character Identities:

Gay
Summary: He struggles with the stirrings of his heart The welcoming lights of Las Vegas dim when Kevin Monroe and his drag persona Layona Beach leave Robbie Rhythm. Deciding it's time to face his past, Robin McMaster emerges from Robbie's shadow, and sets his sights on Canada to reconcile with the mother who abandoned him. But, first he to travels to San Francisco, intending to mend his broken heart amid red-headed sluts and willing men. A year after his partner of twenty years left him, retired Master Sergeant, Cassidy O'Connor lives alone on his mountain. With his PTSD under control, he is content with his solitude. When a mutual acquaintance requests a favor, Cassidy agrees to trail Robin covertly. With instructions to keep Robin safe, Cassidy is unprepared for his attraction to the engaging young man. But Cassidy has a secret. So, he struggles with the stirrings of his heart for the young musician, over his loyalty to his former partner. Will Robin allow himself to give his heart to the man called Hound? Can a gruff Master Sergeant find love with a fiery redhead whose past goes beyond heartache? Will the secrets of their pasts grant a life of harmony?
Hound and Harmony
Word Count:

46809
Character Identities:

Gay
Summary: When a ferocious book attacks Carrington at his own birthday party, he believes it's an isolated incident. But similar books soon pop up all over town, menacing innocent people with harsh bits of poetry and blank verse that deliver damaging physical blows. It's a frustrating case with too many variables and not enough answers, and the stakes go up with each attack. With the help of his misfit squad mates at the 77th and the public library's rare book department, the missing pieces decrease but not Carrington's vexations. His commanding officer rakes him over the coals at the beginning of every shift. His police partner has lost patience with what she sees as his delusional relationship choices and his inability to pick the right man in a vast field of two. City Hall demands that the books be stopped immediately. It's enough to put a nutritionally-challenged vampire off his skim blood.
Skim Blood and Savage Verse
Word Count:

42516
Character Identities:

Gay
Summary: Never let go of the one you love. After recent traumatic events, Olly is finding it hard to get his head around what happened. While he tries to deal with a maelstrom of emotions, renovations at The Edge are in full flow, alongside preparations for tenth anniversary celebrations. Joe, his Dom, recognizes Olly's delicate state of mind and does his best to reassure him. A trip to the New Forest with their friends, Aiden and Heath, helps the healing process. Returning home, Olly and Aiden focus on preparations for the party. When Aiden is called away, Olly takes a walk to clear his head, keeping his eye on a brewing storm. To his horror, he discovers Mark Vickery, an old enemy, has landed on the island by boat and is out for revenge. With Olly missing and the storm raging, Joe, Heath and Aiden set out on a rescue mission that unfolds in a way none of them expected. Can the storm wash away the past or will Olly and Joe's future be destroyed by a twist of fate?
Binding the Edges
Word Count:

41778
Character Identities:

Gay
Summary: Content with the quiet isolation of their lake house, Snowden and Rowan Hadley survive on summer jobs and winter hunting, unable to move on since their parents died. Their peace is shattered by a strange, human-acclimated bear who insists on following Rowan like a giant hunting dog and again by the discovery of a naked, surly stranger in the snow. Both bear and man lead the Hadley brothers into a strange, surreal world where sorcery and RPG software intertwine. Curses and magical traps lie in wait around every turn. Rowan and Snowden will need to adjust their view of how the world works, and quickly, if they want to live through rescuing their enchanted princes.
Wild Rose, Silent Snow
Word Count: Information not available
Character Identities:

Gay
Summary:
It's not how big the power, it's how you use it. Mitchell's tired of one night stands and casual encounters. Sammi is a runaway sex slave who'll do anything to stay free. When they meet in a bar, Mitchell can't believe his luck. Sammi is sex on two legs and seems to know just what Mitchell wants from a lover. But Sammi's owner Donovan isn't going to let him go so easily. He's prepared to destroy anyone who stands in his way to get back his prized slave. Is the bond between Mitchell and Sammi strong enough to stand up against the damage Donovan inflicts on their lives, or will it shatter?
Soul Bonds
Word Count:

90000
Character Identities:

Gay
Summary: Their love could save the soul of a fallen angel or damn an archangel to an eternity in hell. The realm of angels was created as a paradise where angels could watch over the earth as mankind took his first steps. For the archangel Michael, it is the only home he has ever known and he could never envisage another life. Michael's life changes the day his path crosses that of the favoured son of the morning. From the moment he sees him, Michael wants Lucifer for his own. When the two angels come together the passion surprises them both. Their love is forged in Heaven, but is doomed the moment Lucifer falls from grace to become the leader of an army of demons. Separated by war, the former lovers know the time will come when they must face each other in battle. Their confrontation will set in motion events that neither could have foreseen. For Lucifer it is the chance to persuade Michael to stand at his side, as his partner as leader of the demons. For Michael, it is a mission to save his lover's soul, while risking his own. Torn between his love for Lucifer and his duties as an angel, Michael walks a fine line, where one wrong step could result in his own fall from Heaven, and an eternity in Hell.
Falling into Darkness
Word Count:

30020
Character Identities:

Gay
Summary: Willem's father never approved of his artistic talents, his choices in life, or the fact that he's gay. When the only thing Horst leaves to Willem is the family cat, he thinks it's his father's last insult from the grave. That is, until the cat starts talking to him. Though Willem's lost his boyfriend, his home, and his job, Kasha, who claims to be a magic cat, reassures him that all will be well. All he needs is Willem's trust and a good pair of boots. But giving boots to a talking cat has unexpected consequences when odd events ambush Willem at every turn, such as the appearance of a handsome stranger in his arms at night. While he begins to suspect Kasha's plans might be dangerous for all involved, how can he distrust such a charming kitty in cowboy boots?
Boots
Word Count:

75527
Character Identities:

Gay
Summary: Book two in The Beyond Heartache Series For the past two years, Kevin Monroe has lived his dream, performing alongside his partner, Robbie McMaster, as noted Las Vegas drag queen Layona Beach. Raphael Delgado's love for Kevin made it easy to set aside his dream of becoming a teacher, to care for Mr. Monroe and his own disabled mama. Now Mr. Monroe is dying, and Kevin is coming home. Raphael's inadvertent refusal to publicly hold Kevin's hand is the catalyst for a chain of events that answers these questions. Will Kevin go to gay inmate prison?  Will Robbie end Layona Beach and Robbie Rhythm? How does Raphael become accidentally engaged? Within its themes of family obligations, unrequited love and acceptance Kevin, Robbie, and Raphael discover that heart and home are synonymous.
Heart and Home
Word Count:

59000
Character Identities:

Gay
Summary: You can never escape yourself. It has been a year since the death of Brodie 'Tosh' Mackintosh's husband, Harry. Unable to face all the memories of their life together, he moves into the house of his best friend, Darach McNaughton, and is comforted by the local Church of Scotland minister, Sam Carmichael, the middle of the five Carmichael brothers. Sam Carmichael has always been a bit different from his siblings. He's the only blond in a family of redheads, and the only one with religious beliefs. He also has more than one secret. Can these two men overcome the events of their pasts and find truth and comfort with each other? And, when all their secrets are revealed, will they be forced apart or be able to plan on staying home together?
Staying Home
Word Count:

78000
Character Identities:

Gay
Summary: A blind merman fleeing the sunken city of Atlantis is torn between the family he left behind and the love he swims toward. When Dax lost his family to a shark attack he swam away from everything he had ever known. Now he has come to Atlantis, hoping to reconnect with those he left behind. When he finds his birth clan torn apart, he realizes his journey is just beginning. Kai is an Oracle, a blind merman, who only has sight when he has a vision. Atlantis, a sanctuary for so many merpeople, is his prison. Desperation drives him to beg the Atlantean Goddess of Love for help. With the goddess's promise of love to tempt him, Kai persuades Dax to take him along when he leaves the sunken city. Although Dax has some reservations about traveling through the ocean with a blind merman in tow, he quickly discovers Kai isn't as helpless as he appears. Attraction comes easy, but Kai doesn't seem to feel the same way. Kai knows he must seduce Dax if he hopes to win his heart, but his inexperience may be his downfall. With Dax's former lover waiting at the end of their journey, he knows time is running out. A goddess can only help so much, especially when another immortal would see them part. If the two stubborn mermen want a life together, they will have to learn to communicate and fight for their love.
Dangerous Waves
Word Count:

31144
Character Identities:

Bisexual, Gay
Summary: Vikash Soren, the perfect police officer except for his odd paranormal ability, never seems to lose his temper. Always serene and competent, he's taken on the role of mediator in a squad room full of misfits. But on the inside, he's a mess. Unable to tell his police partner that he loves him, Vikash struggles silently, terrified of losing Kyle as a lover, partner and friend. But life in the 77th Precinct doesn't leave much room for internal reflection. A confrontation with a stick-throwing tumbleweed in Fairmount Park leads to bizarre consequences involving pill bugs, statues and…time travel? If Vikash manages to survive the week and stay in one point in time, he might be able to address normal things like relationship problems. He just needs Kyle to have a little more patience. Maybe a few centuries' worth.
The Pill Bugs of Time
Word Count:

43087
Character Identities:

Gay
Summary: Not all limits can be negotiated. The Edge is reaching a major milestone. After ten years in business together, Doms Joe Dexter and Heath Anders are planning a celebration and new beginnings. But even the best-laid plans can be thrown off course. When Olly, Joe's beloved sub, gets caught up in a hostage situation involving Special Forces soldiers, PTSD and blood diamonds, a party is the last thing on Joe's mind. He hates the lack of control, and the thought of losing Olly takes him close to the edge. Joe is not the only one reassessing his priorities. Olly needs Joe's strength more than ever. He feels safe only in Joe's arms or in his bondage. Can Joe and Olly find sanctuary in each other or will their latest adventure drive them apart? Reader Advisory: This book contains a hostage situation and scenes of violence. 
Driven to The Edge
Word Count:

76071
Character Identities:

Gay
Summary: As construction on the Charm wraps up, multi-media artist Wyatt McBride creates special metal and glass designs to add the finishing touch. When his brother accepts an overseas military duty, he takes in his teenage nephew, Collin. Things go upside down when loses a dear friend to AIDS, has to deal with teenage angst, and loses his heart to a brilliant but shy teacher. To keep his mind out of the past, Keegan Donaghue comes to Shore Breeze to take a position as a high school science teacher and part-time forensics detective for the sheriff's department. A special student connects him to the local artist, but he's still running from his past. Addiction and abuse remain there, lurking in his mind, along with mild PTSD panic attacks. Cryptic troubling emails from his ex don't help the situation. Shy of relationships and opening their hearts to trust, these two men learn to weave their lives together amidst the turmoil of their daily lives. Neither one expects everything to go according to fate.
According to Design
Word Count: Information not available
Character Identities:

Bisexual, Gay
Summary: Kyle Monroe's encounter with a strange, gelatinous creature in an alley leaves him scarred and forever changed, revealing odd abilities he wishes he didn't have and earning him reassignment to a precinct where all the cops have defective paranormal abilities. Just as he's starting to adjust to his fellow misfit squad mates, Kyle's new partner arrives. Tall, physically perfect, reserved and claiming he has no broken psychic talents, Vikash Soren irritates Kyle in every way. But as much as he'd like to hate Vikash, Kyle finds himself oddly drawn to him, their non-abilities meshing in unexpected ways. If they can learn to work together, they might be able to stop the mysterious killer who has been leaving mutilated bodies along the banks of the Schuylkill.
Lime Gelatin and Other Monsters
Word Count:

10180
Character Identities:

Gay
Summary: Achieving a Dom's undivided attention can have unpredictable consequences. Steele Denton's business doing custom paint jobs for fast bikes is booming. He's in demand and has a reputation for being a perfectionist. Tattooed and intimidating, Steele is also in demand as a Dom at his local BDSM club, Chain of Thorns. He requires perfect submission from any sub he deigns to play with. Mackenzie Soames is desperate for Steele to notice him, but he might as well be invisible. He has no idea how to get invited into the VIP members' area that Steele rarely strays from, so he concocts a plan to get Steele's attention. Kenzie is a talented graffiti artist with a secret identity, known only by his tag, a pair of handcuffs. He spray-paints a BDSM scene on a wall at the side of Steele's workshop, hoping Steele will see the security footage and track him down. However, Steele is working late and catches him in the act. Steele recognizes Kenzie from the club and demands twenty-four hours of sexual slavery as penance for the graffiti. Kenzie has no choice but to agree and soon discovers that being Steele's sub will either make him or break him. Publisher's Note: This book has previously been released as part of the His Rules anthology with Pride Publishing.
Tagging Mackenzie
Word Count:

51000
Character Identities:

Gay
Summary: You can never escape from yourself. When Darach McNaughton returns to his home town, the one thing he isn't looking for is love. But when he meets the mysterious Brice Drummond, his investigative instinct isn't the only thing aroused. After a gang beats Brice Drummond, leaves him for dead, and needing to use a wheelchair, he ends up in a witness protection program. His only company is a beautiful cat aptly named Princess. He creates beautiful pieces of art, but allows no one into his life—until a handsome policeman appears out of nowhere. On a snowy night, Darach McNaughton returns a crying cat to its owner and is immediately curious about the beautiful man with the tattoos. Bit by bit, Darach uncovers the shocking truth about Brice's history. Can he get past what he discovers? Can Brice let someone into his life? Or will the past catch up with them both and tear their fledgling love apart?
Returning Home
Word Count:

90311
Character Identities:

Gay
Summary: Book one in the Beyond Heartache series After heartache comes hope… At eighteen, Kevin Monroe has learned that mothers don't always love their sons, Dad's fists can break your bones and a closet gets mighty crowded with two. After the boy next door breaks his trust and his heart, Kevin departs Albuquerque, New Mexico, determined to live his life out and proud as the man he is meant to be. With Diamondback tickets in his pocket, Kevin leaves his heartache behind to pursue his long-time hope of entertaining as a drag queen. Fear has ruled Raphael Delgado since he first realized he was gay—fear of discovery, fear that he can't support his disabled mama and fear that he has lost Kevin forever. Against a backdrop of familial love and obligation, Raphael struggles to find the courage to accept his sexuality, while hoping to leave the fragile confines of his closeted life. While watching a Diamondback game on television, Raphael spots Kevin kissing a man in the crowd. His first reaction is fear for Kevin's safety and his second, fear that Kevin will never come home Can love be restored long distance? Will love's key be strong enough to unlock Raphael's closet door? And who is the red-haired beauty wrapped in Kevin's arms?
Heartache and Hope
Word Count:

57000
Character Identities:

Bisexual, Gay
Summary: You can never escape from yourself. Zac McKenzie is an ex-professional footballer with a secret he gave up his career to protect. Several years ago, he fled to his home in the North East of Scotland to avoid being outed as gay. Now, he owns a successful hotel and restaurant, but is it time to finally come out into the open? Seth Pritchard feels he's damaged goods. He comes to Scotland to escape memories of the accident that left him injured, his bullying stepbrothers and a life of lies. For their whole lives, Zac and Seth have denied who they truly are to themselves as well as others. When they meet, each man is forced to confront his fears and tear them down one by one.
Choosing Home
Word Count: Information not available
Character Identities:

Lesbian
Summary: A young bodyguard finds her special abilities are no match for a flirtatious delegate willing to gamble everything on the galaxy trade talks. Assigned to guard a diplomat at the galaxy trade talks, Security Officer Anais wants to shine during her first solo mission for the Chezeray Palace Conglomerate. An Elusive with the ability to make herself invisible, Anais knows her modified genes designate her servant class, but she yearns to be more than simply a protector to the beautiful delegate. Savea Blackmun arrives alone to the trade talks with the weight of her planet's future resting on her slim shoulders. Flirting with her pretty bodyguard reveals Anais' knowledge of the colony markets and Savea realizes there's much more to her protector than meets the eye. As their attraction grows, will the diplomat and the bodyguard reject society's rules to give in to desire instead?
Elusive Radiance
Word Count:

96902
Character Identities:

Bisexual, Gay
Summary: Jake Chivis is the descendant of Fire Elementals with a gift for psychometry, the ability to see memories from touching objects. After a bad break up and trouble at work, Jake gave up his career as a detective in Detroit and moved to England to join a research program studying Elemental gifts at University College London. It seems like the perfect way to escape his past and start over, and this time he's not falling into the trap of dating a co-worker. At least, that's the plan, until he meets Doctor Ilmarinen Gale. Mari Gale is blond, sexy, relentlessly academic and comfortable in his own skin in a way Jake envies. After a handful of embarrassing encounters, Jake is ready to resign himself to staying under the radar, but when a colleague's brother goes missing, Jake and Mari must work together to find him. As they dig into the inexplicable disappearance, Jake is impressed with Mari's competence and his unique skills, and even more impressed by his ability to wrap Jake around his finger. Together the unlikely pair discover murder, betrayal, secrets and just how high Mari can fan Jake's flames.
Breathing Betrayal
Word Count:

68000
Character Identities:

Bisexual, Gay
Summary: How long do you need before you know? Duncan McLeish owns a ranch. Unlike most ranches, this one is in the Scottish Highlands. Having inherited a failing farm from his grandfather, he turns it into a successful business. He has friends and he loves his home, but he's lonely, and not even infrequent trips to Glasgow and Edinburgh slake that thirst to find someone. Then Drew Sinclair walks into his life. Drew Sinclair is tantalizingly close to getting his clothing brand noticed in the industry. He and his business partner, Joy, create individual dresses, while, on the side, Drew produces a line of men's lingerie. He visits Scotland to design a bridal gown for his sister, Jenna, who is marrying Duncan's best friend at Christmas. Duncan and Drew have nothing except their Highland upbringing in common, but they say opposites attract, and the attraction is immediate. Is this simply a summer fling, or can two men who live such opposite lives miles away from each other find a way to love?
My Highland Cowboy
Word Count:

50630
Character Identities:

Gay
Summary: Even the best-planned experiment can have unpredictable consequences. Max Allenby loves his job as a chemist with Armacom, developing new protective materials. He harbours a secret crush for the CEO, the stern and distant Blake Winters, which makes dealing with his harridan of a boss, Dr. Ella Preston, bearable. Blake Winters is a lifestyle Dom. He spotted Max when he first joined Armacom, but has kept his distance from the talented, young scientist. When his Head of Security, who also happens to be Max's older brother, tells him about Max's feelings, Blake decides its time to make the pretty young man his. Blake proposes a dating experiment to Max. For three hours a night over five nights, Max will give Blake his complete submission. Max is conflicted but decides to take the plunge and get a taste of a lifestyle he secretly craves. Each date night introduces Max to a new level of submission. He loves every minute but is also conflicted—unable to believe a man like Blake wants him as anything more than a temporary plaything. Blake understands that experiments do not always turn out as expected. He takes steps to convince Max of his feelings and to reassure him that his submissive streak is a strength, not a weakness.
Chemical Bonds
Word Count:

80000
Character Identities:

Pansexual
Summary: In a wicked game, the God of Love falls to his own arrow, and a gentle scholar learns how dangerous knowledge can be. Aphrodite has had it. It was bad enough that her son Eros walked a fashion show in drag, but did he really have to show the entire world his wings? Desperate to rein in the impulsive young god, she recruits the scholarly muse Rees to lure him back to Olympus until the scandal dies down. After hundreds of years, Eros has finally located the reincarnation of his former love, Psyche. The only way to her heart is through fame, so the God of Love plans a daring campaign to win her back. Yet the closer he gets to Psyche, the more he's drawn to a geeky young professor who came crashing into his life. Eros drags Rees into his wicked world of high fashion and risqué parties, only to expose him to danger from an unexpected source. When Rees' secrets come out, they threaten to destroy Eros' love for him. Yet when Rees is kidnapped, Eros is forced to turn to the woman who set this catastrophe in motion—his mother, Aphrodite. Book #1 in the Aphrodite Project series
The Tenth Muse
Word Count:

69478
Character Identities:

Gay
Summary: The staff at AURA has had a busy summer. Between chronic understaffing, dealing with warring goblin factions and an unusual number of hazardous Events, everyone is overworked. Sinistrus the incubus, newly hired as an AURA medic, actually enjoys his busy new life of responsible employee and faithful lover to his gorgeous police sergeant, Ness the centaur. Life would be perfect, except for a niggling suspicion about a colleague. Everyone else seems to disagree, but Sin's certain something's not right with that pixie. Kellen, a pixie crossover, loves his job working in AURA medical, even if he is something of an outsider. His job and the friends he manages to make are happy spots in an otherwise dark and secretive life. As the rest of AURA tries to discover the root of the inexplicable rise in violence and large-scale Events, Kellen fights to preserve his own life and what dignity he has left. These two unlikely heroes must put their differences aside and navigate tragedy and ever-escalating disaster together in order to stop the sinister forces that hold Kellen in thrall.
Kellen's Awakening
Word Count:

59472
Character Identities:

Gay
Summary: An untrained warlock is a dangerous man to love. On his twenty-first birthday, Evrain Brookes discovers he is an elemental warlock. The spell suppressing his talent lifts and he has to get used to a whole new existence. The protection that kept him safe during his childhood is gone, his skills are wild and uncontrolled and there are those that seek to use him for their own gain. Evrain's grandmother is a witch, his godfather another warlock. Between them they do their best to keep Evrain on the right path. He learns that in order to gain control of his formidable powers, he will need to 'channel' through a life partner, a process that happens only with consent and through love. But how will he ever find a man prepared to put up with a Dominant warlock for a boyfriend? Dominic Castine has no idea that Evrain's grandmother sees him as a prospective partner for Evrain. He tends her garden and she teaches him about herbs—a trade-off they both enjoy. He is drawn to Evrain's charismatic presence but doesn't understand why he wants to drop to his knees and submit to him. When Agatha is murdered, Evrain and Dominic are thrown together as she manipulates them from beyond the grave. Dominic becomes the pawn in a terrifying game between warlocks whose powers he barely comprehends. In the end, lives will depend on his courage, his willingness to grant Evrain control and the power of love. Reader Advisory: This book contains scenes of kidnap and a reference to attempted sexual assault.
Elemental Love
Word Count:

54162
Character Identities:

Gay
Summary: Lucien Thorne likes to be in control, but the boy he wants to own may take some convincing. Gorgeous but shy, Benedict Astor does his best to keep a low profile at the rowing club where he works. However, unbeknown to Benedict, he has attracted the attention of Lucien Thorne, rowing aristocracy, an Olympic medalist and a lord. Whilst looking for a new rowing partner, Lucien believes he has found what he needs in Ben. He pushes him to his limits on the water and it becomes clear that rowing with the pretty young man is not his only interest. Ben is attracted to Lucien but confused about his feelings. Lucien is demanding, arrogant and dominant—which Benedict responds to even though he feels he should resist. Fighting emotions he doesn't understand, Ben has to contend with the bullying rowing club president and a humiliating auction of promises. Lucien recognizes Ben's hidden submissive streak and makes his own need for control very clear. He bids for Ben's time, then forces Ben to admit to his own desire to test the ground between them. When the deeds to the boat club are gambled away, Lucien and Ben must work together to save it. Will their growing love survive the pressure, Ben's uncertainty and Lucien's desire to own him completely? Publisher's Note: This book has been previously published by Pride Publishing. It has been revised and re-edited for release in 2016.
Stroke Rate
Word Count:

21254
Character Identities:

Gay
Summary: Sometimes the only way to spring a trap is to use live bait. Teddy Austin has had more than his share of run-ins with local law enforcement. The Wyverns have a reputation to maintain, and Teddy feels it's his duty to cause havoc whenever possible. Of course, getting arrested means time in the company of Sheriff Adrian Hayder—always a bonus—though Teddy would far prefer to have the sheriff wearing the cuffs. When The Knights of War MC arrives in Phoenix, Trap orders The Wyverns to get inside information. In order to infiltrate the gang, Teddy must appear to betray his friends and switch his allegiance. Working undercover, however, he confirms what they have all suspected—The Knights of War are a cover for something much more sinister than a hell-raising bunch of bikers, and they fully intend to turn Phoenix into a battleground. With Sheriff Hayder getting far too close to the truth, Teddy is left with a few problems—how to stop a war, keep his balls intact and ensure the man he loves keeps breathing.
Rattrap
Word Count:

80000
Character Identities:

Bisexual, Gay
Summary: What would make you reach outside your comfort zone? Aron Roberts helped his previous love discover a new one, so now he's on his own, living only for his work and the times he manages to escape into the sky. He meets Joe Welsh again—a man he met at the roadside a year ago, a man who became an out-of-reach figure in his fantasies. Aron discovers Joe's life has undergone major changes since their last meeting. The spark of attraction ignites into flames only to be put out by uncomfortable truths. Can Aron overcome his fears and step out of his comfort zone to find love? Can Joe help Aron to deal with his past and trust him enough to allow Aron into his life? With the help of family and friends, and a very determined one-year-old girl, Aron and Joe have a journey to make and obstacles to overcome, if they are ever going to get their happy ever after. This book is linked to Sporting Chance but can be read as a standalone novel.
Comfort Zone
Word Count:

67615
Character Identities:

Ace, Gay
Summary: Looking for the man who tried to poison Samuel Ashford is high on his priority list for Sheriff Robin Burke, who hopes his quiet seaside town returns to normal. With a bit of free time, he hopes to work out his non-existent love life. Returning from London after a six-month trip, Beau Courtenay finds his troubled half-brother invades his home and privacy. Knowing he left his half-brother in a special facility, Beau wonders what chaos his brother created. An offer to renovate the entire Southern Charm systems and security is sent to him and he finds the B&B is going through an entire upgrade. Putting his brother's issues on the back-burner, he goes to the Charm to work. Hearing others discuss the poisoning case of his new client, Samuel Ashford, Beau listens with half an ear. During his investigation of the systems, he discovers a case of hacking from the outside to destroy the online books and clients' private information. He suggests calling in the sheriff's unit, but didn't expect the Sheriff to take on the case himself and giving him personal attention. What happens when the Sheriff connects the potential suspect of Samuel's case to the handsome IT guy with the delicious British accent and tight ass? Will Beau be able to chose protecting his brother or following the law?
Following the Law
Word Count:

44014
Character Identities:

Gay
Summary: Love forged in fire is unassailable. Fireman Salter Beauman, Beau to his friends, has had his eye on cute Marty Standish ever since he helped rescue Marty and his boss from the bombed out rubble of Temple Church. An analyst for the security services, Marty is cute, geeky and submissive through and through—even if he doesn't know it yet. With a serial fire starter making inroads into Beau's life expectancy, he decides that there is no time to waste and introduces Marty to the D/s lifestyle. Marty responds with wide eyes, an insatiable desire to learn and the ability to turn Beau on with nothing more than a wiggle of his slim hips. But Beau has a second, far more malevolent admirer. 'See me dance' is the message left at a series of increasingly dangerous fires. Beau and Marty must work together to catch a psychotic arsonist before their love goes up in flames. Literally. Reader Advisory: This book contains a scene that includes sexual abuse.
Scorched Edges
Word Count:

79000
Character Identities:

Gay
Summary: Justin is a merman who has been raised on land. He hates his fins and wants nothing to do with his heritage. Lucas is an ambitious merman who has lived his whole life in Atlantis. He has spent his adulthood hiding his sexuality because homosexual relationships are forbidden in the underwater city. Now he has been sent on a mission by King Nereus to locate his oldest son and return him to Atlantis to take his place as the heir to the throne. Although his mission seems impossible, Lucas finds help from the Atlantean Goddess of Love, little knowing she has her own reasons for bringing Lucas and Justin together. Justin is no stranger to immortals, having been raised by two of them, but he has no idea of the consequences of angering the Goddess of Love. When he insults her, she curses him to find love only to lose it forever shortly after. As the love 'em and leave 'em type Justin isn't overly concerned, at least until Lucas enters his life and he sees how the curse will end. Together they could have the greatest love of their lives, but only if they can appease the furious goddess before their time runs out.
Tempestuous Tides
Word Count:

98263
Character Identities:

Gay
Summary: Quinn and Valerian have come through the trials of facing an undead lich queen and the perils of falling in love. Now they work to restore AURA to its previous strength and efficiency while navigating their new life with each other. Fortunately, they're not in this alone. Kai Hiltas has taken over as the head of the research department at AURA and has become everyone's favourite workaholic, everyone except his lover Tenzin, who has had enough of his late nights and broken promises. As Kai tries to salvage his relationship, he finds a teacher for Quinn, who also happens to be one of Valerian's new officers, Flax Wolfheart, a sexy elf with trouble written all over him. Flax has motives beyond simply teaching Quinn to control his magic. He's trying to recover from his own losses and failures, but he has a plan. The two newest elvish crossovers, Ash and Sage, are sizzling hot and might even like him. With them as backup as he tracks a deadly stone mage and figures out how to teach Quinn, Flax sees his chance to impress Val and snag a place by his captain's side. On the hunt for both danger and redemption, Flax's pursuit leads him ultimately down trails he never expected.
Flax's Pursuit
Word Count:

19549
Character Identities:

Gay
Summary: A man without scars never had to fight for something he believed in. A new relationship takes time and effort. A new relationship with Orlando de la Pena takes a whole lot more. As a Dom, Rogue knows what he wants, but Orlando refuses to fit neatly into the box labeled 'submissive'. He's feisty, demanding and far too pretty for his own good. Orlando loves Rogue and he's learning to love The Wyverns, but he hates being stuck out in the desert. Finding a niche in the world of bikes and fierce warriors is difficult, and Orlando's impatience gets the better of him. He walks out into the desert and runs in to an antisocial diamondback. Rogue has more than one problem to deal with. The Longhorns MC issues a challenge for territory. The Bellazi cartel is out for Wyvern blood. The Wyverns are under siege, and Rogue has to work out how to save not just Orlando, but all of them. Reader Advisory: This books contains scenes of mild BDSM.
Deathtrap
Word Count:

77241
Character Identities:

Gay
Summary: After a terrible magical accident at Berkeley created unpredictable holes between realities, all manner of non-human creatures started popping into our world. These displacements, called Random Anomalous Reality Events or RARE, have taken magic out of fiction and relocated it firmly in reality, resulting in a great deal of chaos and confusion. Displaced elf Valerian works with AURA, the Agency of Unnatural Resettlement and Assimilation, to intercept these beings as they appear in the human world, helping the peaceful ones and subduing the violent, malevolent ones. It's good, satisfying work, and Val would be happy if he wasn't so lonely. Quinten is a young mage just trying to get by, but New York isn't the easiest city to make a living in. If his methods are sometimes morally dubious, his heart is still in the right place. Of course, for Quinn, the right place means firmly locked away, protected at all costs. Living by his wits and sometimes magically induced luck, he works as a 'freelance magic user', or unregistered mage and small-time con, according to the authorities. The last thing Quinn wants is to draw the cops' attention, but when an Event happens right on top of him, he's forced to turn to AURA for help. Valerian isn't at all what he'd expected in an AURA cop, and he certainly wasn't expecting to join forces with the sexy elf, a snarky drow and a bitter incubus, when certain individuals in power try to stop the RARE by any means necessary. Things are not all what they seem at AURA headquarters, and a greater evil lurks at the top than anyone could have imagined.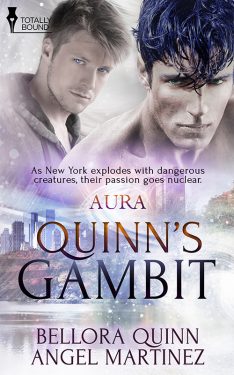 Quinn's Gambit
Word Count:

45056
Character Identities:

Gay
Summary: Can a new beginning be found in leather and chains? Kai Smithson's life changes dramatically with his first glimpse into the world of BDSM. Completely innocent, Kai can hardly believe his eyes, but he knows what he likes and apparently that's hot, dominant men in leather. He isn't sure if he's a submissive because he doesn't really know what that means, but the feelings he is experiencing are exciting and new. Harry Croft, bar manager at The Underground BDSM Club, believes in insta-lust rather than love at first sight. And when he agrees to train Kai, the contract between them has one condition—no sex. But Kai has some very definite plans about losing his virginity and a piece of paper is not going to stand in his way. In his new friends at the club and at The Edge, Kai has a ready-made support group of subs that show him that the only rules in a D/s relationship are those he wants to make for himself. The old saying that you can choose your friends but not your family is proved horribly true for Kai, as the mysteries of his past are revealed. As he and Harry start out on their journey together, they must contend with bullets as well as bondage, danger alongside domination, and it's not easy to establish trust when the whole world is going to hell. Reader Advisory: This book contains characters who have extremely prejudiced views and scenes referencing physical abuse. Publisher's Note: This book is best read in sequence as part of a series.
Rough Around the Edges
Word Count:

52005
Character Identities:

Gay
Summary: Fighting Type 1 diabetes since childhood, Jude Sebastian runs to prove he could live normal until the epileptic seizures changes his life. His illnesses rule his day-to-day activities. Even with Dawson, his Medical Alert golden Labrador, at his side, Jude finds daily life difficult. He owns the floral shop, Flowers in the Breeze, designing everything from simple bouquets to elaborate themes for weddings and celebrations. At the Shore Breeze Clinic for appointments, Jude helps a man suffering a PTSD episode. This is Doctor Elliott Sheffield, a retired Army Ranger doctor with AMEDD, who arrives in the small town for a second chance. He needs regain control of his life away from the memories of what he saw in the Middle Eastern deserts. Wanting a normal relationship, Jude tries to deny his disability, but something is happening. He can't regulate his sugars and his seizures worsen. When he returns to the clinic, Dawson alerts him. He makes it to the end of the hallway before he succumbs. Will the personal issues and challenges of both men get in the way of a chance at love?
When in Bloom
Word Count:

63000
Character Identities:

Gay
Summary: With one of his lovers imprisoned in the Underworld, Mac has no choice except to go where most angels fear to tread. With Tristan imprisoned in the Underworld, the ménage is broken. Angels are forbidden to enter the demonic domain and while Mac has been breaking rules in recent months, he doesn't have the power to enter the Underworld. Alastor is still unsure about his position in the relationship following recent revelations, but he cannot walk away when he is the only real link between his two lovers. Splitting his time between Mac and Tristan, he hopes they can soon find a way to reunite the two men in his life. As time moves on, Alastor realizes he is struggling to satisfy Tristan's thirst for sex. His lover needs more than he can give him and craves Mac in his bed. Mac still believes he can complete his mission to save his two lovers, but with one of them out of his reach, it is going to be far from easy. During their time together they have made plenty of enemies, including one who would seek to separate them forever, even if it means biding his time until Alastor and Tristan are at their most vulnerable, when even the love of an angel can't save them.
Between Life & Death
Word Count:

20095
Character Identities:

Gay
Summary: Not all cages have bars. The Wyverns Motorcycle Club has a reputation as fierce as its dragon emblem. Its enigmatic leader, Rogue Hellaby, has a police file so thick you could prop up a table with it. The qualifications for membership are a reckless disregard for authority and the attitude of a spitting cobra. But The Wyverns MC is not quite what it seems. All the riders have dubious histories in the military or the police—now they just serve and protect their own interests and those of Horatio Trap, the manipulative bastard who recruited them. When Rogue receives an instruction to kidnap and hold hostage the son of a powerful drug lord, he doesn't bat an eyelid. But Rogue has never had to deal with a captive like Orlando de la Pena. Orlando is furious—not because he's being held prisoner, but because he's prevented from partying at his favorite BDSM club. Rogue discovers that the only way to deal with Orlando is to become the Dom he so obviously needs. But Orlando's father wants him back, and the Wyverns must face a battle that could cost them their lives. Reader Advisory: This book contains scenes of light BDSM. Publisher's Note: This story has been previously released as part of the Hard Riders anthology by Totally Bound Publishing.
Mantrap
Word Count:

55061
Character Identities:

Gay
Summary: Can truth be found in the cards? DI Alex Courtney and his lover, DC Conor Trethuan are under enormous pressure as their team investigates an arson case and a murder. It soon becomes apparent that the two cases are linked and the race is on to find a vicious killer. A tarot card is placed with the first victim and the detectives are left to interpret the clues it provides. When Conor receives a note from the killer making reference to another card, the whole team is shaken. Their worst fears are realized when a second body is discovered, along with another tarot card. Conor suspects he has been followed then a hit and run leaves him injured. Alex wants nothing more than to wrap his lover up in cotton wool and protect him from the world. But is Conor the killer's target or just a pawn in a much more sinister game? As the clues come together, it seems that the motive for murder might be revenge. Reader Advisory: This book contains scenes of genital bondage.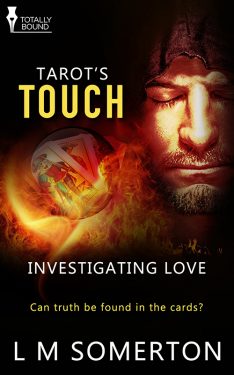 Tarot's Touch
Word Count:

19000
Character Identities:

Gay
Summary: Scott Baxter is a workaholic with no time for love, until a djinn pulls him out of his life and deposits him into the bed of Cameron Kirk. Cut off from his life, Scott isn't happy about the idea of being forced to help the djinn grant an unspecified wish, but he soon finds he has no real choice in the matter. The djinn who has turned his life upside down has powers that prevent Scott from leaving and ensure he does nothing to ruin Cameron's day with his 'husband'. Reluctant at first, Scott finds that as the day progresses he starts to enjoy playing the role of Cameron's husband. He connects with his unexpected lover in a way he never has with other men. Scott searches for clues to help him track down Cameron after the day is over and he returns to his own life. He doesn't want the day to end, but the wish is out of his control and when the magic is finished his time with Cameron may be over too.
One Perfect Wish
Word Count:

61000
Character Identities:

Gay
Summary: Is it possible for a demon to be a good man, or are all who have fallen for temptation evil at the core? Tristan, Machidiel and Alastor are bound together by love, but their lives are running far from smooth. Thanks to Tristan's demonic bargain with an incubus, they have no choice other than to accept that their lives are never going to be the same again. To fulfil his obligations to the demon Tristan has two choices—remain with the incubus as his trainee or find a mortal to take his place. Neither option is appealing. The three lovers struggle to release Tristan from his bargain, but find bigger problems on the horizon when a human caught up in the mess is taken prisoner by the Demon King himself. With no help forthcoming from either angels or demons, the three lovers are on their own with a seemingly impossible mission before them—rescue the mortal from the Underworld. Mac, meanwhile, has problems of his own. The archangels are voting on whether to ban relationships between angels and demons, and if the new law is passed he must choose between his wings and his lovers. The three of them believe their love is strong enough to see them through the hard times ahead, but if they aren't careful the repercussions of Tristan's bargain could tear their ménage apart forever.
Between Good & Evil
Word Count:

80000
Character Identities:

Gay
Summary: Sometimes keeping hold of love is just as hard as finding it. Sometimes keeping hold of love is just as hard as finding it. Dan and Iestyn are looking for romance. A school trip, a love of history, a wedding, a tango, the game of chess, and their friends and family all help the two men to realize that they've finally found true love with each other. Iestyn thinks that he's completely ordinary and that Dan is the only out and currently gay rugby player anywhere. Being gay can be difficult enough. Being famous also has its problems. But being gay, famous and a sportsman can make finding love complicated. So when Dan Morgan meets Iestyn Jones and gives him his phone number, their road ahead has more than a few bumps to overcome. Will Iestyn and Dan overcome the obstacles thrown in their paths? Or will fame destroy their lives as well as their love?
Sporting Chance
Word Count:

71500
Character Identities:

Gay
Summary: When an angel and a demon fall for the same mortal man there is only one solution…share him. Halloween night at the Inferno club always draws a crowd. When Tristan spots a stunningly gorgeous man dressed as a demon across the dance floor he sets out to draw his attention, little realising he has already gained the notice of another. The demon disappears into the throng of revellers, but with the heavenly handsome Machidiel in his arms, Tristan doesn't mind. Even though Mac warns him they can never have more than a one-night stand, Tristan longs to see the man who gave him the best sexual experience of his life again. One year later, Tristan opens his door to find Alastor, the demon from the Inferno, who claims they have a date tonight. Alastor may be the one man who can make Tristan forget Mac. Little does he realise Mac isn't as far from his reach as he believes. When Mac reappears he has a proposition for Tristan and Alastor, one that means breaking rules and potentially getting him stripped of his wings. A ménage formed between an angel, a demon, and a human means the sex is hotter than hell itself, but only time will tell if the relationship they have forged together is made in Heaven or Hell.
Between Heaven & Hell
Word Count:

50816
Character Identities:

Gay
Summary: Flashy, flamboyant Malcolm Bissette falls head-over-heels at sixteen when he sees the landscaper, Reece Simpson, after returning with Dakota Mitchell from Orlando and working at the Southern Delights. A decade passes while his crush grew, the man haunts his wet dreams, but there is no acknowledgment. With changes happening around the Charm, Reece is back, working to clear the overgrowth. Mal vows to forget everything he felt until Reece changes all the rules. Catching sight of a certain sous chef, Reece stays away from the underage boy as he grows into a slender, flamboyant man. Preferring plants to people, he is quick and easy with relationships. Realizing he wastes five years thinking Mal is still a kid, Reece learns everything he can about his young adoration. He changes tactics, unwilling to let another man have him. Steadfast in work and life, he isn't sure about the unpredictable attitude of a chef, who changes hair color on a whim. What will it be like to have Mal in bed? Would it make the summer afternoons even steamier?
On the Green
Word Count:

86500
Character Identities:

Gay
Summary: To save his clan from the ever-increasing shark attacks, merman Kyle seeks sanctuary for his people in the sunken city of Atlantis, even though he knows that as a homosexual merman he will be sacrificing his own chance for love. Love finds him anyway in the form of Prince Finn, the rebellious young heir to the Atlantean throne. When their relationship is discovered Kyle is the one to pay the price. Banished from the oceans he seeks shelter in England and finds a new love with human, Jake Seabrook. For Jake, Kyle is the chance to move on from the crush he has on his straight best friend. The strange man he found naked on the beach seems to fit into his life with ease.  If only Kyle weren't keeping secrets from him, Jake could see them having a future together. Things are not what they seem for either of the men and when Kyle discovers the truth about Finn he knows he must return to Atlantis. Three men, a tangled relationship, and one chance for happiness, if they can trust enough to take it.
Forbidden Waters
Word Count:

45572
Character Identities:

Gay
Summary: How do you stay standing when the ground is torn from beneath your feet? Becket and Christian are taking the first, tentative steps towards the committed D/s relationship they both crave when the world literally explodes around them. In a frightening reversal of roles, Becket has to deal with his own vulnerability and Christian must find the strength to take care of his Dom. With the help of their friends at The Edge, the two men come to realise that dominance and submission cannot be switched on and off. Events that could have ended in tragedy provide the catalyst that affirms their trust in each other, but there are still questions to answer. Is the safe path always the right one to take? Is control simply a state of mind? One thing's for certain, life's too short for compromise. Reader Advisory: This book is best read in sequence as part of a series.
A Double Edged Sword
Word Count:

56062
Character Identities:

Gay
Summary: Never underestimate the power of obsession. After the trauma of the Rasputin case, Detective Inspector Alex Courtney and his boyfriend, Detective Constable Conor Trethuan, are in desperate need of a holiday. The peace and tranquillity of Cornwall can't eradicate Conor's nightmares, though, and the unbearable prospect of losing Alex drives him to confess feelings that he isn't sure are reciprocated. Alex responds in the best way he knows how—by issuing orders and claiming Conor's body as well as his heart. Prematurely recalled to work, they are thrown into a dangerous trafficking case focused on a leather bar with a hardcore reputation, Spikes. Conor is sent in undercover, not knowing that he is only a decoy. When Alex learns that the motivation behind his team's involvement in the case might not be as straightforward as it seems, he realises that his actions might jeopardise not just their relationship, but Conor's life, too. A shadowy figure from Conor's past is about to step into the light.
Evil's Embrace
Word Count:

56928
Character Identities:

Gay
Summary: With permission to begin construction and repairs on the Southern Charm, Sullivan "Sully" Tarleton can't wait to start bringing the old hotel back to new life. He and his crew jump on the tear-down until he overhears his friends talking about picking up the accountant at the airport. Volunteering since he needs to head that way, he doesn't know the changes this accountant will bring to his life. Suffering from severe OCD and additional issues after growing up with a hoarder parent, Chandler Braddock prefers to keep his surroundings neat, perfect, organized, and minimal. A reason he enjoys working with numbers. They would always balance out, match up to others, and able to track. Often refusing to leave his New York office, he gives in when his best friend, Samuel, requests his presence in Florida. Even when he is met by a sexy, messy carpenter, he doesn't want to give up his orderly life.
By the Numbers
Word Count:

51139
Character Identities:

Gay
Summary: Learning about the sale of his beloved home – The Southern Charm, chef and co-owner Dakota Mitchell is having a hard time with the potential changes. He wants nothing else to alter. Chosen by his family's company Ashford Hotels to re-create the Charm into the latest chain of boutique hotels, Samuel Ashford enters the Deep South. Inside the overgrown, run down appearance, he learns the Charm is run by people who care and love the building, the delicious food, and their guests. Can these two put aside differences and arguments to save the Charm? Even if it means they find a little love along the way.
Rules of the Chef
Word Count:

57971
Character Identities:

Gay
Summary: What if the last thing you felt was the kiss of a knife? Rasputin's kiss is lethal. He's a ghost—killing and disappearing into the night. With few leads and four bodies on his conscience, Detective Inspector Alex Courtney and his team are running on empty and it's only a matter of time before Rasputin strikes again. When Alex recruits a young detective to play the part of his boyfriend and provide a tempting target for a killer, he knows he is taking a huge risk. He doesn't expect Conor Trethuan to be a perfect potential submissive. When their mutual attraction becomes more, Alex has to face the conflict between his possessive instincts and the need to push his young lover into danger. Investigating their feelings has to come second to investigating the case. There's no time to decide if what they feel for each other is real. With Rasputin closing in, they may not live to find out. Reader Advisory: This book contains scenes of mild BDSM. Publisher's Note: This book is best read in sequence as part of a series but can be read as a standalone.
Rasputin's Kiss
Word Count:

75000
Character Identities:

Gay
Summary: Can an alien with no knowledge of humans or concept of sex find lasting love with a human man? Zak, an alien from the planet Trimmeron, is a member of a race of beings who transform into other species during their years of puberty. It's customary for the youngsters to be fostered to the worlds native to their new forms, to study and learn about the races who will play an important part in their lives. When Zak turns into a human, it comes as a surprise to everyone, for only one other before him has ever done so. Nevertheless he is sent to Earth, a world he views as primitive and barbaric. He arrives with a chip on his shoulder and attitude to spare. He does not believe that anyone on Earth could have anything to teach him. When Zak meets college student Sam he soon discovers he has a lot to learn, not only about humans, but also about himself. Trapped on an unfamiliar world and in a strange body that seems to have a mind of its own, Zak has no idea what is happening to him—only that Sam seems to be the key to the strange afflictions he is suffering from. But can an alien find love with a human being?
My Boyfriend's an Alien
Word Count:

14999
Character Identities:

Gay
Summary: Rafael Schiller, vampire and sexual god without peer, believes himself the top of the food chain, until a bizarre creature feeding in an alley scares the deathless hell out of him. Rafael Schiller's had a long road and he's forgotten the meaning of several human words along the way. Commitment? Relationship? Love, for all the gods' sakes? What does a vampire need those for? He's completely content treating his long string of one-off lovers as midnight snacks. He makes it good for them and has no reason for guilt or grief. Some nights still induce an odd, hollow ache, but he can just drown it in the next conquest. Master of his universe, he lives without a care…until he encounters a bizarre creature feeding in an alley. It's caught his scent, and now that it's hunting him, Rafael remembers a word from his childhood. Krsnik—the hunters, the monsters who feed on the blood of vampires. He could run, but he'd be running forever, and that would sure as hell take the fun out of life. Time to figure out what the creature really is, what can defeat it, and why he feels so drawn to it.
The Line
Word Count:

43761
Character Identities:

Gay
Summary: Life is a dance. Whether you lead or follow, the passion of it should sweep you away. Carey and Alistair have the kind of relationship that is the envy of their friends. Carey is an old-fashioned Dom who appreciates quiet obedience. Alistair is a sub who is comfortable in his skin and finds peace in his submission. Needless to say, their happiness is too good to last. When Alistair's powerful father chooses his reputation over his son, all hell is let loose. Forcibly committed to a clinic for reversion therapy, Alistair can only hope that his lover will save him. Carey calls on his friends from The Edge and they band together not just to rescue Alistair but also to protect his future. They've all flirted with danger in the past—but friendship is worth any risk. As the tension mounts and the stakes get higher, new bonds are forged but will Carey and Alistair's love survive? Reader Advisory: This book contains the use of restraints, the pushing of boundaries and edging, kidnap, forceful imprisonment and forms of visual torture along with scenes of prolonged physical torture. It also contains characters with extreme prejudiced views. This book is best read in sequence as part of the series.
Dancing on The Edge
Word Count:

37867
Character Identities:

Gay
Summary: Sometimes it takes willpower to resist temptation but courage to give in. Aiden Keller is a brilliant and intriguing young man. When he's convicted of hacking, his sentence takes him to The Edge, a high-end corporate training company with a mysterious sideline. There he is given into the custody of its owner, the enigmatic and demanding Heath Anders, and his business partner Joe Dexter. From the moment Heath takes charge of Aiden he recognises the boy's submissive nature, even though it is well hidden beneath a veneer of snarky attitude. But for twelve months, Aiden will be his responsibility and Heath cannot allow himself to get involved whilst the boy is obliged to obey him. Aiden settles into his new life with the help of Olly, Joe's pretty, submissive boyfriend, who is very perceptive when it comes to noticing the sparks of attraction flying between Aiden and Heath. Slowly and gently, he teaches Aiden that submission is not a weakness and to accept his desire to be dominated. Unable to resist, Heath starts to test Aiden's willingness to be obedient, and against all the odds, love (and lust) start to bloom. Aiden, however, is not quite what he seems and his past is about to endanger all their lives. Reader Advisory: This book contains scenes of BDSM, including D/s, bondage, chastity play, masturbation and voyeurism. It is best read as part of a series.
Living on The Edge
Word Count:

41147
Character Identities:

Gay
Summary: When you reach the edge, you can't avoid taking a leap of faith. Joe Dexter leads a complicated life. In one world he is a consultant criminal psychologist—in another he runs The Edge, a successful corporate training company. He's also an active Dom in the London BDSM scene. A social call to The Underground, a club owned by an old friend, turns into much more when Joe is introduced to a prospective sub. Falling hard for the boy's tumbling blonde curls, huge blue eyes and desperate need for protection, Joe carefully coaxes him out of his shell. By the end of an intense weekend, unbreakable bonds have been forged and Joe is well on the way to becoming Olly's Master. Joe knows that there is trauma in Olly's past, but it is not until his professional and private lives collide that Joe discovers the truth. He knows he shouldn't have let Olly out of his sight but it's too late—Olly's old Master is back on the scene and he's not in the mood to forgive and forget. With Olly's life on the line, Joe risks everything to save him. Has Joe found his perfect submissive only to lose him in a horrible twist of fate, or will love win the day? They've reached the edge and there's no avoiding a leap of faith. Reader Advisory: This book contains scenes of D/s, including chastity play, and references to past rape and current PTSD. There are also non-consensual plot elements with an aggressive former Master which include kidnapping, bondage and the forcible insertion of a butt plug.
Reaching The Edge
Word Count:

34000
Character Identities:

Gay
Summary: Can a lab rat whore find love with the servant of his master, or will their different backgrounds and prejudices keep them apart? In the distant future, where the devastation caused by war has driven the human race below the surface of the Earth, society is split in half. The rich scientists live in towers where they can monitor the surface and determine when the poisonous gases have cleared and the world is safe for humans once more. Meanwhile the majority of the human race lives in crowded labyrinthine caves, where life is harsh and short. Uneducated and with no real prospects for the future, a 'lab rat' is lucky to live to see thirty years of age. Employment options are minimal and few can escape the fate of choking to death on the dust of the caves. When AJ, one of the poorest members of society, needs credits for medicine for his sister he is in a desperate situation.  With no other options available he risks alienation from his family by selling himself to the highest bidder. Love is the last thing on his mind, but while Blake, his new owner, might not be Mr Right, Ryder, his servant, just might be. Unfortunately, their different backgrounds, prejudices, and AJ's brutal owner seem destined to keep them apart but true love can be theirs for the taking if only they can find a way. Please note: Various tags that are used in this listing are in relation to sex scenes between AJ and Blake, not AJ & Ryder.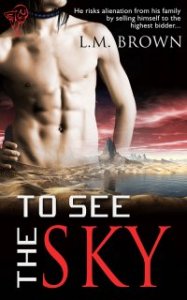 To See The Sky
Word Count:

33267
Character Identities:

Gay
Summary: Every man needs a hero to catch him when he falls, but does that still apply when he's falling in love? When Cal Somers loses his entire family to a drunk driver, he uproots his life and moves into the house he has inherited in the Lake District. When he falls—literally—into the arms of Ford Collister, the gorgeous but moody owner of a mountain equipment shop, Cal is confused and uncertain about his attraction. Will shy, submissive Cal find the courage to respond to Ford's dominant advances? As an emergency paramedic and member of the local mountain rescue team, Ford is used to taking command and dealing with every situation the hills can throw at him. Cal, however, is a whole new challenge, igniting feelings that Ford feared he would never experience again. Tragedy in his past makes him cautious and he moves slowly, the pain of history giving an edge to his growing feelings.When Cal's life is threatened, the fear of losing him brings all Ford's possessive tendencies to the surface and, though Cal resists, he secretly loves Ford's assertive behaviour. Only one thing is certain—when they finally take that leap of faith and overcome the tragedy of the past, sparks will fly!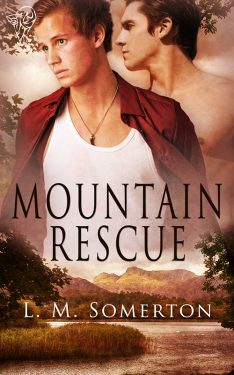 Mountain Rescue
Word Count:

16670
Character Identities:

Gay
Summary: Can a ghostly hound tell the difference between love and fear? Will man's best friend save the day? Garrick and Tristan thought they were done with hauntings when they rid themselves of the evil ghost of Gabriel Blackthorne. But it seems that their connection to the supernatural runs deeper when howls in the night and glimpses of glowing red eyes gradually manifest into sightings of a mysterious black dog. The ghostly hound seems to be protecting Tristan, but from what? A group of friends visiting for the weekend provide a welcome distraction, but one of them would like to be more than friends with Garrick. Frankie sees Tristan as nothing more than a temporary inconvenience and does everything in his power to tempt Garrick away. Rejected by Garrick, Frankie goes to extreme lengths to get his attention, using Tristan as his pawn in a very disturbing game. How do you demonstrate the difference between love and fear when bondage and submission are parts of the equation? Will the Black Dog fulfil its role as protector or will Tristan pay the ultimate price for love? Reader Advisory: This book contains an established MM D/s relationship, with plenty of hot kinkiness. Outside of this dynamic, the story also features non-consensual kidnap and physical violence.
Black Dog
Word Count:

24225
Character Identities:

Gay
Summary: Can shy, submissive Tristan become dominant enough to rid himself of a malevolent ghostly rival and find his happily ever after? When Tristan Lindsay takes a job cataloguing the library at Faversham Park, home of rock star Marcus Balen, he also accepts a role as companion to Balen's artist son, Garrick. Garrick is beautiful and talented. He's also demanding and infuriating. He uses Tristan as an unwilling model, shamelessly manipulating the shy boy's emotions to draw out his submissive tendencies. Drawn into the enigmatic artist's world, Tristan discovers a side of himself that he didn't realise existed. Although afraid of his own feelings, he learns to trust Garrick and falls deeply in love. But Garrick has a secret that could tear them apart. A ghostly rival objects to Tristan's presence in Garrick's life. As the spectre's malevolence increases, the young lovers must search for clues to the haunting and find a way to exorcise the jealous ghost. What they find leads them down a path that challenges the dynamics of their relationship. Will their love be strong enough to overcome its supernatural opposition, or will there be no happily ever after? Reader Advisory: This book contains references to homophobic hate crime and paranormal sexual assault. It also contains a hot, virginal librarian and the brooding, dominant artist who lusts after him…There are scenes of consensual D/s and dubious consent in relation to the characters switching roles.
The Portrait