Word Count:
145000
Character Identities:
Gay
Summary: A story of healing and confronting demons… Detective Aidan Calloway is rock-solid strong. He's a man of justice—loyal to his friends, family, and job—even if it requires bending a law…or two. He shields himself behind an abrasive, fearless facade, until a phone call one night chips his armor and throws his perfectly planned, hollow life into a tailspin. Jessie Vega is the epitome of optimism. His carefully crafted attitude of hope and positivity protects him from a past filled with too much pain. When a ghost from a dark time resurfaces and nearly breaks him, he must tap into his inner strength or risk losing everything he's worked so hard to build. But Jessie can't do it alone. He must fight to break through Aidan's ironclad defenses to reveal the heart of the man hiding beneath the tough surface and mend his damaged spirit. Only then can they truly heal and become strong enough to battle the demons that haunt them and threaten their chance to finally be together. ---------- ***This book contains scenes and subject matter some readers may find distressing. It is only intended for adult readers.*** Word count: 145K Although part of a series and events from prior stories are referenced, this book can be read as a stand-alone.
A Mended Man
Pairing: M-M
April 28, 2016
Word Count:
124000
Character Identities:
Gay
Summary:
A story of two men and the boundless love that forever changed them.
Vannguard Shaw has spent the last ten years serving a life sentence and adjusting to the ache of solitude. He accepts his fate, a sacrifice for the only man he ever loved and the one person who saw beyond his rough edges. Drayton grew up with a trust fund and pre-planned future, but an unexpected encounter one night forces him to abandon everything and start from scratch. He is now a self-made man and developer of one of the most sought after electric exotic automobiles in the world with a fortune greater than that of his birthright. Yet, he'd surrender it all—again—for the only man who's still ever-present in his heart. After a decade and entirely too much distance between them, Vann is suddenly released back into a world that has been nothing but cruel. Drayton never lost hope they would once again reunite and pick up where they left off, but Vann's stubborn nature and repeated encounters with a heartbreaking world prove to be a challenge. Vann needs to tap into his fighting spirit's reservoir of strength and hope life doesn't punish him for taking a chance. Only then will he realize his own value and feel worthy enough to finally have Drayton's heart. And their chance at forever.
----------------
This is book 5 in The Men of Halfway House series. Although part of a series, this is a full-length stand-alone novel.
Main Characters: Drayton and Vann Release date: May 2, 2017 Series: The Men of Halfway House No. in series: 5; can be read as a stand alone Category: Contemporary Gay Romance Word Count:  124,300 words Formats available: e-book and print Drayton first appears in book 3, A Restored Man. Vann is first mentioned in book 4, A Mended Man.
A Worthy Man
Pairing: M-M
May 2, 2017
Word Count:
92000
Character Identities:
Gay, Straight
Summary: Banyak & Fecks is a prequel to The Clearwater Mystery series of romantic gay novels. However, it is not a mystery. It is a story of how a Ukrainian refugee and the son of an Irish immigrant come to meet in the East End of London in 1884. It is a story about friendship. 1881. Andrej's family are dead or missing, and his village in Ukraine decimated. Aged thirteen, he walks west to find a boat to take him to London. Three years later, homeless, starving and having resorted to prostitution, he finds safe passage and arrives in London alone but determined. 1884. Silas' mother has died, leaving him to fend for his twin sisters in the hellish world of the Westerpool slums. Silas only knows the work of a thief and trickster and at sixteen, heads to London to make his money. What he finds is poverty, starvation and the Greychurch workhouse. About to give up, he encounters a giant Ukrainian, proud, handsome, and renting his body in the alleys of the East End. Silas (Banyak) and Andrej (Fecks) make an unlikely pair, but their friendship is all they need to survive life in London's notorious East End. When disaster robs them of their home, they have no choice but to live rough and work the streets. Lodging houses, rope houses, arrest, violence and prostitution, they face it together. But when the Ripper starts slaughtering Greychurch rent boys, Banyak and Fecks have only their friendship to ensure their survival.
"A colourful and enchanting tale. Beautifully written. Marsh does an excellent job of evoking the look and feel of a different age."
Olivier Bosman author of the DS Billings Victorian Mysteries
'Banyak & Fecks' ends the day before the first Clearwater Mystery, 'Deviant Desire' begins. It is a story of friendship and platonic love set in Greychurch, the imaginary Whitechapel of the Clearwater world. Extensively researched, readers are taken from the Russian steppe and the Wirral slums to the squalor of the East End in the late 1880s. [Genre: Historical Bromance] ['The Clearwater Mysteries.' Historical MM Romance, mystery and adventure.]
Banyak & Fecks
Pairing: M-M
November 29, 2020
Word Count:
2500
Character Identities:
Gay
Summary: Oliver volunteers for Crisis at Christmas to help the homeless. The last thing he expects is that he'll meet someone.
Crisis at Christmas
Pairing: M-M
December 3, 2018
Word Count:
67000
Character Identities:
Gay
Summary: WAR IS COMING… the angels of Osestra and the demons of Exilum are preparing for the final battle to be played out in Manna, the human realm, and one young man is caught in the middle. Vern Swain may be the key to everything… Vern is a country boy dreaming of seeing his name up in lights. He runs away to become a star. His journey is just beginning, but it takes him in unusual directions…right in the path of his guardian demon. Teague, son of Xaphan is a demon of Exilum charged with ruining Vern's life, but he just can't do it. He's confronted by his family, and forced to choose sides. War is coming, but who's fighting for Manna?
Demon or Angel
Pairing: M-M
April 22, 2019
Word Count:
104000
Character Identities:
Gay
Summary: The Victorian East End lives in fear of the Ripper and his mission to kill rent boys. Silas Hawkins, nineteen and forging a life on the streets could well be the next victim, but when he meets Archer, his life changes forever. Young, attractive and rich, Archer is The Viscount Clearwater, a philanthropist, adventurer and homosexual. When Archer suspects the Ripper is killing to lure him to a confrontation, he risks his reputation and his life to stop the madman's murders. Every man must play his part, including Silas. A mashup of mystery, romance and adventure, Deviant Desire is set in an imaginary London of 1888. The first in an on-going series, it takes the theme of loyalty and friendship in a world where homosexuality is a crime. Secrets must be kept, lovers must be protected, and for Archer and Silas, it marks the start of their biggest adventure - love.
Deviant Desire
Pairing: M-M
March 7, 2019
Word Count: Information not available
Character Identities: Information not available
Summary: "He's a bad boy—cocky and damaged. So, why can't I stop thinking about him?"  Broken Dreams Sociable and unselfish, eighteen-year-old Tucker Graves loves two things—his darling little sister and the thrill of playing baseball. He never dreamed that he'd be homeless, but after a series of misfortunes, his life is nothing like he could have possibly imagined. Shocked and shattered, Tucker, his mother, and his baby sister now must brave the dangers of a dilapidated homeless encampment called Camp Roosevelt. A Wounded Heart Homeless since the age of fourteen, Dancer has mastered the tricks of living on the streets as a sex worker. The quiet, reclusive, and calculating ways of this twenty-year-old, green-eyed Adonis help him to survive. He hides his emotional scars from the world by interacting only with his clients, whose occasional bizarre requests he reluctantly fulfills. Dancer's past has taught him to trust no one. A Second Chance When Tucker and Dancer come face to face on a stormy night, having been thrown together under the same roof, Tucker brings out a feeling in Dancer that he didn't know still existed in him—desire. Neither man can deny the attraction he feels for the other. But some scars run deep, causing both Tucker and Dancer to question whether falling in love is even possible, especially when survival is on the line. Bryan T. Clark is a multi-published, Rainbow Award-winning author and LAMBDA finalist.   *** One hundred percent of the royalties from the first year of this novel's publication is being donated to the Larkin Street Youth Services/Castro Youth Housing Initiative.  The CYHI provides transitional housing in the city of San Francisco, California, for LGBTQ youth experiencing homelessness. Fear of being raped, abused, or murdered should not be a part of anyone's youth.  
Escaping Camp Roosevelt
May 1, 2019
Word Count:
27,000
Character Identities:
Gay
Summary: Simply a story of how love happens, even in the bleak midwinter. Seattle sparkles with snow that stayed, and Pike Place Market vibrates with color and starry-eyed shoppers. Beck Justice adds music to the mix, but he doesn't believe in holiday joy—not until Oleg Abramov joins his ethereal voice to the intricate weavings of Beck's guitar. While Oleg and his large, loving family brighten Beck's bleak winter mood, Oleg thinks Beck could be the man to fill the void that nevertheless remains in his life. The two men step out on a path toward love, but it proves as slippery as Seattle's icy streets. Light and harmony are within reach, but only if they choose to believe, risk their hearts, and trust.
Falling Snow on Snow
Pairing: M-M
November 23, 2020
Word Count:
72000
Character Identities:
Gay
Summary: Trix works as a prostitute on the Pleasure Station, a space station devoted to entertainment, gambling, and the pleasures of the flesh. He never intended to spend his life there, but the place offers him security, regular cream, and over time it has become his home. As a dual-gendered feline, Trix knows the risk of pregnancy is high and sets his prices equally high to discourage customers. Trix never imagines that Delta, a canine with credits to spare will call his bluff. When Delta pays for himself and Farron, a naïve avian from the swan clan, to spend the night with Trix, the three of them forge an unexpected bond, one that leaves Trix pregnant. As a swan avian, Farron is incapable of being unfaithful to his mate, even when the bond is only partially formed. To complete the bond Farron must find Trix before the babies are born, or the bond will break forever, and Farron will be forced to live a life of celibacy. In the meantime, the Pleasure Station is under new ownership, and when the humans ban prostitution on the station Trix is left homeless. When Delta hears about the Pleasure Station, he too races back to find Trix. Both Farron and Delta arrive too late. Trix has vanished and the race is on to find him before he gives birth. Only then will they know if the bond they formed on their first night is strong enough to last a lifetime.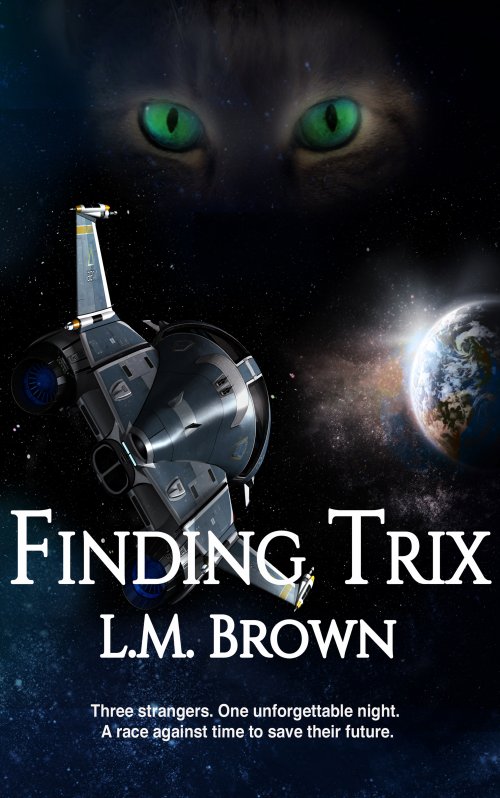 Finding Trix
Pairing: M-M-M
June 7, 2019
Word Count:
38000
Character Identities:
Gay
Summary:
Huxley
On a rainy April day, exactly one year after my mate's death, I take flowers to his grave—and come face-to-face with his twin. The fox's eyes are haunted things, an Omega on the run from his past. Homeless and broke and on the verge of his heat, he needs help. What kind of Alpha would I be if I turned him away?
Chance
I'm so tired of running. When my brother's mate offers me a place to stay, I can't turn him down. I have nowhere else to go, but accepting Huxley's help means I'm putting him and his family in danger. When Bones finds me, he'll slaughter anyone in his path.
My savior seems so certain that he can keep me safe. I hope he's right, because there's a life growing inside of me now and every day I spend in Huxley's arms gives me hope for a future.
For a forever...
Following Chance
Pairing: M-M
May 26, 2018
Word Count: Information not available
Character Identities:
Gay
Summary: Despite having had a rough life, Seth has a big heart. After spending nearly ten years sleeping rough on the streets of New York, he's managed to get himself freelance work and a place to live. But his new found security is about to be torn apart, as the horrors of his past come back to haunt him in the worst possible way. Dante was sent to watch over a young Seth when his mother died. As an angel, he had many rules to follow. The most important of which was to never fall in love—especially when it involves a human who is your charge. For the last ten years, Dante has kept his feelings for Seth hidden. That is until the night Seth's past catches up with him. When Seth is murdered, their destinies are changed forever. Feelings and emotions come to the surface, but will the rules that govern the afterlife keep Dante and Seth apart for eternity, or will they be able to find their happily ever after together? **Contains explicit language and scenes**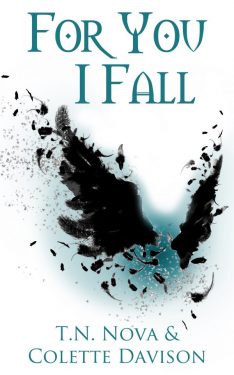 For You I Fall
Pairing: M-M
August 28, 2018
Word Count:
100000
Character Identities:
Gay, Genderfluid, Non Binary
Summary: Big-hearted Danny finds interaction difficult and must keep his world small in order to survive. By day he lives in an abandoned swimming pool and fixes electrical devices to trade for supplies, but by night, alone, he hunts sharks—a reckless search for the dangerous men who prey on the vulnerable. A search for his best friend's killer. A chance meeting with an American boy selling himself on the streets throws Danny's lonely existence into disarray. Micky is troubled, fragile, and Danny feels a desperate need to protect him. Though from what, he doesn't know. As Danny discovers more about Micky, he realises that what Micky needs saving from is the one thing Danny has no idea how to fight. To save Micky, Danny must risk expanding his world and face something that scares him more than any shark ever could: trusting he will be accepted for who he is. If a freezing winter on the streets, a sadistic doctor, and three thousand miles don't tear them apart first, that is.
Foxes
Pairing: M-M, Includes NB
November 22, 2018
Word Count:
108662
Character Identities:
Gay
Summary: Love doesn't always look like you expect. Russ Bishop and Stephen Parker have settled into wedded bliss. They've taken a new step forward, moving into a spacious new condo together. And not only have they found professional success, their connection in the bedroom is as sizzling as ever. Parenthood has never been a part of either of their plans for the future but when their volunteer work at the Open Doors Shelter makes them realize how many LGBTQ youth are in desperate need of a home, they begin to reconsider. After a snarky teenager named Austin comes into their lives, their future will never be the same.
Full Balance
Pairing: M-M
October 22, 2020
Word Count:
20000
Character Identities:
Gay
Summary:
releasing in a new edition in 2021
It may be better to have loved and lost, twice, than never loved at all, but it sure as hell gets lonely. Jamison Severs is sitting in a bar contemplating his past as a failed lover, failed doctor, failed drunkard, and a fading old man, trying to find a reason not to lift that glass. Then a beautiful blond boy walks in the door, bringing reminders of Jamie's past with him. Meeting the son of Jamie's former lover, Toller, brings back the good old days, and the bad. And maybe it's finally time for Jamie to come to terms with all the things that brought him and Toller together, and the things that broke them apart.
Warning for history of child abuse, alcoholism topics; positive but not genre-romance ending.
Novella - 20,000 words
Full Circle
Pairing: M-M
September 14, 2011
Word Count:
14,000
Character Identities:
Gay
Summary: Hey! Name's Adam Darling and hustling's my game. When I was eighteen, my parents kicked me to the curb after catching me enjoying a good romp in the sack with my boyfriend. So I took the bus to Queens, NY and used my boyish looks to turn tricks to make my rent and fund my weakness for club clothing. On the night of my twentieth birthday, everything came crashing down and, like a wuss, I collapsed and had myself a good cry. Deep in my "woe is me" fest, I knew I had to make some decisions I'd much rather not have to face. Confused, I'm not sure what to do. Should I leave the head game my life has become? Will my changing looks allow me to continue status quo? One very sexy cowboy has an offer that sounds like the answer I've been looking for, but can I find it within myself to take the leap of faith and accept it or should I walk away?
Head Game
Pairing: M-M
October 1, 2015
Word Count:
25,778
Character Identities:
Gay
Summary: Everyone hopes his road to happily ever after will be carefree and smooth, but too often hair-pin turns and detours seem to get in the way. Having thought he was on the road to forever before, former Silicon Valley programmer Dan Lassiter is leery about pedaling down it again. His elderly companion Charlie urges him to get to know Rick Reardon whose bakery is across the street from Dan's bicycle shop. Under the watchful eye of Charlie, Dan and Rick take tentative steps toward each other, all the while trying to avoid potholes such as exes, homophobes, and family problems. As summer turns to fall and then winter, they hope that the road will be smooth going from their first date and first kiss to having what Rick's sister euphemistically calls their "sleepovers." At each step, though, they are tripped up and wonder why there seem to be so many bumps in their road. Maybe Dan and Rick should heed some of Charlie's sage advice, or maybe they should listen to their hearts instead of the ghosts from their pasts.
Heart of the Holidays
Pairing: M-M
December 5, 2020
Word Count:
62083
Character Identities:
Gay
Summary: Bells ring and choirs sing. People bustle with happiness and joy. Calories pile up while everyone gathers to chat with friends and relatives. What's more exciting than all the holidays in December? But sometimes we need a break from the expectations and the wonderment. A great way to revive our spirits is by reading a story to ground us in the true meaning of the season. This collection features four stories infused with happiness, love, and joy. From a small business owner discovering his first fruitcake and a homeless man finding a permanent home to a blacksmith's wish to propose to his childhood friend and a gay man relocating to a small town, each story is a journey of self-discovery leading to happily ever after. Contains the stories: Blame It on the Fruitcake: Motorcycle shop owner Sam McGuire falls for the fruitcake his loft neighbor's grandma makes as well as the man himself. But will handsome, educated, personable Jay Merriweather be attracted to a grease jockey like Sam? The Orpheum Miracle: The son of crack addicts who abandoned him as a child, Mick has found refuge in the historic Orpheum Theater. But when the new owner takes over, will Mick be pushed out on the street or taken into the owner's heart? Making the Holidays Happy Again: Butch has been manning the forge in Old Town and fantasizing over his best friend Jimmy since they were in high school. Does Jimmy feel the same way about Butch? Does Butch want to push their friendship and find out? Heart of the Holidays: When Silicon Valley programmer Dan Lassiter moves to a small California town, he doesn't expect to find love. After Rick Reardon opens his bakery across the street, Dan may change his mind.
Holiday Quartet Box Set
Pairing: M-M
December 11, 2021
Word Count:
69k
Character Identities:
Gay, Pansexual
Summary: Tony award-winning musician Reese Matheson's life resembles a natural disaster, and caregiver Jude De La Torre is caught in the eye of the storm. Can the love these two opposites find together survive caring for an ornery octogenarian with wayward balls and a meddling family insistent upon tradition? A public break-up is not what Reese expects upon returning from the successful run of his musical in London. All he wants to do is spend time with his beloved grandfather and musical mentor, who suffers from Alzheimer's. Reese knows he doesn't have much time left before the elder Matheson doesn't remember him. In classic "Hurricane Reese" form, he moves into the cottage by the sea, displacing Jude, the intriguing caregiver he'd hired two years before. When Grandpa proves too much for Reese to handle on his own, Jude comes to his rescue, taming Grandpa… and the Hurricane as well. Soon all Reese can think about is how to get Jude out of his scrubs and into his bed. Permanently. Will Hurricane Reese destroy everything in its wake, or will this gay odd couple learn to harmonize together?
Hurricane Reese
Pairing: M-M
January 30, 2018
Word Count:
15500
Character Identities:
Gay
Summary: When Aaron refused to discuss getting married, he didn't expect Chris to take it so poorly. They've been together twelve years. Aaron thought they'd at least talk about his very valid reasons. Gay marriage isn't even legal in their state, and what do they need a piece of paper for, anyway? When Chris leaves after the fight, Aaron tracks Chris down just in time to see him about to lock lips with a stranger in a club, which drives home the situation's urgency. Aaron must make things right with Chris. He's willing to do anything, but their friends' advice only goes so far, and when he learns what Chris has been hiding, Aaron has to decide if a life with Chris is even an option.
I Almost Let You
Pairing: M-M
January 8, 2014
Word Count:
60000
Character Identities:
Gay
Summary: Troubled pasts, fresh starts, new love. Forced to leave home as soon as he finished high school, Bailey McCreedy's focus has been on earning enough money to survive. All he needs is a roof over his head and to keep his small mobile lending library running. Books are Bailey's escape, and he loves to share the joy of reading with those who don't have access to them. Tom Brooks's upbringing is very different to Bailey's, with a loving family, a good education, and a high-flying job--that is, until things came crashing down. Tom opens a coffee shop, struggling to build his business and reluctant to accept help, operating under the misguided belief that he must pay penance for his sins. Watching Bailey work with the street kids opens Tom's eyes to the reality that accepting help is not a sign of weakness, and that he is so much more than his past mistakes. But as Bailey falls for Tom, with his charming manner, obvious care for others, and group of successful friends, Bailey's own sense of self-worth threatens to tear them apart. In the face of intensifying challenges, he's reluctant to confide in Tom, afraid he's not good enough. A bright future will require Bailey to heed his own advice--people aren't defined by their failures or inability to live up to the expectations of others. It's time for Tom to pay it forward, and Bailey needs to accept the help and love that Tom offers.
Pay It Forward
Pairing: M-M
November 11, 2018