Word Count:
37,000
Character Identities:
Gay
Summary: Sheriff Avery O'Rourke has tried to obey his strict Christian faith and lead a "normal" life. In 1923 in a rural East Texas town, "normal" means heterosexual. A cholera outbreak has made Avery a young widower, so he is married to his job. When a murder investigation forces him to confront his truth, will he finally be able to accept being gay? Veterinarian Garland Sands has returned from Europe to take over his father's practice. Struggling with shellshock (PTSD) and heartbroken by the suicide of his French lover, he resigns himself to a quiet, solitary life as a country vet. But the murder of the town doctor brings the sheriff to Garland's doorstep looking for help with the investigation. Seeing Avery awakens dormant feelings. Can he love a man who hates what he is? This isn't the lavish 1920s of The Great Gatsby. This is the flip side of that coin—rural East Texas. No electricity. No indoor plumbing. No flappers. In 1923, the timber barons have left and racism, homophobia, and sexism thrive. A Little Sin is a realistic mystery with unlikely heroes and a timeless romance between lovers caught in a world where their love is forbidden. This book contains steamy sex scenes and is intended for adults only.
A Little Sin
Pairing: M-M
February 24, 2018
Word Count:
45000
Character Identities:
Bisexual, Gay
Summary:
Tre Derringer, perpetual underachiever with negative self-esteem, made a mistake. If he'd been a sleeper—sans and unaware of superpowers, that is—he would've gotten a slap on the wrist. Too bad Tre has awakened hot-thermal superpowers, so he ended up in lockup instead.
One year later, Tre's picked up from prison by a mysterious woman called Amy, who turns out to be a recruiter for an activist group—or so they call themselves. New Dawn, New Day's leader, Vic, is out to bring the presence of the awakened to sleeper attention once and for all, by any means necessary.
Tre becomes a part of the ND2 commune, committed to their mission. But then, at a summer music festival, he runs into a crush from his past, Dorian Archer. Dorian's compassionate, cheerful, and even hotter than he used to be. He might just manage to keep Tre from making an epic mistake… or he might not.
It's only the biggest secret in the world at stake, after all.
While all other Superpowered Love books can be read in any order and without previous knowledge, A New Beginning works better after reading at least book 2, Riot Boy and book 5, Re-entry Burn.
A New Beginning
Pairing: M-M
September 3, 2021
Word Count:
22150
Character Identities:
Gay
Summary:
Abs Lust Bare Rejection: MM Desire #204
NAKED, COLD, NUMB - WANDERING, STUMBLING, LOST, ALL ALONE! HELP ME TY!!!
How long before Garrett dies of exposure and hypothermia? Ty's parents reveal insights he never suspected. Is Garrett and Ty's secret at risk? Hank, Garrett's father, cites Garrett's sexual orientation as reason to throw him out of the house. Garrett struggles to survive nude in frigid weather. Where is Ty when Garrett desperately needs him? By not dealing with Hank decisively, Ty makes a costly error destined to haunt the boys for a lifetime. So Ty must put everything on the line to save Garrett and a handsome nurse from Hank's wrath. But in whose bed will Ty sleep? Will Ty's love be lost forever? *This book contains explicit scenes of a gay sexual nature by consenting characters who are over 18 years of age. It is intended only for readers who are 18+ years of age. If you are underage or may be offended by this topic, do not purchase this book.
Abs Lust Bare Rejection
Pairing: M-M
September 1, 2020
Word Count:
23200
Character Identities:
Gay
Summary:
ABS LUST BEACH ROMP: MM Desire #207
NO TAN LINES BEACH!!!
Adjust your shorts over and over as Ty and Garrett take you on a sun worshiping beach romp. A community college gift sends the boys on a week long vacation to a very nice hotel on Clearwater Beach, FL. Find out what shenanigans two super hot sexy boys can get into on a clothing optional part of the beach during their first unsupervised trip away from home. Garrett and Ty explore a late night nude beach party only to find themselves with no clothes to wear. Then how do they get past security cameras to get back into their hotel room? For these two, love is in the air, in the sand, in the surf, in the shower, in their bed, and on their balcony. Tantalizing scenery and sizzling hot play things will keep you turning the pages… *This book contains explicit scenes of a gay sexual nature by consenting characters who are over 19 years of age. It is intended only for readers who are 18+ years of age. If you are underage or may be offended by this topic, do not purchase this book.
Abs Lust Beach Romp
Pairing: M-M, M-M-M, 4+ or Other
November 15, 2020
Word Count:
13,750
Character Identities:
Gay
Summary: RIPPED ABS AND HOT SEX, THE BEST DEFENSE AGAINST GAY BASHING! "The descriptions, the scenes, the mood... I lost count of the many times I got excited, aroused and wanted to be there with Ty and Garret." Kyler B. Warhol, book reviewer and blogger. A PICTURE IS WORTH A THOUSAND WORDS! HOT CHAPTER PHOTOS of seductive gay college guys set the scene for each chapter in this book engaging book! The paths of two incredibly hot college freshman cross when gay bashing ensues out of an incredibly embarrassing locker room moment. Now Ty finds himself torn between his lustful desires for, Gio, his handsome life long friend whom he frequently imagines as his naked gay play toy and, Garrett, the gorgeous guy laying nude in the bed next to him. Which path is more tangled, his gay friend who is already involved with someone else or the naked straight guy who might out him? Are the cruel tortures of fate to blame for putting him next to this stunning man whom he can't touch or was it just his subconscious erotic lust for another man's sexy abs? Will the stress of homophobic gay bashing and a simple act of human compassion lead to a sharing of closely held personal perspectives, secrets, and carnal desires? Should either young man allow himself to be that vulnerable? If you enjoy this arousing escapade, get the 8 book set, Abs Lust: MM Desire Series, All 8 Books, for 30% off of the individual book prices. *This book contains explicit scenes of a gay sexual nature by consenting characters who are over 18 years of age. It is intended only for readers who are 18+ years of age. If you are underage or may be offended by this topic, do not purchase this book.
Abs Lust Embarrassment
Pairing: M-M
July 17, 2020
Word Count:
19400
Character Identities:
Gay
Summary:
ABS LUST EXPOSED: MM Desire #206
HOT BOYS, SUPER HOT BODIES, ULTRA HOT NAKED ESCAPADES Two hot guys together after a college formal (Prom) cannot wait to get into each other's pants, but when will Ty and Garrett find themselves truly alone? Who is to say a bit of public exhibition or two won't provide enough fun to tide them over? In the back row of a late night movie, what can happen is limited only by the imagination. Oooh, the cinema usher is really hot too! I wonder what antics they can talk him into before he kicks them out. And how late will the hotel hot tub be open? These are all very important concerns on the night after a formal dance. Stay on the edge of your seat! Don't worry about missing the movie, but try not to make a mess! *This book contains explicit scenes of a gay sexual nature by consenting characters who are over 19 years of age. It is intended only for readers who are 18+ years of age. If you are underage or may be offended by this topic, do not purchase this book.
Abs Lust Exposed
Pairing: M-M, M-M-M
October 15, 2020
Word Count:
19,100
Character Identities:
Gay
Summary: EVERYTHING IS MORE FUN NAKED! ESPECIALLY HOMEWORK! - You never know what might be considered HOMEWORK. Sign up for the most erotic tutoring sessions ever! Who could be motivated to study if your dad perpetually told you that you are too dimwitted to succeed? In spite of Garrett's brilliance, he genuinely believes he is stupid. Who could be motivated to succeed in school when each day is a gauntlet of homophobic hazing by the school bully and your ex girlfriend? Garrett just wants to curl up and disappear. Consequently, Garrett is doing poorly in his community college classes and failing in Algebra. Desperately afraid his poor grades will bench him from the basketball team, Garrett still shows no interest in Ty's offer to tutor him. Garrett knows he is a lost cause and tutoring will just be frustrating and painful. No Thanks!!! However, Ty believes the best homework motivator is your boyfriend's anatomy. Can Ty's use Strip Algebra and Algebra For Sex to tease out excellence? You want this book in your library. Someday, you just might need Ty's lustful manipulations. *This book contains explicit scenes of a gay sexual nature by consenting characters who are over 18 years of age. It is intended only for readers who are 18+ years of age. If you are underage or may be offended by this topic, do not purchase this book.
Abs Lust Homework
Pairing: M-M
August 1, 2020
Word Count:
27200
Character Identities:
Gay
Summary:
ABS LUST PLAYER: MM Desire #208
…Here we were three weeks later.

 

Garrett and I were checking out the island as our plane dropped toward a private airstrip at the end of an island in the Caribbean. As we disembarked from the jet, a driver greeted us and prepared to take us to our accommodations. "Welcome, gentlemen.

 

I'm Casey.

 

I will escort you to the estate and serve as your butler while you are visiting us." "Great, I'm Ty." "And I'm Garrett.

 

Nice to meet you, Casey."

 

"I only saw one building on the island when we were landing.

 

Are there others?

 

How many people live here?" I asked. "There is only one home on the island.

 

There are several other security buildings and maintenance buildings, but we have them very well camouflaged.

 

The owner and his husband live in the home part-time.

 

They are in Europe right now.

 

The security force is here full time.

 

We protect his island extremely well," the driver explained.

 

Holy shit!

The house was only one story, but it was massive.

 

When dad described the place as sprawling, he very much understated the reality of the place.

 

The rooms were enormous, and the house seemed to stretch on forever. There was a sea of marble everywhere, including on the floors of the master bedroom.

 

The house extended out onto a point of the island.

 

One step below the floor level, an integrated assembly of patios, decks, and gardens surrounded the house on three sides.

 

A multitude of chairs, chase lounges, tables, and hammocks were available for our leisure. A long serpentine swimming pool about 20 feet wide with an infinity outer border surrounded the decks, patios, and gardens.

 

The water level was but four inches below the level of the patios.

 

Water from the pool spilled over the infinity wall at various points, creating waterfalls as it dropped some 30 feet into a second pool surrounding the three sides of the estate.

 

The lower pool was at least twice as wide as the upper pool.

 

This was the largest privately owned pool complex I had ever seen. When I saw the smooth 30 foot shear wall with a finely textured surface, I wondered if in fact it might serve a secondary role as a security feature.

Hmm, no way to free climb that wall with no lips or edges on the infinity pool for a grappling hook to lodge on.

 

And the finely textured surface would prevent the use of suction cups to climb it.

 

This has to be a security feature.

Palm trees highlighted the house, the pool, and the beach in various locations.

 

The lavish landscaping created a perfect ambiance for the stunning master bedroom.

 

Besides the largest bed I had ever seen in the largest bedroom I had ever seen, it was on the terminal end of the house facing the end of the point toward the West.

 

We enjoyed breathtaking sunsets every evening.

 

The architect of the place had definitely planned it well. Floor to ceiling windows formed three of the walls of the master bedroom, providing a gorgeous panoramic view.

 

Pushing one button caused all the glass walls to disappear, allowing a comfortable light breeze to waft through the room.

 

We were inside, but it felt like we were going to be sleeping right on the beach.

 

We could hear the endless crashing of waves on the shore below us. Casey, our driver, put our luggage in the closet of the master bedroom while we walked to the dinning room for dinner.

 

Since we found no one there, we went into the kitchen where the chef immediately garnered our attention.

 

He was stunningly handsome, sported a lithe physique, and was only about 25 years old.

 

His attire of a chef's apron and nothing else definitely shocked our expectations.

 

The truly gorgeous bare ass of a man who actively engaged in fitness training shined through the back of his apron. When he turned and saw the rather stunned look on our faces, he said, "Hi guys, I'm Jordy, your chef.

 

We heard you guys like to spend a lot of time relaxing au naturel.

 

Casey and I are kinda fond of a free lifestyle as well.

 

We figured if we relaxed our clothing standards, you would feel much more comfortable about skittering around here in the buff as well.

 

You are the only guests on the island for the duration of your stay, so dress up, dress down, or undress as you see fit.

 

We are here to serve your needs in any way we can.

 

No matter what you might need, just call on us anytime."

Is he suggesting what I think he is suggesting?

"Thank you," I said to Jordy just as Casey came strolling in wearing nothing but a butler's apron.

 

Garrett and I immediately looked at each other, and our eyebrows bounced in a silent communication between us.

 

Clearly, we were thinking the same thing.

 

The next two weeks were going to be our chance to recreate our three days of nudity when we first met. After we finished a wonderful dinner, we went to our bedroom and removed all of our clothes.

 

As we strolled naked through various rooms of the house to explore our accommodations, the warm glow of the sun falling rapidly toward the horizon suddenly caught my eye.

 

The amber rays reflected beautifully off of the highly polished marble floor in the great room.

 

Suddenly, I couldn't resist the urge to lie down on my back in the middle of that picturesque scene and pull Garrett down on top of me. He had his legs folded up at my sides and his chest resting against mine.

 

I held his sexy toes in my hands as we kissed lovingly.

 

In no time, my throbbing…
Abs Lust Player
Pairing: M-M
December 15, 2020
Word Count:
19,400
Character Identities:
Gay
Summary:
ABS LUST PROM: MM Desire #205
PLAY NAKED! MAYBE YOU'LL GET CAUGHT!
Prom night essentials for great sex include super HOT boyfriends with great abs, great tushies, sexy feet, stunning smiles, and tantalizingly erotic tux attire. Ty desperately wants to take Garrett to the prom as his date, but neither wants to be out to classmates. This year's prom needs to be special, so Garrett manipulates this event in their favor. Special T-shirts with favorite sayings enhance the mood. Find yourself on the edge of you seat doing your best to ease your desires as Garrett allows Ty to relive what now seems like a wet dream premonition from a past… *This book contains explicit scenes of a gay sexual nature by consenting characters who are over 18 years of age. It is intended only for readers who are 18+ years of age. If you are underage or may be offended by this topic, do not purchase this book.
Abs Lust Prom
Pairing: M-M
September 15, 2020
Word Count:
20,750
Character Identities:
Gay
Summary: SEXY COLLEGE BOYS PLAYING NAKED IN A WINTERY HOT TUB? HMM! YUM!!! SO HOT IT WILL MAKE YOUR CARROT GROW TOO! - Although acquainted for several years, Ty and Garrett only recently came to know each other. Why had Ty never realized how adorable Garrett is? Now Ty can't take his eyes off of him. Everyone knows blizzards are great for snowmen and sex! Garrett loves the snow and becomes truly giddy when the first flakes fly. The biggest blizzard of their lives traps Garrett and Ty alone at Garrett's house. Garrett hopes the storm will provide a perfect opportunity for Ty to help him explore his gay urges, as well as learn a few tricks. Garrett's big questions are whether he is straight, bi, or gay and once he knows, will he tell the world or keep it to himself? Will Ty satisfy Garrett's erotic urning? "This book made me smile several times, but it is also highly arousing and provocative. Who knew a snowstorm could be this hot? Abs Lust Snowmen Play Naked gave me many good times, if you know what I mean." Kyler B. Warhol, book reviewer and blogger. *Explicit scenes portray gay sexual situations by consenting characters who are over 18 years of age. It is intended only for readers who are 18+ years of age. If you are underage or may be offended by this topic, do not purchase this book.
Abs Lust Snowmen Play Naked
Pairing: M-M
July 17, 2020
Word Count:
88084
Character Identities:
Gay
Summary:
Introduction to the set
With the Queen due for her annual visit to Balmoral Castle, Constable Aidan Williamson has been transformed overnight into an undercover detective for Police Scotland. He's managed to emerge from his first case (
Where There's Smoke
) with only a bullet wound and a few other scars no one can see. He's also become deeply attracted to Kenneth Logan, an enigmatic hermit who chooses a stone tent and hard floor over a comfy flat with a soft bed. His second case (
Deep Fury
) takes him once more to a property owned by Her Majesty—but this time another monarch takes top billing. A very old secret hidden by Queen Victoria has become a cause for murder. At her famous Widow's House on a lake in the Highlands…and in his own private life with a hot Scot named Logan…there's a smoldering deep fury at work, and Aidan's determined to get to the bottom of it. In
Spilled Passion,
a hidden crime has been uncovered in the same place the royal party is set to visit soon. Aidan, rookie dick, is struggling to confront his demons—and his angels too. Who's the killer? A pillar of the local church…a couple of horny adolescents…a protective kinsman of the dead man's wife…or the sweet widow herself? This time around, the edges are blurred more than ever in a mystery and a buried secret that spill all the way into serious romance.
Aidan Undercover: The Box Set
Pairing: M-M
May 20, 2020
Word Count:
76000
Character Identities:
Gay
Summary: For Andrew Tuttleman, sex is a means to an end. With a mother too sick to pay the bills on her own and college bills to pay, Drew has spent years resorting to sex with strangers to keep a roof over his mother's head and keep himself at school, far away from the hell where he grew up. This summer, his usual tricks are still paying the bills. But there's a new one, Grant, who never got the memo that a trick is a no-strings deal. Convinced that Drew is the answer to a hopeless prayer, Grant seems ready to pursue Drew to the ends of the earth. Drew, on the other hand, isn't so convinced. Grant comes with trouble in the form of a wife and three kids, not to mention a single and unwavering requirement: that Drew give up his livelihood. Grant's kiss makes Drew ache for more, a romance that he never dreamed possible. He finds himself unexpectedly willing to try. Can Drew weather Grant's angry father, wife, and a daughter determined to kick him in the shins so hard that he'll leave Grant's life forever? It all relies on Grant's faith in an impossible prayer.
Andrew's Prayer
Pairing: M-M
September 27, 2017
Word Count:
37000
Character Identities:
Gay
Summary: Sam McAuley isn't having a great start to the summer. Served with papers? Great. He's being sued. Perfect, pristine yard overrun with chickens? What the—? Clearly, the new guy running the animal rehabilitation centre next door has no idea what he's doing. It's one town to the next, one school to the next, one job to the next for Bo Novak. Everything is temporary. Even his current job—running his sister's animal rehab centre while she's away on a four-month leave—is temporary. And he does know what he's doing, thank you very much. Sure, things don't always run smoothly, but the stick-in-the-mud next door could be a little nicer about it. One overheard conversation, an olive branch, and a baseball game might show these guys that being at odds isn't really what they want, and that what they want might just be each other. [As Big as the Sky was first published in August 2017. This new edition has a brand new cover but no content changes.]
As Big as the Sky
Pairing: M-M
August 7, 2020
Word Count: Information not available
Character Identities:
Gay
Summary: For all the Celtic Myth short stories, see my website. Paul Webster has come out the army after a twenty-two year stretch with a trick hip and no idea what to do with his life. He takes a few weeks walking along the Welsh coast to get his head on straight. Kevin Davies is a veterinary nurse and an artist. He's getting lonelier and lonelier in his cottage on the edge of the sea, kept company by his cats and a friendly flock of crows. What happens when the two men hunker down together to wait out a wild March gale? A 11,500-word short story in the Reworked Celtic Myths collection. This time, there are crows.
As the Crows Fly
Pairing: M-M
April 13, 2021
Word Count:
98500
Character Identities:
Gay
Summary: The tall pines, the thick mist, the birdsong above his head...Barrett loves everything about living outside the remote mountain town of Lake Honor, but especially the peace and quiet. His days as a forest ranger are filled with unpredictable adventure, so home is the one place he knows he can count on. But even home has been a surprise of late, as his next door neighbor and good friend has suddenly passed away, and the house has been sold to someone new. He's not sure this change will be good. When the new neighbor, Ambrose, arrives, Barrett realizes that the man is a loner, like himself, and clearly not looking for a friend. Which is a pity, because Barrett finds him fascinating and incredibly good looking. Ambrose didn't move to the outskirts of nowhere to make a friend. But Barrett, his new neighbor, is kind and generous, and has soft brown eyes he can't stop thinking about. As he slowly warms up to Barrett, fate finds a way to push them together when danger and sabotage strike. Barrett saves Ambrose's life, and their bond is cemented. Ambrose isn't sure about letting in someone new, but Barrett hasn't proven to be anything but a good person. And a handsome one at that. As their lives entangle, and their relationship grows, neither man can ignore the attraction between them. But their pasts are complicated; an ex-boyfriend reappears, an estranged parent tries to get in contact, and Barrett's nephew falls ill. On top of that, the sabotage of forest ranger equipment grows more dangerous and Barrett is pulled into the investigation. Both men want to take their relationship slow, even with all the drama swirling around them. Ask Me For Fire is a love story drenched in atmosphere, suspense, and heartfelt connections. Tropes: forced proximity, slow burn, grouchy loners Content warnings: explicit sex; some violence and danger (mostly minimal and/or off-screen); mental health issues including anxiety and depression; abusive and manipulative family; neglectful family and past relationships
Ask Me For Fire
Pairing: M-M
August 1, 2022
Word Count:
20000
Character Identities:
Bisexual
Summary: After years of going unnoticed, the darkness has seen her... Annabel has enough to worry about. She's escaped the suffocating clutches of an abusive religious group. She's safe in a new home, with her supportive roommate, Kat, who makes her heart flutter. Every day is an opportunity to heal from her childhood trauma while she explores paganism and develops a relationship with a gentler deity. She would rather not add another spinning plate to her recovery. But when Kat begins a week-long magical ritual to heal her broken heart, she sprains her ankle on the first day and can't continue the process. And though Annabel knows a romance with her straight roommate is unattainable, she can't stop herself from offering to finish the ritual as a proxy. Annabel's role seems simple enough. She must go to the crossroads every night and deliver an offering to the unseen being who resides there. If she is polite and respectful, then by the end of the week, the creature should remove Kat's heartbreak. There is only one rule: she should not look over her shoulder at the crossing. Because if she locks eyes with the spirit, they could take it as an invitation to follow her home—or keep her. At the Crossing is a 20,000-word monster romance novella. It features a F/NBi pairing involving a human woman and an agender demon. This book is intended only for adult audiences. Content warnings may be found in the book's front matter and on the author's website.
At The Crossing
Pairing: F-NB
October 15, 2021
Word Count:
78000
Character Identities:
Ace, Demisexual, Gay, Pansexual, Polyamorous
Summary: In the final installment in the SoulShares series, author Rory Ni Coileain weaves together the myriad threads of this compelling paranormal romance in a climax that crosses time and space. Sometimes Fae love stories aren't what you expect. The Marfach—devourer of magick, long-imprisoned mortal enemy of the Fae race—is free of its Antarctic prison. The Demesne of Purgatory—Fae, humans, a Fade-hound puppy, a Gille Dubh, and a darag—is all that stands between the monster and the power it needs to destroy both the Fae Realm and the human world. The only clue they have as to how to kill the unkillable is a cryptic note from the Loremasters: "Osclór, Nartú; Tobar, Soladán; Nidantór, Breathea; Glanadorh, Coromór, Farthor; Scian-omprór, Nachangalte; Crangaol, Síofra; Gastiór, Laoc, Caomhnór; Fánadh, Ngarradh." Opener, Strength; Wellspring, Channel; Unmaker, Judge; Cleanser, Equalizer, Sentry; Blade-bearer, Unbound; Tree-kin, Changeling; Binder, Warrior, Guardian; Wanderer, Sundered. As they rebuild Purgatory from the rubble the Marfach left behind, they have to stand together, using everything they know—everything they are to their partners, lovers, husbands. Everything SoulSharing has made them. And not everyone who enters the final battle will leave it.
Back Door Into Purgatory
Pairing: M-M, M-M-M
October 2, 2019
Word Count:
26,550
Character Identities:
Gay
Summary: How can they get together with a monster in their way? The warrior-priest. Gossamer wants true love. But his faery godmonster, a gigantic, winged, two-headed beast named Puff-puff, is determined to keep him "safe"--even from a broken heart. The necromancer. Pox is a sexy fugitive. An exiled aristocrat, his ego is as big as a dragon's maw. He has no time for love. Still, that brawny Gossamer might make a fine manservant. **This gay romantic comedy contains four graphic, sexually explicit scenes and is intended for adults only. (It also contains crude humor, a love story, and a big scary monster.) This collector's edition features a brand new cover, improved formatting, and the first chapter of the second book in the Chainmail and Velvet series!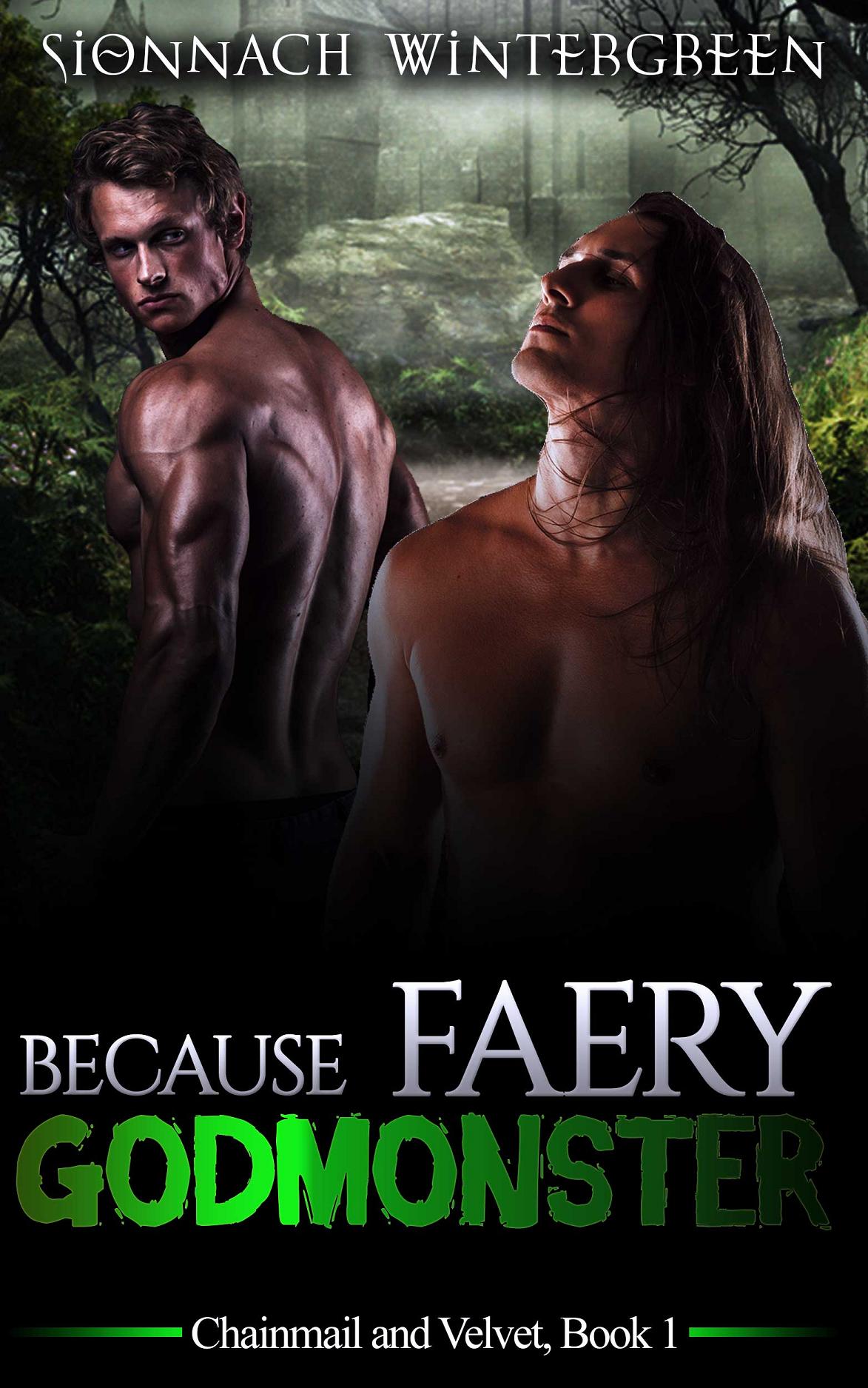 Because Faery Godmonster (Collector's Edition)
Pairing: M-M
August 25, 2017
Word Count:
30,048
Character Identities:
Gay
Summary: Big, burly CEO Abe Behr is furious to discover someone—probably a relative—is embezzling from Behr Construction, a family-run business in the Sierra Nevada foothills outside Lake Tahoe. To confirm his suspicions, Abe takes the unprecedented step of hiring a non-family accountant, handsome Jeff Mason, to go over the books and help find the culprit. As they talk to Behr relatives and visit construction sites, Abe and Jeff are drawn to each other, bringing out new, softer emotions in workaholic Abe. Since he has sacrificed romance all his life to build the construction business, Abe's surprised by his feelings for the handsome Jeff. He's even more shocked when they come face to face with homophobia in the small foothills community where generations of Behrs have called home. Abe had always thought Stone Acres was a live-and-let-live kind of town. As he and Jeff get closer, he finds out how wrong he is when he comes out to both family and a community who think he's making a big mistake. Will being the head of a large, powerful family and a pillar of the community be enough to win Abe his happily ever after with Jeff?
Rainbow Award Honorable Mention book.
Behr Facts
Pairing: M-M
August 8, 2020
Word Count:
32,950
Character Identities:
Gay
Summary: DANCING NUDE, TORTURED PLEASURES, INFINITE LOVE It is hard to imagine how two horny college guys can manage to get into so many sizzling encounters during a brief two week live-in foreign language course. Nevertheless, Tanner and Ty will take you on a roller coaster of adventures you won't soon forget. As the course ends and summer break is about to kick off, the guys must say their farewells and head home toward opposite ends of a very long state. Is this goodbye supposed to last for a couple of months until a raging inferno between them ignites the next school year, or will it be a series of life altering experiences which must make memories to last them for a lifetime? Only one way to find out. Adjust your jeans and order your copy today. *This book contains explicit scenes of a gay sexual nature by consenting characters who are over 19 years of age. It is intended only for readers who are 18+ years of age. If you are underage or may be offended by this topic, do not purchase this book.
Breathless Voyeur
Pairing: M-M, M-M-M
October 15, 2021