Word Count:
124,200
Character Identities:
Gay
Summary: For Wall McCormack, actions speak louder than words. He's giving and protective, loyal to his friends, and devoted to his job. While confident and powerful enough to conquer any challenge, his greatest strength lies in his calm nature. Until an unexpected assignment sends his world into a loud and colorful chaos he never could have anticipated. Rejection. It's something Dylan Vaughn has known his entire life. But he's a tough nut to crack and refuses to break. Armed with a sharp tongue and brutal honesty, he pushes through life and at anyone who attempts to take him on. Except for the quiet guardian who piques his interest and dares him to want…more. When Dylan's past comes back with a vengeance and jeopardizes their growing connection, Wall will stop at nothing to protect the younger man and remain by his side. But convincing Dylan that someone accepts the real man behind the cocky facade might prove to be Wall's greatest challenge yet. With his freedom on the line, Dylan must trust the strength of their bond and confront the forces threatening their future. Only then will he realize the dream of acceptance is real and finally have a place to call home.
A Chosen Man
Pairing: M-M
September 26, 2018
Word Count:
12079
Character Identities:
Gay
Summary: Guard your heart, or Jack Frost will freeze it. Jack Frost is all about the freezing cold, and he not only wants to freeze the earth, but he also wants to freeze people's hearts. When he sees two lovers kissing under the mistletoe, he vows to split them up. Teddy and his husband, Kirk, are still in love. Will they let a little frost come between them?
A Frostbite Christmas
Pairing: M-M
December 9, 2018
Word Count:
45,000
Character Identities: Information not available
Summary: A Dom learns to love while Scotland Yard claims his time and a sociopath lays a trap for his sub. This is book 2 Vasquez Inc, a spinoff series from the popular Vasquez and James series. Jackie Vasquez knows he needs to submit to a Dom he can trust—just as much as he needs to manage his own life. He found the right Dom in Brian Harrison, and then romance beckoned them both beyond bindings and safewords. They take the first steps toward a life together in London, where Brian is pursuing his dream career at Scotland Yard, and Jackie is working toward a master's degree. Their private hours deep in the night brim with both heat and beauty as Brian's artful vision for bondage makes a masterwork out of Jackie, body and soul. But time together becomes scarce as a series of horrific gaslight crimes keeps Brian at work and out of reach for Jackie much of the time. Though Jackie is faithful, he isn't the type to sit and wait for his lover's attentions. His self-assured ways and his geocaching hobby lead him to a dangerous discovery—all is not as it seems at the University. Trapped in the Gaslighter's web, he'll need to use every trick he knows to stay calm and buy time. But will Brian unravel the knot of mystery in time to save the man he loves?
A Shot of Fear
Pairing: M-M
November 21, 2019
Word Count:
45,000
Character Identities:
Gay
Summary: Gay American Dom with a fabulous sub juggles romance and bondage with Scotland Yard police work. Book 1 in the the Vasquez Inc series, spinoff from Vasquez and James. When Brian Harrison first met Jackie Vasquez at a Hawaiian wedding, Jackie was sixteen and troubled. Six years later they meet again; Brian's career at Scotland Yard is budding with promise, while Jackie's student days at the University of Nebraska are rolling toward a strong finish. Magnetic mutual attraction pulls them insistently toward one another, but the ocean separating their lives makes for a simmering romance. When the waiting ends and they get together for a weekend in Denver, Dom Brian and sub Jackie both know they've tapped into something scalding hot, and much deeper than sharing an artful session. Shibari, lust, and love are all on the agenda -- but for Brian, so is his police career, and a strange series of crimes seems poised to threaten their romance -- and maybe their lives.
A Shot of J&B
Pairing: M-M
November 1, 2019
Word Count:
44000
Character Identities:
Gay
Summary: Addiction can destroy your life. But if you destroy addiction, can you get your life back? At twenty-eight, Owen Fredrikson is homeless, unemployed, and grappling with drug addiction. Before he let drugs take over his life, he had a pretty sweet job working the front desk of a fancy hotel, his boss was his best friend, and he had a loving fiancé. After three years together, thirty-three-year-old middle school math teacher Dex Atterbury could no longer ignore Owen's demons. Dex made the tough decision to part ways, leaving Owen destitute and Dex heartbroken. When tragedy befalls Owen and Dex is called to his side, Owen has some tough decisions to make. Both men must determine how far they are willing to go to rebuild the life they once shared. Can Owen conquer his addiction while facing his demons? And can Dex open his heart and trust Owen again? Content Warnings: Depictions of drug addiction, drug use and abuse, and drug withdrawal Scenes of violence
Addiction
Pairing: M-M
August 16, 2019
Word Count:
105,980
Character Identities:
Bisexual, Gay, Genderfluid, Questioning
Summary: Olympic-size dreams come at a price. Openly gay college swimmer Ian Harrington feels like he's fighting against a current of tragedy. He's grieving the loss of his parents and best friend, and now he's dealing with a toxic coach and judgmental brother. But he won't let that stop him from chasing his dream: Olympic gold. Ricky Chavez has just about everything he wants in life: a great career, a supportive family, and a side gig as drag queen Rosie Riveting. The only thing he's missing is a partner to share it all with. When the two men connect after Rosie's performance, they're immediately drawn to one another. But it's never that simple. Ricky isn't the type of man to hide, and with Ian's coach breathing down his neck, he can't openly love a drag queen without making waves. They'll have to brave deep waters to make it to the finish line.
Advance & Retreat: The Midwest Series Book 4 - Ian & Ricky)
Pairing: M-M
July 14, 2020
Word Count:
149,000
Character Identities:
Bisexual, Gay
Summary: The star of the University of Virginia theater department, Aidan Emery is lusted after and admired for living out and proud. He uses his talent and good looks to his advantage and never sleeps with the same guy twice. But his glamorous patina has been carefully honed to hide the pain he carries inside. Aidan wasn't always such a player. He starts college naively romantic, hungry for the attention he can't get from his workaholic father and mentally ill mother. Unfortunately, that leaves him ripe pickings for predatory professor Rodney Montgomery. Rodney's flattering regard seduces Aidan into a dysfunctional relationship that destroys his innocence. Life looks up for Aidan when he finally breaks free of Rodney's pull and moves to New York City to make it as an actor. Meeting sweet fellow actor Patrick Jaymes seems like the start of a fairy tale. But before Aidan can rebuild his life into happily ever after, family secrets rip him wide open, leaving him easy prey when Rodney decides he's not willing to let Aidan go.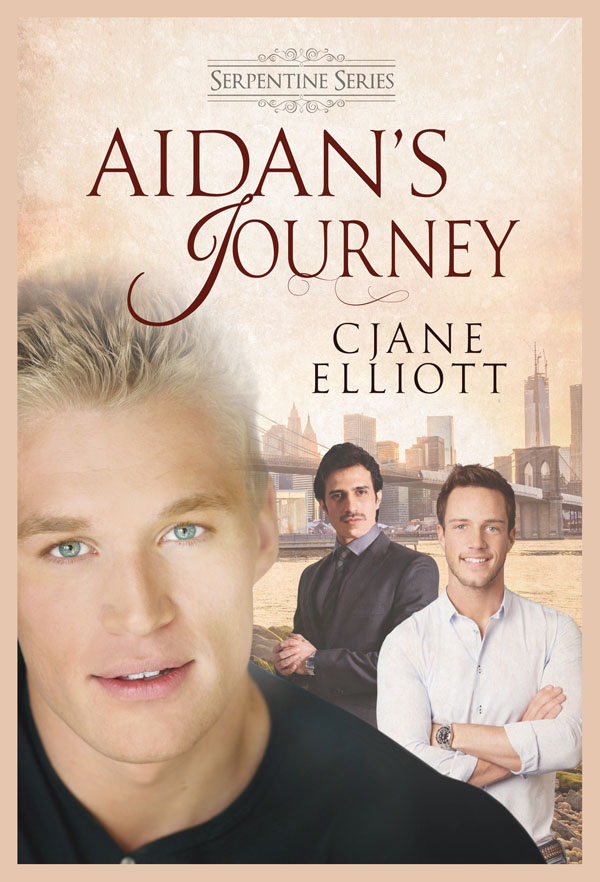 Aidan's Journey
Pairing: M-M
October 15, 2014
Word Count:
70000
Character Identities:
Gay
Summary: A B&B owner takes on a posh hotel developer in this enemies-to-lovers story with plenty of South Florida heat. The grudge match is set to get nasty. Wesley and Nathan are willing to pull out all the stops to achieve their dreams. They just never expected the heat between them to carry over to the bedroom. After one reckless night burning up the sheets, Wes and Nathan can't stay away from each other. But is there any hope of them having their happily ever after when it means someone has to give up his dream?  All For Wesley is a standalone enemies-to-lovers MM romance with sneaking, spying, family troubles, helpful movie stars, one poorly timed hurricane, and all the feels.
All For Wesley
Pairing: M-M
October 4, 2019
Word Count:
117000
Character Identities:
Gay, Polyamorous
Summary: A rookie, his teammate, and his best friend from a rival team. What could possibly go wrong? Seattle Snowhawks rookie Justin Reid has it bad for his teammate Shawn Kelleher. It's just his luck that Shawn's got a crush too… on Justin's best friend, Vancouver Narwhal center Keith Adams. When Shawn lets it slip at the worst possible moment that he wants Keith, Justin is hurt, but what can he do? He steers Keith in Shawn's direction and lets chemistry do the rest. What Justin doesn't know is that while Keith is into Shawn, he's also secretly wanted Justin since forever. After some stumbling, they realize there's something very hot and very mutual going on between all three of them. It's fantasies coming true left, right, and center, and it just doesn't get any better than this. Except this scorching hot triad is anything but simple. Not while the closeted son of a hockey legend is fighting to make his own name in the shadow of his deeply homophobic father's legacy. Not in the midst of grueling schedules and a team's fraternization rules. Throw in pesky emotions showing up where they aren't wanted, and it's a play that's doomed from the start. Shawn, Keith, and Justin all fought their way into professional hockey. Is what they have together worth fighting for too? Or will fear let heartache win this game? ASSIST is approximately 117,500 words. It's book 2 of the Pucks & Rainbows series, and can be read as a standalone.
Assist
Pairing: M-M, M-M-M
December 26, 2019
Word Count:
46584
Character Identities:
Gay
Summary: It's summer 2016 and two years have passed since we've last seen Bryce Harkless. He has moved past that devastating but eventual false diagnosis, but has much changed in his life? Is he still doing the harmful things that caused that initial life-changing scare? As Bryce prepares to head into his senior year of college, he plans a relaxing vacation to travel up the east coast with his best friend. Something unexpected happens while on the trip, so they alter their plans and head to the Midwest. While on that journey, Bryce encounters another life-shattering event that will shake him to his core. This unforeseen circumstance will force Bryce into a decision that'll allow him the opportunity to seek vengeance for a previous wrong done to his family. Will Bryce do what his church upbringing taught him and leave it in God's hands, or will he go out and do his own thing? Where will his relationship with God stand when the dust clears? Jaxon Grant, author of the "Incidental Contact" and "Life of a College Bandsman" series, pens a masterfully woven tale of adventure, crime and consequence, lust, secrets, exploration, revenge and mind-blowing sex. In the final book of this trilogy, join Bryce on this two-week voyage as he learns the hard truth about himself—the truth that maybe he isn't even ready to discover.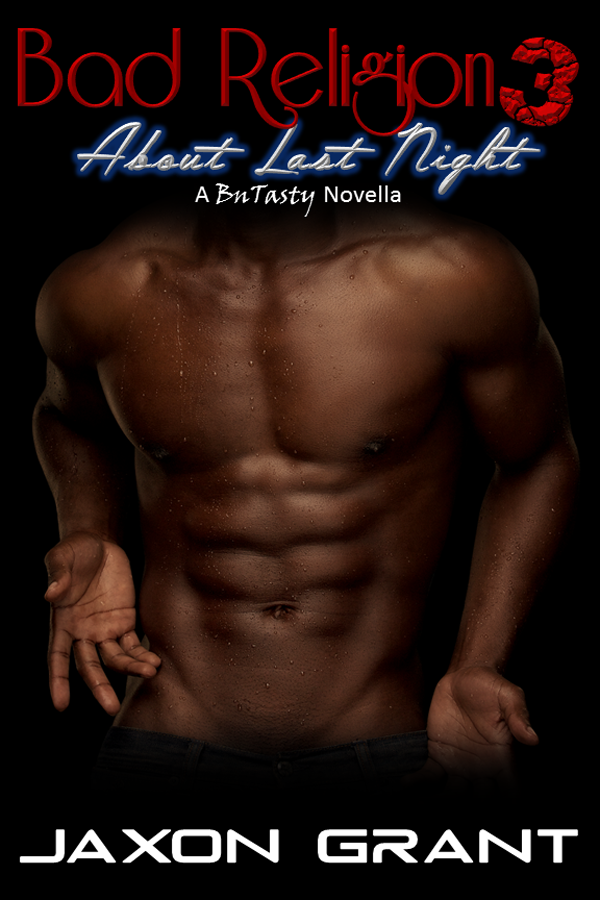 Bad Religion 3: About Last Night
Pairing: M-M
May 22, 2017
Word Count:
25000
Character Identities:
Gay
Summary: From the outside looking in, John leads a boring life by day as a professor at a small liberal arts school in San Francisco. His nights are saucy, sinful even, when he services clients as a sex worker. He's damned good at it, too, for reasons far surpassing simple technique, whether he's entertaining super-hunky coeds or fulfilling the fantasies of married men on the down-low. Because John has a secret. It's not that he's thirty-five and feeling washed-up or that he's got a crush on one of his clients. His secret could be he's buried his rural, Southern roots, or that Paul, his first lover and preacher from back home, still preoccupies his thoughts. Maybe it's the terrors he faced in conversion therapy as a teenager…but it's none of those things. John's secret is the Fountain, a mysterious well of energy within him he cannot control. Paul knows about the Fountain. So do John's parents. Despite their best efforts to protect their dogma, it will all come out now that Paul has called John home to Georgia. To Bethesda.
Bethesda
Pairing: M-M
November 5, 2019
Word Count:
80000
Character Identities:
Gay
Summary: Everyone is chasing their own dreams, but Johnny isn't sure he even has one. Apex Racing is expanding and absorbing Pilot and his lovers. Everyone is happy with it…except for Johnny. He's constantly feeling left out and more alone than ever before. It's time to seek out his own win, and find his holeshot even if it's off the track and away from Pilot. Gavin is determined to put together the hottest Supercross team, and he wants that to include Bryce Nickels. But that seems almost impossible since Bryce signed with Apex. Perhaps he needs a new angle, like the sexy business partner of the bodyguard, Johnny Killebrew. Maybe he'll sign on more than he bargained for. Praise for Holeshot Christmas: "The writing was spot on once again and the storyline flowed really well. A Christmas feel good sexy story for the win!" ~Morningstar with Diverse Reader Blog. "Holeshot Christmas is a delightful little visit with Davey and Tyler. It's sweet, cute, and a lot of fun." ~Amy's mmromance reviews Bike Business is the fourth title in the Holeshot series. For your reading enjoyment, the preferred reading order is as follows: The Holeshot Holeshot 2 Holeshot Christmas Bike Business: A Holeshot Novel Tricky Tracks
Bike Business
Pairing: M-M
August 23, 2019
Word Count:
35500
Character Identities:
Gay
Summary: A romantic getaway at an all-inclusive boutique hotel over Christmas seems the perfect way for Glenn Trevor to celebrate the festive period with his boyfriend. But he could have done without waking up on the first morning delirious and covered in spots. Abandoned by his boyfriend, Glenn's only saving grace comes in the dynamic form of Bastian, the waiter assigned to attend his every whim, and who might just be an angel in disguise. Bastian, has only two rules: always make the guests feel as comfortable as possible—not a problem with his innate nurturing disposition—and never ever get involved with a guest. But the quarantined guy in 210 needs someone to take care of him, and Bastian's more than up for the challenge of making Glenn Trevor's stay the best ever, even if he has to run himself ragged to do it. If Bastian can learn to accept the same nurturing care he hands out so readily, and Glenn can get over the farce of his previous relationship, between them maybe they can make it the Christmas of their dreams.
Calamine & Christmas Cake
Pairing: M-M
December 22, 2017
Word Count:
105360
Character Identities:
Gay
Summary: Mark Beecher is still recovering from his abduction on Barbados. He and his boyfriend, FBI Special Agent Aaron Pearce, have a lot to process due to those traumatic events, and in the months since, both have experienced accomplishments and setbacks. When a case in Detroit calls Pearce back to the city where the two met, he grudgingly leaves Mark on his own. The case involves the murders of four gay men, all strangled, and all with a note in one hand. These notes contain clues that point to a case from Pearce's past, and proves what he already fears: Robert Morgan, terrorist mole within the FBI and Pearce's former lover, has invited Pearce back to Detroit to finish things between them. With Pearce gone, Mark focuses on his recovery, a process that accelerates once he sees a news report from Detroit and realizes the toll this new case is taking on Pearce. Mark decides it's time to stop letting fear control his life. He will join Pearce in Detroit, and together they will stop Morgan once and for all.
Choked Up
Pairing: M-M
September 7, 2016
Word Count:
57000
Character Identities:
Bisexual, Gay
Summary: You can never escape from yourself. Zac McKenzie is an ex-professional footballer with a secret he gave up his career to protect. Several years ago, he fled to his home in the North East of Scotland to avoid being outed as gay. Now, he owns a successful hotel and restaurant, but is it time to finally come out into the open? Seth Pritchard feels he's damaged goods. He comes to Scotland to escape memories of the accident that left him injured, his bullying stepbrothers and a life of lies. For their whole lives, Zac and Seth have denied who they truly are to themselves as well as others. When they meet, each man is forced to confront his fears and tear them down one by one.
Choosing Home
Pairing: M-M
July 12, 2016
Word Count:
40671
Character Identities:
Bisexual, Gay, Transgender
Summary: Nick Fabian has settled into life in the small Maine town of Point Clear with his boyfriend Roy Constas, but work in the P.I. business is slow. Struggling for money and a sense of purpose, he considers working at the local laundry with Emily, but the news that his old crush Lieutenant Scott Mordis has been murdered in Philadelphia ignites a deep yearning he'd been trying to snuff out. With their last parting a bitter one, Nick is conflicted about returning to Philly, but is driven by the force of his emotions to obtain justice for Scott. Roy insists on tagging along for the ride, refusing to be left behind. He's jealous of Nick's affection for his former mentor and boss, and the two men face their first major hurdle as a couple. Nick's journey will plunge him back into a cold case—that of Aiden Winters, the murder that drove a wedge between him and Scott in the first place—and he'll unearth connections between the two cases better left buried in the past…
Cold Winters
Pairing: M-M
June 30, 2021
Word Count:
60000
Character Identities:
Gay
Summary: Justin Warfield ran away to Italy to put the events of last summer and a certain dark-haired private eye behind him, to no avail. If anything, he can't help but rehash what happened over and over. When he finally returns to South Carolina, the hotel he runs with his brother has suffered a series of incidents that are starting to look less accidental after a death threat is received. Not satisfied that Moses Lee and his local police will find the culprit, Peter Warfield calls in the services of his good friend Marcus Drummond to help. Marcus is torn. He wants to help his friend, but he also knows that if Justin has moved on after their failed flirtation last summer, he will be devastated. Tensions mount as danger seems to follow them at every turn, stalking them as they get closer to solving the mystery of who is behind the sabotage of the hotel.
Crashing Waves
Pairing: M-M
July 12, 2017
Word Count:
57000
Character Identities:
Bisexual
Summary: Who is the man in my bed? Did we do the do? And how much did I drink last night because my head feels like it might be the birthplace of volcanoes? Recently dumped by his girlfriend and with his self-confidence battered, Tom Crispin is taking a short break at a rural guest house where he hopes to find relaxation, and some of that lost self-esteem. Instead, he wakes up with a stranger in his bed and no recollection of what happened. When Dr. Philip Crackle returns to the area of his childhood to take up a position as a locum GP a serendipitous reunion with a former school pal forces him to take stock. Truth is, Philip has no permanent home or job and he drinks like there's no tomorrow. Tom is difficult to ignore, he's gorgeous, he's at the top of his profession in the world of construction, and he oozes confidence. Philip can barely keep his eyes off him. But the doctor doesn't believe he's good enough for a man who seems to have thoroughly mastered adulting. Welcome to Podlington! The fictional English village where magic happens and dreams come true. This LGBTQ+ Second Chance story is part of the Podlington Village Romance series and can be read as a standalone novel. Dazzling Doctor features purple animal print luggage, a completely new cocktail, and two bisexual men experiencing their first time in the arms of another man. And, of course, a guaranteed happy ending. The Podlington Village Romance series is written in British English and includes at least one non-binary character. Therefore, they/them is sometimes correctly used as a singular pronoun. Dazzling Doctor is 57,000 words.
Dazzling Doctor
Pairing: M-M
October 15, 2021
Word Count:
64,000
Character Identities:
Gay
Summary: Konner was looking forward to learning more about his family heritage. What he found was his entire life was a lie. Even the worst mistakes can be forgiven. Konner O'Flattery, a passionate amateur genealogist, has finally gotten back the results of the DNA test he took. He's been waiting months to uncover what mysteries his DNA has locked inside. But his results aren't anything like he expected, and he unearths a secret buried since birth. His heart becomes shattered leaving no room for forgiveness. Now, Konner feels compelled to go on a journey to find the truth of who and what he truly is. Through the miracles of modern technology, Konner meets his distant cousin, Aaron Kirschenbaum. Turns out, he knows exactly who Aaron is, yet they've never met. Aaron makes the girls and boys alike swoon from his stunning good looks and velvety voice. Unfortunately, he's picked up a bad habit of abusing his status for his own personal gain. Konner's story pulls on the strings of Aaron's heart. So, he offers to help Konner, in any way he possibly can. Aaron finds Konner to be incredibly attractive, so the two men are swept up into an intense romance filled with sensuous heat and passion. Distant Cousins is Eric Huffbind's second published novel, a Contemporary Gay Male Romance. Take a journey with Konner as he finds heartbreak, intrigue, love, passion, and the importance of forgiveness. If you want to rekindle the euphoric high of falling in love, Distant Cousins is the book for you.
64,000 words / No cliff hanger / HEA
This book is intended for mature audiences
Don't wait! Buy the book today and begin your journey to "Happily Ever After."
Distant Cousins
Pairing: M-M
September 28, 2018
Word Count:
53000
Character Identities:
Gay
Summary: I'm hiding from the past, he's looking for a future. Could it be with me? Two years ago, Rob Master fled his old life and started from scratch in Podlington, determined not to repeat past mistakes. People can't hurt him with facts they don't know, so he keeps his attraction to men and his love of drawing a closely guarded secret. People see him as the stand-offish barman in The Miracle of Magic, and that suits him just fine. After years as a successful model in the glamour industry in America, Darren Grant is more than ready for a change. The problem is that he has no qualifications. An extended holiday to Podlington in England might just bring him the clarity to figure out a way forward. Rob is shy and withdrawn, Darren outgoing and edgy. Despite the differences, the attraction between them is undeniable. But even after Darren volunteers to help with the organisation of the Podlington Art Fest, there's an end date to his stay in England. Are Rob's first chance at love and Darren's hopes for a new future doomed, or will Podlington provide the miracle they need to draw a future...together? Welcome to Podlington! The fictional English village where magic happens and dreams come true. This LGBTQ+ opposites attract story is part of the Podlington Village Romance series and can be read as a standalone novel. Drawing Forever features a shy barman, an outgoing glamour model, numerous pillows and cushions, a dash of serendipity, and a guaranteed happy ending.   53k words
Drawing Forever
Pairing: M-M
December 9, 2021