Word Count:
73,141
Character Identities:
Gay
Summary: Time travel. For mages, it violates their number one rule: what the Mother has written, let no one unwrite. The Mother writes the destinies of the creatures on the world of Karishian. If her writings were undone, it is feared that Creation itself could be undone. The dark mage Morgorth takes this rule to heart, but there are others who do not. Morgorth is about to claim a stone of power when it is stolen from him by a female mage he hasn't seen in decades. As they struggle for the stone, she activates it, and Morgorth is unwillingly plunged into another time and another place. It isn't long before he realizes what time he's found himself in and there are a few familiar faces. Most notable is a much younger version of Aishe. His mate. Living with a tribe who will be massacred, caring for a young lad who will become his mate, and fighting a battle against a mage who can travel from past to future at a whim—Morgorth's life has never been easy but now he must contend with the will of the Mother. Unable to change the future and the tragedies of Aishe's life, he must decide what his role in his mate's past will be, and ask himself one vital question: how does one defeat time?
Agate: Then and Now
Pairing: M-M
May 2, 2017
Word Count:
121000
Character Identities:
Gay
Summary: A child's memory. A journey's end. Lance doesn't remember the time before Ulfr found him. It's a dark pit in his mind that he avoids at all costs. And yet, despite his best efforts, pieces start to fall, and echoes from the past begin to ring. However, he has little time to comprehend their meaning, since the Captain of the Imperial Army herself has come to collect him and bring him to the capital city of the Nifdem Empire. Whisked away to the gilded streets and glittering court of the Hill of Tarran, and then to the snowy reaches of Swenen, Lance and Gust will learn the answers to questions they've had from the start. And be forced to acknowledge their roles in the survival of the empire and the ripple effects of their actions. But such knowledge can come at a steep price. As allies and enemies begin to step from the shadows, Lance will learn the truth of his past and the price of his redemption, and all the pain that comes with them. While Gust will have to decide what he's willing to sacrifice to safeguard the one he loves.
Avenging Lance
Pairing: M-M
September 29, 2020
Word Count:
78000
Character Identities:
Ace, Demisexual, Gay, Pansexual, Polyamorous
Summary: In the final installment in the SoulShares series, author Rory Ni Coileain weaves together the myriad threads of this compelling paranormal romance in a climax that crosses time and space. Sometimes Fae love stories aren't what you expect. The Marfach—devourer of magick, long-imprisoned mortal enemy of the Fae race—is free of its Antarctic prison. The Demesne of Purgatory—Fae, humans, a Fade-hound puppy, a Gille Dubh, and a darag—is all that stands between the monster and the power it needs to destroy both the Fae Realm and the human world. The only clue they have as to how to kill the unkillable is a cryptic note from the Loremasters: "Osclór, Nartú; Tobar, Soladán; Nidantór, Breathea; Glanadorh, Coromór, Farthor; Scian-omprór, Nachangalte; Crangaol, Síofra; Gastiór, Laoc, Caomhnór; Fánadh, Ngarradh." Opener, Strength; Wellspring, Channel; Unmaker, Judge; Cleanser, Equalizer, Sentry; Blade-bearer, Unbound; Tree-kin, Changeling; Binder, Warrior, Guardian; Wanderer, Sundered. As they rebuild Purgatory from the rubble the Marfach left behind, they have to stand together, using everything they know—everything they are to their partners, lovers, husbands. Everything SoulSharing has made them. And not everyone who enters the final battle will leave it.
Back Door Into Purgatory
Pairing: M-M, M-M-M
October 2, 2019
Word Count:
42516
Character Identities:
Gay
Summary: Never let go of the one you love. After recent traumatic events, Olly is finding it hard to get his head around what happened. While he tries to deal with a maelstrom of emotions, renovations at The Edge are in full flow, alongside preparations for tenth anniversary celebrations. Joe, his Dom, recognizes Olly's delicate state of mind and does his best to reassure him. A trip to the New Forest with their friends, Aiden and Heath, helps the healing process. Returning home, Olly and Aiden focus on preparations for the party. When Aiden is called away, Olly takes a walk to clear his head, keeping his eye on a brewing storm. To his horror, he discovers Mark Vickery, an old enemy, has landed on the island by boat and is out for revenge. With Olly missing and the storm raging, Joe, Heath and Aiden set out on a rescue mission that unfolds in a way none of them expected. Can the storm wash away the past or will Olly and Joe's future be destroyed by a twist of fate?
Binding the Edges
Pairing: M-M
January 10, 2017
Word Count:
93,000
Character Identities:
Gay
Summary: Following an accident, a schoolboy and a tattooed Romanian find themselves unexpected guests at Clearwater's country house, Larkspur Hall. But what if their presence is no accident? What if Mr Smith is Protectori, a member of an ancient order of assassins bent on destroying anyone who sullies the name of the Szekely people of Transylvania? And what do a runaway boy and an assassin have to do with Clearwater's famed Easter dinner party and its guest of honour, the actor, Henry Irving? Ancestral feuds, a pocket watch and a rare Romanian wine are seemingly random connections until Silas breaks into a London theatre, and James rescues a boy from drowning. Then, it's a race against time to prevent a hideous murder and Archer's ruin. Bitter Bloodline is a no-heat mystery that sees Archer's loyal servants become their own band of Protectori. The Clearwater Mysteries are best read in order.
Bitter Bloodline
Pairing: M-M
November 3, 2019
Word Count:
48870
Character Identities:
Gay
Summary: (Beginnings Book Three) In Haven, Montana, the shifters and their human allies are safe—for now. But that safety hinges on the town's location remaining a secret, and it's about to be compromised. Cougar shifter Travis Kuger spent the past several years alternating between craving revenge and wishing he could forget his painful past. Ever since the shifter-hating Knights blinded him and killed his family, Haven—and Sheriff Jack Ulger—have been Travis's refuge. Travis and Jack know their friendship could be much more, but Jack is part of Haven's ruling wolf shifter pack. If he takes a non-wolf mate, he could be banished forever. But when a knight infiltrates Haven, love becomes the least of their problems. Second Edition with updated and revised text.
Blind Devotion
Pairing: M-M
May 4, 2021
Word Count:
100500
Character Identities:
Ace, Genderqueer, Non Binary, Pansexual, Transgender
Summary: For Ress, survival is a complicated nightmare. Caught between two masters on different sides of the law, his life is falling apart one bad decision at a time. All he wants is to be is a good person, a loyal family man, and a successful metalsmith—a dream he can never obtain while he works for the Shar-denn, the violent gang that plagues the republic of Kattal. To make matters worse, he works as an informant for the High Council. He scrapes through both jobs waiting for his last breath. As the Shar-denn motto says: the only way out is dead. No stranger to living complicated decisions, Adren is caught between worlds of cir own. As the child of a Shar-denn faction boss, cir life is a conflicted tangle of expectation and duty. When cir family is arrested, Adren manages to escape, but nowhere is safe. Desperate and on the run, Adren is determined to punish Ress for turning in cir family. No one who betrays the gang can live. Ress must pay the price, even if Adren has to go against everything ce is.
Blood Borne
Pairing: M-NB, Includes NB
August 23, 2019
Word Count:
54500
Character Identities:
Gay
Summary: Bryson Franklin made bad choices in his past. When he inherits his grandparents' farm outside the small town of Willow River, however, he sees it as a chance for a fresh start. But patterns from his past resurface when Bryson takes up with Daniel Riggs, his bad boy neighbor, and he soon finds himself helping Daniel cover up a murder. After Bryson breaks things off with Daniel, the kindness and attention of handsome sheriff's deputy Sam LeClaire gives him hope, but when Daniel shows up on Bryson's doorstep a year later, will Bryson be able to resist temptation?
Buried Secrets
Pairing: M-M, M-M-M
March 25, 2017
Word Count:
45873
Character Identities:
Gay
Summary: This is book 1 of the Eternal Flames series, Centuries ago the Phoenix and Dragons were a force no one could penetrate. They fought together, mated together, and worked side by side, and then all that changed. The children of the leaders were dead and war had practically destroyed them all. The fighting stopped and they both went their separate ways. Daytona was the Captain of the Crystal fire department. He loved his small town and he loved his job. However, what none of the small town knew was that he was also a dragon. Crystal was a small location just outside Denver, and it was also the home to the Phoenix. He had lived amongst them for years, hiding his scent, until the day came that he could no longer keep his secret. When a fire claims his mother's life, Ethan rushes home. Having your mother being a victim of an arson is not something he was prepared to face, but discovering he wouldn't have to do it alone, should have been a relief. The thing is...that relief came in the form of a dragon, and the town believes that his mate is the cause of all the fires around town. When the arsonist strikes close to home, Day knows he must clear his name and find the culprit that is now trying to kill his mate.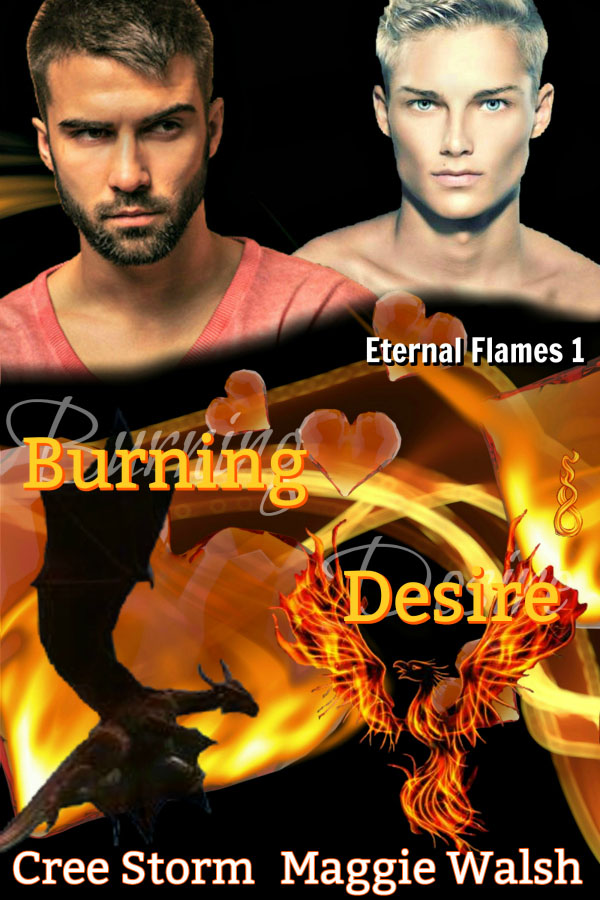 Burning Desire
Pairing: M-M
May 25, 2016
Word Count:
105360
Character Identities:
Gay
Summary: Mark Beecher is still recovering from his abduction on Barbados. He and his boyfriend, FBI Special Agent Aaron Pearce, have a lot to process due to those traumatic events, and in the months since, both have experienced accomplishments and setbacks. When a case in Detroit calls Pearce back to the city where the two met, he grudgingly leaves Mark on his own. The case involves the murders of four gay men, all strangled, and all with a note in one hand. These notes contain clues that point to a case from Pearce's past, and proves what he already fears: Robert Morgan, terrorist mole within the FBI and Pearce's former lover, has invited Pearce back to Detroit to finish things between them. With Pearce gone, Mark focuses on his recovery, a process that accelerates once he sees a news report from Detroit and realizes the toll this new case is taking on Pearce. Mark decides it's time to stop letting fear control his life. He will join Pearce in Detroit, and together they will stop Morgan once and for all.
Choked Up
Pairing: M-M
September 7, 2016
Word Count:
97000
Character Identities:
Bisexual, Gay
Summary: The Final Confrontation Caelan is done being a pawn of the gods. He's been herded and molded by the liars and manipulators. He's put the lives of his family in danger again and again. And he is done. It's time to face the mad Goddess of the Hunt in the last place any of them want to go—the Ordas. If they're lucky, the special assistance he's called in will arrive in time. But no matter what, Caelan will protect his family…at any cost. City of Blood is the sixth and final book of the Godstone Saga series and is not a standalone. The fantasy with a modern twist contains danger, secrets, broken gods, desperate kisses, dragons, possessive boyfriends, magic, lots of delicious angst, and one last round of a deadly game.
City of Blood
Pairing: M-M
July 1, 2022
Word Count:
101000
Character Identities:
Gay
Summary: Vampires slaughtered my family. No one believed me until I met some new friends, who promised to help me get justice. But nothing prepared me for Marcus Varik. Tall, dark, and mind-numbingly sexy. But he's also shy, protective, and adorably eccentric. Oh God, I should have never agreed to betray him.  Hopefully, it's not too late to fix my mistake before I lose more people I love. Claiming Marcus is the first book in an MM paranormal romance series that has vampires, betrayal, annoying brothers, music, heartbreak, hope, sexy times, and a raven named Ozzie.
Claiming Marcus
Pairing: M-M
October 31, 2019
Word Count:
125,090
Character Identities:
Gay
Summary: In 2002, Mark Vincent, onetime senior special agent, ran into John, a troubled little boy, at a local McDonald's. Concerned, although it wasn't his business, he gave the kid his business card and left. Three years later, Mark is director of his department at the WBIS and married to Quinton Mann, the former CIA spook who now writes spy novels. They've settled into a life of quiet domesticity and are even considering adopting a cat. All this changes when John, now using another name, barrels into Mark's life with a secret no one expects and on the run from an organization that wants him despite the collateral damage. What will Mark, the man known as "the best" in the intelligence community, do when he learns what this secret is? Will it affect his relationship with Quinn? And how complicated are things going to get when they decide to get involved?
Complications
Pairing: M-M
June 19, 2018
Word Count:
65000
Character Identities:
Gay
Summary: It takes a hacker to catch a hacker. But that's just the day job. At night, this "reformed" hacker has set his sights on catching a certain PI with a love of cowboy boots and no-strings hook-ups. >On loan from Ward Security, IT specialist Quinn Lake must work with detective Shane Stephens on a high-profile case. While Quinn might look like the perfect nerdy cliché against Shane's sexy confidence, Quinn knows how to push all Shane's buttons in the bedroom. The real trick will be getting Shane to stick around for more than one night before the hacker can end their snooping…permanently. Dantès Unglued is a standalone, opposites attract MM romance with sneaking, spying, a meddling silver fox father, a nosy ex-boyfriend, sexy times in an office chair, and all the feels.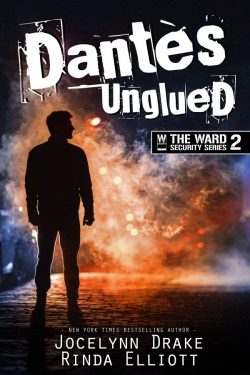 Dantes Unglued
Pairing: M-M
January 24, 2018
Word Count:
59596
Character Identities:
Gay
Summary: Darius Zan My estranged grandfather has died, and I am Balthazar Zan's sole heir.  I've inherited a small hidden town called Shimmering Canyon in Arizona, populated by supernatural people.  The real kicker here?  I find that my mother who left when I was born, is living there.  Balthazar's closest friend Parker is a red hot wolf shifter who now it turns out is my fated soulmate.  What's a witch to do? Nero De Santis I've heard many stories about the elusive Balthazar Zan in my time, but nothing prepared me for this.  Darius is a surprisingly powerful witch and has had a rough go of it over the last several years.  I first heard from him a while back to thank me for my part in avenging his dad's murder.  I knew Maxim Zan decades ago, and now it seems Darius is coming to Arizona for his inheritance.  I only hope this will be a turning point for him, but something seems to be very wrong out there. Agnes Granville After hearing about Darius' family, to say the least things are a hot mess in Shimmering Canyon.  I've talked with Darius in private, but there is still something that bothers me about that remote place.  I finally let Bart Magnus know that I believe hidden danger is lurking out there, and that perhaps dead men do tell tales after all. Parker Jeffries Balthazar spent a lot of time before his death telling me about his beloved Darius even though he'd never met him.  I'm just a lonely shifter and somehow, I now find myself fated to a sexy well connected witch.  I was devastated by Balthazar's unexpected death, but suddenly old festering resentments are becoming precarious and we must turn to others for help.
Darius Zan
Pairing: M-M
December 9, 2020
Word Count:
98000
Character Identities:
Gay
Summary: Ian Pierce is the chef and part owner of the hottest restaurant in Cincinnati, his chosen family is full of happy relationships, and the scruffy, snarky cop who has been haunting his dreams is one step closer to being in his bed. But everything comes crashing down when the past he narrowly escaped nine years ago comes to a deadly head. Hollis Banner was enamored of Ian at first sight. He's kept his distance, knowing the gorgeous, self-confident man is out of his league. Yet there's no standing aside when Boris Jagger escapes a raid. Jagger's world has been nearly destroyed and this time, the crime boss is coming after Ian and his friends personally. Hollis will do whatever it takes to keep Ian safe as they escape to a safe house with a couple of Ian's overprotective friends. And Ian finds himself in a race to unlock painful memories—memories containing information that could take down the very last of Jagger's illegal operations forever.
Devour
Pairing: M-M
April 27, 2017
Word Count:
81669
Character Identities:
Bisexual, Gay, Genderfluid, Questioning
Summary: Unearthing the past brings them closer together…and to danger. A maniac is on the loose in London, drugging young women and assaulting them before burying them in shallow graves. When Inspector John Cordiline asks Jake Chivis for his unique assistance as a Fire Elemental with the Cemetery Rapist case, he feels he can hardly refuse. What begins as a simple job—trying to get memories from a suspect to aid conviction—soon takes a darker turn when one of the victims dies and an offer of help comes from an unexpected and unwelcome source. Dr. Mari Gale is disturbed to find that his former lover Tomas Arregui is London and wants to meet with him. Despite his best efforts to avoid the man, fate seems to be pushing him onto a collision course with Tomas. And the impact will cast him into more trouble than he could ever have imagined. Digging deeper for the truth could be the death of them.
Digging Deeper
Pairing: M-M
August 28, 2018
Word Count:
87000
Character Identities:
Bisexual, Gay
Summary: In AD 107, after a grueling campaign against Rome's fierce enemy, the kingdom of Dacia, Gaius Fabius returns home in triumph. With the bloody battles over, the commander of the Lucky IV Legion now craves life's simple pleasures: leisurely soaks in fragrant baths, over-flowing cups of wine, and a long holiday at his seaside villa to savor his pleasure slaves. On a whim, he purchases a spirited young Dacian captive and unwittingly sparks a fresh outbreak of the Dacian war; an intimate struggle between two sworn enemies with love and honor at stake. Allerix survived the wars against Rome, but now he is a sex slave rather than a victor. Worse, the handsome general who led the destruction of his people now commands his body. When escape appears impossible, Alle struggles to find a way to preserve his dignity and exact vengeance upon the hated Romans. Revenge will be his, that is, if he doesn't lose his heart to his lusty Roman master. Dominus is a plot-packed erotic m/m historical fantasy that transports readers back to ancient Rome during the reign of the Emperor Trajan (98-117). This is the first of four books in an alternate history saga—a tumultuous journey filled with forbidden love, humor, sex, friendship, political intrigue, deception and murder.
Dominus (Dominus Book 1)
Pairing: M-M, M-M-M
April 21, 2014
Word Count:
51300
Character Identities:
Gay
Summary: Rene and his men are known as D.O.A., Dragons of Anarchy. They were created centuries ago, by the great Heck, to find and destroy serialists by any means necessary. Each member was gifted with a dragon that was connected to their soul. If one died, so did the other. The men didn't shift into the dragon, but they would call out and the maharishi would join them in the fight against evil. Not wanting their secret discovered, D.O.A. lived in a town called Drago, just outside Poconos Boulevard, and they hid behind their image as a bad ass motorcycle club Children were being murdered and Rene, otherwise known as Pit, along with his men were out to find out who was behind the copycat murders of a long time serial killer known as the Alphabet Killer. While questioning a victim's mother, Rene discovered his sentience, his mate. Now all he had to do was figure out how to tell the man he was not exactly human, and he better do it fast because his dragon heat was already kicking in. Bren was the local town veterinarian. He figured something was off about SI Rene Telkin. If not from the leather jacket with a large D.O.A. patch on the back, then maybe because he drove a navy Blue Harley Davidson CVO Street glider instead of a tan sedan. Bren was not the type to get mixed up with a biker club, even if the man was a cop. However, something kept drawing him to the sexy man and it seemed that nothing would break the bond they were forming. Not even when he discovered the secret all D.O.A. agents held. A large dragon for a partner. Now Rene needs to do his best to claim his mate and also track down a serial killer, because on the last body was a note threatening the good doctor of Poconos Boulevard.
Dragon Hearts
Pairing: M-M
July 1, 2017
Word Count:
45233
Character Identities:
Gay
Summary: Apparently, the path of true love meanders through a minefield. After several years of adventures, submissive Olly Glenn and his Dom, Joe Dexter, are about to tie the knot. Needless to say, all does not run smoothly on the path to matrimony. Only Olly can turn a visit to a cupcake shop into a police incident. While Joe and Olly's friends join forces to make their wedding the most memorable ever, others are not so keen on them getting their happy ever after—or living to experience their honeymoon. So, when Joe walks into a carefully laid trap, it's hard to see a way out. Olly is determined that nobody, not even a sociopathic killer with connections to his past, will ruin the big day. He wants Joe standing next to him, in one piece, and he'll risk anything to make sure that happens, even if they have to be handcuffed together. In fact, that idea has possibilities…
Edging Closer
Pairing: M-M
January 19, 2021