Word Count:
85000
Character Identities:
Gay
Summary: In a future where the United States has split along party lines, Agent Matt Tennimore's job is to get people out of the Confederated Red States, whether they're captured special ops agents from his own country or gay CRS citizens who've petitioned for asylum. He never expected to have to retrieve his high school crush, aka the guy who ostracized him for being gay. Rescuing James Ayala isn't going to be easy: he's crawling with tracking nanos and has a cybernetic brain implant that's granted him psychic powers he isn't sure how to control. That's the good news. The bad? The implant is compromising James's mental stability. So they're on the run, avoiding surveillance by AI aircraft and hiding from enemy militia. Then James confesses he tormented Matt in high school because James wanted him. Matt can't resist the temptation James offers, but he wants so much more than sex, assuming they ever make it home alive. Is James really a good bet when he's got a ticking time bomb in his brain and there's a question of how much he's actually changed? 85,000 words
18% Gray
Pairing: M-M
August 1, 2011
Word Count:
47570
Character Identities:
Gay
Summary: Nigel wouldn't mind if Asher called him Daddy if the age-gap didn't bother him so much. Nigel Blackburn has lived a full like as a private investigator. His job means he travels solo a lot, which is something he enjoys. He's a grouchy, stubborn dragon shifter who is better off alone. The last thing he wants is a mate and certainly not one so young. It doesn't matter that he finds little bobcat shifter, Asher Burkhart, sexy. But all Nigel's dragon wants to do is protect, which is good because danger drives into town. A Little Unsteady (Wingspan #4) is a continuation of Solid Ground (Wingspan #3). For the best reading experience, read them in order.
A Little Unsteady (Wingspan 4)
Pairing: M-M
October 9, 2020
Word Count: Information not available
Character Identities:
Gay
Summary: Tripp doesn't know who he is, how he got here, or why this gorgeous man with dark eyes is the only familiar thing in sight. But he does know this:
It's Autumntide on Mars and love is in the air!
—Embrace the wonders of Fall in this dreamy and evocative MM seasonal romance—
Louisa May Alcott meets the science fantasy of Ray Bradbury! Tripp is a young employee of the Division, corporate authority in the Crater region. Reserved and sardonic, he's inexplicably drawn to Dolan—a goofy, enthusiastic romantic with a body made to remember. But it's not just strong arms pulling Tripp toward this onyx-eyed man. Both colleagues are victims of amnesia caused by their recent interplanetary re-assignment. Though they don't even recognize themselves, they're driven by intense chemistry that feels too familiar to be coincidence ... With work suspended for the month-long Autumntide festival, can Tripp let his walls down and learn to love—even when he's a stranger in his own head? Experience the festivities as two lost souls find each other—again—under the ochre skies of
Autumn on Mars
.
The 4 Seasons Cycle
Four seasons. Four worlds. Four loves.
Join Tripp and Dolan as they walk the Annularity, rising each season on a new planet, in a new settlement, with no memory of their past. But true love creates its own future. Celebrate every major holiday of the year—and experience the magic in our own solar system—as Tripp discovers the endless bounds of a relationship so strong it transcends the stars!
They have been here before. They will be here again...
Autumn on Mars
Winter on Pluto
Spring on Titan
Summer on Europa
ATTENTION EMPLOYEES GLORY TO THE DIVISION! PLEASE READ THIS SCHEDULE OF AUTUMNTIDE EVENTS CAREFULLY:
-Harvest fête- Bob for diamond apples Pie throwing Compete in the Annular Waltz! -Fastelhaim- Brave the spooky night, but watch out for the wraiths of Mars That Was! Visit the homes of friends and neighbors to get treats, but make sure to wear a costume! -Hayrides- Ride the floating wagons among fields of spicestalk Hunt the maze for amethyst corn gemstones! -Apple picking- Harvest delicious diamond apples Visit the orchard master for cider and donuts! -Campfire evenings- Bask in the glow of the Shimmer Pines with your own campfire Make sure to bring spiced vanilla to warm by the coals! -Gratitude feast- Give thanks to the Annularity with the climactic cornucopia dinner, courtesy of the corporation
GLORY TO THE DIVISION!
Lovers adrift in spacetime ...
A surreal, atmospheric sci-fi fantasy romance quadrilogy—something for lovers of any season! Or all of them!
Rapid release through spring 2020, pre-orders coming soon!
Autumn on Mars
Pairing: M-M
November 25, 2019
Word Count:
81000
Character Identities:
Genderfluid, Lesbian, Pansexual, Straight
Summary: Alessia is an Outsider—a member of the not-quite-human community that has recently been released from their underground prison. Shortly after their liberation, Alessia is given an ultimatum: obey all the United Earth Alliance's demands, or her mother will forever remain a hostage—a mother she'd believed dead for fifteen years. Reluctantly, she agrees, though she has no idea what those demands may be or how she will balance her obligations to the UEA with her responsibilities to her people and her family. As the UEA tightens its grip on humans and Outsiders alike, it becomes clear that meaningful social change will not be possible without a revolution. Alessia and her peers embark on a mission to discover just how far the government is willing to go to maintain their monopoly on power. What Alessia and her comrades discover, however, goes much deeper than they'd ever anticipated. Who are the Outsiders, really? What secrets of their destiny lay hidden within a top-secret space station? And why are the Outsiders linked to an emerging disease the UEA seems desperate to keep secret?  As they delve deeper, it isn't only Alessia's identity that will be called into question, but the fate of the entire planet.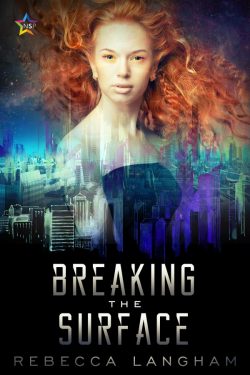 Breaking the Surface
Pairing: F-F, M-F, M-M
January 13, 2020
Word Count:
125,090
Character Identities:
Gay
Summary: In 2002, Mark Vincent, onetime senior special agent, ran into John, a troubled little boy, at a local McDonald's. Concerned, although it wasn't his business, he gave the kid his business card and left. Three years later, Mark is director of his department at the WBIS and married to Quinton Mann, the former CIA spook who now writes spy novels. They've settled into a life of quiet domesticity and are even considering adopting a cat. All this changes when John, now using another name, barrels into Mark's life with a secret no one expects and on the run from an organization that wants him despite the collateral damage. What will Mark, the man known as "the best" in the intelligence community, do when he learns what this secret is? Will it affect his relationship with Quinn? And how complicated are things going to get when they decide to get involved?
Complications
Pairing: M-M
June 19, 2018
Word Count:
42000
Character Identities:
Gay
Summary: Being third doesn't mean being last. But it might take some convincing… Brandon is a no-nonsense Alpha shifter soldier and pack leader. After many years of peacefully living without a mate, he's stunned to discover the pregnant omega he's just rescued belongs to him. Having no idea what to do with this scared and traumatized young man, he charges a beta with his care. Duty demands that Brandon work with the Alliance to bring those who abused his omega to justice. As a beta from the Guardian Pack, Cameron has dedicated his life to protecting his fellow shifters. After losing out on a forever-after when his best buddy found his fated one, Cameron's heart is too bruised to take a chance on a forbidden omega. Not only that, but he doesn't dare cross the older and much stronger Alpha who the omega Sascha is bound to. Omega Sascha has suffered more than any nineteen-year old man should. However, now that he's been rescued from the experimental prison by his fated Alpha and a caring beta, he needs both men in his life—no matter how different they might be. Sascha can't remember a time when he's felt as safe or loved—and will do everything he can to convince Cameron to stay. But there's a threat lurking in the shadows that none of them anticipated… Author's Note: Convincing the Heartbroken Beta is the third book in the Alaskan Wolf Alliance series and features an Alpha, omega and beta who are trying to figure out what fate just threw at them. The series is best enjoyed when read in order. This romantic tale with a dose of action and suspense does include some peril to Dad and baby. But as always, there's a fluffy, feel-good HEA and no one gets left out in the cold!
Convincing the Heartbroken Beta
Pairing: M-M-M
February 14, 2020
Word Count:
57000
Character Identities:
Gay, Straight
Summary: Previously on Dragon War Chronicles, the first strike was made against their enemies, but the cost was heavy. Mourning their losses Danica still must prepare for dragons that will be coming to woo her. She already knows the dragon she wants to mate to, but will she convince Kollin that she's ready to commit? Of all the dragons going to Toulouse to meet Danica and see if they have a chance only one has a completely different agenda. He knows which dragon he wants and it isn't Danica. Will Xavier win the heart of Danica's brother? Anchin Luu, Danica's brother and manager of her Las Vegas casino, Dragon's Hoard, has spent his whole life alone due to his deadly nature. A broken experiment and retired assassin Anchin isn't sure what to make of the water dragon that has invaded his life. Love is in the air, but so is gunpowder. SLIPs going missing, Coyotes crashing parties, and a mating you'll never forget are all in store for you on the next exciting installment of Dragon War Chronicles. Attention: This book contains explicit sexual content between consenting dragons, depictions of relationships that are MF and MM with a dash of doublemint fun. Dragon War Chronicles is a continuous series. It is best read in order. SYN Consulting Secrets Revealed First Strike Dragon's Hoard
Dragon's Hoard
Pairing: M-F, M-M
September 26, 2019
Word Count:
54000
Character Identities:
Gay
Summary: Arriving on an alien world to negotiate a trade deal, Shane discovers that Earth has another commodity that his hosts desperately crave... Drake throws a party for time-travelers: the invitations will only go out after the event. But then someone knocks on the door... Jac has two lovers, one a cop, one a criminal. Getting off the wretched outpost he calls home in the midst of a galactic war means leaving one of them behind... It all happens in Berlynn Wohl's second anthology of tantalizing sci-fi weirdness, Dreams and Machines. Experience thrilling tales of exotic aliens, fall in love with a mad scientist, and find yourself riveted by robotic passion. If you have a taste for the extraordinary and the extraterrestrial, you'll discover weird and wonderful fascination inside these pages.
Dreams and Machines
Pairing: M-M, M-M-M
October 26, 2018
Word Count: Information not available
Character Identities:
Gay
Summary: A werewolf and seven vampires are all that stand between the world and complete annihilation. When Kai Richter and Ori Bier met, sparks flew. Then a train blew up. Tracking an organism deadly to not only humans, but vampires and werewolves alike, brings Kai and Ori into The Vampire Guard. Decades later, they, along with Operative Team Jack Rabbit, come face to face with the horrors that same virus produces. Dead bodies are coming back to life, and rational people are becoming violent and brutal killers. A massacre is taking place nearly a mile under the Atlantic Ocean. Two teams of The Vampire Guard are in the thick of it, fighting to survive.
Endosymbiont
Pairing: M-M
May 4, 2022
Word Count:
34613
Character Identities:
Gay
Summary: Jotham was one of the oldest of the paranormal world, and a dragon shifter. He had been one of the attending Councilmen for the mating Games, since its creations. It is a time, for most, to come and have some fun, play some games, and hopefully find their mate. However, for Jotham, it was the time of his worst nightmare. Someone had taken his daughter over a hundred years ago. Discovering that Councilman Troy, his supposed friend, was behind his daughter's disappearance was something Jotham had a hard time dealing with. When he was first approached about the sinister actions of his fellow councilman, Jotham had not believed the men's accusations. Then Ricky, Ian, Joop, their mates, and family proved their words were true. Discovering his daughter had died was heartbreaking, but then he saw a picture in a file and knew the little girl looking back at him could only be one person...his granddaughter. Ricky and Ian convinced him that maybe one of the victims might be able to help them find the other captives. That is how he met his destiny.... his Q... his mate. Q had never really known a life outside the labs and captivity. So many people and no ability to communicate was terrifying. Then he saw the most beautiful sight in the world. His koala wanted to pounce and claim the man...but then he found out Jotham was a man of power and that type of person had only brought him fear and pain. Can Q push past his fear and help his mate find his granddaughter and others still being imprisoned? Can Q push his fear even harder aside and allow his dragon mate to claim him? Or will all be lost forever?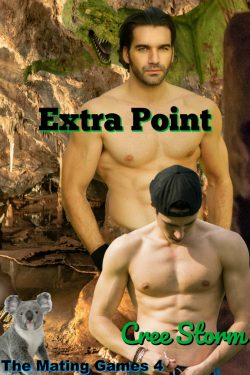 Extra Point
Pairing: M-M-F
June 19, 2016
Word Count:
25698
Character Identities:
Gay, Questioning
Summary: The Mating Games gathering has arrived! Finding ones mate is not always easy. Not everyone's mate is always the same species and the Council knows this, so they designed a way for all types of shifters and other paranormals to come together. Have some fun, meet new people, and if you are one of the lucky ones....find your mate. Knowing that Councilman Troy is responsible for their friend's disappearance, and proving it, are two different things. However, Colby and Ian are just as determined to do that, as they are to figure out how to make their mating official. Discovering that the councilman is using endangered animal shifters for his own purposes, pushes Colby's saber toothed tiger and Ian's giant golden crowned flying fox to change their approach, but not their determination. The thing is, even with all they know, can they save Joop and the others and still prove that Coun-cilman Troy is behind it all or will the Councilman make these two a part of his experiments first?
False Start
Pairing: M-M
November 14, 2015
Word Count:
58000
Character Identities:
Bisexual, Gay, Straight
Summary: Previously on Dragon War Chronicles, our heroes recovered and were preparing to take the fight to a still unknown enemy. Meanwhile, startling breeding experiments were revealed. Three sites are discovered in Russia that could hold all the answers they've been looking for. Three strike teams are assembled led by Xander, Kollin, and Tyler. Three simultaneous attacks are combined to make one devastating first strike against their hidden enemies. What horrors will they discover? What plans will be revealed? Why is a member of the Dragon Council showing up on Danica's doorstep with ultimatums? Find out in the next exciting installment of Dragon War Chronicles. Warning: This book contains explicit sexual contact between consenting adults. There are romantic, BDSM, and purely sexual relations shown that are MM and MF. There is also high sexual tension and alpha male posturing that will make you laugh and roll your eyes along with plenty of snark and definite teasing of dwarf-like dragons. Dragon War Chronicles is a continuous series. It is best read in order. SYN Consulting Secrets Revealed First Strike Dragon's Hoard
First Strike
Pairing: M-F, M-M
March 12, 2019
Word Count:
63000
Character Identities:
Bisexual, Straight
Summary: Canada, 2165 AD. The Water Wars and a decimated economy have taken their toll. Anyone who doesn't live in a military-patrolled metropolis lives in a clan. But being in a clan doesn't mean safety. And for a Ven like Roan Lee, it doesn't matter where he lives. Safety is a luxury. So is freedom. Roan is desperate to escape the governtary's exploitation and torture. He is nothing to them but 54σK1, an artifact born from a genetic mishap. When the chance to escape arises, he makes a run for it—and encounters the lover from his past, twisting his future into a second chance he never expected. As leaders of Clan Teach, Jace Ama and his wife, Cayra Diega, have enough difficulty keeping their people safe. When Roan is thrown to their feet as a prisoner, their marriage becomes an additional challenge. Jace still loves Roan, but where does that leave Cayra?
For the Clan
Pairing: M-M-F
May 25, 2016
Word Count:
85200
Character Identities:
Gay
Summary: A mysterious distress call draws the crew of courier ship Hermes to what appears to be an empty, drifting troop vessel--empty except for the blood and gore spattered corridors and a lone survivor locked in a holding cell. Drawn to the handsome, traumatized man, the crew's comm officer, Isaac Ozawa, makes Turk his personal responsibility, offering him the kindness and warmth he needs after the horror he experienced. Isaac knows firsthand what it's like to be different and an outcast, and this cements their bond. Once a promising pilot, Isaac was left with a damaged body when his brain didn't meld with the high-tech implant needed to fly fighter ships. Turk's brain is no better. The result of a military experiment gone wrong, his natural abilities have been augmented to a dangerous degree. When an amoral, power-hungry admiral kidnaps Isaac and uses him to convince Turk to become the cataclysmic weapon he's hungered for, it will take Turk's strength, the ingenuity of the Hermes crew, the help of the enigmatic Drak'tar, and Isaac's own stubborn will to save them.
Gravitational Attraction
Pairing: M-M
May 11, 2021
Word Count:
39,700
Character Identities:
Gay
Summary: After escaping a secret facility that's experimenting on omegas, Jasper stumbles across the one shifter who will risk everything to protect him. Omega Jasper might not yet be out of his teens, but he's already suffered a lifetime of misery. When his domineering father can't match Jasper with a prestigious gay Alpha, he finds a more sinister way to achieve his goal. Jasper's only choice is to break free from his prison—even if it costs him his life. Hawk is a half-Native, half-wolf shifter member of the beta-driven Guardian Pack. While on perimeter duty, he discovers a runaway omega in the woods who is cold, scared and injured. His senses scream that he and Jasper are fated mates. But, before he can act on their shared destiny, Hawk needs to investigate why Jasper was being held captive. Maybe the strange tales from the ancient texts of their ancestors are real after all… Author's Note: Guarding the Runaway Omega is Book Two in the Alaskan Wolf Alliance series and should be read in order. This story features a reluctant beta with a family secret and a pushy omega who can't take no for an answer. But fate is on their side, so you can expect lots of steamy, knotty fun. This romantic tale with a dose of action and suspense includes a fluffy, feel-good HEA and we all know that wolves don't cheat, so no worries there! Triggers: on page violence and references to past assault.
Guarding the Runaway Omega
Pairing: M-M
March 29, 2019
Word Count:
54,646
Character Identities:
Gay, Questioning
Summary: Kaede Hiyashi is sick and tired of living in the shadow of his father, supervillain Doctor Terror. Brilliant but crazy, Doctor Terror sends his son to Corwyn, California, for reasons Kaede can't imagine. Sent to accompany and protect him is Ash, a genetically modified supersoldier raised and trained by an infamous death cult. Corwyn is lousy with superheroes, led by the obnoxious Dark Justice. Kaede finds himself dancing around Dark Justice as he digs into his father's mysterious business and teaches his socially awkward—but physically lethal—bodyguard to acclimate to "normal" life. Can these two wacky supervillains figure out what Doctor Terror wants them to do, solve the riddle of the villain known as Black Hand, and keep Dark Justice from raining on their bloody parade? The course of love—and world domination—never did run smooth.
Hearts of Darkness
Pairing: M-M
November 8, 2016
Word Count:
50,000
Character Identities:
Gay
Summary: A shy scientist from another world can't complete his mission until he falls in love with a human... Two soldiers, enemies on the galactic battlefield, find comfort in each other's arms while caged in an alien zoo... An exiled deity has a bodily communion with his last worshipper... It all happens in Berlynn Wohl's first anthology of scintillating weirdness, Oh, Earthman! Discover a galaxy full of possibilities with fifteen gay M/M short stories that will expand the boundaries of your known universe. These stories range from hilarious to poignant, but always with a touch of the bizarre. Voyage to astonishing new worlds brimming with exotic experiences and passionate romance, and explore the extraordinary expanse of your own imagination.
Oh, Earthman!
Pairing: M-M
February 15, 2018
Word Count:
23000
Character Identities:
Gay
Summary: Caught between a mad scientist, a witch, and a hard place —and that was before he shifted. Austin thinks he's a guy trying to do the right thing, live a decent life that he'd fought so hard for. Then his world changes forever... A secret government project, Operation Elevate, abducts him for their nefarious and mysterious purpose, and what are they giving him in return? A mission, a lover, and the ability to shift into a panther. Now he's battling against forces he doesn't understand. He had thought he could stop fighting, but Austin's fight is only beginning. Operation Elevate Part One: Panther Abducted
Panther Abducted
Pairing: M-M
September 28, 2019
Word Count: Information not available
Character Identities:
Bisexual, Gay
Summary: In the second part of the Precipice series, Kyle Morgan is inexplicably returned by the alien race only to stumble upon a kidnapping plot. Why is everyone after Kyle and how could they think that Kyle can start a war? When will Kyle finally get back to his normal life or is all this becoming his new normal? This is the second book of a four part series, The Precipice Series.
Precipice of War
Pairing: M-M
January 15, 2022
Word Count:
22416
Character Identities:
Gay
Summary: The Mating Games gathering has arrived! Finding ones mate is not always easy. Not everyone's mate is always the same species and the Council knows this, so they designed a way for all types of shifters and other paranormals to come together. Have some fun, meet new people, and if you are one of the lucky ones....find your mate. Just being a skunk shifter, isn't easy. Try being a skunk as well as a socially inept genius. For Ricky, that was his life. However, he was now at the Mating Games to try and change who he is. He wanted a mate. He wanted someone that would love him for who he is and not think him strange or boring. Derk had been trying to find his mate for years. With the urging of his best friend, Derk said he would give the Mating Games gathering one last chance. Being the quarterback to the large shifter football team requires lots of practice. However, he didn't expect it to bring him to his adorable mate. The thing is, not only does Derk want him, but so does the Council, and they will do whatever it takes to have Ricky in their possession. Can Derk keep his mate safe, or will the council jump in and intercept his mating.
Quarterback Sack
Pairing: M-M
August 20, 2015