Word Count:
85788
Character Identities:
Bisexual, Pansexual
Summary: Kris Starr used to be famous. Rock and roll. Sold-out shows. Literal magic. Empathic talents and screaming fans. But he has a problem or two. He's having a hard time writing new music. It's Midwinter, which means he's surrounded by depressing holiday cheer. And he's in love with Justin, his manager, who has a talent for rescuing almost- or once-famous bands ... and who's hiding secrets of his own. Justin Moore, on the other hand, is very good at keeping those secrets -- he's had to be for years. One secret involves a demonic inheritance that would make him a target of suspicion. Another involves his past. And the third involves Justin's feelings for Kris Starr, rock and roll icon and now his client ... and a powerful empath.
A Demon for Midwinter
Pairing: M-M
March 10, 2018
Word Count:
37500
Character Identities:
Gay
Summary: When a young girl implores Edgar Finch to marry her older brother because "Charlie is unhappy," Edgar is at first amused. But Charlie is nephew to the horribly abusive Lord Fitzhannon, whom Edgar has set himself against, and the lad is suffering under Fitzhannon's cruelty. Marriage is not in Edgar's plans, but he'll save the lad if he can—and marriage may be his one shot. Charlie is nineteen, wild and wounded, and extraordinarily beautiful. The marriage of convenience to Edgar is just what he needs to get free of his awful uncle, and to protect his innocent little sisters. A rocky alliance between Edgar and Charlie grows into something more companionable, from reluctantly relying on one another to trusting and warm. But Edgar's heart is set on revenge against Fitzhannon, who is responsible for the death of the only man he ever loved. Nothing must get in his way. He would rather not drag his young husband down with him, much less develop feelings for the brat. Now, if only Charlie would have the good sense not to fall in love with him...
37,500 words
A "Marrying Men" story. These pseudo-historical tales feature men marrying one another in various worlds and ways. Happy ending are to be expected.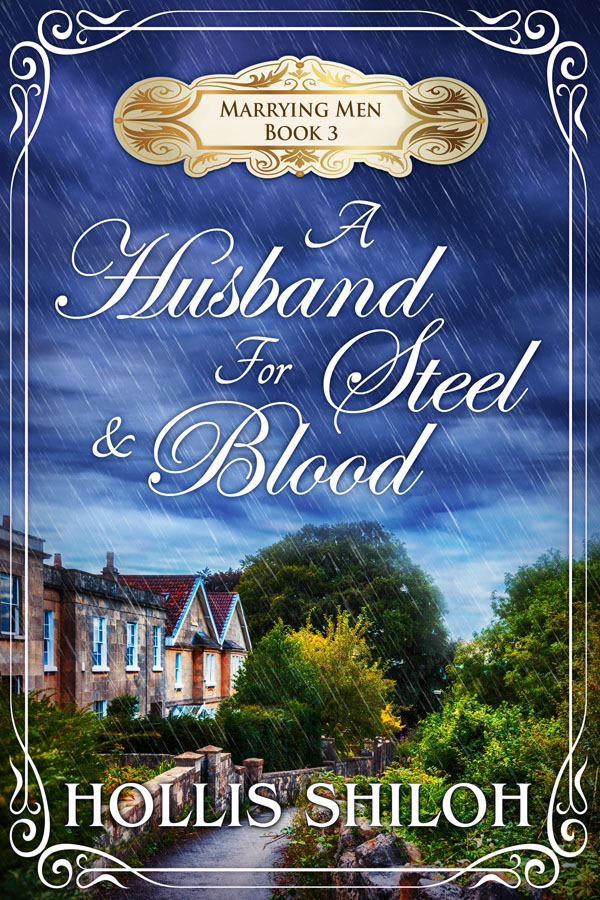 A Husband for Steel and Blood
Pairing: M-M
September 14, 2018
Word Count:
145000
Character Identities:
Gay
Summary: A story of healing and confronting demons… Detective Aidan Calloway is rock-solid strong. He's a man of justice—loyal to his friends, family, and job—even if it requires bending a law…or two. He shields himself behind an abrasive, fearless facade, until a phone call one night chips his armor and throws his perfectly planned, hollow life into a tailspin. Jessie Vega is the epitome of optimism. His carefully crafted attitude of hope and positivity protects him from a past filled with too much pain. When a ghost from a dark time resurfaces and nearly breaks him, he must tap into his inner strength or risk losing everything he's worked so hard to build. But Jessie can't do it alone. He must fight to break through Aidan's ironclad defenses to reveal the heart of the man hiding beneath the tough surface and mend his damaged spirit. Only then can they truly heal and become strong enough to battle the demons that haunt them and threaten their chance to finally be together. ---------- ***This book contains scenes and subject matter some readers may find distressing. It is only intended for adult readers.*** Word count: 145K Although part of a series and events from prior stories are referenced, this book can be read as a stand-alone.
A Mended Man
Pairing: M-M
April 28, 2016
Word Count:
45000
Character Identities:
Bisexual, Gay
Summary:
Tre Derringer, perpetual underachiever with negative self-esteem, made a mistake. If he'd been a sleeper—sans and unaware of superpowers, that is—he would've gotten a slap on the wrist. Too bad Tre has awakened hot-thermal superpowers, so he ended up in lockup instead.
One year later, Tre's picked up from prison by a mysterious woman called Amy, who turns out to be a recruiter for an activist group—or so they call themselves. New Dawn, New Day's leader, Vic, is out to bring the presence of the awakened to sleeper attention once and for all, by any means necessary.
Tre becomes a part of the ND2 commune, committed to their mission. But then, at a summer music festival, he runs into a crush from his past, Dorian Archer. Dorian's compassionate, cheerful, and even hotter than he used to be. He might just manage to keep Tre from making an epic mistake… or he might not.
It's only the biggest secret in the world at stake, after all.
While all other Superpowered Love books can be read in any order and without previous knowledge, A New Beginning works better after reading at least book 2, Riot Boy and book 5, Re-entry Burn.
A New Beginning
Pairing: M-M
September 3, 2021
Word Count:
115,000
Character Identities:
Lesbian
Summary: Life hasn't been easy for Aeley since she arrested her brother, and her role as a political leader leaves her feeling isolated and lonely. Days before her brother's trial, she meets Lira, a quiet and modest scribe who makes Aeley want more than just a professional relationship. When she attends the trial and leaves with a marriage contract, Aeley doesn't know what to do. She must choose one of two brothers, marrying into a family she doesn't know. Then she discovers that Lira is part of the same family—a sister to Aeley's suitors and the family's disgrace. And not at all opposed to an intimate relationship. Except random acts of violence against her people test Aeley's ability as a leader, and a web of lies and deceit threaten not only her chance at happiness, but her life...
A Question of Counsel
Pairing: F-F
October 18, 2019
Word Count:
12,381
Character Identities:
Gay
Summary: English writing tutor Steve Smith only has two more semesters to graduate from Vermillion College in California. Then he hopes to get a top-paying job writing copy for a tech firm. Until he reaches his self-fulfilled dreams, however, he's working his way through school without borrowing from his successful Chinese-American parents. Vermillion football star Jason Woodard, on the other hand, grew up in a state-run home and is struggling to make his athletic scholarship and all that goes with it mesh with his academic requirements. He too is about to finish but, having put off first year English composition, has to rely on the writing lab where Steve works for help with an essay about love. Since Jase says he's never encountered love, he can't figure out how to write his essay. As they talk about love, they discover two things: falling in love is easier than talking about it and nobody in the school's athletic program wants two guys to fall in love. When the abuse of athletes across the country comes to light, Steve realizes Jase too has been abused and needs more help than a tutor can give.
A Short Essay on Love
Pairing: M-M
November 18, 2020
Word Count:
41591
Character Identities:
Gay
Summary: Opposites attract when the timid bar owner asks out the resident bad boy. Brad Flynn's reputation doesn't change just because he has. Prison might not have been fun, but he'd made the most of it. Since his release, he's tried to make the most out of his freedom as well. His handyperson business is taking off, but his clientele is in the nearby towns. When local bar owner, Kendrick Ashby, calls him to fix a leaky roof, he doesn't expect the attraction he feels to go anywhere. Kendrick's violent past doesn't make asking him out on a date a simple task. Can Brad be brave enough to start over?
A Tarnished Strength
Pairing: M-M
February 26, 2021
Word Count:
17081
Character Identities:
Gay, Pansexual
Summary: In a world where magic is hated and feared, sometimes the bravest thing a man can do is trust. Daymon is the second prince of a kingdom in which Evokers—those who possess intuitive magical abilities—have long since been treated with fear and mistrust. Marked as an Evoker himself, Daymon is captured by those who wish to take advantage of these powers. Now, the prince must put his faith in Rhyder, the captain of his guards—and the man Daymon has claimed as his own—to free him.
A Trust to Follow
Pairing: M-M
May 25, 2018
Word Count:
149,000
Character Identities:
Bisexual, Gay
Summary: The star of the University of Virginia theater department, Aidan Emery is lusted after and admired for living out and proud. He uses his talent and good looks to his advantage and never sleeps with the same guy twice. But his glamorous patina has been carefully honed to hide the pain he carries inside. Aidan wasn't always such a player. He starts college naively romantic, hungry for the attention he can't get from his workaholic father and mentally ill mother. Unfortunately, that leaves him ripe pickings for predatory professor Rodney Montgomery. Rodney's flattering regard seduces Aidan into a dysfunctional relationship that destroys his innocence. Life looks up for Aidan when he finally breaks free of Rodney's pull and moves to New York City to make it as an actor. Meeting sweet fellow actor Patrick Jaymes seems like the start of a fairy tale. But before Aidan can rebuild his life into happily ever after, family secrets rip him wide open, leaving him easy prey when Rodney decides he's not willing to let Aidan go.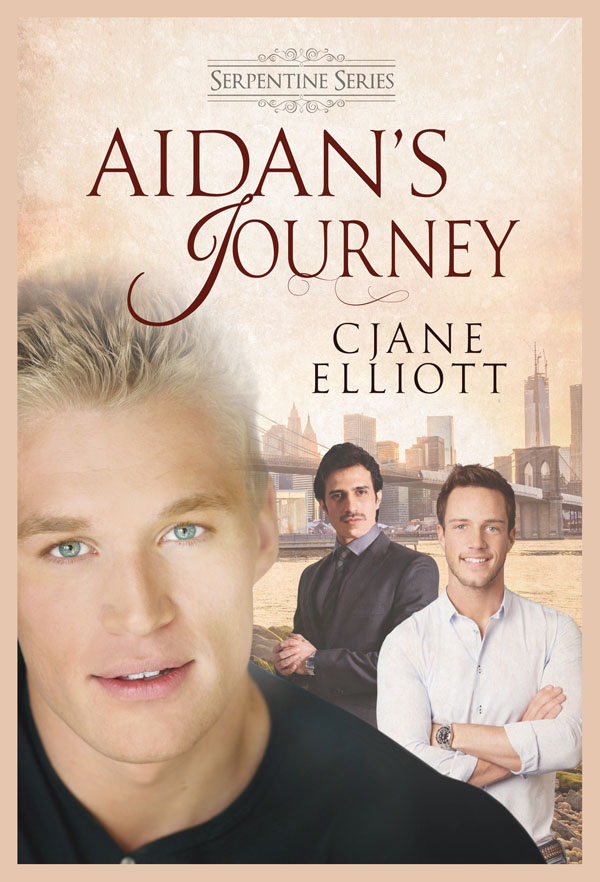 Aidan's Journey
Pairing: M-M
October 15, 2014
Word Count:
7000
Character Identities:
Bisexual, Genderfluid, Transgender
Summary: A gender-fluid prince finds an unexpected ally in an arranged marriage with a transgender man. Prince Darian is willing to give up his penchant for gowns when he must wed for the sake of the kingdom. However, his intended bride has a secret of their own. A marriage of convenience may bring something neither expected—acceptance, and all that entails.
All That Entails
Pairing: M-NB
December 24, 2019
Word Count:
41,000
Character Identities:
Gay
Summary: What if you fell in love with your best friend? Ben Cooper has spent his life trying to make others happy and sacrificing his own dreams. When one fateful night with his best friend gives him a glimpse of what the future could be, he needs to find the courage to follow his heart. One night gives Spencer Henderson a tantalising taste of the man he loves. But he doesn't fit into Ben's future plans--Spence is a complication. Running may be the only option to protect his heart. With trouble escalating at home and Spence out of reach, Ben's life will finally spiral out of control. Always Been You is a standalone M/M romance between best friends who fear taking the next step in their relationship and need to find the courage to risk it all for their HEA. It features an emotional hurt/comfort theme. Note: This story has been previously published (as It's Not Easy). This edition has been revised, expanded, and re-edited, adding approximately 9k words, but the story largely remains unchanged. It is approximately 41k words.
Always Been You
Pairing: M-M
July 1, 2020
Word Count:
72579
Character Identities:
Bisexual, Gay, Non Binary
Summary:
A Dark Steamy Superhero Yaoi Romance
❤️former super-powered hotties returning to action!
❤️ second chance at love for a Hero and a Villain 
❤️ amazing secondary cast with their own love stories
BOOKS 1 - 6 NOW AVAILABLE ON AMAZON & KU
BOOK 7 - Series Finale - COMING IN APRIL 2021!
Several years past 50, Matt thought that his days as a Villain in the staged Chosen fights were long over.
But then his powers returned in the wake of a devastating attack that took the powers of all the active Chosen, perpetrated by a young Hero.
With no other choice, Matt goes to the one man who might understand what is happening to him - Colton. The man who was Matt's main rival back in the days of his fighting career. A man Matt hasn't seen since the day he burned out and walked away from the fights.
That would be complicated enough. But back then, they were also secret lovers. Matt walked away from that as well without a goodbye.
Now after nearly twenty five years, these two men are coming face to face for the first time. Can they handle their personal issues while trying to save the world from a Hero gone bad?
Trigger warnings for dub/noncon, super tragic backstories, explicit on page sex, angsty gay dudes, and cliffhangers.
Back Issues
Pairing: M-M
March 6, 2020
Word Count:
12000
Character Identities:
Gay, Lesbian
Summary:
"At first, I tried to pretend that I wasn't different. That these urges I felt were no more than just sinful lust of the flesh. But when I'm near him I can't help but close my eyes and bask in his essence; so fresh, like the smell of the Earth rising after the rain. How can I silence the desires of the flesh? I find myself dreaming of him at night. I find myself craving to taste him, and his body tells me that he desires the same. But I am so afraid."
Johanan is a sweet Amish farm boy with a secret. He and his best friend Amos share a bond beyond what would constitute as "just friends," a love that dare not speak its name. One day after the church picnic, they sneak away, and what originally was intended to be horseplay transforms into a forbidden moment of passion. But when they are discovered by their fathers locked in a kiss, it results in a confrontation and the end of their innocence. They are forbidden to see one another again, and their sacred bond is deemed an abomination.
Will Amos and Johanan ever see one another again, or will they remain forever separated by the punishment for their sin?
Join Daniel Elijah Sanderfer for this heart wrenching inspirational tale of how love can prevail even after all is lost.
Beautiful Abomination
Pairing: F-F, M-M
September 23, 2019
Word Count:
93000
Character Identities:
Genderfluid, Lesbian, Non Binary, Pansexual
Summary: When a change in collective conscious sends the Outsiders, a group of aliens, to the shadows below the city, humans reason that the demonization of their peers is simply more "humane." There's no question, nor doubt. Just acceptance. Lydia had embraced that sense of "truth" for as long as she can remember. The daughter of a powerful governor, she has been able to live her life with more comforts than most. Comforts can be suffocating, though, and when the opportunity to teach Outsider children in their private, "humane" community becomes available, she takes it. What she finds beneath the city is far from the truth she had grown to know. There she meets Alessia, an Outsider with the knowledge and will to shake the foundation of all those who walk above ground. The two find a new and unexpected connection despite a complete disconnect from the technological world. Or perhaps in spite of it. Still, it takes a lot more than an immutable connection to change the world. Lydia, Alessia, and a small group of Outsiders must navigate a system of corruption, falsehoods, and twists none of them ever saw coming, all while holding on to the hope to come out alive in the end. But it's a risk worth taking, and a future worth fighting for.
Beneath the Surface
Pairing: F-F, M-F, M-M
January 19, 2018
Word Count: Information not available
Character Identities:
Ace, Gay, Genderfluid
Summary: Shane McNaughton's lover, Misaki "Aki" Itou, hasn't had life threatening migraines, nosebleeds, or bouts of amnesia in months. Only when Aki comes down with some sort of flu, Shane immediately fears that maybe they haven't cured Aki after all. When Jack Taylor, Shane's best friend, asks for a favor, it couldn't be worse timing. But Aki assures Shane that he's okay, and Shane knows if the roles were reversed, Jack would drop everything to help Shane. Shane agrees to accompany one of Jack's lover's, Candy, to a brothel for one of Candy's rescue missions, while Jack's other lover, Ivy watches over Aki. Shane expects it to be a fast trip, in and out, save the whores and back home to care for Aki. Only it's not that simple. There's a dragon in the attic with a lot of secrets and even more answers.
Benny's Carnival
Pairing: M-M, M-M-M
June 7, 2017
Word Count:
63000
Character Identities:
Bisexual, Gay
Summary: Son of a simple blacksmith, Apprentice Wytch Kian has always known that once his apprenticeship is over, he'll be sent far from home to serve the Wytch Council. Before his training is even complete, Wytch Master Taretha orders him to Blackfrost, an isolated country estate, where he is to serve as personal healer to Prince Ambris of Miraen. Nothing in Kian's experience has prepared him for what he finds at Blackfrost, and every day brings new questions. Like why is Prince Ambris being kept prisoner at Blackfrost? Where does Wytch Master Taretha take him every fortnight? And why does the prince return from these excursions suffering from horrific injuries that Kian is expected to heal? Kian quickly learns that seeking answers to these questions could cost him his life. Worse, he soon finds himself struggling with his growing feelings for Ambris, putting him at odds with both Wytch Master Taretha and the sadistic guard captain, Malik. Can Kian unravel the mystery in time to save Ambris? Or will the prince finally succumb to madness and destroy Blackfrost and everyone in it? (~63,000 words)
Blackfrost
Pairing: M-M
May 1, 2016
Word Count:
100500
Character Identities:
Ace, Genderqueer, Non Binary, Pansexual, Transgender
Summary: For Ress, survival is a complicated nightmare. Caught between two masters on different sides of the law, his life is falling apart one bad decision at a time. All he wants is to be is a good person, a loyal family man, and a successful metalsmith—a dream he can never obtain while he works for the Shar-denn, the violent gang that plagues the republic of Kattal. To make matters worse, he works as an informant for the High Council. He scrapes through both jobs waiting for his last breath. As the Shar-denn motto says: the only way out is dead. No stranger to living complicated decisions, Adren is caught between worlds of cir own. As the child of a Shar-denn faction boss, cir life is a conflicted tangle of expectation and duty. When cir family is arrested, Adren manages to escape, but nowhere is safe. Desperate and on the run, Adren is determined to punish Ress for turning in cir family. No one who betrays the gang can live. Ress must pay the price, even if Adren has to go against everything ce is.
Blood Borne
Pairing: M-NB, Includes NB
August 23, 2019
Word Count: Information not available
Character Identities: Information not available
Summary: Bodyguard Adam Freeman draws what everyone else thinks is the short straw at the convention for a procedural cop show - as bodyguard to TV actor Logan Brady. Or as the Internet has labelled him, Logan 'Sex God' Brady. Logan is taking part in a convention at a London Hotel for his show 'Night Cop' and someone is threatening his life. Adam gets more than he bargained for when his client combines coming out of the closet with them both trying to stay alive.
Bodyguard to a Sex God
Pairing: M-M
April 24, 2014
Word Count:
102716
Character Identities:
Bisexual, Gay
Summary: Though some struggles have ended in victory, ease and contentment are not the fate of the gods of war. Instead they must contemplate the sometimes terrible and frightening nature of their powers—and the effect those powers have on the people they love. After their campaign in Ummana, the gods of war return to the Valley with their ranks finally complete. Sic is the eighth Emeris to join Renaldo and Canubis in their war against the Good Mother. Even so, they must wait for their powers to manifest, and trials lay ahead. It is only when a tragedy befalls Aegid, Kalad, and Daran that Sic learns the extent of his abilities as a Luksari. What he achieves will change Daran forever—and set him up for trauma that leaves him doubting his relationship with Aegid and Kalad. Daran must affirm his commitment to his lovers and his new status among them through blood and violence. Even though Renaldo and Casto's relationship has improved, they're still struggling now and then, which could prove to be more dangerous than they think—because the Good Mother is already plotting her next move.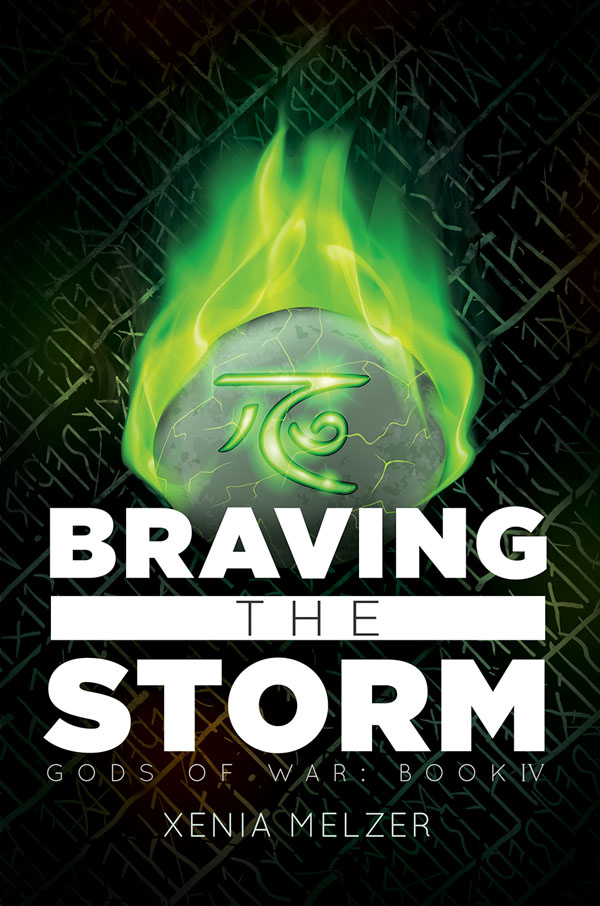 Braving the Storm
Pairing: M-M
November 21, 2017
Word Count:
101000
Character Identities:
Bisexual, Gay, Straight
Summary: They\'ll protect me... if they don\'t break me first. I refuse to be a disposable pawn in my father\'s underworld dealings. If that means heading out in the middle of the night to get as far away as I can from my mafia family, so be it. I have everything planned, and it's all going perfectly… right up until the point where they catch me. Angelo. Scary, domineering, the bruiser. If he wants me, he's not going to stop until he gets me — any way he has to. Saint tries to be the "nice guy," but he's got a filthy little habit of touching me when I'm sleeping, when I'm helpless. And Victor? He's the most terrifying one of all, the brains behind the brawn, with a cold composure I'm desperate to crack. If I can get to him, the others will fall in line — but what if he gets to me first? They promise to protect me as long as I do what I'm told, but just how far will I have to go — and how much of me will splinter in the process? Note: This work contains extremely dark themes with potentially triggering content. Read at your own discretion.
Breaking Lucia
Pairing: M-F, M-M, M-M-F, 4+ or Other
August 17, 2021