Word Count:
85788
Character Identities:
Bisexual, Pansexual
Summary: Kris Starr used to be famous. Rock and roll. Sold-out shows. Literal magic. Empathic talents and screaming fans. But he has a problem or two. He's having a hard time writing new music. It's Midwinter, which means he's surrounded by depressing holiday cheer. And he's in love with Justin, his manager, who has a talent for rescuing almost- or once-famous bands ... and who's hiding secrets of his own. Justin Moore, on the other hand, is very good at keeping those secrets -- he's had to be for years. One secret involves a demonic inheritance that would make him a target of suspicion. Another involves his past. And the third involves Justin's feelings for Kris Starr, rock and roll icon and now his client ... and a powerful empath.
A Demon for Midwinter
Pairing: M-M
March 10, 2018
Word Count:
62000
Character Identities:
Gay
Summary:
Knitting. Ice Cream. And a Matchmaking Fae.
Quiet, industrious Finn dreams of his own knitting store. He needs Leo's enthusiasm to make him reach for what he wants. Cheerful, adventurous Leo sells artisan ice cream but shies away from fulfilling his grandmother's last wish. He needs Finn's love and support to put his past to rest for good. Add a Saxon treasure, a fae stranded in the human world, and an empty store with very unusual rental terms - and falling in love is not the only challenge Finn and Leo have to face.
Making a dream come true takes work. But there's magic in dreams if Finn and Leo can hold on tight.
***
Tags: I'm only here for socks and ice cream. Sometimes you just click with another guy even if you're opposites. I look at you and know what I'll be knitting. How to share a house with someone you've just met. Utensils don't sparkle, right? Grandmas rock. Making a deal with a burglar. Roisin is a decorating wiz and Finn worries about antique furniture. If you don't talk to me, I can't help you. Finding treasure at inopportune moments. And yes, there's a happy ending.
Cosy & Chill
Pairing: M-M
November 10, 2021
Word Count:
19162
Character Identities:
Gay
Summary: Hugh McPherson, son of a Nevada rancher, goes to Scotland in search of his family roots. Fate brings him to the castle door of oversized, cranky Graeme Guthrie. After getting off on the wrong, er, boot…the men find something about each other to delve into more deeply. But fate can be a cruel matchmaker. What happens to make Hugh and Graeme careen off each other and run in opposite directions, just when they seem to be on the verge of solving a centuries-old mystery, one that centers on both of them? Finding the Loch Ness monster…a gay romance-fantasy novella.
Cowboys and Kilts
SALE
Pairing: M-M
April 15, 2016
Word Count:
39000
Character Identities:
Ace, Aromantic, Gay
Summary: Frost scion, Jacob Serac, recognizes something is wrong in his relationship with his crystal partner, Devyn Risher. Things go wrong when he abducts Devyn for a weekend getaway. After contacting a reindeer agent from the Cheimon Patrol Division, the situation darkens and alerts to even more problems. The truth emerges along with adventures, mishaps, and chaos. Jacob, Devyn, and the Cheimon try to save their home and lives from the looming dark magic disaster. Can all this happen during Winter Solstice? It's the highlight of the North Pole Dimension's year. Can Jacob and Devyn heal their relationship and seal the cracks in Jacob's crystal heart?
Cracks in the Ice
Pairing: M-M
December 21, 2021
Word Count:
47000
Character Identities:
Bisexual, Gay
Summary: As a lifelong passion continues to fade, another love deepens… two stand-alone m/m stories of love, lust, and friendship in ancient Rome. February: Home from the first war against the kingdom of Dacia, Gaius Fabius ignores his obligations in Rome and returns to his secluded seaside villa in southern Italy. Under the pretense of a holiday trip, his best friend and secret lover, Lucius Petronius, surprises him with an unexpected visit. Later that evening, the lusty masters share the delights of Gaius's blond pleasure slave, Nicomedes. December: With whispers of an embezzlement scandal floating through the capital, Lucius Petronius and his beloved concubine, Bryaxis, celebrate the raucous winter solstice festival of the Saturnalia with Luc's family. After a joy-filled evening of food, gifts, and stories, Lucius and Bryaxis reverse roles in the master chamber.
February and December: Dominus Calendar Series I
Pairing: M-M, M-M-M
August 17, 2016
Word Count:
60000
Character Identities:
Demisexual, Non Binary, Pansexual, Transgender
Summary: Small-town magic, two heavy hearts—one unforgettable winter solstice Cole Morrison left Jewel's snow-covered fir trees ten years ago. But after a disastrous family Thanksgiving, Jewel seems like the only place left to go. When a run-in with a gorgeous stranger leaves him with debt to pay, Cole's escape from his past turns out to be much more than a lonely Christmas vacation. Jesse Carroway, the local Jewel witch, has been running his family's successful, small-town Apothecary ever since his grandmother passed away. When Cole stumbles into his shop and accidentally wrecks a good portion of his inventory, Jesse does the only thing he can possibly think of—offers Cole a job and himself some help for the upcoming holiday rush. Cole's clumsy with candles and doesn't trust easily, but soon Jesse gets a peek at the guy behind his bad-boy reputation. As the nights lengthen toward Yule, Jesse wonders if magic is to blame or if Cole might've fallen into his life for a reason… Full Moon in Leo is a heartwarming, low-angst Holiday Romance with a guaranteed HEA
Full Moon in Leo
Pairing: M-NB
October 1, 2021
Word Count: Information not available
Character Identities:
Lesbian, Pansexual, Straight, Transgender
Summary: Sixteen-year-old Tyri wants to be a musician and wants to be with someone who gets her musical aspirations. Q-I-99, aka 'Quinn,' lives in a scrap metal sanctuary with other rogue droids. While some use violence to make their voices heard, demanding equal rights for AI enhanced robots, Quinn just wants a moment on stage with his violin to show the humans that androids like him have more to offer than their processing power. Tyri and Quinn's worlds collide when they're accepted by the Baldur Junior Philharmonic Orchestra. As the rift between robots and humans deepens, Tyri and Quinn's love of music draws them closer together, forcing Tyri to question where her loyalties lie and Quinn to question his place in the world. With the city on the brink of civil war, will Tyri's and Quinn's passion for music be enough to hold them together while everything else crumbles down around them, or will the truth of who they are tear them apart?
I Heart Robot
September 26, 2017
Word Count:
35000
Character Identities:
Bisexual, Gay, Polyamorous
Summary: The guide mentioned puddles, but I envisioned lakes, deep treacherous lakes, and I was drowning. One turn has passed, another Solstice is just around the corner, and having an illicit affair with not one but two lovers—smith Ianys and shunned forester Taruif—is taking its toll on truth seeker Kelnaht. A stripling has gone missing from the tribe, and heavy rainfall hides all traces of his whereabouts. With days creeping by without a lead, it's hard to keep the tribe's spirits up, more so when Kelnaht's own future depends on the elders. Taruif has been shunned for almost twenty turns, but now that a possible forester's apprentice is coming of age, the elders consider reducing his sentence. Taruif could be set free. In gaining one lover, Kelnaht may lose another. Ianys seems to be pulling away from them both. He doesn't want to hinder Taruif's happiness while an old promise keeps Ianys from loving Kelnaht openly. But Taruif needs Kelnaht and Ianys' support more than ever. If they lose faith in each other, the puddles in their paths will swallow them all.
Lost and Found
Pairing: M-M-M
August 15, 2016
Word Count:
4800
Character Identities:
Non Binary, Polyamorous, Transgender
Summary: Tahl promised Enfys ice bears for Midwinter, but ey neglected to tell him that ey and eir kin were the ice bears. ___________________________ Written for the Rainbow Advent Calendar 2018
Midwinter Bears
Pairing: M-NB
December 22, 2018
Word Count:
76800
Character Identities:
Gay
Summary: Simon the Elf wants to tell you the true story behind Jolly Ole St. Nick. Yeah, he's a vampire. But that alleged gift giver and lover of children hides more than that fact from you. And what about Mrs. Claus and Rudolph? Venture into a world of enslaved elves, enchanted animals, and death wrought by Santa himself. With his sharp wit, Simon will lead you into the darkest realms of Christmas in Santa is a Vampire by Simon the Elf, with Damian Serbu. Warning: Simon cusses a lot. But you would, too, if Santa held you captive.
Santa Is a Vampire
Pairing: M-M
November 26, 2018
Word Count:
38,000
Character Identities:
Gay
Summary: Fate and a dragon unite two men in a battle for love, magic, the march of time, and holiday joy. ___________ In a time of tall-masted ships and hand-made lives, a Guardian and a sailor find true love and their fates in each other. But romance, and a future together must wait, for duty calls. In a battle against dragons, can they seize victory in time to rescue the magic of Darknight and deliver holiday joy to a world that can no longer find its own way? ____________ All Reo Faramund plans for the evening is to take his son Pariso to the Festival of Lights in Sailor's Cove, their home when they're not out to sea on the tall-masted merchant ship, Mighty Hawk. Then, in less than a blink, the festival, the town, and the life he knows all vanish. When they find themselves high on a wintry mountain, Reo fears for their lives until an extraordinary stranger comes out of the night to offer help. First Guardian Jael Kohlinor patrols high up on Mount Lucia's flank, his sole purpose to make sure no Flatlanders find out about Lucia, a tiny country hidden in a fold of time where a dragon named Nicholas presides over a bloom of dragon eggs that yields gems and riches every Darknight solstice. Without the Darknight cache, Nicholas can't deliver holiday wonders across time, and time itself will suffer the consequences. When Jael finds Reo and Pariso shocked and shivering in the winter cold on the night before Darknight, he contemplates wiping their memories and getting them off the mountain, which is what the need for secrecy dictates. But invisible bonds pull Jael toward Reo like fate, and defying all rules he takes the strangers in out of the cold. Unknown to anyone on Mount Lucia, strange and greedy dragons are already winging toward Lucia with plans to steal Nicholas's wealth. Jael and Reo might have a future, a family, a fated love, but only if they can first save Darknight.
Saving Darknight
Pairing: M-M
December 27, 2020
Word Count:
144300
Character Identities:
Ace, Bisexual, Gay, Non Binary, Polyamorous
Summary: Book 1-5 in the TALES OF THE FOREST series The Forester Kelnaht, a cloud elf, is a truth seeker caught between love and faith, when a murder reveals an illicit affair between two tree elves he desires more than he can admit. Kelnaht's former lover Ianys once betrayed him, and the shunned forester Taruif is not allowed to talk to anyone but the guide, their spiritual pathfinder. Lost and Found A stripling goes missing from the tribe, and heavy rainfall hides all traces of his whereabouts. With days creeping by without a lead, it's hard to keep the tribe's spirits up, more so when Kelnaht's own future depends on the elders. Taruif has been shunned for almost twenty turns, but now that a possible forester's apprentice is coming of age, the elders consider reducing his sentence. Taruif could be set free. Full Circle When several children fall ill with more than a summer bug, truth seeker Kelnaht is assigned to investigate. What he finds is deadly and threatens the life of every underage child in the tribe, including Ianys' daughter Atèn. Then a wounded traveller is found in the forest, left to die after a vicious attack. Oren's Right Forester Veld loses a piece of himself to mute baker Oren when they first meet, but Oren is vowed to Haram. When Haram is killed, Veld has no intention of dishonouring his memory, but his death may not have been an accident. Only a forester can learn what the trees have seen. However, Oren's independence is threatened, and if Veld does not offer what Oren needs, Oren may never be his to claim. Twenty-Five Turns Fear of moving farther away from his family had cost Eer the love of his life. When Kat returns after twenty-five turns…with a son, any hope Eer has of rekindling their love seems doomed to fail because a murderer's taste for revenge forces Kat to choose between endangering their family or running… and leaving Eer behind, again. ___________________________ TALES OF THE FOREST is an ongoing series of standalone stories linked by a forest world. Content warnings are available in the books' front matter and on the author's website.
Tales of the Forest Bundle
Pairing: M-M, M-NB, M-M-M
March 31, 2022
Word Count:
18600
Character Identities:
Bisexual, Gay, Polyamorous
Summary: "Your Path is muddy, Kelnaht, but don't think avoiding the puddles will make it easier to travel." Kelnaht, a cloud elf, is a truth seeker caught between love and faith when a murder committed ten days before Solstice reveals an illicit affair between two tree elves he desires more than he can admit. Kelnaht's former lover Ianys once betrayed him, and the shunned forester Taruif is not allowed to talk to anyone but the guide, their spiritual pathfinder. When Taruif turns out to be the only witness to the crime, Kelnaht must suppress his forbidden feelings or face the ire of the elders. Ianys is terrified the tribe will blame Taruif for the crime, and despite their painful history, Kelnaht tries to keep his impulsive ex-lover from sacrificing his freedom for an impossible love. If Taruif and Ianys' affair becomes known, Ianys will lose his daughter. Kelnaht finds himself yearning to claim both Taruif and Ianys at the coming Solstice and turns to the guide, who gives him only cryptic advice. It is up to Kelnaht to prove Taruif's innocence and find a path free of puddles and mud for all three of them.
The Forester
Pairing: M-M-M
August 15, 2016
Word Count:
106100
Character Identities:
Bisexual, Demisexual
Summary: Faelen, cousin to the prince and son of a diplomat, has finally come home to Tournai after years away. The pull to return was almost tangible, and the sense of rightness at being back is absolute. He wants nothing more than to put down roots and build a life among family while pursuing his linguistic studies. Becoming involved in magic meant to protect Tournai isn't part of his plans…and falling in love is even more unexpected and unfamiliar, but he finds himself doing just that as his friendship with Maxen deepens into something more. Maxen, second son of a wealthy merchant family, longs to leave Tournai and visit everywhere he can. All his life, he's found places on maps and dreamed, planning out routes to get to them. For now, he's tied to Tournai's capital city by family obligations and his position in their shipping business. Someday, though, he'll be able to travel. His sudden attraction to Faelen shocks him, but their friendship soon becomes a necessary part of his life. Love, however, has no place in his plans, especially not love for a royal cousin with secrets who wants nothing more than to stay in one place. For Faelen and Maxen to build something real between them, they must resolve their differences, but when magic goes awry and all Faelen's secrets are revealed, will Maxen remain at his side?
The Merchant's Love
SALE
Pairing: M-M
June 18, 2018
Word Count:
14,000
Character Identities:
Gay
Summary: Noah's winter holiday seasons tend to be busy but uneventful. Most of his time is spent running his mildly magical gift shop and trying not to obsess over Robin, his much too appealing seasonal employee. When Robin bursts into the back room of the shop to tell him that something is wrong with the mistletoe, Noah realizes this year is going to be a bit more interesting. But it's fine. All he has to do is retrieve all the spelled mistletoe before it causes kiss-filled chaos all over town while keeping his hands—and lips—off Robin. Simple, right? No problem at all.
The Mistletoe Problem
Pairing: M-M
December 7, 2020
Word Count:
52000
Character Identities:
Gay
Summary: Rescued from slavers, healer novice Jaime Buchanan finds himself alone and free in Pyrderi, a kingdom of magic, mythical creatures, and a culture as open and kind as his homeland was cruel and close-minded. Despite his rescue, Jaime is not left without scars, both mental and physical. Traumatized by his experience and hiding his gift, Jaime struggles to earn his place in the kitchens of Angharad Palace, the heart of Taliesin City. His former life as a student of the healing arts leaves him at a disadvantage in the kitchens, and his damaged state is becoming more apparent by the day. One day, when necessity and fate intervene, Jaime meets someone unexpected—Prince Maxim, youngest son of the Pyrderian king, a sword master and a devastatingly kind man. Unaccustomed to powerful people with compassion and heart, Jaime flees. A cascade of events reveals Jaime's hidden talents of healing, and he finds himself not in chains, but at the beginning of a new life. This swift change of fortune opens Jaime up to new possibilities, including a smitten prince who cautiously courts Jaime, easing him away from his fears and reminding him that compassion and love can make him strong. The winter solstice is quickly approaching, and Prince Maxim shows Jaime the enjoyment and excitement to be found in a land that embraces the ice and cold, and the mysteries of all things magical. He learns to see the man under the royal mantle, and Maxim is more than even Jaime suspected. The winter solstice is nigh when tragedy strikes, and Jaime learns that his past of grief and sorrow can be a pillar of strength for his solstice prince. If there is one thing that Jaime believes above all else, it is in the healing power of love. 51,835 words, 182 pages Gay Epic Fantasy Romance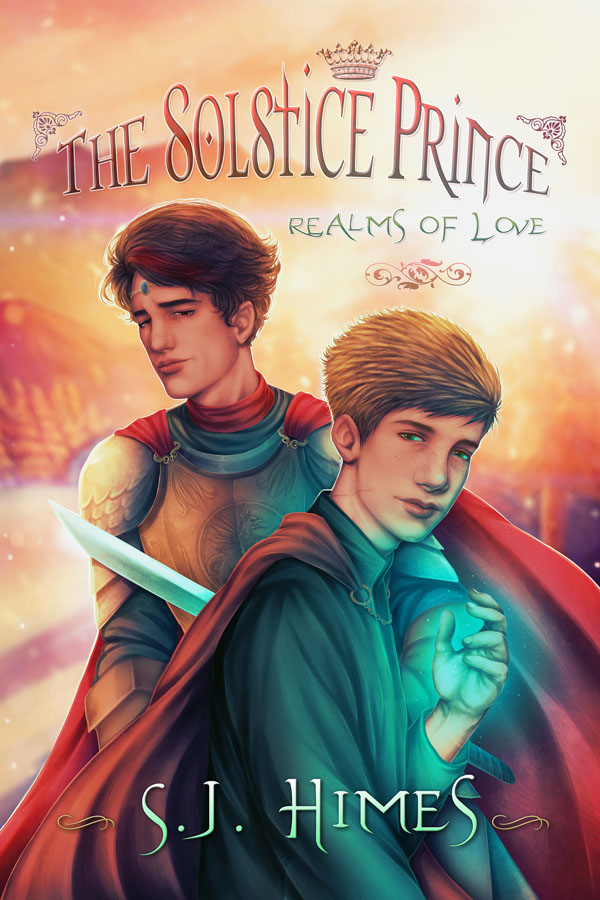 The Solstice Prince
Pairing: M-M
November 24, 2017
Word Count:
24000
Character Identities:
Lesbian
Summary: Chief Engineer Shandi Leavenworth has been crushing on Major Tyra Sur ever since she joined station staff, though the laconic customs officer doesn't give up personal information easily. A few scraps of information lead Shandi to the perfect Solstice present, until of course everything goes horribly wrong. Major Sur took the job on Onwa Station for the stability, the quiet, and out of a need to be useful. It's been all of those things up until the moment the woman she's been quietly flirting with at the bar puts in a desperate call for help. There's no question they need to save the station, but Tyra's not so sure about saving their budding relationship.
The Solstice Pudding
Pairing: F-F
December 17, 2019
Word Count:
12,022
Character Identities:
Bisexual, Gay
Summary: Sequel to Watch with Glittering Eyes Life has been going well for Travis Grayweaver recently. The Grand Council of High Magick hasn't summoned him for anything. For a witch without a Guild, he's still getting plenty of work. And best of all, he's spent the last six months falling more and more in love with his best friend Niko, a rambunctious and playful cat familiar, who happens to love him back. Tonight, they'll be celebrating the Yule with lots of candlelight and a feast for two and a festival in town as they honor the start of winter and wait for the sun's return. Only Niko's been acting a bit off lately, obviously keeping something from Travis. Travis is trying to be patient with him, but this thing from Niko's past might be more than he can handle. Old demons and long-kept secrets will be revealed, but can the love they have for one another endure these revelations during the longest night of the year?
Trust with Glittering Eyes
Pairing: M-M
December 1, 2020
Word Count:
29000
Character Identities:
Lesbian
Summary: Sofia Cancino is tired of her mundane life, her artificial environment and her large, boisterous family descending every holiday season. She's promised herself this year will be different and books a stay on the exclusive—and expensive--holiday-themed resort, Yule Planet. She looks forward to being pampered while reconnecting with Old Earth traditions steeped in the magic and mysticism of nature. Everything will be perfect and she'll leave as a more authentic human, better connected to her roots. Naturally, things go horribly wrong. Sofia's landing pod goes off course and instead of stepping out on the landing pad at the resort, she finds herself in the snow-swept perpetual winter of the planet's hinterlands. If that wasn't bad enough, she's "rescued" by a band of criminals on work release who run deliveries to the resort from far-flung shuttle delivery sites. They refuse to take her, a paying customer, to the resort and insist on dragging her along on their parcel run. Riding giant monsters. In frigid weather. Not to mention, Marta, who handles the monsters, obviously hates her. If Sofia survives her vacation, she's definitely yelling at someone's supervisor until she gets a refund.
Yule Planet
Pairing: F-F
December 22, 2018