Finding the Loch Ness Monster
by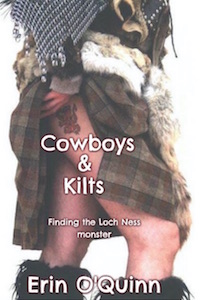 Hugh McPherson, son of a Nevada rancher, goes to Scotland in search of his family roots. Fate brings him to the castle door of oversized, cranky Graeme Guthrie. After getting off on the wrong, er, boot…the men find something about each other to delve into more deeply. But fate can be a cruel matchmaker.
What happens to make Hugh and Graeme careen off each other and run in opposite directions, just when they seem to be on the verge of solving a centuries-old mystery, one that centers on both of them?
Finding the Loch Ness monster…a gay romance-fantasy novella.
Published:
April 15, 2016
Publisher:
New Dawn Press
Cover Artists:
Genres:
Character Identities:
Gay
Tropes:
Alpha Character, Coming Out / Closeted, Healing Power of Sex, Hurt / Comfort, Rescue
Setting:
Scotland (Highlands)
Languages Available:
English
Excerpt:
Lanky rancher's son Hugh McPherson is a guest at the castle of  Graeme Guthrie. The castle laird has come to his room to apologize for being a rude dick earlier that evening... They spend an hour with a Scotch bottle and conversation.
Hugh glanced at his watch. After five. "Guess it's almost time to, ah, attend this dinner I've been invited to." He walked to his tan leather cowboy boots, a little less steady on his feet than he'd been an hour ago. Sitting on a corner of the bed, he grabbed one and began to draw it on.
READ MORE
In a few long steps, Guthrie was on his knees in front of him, between his legs, taking the stiff boot from his hand. The large man's eyes looked deep into his own, then he bowed his head, concentrating on the task at hand. He put the boot very slowly on Hugh's foot, then pulled it up, snug. Setting Hugh's foot on the carpet, he reached for the other boot. Mutely, he looked up again, asking Hugh to extend the other leg.
It was one of those moments that rarely happen in a lifetime. The answer came to him in a flash of insight that put his dick on notice. His outburst a little while ago had apparently affected this man.
Why should a man's sexual orientation make a difference in the way he plays ball? Or puts his fucking boots on, for that matter?
Slowly, deliberately, he put his foot in Guthrie's hands, never taking his eyes from the man. His host pulled the second boot up gradually, felt the fit, then set his foot down. Now the man's eyes were riveted on the floor, seeming to trace the intricate pattern of the carpet.
Hugh could not find words. He was convinced anything he said at this moment would break a spell, a sudden bond they shared, wordless and powerful. When at last Guthrie lifted his head and looked at him, Hugh found he was having trouble breathing.
He was being pulled into the depths of a grotto, hidden from the paths of mortals, bottomless, a place of secrets.
Yes, yes, Graeme Guthrie. I am gay. How do you feel about that?
Even now that the Scot had pulled up the boot, his hand remained on the smooth leather arch, and Hugh sensed a subtle pressure from his touch. Was it a signal to join him there, to answer his genuflection? He wanted to kneel close to this large magnetic man, if only to discover what he would do next.
Still the eyes held him.
Hugh shifted a little. Sliding off the bed, he found himself kneeling in front of a man only slightly taller than himself, but one who clearly could overwhelm him with his sheer bulk. They were close as a whisker. So close Hugh felt a movement of his kilt, where the guardian sporran used to be. It was now pulled to the side, and the lump he felt was not the man's purse.
That was his signal.
He cupped the chin and brought Guthrie's face to within an inch of his own. He raised his head only a little. Only a touch at first, a brushing of lips, a tongue running along the wide mouth, still shut, seeming not to yield.
Another truth came to him in another moment of wonder. This man has never had a real kiss before.
So softly it seemed to be almost unspoken, Hugh finally broke their long silence. "It's okay. Open for me."
He found a small opening and breached it, sliding his tongue inside, and then his cock decided to try bursting from his suit pants. He moaned, and Guthrie opened his mouth wider. Hugh cupped the man's jaws and entered his mouth, deep, his tongue searching the inside, slicking its way deeper. He pulled out a little, lingering on the bottom lip.
In a frenzy of need, he sank his teeth into the flesh of that lip, savoring the soft rush of blood, licking it clean.
He spoke into the wounded mouth. "Suck my tongue. Will you?"
The answering voice came low. "Call me Graeme."
"Suck my tongue, Graeme."
COLLAPSE
Reviews:
"Bo"

on

Amazon

wrote:
One thing I have come to discover about Erin O'Quinn is that she is a master (mistress?) of throwing together masculine gay men from different backgrounds and/or countries and creating stories that are borderline logical but emphatic and mesmerizing adventures and romances because she is such a terrific writer.

She bowled me over with The Gaslight Mysteries series set in 1920s Ireland and took me in with The Chase, set in contemporary Nevada ranch country, and damn if she didn't do it again in this one.

In this one she takes Hugh MacPherson, an openly gay but not out-proud cowboy from Nevada at a crossroads in his life and sends him on a bus-tour journey to connect with his family roots in Scotland. There he crosses paths with one of the hosts on the trip, the closeted Lord of the Manor and incredibly hot Graeme Guthrie, whose castle, and bed, wrap themselves around Hugh and pull him into a clash of cultures and pride that is exciting to read for its language and its plotlines, but hotter than the heart fires that both heat the castle and the hearts of Hugh and Graeme in many, may ways.

A splendid and exciting blending of cultures and personalities from a writer who knows how to weave both into a sturdy, but comforting, fabric.
Becky C

on

Amazon

wrote:
Cowboys and Kilts is a [novella] so there isn't a great deal of time to build a backstory for American rancher Hugh and Scottish Laird Graeme. Therefore, I was glad that I read that this story is the author's response to a publisher call for a short story based on the way a tattoo played a role in a mm relationship. How she worked two tattoos into the story is nothing short of amazing.

Then I read the dedication, in which the author discusses the petroglyphs of Nevada, the home state of the character Hugh, and the carved stones of the Picts in Scotland. Ms O'Quinn wove all of these together into a wonderful story of love of homeland and another man. There is a mystical element to the tattoos and stones that is at once thrilling and mysterious.

Hugh and Graeme are like magnets, sometimes repelling each other, sometimes drawing one another in until they click. They have to figure out how to approach so they click instead of drive away.

I was particularly happy to be reading this on my Kindle because it was so easy to look up words, terms, and historical facts with which I was unfamiliar. I learned a lot while I read this story. I also loved the sheet-scorching sex scenes Ms O'Quin writes. This was a great story and I look forward to reading more by this talented author.
Susan Wilson

on

Amazon

wrote:
Erin O'Quinn's delightful five-star story, Cowboys and Kilts, takes the reader on an excursion to Scotland, along with Hugh MacPherson. He's a Nevadan 'cowboy' on a pilgrimage to find the answer to the restless itch that has begun to plague him. As Hugh gets acquainted with his ancestral homeland, Erin makes it real for the reader as well, with her elegant and eloquent depictions of the singular beauty of eastern Scotland.

Graeme Guthrie is more than the laird of Guthrie Castle; he holds a sacred charge, the care of ancient Pictish stones, all the family this Scotsman has. As Graeme prepares for the annual winter solstice intrusion of tourists into his near-solitary world, Erin reveals the Laird's character through his pilgrimage to an even more isolated place than his home — his own heart.

Powerful forces are at work when these two men meet, forces far more powerful than the driving desire that overtakes them, forces that will bring the clans back to glory if only, and only if, Graeme and Hugh can understand and solve the ancient mystery that has marked them both. Erin O'Quinn transforms this love story into so much more by infusing it with her own recognition that life consists in more than actions, a recognition that animates all her writing. For the reader who sees beyond the hot sex — and it is hot sex — there are truths to be discovered, just as there are truths for Graeme and Hugh to discover. Wherever Erin O'Quinn takes her readers, whether that be Ireland or Scotland or Nevada, whether it be modern times or ancient, the trip is always memorable and always delivers more than its initial promise. She can be my tour guide any time.
Greebo

on

Amazon

wrote:
I keep trying to come up with words to describe this wonderful book, but "WOW!" seems to be what comes to mind more than any others. I bought this book Saturday evening, and stayed up well into Sunday morning reading it. I simply couldn't put it down.

"Cowboys and Kilts" has a little bit of everything. You want strong Alpha men? You got it! Sweeping landscapes? They're there! Interesting history? Check! A bit of the paranormal? Yep! A beautifully written love story between the aforementioned strong Alpha men? Oh...YES!

Here's a quick rundown.

Hugh has decided to take a trip to Scotland, wanting to explore his roots. The bus tour he's on (of the Pictish stones) will be making a three night stop at a castle to learn more about them and mingle with the Laird. Graeme is that Laird, and he's lonely and rather brooding. When he lays eyes on Hugh for the first time, he feels drawn to him. That's fine because Hugh is just as attracted.

It may seem like insta-love/lust, but that is the basis of this story. There is something between the men they just can't deny, and I, as the reader couldn't deny MY attraction to them. They're so different from one another, but they fit together perfectly. Their first union was so intense, I felt it on a very visceral level. It was absolutely breathtaking and a bit desperate (not to mention incredibly sexy). Erin O'Quinn has a gift. Her men are all very masculine, so the scenes are primal...no hearts or flowers...just powerful, lust filled, hard and fast sex. However, there is a romantic feel to them.

"Cowboys and Kilts" is mysterious and exciting. It's sexy and romantic. It's a short story but just so...epic. The descriptions of the scenery are expansive and sweeping. I felt like I was on that bus tour, and it left me Googling parts of Scotland that I never knew existed. I don't want to give anything else away. I want you to buy this book. You won't be sorry. I highly recommend it.