Word Count:
31000
Character Identities:
Gay
Summary: Michelin Empyrean, a rare white raven, has lived for centuries and he's tired of loneliness. What makes life more burdensome is increasing responsibility and leadership of socially inclined corvid shifters. Preventing his kind, ravens, and especially crows, from robbing and menacing humans who remain unaware of their existence takes its toll. When one wayward creature's thieving antics come to his attention, Mich decides to personally take the man to task. Terrel Slade is a crow. Practically everything he owns is stolen. His stash of pretties, and the fact he's never been caught, makes him proud as a peacock. As much as he'd like to be the beautiful bird he struts around imitating, he believes his crow is sexier. Terre is no more than an omnivorous crow shifter with a penchant for shiny objects. A cunning bird, his existence is crammed with innovative ways to irritate his archenemy, the raven. That's about to change. When Michelin halts Terrel's lifestyle, more than sparks fly—the whole damn forest might burn to the ground. #darkfantasy #drama #enemiestolovers #gay #HEA #paranormal #religerotica #romance #shifters #travel #violence
A Silver Raven's Tale
Pairing: M-M
February 5, 2021
Word Count:
42020
Character Identities:
Bisexual, Gay
Summary: War has a way of binding unlikely creatures together.  Alexander, Prince of the North, Alex, should have anticipated that his profound love for Oleander would blind him—fuel his desire to protect his forbidden love and his love's human companion—far beyond reason. His actions send his small group, including Oleander and Timothy, fleeing into the forest, aligning themselves with distant allies and negotiating with Seraphine, Queen of the North. Grimmr Coven and the Garam Horde are caught in the middle of two enemies bearing down upon one another; Drakkar Coven and the Queen of the North. Something has provoked the queen to march south with her entourage of animated dead, out of her frozen ancestral lands. She has a weapon, in fact two, the taming of which will surely bring about her victory. The first, she must retrieve, the second walks straight into her hands.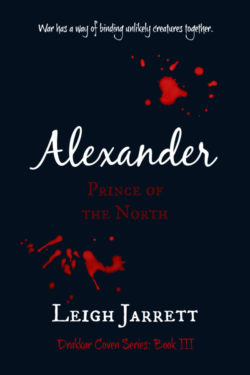 Alexander, Prince of the North
Pairing: M-M
October 20, 2020
Word Count:
40000
Character Identities:
Gay, Pansexual
Summary: Byron is tall, handsome, well spoken, wealthy, and has outstanding taste in wine and food. You'll be impressed by his impeccable attire and eloquence in conversation, ranging from Baroque art to the newest advances in pharmacology. With his charming smile and elegant manners, Byron truly is the perfect date… and who doesn't love a man who appreciates opera? What's the catch, you ask? Just this: if Byron finds you suitable, he will subject you to utterly depraved forms of torture. No, I'm not talking about S&M. Byron will mutilate, rape, and then kill you. Don't think that you will survive the encounter, because you won't. He has a perfect record. Intrigued? Would you like me to arrange a rendezvous? It has to be in the next few days because he's leaving on a trip south to much warmer climes, and his calendar will be completely full. Yes? Very good. I will make a reservation for two under the name of Smith. Who am I? I'm Gloria, his personal assistant.
Better the Devil You Know
Pairing: M-M
October 1, 2015
Word Count: Information not available
Character Identities:
Gay
Summary: The groundbreaking romantic horror trilogy, Bonds of Blood, comes to a thrilling conclusion with a story of loss, grief, and redemption. Monsters don't get to be heroes… Betrayed by his brother and imprisoned in his sister's dungeon, Olivier d'Arjou isn't about to let a few chains get in his way. A vampire for six hundred years and a plague on his family for longer, he has no reason to hold back from wiping out the last of his family members and anyone who gets in his way. But first, he'll need to break free. When Oberon North, witch and survivor of one of Olivier's most heinous crimes, comes seeking vengeance, it should be child's play to bend the witch to his will. But Oberon comes with more power and resilience than Olivier expects and forces him to confront truths he'd rather avoid. But Olivier's inner conflict must take a backseat when he learns of his sister Aurelia's plan to save the world from the demon Xadrak. A battle generations in the making, to succeed requires the ultimate sacrifice from both Olivier and his brother Thierry – and the last chance Olivier has to reclaim his humanity and a future he never thought possible.
Binding Blood
Pairing: M-M
December 20, 2018
Word Count:
78500
Character Identities:
Gay, Straight
Summary: Josh Stanton's mother has been held prisoner by the vampire Balthazar for fifteen years. As Balthazar has turned the residents of Belkin's Pass into vampires under his control, Josh, his lover Dex, former saloon girl Glory, and US Army Sergeant Walker Maxwell, fight to contain the undead uprising. The group is pursued to the abandoned Fort Emmerick where Josh learns to better control his power to raise the dead. There they make plans to take the battle to Balthazar's cave, but will all of them live to see the light of day ever again?
Blood & Stone
Pairing: M-M
March 24, 2017
Word Count:
11500
Character Identities:
Gay
Summary: When two lives entwine, death becomes abhorrent. Hail Patrascu, an ancestor of Transylvania's Draculesti family line, wields unique powers as the world's oldest living vampire. Searching for death, he becomes something phenomenal after drinking venom infused blood. Not only does he possess vampiric powers, he's been imbued with those of an even older creature—a serpentine. A snake, heretofore unable to change form, is animated with Hail's vampire blood and now the monster seeks life of its own! McCall Stephens had one drink; not nearly enough to imagine what he witnesses after being accosted in an alley. A beast so fiendish, it took the life of a man right before Call's eyes. Now it stalks him. He haunts Call with eroticism, each encounter tugging him closer to a dark abyss with impossible promises. Giving in, he may lose everything—including his life! Or will Call's wildest dreams come true? Take his blood—lose your life! A standalone short paranormal MM romance with coarse language, masturbation, explicit sex, abuse flashback, and a little bloody horror. But there's an HEA and no cliffhanger!
Bloodied Venom
Pairing: M-M
April 1, 2019
Word Count:
16500
Character Identities:
Bisexual, Gay
Summary: When he agreed to take the fall for his pack leader's failed attempts to help the Rebellion, Jace knew he wouldn't live long enough to regret it. However, instead of the noble end he envisioned for himself, the werewolf finds himself at the mercy of a witch and his depraved games. Though he clings to his conviction that he can withstand anything his new master can dish out, it isn't long before he realizes pride has no place in his life as the pet of the controlling Elias Ivers. ### Now that supernatural beings have seized control of the world, life has become a struggle for the humans who once held power. Witches, vampires, and werewolves determine the fate of every single human, but their moral compasses have long since been shattered. Rebels, free humans, and slaves all share dreams of hope, mercy, love, and more. But with their fate so uncertain, survival isn't enough... and they may have to sacrifice what is nearest and dearest to them if they want to change their lives. Bought, Ravel, and Recoil feature different characters whose lives begin to come together in Owned and Temper. 1. Bought: Jace & Elias. [Revised 01/2017] 2. Ravel: Ashton & Reese. [Revised 01/2017] 3. Recoil: Khaz & Noah. [Revised 01/2017] 4. Owned: Khaz & Noah, Jace & Elias. [Revised 03/2017] 5. Temper: Ashton & Reese, Jace & Elias. [Revised 03/2017] 6. Refraction: Khaz & Noah, Ashton & Reese (Jace & Elias) [Revised 04/2017] *Please note that the Fate of the Fallen (previously Ripples in the Status Quo) world has little place for humanity, and as a result, content in these works may contain graphic scenes of depravity, cruelty, and violence -- sexual or otherwise -- that could be offensive and potentially triggering to some readers.*
Bought
Pairing: M-M
March 21, 2016
Word Count:
20469
Character Identities:
Gay
Summary: "I love you on your knees. My cock belongs in your mouth, brother mine. Doesn't it?" When Mateo tried to leave his twin behind to have a more enriching life, he didn't realize it would lead to Devin's psychotic break. But he's found himself caught in a web of misery, where his brother controls his every move and his sexual sadism has no bounds.
Brother Mine
Pairing: M-M
May 20, 2020
Word Count:
32530
Character Identities:
Bisexual, Gay
Summary: Come nightfall, the inhabitants of the ancient castle perched high on the mountain above their picturesque valley would awaken, and then no one left outside the village walls would be safe. The torches set into the thick stone walls of the castle would be lit, the evening bells would toll. Then Lord Callum would release his riders, led by his brother Oleander, an alabaster, screeching creature of nightmares; thundering through the night as he collected his victims. After one of Oleander's raids unexpectedly breaches the walls of the village, Laramie finds himself face to face with Lord Callum, a dark, majestic beast like none he has ever seen before. His first glimpse of Lord Callum sets his heart racing, partially out of fear, but mostly out of fascination—and something else, and Callum takes note of that, pleased to have found his next plaything.
Callum of Drakkar Coven
Pairing: M-M
April 4, 2012
Word Count: Information not available
Character Identities: Information not available
Summary: All Josh has ever wanted is to submit to another man; to give all of himself, completely, without reservation. For the past six months Josh has been chatting with and submitting to Pascal online, and this evening his dream of doing the same in person, is about to come true. Will Pascal be everything Josh imagines or is he about to learn that wishes can be dangerous?
Careful What You Wish For
Pairing: M-M
November 4, 2018
Word Count:
9000
Character Identities:
Gay
Summary:
Waking up dead sucks. And now it's up to the Ancient vampire who turned him to teach photography student Morgan how to live.
When faced with the loss of everything he's known, Morgan isn't sold on an eternity spent with an emotionless, 2,000 year old record producer with fangs. Trapped on top of a mountain in a vampire's retreat, Morgan must grapple with the reality of his demise. But the true challenge is whether to kill or kiss the one being walking the earth who can make his heart beat again.
Can Morgan face his new undead reality?
Chew Toy
Pairing: M-M
January 15, 2021
Word Count:
17651
Character Identities:
Gay
Summary: Damien is a 14 year old orphan that has grown up  in foster homes all his life. He finds out that he is a "Vampeal" , a child born from a vampire and human. If that wasn't bad enough Damien is a teenager that is dealing with his feelings for other boys. Damien is put into a home that the foster parents are very religious and he ends up on the street. Patrick is Damien's caseworker and if fresh out of college is assigned to look after him but finds out that Damien is no longer at the foster home. So Patrick sets out to look for him, which turns out to be a very dangerous road for both of them.
Child under the Stairs
Pairing: M-M
May 25, 2020
Word Count: Information not available
Character Identities: Information not available
Summary: I didn't think things could get worse… …but people started dying, and it was my fault. At first, I thought someone was playing a cruel trick on me, but that didn't explain the bizarre truth that defied scientific explanation: I had unwillingly become part of something ominous and evil. I'm not the kind of guy who cries often, and I'm certainly not a killer. I wouldn't even wish death upon my worst enemy, if I had one. But after losing two of my closest friends, I questioned my morals and beliefs: could I kill to survive? I didn't have time to mourn because I needed to discover where I fit in the supernatural world of Vampires, Lycan, and Spellcasters. If the crazy old priest and the Fae were right, then my place is second only to Lucifer Morningstar himself. Children of the Sun is the third book of The Snakeheart Series (Season 1), a supernatural novella series about Dante Coranguis and the ancient prophecy of the End Times.
Children of the Sun
June 30, 2020
Word Count:
33000
Character Identities:
Ace, Aromantic, Bisexual, Demigender, Demisexual, Gay, Genderfluid, Genderqueer, Intersex, Lesbian, Non Binary, Questioning, Pansexual, Polyamorous, Straight, Transgender
Summary: Clarity (noun) Four definitions to inspire writers around the world and an unlimited number of possible stories to tell: 1) Coherent and intelligible 2) Transparent or pure 3) Attaining certainty about something 4) Easy to see or hear Clarity features 300-word speculative flash fiction stories from across the rainbow spectrum, from the minds of the writers of Queer Sci Fi.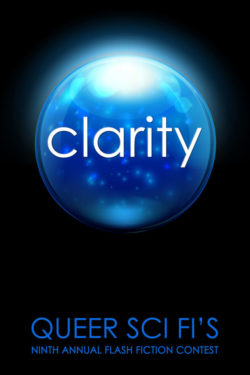 Clarity
Pairing: F-F, F-NB, F-F-M, M-F, M-M, M-NB, NB-NB, Includes NB, M-M-M, 4+ or Other
October 5, 2022
Word Count:
83000
Character Identities:
Gay, Transgender
Summary: Ghost wards are failing. Mediums are vanishing. Someone—or something—is stirring up the ghosts of Toronto. It's up to psychic medium Harlan Brand to find out why. After defeating a serial killer who could control ghosts, psychic medium Harlan Brand is feeling much more confident in his abilities working for the Toronto Police Service with his partner, Hamilton, as they protect the city from dangerous spirits. He is expanding his social circle, however reluctantly, to include the other police mediums and Morgan Vermeer, another graduate from the Centre—a school for training psychic children. Harlan and his boyfriend, Charles Moore, are continuing to explore BDSM, their relationship and Charles' strange ability to shield people from ghosts. Hoping to find answers about Charles' power and the serial killer, Harlan returns to the Centre only to find that one of its ghost wards—magical symbols that spirits can't cross—is broken, and it's a mystery as to how and why. The calm and order that Harlan has been building up in his life are shattered when wards start failing across the city and mediums begin to disappear, including one of his new friends and a student from the Centre. Someone—or something—is stirring up the ghosts of Toronto. Reader advisory: This book contains scenes of violence and murder. It is best read as part of a series.
Cold Blood
Pairing: M-M
March 8, 2022
Word Count:
50000
Character Identities:
Bisexual, Gay, Pansexual
Summary: A lifetime of bad experiences has left Iddy homeless and wary of shelters. Rumors of a monster hunting the city streets at night surface, but between the cold and predators of the human variety, Iddy has more important things to worry about. That is until he comes face-to-face with the monster and survives. Now, it has him in its sights.
Cold Snap
Pairing: M-M
December 7, 2020
Word Count: Information not available
Character Identities:
Gay, Straight
Summary: In the frontier town of Belkin's Pass, as a vampire quietly feeds on the local saloon girls and their customers, a tragedy teaches resident Josh Stanton he has the ability to raise the dead. Knowing he is now a wanted man, Josh flees into the arid plains of Venom Valley. Dex Wells, the town deputy and Josh's best friend, catches up with Josh. During the confrontation, both men realize their friendship is truly something deeper, and Dex has to decide if he's a man of the law, or a man in love. As Josh and Dex ponder a viable course of action, the vampire circles ever closer, drawn by Josh's power and gathering his forces against them.
Cowboys & Vampires
Pairing: M-M
March 24, 2017
Word Count:
19162
Character Identities:
Gay
Summary: Hugh McPherson, son of a Nevada rancher, goes to Scotland in search of his family roots. Fate brings him to the castle door of oversized, cranky Graeme Guthrie. After getting off on the wrong, er, boot…the men find something about each other to delve into more deeply. But fate can be a cruel matchmaker. What happens to make Hugh and Graeme careen off each other and run in opposite directions, just when they seem to be on the verge of solving a centuries-old mystery, one that centers on both of them? Finding the Loch Ness monster…a gay romance-fantasy novella.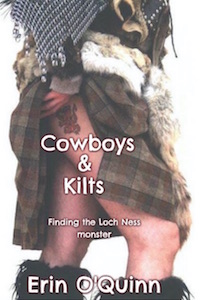 Cowboys and Kilts
Pairing: M-M
April 15, 2016
Word Count: Information not available
Character Identities:
Gay
Summary: Ethan has spent his life moving from one town to the next with his free-spirited mother. No matter where they go his mother never seems satisfied. This nomadic lifestyle has left Ethan feeling isolated and alone, unable to make friends or have a meaningful relationship. As Ethan and his mother settle into their new home, Ethan discovers that he is being hunted by a creature not of this world. A creature powered by dark magic. To complicate matters, Ethan has also caught the attention of Daniel; a mysterious classmate who has a dangerous secret of his own… one that involves feasting on the blood of humans and the ability to live forever.
Dark Blood (Book 1)
Pairing: M-M
April 8, 2021
Word Count: Information not available
Character Identities: Information not available
Summary: Lucifer has been waiting for me to awaken… …and now I welcome the growing darkness inside me as I become who I'm meant to be. The Vampires are afraid of me, the Lycan want to disembowel me, the Spellcasters want to harvest my power, the Fae want to control me, and the Roman Catholic Church wants to murder me. The Soul Hunters… well, who knows what they want with me. I've never been on the run from anyone before, but after I started running from the Devil, I decided the only way to survive was to run back to him and embrace the evil power within and claim my destiny. My name is Dante Coranguis, but you might know me as The One, the Herald of Satan, or the Antichrist. From here on out, you can call me Snakeheart, the most feared man throughout the ages. Darkness Awakens is the sixth book of The Snakeheart Series (Season 1), a supernatural novelette series about Dante Coranguis and the ancient prophecy of the End Times. Get it now.
Darkness Awakens
October 31, 2020