Word Count:
14400
Character Identities:
Gay
Summary: Why is "fun" always so freaking painful? Software engineer Brent Levine has always struggled with the life part of work-life balance, but to hold on to his new job, he'll have to embrace his employer's dreaded "staff enrichment" events. This year's annual ugly holiday sweater party will strain his ambition to remain inconspicuous: everyone has to wear their sweaters upside down and converted into pants—aka "swants." At six foot eight, Brent has a hard enough time finding clothes that fit him the right way up. And while he's an ace at coding, when it comes to handcrafts, he's definitely at the far left end of the bell curve. Luckily he encounters seriously cute theater costumer Jonathan at the Goodwill Outlet. Jonathan offers Brent both an acceptably ugly sweater and his expertise in swants conversion. Attraction sparks on Brent's side, but how can Jonathan be interested in a nerdy geek like him? A Swants Soiree is a short and sweet opposites-attract rom-com featuring crafting catastrophes, suggestive sweaters, and an awkward introvert who meets his extroverted match.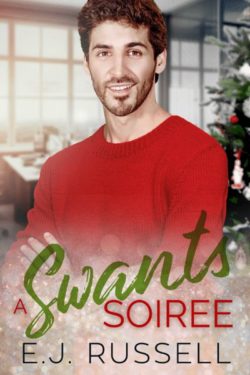 A Swants Soiree
Pairing: M-M
December 1, 2019
Word Count:
76,189
Character Identities:
Gay
Summary: Aiden Fisher does well as a New York artist. In fact, he's known among the art elite for being the man to watch. That doesn't keep his critics from arguing that his work lacks personality or emotion. Of course, his life doesn't have much of that either. While perusing a dating site that connects urban gay men to their rural counterparts, Aiden comes across a profile of a Washington state rancher. The silhouetted picture and matter-of-fact language trigger his inspiration and spin him into a creative journey that ends with a collection that surpasses perfection. After his collection sells to a prestigious buyer, Aiden feels he has no choice but to meet and thank his muse. Little does he know the journey to the rugged mountains of Southeast Washington could change his life forever. Devin Pearce is tall, built and remarkably handsome, all of which is accentuated with the personality of an angry bear. When he first comes upon Aiden, he can't see past his anger -- this stranger is here because his nosy housekeeper set up that damned profile. But Aiden isn't a typical stranger, not only does this man have the looks but he has a work ethic Devin has seldom seen in another man. Sure, Devin wants love, but experience has taught him to be leery. Can he trust his instinct that Aiden is an extraordinary person, or will he let the tragedy of past relationships get in his way? The fire between them burns hot, but they are truly opposites. Only the fates know if they are brave enough to overcome their differences and build the relationship they both dream of.
Aiden Inspired
Pairing: M-M
April 15, 2019
Word Count:
16000
Character Identities:
Gay
Summary: A different kind of home invasion... When Adam Tyler's sister announced she was pregnant, Adam decided to move from Portland, Oregon, to Phoenix, Arizona, to fully embrace the uncle experience. However, he didn't count on the move being delayed until three days before Christmas--and three days before his sister's due date. And he definitely didn't count on finding a scorpion in his bedroom. Cue the panicked calls to exterminators. A different kind of knight to the rescue... Garrett Strong doesn't consider himself at all remarkable--his ex certainly didn't think so--and Garrett's pest-control business is circling the drain. Although Adam is his first new client in months, that isn't the only reason Garrett goes above and beyond for him. He feels a real connection to the younger man and intends to do everything in his power to make sure Adam feels safe and welcome in Phoenix--venomous intruders notwithstanding. An Everyday Hero is a short and sweet opposites-attract, age-gap rom-com featuring a fish-out-of-water geek (who still manages to get a bit soggy), a stand-up blue-collar guy (who can't see his own worth), unexpected additions to the holiday festivities (some less welcome than others), and more than one serious discussion about the true meaning of the word hero.
An Everyday Hero
Pairing: M-M
December 1, 2018
Word Count:
61725
Character Identities:
Bisexual, Gay
Summary: Just when Trevor accepts being bisexual, his life is turned upside down when he discovers he's a new dad. Two years after Peter lost his fiancée, he's convinced love isn't in his future. At least until sexy new father Trevor and his very opinionated infant son step into his life. As their relationship begins to blossom and grow, the baby's disapproving grandparents decide to intervene. Will Trevor and Peter have the strength to overcome the obstacles they face to have another chance with love?
Another Chance With Love
Pairing: M-M
July 31, 2020
Word Count:
74000
Character Identities:
Gay
Summary: The universe is trying to tell Sacha Bolic something. A fire escape collapses under him, he lands in crap, and a killer barely misses his target... all in the same few seconds. That's on top of a long list of mishaps and job dissatisfaction. Not one to ignore signals when they're shoved in his face, Sacha retires and uses his savings to buy an old building in Skagit, Washington. With a little help from DIY videos, he's going to bring it back to its former glory.  And, yeah, it's a metaphor. If he makes one change, others will follow… Seth Culver avoids entanglements, romantic or otherwise. Who needs them? He's learned the hard way that people betray you or leave. Still, Seth finds people compelling. He kind of collects them, learning their secrets before letting them go their own way. His commitment to no commitments may have met its match in Sacha. Handsome and hot, Sacha seems to offer a permanence that scares Seth more than anything ever has. Seth will have to decide if he's going to grab life by the balls or keep watching from the sidelines. A box of inconsequential belongings hidden for decades in the old building hints at lives imagined but not lived, reminding them both there are no guarantees in love, or this thing called life. A standalone in the Accidental Roots series, HEA, and hot m/m. 18+
As Sure As The Sun
Pairing: M-M
September 29, 2017
Word Count:
65266
Character Identities:
Gay
Summary: Orphan Jackson Murphy just staked his legacy on a bet. Holy shit, his impulsive ass is in trouble. Bring a guy to the fraternity formal? Pfft. Easy. Won't be him getting kicked out of the house. So what if his luck with guys on campus has been shitty? Ed Knowles is Jack's winning ticket. Tall, handsome, hardworking—and he doesn't go to Harrison. One serendipitous meeting, and sparks—and coffee cups—are flying. But with every stolen look, every secret kiss, every clandestine touch Ed becomes more than just an answer to a bet. And these cloak-and-dagger meetings that set Jack on fire? They mask one tiny, enormous obstacle: Ed's not out. What does Jack do now? Hold on to his legacy… or his heart? "Better Be Sure" is a sweet, slow burn M/M romance with a heart-pounding HEA. This New Adult, college, opposite sides of the tracks novel can be read as a standalone and in any order.
Better Be Sure
Pairing: M-M
June 1, 2020
Word Count:
59000
Character Identities:
Gay
Summary: Two friends. One bed. A big Italian Wedding. Nico Amato is in trouble. He's in love with his roommate. Who's hung up on his ex. This so isn't part of his summer plans. Luke's an all-American jock, a jeans and t-shirt kind of guy. The kind of guy who thinks Nico is too much. That doesn't stop Nico from pretending to be Luke's boyfriend, once, twice, thrice . . . A friend does what a friend does to make an ex jealous. Just . . . How many favors before Luke gives up on his ex? Lucas DeRosa has a problem. His roommate pushes every one of his buttons. Every. Damn. One. This so isn't part of the script. Nico is flamboyant, a tight jeans/purple blazer kind of guy. The kind of guy who thinks Lucas is boring. That doesn't stop Luke from pretending to be Nico's boyfriend again, and again, and again . . . A friend does what a friend does to repay a favor. Just . . . How many favors before he wins Nico's heart? "Better Be True" is a roommates to lovers, fake-boyfriend, slow burn M/M romance with a HEA. This New Adult, college, opposite attract novel can be read as a standalone. The Harrison Campus series can be read in any order
Better Be True
Pairing: M-M
August 3, 2020
Better Have Heart
Pairing: M-M
July 1, 2020
Word Count:
80000
Character Identities:
Gay
Summary: Everyone is chasing their own dreams, but Johnny isn't sure he even has one. Apex Racing is expanding and absorbing Pilot and his lovers. Everyone is happy with it…except for Johnny. He's constantly feeling left out and more alone than ever before. It's time to seek out his own win, and find his holeshot even if it's off the track and away from Pilot. Gavin is determined to put together the hottest Supercross team, and he wants that to include Bryce Nickels. But that seems almost impossible since Bryce signed with Apex. Perhaps he needs a new angle, like the sexy business partner of the bodyguard, Johnny Killebrew. Maybe he'll sign on more than he bargained for. Praise for Holeshot Christmas: "The writing was spot on once again and the storyline flowed really well. A Christmas feel good sexy story for the win!" ~Morningstar with Diverse Reader Blog. "Holeshot Christmas is a delightful little visit with Davey and Tyler. It's sweet, cute, and a lot of fun." ~Amy's mmromance reviews Bike Business is the fourth title in the Holeshot series. For your reading enjoyment, the preferred reading order is as follows: The Holeshot Holeshot 2 Holeshot Christmas Bike Business: A Holeshot Novel Tricky Tracks
Bike Business
Pairing: M-M
August 23, 2019
Word Count:
67k
Character Identities:
Gay
Summary: One corpse, two corpse, old corpse, new corpse. Summer is crashing into fall, Mat and Niall have a wedding to overthink. A body is discovered floating in the harbor and this time it's the missing ex-Piedras Marine officer Duane Copper. Who, aside from Niall, wanted Duane dead? He's been on the run for months, why would he turn up dead now? Black Moon, third in the Hamarsson and Dempsey series, is a dual POV following Sheriff Mat Dempsey and now Private Investigator Niall Hamarsson as they grope their way to a happily ever after.
Black Moon
Pairing: M-M
November 19, 2020
Word Count:
75000
Character Identities:
Bisexual
Summary: The rings have been selected. The champagne placed on ice. The cake decorated. And the pre-wedding sex is off the charts... Lucas Vallois and Andrei Hadeon are finally ready to walk down the aisle. There's just one small problem. A ghost from Lucas's past shows up days before the wedding, desperate for help. Against his better judgement, Lucas and his best friend, Ashton Frost, plan a fast trip back to the one place they swore they'd never go: their hometown in Oklahoma. But the danger is worse than they expected. Now, they're in a race to track down a killer, keep a young girl safe, and get Lucas back in time to say, "I do."
Blaze
Pairing: M-M
June 22, 2018
Word Count:
90000
Character Identities:
Bisexual, Demisexual, Gay
Summary: Quarter-Finalist in the BookLife Prize Contest "Overall: 9.50 out of 10 Expertly plotted and paced, this romance builds a central relationship that is sweet, sexy, and satisfying. The love story grows through various plot points and conflicts, taking the main characters -as well as a vibrant supporting cast - on an emotionally resonant and heartwarming journey. It's exactly what a good romance book should be. Merrill's dialogue is authentic and exhibits variances of tone and cadence when spoken by different characters; it's distinct and clear. The love scenes are explicit and passionate with an undercurrent of emotion that sets them apart from others in the genre. This swoon-worthy romance between a Marine officer and a rock star charms with a sweet and sexy story that shows how love can heal two hearts touched by tragedy." —BookLife Prize "Over the course of this novel, Merrill writes about this burgeoning connection with smooth confidence...Merrill rests a good part of the story on a realistic appraisal of his characters' fallibility: "People want to think they can handle anything that comes their way, but everyone has a breaking point," Brains reflects at one point. It may seem like a standard unlikely-romance plot at first, but the author offers it to readers with considerable skill and style." —Kirkus Reviews "R.L. Merrill is the reigning queen of romance and rock and roll. Brains and Brawn delivers yet another heartfelt love story with relatable characters whose trials feel steeped in the real world. Like the first book in the series, Summer of Hush, this one gives you a VIP backstage pass to life on a mega-tour. You'll come out feeling like a member of the band.A realistic and inviting love story in the rock-music world.A rock star with a secret is injured in a freak accident. A single-dad Navy corpsman comes to his aide. Neither expected romance to bloom, but now that it has, will their secrets end it before it begins?" —Award-Winning Author Kilby Blades Billy "Brains" Brennan has achieved rock stardom in not just one, but two chart-topping bands, but events from his past have him convinced he's living on borrowed time. Brains and his brothers-in-Hush are ready to take the last cross-country Warped Tour by storm...until the actions of two drunk dudes with bad attitudes set off a chain of events that leave him incapacitated...and face-to-face with a handsome stranger who inexplicably feels like home—and not the home Brains fled at sixteen. Chief Petty Officer Paul McNally has spent his 25-year career as a Navy Corpsman responding to emergencies and caring for wounded soldiers. When fate has him in the right place to provide aid to a fallen rock star, it sends his life spiraling on a trajectory he never planned for. Instead of concentrating on his impending retirement and a second career, he's now playing nursemaid to a fascinating younger man…and falling in love—a fact he can't seem to figure out how to explain to his adult son. A health scare, band drama, and pain from both their pasts threaten to end Brains and Paul's fledgling relationship. Fate brought them together. It will take trust, honesty, and hope to keep them together.
Brains and Brawn
Pairing: M-M
August 24, 2020
Word Count:
73900
Character Identities:
Gay
Summary: Never assume… …that your uber competent personal assistant will get it when you announce your (fake) engagement to him during a live on-air interview with your archnemesis. Never waver… …from your plan to punish your arrogant celebrity boss for his presumption by turning your (fake) wedding into a reality competition for event planners. Never admit… …that the feelings blossoming between the two of you through seven (fake) engagement celebrations, six (fake) bachelor parties, five (fake) wedding party luncheons, and four (fake) rehearsal dinners are about as (real) you can get. Camera Shy is a boss/employee, fake-engagement, right-in-front-of-your-nose romantic comedy featuring a former child model-turned-PA who is so done with cameras, a cocky LGBTQ activist/talk show host who does not lose, more scarves than midwinter in Boston, and banter. So. Much. Banter.
Camera Shy
Pairing: M-M
September 20, 2022
Word Count:
76000
Character Identities:
Gay
Summary: A second chance to say 'don't let me go'. When paintings for an artist who disappeared roughly fifty years ago suddenly surface, Charlie and his friends decide it might be worth looking into what really happened. Besides, who isn't up for adventure and fun in Buenos Aires? But things go horribly sideways when Charlie stumbles across Dr. William freaking Monroe—the only man to claim and then destroy Charlie's heart. Now they're on the run, dodging bullets and digging for the truth. Charlie wants nothing to do with Will. It's his heart that's screaming for a second chance. Is it too late to get past years of anger and misunderstandings to grab the love that still burns between them? Charlie's Doctor is the first full-length novel in the Shadow Elite mercenary series and features stubborn men with poor communication skills, second chances, meddling brothers, explosions, and love on the run in Argentina.
Charlie's Doctor
Pairing: M-M
August 19, 2022
Word Count:
67000
Character Identities:
Bisexual, Gay
Summary: Murder, betrayal, love… ​Moving home after his father's death effectively forced Sheriff Mat Dempsey back into the closet, but he's happy enough. Right? Bitter and dispirited after years investigating homicides, Niall Hamarsson heads for the only place he's ever called home. A body is discovered in the waters off Piedras Island and Mat's first priority is investigating the murder. He doesn't need the help of the ex-detective, what he wants from the man is entirely different. Detective Niall Hamarsson remembers Mat Dempsey, but he'd prefer to avoid him. Too bad Mat is one piece of his past Niall can't escape… Their chemistry is electric, and two heads are better than one, but will Mat's pride get in the way? Conspiracy Theory is a dual POV about a broody introvert and a somewhat patient Sheriff. It's hard to come in from the cold when that's all you know. Hamarsson and Dempsey is a series following the same couple as they find their way to their happily ever after.
Conspiracy Theory
Pairing: M-M
October 7, 2019
Word Count:
52500
Character Identities:
Gay
Summary: Dear Santa, For Christmas this year, may I please get my very own Daddy who is looking for a boy to keep? Because I'm a little, I need lots of cuddles and attention. So, a Daddy who can only see me on occasion, or who's never been a Daddy before, probably won't want me. Maybe I need two Daddies? I promise I'll be the bestest boy ever! I pick up my toys, do my chores and take my naps without argument. And since I'm not little all the time, I can also keep my Daddy happy in other ways. I hope you can find me a Daddy who was meant for me. I haven't had anyone take care of me in a long time and I'm feeling lost. Santa, I've been a very good boy this year, so pretty please can you make my Christmas wish come true? Love, Eric Dear Daddy, Please Keep Me is part of the Naughty or Nice multi-author series. From this installment, you can expect a healthy dose of fluff, a large Squishmallow collection, inappropriate peppermint stick usage and two silver fox Daddies. Each book in the Naughty or Nice series can be read as a standalone, but there are so many boys hoping that holiday magic will bring them their perfect Daddy, why not grab them all?
Dear Daddy, Please Keep Me
Pairing: M-M-M
January 8, 2021
Word Count:
98000
Character Identities:
Gay
Summary: Ian Pierce is the chef and part owner of the hottest restaurant in Cincinnati, his chosen family is full of happy relationships, and the scruffy, snarky cop who has been haunting his dreams is one step closer to being in his bed. But everything comes crashing down when the past he narrowly escaped nine years ago comes to a deadly head. Hollis Banner was enamored of Ian at first sight. He's kept his distance, knowing the gorgeous, self-confident man is out of his league. Yet there's no standing aside when Boris Jagger escapes a raid. Jagger's world has been nearly destroyed and this time, the crime boss is coming after Ian and his friends personally. Hollis will do whatever it takes to keep Ian safe as they escape to a safe house with a couple of Ian's overprotective friends. And Ian finds himself in a race to unlock painful memories—memories containing information that could take down the very last of Jagger's illegal operations forever.
Devour
Pairing: M-M
April 27, 2017
Word Count:
77000
Character Identities:
Bisexual, Gay
Summary: The stranger chose him. Edison Walker had never seen the man with the wide green eyes before. He only knew that he was in trouble. And that he took one look at Ed and decided he was his haven. His protector. Ed would not let him down. With the jeweled scarab the stranger pressed into his hand and the strange note written in ancient Egyptian, the Shadow Elite mercenaries are off to Cairo to find the stolen professor. Edison's Professor is the third full-length novel in the Shadow Elite series and features mercenaries, ancient treasure, danger, explosions, a short grumpy Egyptologist who can be very overprotective of his mercenary, cuddly couples, and love on the run in Egypt.
Edison's Professor
Pairing: M-M
February 10, 2023
Word Count:
140000
Character Identities:
Gay, Polyamorous
Summary: Will and Aaron Taylor have a perfectly imperfect marriage. For twenty years, even when their desires haven't quite matched, they've always found ways to adapt…until now. When Aaron's needs push past his Dom's limits, their best hope for compromise is finding a unicorn—a third person who checks both men's boxes. After his estranged father wills him a house he doesn't want in a town he doesn't know, Kelly Griffith is itching to find his place in this unfamiliar new world. When he finds an ad from a couple looking for a sub like him, he jumps at the opportunity. A chance to be what someone needs and wants instead of being a perpetual disappointment? Yes, please. The chemistry sizzles from the get-go. Will and Aaron insist they don't want to be poly, and Kelly doesn't want to be anyone's third wheel, but playing together? Any time, any place. All they have to do is keep emotions from joining the party as the trust and intimacy deepen between them. But by the time they realize they're in over their heads, hitting the brakes is no longer as simple as using a safe word. Extra Whip is a Venti-sized (140,000-word) stand-alone novel in the Bold Brew shared universe centered around an inclusive coffee shop set in a fictional small city. Each steaming hot coffee shop romance can be enjoyed alone, but collect all ten for the most fun! This menage romance contains a happily married couple in their 40s, a sassy 30-something submissive, lots of fluffy steam, and a guaranteed happy ending!"
Extra Whip
Pairing: M-M, M-M-M
April 13, 2021
Word Count:
64000
Character Identities:
Gay
Summary: A gambit for love, a half-baked revenge plot; one hot Seattle summer… Arnie One minute I'm minding my own business enjoying the sunshine, next I'm wearing my iced coffee. I'm going to teach Tobias Barrington a thing or two; the first: you don't always get what you want. I have no idea what the second is, I'll cross that bridge when I come to it. Falling in love with Tobias is not on my list of lessons.   Tobias I've never forgotten Arnie Ferguson, or the night we had together. When I find him again, I want to get to know him—as more than a friend. I may come from a wealthy family; but I know better than most that money can't buy happiness. But brash, socially awkward Arnie Ferguson makes me think happiness is possible when you let your heart choose.  Feinted Love is a first person, dual POV, following Arnie Ferguson and Tobias Barrington as they do their best to awkwardly fall in love. No cliff hanger, HEA guaranteed. Heat level, 3+.
Feinted Love
Pairing: M-M
September 17, 2020