Word Count:
47500
Character Identities:
Gay
Summary: Jason Gibbons: As an ace sports reporter, Jason is revving up for his next big story—Ryker Brennan, Supercross star, sexy and solid. He captivates Jason like no one else ever has. "Despite having told myself not to get worked up, I am. And it pisses me off. Ryker Brennan is under my skin, and nothing good is going to come from that." Ryker Brennan: Motorcycles are his passion. He's a little sweet and a heck of a lot of wild rolled into a 250 racer who's always primed for the next big win. Then Jason Gibbons rolls into Ryker's life, and now his wheels are spinning. "I fell and got a mouth full of dirt. That's racing. The bike just got away from me, kind of like Jason did after that kiss. So why was I still thinking about him?" When life gives them a gnarly track to follow, they have to get dialed in for the next jump. Will they accept the challenge?
Pairing: M-M
Word Count:
92200
Character Identities:
Bisexual, Gay, Polyamorous, Straight
Summary: Janis and Niall were best friends almost from their first day working together on tour. Over the years, that friendship grew stronger. Her troubled long-distance relationship and his slow recovery from losing the love of his life gave them more points of connection, not fewer. And almost three years in, they had to face it: they were in love. There was only one problem. Janis was straight, and Niall wasn't. They didn't know what to do. As a woman and a man, certain combinations were, technically, possible. But there are some things you don't ask even your best friend to do. If a day arrived when one of them found a person to meet that unmet need, what would happen to them? And then they met Geoffrey. A man who enjoyed women and men. A man they both found attractive and charming; a man attracted in turn to each of them; a man whose particular circumstances made the experiment possible. Now the question was, would their unique combination be the catalyst for a new, indissoluble element … or would it blow up in all their faces?
A Braid of Love
Pairing: M-M-F
December 29, 2019
Word Count:
85788
Character Identities:
Bisexual, Pansexual
Summary: Kris Starr used to be famous. Rock and roll. Sold-out shows. Literal magic. Empathic talents and screaming fans. But he has a problem or two. He's having a hard time writing new music. It's Midwinter, which means he's surrounded by depressing holiday cheer. And he's in love with Justin, his manager, who has a talent for rescuing almost- or once-famous bands ... and who's hiding secrets of his own. Justin Moore, on the other hand, is very good at keeping those secrets -- he's had to be for years. One secret involves a demonic inheritance that would make him a target of suspicion. Another involves his past. And the third involves Justin's feelings for Kris Starr, rock and roll icon and now his client ... and a powerful empath.
A Demon for Midwinter
Pairing: M-M
March 10, 2018
Word Count:
29200
Character Identities:
Bisexual, Gay, Polyamorous, Straight
Summary: A romance novella about what happens when meeting everyone's needs requires unconventional thinking. Janis Vaughn was doing all right with her music career. She was still young enough that spending most of her time teaching, and playing on other people's records, didn't look like 'gave up' or 'couldn't make it.' What she really couldn't make was 'up her mind.' Then her friend Victor asked a favor. It was something easy to do, that she was happy to do. But the reason he needed it made her take another hard look at her life. It was one thing to hold back when reaching out could literally cost you your career. It was quite another thing to hold back when the worst that could happen was 'well, I tried.' So she tried. The first album was a modest success, leading to a local tour. Janis was loving every minute of it. And when she met Stefan – another musician, another teacher, a guy the right age who was smart and sexy and understood what she needed (at least at the piano) – she thought she had it made. But it wasn't all good, and it got less so over time. When they were together, things were fine. There simply wasn't enough 'together.' If it hadn't been for her tour manager (and instant BFF) Niall, Janis would have been all alone for most of the year. Fortunately, they liked everything about each other. He was the man of her dreams, except for one thing: she was straight, and he wasn't. They each needed something the other couldn't provide, because there are some things you don't ask even your best friend to do. And then they met Geoffrey, a man who might be their missing link. Janis and Niall had to decide: what if the worst that could happen was 'well, we tried?'
A Secret Chord
Pairing: M-F, M-M-F
December 1, 2019
Word Count:
18000
Character Identities:
Bisexual, Pansexual
Summary: Alfie Adams comes at life sideways. After unexpectedly losing his job in television, and having the script he's worked so hard on unceremoniously dropped, Alfie turns up at his oldest friend, Jam's, birthday party drunk, pretty sure his world has ended, and that he's about to hit rock bottom with a bone-cracking thud. But it's funny how Jam's little brother, Benji, seems to know exactly what Alfie needs. For the past twelve months Alfie has thrown himself into his job and tried hard not to think about beautiful punk-loving Benji—tried not to see how the sweet kid he used to look out for, and who used to trail so adoringly after him, has grown up into a big lad with an even bigger heart. As Alfie sobers up, he begins to see things with a new perspective, and Benji has his full attention. If only Alfie can admit what it is he wants.
Alfie Adams Comes At Life Sideways
Pairing: M-M
October 4, 2019
Word Count:
76000
Character Identities:
Gay
Summary: For Andrew Tuttleman, sex is a means to an end. With a mother too sick to pay the bills on her own and college bills to pay, Drew has spent years resorting to sex with strangers to keep a roof over his mother's head and keep himself at school, far away from the hell where he grew up. This summer, his usual tricks are still paying the bills. But there's a new one, Grant, who never got the memo that a trick is a no-strings deal. Convinced that Drew is the answer to a hopeless prayer, Grant seems ready to pursue Drew to the ends of the earth. Drew, on the other hand, isn't so convinced. Grant comes with trouble in the form of a wife and three kids, not to mention a single and unwavering requirement: that Drew give up his livelihood. Grant's kiss makes Drew ache for more, a romance that he never dreamed possible. He finds himself unexpectedly willing to try. Can Drew weather Grant's angry father, wife, and a daughter determined to kick him in the shins so hard that he'll leave Grant's life forever? It all relies on Grant's faith in an impossible prayer.
Andrew's Prayer
Pairing: M-M
September 27, 2017
Word Count:
37000
Character Identities:
Gay
Summary: Sam McAuley isn't having a great start to the summer. Served with papers? Great. He's being sued. Perfect, pristine yard overrun with chickens? What the—? Clearly, the new guy running the animal rehabilitation centre next door has no idea what he's doing. It's one town to the next, one school to the next, one job to the next for Bo Novak. Everything is temporary. Even his current job—running his sister's animal rehab centre while she's away on a four-month leave—is temporary. And he does know what he's doing, thank you very much. Sure, things don't always run smoothly, but the stick-in-the-mud next door could be a little nicer about it. One overheard conversation, an olive branch, and a baseball game might show these guys that being at odds isn't really what they want, and that what they want might just be each other. [As Big as the Sky was first published in August 2017. This new edition has a brand new cover but no content changes.]
As Big as the Sky
Pairing: M-M
August 7, 2020
Word Count:
23376
Character Identities:
Gay
Summary: Oliver Stoll's life has gone up in smoke. Literally. Escaping an apartment fire, he's made it out with little more than the clothes on his back and his best friend and downstairs neighbor, Mia. With few other options, he agrees to stay with David Elliston, Mia's older brother. David was Oliver's first crush, first kiss, first everything. That is, until the day they broke up five years before. It hadn't been pretty. David Elliston is back in town. Offered the chance to oversee the Kellmen Group's newest magazine acquisition, he isn't going to let a years old heartbreak stop him. But being thrown together with Oliver is harder than expected. And the flicker of hope he's long tried to bury becomes even more difficult to contain. Ex-lovers, best friends, and angry parents don't make the best backdrop for rekindling a romance. But it's the lies from the past that might just extinguish any chance they have of starting over.
Big Flames and Small
Pairing: M-M
April 3, 2021
Word Count:
48870
Character Identities:
Gay
Summary: (Beginnings Book Three) In Haven, Montana, the shifters and their human allies are safe—for now. But that safety hinges on the town's location remaining a secret, and it's about to be compromised. Cougar shifter Travis Kuger spent the past several years alternating between craving revenge and wishing he could forget his painful past. Ever since the shifter-hating Knights blinded him and killed his family, Haven—and Sheriff Jack Ulger—have been Travis's refuge. Travis and Jack know their friendship could be much more, but Jack is part of Haven's ruling wolf shifter pack. If he takes a non-wolf mate, he could be banished forever. But when a knight infiltrates Haven, love becomes the least of their problems. Second Edition with updated and revised text.
Blind Devotion
Pairing: M-M
May 4, 2021
Word Count:
59588
Character Identities:
Gay
Summary: After leaving a bad relationship as well as being laid off from his job at a big newspaper, Bobby Devereaux faced his demons by writing a novel featuring his ex as the villain. Little did Bobby know that his life would change after sending the novel to a former coworker who had recently been hired by a publisher in New York. Through some interesting twists and turns, Bobby is transformed from a gritty reporter to a graphic novelists. Liam is the new CEO of Rickard Publishing and one year after his father stepped down and left him with a major mess, Liam is forced to find a novel that changes his luck or face being kicked out of the CEO position that's been occupied by one of his family members for generations. Bobby Devereaux sweeps into Liam's life and not only saves the day with his creative and quirky novel, but he also finds a way to break the ice walls surrounding Liam's heart. The question is, can their love survive gossiping exes, nasty critics and a father who runs off with Liam's ex?
Bobby Transformed
Pairing: M-M
March 27, 2020
Word Count:
76000
Character Identities:
Bisexual, Gay
Summary: Xander Romano strives for harmony in his life. He's a set of contradictions: cruel but kind, famous but private, loving but merciless. He lives on the knife edge, and that's how he likes it. But he just asked his boyfriend for the one thing he swore he'd never want. And now Xander's perfect balance is starting to sway… Ben Ballard is coming into his own. His career is taking off, his talent is being recognized, and he's exploring a whole new power exchange with Xander. He followed the Big Bad Wolf right into the middle of the forest, and he did it willingly. But how much can Ben give to Xander before he starts to lose himself? And how black can things get before Ben finds the light in Xander's darkness? Break the Rules is the third part of the Rough Love series. Join Ben and Xander in their continuing odyssey of self-discovery, experimentation, and steamy fun as they work out the kinks together. Never fear: these two will get their HEA. It'll just take them some time to figure out what that happy ending looks like for them... Rough Love can be rough. Please proceed with caution if you have any triggers.
Break the Rules: Rough Love Part 3
Pairing: M-M
October 17, 2019
Word Count: Information not available
Character Identities:
Gay
Summary: Every life is a circle, and sometimes those circles connect and overlap in unexpected ways, even if the patterns they form aren't obvious at first glance. Past and present, from the wilderness to small towns and cities, the greedy and evil seek to exploit the vulnerable. The brave men of law enforcement fight to protect the innocent and punish the guilty—but they're not alone. Men from all walks of life are called to stand beside them and solve these mysteries. Along the way, lives intertwine as couples are reminded that one thing makes the struggle worthwhile: love.
Circles Box Set
Pairing: M-M
June 18, 2022
Word Count: Information not available
Character Identities:
Gay
Summary: Choose your weapons. Jae-sun Fields is pissed. Someone has taken the seminal coming-out, coming-of-age novel Doorways and satirized it. He's determined to use his Internet skills and his job as a tabloid reporter to out the author as the fraud and no-talent hack he's sure she is. Kelly Kendall likes his anonymity and, except for his houseboy, factotum and all-around slut, Will, he craves solitude. There's also that crippling case of OCD that makes it virtually impossible for him to leave the house. He's hidden his authorship of Doorways behind layers of secrets and several years' worth of lies - until he loses a bet. Satirizing his own work, as far as he can see, is his own damned prerogative. Except now he has an online stalker, one who always seems several steps ahead of him in their online duel for information. A chance meeting reveals more than hidden identities - it exposes a mutual magnetic attraction that can't be denied. And pushes the stakes that much higher, into a zone that could get way too personal. Warning: This book contains large Korean men; Will, the houseboy, factotum, and all-around slut; hot sexy manlove including oral sex, and serious ass play. (Jae's note to self: OCD + socks + mouth = BAD.)
ePistols at Dawn
Pairing: M-M
November 19, 2016
Word Count: Information not available
Character Identities:
Bisexual, Gay
Summary: If you win, woo, and walk away, a second chance is going to cost you. Headstrong Ruben Harper has yet to meet an obstacle he can't convert to a speed bump. He's used to getting what he wants from girls, but when he develops a fascination for a man, his wooing skills require an upgrade. After months of persuasion, he scores a dinner date with Henry Normand that morphs into an intense weekend. The unexpected depth of their connection scares Ruben into fleeing. Shy, cautious Henry, Ruben's former high school history teacher, suspects he needs a wake-up call, and Ruben appears to be his siren. When Ruben bolts, Henry is left struggling to find closure. Inspired by his conversations with Ruben, Henry begins to write articles about the memories stored in everyday objects. The articles seduce Ruben, even as Henry's snowballing fame takes him out of town and farther out of reach. Standalone romance novel. HEA.
Everyday History
Pairing: M-M
January 28, 2020
Word Count:
61000
Character Identities:
Bisexual, Gay
Summary: Benjamin Ballard and Xander Romano have never had a conventional relationship. It works for them, even if the people around them don't always understand it. But when vicious blind items start appearing online, it seems like Xander's past has come around to bite them both. Will Xander and Ben be able to handle the pressure? Flying Free is the final book in the Rough Love series. Find out more about Xander's past, and discover what the future holds for Xander and Ben... Rough Love can be rough. Please proceed with caution if you have any triggers.
Flying Free: Rough Love Part 4
Pairing: M-M
November 14, 2019
Word Count:
32793
Character Identities:
Bisexual, Gay
Summary: Ten days to finally make the leap from friends to lovers…. Craig and Mitchell have been friends for years, but each of them reached a point where that camaraderie became… more. Mitchell's kept his feelings close to his chest. So has Craig, but now that they've graduated from UMKC, he knows it's his last chance to show Mitchell they're meant to be before their careers take them to opposite sides of the country. He insists they can't leave Missouri behind without one last adventure. Mitchell agrees to a road trip to visit all the touristy spots and say goodbye to their home state. As they spend their days and nights together, buried feelings rise to the surface and hope blossoms. When their journey ends with a dance beneath the Branson stars, will they find love and a future together at the end of the road?
Gateway to Love
Pairing: M-M
October 19, 2018
Word Count:
25000
Character Identities:
Gay
Summary: After his breakup, Tim goes to a campground in a beach town to work on his latest screenplay. Writer's block seems to disappear magically, now that he's single again. It's a relief to be writing. While there, he meets John Harbor, a handsome fellow writer on his own mission to get some work done. John is nothing like a cynical as Tim. Or as confident. But he's very appealing... Rather than swap stories about writing, Tim and John decide to have a fling. Nothing serious, just a pleasant break from work when they can both spare the time. John is skittish, busy, and wary of relationships. But Tim, who thought he was burned out on relationships altogether, is falling hard. He got over his ex easily enough—at least that he'll admit—but how is he ever going to get over John?
Harbor
Pairing: M-M
October 22, 2020
Word Count:
18,500
Character Identities:
Bisexual, Gay
Summary: Noel Chandler had a good reason for leaving the L.A.P.D. for New Orleans, but when he walks into a burned out Garden District mansion, he discovers there are some things he can't outrun. The spooks can find him anywhere. As the resident historian for the cable show Haunts and Hoaxes, Professor Adam Morales keeps an open mind about the supernatural. Or that's what he tells himself, until he meets a man who puts that principle to the test. Noel's smart, sexy, and has killer cop instincts. One glance from his bedroom eyes has Adam ready to believe anything. But is Noel haunted, crazy, or just another hoax? Haunted can be read as Book 1 of Haunts and Hoaxes or Book 2.5 of Hours of the Night. ⚜Haunted is set in the Hours of the Night universe but follows new, separate characters and can be read as a standalone.
Haunted
Pairing: M-M
February 19, 2018
Word Count:
8200
Character Identities:
Gay
Summary: Derrek is dealing with the recent, unexpected death of his mother just before Thanksgiving. He's been alone for five year since his husband Will died, and he's ready to find someone new and to start living again. Ryan lost his partner, David, in an auto accident, and is dating Alex, who doesn't treat him right.

Derrek can't figure out why Ryan won't see what's right in front of his face. Why does Ryan come to him to talk about all his hopes, dreams, and fears, then go home to Alex?

 If Derrek can figure that out, they might just have a shot.
I Only Want to Be With You
Pairing: M-M
December 27, 2017
Word Count:
55,000
Character Identities:
Bisexual, Gay
Summary: A telltale knock on a quiet winter night is a sound no husband wants to hear. Sébastien Osaki has spent the past three years surviving the loss of his beloved Henry. When Seb lands in Amalfi, Italy, for their would-have-been tenth-anniversary trip, he's haunted by the memory of the man he loved. Following Henry's notebook leads him to some breathtaking coastal views but also right back to his despair. Seb's there to get his groove back, not let the past wrong-foot him at every turn. Enter Andrea Sorrentino, chauffeur, part-time pet whisperer, a Bernini statue in a soccer tee and tight shorts. From the moment Andrea picks Seb up from the airport, he knows just how to soothe Seb's case of the sulks. But Seb isn't sure he's ready for Mr. Right Now, let alone a potential Mr. Right, in a part of the world where all roads lead back to Henry. Can sun, sea, and eating your weight in pasta mend a tragedy-stricken heart? Will wine-soaked Amalfi nights and long walks through lemon groves work their magic on Seb's wounded soul? Or will he slink back into the shell of his grief once his grand Italian adventure is over?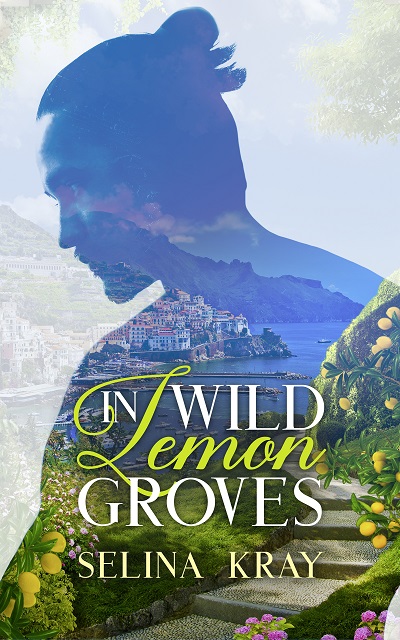 In Wild Lemon Groves
Pairing: M-M
February 8, 2018