Word Count:
117000
Character Identities:
Bisexual, Gay
Summary:
Brent Weyland was the life of the party until an injury ended his hockey career. Now he's retreated alone to a lakefront house, trying to make sense of a life and body that don't feel like his anymore. Jon Norquist was happily married right up until he wasn't. Now a single father in his forties, he's trying to figure out what comes next. In the meantime, he pours his heartache and regret into the lyrics he sings for the wine bar crowd a couple of nights a week. When a friend coaxes Brent out for a night of wine and music, he puts Brent and Jon on a collision course. Their chemistry is instantaneous. Jon gives Brent's battered body a much-needed remedial lesson in pleasure. And Brent gives Jon a reason to smile again. Multiple reasons, actually. Neither man wants anything serious, but love has a habit of showing up whether it's welcome or not. No matter how hard they try, the two can't help having feelings for each other, even as life continues to throw them curveballs. But they've both got baggage to unpack and hurt to move past, and if they can't leave their pasts in the past, they might just miss out on an amazing future.
Aftermath
Pairing: M-M
March 29, 2021
Word Count:
55000
Character Identities:
Bisexual, Gay
Summary: What happens when two stars collide? The first lesson Colin Gardner ever learned was not to trust. The second was that love hurts. Growing up in an abusive family, he turned to the night sky for comfort and buried himself in science. It wasn't easy being the only gay guy in school and Colin made peace with the fact that he'd never fall in love. He won't risk that pain. Especially not for a guy who's never dated men before. No matter how much he's tempted. "I don't believe in love. It only gets you hurt." Charlie Keller doesn't date. How could he risk his kid growing attached to someone when it might not last? The divorced dad's life revolves around his daughter, his dog, and his job as Maple Springs' resident handy-man. But when Charlie helps Colin out in a pinch, his world changes forever. Charlie can't ignore his attraction to Colin, but he can't act on it either - can he? "Being with you changes everything. I've never done this before." As winter deepens, things between Charlie and Colin heat up, as the men are drawn into each other's orbit. But when Charlie's ex-wife threatens to move his daughter across the country, he realizes his worst fears might come true. And when Colin's past comes calling, it raises demons he's not sure he's strong enough to fight. Will Colin and Charlie's love flame out, or can they find a way to make a new constellation - just for the two them? Beneath Orion is Book 2 in the Maple Springs series. While each book focuses on different characters and can be read on its own, they're even more fun to read together. Beneath Orion is a 55,000 word steamy, contemporary, gay-for-you M/M romance. No cliffhangers, no cheating, and a guaranteed HEA.
Beneath Orion
Pairing: M-M
November 29, 2016
Word Count:
15000
Character Identities:
Gay
Summary:
Be careful what you bet on… Betting is all fun and games until you have to pay up when you lose. Within these three short stories we follow the ones who were on the losing end of a bet. The price they paid? They have to wear a pink Lolita dress. Luckily for them, sometimes paying up comes with the best benefits.
Trusting You by Ryo Salinas
Michael Gentry lost a bet and decides to make the best of the situation with a little bit of seduction.
Bets With Benefits
Pairing: M-M
October 28, 2017
Word Count:
103000
Character Identities:
Gay
Summary: Sometimes a single moment defines a man For homicide detective Mac, it's been a good year. Having Tony to go home to makes him a better cop and a better person. For Tony, it's been hard being in love with a man he can't touch in public. Evasions and outright lying to friends and family take a little of the shine off his relationship with Mac, but Tony is determined to make it work. As the Minneapolis Police Department moves into a hot, humid summer, Mac is faced with a different challenge. A killer has murdered two blond women, and the police have no real clues. Mac hates to think that another murder may be the only way they'll make progress with the case. But when that murder happens, it hits close to home for Tony. And suddenly Mac faces an ultimatum: come out into the sunlight and stand beside Tony as his lover, or walk away and live without a piece of his heart.
Breaking Cover
Pairing: M-M
December 14, 2021
Word Count:
103,507
Character Identities:
Bisexual
Summary: A love worth the wait. When Riley Porter-Wright comes out as bisexual and confesses his feelings for Carter Hamilton, it severs their friendship. Carter's rejection forces Riley to move on and he's shocked to learn Carter's marriage has fallen apart. Overwhelmed by his failure as a husband and father, Carter misses Riley, but feels guilty for disappearing after Riley's coming out. After Riley extends an olive branch, the former friends agree to repair their relationship. Slowly, Carter pieces together a new life, admits his attraction to men and confesses his feelings for Riley. Leery of Carter's initial rejection, Riley turns his focus to a new man, Will Martin. Disappointed, Carter fosters new friendships with men like Jesse Murtagh and Kyle McKee, while also navigating new waters with his ex-wife, Kate, as their children learn their parents are dating other people. As they rebuild their friendship, both Carter and Riley draw strength from each other, hoping the choices they've made are for the best. Wake, the prequel to Calm, was published in May, 2017.
Calm
Pairing: M-M
September 12, 2017
Word Count:
83,806
Character Identities:
Gay, Lesbian, Straight
Summary: When chaos strikes at the heart of Milan, it is up to Florentina's alter-ego the Night Flyer to stop it. As Florentina and Madelena's love deepens, so does the well of danger surrounding them. The race is on to discover the mysterious Shadow Guild and uncover who is behind the deadly rampage, but Florentina's mission is threatened by a gang of assassins. Can the Night Flyer prevail, or will Maddie's love be ripped from her arms? Chaos in Milan is the third book in Edale Lane's Night Flyer Trilogy, a tale of power, passion, and payback in Renaissance Italy. If you like action and suspense, rich historical background, three-dimensional characters, and a sweet romance, then you'll want to complete the Night Flyer saga. Order your copy of Chaos in Milan today!
Chaos in Milan
Pairing: F-F, M-F
December 21, 2020
Word Count:
11200
Character Identities:
Gay
Summary: This is a Life Lessons short story 3.5, occurring a week after Home Work - book 3. (* contains significant spoilers for Home Work*) Mac, Tony, and the kids have had a long complicated year. Each of them has dealt with fears and losses, joys and triumphs. As December 31st approaches, it's time to look forward to the new year, and what may be in store. Mac and Tony figure whatever happens, they can handle it, as long as they go through it together. 11,000 words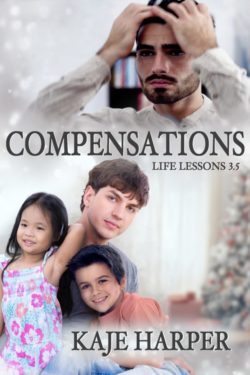 Compensations
Pairing: M-M
December 8, 2012
Word Count:
113,000
Character Identities:
Gay
Summary:
ελπίδα. Elpída. Greek. Meaning hope Hope. v. /ˈhōp/ to want something to happen or be true and think that it could happen or be true
Michael and Christy attended prom, graduated high school, and Michael leads the USATF tryouts. With Oxford University on the horizon, his future looks bright, and he believes life has returned to normal after Christy's rescue. He couldn't be more wrong.
Christy has been free from a life of slavery for more than a year and has made remarkable progress due in no small part to the love he found with Michael. But the recent prosecution of a past abuser has shattered the life he so painstakingly built out of nothing but a mountain of horror. He now faces the daunting task of building a new life—yet again. Twelve-year-old Thimi has been missing since Christy left Greece and, unbeknownst to everyone, has hidden out in a vacant mansion in Glyfada. Learning of Christy's survival is the only thing that brings him out of hiding. People, open spaces, even the most common of sounds frighten him beyond reason. A mere ghost of a boy, Thimi arrives in the US with no knowledge of the outside world—the only constant in his life a purple marble. Lost, shattered, and afraid, only hope gives them the strength and courage they need to begin anew.
Child abuse casts a shadow the length of a lifetime.
~Herbert Ward
Elpída
Pairing: M-M
May 30, 2017
Word Count:
230,861
Character Identities:
Gay
Summary: The tiny Sierra Nevada community of Stone Acres looks benign on the outside, but it's been a hive of activity since gay men from Silicon Valley began moving in. The Old Town establishment is up in arms as newcomers challenge the conservative community to move into the new millennium. Along the way, gay couples find true love and a new home. Contains the stories: What's in a Name?: When barista Jimmy is dumped and gets drunk on his 30th birthday, a handsome, hunky bartender takes care of him, but is mum about his real name. When Jimmy presses him, the bartender makes the quest a game, giving him seven guesses and promising romance each night. For every wrong guess, Jimmy has to forfeit a hot, sexy kiss. Sounds good, but what's the catch? Redesigning Max: Out and proud award-winning designer Fredi Zimmer takes on straight outdoorsman Max Greene's cabin renovation. When he finds out Max is closeted and wants to come out, Fredi helps Max remodel not only his cabin but his life. Angered that Fredi has turned him, Max's former friends intervene. Will Fredi and Max win the fight for their happiness? Behr Facts: After CEO Abe Behr discovers discrepancies in his construction company accounts, he hires CPA Jeff Mason to help him find the embezzler. Searching for the culprit, they become closer, and Abe realizes he's gay. However, coming out to a hostile family and community may break up the couple before they cement their happiness. With so much strife, will love prevail? When Adam Fell: Jason's drug addiction ripped them apart. Does Adam want to get back together now that his former lover says he's clean? Relative Best: When hotel owner Zeke Bandy meets Vic Longbow, he sees stars. But Vic is in town to attend a wedding and to open an office, not to fall in love. Are they doomed as lovers because they're both too busy for happily ever after? Frank at Heart: What will it take to make hardware store owner Frank update himself and his store? Could the new man in town be the key to unlock Frank's life and future happiness? Waking the Behr: Ladies' man and small town contractor Ben Behr is blindsided by his lustful feelings for San Francisco entrepreneur Mitch O'Shea. Can a country mouse and a city mouse bridge the gap in their upbringing and expectations to find love? Short Order: Amid the happiness of the Christmas season, horticulturist Fen Miller and his landlord sous chef John Barton have some serious decisions to make. Fen must decide on a career and John on eluding his grim past. Together can they support each other enough to discover their happily ever after?
Foothills Pride Box Set
SALE
Pairing: M-M
July 31, 2021
Word Count:
25000
Character Identities:
Bisexual, Gay, Polyamorous
Summary: He will live his life for the love of a king... Ardan is overjoyed when he is selected to become the new court sorcerer for the King of Phelin. He expects to be giving advice to the king and court about anything and everything magical, but he doesn't expect to become the close friend and lover to the heir to the throne, Caol. When it happens, he chooses to find peace with it and enjoy it - until an invading army takes control of the country and tears their relationship apart. Ardan is left to fulfill his lover's last request; to take the newborn baby prince away from the conquered capital and raise him to restore Phelin. But raising Prince Caolan and helping him to regain the country will not be simple, not when Caolan has his own ideas about the way things should be.
For the Love of a King
Pairing: M-M
September 15, 2015
Word Count:
131676
Character Identities:
Gay
Summary: Choices. You cannot escape the consequences of your choices. TJ's choices have landed him in a whirlwind of trouble. Legal trouble. As he faces the biggest challenge of his life, he is also demanding answers about his past. Will TJ beat this case that is moving through the criminal justice system, or will his future come tumbling down? Will TJ have to reap the consequences of what he has sown? The choices Seven made are haunting his mind. Several people believe he was responsible for the Jaquez situation and that choice he made will return some grim results. While Seven tries to shake off the mistakes of his past, a new love interest develops. The choices he makes with this love interest can also come at a costly price. For Seven, do the ends justify the means? Insert Elijah. His past choices have led him to his new truth which causes the relationship with his mother to take a drastic turn for the worst. But why? What is really causing these problems in his home? What is really at the core of Elijah's issues? Is his mother to blame? Or is it something deeper? What will Elijah do when the demons in his head take him to a place of no return? While the friends tackle these storms in their lives, something more sinister is at work. A plan is being crafted to destroy them at their core. Dark secrets will be revealed. The ultimate betrayal will occur. Someone will meet their untimely death. In their world, all bets are off. Who can you trust? Who do you trust?
Free Yourself
Pairing: M-M
February 24, 2022
Word Count:
42700
Character Identities:
Bisexual, Gay, Genderfluid, Non Binary
Summary: Three M/M holiday stories in one festive collection! Home is Where the Christmas Trees Are A grieving brother caring for his niece receives holiday hope from the cute band instructor at his niece's school. After the death of his sister, physical therapist Dex abandons his urban single life to move to a smaller town and raise his 12-year-old niece Rowan. Christmas is approaching, and he doesn't have a clue how to make the season merry—for Rowan or for himself. Then he meets Rowan's teacher, Ed, and things start to get brighter. Middle-school band teacher Ed is kind and handsome, totally single, and likes kids, music, and holiday decorations. He also happens to be killer at trimming Christmas trees. Like a twinkly Christmas elf, Ed brings with him the possibility of love, home, and celebration, and Dex is immediately smitten. But how will Rowan feel about her uncle and her band teacher getting involved? A Holiday Crush Opposites attract as a jaded San Francisco trial lawyer and a young Berkeley activist find their way to love. San Francisco lawyer Brad is in a rut. At forty-one, he's successful but alone, and even his holidays are predictable. Then attractive but oh-so-young filmmaker and activist Michael invites him out. Michael lives in a group house in Berkeley and as Brad joins the group in their holiday celebrations, he learns that life can be joyful. But he hesitates to saddle Michael with a much-older boyfriend. Michael longs for a partner, and he hopes serious but sweet Brad Halberstam is the one. His housemate reminds him that Michael always latches on to someone during the holidays, so he won't be alone. After a misunderstanding, Michael loses heart, no longer sure if his relationship with Brad is real or just another holiday crush. Pattern for an Angel Can an angel gown for a little boy let a single dad and a drag queen stitch together a new pattern for love? Hospice nurse Gabe Martin is bisexual but doesn't have time for love—his main priority is raising Ian, his adopted five-year-old son. Ian loves wearing dresses at home and wants an angel gown for his kindergarten holiday pageant. When Gabe visits a sewing store to get help with Ian's costume, he's assisted by a bewitching employee named Loren who opens up Gabe's focused world. Drag queen Loren Schuster likes playing with gender norms and wearing skirts and dresses in everyday life. A bad breakup killed his interest in serious relationships, but he reconsiders that stance when gorgeous single dad Gabe walks into the shop. Loren helps young Ian see it's okay to be himself, and together, Loren and Gabe create a new pattern for a family full of love.
Happy and Merry
Pairing: M-M, M-NB
December 14, 2020
Word Count:
93000
Character Identities:
Bisexual, Straight
Summary:
When three isn't a crowd...
It was only supposed to be a vacation fling during a writers' retreat to England and Scotland. So why does being with him--with them--feel so right?
PAIGE
My work and my daughter are my life. I agreed to a vacation fling with one man--and now there are two! Things are getting far too complicated...
RILEY
I lost hard at the game of love, and now I don't even want to play. I just want to have fun, but there's something about him--and her--that's calling to me...
CARTER
My relationship with my ex-wife gave me PTSD. I've found the man I want--but he wants us to have a girlfriend too. I'm not sure I can do that, even for him...
Her Two Men in London
Pairing: M-F, M-M, M-M-F
May 15, 2018
Word Count: Information not available
Character Identities:
Bisexual, Gay, Straight
Summary: When Martha returns to the homestead after five years away at school, the excitement of her arrival is somewhat overshadowed. There's a new pack in town who appear friendly enough but something about them raises both the Alphas hackles. But any reservations about their new neighbors don't stop Martha from falling for the charms of the handsome wolf set on seducing her. With his stubborn daughter intent on giving up her future plans, his youngest son out of control and Ephraim not doing much better, Caleb struggles to keep his family together, risking his relationship with Jacob in the process. And, of course, the surprise guest that Martha brings with her doesn't help matters either. And as for Martha, her whole life has been an adventure of books and learning, until Albert captures her heart. But while she wrestles with her feelings, there's a constant presence waiting in the wings. Someone that will catch her if she falls. Someone that always has, and always will. If she'll let him. No matter how far you go, there will always be a home for you in my heart. 70+k words **This book is not an MF romance as such, despite one of the story lines having a female protagonist. It is a continuation of the gay family series.
Home in your Heart
Pairing: M-F, M-M
February 16, 2018
Word Count:
107000
Character Identities:
Gay
Summary: Murder, trauma, and raising children - who said love was easy? Mac and Tony thought the hard part was over. They're together openly as a couple, sharing a home and building a life with their two kids. It's what they dreamed of. But daughter Anna struggles with the changes, Ben is haunted by old secrets, Mac's job in Homicide still demands too much of his time, and Tony is caught in the middle. It'll take everything these men can give to create a viable balance between home and work. Especially when life refuses to give them a break. (This suspenseful mystery-romance is a lightly edited rerelease of the 2012 original.)
Home Work
Pairing: M-M
January 6, 2022
Word Count:
102000
Character Identities:
Bisexual, Gay
Summary: Scott I've done a lot of soul-searching this season. I've been in denial about myself and a jerk to everyone else. I don't even know where to start to fix it all. I don't know what to feel about anything. How am I supposed to handle falling in love? Hunter I'm good at faking it most of the time. No, not that. I mean faking like I'm okay. Like something doesn't always hurt, especially when I'm trying to earn my pay. He gets it. More than anyone I've ever met, he gets it. But he's got pain no one can touch. Not doctors. Not me. How do I convince him that shutting me out won't take away that pain? Gentlemen of the Emerald City Hunter is the sixth and final book of Gentlemen of the Emerald City, a sexy series centered around the high class, high-dollar Gentlemen of Seattle's most exclusive escort service. Each book is full of snark, sass, and sweetness, and like any Emerald City client, you're guaranteed a happy ending.
Hunter
Pairing: M-M
October 6, 2021
Word Count:
91000
Character Identities:
Gay
Summary:
Mac's three goals: keep Tony safe, catch the killer, don't come out. Tony Hart's a dedicated teacher, though he's not much older than his high-school students. Between his profession, a few good friends, and plenty of books, he's content with his quiet life. Then the murdered body of another teacher falls into the elevator at his feet, and Tony's life becomes all too exciting. Jared MacLean is a homicide detective, widowed father to a young daughter, and deeply in the closet. But from the moment he meets Tony's blue eyes in that high school hallway, Mac can't help wanting this man in his life. Mac's not out ― can't afford to be out ― but Tony makes him want the impossible. Mac isn't the only one with their eyes on Tony, though. As the murderer tries to cover their tracks, Mac has to work fast or lose Tony, permanently. (This is a rerelease of the 2011 original with light editing.)
Life Lessons
Pairing: M-M
November 14, 2021
Word Count:
154047
Character Identities:
Bisexual, Gay, Questioning, Straight
Summary: In the final book of this epic, memorable, mind-blowing series, Zach makes a choice regarding his long-term future. Will he pick Dray, Dwight or neither? Zach also comes face-to-face with his father and that interaction could have long-lasting impacts on the brewing relationship with his brother. In a series of heart-to-heart conversations with his mother, he learns the truth of his childhood foundations which shaped him into the man he is today. Dwight is on the search for liberation as he comes clean to the people he loves the most. He is determined to see his divorce through to the end and doesn't care what all it might cost him. Kris and Rozi come to a resolution about the issues that plague their marriage. While Rozi is forced to deal with her shattered past, she learns more unwanted news about her family. Will Rozi and Kris make it through the fire or has too much damage been done? While Raidon is trying to put his life back together after Micah's devastating situation, Tony makes an announcement that will forever change their relationship. TJ finds himself in a serious bind as Eli plots to remove Trae from their lives. As Dray continues his sessions with the therapist that brings him closer to healing, Phoenix deals with a situation from his past that can cause imminent danger to his livelihood. Join Zach and the crew for one final ride as these characters are forced into decisions that will forever shape their destiny as all of their lives finally come full circle.
Life of an EX College Bandsman 11: The Finale
Pairing: M-F, M-M
February 21, 2018
Word Count:
161301
Character Identities:
Bisexual, Gay, Questioning, Straight
Summary: Zach has a void in his life and desperately wants out of New York. Is this void dire enough to force Zach away from Dray? Both parties are harboring secrets, so turbulent times are on the horizon. Zach and Dray have been together for nearly eight years, but will this partnership make it through the next two months? To the outside world Dwight is living the perfect life. He has a wife, three kids and a house with a white picket fence. But once you step inside the Taylor household, you'll quickly discover things are not always what they appear. Over the next two months, Dwight will make some choices that will impact him—and his family—forever. Tony and Raidon are relocating. TJ isn't happy about his parent's decision, but this move will bring three special people into his life that ultimately shows just how small the world really is. In the seventh book of an eleven book series, seven years have passed since we've last seen the gang of friends and the groundwork is laid for the epic conclusion to this series. And in an amazing twist, Jaxon Grant incorporates a storyline from a previous series that makes everything come full circle. The mix of new and old characters are guaranteed to leave you wanting more, but will also prove that nobody's perfect.
Life of an EX College Bandsman 7: Nobody's Perfect
Pairing: M-M
September 22, 2016
Word Count:
159796
Character Identities:
Bisexual, Gay, Questioning, Straight
Summary: Zach's past transgressions are eating him alive. The weekly counseling sessions with Dray maybe working, but will it force Zach to admit his truth? Dray has hinted that he knows what happened seven years ago, but how? Dray may have bigger problems on his hands though. He's hiding a secret from his son, and Dray's baby mother has information that could be fatal for several relationships close to both Dray and Zach. Dwight is on the verge of a mental breakdown as his marriage continues to hang in the balance. What his wife does this go around just may push him over the edge. His attorney has advised him of his best options, but Dwight will take her advice? What will Dwight do when he's had enough? Elijah and TJ are coming into their own as young men, but both teenagers are on the brink of disaster. Elijah makes some decisions that could impact his immediate future, while TJ discovers information that turns his world upside down. How will the best friends fare when the dust settles? The eighth book of this eleven-book series, covers the next twenty days in the lives of these characters, leading up to Zach's thirty-third birthday party. Friendships will be tested. Secrets will be revealed. Big commitments—and explosions—are on the horizon, as the last thirty hours will change lives forever.
Life of an EX College Bandsman 8: Growing Pains
Pairing: M-M
December 18, 2016