Word Count:
21534
Character Identities:
Bisexual, Gay
Summary: Josh has stepped back into the closet for a guy, but how long can he stay there? Life in a college town suits Josh Cassidy. He has good friends and neighbors, and the bookshop café he runs with his family is thriving. As the winter holidays begin, Josh finds himself enamored with police officer Alex Curiel, an old friend who has recently moved back to town. The trouble is, Alex isn't ready for the world to know he's attracted to men. At Alex's request, Josh agrees to closet their relationship, though the secrecy quickly becomes a burden. When Josh realizes he is falling for Alex, his ability to hide his feelings from the world begins to slip, and he's forced to decide if love is enough to keep him hiding behind closed doors. A Hometown Holiday is a 21.5K sex-buddies-to-lovers MM novella. It features a bookshop owner with a fondness for jazz music, a closeted cop who could be Mr. Right if only he'd give himself a chance, and the warm, fuzzy HEA that both guys deserve.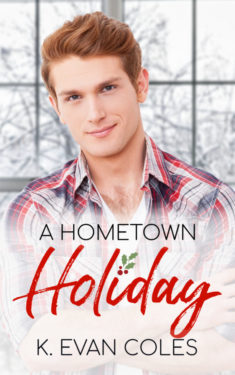 A Hometown Holiday
Pairing: M-M
December 12, 2018
Word Count:
3588
Character Identities:
Gay
Summary: Max Futé lost his license to practice medicine when he assisted someone he loved to die. His only chance of working again is to join up with Prinzip, an anti-terrorist organization in Paris. He manages to subvert the madmen running Prinzip and save numerous lives. Among those is WBIS agent Charles Browne, with whom he falls in love. When the organization is taken down and they're rescued, Max is brought to the US to work for the WBIS. Browne invites Max to move in with him, and the little French doctor thinks all his dreams have come true. Unfortunately, Browne is a commitment-phobe, and sees Max as nothing more than a convenient body. Will Max stay with him? Or will he cut his losses and find someone who will love him as he deserves? Note: This short story was originally published in the charity collection, Love Is Proud.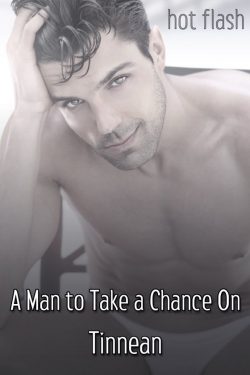 A Man to Take a Chance On
Pairing: M-M
December 22, 2018
Word Count:
70000
Character Identities:
Demisexual, Gay
Summary: Reed Matthews lives a quiet and structured life in the small town of Edgewood. Going on his sixth year as the principal of a Catholic high school, Reed thrives on routine, but one unplanned excursion for Chinese takeout is enough to send his meticulously-constructed world into a tailspin. After growing up in foster care, Dominic O'Halloran decided to enter seminary in his early twenties, and he's dedicated his adult life to creating space for the LGBT community. Weeks after answering the call from St. Paul's and moving to Edgewood, Dominic finds himself face-to-face with the one person he's never been able to leave in the past--his childhood best friend. Dominic and Reed find themselves entangled in decades old unresolved feelings and a complicated, new emotions. Reed is terrified of losing his soul, and Dominic is worried about losing his heart. But all it takes is one make-believe kiss for them to realize they'd throw everything away for another chance at happiness.
A Taste of Sin
Pairing: M-M
March 20, 2019
Word Count:
105,980
Character Identities:
Bisexual, Gay, Genderfluid, Questioning
Summary: Olympic-size dreams come at a price. Openly gay college swimmer Ian Harrington feels like he's fighting against a current of tragedy. He's grieving the loss of his parents and best friend, and now he's dealing with a toxic coach and judgmental brother. But he won't let that stop him from chasing his dream: Olympic gold. Ricky Chavez has just about everything he wants in life: a great career, a supportive family, and a side gig as drag queen Rosie Riveting. The only thing he's missing is a partner to share it all with. When the two men connect after Rosie's performance, they're immediately drawn to one another. But it's never that simple. Ricky isn't the type of man to hide, and with Ian's coach breathing down his neck, he can't openly love a drag queen without making waves. They'll have to brave deep waters to make it to the finish line.
Advance & Retreat: The Midwest Series Book 4 - Ian & Ricky)
Pairing: M-M
July 14, 2020
Word Count:
56000
Character Identities:
Bisexual, Gay
Summary: What happens when a cruise ship romance crashes on the rocky shores of reality? Jonathan Vallen, a gentle musician who loves to garden, is failing miserably at running his father's Boston company. When hotshot executive Marco Pellegrini takes over, a humiliated Jonathan moves to Cape Cod and spends a year transforming from an insecure duckling into a sexy swan. They meet again on an LGBTQ Caribbean cruise and when Marco doesn't recognize him, Jonathan pretends to be someone else for the week—Jonah Rutledge—someone good enough to be loved. Intrigued by Jonah, Marco lets down his defenses and their shipboard fling deepens into something special. Back on land, the romance crashes when Marco discovers who Jonah really is. While Marco struggles to understand the deception, Jonathan resolves to win back Marco's trust. But Jonathan's father takes vindictive action against Marco for daring to get involved with his son. Will Marco and Jonathan defeat their own fears as well as the challenge from Jonathan's father? If you like swoony romances in tropical paradises, hidden identity, and the courage to love in the face of adversity, then you'll love All the Way to Shore.
All the Way to Shore
Pairing: M-M
January 6, 2020
Word Count: Information not available
Character Identities:
Bisexual
Summary: Adam Lansing has always relied on his charm to get by. Sure, he's starting over—new school, new graduate assistant position—but he knows he won't have any trouble working his magic on anyone he chooses. Antonio "AJ" Mancuso is deep inside his own head. He's cool, calm, and confident. But despite all the friends around him, he often feels like he straddles two worlds. Is there anyone who could love him for everything that defines him—past and present? From the first time they meet, Adam is determined to get gorgeous AJ to notice him. But just as the heat is cranking up between them, Adam spots AJ with another man. Adam strikes back through a fling with an ex. But when he discovers the truth behind AJ's behavior, he realizes that his magic won't clean up for him this time.
An Act of Devotion
Pairing: M-M
May 1, 2016
Word Count:
78000
Character Identities:
Ace, Demisexual, Gay, Pansexual, Polyamorous
Summary: In the final installment in the SoulShares series, author Rory Ni Coileain weaves together the myriad threads of this compelling paranormal romance in a climax that crosses time and space. Sometimes Fae love stories aren't what you expect. The Marfach—devourer of magick, long-imprisoned mortal enemy of the Fae race—is free of its Antarctic prison. The Demesne of Purgatory—Fae, humans, a Fade-hound puppy, a Gille Dubh, and a darag—is all that stands between the monster and the power it needs to destroy both the Fae Realm and the human world. The only clue they have as to how to kill the unkillable is a cryptic note from the Loremasters: "Osclór, Nartú; Tobar, Soladán; Nidantór, Breathea; Glanadorh, Coromór, Farthor; Scian-omprór, Nachangalte; Crangaol, Síofra; Gastiór, Laoc, Caomhnór; Fánadh, Ngarradh." Opener, Strength; Wellspring, Channel; Unmaker, Judge; Cleanser, Equalizer, Sentry; Blade-bearer, Unbound; Tree-kin, Changeling; Binder, Warrior, Guardian; Wanderer, Sundered. As they rebuild Purgatory from the rubble the Marfach left behind, they have to stand together, using everything they know—everything they are to their partners, lovers, husbands. Everything SoulSharing has made them. And not everyone who enters the final battle will leave it.
Back Door Into Purgatory
Pairing: M-M, M-M-M
October 2, 2019
Word Count:
95000
Character Identities:
Gay
Summary: It's good to be the Boss. That's what I thought my whole life. Now I am the Boss. I'll shoulder that responsibility with my beloved husband beside me. As long as I have Finch, I can handle whatever life throws at me. But what they say is true: Be careful what you wish for. My Family has been decimated. My allies are few. I'm holding onto power by a thread. And the truth is, my husband is more vulnerable than ever. He's always been a lost soul, and now he's suffered yet another crushing loss. I can't protect him from Fate's cruel blows. But I'm determined to protect him from our enemies, no matter what it takes—as soon as I get my own house in order. Because I'm starting to wonder if there's a traitor in the Morelli Family… If I can't even trust my own men, how can I keep my beloved safe?
Beloved by the Boss
Pairing: M-M
August 26, 2020
Word Count: Information not available
Character Identities: Information not available
Summary:
Silent night, holy hell. Thaddeus and Sarasija are spending the holidays on the bayou, and while the vampire's idea of Christmas cheer doesn't quite match his assistant's, they're working on a compromise. Before they can get the tree trimmed, they're interrupted by the appearance of the feu follet. The ghostly lights appear in the swamp at random and lead even the locals astray. When the townsfolk link the phenomenon to the return of their most reclusive neighbor, suspicion falls on Thaddeus. These lights aren't bringing glad tidings, and if Thad and Sara can't find their source, the feu follet might herald a holiday tragedy for the whole town. This holiday novella can be enjoyed alone or as part of the Hours of the Night Series.
Bonfire
Pairing: M-M
November 15, 2016
Word Count:
80000+
Character Identities:
Bisexual, Gay
Summary: Sereno Hidalgo, newly divorced from his husband, flies to San Juan, Puerto Rico to reconnect with Esteban, an estranged cousin who owns a coffee plantation. But with Hurricane María only days away, the reunited Hidalgo cousins—together with Esteban's wife—are forced to prepare for the worst storm to strike the island in a century. As with any natural disaster, there is invariably something to grab you by surprise, something to take you by storm. For Esteban, it's the shock of a family scandal long kept secret, but revealed by an unusual acquaintance. For Sereno, that surprise is Augusto Toro, the splendid personification of African, Native American, and Spanish cultures that produce the great majority of Puerto Ricans. As María churns in the Atlantic, ever closer, Sereno finds himself inexplicably attracted to the handsome man everyone calls Chocolate, pronounced Cho-koh-lah-teh. Sereno was never noted for detecting red flags in his affairs. The only thing he was ever good at was running away once trouble become clear. Now he can't. He's too far gone, in too deep, and the hurricane is way too close to run. Sereno must find a way to cope with both the fear of loving a bisexual man and handling the mind-numbing, horrifying impact of the ravaged land called La Isla del Encanto.
Café y Chocolate
Pairing: M-M
February 3, 2019
Word Count:
83,806
Character Identities:
Gay, Lesbian, Straight
Summary: When chaos strikes at the heart of Milan, it is up to Florentina's alter-ego the Night Flyer to stop it. As Florentina and Madelena's love deepens, so does the well of danger surrounding them. The race is on to discover the mysterious Shadow Guild and uncover who is behind the deadly rampage, but Florentina's mission is threatened by a gang of assassins. Can the Night Flyer prevail, or will Maddie's love be ripped from her arms? Chaos in Milan is the third book in Edale Lane's Night Flyer Trilogy, a tale of power, passion, and payback in Renaissance Italy. If you like action and suspense, rich historical background, three-dimensional characters, and a sweet romance, then you'll want to complete the Night Flyer saga. Order your copy of Chaos in Milan today!
Chaos in Milan
Pairing: F-F, M-F
December 21, 2020
Word Count:
115000
Character Identities:
Gay
Summary: Luca thought keeping me out of the Family business would keep me safe. He was wrong. Now his own life is hanging in the balance. While our enemies stalk us, long-buried secrets begin to resurface, and I'm not sure who we can trust. But I won't let anyone take him from me. No matter what I have to do. I meant every promise I made to Luca in my marriage vows. And now it's time to make good on them -- for better or worse. Till death do us part? Over my dead body. I've been underestimated my whole life. But if there's one thing our enemies should have counted on, it's my love for my husband. My devotion to the Don. *** Join Finch and Luca in a dangerous, action-packed, steamy adventure that takes them from New York to Boston, through Roman ruins and a Venetian masquerade, as they redefine their marriage and search for a way to eliminate their enemies for once and for all. Devoted to the Don is the sixth and final book in the Morelli Family series.
Devoted to the Don
Pairing: M-M
December 26, 2021
Word Count:
64,000
Character Identities:
Gay
Summary: Konner was looking forward to learning more about his family heritage. What he found was his entire life was a lie. Even the worst mistakes can be forgiven. Konner O'Flattery, a passionate amateur genealogist, has finally gotten back the results of the DNA test he took. He's been waiting months to uncover what mysteries his DNA has locked inside. But his results aren't anything like he expected, and he unearths a secret buried since birth. His heart becomes shattered leaving no room for forgiveness. Now, Konner feels compelled to go on a journey to find the truth of who and what he truly is. Through the miracles of modern technology, Konner meets his distant cousin, Aaron Kirschenbaum. Turns out, he knows exactly who Aaron is, yet they've never met. Aaron makes the girls and boys alike swoon from his stunning good looks and velvety voice. Unfortunately, he's picked up a bad habit of abusing his status for his own personal gain. Konner's story pulls on the strings of Aaron's heart. So, he offers to help Konner, in any way he possibly can. Aaron finds Konner to be incredibly attractive, so the two men are swept up into an intense romance filled with sensuous heat and passion. Distant Cousins is Eric Huffbind's second published novel, a Contemporary Gay Male Romance. Take a journey with Konner as he finds heartbreak, intrigue, love, passion, and the importance of forgiveness. If you want to rekindle the euphoric high of falling in love, Distant Cousins is the book for you.
64,000 words / No cliff hanger / HEA
This book is intended for mature audiences
Don't wait! Buy the book today and begin your journey to "Happily Ever After."
Distant Cousins
Pairing: M-M
September 28, 2018
Word Count:
92000
Character Identities:
Gay
Summary: He's an FBI profiler who's half my age. Contact between us is forbidden. But I can't stay away from him. As the Morelli Underboss, I'm the Family problem-solver. So when a task force blames the Morellis for a series of murders in Central Park, it's up to me to restore our reputation. But Fate puts me on a collision-course with an agent on the very task force dedicated to bringing down my Family… And we end up on the run together. My heart has been ice-cold for decades, but something about him sets my blood on fire. It would be crazy of me to trust a Fed. But he claims he wants to prove my innocence. That the enemy of my enemy is my friend. We each want to solve this case for different reasons, but we'll both end up dead if he can't follow my lead. So to make him behave, I'll use every weapon I have—including my body. But why do I feel like I'm the one losing control? Enticed by the Enemy is a M/M mafia romance set in the world of the Morelli Crime Family. It can be read as a standalone, but it's even more fun to read the series in order. Characters and events from previous books are referenced.
Enticed by the Enemy
Pairing: M-M
January 18, 2021
Word Count:
62407
Character Identities:
Gay
Summary: The 'Scattered Thoughts and Rogue Words' blog said this about Love's Glory: "In a way, Love's Glory is Janice Jarrell's gift to her reader's and this couple who have been through so much angst and pain and have now mostly emerged through the other side, intact and ready to move forward to the next stage in their lives." Ms. Jarrell's newest offering, Glory Days, enhances this gift with fifteen short stories set in the Love's Glory universe. The tales begin while Colin and Joshua are still on their honeymoon in Ireland and conclude just before Colin begins law school. Story topics range from the achingly romantic and sexy ("Walking In The Rain") to the hilariously comical ("Conversations At The Cabin"). Colin and Joshua aren't the only stars in Ms. Jarrell's latest work. All six Revolutionary Heart men are featured. David and Nate get their own story ("Playing The Part") and Trent and Jeff also get a piece exclusive to them ("Trent's Triplets"). The love is enduring, the humor is at once warm and side-splittingly snarky, and the lovemaking is intense. You won't be sorry you followed the passionate and deeply devoted men of Revolutionary Heart on their newest journey in Glory Days. This book contains mature content including explicit sexual relations between gay couples. + 18 years of age
Glory Days
Pairing: M-M
January 17, 2020
Word Count:
70000
Character Identities:
Gay
Summary: Their road to redemption will take them through hell, but are they willing to pay the price? Cordero and Gideon are more in love than ever, but they're also in more danger. Coordinating the soup kitchen's reconstruction puts Cordero under the drug lord's thumb. But the risk proves fruitful when he learns Stevens is dealing in something more deadly than drugs. After four months of ignoring the search for his own cure and instead trying to fulfill a promise he made to a dying monster, Gideon is no closer to finding Kaylie. When Gideon's curse takes an unexpected turn for the worse, it threatens more than their mission. It threatens their future. Even with the help of their found family–a witchy nun and a ninja store clerk–Cordero and Gideon may not have enough time to stop Dane Stevens and save the soul of Cleveland before Gideon's curse destroys them all. ------------ This is book 3 of a trilogy that MUST be read in order for maximum reader enjoyment.
Granting His Absolution
Pairing: M-M
December 15, 2020
Word Count:
110840
Character Identities:
Lesbian, Straight
Summary: When Robyn's father and brother are killed in the Third Crusade, she is banished from her manor home and branded a traitor by the Sheriff of Nottingham. Disguised as a boy, she joins Little John and the rest of the gang in Sherwood Forest—and soon finds herself their leader. Queen Eleanor suspects Prince John is up to no good, and colluding with Sir Guy and the Sheriff of Nottingham. To learn more, she engages Maid Marian as a spy—and unwittingly reunites Marian with her old childhood friend, Robyn. Together, the women help the queen acquire the funds needed to free King Richard and help Nottinghamshire—and perhaps fall in love along the way.
Heart of Sherwood
Pairing: F-F
October 19, 2018
Word Count:
69k
Character Identities:
Gay, Pansexual
Summary: Tony award-winning musician Reese Matheson's life resembles a natural disaster, and caregiver Jude De La Torre is caught in the eye of the storm. Can the love these two opposites find together survive caring for an ornery octogenarian with wayward balls and a meddling family insistent upon tradition? A public break-up is not what Reese expects upon returning from the successful run of his musical in London. All he wants to do is spend time with his beloved grandfather and musical mentor, who suffers from Alzheimer's. Reese knows he doesn't have much time left before the elder Matheson doesn't remember him. In classic "Hurricane Reese" form, he moves into the cottage by the sea, displacing Jude, the intriguing caregiver he'd hired two years before. When Grandpa proves too much for Reese to handle on his own, Jude comes to his rescue, taming Grandpa… and the Hurricane as well. Soon all Reese can think about is how to get Jude out of his scrubs and into his bed. Permanently. Will Hurricane Reese destroy everything in its wake, or will this gay odd couple learn to harmonize together?
Hurricane Reese
Pairing: M-M
January 30, 2018
Word Count:
110,000
Character Identities:
Bisexual, Gay
Summary: Oh, what a tangled web we weave... Los Angeles, 1956. Coleridge Fox has a liar for a lover, a gambling debt he can't pay, and his screenwriting career is D.O.A. He thought the Incubus, a serial killer hunting in Hollywood's back streets, was the least of his worries, but now he's starting to wonder. Cole fell for the suave Leo Mancini the day they met, but is it ever really possible to trust a liar--especially when Mancini makes a murder suggestion sound like a marriage proposal? Incubus is a standalone novel intended for mature readers who enjoy the darkness and moral ambiguity of noir stories. It is high heat, twisted, and not for the faint of heart. Note: there are no truly happy endings in noir.
Incubus
Pairing: M-M, M-M-F, M-M-M
June 27, 2019
Word Count:
28000
Character Identities:
Gay
Summary: Calypso knew he looked good. He loved bright colors, makeup, and most of all, high heels. The higher the better. The sassy mouth and self-assured man he presented to the outside world wasn't how he felt on the inside. At the Knights Club he hide the self-doubt and depression. Until, Benedict Hart walked in bringing all his old demons back to life. Benedict Hart was a high-priced gigolo. It's not what he started out in life to do but it paid the bills. Meeting Calypso at the Knights Club turned his world upside down. The man was sexy, smart mouthed and completely sure of himself. He made Benedict want things he hadn't thought about in years. Losing a dear friend spurs him into action, but will his past get in their way? The Knights Club hosts a group of characters diverse in every way, but they are family. Xavier Knight watches over them as if they were his children. And, like most families, things don't always run smoothly.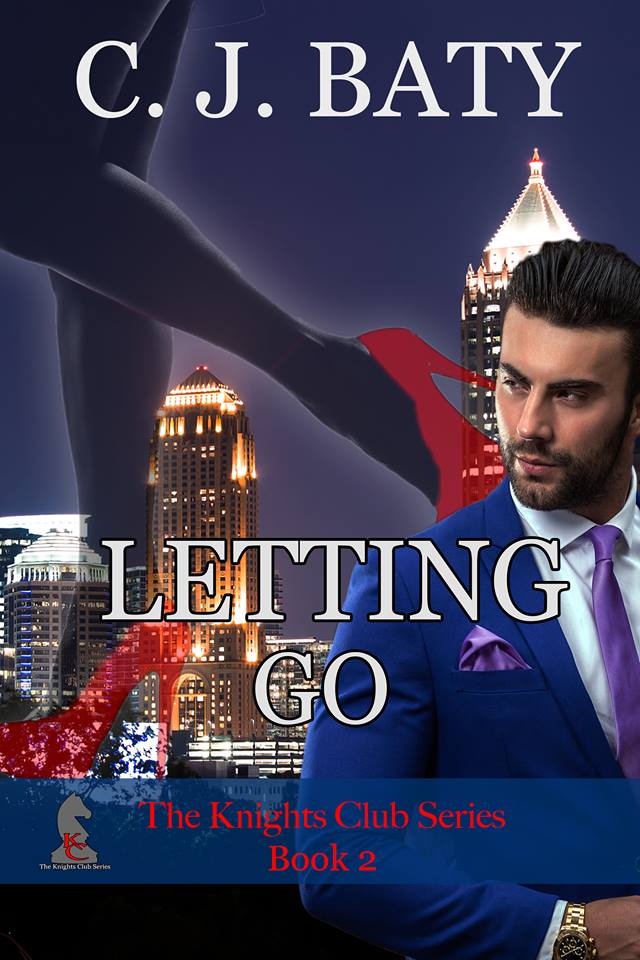 Letting Go
Pairing: M-M
October 18, 2018