Word Count:
30000
Character Identities: Information not available
Summary: Christmas has come on the ridge, Levi and Travis are busy getting ready for the biggest celebration the old farmhouse has seen in years. But a cloud of sadness still haunts Levi after losing both of his parents only a month ago. Meanwhile, Jeannie is seven months along in her pregnancy and has a bad case of the holiday grumps, and when the city council asks her to play The Virgin Mary in the town Christmas Parade she must decide whether she wants the responsibility, and when her husband Tony has to work; she asks her ex-fiance Jake to play Joseph, making his husband Shane jealous. Back At Magnolia, While he is searching for decorations in the attic he discovers a secret his father had kept hidden from him and his mother for years; he has a half-brother, and it's someone he and Travis have met before. Join Daniel Elijah Sanderfer and the cast of characters you have come to love for the epic seventh book in the Best Selling Magnolia Ridge Series. Even if we aren't feeling the holiday cheer, Christmas still lives in all of us. We just need help finding it sometimes.
A Magnolia Christmas
Pairing: M-M
December 17, 2018
Word Count:
20000
Character Identities:
Gay
Summary: This is a re-release of a previously published work. New material added and re-edited with a new cover. Walt Thompson had started training for the Olympics when he was just in grade school. Skiing was like second nature to him. It was all he had ever dreamed of. A great coach and a fabulous sponsor and he was on his way. Until a freak accident on the slopes at the winter try outs, left him with a broken leg and a very dark future. On top of all that, the man he thought he was in love with walked out. Leaving him to deal with the pain of losing his dream and going on with his life. Years later, he found himself working as the ski instructor at his family's lodge. This was not the dream he had wanted. Then one day a handsome man literally knocked him off his feet. Curt Woodridge was an entertainer. He was singing in the lounge at his family's lodge. Could this be the beginning of a new dream for Walt or just another crashing blow to his already fractured spirit?
A New Dream
Pairing: M-M
February 13, 2018
Word Count:
149,000
Character Identities:
Bisexual, Gay
Summary: The star of the University of Virginia theater department, Aidan Emery is lusted after and admired for living out and proud. He uses his talent and good looks to his advantage and never sleeps with the same guy twice. But his glamorous patina has been carefully honed to hide the pain he carries inside. Aidan wasn't always such a player. He starts college naively romantic, hungry for the attention he can't get from his workaholic father and mentally ill mother. Unfortunately, that leaves him ripe pickings for predatory professor Rodney Montgomery. Rodney's flattering regard seduces Aidan into a dysfunctional relationship that destroys his innocence. Life looks up for Aidan when he finally breaks free of Rodney's pull and moves to New York City to make it as an actor. Meeting sweet fellow actor Patrick Jaymes seems like the start of a fairy tale. But before Aidan can rebuild his life into happily ever after, family secrets rip him wide open, leaving him easy prey when Rodney decides he's not willing to let Aidan go.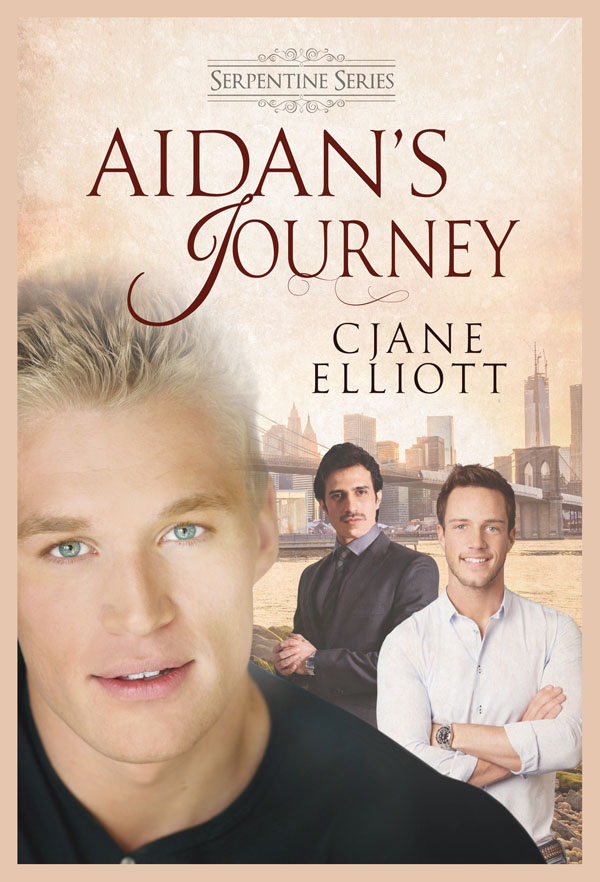 Aidan's Journey
Pairing: M-M
October 15, 2014
Word Count:
20000
Character Identities:
Gay
Summary: Persuasion, the action or fact of persuading someone or of being persuaded to do or believe something All my life, I was persuaded to blindly believe in things; that they would get better, that I would never fit in, that the way I felt deep down inside was wrong; that the love I felt was a mistake and a sin. But, whats a coming of age boy to do when all he desires is to kiss his best friend. Growing up in the Blue Ridge Mountains, everything you do whether good or bad is looked upon with judgemental eyes. Just like the mountains that overshadow the valley below, they hide the secret bygones and people I used to know. From tragedies that can tear families apart, to secret kisses stolen in the dark. Join best-selling author Daniel Elijah Sanderfer for this heartwrenching coming of age story about coming to terms with feeling different and about the bygone persuasions of the first time he kissed a boy.
Bygone Persuasions
Pairing: M-M
July 1, 2019
Word Count:
36000
Character Identities:
Gay
Summary: 1862 – Maxwell Ryder refused to honor a prearranged marriage with Penelope Walker. Instead, he fell madly in love with her younger brother, Jeremiah. Present – Luke Ryder was the last descendant of the Ryder family. It was on his watch that the family's great home, White Oak Manor, was sold to a rich businessman named, Jacob Walker. Jacob fell in love with White Oaks Manor before he ever met the man who had to sell it to him. He had never met a man like Luke Ryder. He was charming, funny, and very passionate about his family's heritage. As they worked together to restore White Oak Manor to its previous glory, their attraction to each other grew strong. Even when strange things – workers being injured, cold wind from nowhere, wild screams in the night and a train whistle screeching in the distance – they continued to get closer. Penelope Walkers actions in the past condemned her to haunt White Oaks Manor. Only when the two lovers she had kept apart were reunited could so many wrongs be righted. Though she was determined to not see it happen again. Luke and Jacob discovered that to save their new love, they must solve a mystery from the past and reunite fated lovers before Penelope works her evil on them as well. Book 2 of the Legend of the Ghost Train Series
Cannon Fire
Pairing: M-M
May 15, 2020
Word Count:
17000
Character Identities:
Gay, Lesbian
Summary:
A midsummer dream could link two hearts…or shatter them like glass.
Ash arrived in Stubborn, New Virginia an orphan with nothing—except more knowledge of glass crafting tech than any other artisan at Pantoufle Glass Factory. But thanks to his two jealous bosses, he's not even allowed to touch the scraps he's forced to sweep off the floor. On the night of Summer Solstice Ball, he has until midnight to pretend all his dreams could come true. And for a moment glittering with magic, he holds happiness in his hands. But then the clock strikes midnight, and everything slips through his fingers—including his most precious possession. British envoy Simon Leatherby came to Stubborn to make trade deals for his Queen. He never expected the hottest commodity in town would be—himself. Even the networking ball he's hosting is morphing into a marriage market, and he's the prize. When he meets a dazzling young man with lonely blue eyes, Simon is enchanted—until the anonymous object of his fascination disappears. With but a single clue to go on, Simon can think of only one solution. So, the townsfolk of Stubborn want to play matchmaker? He's about to give them their chance.
Note
:
Contains sweet-smelling nuts (not those kinds of nuts—get your mind outta the gutter), an opinionated piglet, a steampunk ball with all the bells and whistles, and whole lot of lost marbles.
Cinderfella: A Steampunk Fairy Tale
Pairing: M-M
August 5, 2014
Word Count:
36000
Character Identities:
Gay
Summary: [video width="1280" height="720" mp4="https://www.queeromanceink.com/wp-content/uploads/2019/01/Everlonging-Desires.mp4"][/video] Dustin is a sweet country boy who tends bar at the local gay bar in Shenandoah, Virginia. Every night, a mysterious man stops by after work to drown his sorrows. Skyler is a smoking-hot cowboy who works a hard job at the local factory. After a drunk driver took the life of his beloved fiance, Jimmy ten years ago, he isolated himself from the rest of the world. Since meeting Dustin two years ago, desires he thought were long dead have been re-awakened, but he's been too afraid of getting hurt again until now. Maybe Dustin is just what he needs to heal his grieving heart and satisfy his everlonging desires.
Everlonging Desires
Pairing: M-M
August 5, 2019
Word Count:
62407
Character Identities:
Gay
Summary: The 'Scattered Thoughts and Rogue Words' blog said this about Love's Glory: "In a way, Love's Glory is Janice Jarrell's gift to her reader's and this couple who have been through so much angst and pain and have now mostly emerged through the other side, intact and ready to move forward to the next stage in their lives." Ms. Jarrell's newest offering, Glory Days, enhances this gift with fifteen short stories set in the Love's Glory universe. The tales begin while Colin and Joshua are still on their honeymoon in Ireland and conclude just before Colin begins law school. Story topics range from the achingly romantic and sexy ("Walking In The Rain") to the hilariously comical ("Conversations At The Cabin"). Colin and Joshua aren't the only stars in Ms. Jarrell's latest work. All six Revolutionary Heart men are featured. David and Nate get their own story ("Playing The Part") and Trent and Jeff also get a piece exclusive to them ("Trent's Triplets"). The love is enduring, the humor is at once warm and side-splittingly snarky, and the lovemaking is intense. You won't be sorry you followed the passionate and deeply devoted men of Revolutionary Heart on their newest journey in Glory Days. This book contains mature content including explicit sexual relations between gay couples. + 18 years of age
Glory Days
Pairing: M-M
January 17, 2020
Word Count:
16000
Character Identities:
Bisexual, Gay
Summary: Xiang is the son of the owners of a Chinese Buffet in Southwest Virginia, and he's not entirely living up to his parent's expectations. He works at the restaurant everyday with his overbearing mama, a non chalant dad, and a younger sister who is obsessed with Asian boy bands like B.T.S. All he wants in life is to find his redneck king and live the American dream and when he meets Robbie, a lineman from out of town they soon discover there is more between them than just a mutual attraction and a love for Asian cuisine. However, everything about Robbie isn't as good as it seems; he has a secret, and when it is revealed, it threatens to rip Xiang apart as well as his family. Join Daniel Elijah Sanderfer for this sweet and sour instalove buffet.
Keep the Change
Pairing: M-M
September 30, 2019
Word Count:
16000
Character Identities:
Gay
Summary: A daddy kink romance, with a sweet country twist. One slightly insane, emotionally disturbed, desperate boy with a lot of love to give: no waiting! I'm Taylor, I would say it's a pleasure to meet you, but I don't know you yet. I like to think I'm better off alone, but I wouldn't say no if the right guy came along. Taylor is a high school dropout working for a local landscaping service in rural Virginia. He's been looking for love in all the wrong places. But when his middle-aged divorcee boss Ricky invites him over under the guise of work, it turns out the man has other intentions. Taylor's been working for Ricky for two years now, and Ricky thinks he might be the perfect match for his son, Johnny. However, Johnny isn't interested. With a bruised ego and disappointed heart, Ricky and Taylor soon find there is a deeper connection between one another than either of them initially thought. Join Daniel Elijah Sanderfer for this sweet story featuring a daddy needing a second chance at romance, and a twink with a kink he overlooked at first glance.
Kiss the Rain
Pairing: M-M
August 5, 2019
Word Count:
14749
Character Identities:
Gay
Summary: "It's not punishment if you enjoy it," daddy always says, but sometimes the sweetest things in life cause the most pain. I'm Taylor, and you might remember me from Daniel's first book, Kiss the Rain. Lately, a lot of thoughts have been racing through my brain. Ricky has been quiet recently, and I can't help but wonder what is on his mind. I know he's planning something, but I'm worried if I go snooping what I will find. Ricky and Taylor are growing closer every day. Ricky has a question for Taylor, but first, he has a series of tasks to accomplish. As he proceeds with his mission, he discovers things about Taylor and himself that threaten to get in the way. Join Daniel Elijah Sanderfer for this much-anticipated addition to his daddy kink series Kiss the Rain.
Kiss the Rain 2
Pairing: M-M
September 9, 2019
Word Count: Information not available
Character Identities:
Gay, Straight
Summary: Tad's weekend started out like any other; hitting a college frat party with a handful of buddies. But just as the evening hits its peak, things get up-ended fast. Ditched by his drunken, trolling friends, Tad winds up getting hustled by three jocks playing poker. Now he's forced to pay his dues in the most outlandish of ways; accepting a couple broken bones or spending an hour with his victors' favorite flogger, Scott. But the guy's tantalizing torture quickly proves to be the least of Tad's worries… and the kickoff to a night of raw, shocking lust. Experience the graphic, minute-by-minute account of that hour spent at the hands of Tad's insatiable tormentor. Addicting chemistry lights the stage as Scott ignites Tad's reluctant desires into a frenzy of forbidden need. Warning: contains elements of dub-con, light bdsm, as well as explicit gay sex.
Loser Takes All
Pairing: M-M
September 4, 2014
Word Count:
74,890
Character Identities:
Gay
Summary:
Colin Campbell had been a champion all his life. Nothing had ever beaten him, not even a drug lord's bullet. And he approached law school the same way he approached everything in life, with cocky confidence fizzing through his veins like ginger ale. He had it all. He had the looks, the brains, the experience, the know-how and he also had the love of his life at his side. He couldn't be defeated. But he hadn't counted on the gravitas of law school, the reading, the preparation, the cases, the competition, the Socratic Method, the concepts, the grading curve, the expectations, the finals, memos, study groups, outlines... all of it piled and heaped upon those preparing for a career as an attorney until it wasn't surprising that some of them simply imploded under the weight of it all. Suddenly Colin was spinning out of control, scrambling to keep up, rarely ever seeing Joshua. His grades slumped as he tried desperately to balance the opposing forces in his life, but his only solution was stretching himself thinner and thinner, until he feared he'd be torn in two. Joshua pleaded with him to slow down, but Colin refused to lighten his load and the path before them grew darker and darker. They'd been through so much and survived. Would law school be the storm they could not weather? Would it do what a drug lord's bullet could not - hand Colin Campbell the bitter defeat he never believed he'd have to face? Or would the man he loved find a way to draw him back from the abyss.
Love's Lawyer
Pairing: M-M
May 1, 2020
Word Count:
82406
Character Identities:
Gay
Summary: Two unique couples, totally aware of each other's existence, are inexorably drawn together as chaos over campus assault erupts at the university which is the focus of their lives and work. Each man is affected differently, but for each it becomes the center of their world and the vortex around which their relationships spin out-of-control. David and Nate, professors at the university and a loving couple see their partnership torn asunder as Nate choose the path of activism after he is attacked becoming a leader in the 'End Assault' movement. David refuses to support his militant stance, fearing that consequences will destroy his career and Nate, feeling abandoned and betrayed, begins to doubt their relationship. Colin, an Irish Sergeant in the campus police force, is a legend on campus. A fierce protector of assault victims, he is merciless in pursuit of their assailants. Joshua is a Title IX consultant assigned to work with Colin to help resolve these difficult cases. Their relationship quickly becomes passionate but Colin clings to his independence fighting against the feelings which draw him to Joshua. Eventually, a dark secret from his past erupts into an explosive quarrel which ends their relationship and causes Joshua to flee, leaving Colin with no idea where he's gone or how to find him. It would take a miracle to resolve these issues and bring these men together. Or perhaps it would take Love's Magic.
Love's Magic
Pairing: M-M
May 10, 2018
Word Count:
795354
Character Identities:
Gay
Summary: After half a lifetime spent in short-term liaisons that allowed no intimacy, charismatic Irish police officer, Colin Campbell, found the love of his life. Dark-eyed, steady Joshua Abrams burned through Colin's emotional barriers and taught him to look at life through new eyes, eyes that made room for the love and closeness he had always denied himself. Deeply in love and completely happy, their life together remains idyllic and their fiery passion for each other seems limitless.
They survive the Charlottesville 'Unite the Right' riots, though not without scars. But later that month Colin's position with the campus police force places him in charge of an informant program designed to crack a dangerous drug ring. Fully aware of the risks, he swears to Joshua that he will oversee the program without becoming directly involved. But Colin's promise shatters when he becomes the only thing standing between a young Nigerian exchange student and a deadly drug lord.
Love's Trials
Pairing: M-M
October 12, 2018
Word Count:
25836
Character Identities:
Gay
Summary: Even after publishing Love's Magic I found myself unable to let go of Colin and Joshua. This dynamic couple insisted that they had more to say and they simply refused to be denied. I listened to their voices and the result was this collection of short stories which follow Colin and Joshua from the time Love's Magic begins through its emotional and dramatic climax. ​​​​​​​ Magic Spells is a novella of twelve short stories featuring charismatic, freedom-loving Irish police Sergeant, Colin Campbell and quiet, Jewish psychologist, Joshua Abrams. It is a smoking hot glimpse into Colin and Joshua's romance, following their story from the time they first meet to the time of Love's Magic's dramatic climax. In this book you get an intimate and deeply personal glimpse into the thoughts and feelings of two intensely passionate and single-mindedly devoted men. We watch them as their relationships grows, taking them from friendship to the ardent lovers they become by Love's Magic's end. I hope that the many readers who fell in love with this hot, sexy, amazing couple will appreciate having all their stories under one cover. The stories in this book contain mature content including explicit sexual relations between Colin and Joshua. + 18 years of age
Magic Spells
Pairing: M-M
March 17, 2019
Word Count:
57031
Character Identities:
Bisexual, Lesbian, Transgender
Summary: Nina discovers her girlfriend in a passionate embrace with a cliche jockey guy at the final hours of their high school days. She is shattered, and she ends it and enlists in the Marines. Eleven Years Later, she is struggling to build up her clients in her Bodyguard and Private Detective services. Nina is approached by her ex's mother, who is now running for a high political office. Her ex, Kara, is in danger. Nina must put aside her turbulent history to safeguard a frightened young woman. The stakes soon rise, and even with all of Nina's considerable connections locally in the DC area, she might not be able to protect herself, much less Kara. Will the two former flames explode on each other or will their passion reignite? Will Kara ever find forgiveness in Nina's heart? Who is trying to steal Kara off the streets and why? These and so many more questions are raised in this action-packed mystery!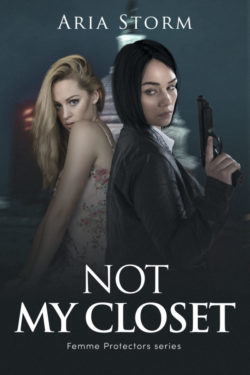 Not My Closet
Pairing: F-F
May 7, 2020
Word Count:
12000
Character Identities:
Bisexual, Gay
Summary: Coming of age in the 1950's, Edward Colson is an introverted senior at an all-male boarding school in Norfolk, VA. Edward's academic brilliance, mild temperance and his suspected attraction for other boys have made him the target of Paul Maxwell and the Broadbent Brothers, a group of bullies, who for the past five years have made it their personal mission to torment and ostracize Edward. As the entire student body and faculty of Norfolk Academy prepares for the school's annual Halloween carnival, Edward's tormentors find him alone and more vulnerable than he's ever been before. But the tables are soon turned when Edward's big brother, Anthony Colson, a hulking all-American athlete and officer in training at the U.S. Naval Academy, pays an unexpected visit to his old alma mater, catching his little brother's bullies in the act.
Of Brothers and Tormentors
Pairing: M-M, M-M-M
October 26, 2016
Word Count: Information not available
Character Identities:
Bisexual
Summary:
When Sebastian Langham, Delta Force operative, is seriously hurt on the job, his team is shocked to discover that he's married. His husband, Chief Petty Officer and Navy SEAL Rafael Silva, currently assigned to DEVGRU, as next of kin, must be summoned to his bedside. Life and death decisions have to be made.
All the JSOC teams are close. So the fact that only Sebastian's commanding officer knew that he had married Rafe makes Basi's team members just a little suspicious and more than a little hurt. But Sebastian and Rafael didn't think that their relationship was anybody's business but their own.
While he's waiting to hear about Basi's prognosis, Rafe finds himself both deflecting and explaining to Sebastian's teammates just how he and Basi got to this moment. He reflects on how their one-night stand turned to friends with benefits and then became a romance and a marriage. The revelation of Basi and Rafe's marriage will change their lives--if Basi lives. If he does live, what else will change?
Primary Next of Kin
Pairing: M-M
July 4, 2019
Word Count:
95376
Character Identities:
Gay
Summary:
They'd been through it all and emerged victorious. Now they stood on the very brink of a whole new life bursting with possibilities and renewed hope for the future. Colin will take the bar exam and begin his promising career as an Assistant Commonwealth Attorney for the city of Charlottesville. Joshua receives his second Ph.D. and adds Forensic Psychologist to his list of achievements. What could possibly go wrong?
And then:
Three students are abducted from the University of Virginia campus. All three are recovered alive but have been sexually assaulted and brutally beaten. From his new position as Assistant Commonwealth Attorney, Colin partners with both campus and city police in a combined task force determined to solve these horrific crimes and put the perpetrator behind bars. But can they succeed before the 'campus abductor' strikes again? The abusive and volatile husband of one of Joshua's patients threatens his life. Suddenly Joshua is under siege as he is stalked both at work and at home by an unstable assailant. Entangled in both these life-threatening situations, Colin struggles to protect both the university he loves and the man he adores. But... "Oh god, Josh, my sweet love, if anything's happened to you..." his voice trailed off, unable to voice the unthinkable.
"NO! Joshua's mind shrieked. I can't give up! I won't give up! Colin will come! He'll come!"
Warning: This novel discusses sensitive material which may be distressing to some readers. Relevant Law explores themes of abduction, physical violence, and non-graphic sexual assault.
Relevant Law
Pairing: M-M
September 25, 2021