Word Count:
88084
Character Identities:
Gay
Summary:
Introduction to the set
With the Queen due for her annual visit to Balmoral Castle, Constable Aidan Williamson has been transformed overnight into an undercover detective for Police Scotland. He's managed to emerge from his first case (
Where There's Smoke
) with only a bullet wound and a few other scars no one can see. He's also become deeply attracted to Kenneth Logan, an enigmatic hermit who chooses a stone tent and hard floor over a comfy flat with a soft bed. His second case (
Deep Fury
) takes him once more to a property owned by Her Majesty—but this time another monarch takes top billing. A very old secret hidden by Queen Victoria has become a cause for murder. At her famous Widow's House on a lake in the Highlands…and in his own private life with a hot Scot named Logan…there's a smoldering deep fury at work, and Aidan's determined to get to the bottom of it. In
Spilled Passion,
a hidden crime has been uncovered in the same place the royal party is set to visit soon. Aidan, rookie dick, is struggling to confront his demons—and his angels too. Who's the killer? A pillar of the local church…a couple of horny adolescents…a protective kinsman of the dead man's wife…or the sweet widow herself? This time around, the edges are blurred more than ever in a mystery and a buried secret that spill all the way into serious romance.
Aidan Undercover: The Box Set
Pairing: M-M
May 20, 2020
Word Count:
52663
Character Identities:
Gay
Summary: Past crimes, present danger With a new Police Scotland job, a new-ancient home, a loving pet, and a fresh outlook, Rory and Alex are almost ready for their marriage—as soon as bonnie Scotland can figure out how to do it. Working on the restoration of an old Jacobite tower house, they find evidence of a serious crime. But with no handy forensics lab on the wind-swept heathland, they don't know whether it happened recently, or a hundred years ago. For his part, Alex's new duties also mean a new identity, as he follows the trail of drugs and dirty cops. Former playboy Rory is anything but a detective. But with Alex tied up in his current job, he finds himself chasing down clues to a mystery lurking in Brash Tower itself.  Their independent investigations uncover some startling secrets—and a source of immediate peril—as Brash Tower becomes once again a fortress against brutal enemies. Will Rory and Alex ever tie that infernal knot—or will the high moor become once again a desolate reminder of what might have been?
Brash Tower
Pairing: M-M
January 1, 2022
Word Count:
21991
Character Identities:
Gay
Summary: M/M Erotica wrapped in mystery. Close-mouthed CID Detective Thomas Fitzgerald has just finished a harrowing case. He's traveling the highway between Arbroath and Dundee, Scotland. Now all he wants to do is return to his flat, strip down and soak before catching a good night's sleep. But a stranger on the side of the road changes everything. The quiet Scot named Burns is a puzzle—a dark-haired, sensuous enigma whose harmless invitation to a drink he decides to accept. Before the next twelve-hour phase of the moon has come and gone, the lives of both of them will change profoundly. Both men are hoarding a secret, trying to escape. Can they stop running long enough to find each other?
Burns Too Deep
Pairing: M-M
September 2, 2015
Word Count:
113000
Character Identities:
Bisexual, Gay
Summary: A twist of fate changed both their destinies. The wyrbears, once a long-lived species, were being lost to the forest in their prime. A people borne of a curse, their abilities not a gift but something wrongly taken, they nonetheless live in harmony with their animal spirits. But over time the curse they lived under changed, mutated, and now what once was a refuge from the world when they became too weary is culling mathan in their prime. Ewen mhic Friscalach, the leader of his peoples, lost his father too early and is now a widower with four children. The vow he made as a youth to break the curse afflicting wyrbears has been buried by grief and responsibility. Roi mhic Alric, a priest of Cerridwen and seer, watched his fellow priests slaughtered and his temple desecrated. The only thing that kept him going the last three horror-filled years was the vision Cerridwen had granted him of his emancipation. If freedom came at the cost of his life, well, he was more than ready for the Otherworld. A fated meeting upon a bloody field of battle. A wrong done long ago. Their choices could save a people… or send them into extinction. Either way, their love will be legend.
Caledonia Destiny
Pairing: M-M
July 9, 2018
Word Count:
57000
Character Identities:
Bisexual, Gay
Summary: You can never escape from yourself. Zac McKenzie is an ex-professional footballer with a secret he gave up his career to protect. Several years ago, he fled to his home in the North East of Scotland to avoid being outed as gay. Now, he owns a successful hotel and restaurant, but is it time to finally come out into the open? Seth Pritchard feels he's damaged goods. He comes to Scotland to escape memories of the accident that left him injured, his bullying stepbrothers and a life of lies. For their whole lives, Zac and Seth have denied who they truly are to themselves as well as others. When they meet, each man is forced to confront his fears and tear them down one by one.
Choosing Home
Pairing: M-M
July 12, 2016
Word Count:
56782
Character Identities:
Gay
Summary: History says a famous villain died on the gallows on October 1, 1788. But what is the real story? And how do two contemporary men fit into this re-telling of history? M/M erotica wrapped in mystery The reticent undercover detective Thomas Fitzgerald is already deeply in love…with a man who has just met him in an "alternate reality." Tight-lipped and uptight as he is, a confession is out of the question. And Burns, not quite the same man he fell in love with, is afraid that his caped hero may misunderstand his own "insta-love." How can two stubborn men find that elusive connection between then and now? This is where time-travel, enters the story—a unique wynd in Edinburgh becomes the bridge that connects past, present and even perhaps the future. Follow two lovers across a bridge spanning more than two centuries as they struggle to reconcile not just the convenient lies of history, but also the truth about their own conflicted relationship. This full novel is the conclusion to the six-novella Burns! Mystery series and can be read as a stand-alone. Please note that the title has changed, from A Rainbow Bridge.
Come Again, My Love
Pairing: M-M
January 2, 2017
Word Count:
19162
Character Identities:
Gay
Summary: Hugh McPherson, son of a Nevada rancher, goes to Scotland in search of his family roots. Fate brings him to the castle door of oversized, cranky Graeme Guthrie. After getting off on the wrong, er, boot…the men find something about each other to delve into more deeply. But fate can be a cruel matchmaker. What happens to make Hugh and Graeme careen off each other and run in opposite directions, just when they seem to be on the verge of solving a centuries-old mystery, one that centers on both of them? Finding the Loch Ness monster…a gay romance-fantasy novella.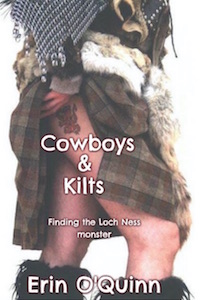 Cowboys and Kilts
Pairing: M-M
April 15, 2016
Word Count:
29539
Character Identities:
Gay
Summary: A mystery to make the Queen blush... With the Queen due for her annual visit to nearby Balmoral Castle, Aidan Williamson has been transformed overnight from a constable into an undercover detective. He's managed to emerge from his first case (Where There's Smoke) with only a bullet wound and a few other scars no one can see. This time around, he's in the close company of three murder suspects—a writer's publicist, a widowed husband, and a hot Scot who's their paid guide. And this time he has two assets. One is his old constable partner Mike Murphy, mad Irishman. The other is Logan, another smoking-hot Scot, who always seems to catch Aidan off guard but always has his back. At the Widow's House of Queen Victoria on a lake in the Highlands…and in his own private life…there's a smoldering deep fury at work, and Aidan's determined to get to the bottom of it.
Deep Fury
Pairing: M-M
July 10, 2019
Word Count:
63000
Character Identities:
Lesbian, Polyamorous
Summary: Elaine MacLeod, the most feared and revered Mistress of Rowan House, is frustrated. Overworked, still hurt and angry over the departure of her long-term lover, she refuses to admit Rowan House needs another Mistress to accommodate their guests. Unconvinced anyone will be able to meet her high standards, Elaine grudgingly agrees to audition the sole applicant, Petra Grendhal. Robin Broadacre would do anything for the woman who rescued her from certain death at the hands of her previous employers. When she volunteers to assist Petra with her audition, Elaine is forced to reckon with her desire for Robin. Drawn to Petra's fiery strength and icy demeanor as well Robin's devotion, Elaine finds herself torn between her passion for both women. When Petra disappears on a trip to Oslo, Elaine and Robin's search leads them to menaces from Robin's past and a fight for their lives.
Double Six
Pairing: F-F
November 18, 2019
Word Count:
114,539
Character Identities:
Gay
Summary: The Blackwood Pack saga continues… This is part of an on-going series by Amazon Bestselling Author, Mary Rundle, and catching up on previous titles is advised. Readers of the past books will enjoy meeting old friends once more as the pack does what it does best ̶ caring for one another and helping shifters everywhere. David spent most of his life as a prisoner, beaten countless times as he was taught by the Sisters of the Four Gods. After learning the truth about what they had planned for him, he escaped and eventually landed in Scotland where he was rescued by kind shifter who gave him a job and a bed. His feeling of safety ended abruptly when he was discovered by the ones he fled. Zane, the Blackwood Pack's genius computer programmer, joined his brothers and friends in Scotland on his very first vacation. It had been a long and hard road for him since parents and younger siblings were massacred, but his life was finally coming together Not expecting anything more than fun and sightseeing, he was stunned to find his Fated Mate there. Before they can claim each other, they find themselves in a terrifying game of cat-and-mouse, trying to elude brutal pursuers who want to capture David and kill Zane. As they fight to stay one step ahead of them, Zane sets out to win David's heart and restore his confidence and also becomes his protector and lover. Learning about each other's abilities and gifts—and about the gods' plans for David's formidable new role in the shifter world—they form a unique bond with undying trust and a deep love that will bind them forever together as one. Narrow escapes, kidnappings, battles, rescues and the revelation of unique gifts from the gods will keep you turning page after page as Mary Rundle weaves another thrilling tale of love and adventure.
Ghost Walker
Pairing: M-M
January 29, 2019
Word Count:
60628
Character Identities:
Gay
Summary: A Scot, a cop, and a killer…at a point of no return. "This is my bedroom for a while. Hunter's Point. So point your dick here and hunt for me." Alex has raised his flag of independence right there on the grounds of Castle Drummond. And laird Rory, arse-over-bollocks in love, struggles to understand the outlook of a mate who wants no prize he can offer—nothing but his own large, gruff, perpetually aroused self. As Scotland is about to pass a same-sex marriage bill, two headstrong men have their own problems to solve: a case of murder, a coming to terms with a troubled past, and a possible long-term commitment to each other, even in the face of a third man who apparently would love to end their torrid affair. Rory and Alex follow murder clues from the lighthouse complex on Montrose Promontory to one of Scotland's most prestigious prep schools…while a killer, not content with one victim, waits in a place none would suspect. A gay erotic romance suspense/mystery, Book 3 of the Nevada Highlander series.
Hunter's Point
Pairing: M-M
June 10, 2015
Word Count:
66000
Character Identities:
Lesbian
Summary: Martha McLeod, Head Mistress of Rowan House, Skye's most exclusive pleasure house, is heartbroken. Frustrated and lonely after a bitter split with her lover, she departs Rowan House for Lake Como, Italy to seek solace at the feet of Madam Givernay, keeper of Martha's deepest secret. Lake Como and Madam's attention is the perfect balm for Martha's broken heart until she meets Mistress Lucia Coruso. Captivated by Lucia's regal elegance and cool demeanor, Martha is torn between her desire for Lucia and the fear her secret will be revealed. When an extortionist threatens to destroy Rowan House, Martha and Lucia must join forces to save it.
Knotted Legacy
Pairing: F-F, 4+ or Other
September 10, 2018
Word Count:
68000
Character Identities:
Bisexual, Gay
Summary: How long do you need before you know? Duncan McLeish owns a ranch. Unlike most ranches, this one is in the Scottish Highlands. Having inherited a failing farm from his grandfather, he turns it into a successful business. He has friends and he loves his home, but he's lonely, and not even infrequent trips to Glasgow and Edinburgh slake that thirst to find someone. Then Drew Sinclair walks into his life. Drew Sinclair is tantalizingly close to getting his clothing brand noticed in the industry. He and his business partner, Joy, create individual dresses, while, on the side, Drew produces a line of men's lingerie. He visits Scotland to design a bridal gown for his sister, Jenna, who is marrying Duncan's best friend at Christmas. Duncan and Drew have nothing except their Highland upbringing in common, but they say opposites attract, and the attraction is immediate. Is this simply a summer fling, or can two men who live such opposite lives miles away from each other find a way to love?
My Highland Cowboy
Pairing: M-M
June 6, 2016
Word Count:
93000
Character Identities:
Gay
Summary: December 1889. Silas Hawkins, once a trickster from the slums, is now the public face of the Clearwater Foundation. As London society gathers to celebrate its success, and Prince Albert Victor considers becoming its new patron, life for Archer, Silas and the crew could not be better. But everyone has a past, especially Silas, a man ripe for blackmail. Photographs, demands, a dead photographer and a mystery amid the influenza pandemic of 1889, it falls to James, Silas and Fecker to find the blackmailer before Silas' sordid past leads to public downfall. But then Silas disappears, and all James has is a burnt letter, a missing railway timetable and a man with two names. He also has Fecker, and together, they must race to solve the riddle and find Silas before he kills either the blackmailer or himself. Negative Exposure is the ninth Clearwater Mystery. The series blends fact with fiction, mystery with adventure, love with lust, and is best read in order.
Negative Exposure
February 25, 2021
Word Count:
60506
Character Identities:
Gay
Summary: Who's on whose tail? For some men, love comes hard. But deceit comes even harder. A Scottish castle laird decides to attend a big game hunt in the mountains of Eastern Nevada. His covert, and reluctant, babysitter is a governor-appointed state trooper. The exuberant Rory Drummond needs no protector. He is a trained hunter, in addition to having several other entertaining skills. The state trooper Alex Dominguez is reserved, shrouding his past—even from himself—out of a need to seal off old memories. Inevitably, the men find each other irresistible, and soon certain sparks begin to affect both of them. As the attraction between them grows, so does their sense of commitment to each other. Only one thing stands in the way of a mature relationship…Alex's fear of telling Rory his secret assignment. The tension between his sense of duty and his newfound passion is a factor which threatens to tear them apart once the truth is known. And the facts must eventually come out. What will happen when the hunter finds he's being spied on, thousands of miles from home?And what will the trooper do when his cover is, ah, blown?
Nevada Highlander
Pairing: M-M
December 9, 2013
Word Count:
289652
Character Identities:
Gay
Summary:
A Scot and a cop... Who's on whose tail?
Rory Drummond and Alex Dominguez
are an unlikely pair…a bigger-than-life Scot with an immense appetite for sex and adventure meets a shy Nevada State Trooper who's been thrust into the job of "baby-sitting" him during a big game hunt in the mountains of Nevada. What could go wrong? More important, what could go right? In the space of five novels, their union morphs from intense sex to deep love; and humdrum existence changes into solving crimes-and relishing the adventure, from Nevada to Scotland. The full novels are
Nevada Highlander
,
The Kilt Complex
,
Hunter's Point
,
Sleeping with Danger
, and
Brash Tower
. Come for the erotica…stay for the love story and the heart-rattling action…
in five full novels for the price of two!

 
Nevada Highlander 5-Novel Box Set
Pairing: M-M
January 29, 2022
Word Count:
56423
Character Identities:
Gay
Summary: Two young men try to reunite across the divide of ocean and against the tide of history. (A novel in The Renegade and the Runaway universe) Owl…it's the name given to Grant Fletcher by his close friends and allies, the Tuscarora Indians of North Carolina's Ocracoke Island. His best friend is Sky, a native son. When Grant is forced to leave the island—when his family comes to "rescue" him from the only home he's ever known—he must also leave Sky. His new father takes him to the tall dark city of Edinburgh, center of enlightenment, and of sinister shadows too. When the story opens, he's twelve and Sky is fifteen. But reality has a way of making boys into men, very fast. Sky is a native of an emerging country...America...an indigenous segment of the New World that its new settlers are trying to eradicate or to marginalize. What happens when this young Indian strikes a fateful bargain with a colonial icon named Daniel Boone? When he teams up with an African man once held in an iron collar? Owl & Sky is a story of young love, a continuation of the universe that began with "The Renegade and the Runaway" series (Unkilted and Unbroken, c. 2019 by Erin O'Quinn). This current novel shares many of the characters in that series.
Owl and Sky
Pairing: M-M
January 1, 2020
Word Count:
24264
Character Identities:
Gay
Summary:
M/M erotica wrapped in mystery
Two men, opposites in every way, have somehow found each other. The attraction between blond detective Thomas Fitzgerald and the sable-haired "Professor Burns" is instant and all-consuming. Even cops and scholars take a holiday. When they bridge the physical distance between themselves and finally spend time together on Burns' own turf, Thomas finds that his mysterious "poet" is a shadow behind another shadow. There's something about Burns' past that hangs on him like a shroud. Always a cop, Thomas cannot help looking past his lover's charms, delving into the heart of him. What he finds is chilling. A tight-lipped Irish cop and an enigmatic Scot come together in a place of sorrow and hidden passion. Can a "red, red rose" from a poet named Burns solve the unknowable mystery of love itself?
Red, Red Rose
Pairing: M-M
October 29, 2015
Word Count:
51000
Character Identities:
Gay
Summary: You can never escape from yourself. When Darach McNaughton returns to his home town, the one thing he isn't looking for is love. But when he meets the mysterious Brice Drummond, his investigative instinct isn't the only thing aroused. After a gang beats Brice Drummond, leaves him for dead, and needing to use a wheelchair, he ends up in a witness protection program. His only company is a beautiful cat aptly named Princess. He creates beautiful pieces of art, but allows no one into his life—until a handsome policeman appears out of nowhere. On a snowy night, Darach McNaughton returns a crying cat to its owner and is immediately curious about the beautiful man with the tattoos. Bit by bit, Darach uncovers the shocking truth about Brice's history. Can he get past what he discovers? Can Brice let someone into his life? Or will the past catch up with them both and tear their fledgling love apart?
Returning Home
Pairing: M-M
July 26, 2016
Word Count:
119000
Character Identities:
Gay
Summary: The Blackwood Pack saga continues… This is part of an on-going series and reading the previous titles is advised. Readers of the past books will enjoy meeting old friends once more as the pack does what it does best ̶ caring for each other. Slate, one of the last Dire Wolves, has carved out a life which suits him fine—plenty of traveling to exotic locations and an abundance of one night stands to handle his needs. While he's happy for his brother, who has found his Fated Mate, Slate isn't interested in finding his—at least not for a long time. That is, until his body betrays him. Seeking his mother's help—who is an Oracle—Slate pays a visit to the Blackwood Pack where he finds the Fates have once again, messed with his life. Dakota, the chef for the Blackwood Pack, fell in love with cooking as a young child and ultimately the kitchen became a place of refuge for him. Suffering with a 'curse' through much of his childhood, he relied heavily on his mother's help to deal with it. After the massacre of his mother and siblings by their greedy uncle, Dakota barely survives, but finally forges a life for himself, content to stay home and take care of the people he loves. A long-hidden secret, rejection of a mate, acceptance of rare gifts, and a brutal kidnapping are just some of the obstacles Dakota and Slate must battle together to save their relationship. As the pack rallies around them, both must learn to trust the other before they can find the happiness that the Fates have ordained for them…
Shadow Voice
Pairing: M-M
September 7, 2018