Word Count:
12241
Character Identities:
Gay
Summary: Following a horrific break up with his fiancé, Luke Bennet spends two years as a social hermit, only going to work and talking with Tina, Gina, and Rita, three friends from high school. Refusing to let him wallow any longer, they intervene and talk him into going on twelve blind dates to get him back in social circulation. The Trio have not only planned the dating venues but also chosen the perfect guys to lure Luke from his isolation. Will he find love through these dates? Or will he run for cover again?
12 Blind Dates
Pairing: M-M
July 16, 2022
Word Count:
110000
Character Identities:
Gay
Summary: XAVIER Former Navy SEAL Xavier Thierry knows he is good at his job… protect the client. You do the job but never get too close—that's his motto. When the friend he owes for saving his life asks for a favor, he doesn't hesitate to say yes, no questions asked. But babysitting some pampered brat is nowhere on his to-do list. Until he first lays eyes on him… Cris. And he's nothing like Xav expected. He wasn't sure when this man stopped being a job, but the rules blur once Cris ends up in his arms. How can Xavier let him go when he's the only one who chases away the darkness? CRIS Cris Whitcomb thought he finally found his happily ever after… But the fairytale soon became a nightmare, one that left him with only one choice—to push away those he loves to protect them. His chosen family refuses to be pushed away. Their solution, call in someone trusted to watch over and protect him… Xavier. But what happens when your future walks in on the worst day of your life? Maybe sometimes you have to go through the bad to get the best... One who knows the pain of loneliness, another haunted by memories he can't run away from... Maybe they are exactly what each other needs… TRIGGER WARNING: This book contains scenes of domestic violence in flashbacks.
A Family Of His Own
Pairing: M-M
July 28, 2019
Word Count:
6,609
Character Identities:
Gay
Summary: When former tagger Eric hears a cute fellow student named Joel protesting to a woman that he's gay, Eric goes to his rescue and gives him a big kiss and hug in a City College hallway. Even though sparks fly between them, Eric doesn't expect any reward for saving the guy from being hit on in public, so he's surprised when undercover cop Joel asks him to become his pseudo-boyfriend. How bad can it be for a former high school dropout, who's been to juvie more times than class, to pretend he's a cop's lover?
A Kiss in Time
Pairing: M-M
November 4, 2020
Word Count:
12,381
Character Identities:
Gay
Summary: English writing tutor Steve Smith only has two more semesters to graduate from Vermillion College in California. Then he hopes to get a top-paying job writing copy for a tech firm. Until he reaches his self-fulfilled dreams, however, he's working his way through school without borrowing from his successful Chinese-American parents. Vermillion football star Jason Woodard, on the other hand, grew up in a state-run home and is struggling to make his athletic scholarship and all that goes with it mesh with his academic requirements. He too is about to finish but, having put off first year English composition, has to rely on the writing lab where Steve works for help with an essay about love. Since Jase says he's never encountered love, he can't figure out how to write his essay. As they talk about love, they discover two things: falling in love is easier than talking about it and nobody in the school's athletic program wants two guys to fall in love. When the abuse of athletes across the country comes to light, Steve realizes Jase too has been abused and needs more help than a tutor can give.
A Short Essay on Love
Pairing: M-M
November 18, 2020
Word Count:
50,000
Character Identities:
Gay
Summary: Kink and wedding vows can't stop danger, but love gives a Dom and his sub courage to fight. After too much time apart from his lover and sub, Brian Harrison is thinking kink, a cowboy hat, and one more marriage proposal. When Jackie Vasquez finally says "yes" to a wedding, he also says, "why wait?" But their vows and the toasts to the happy couple have hardly faded when a phone call reminds them that trouble still awaits. Despite his best intentions, Brian broke the law in his efforts to stop a powerful criminal from harming those he loves. He could go to prison, or he could risk his life going undercover to help bring one of Europe's most nefarious citizens to justice. Friends and smart thinking can help him do the right thing. But only love can supply the courage he and Jackie need to prevail against schemes and guns and, if they're lucky, stay alive to enjoy a honeymoon.
A Shot of Courage
Pairing: M-M
July 30, 2020
Word Count:
48000
Character Identities:
Gay
Summary: Deep love, hot kink. Secrets call for a shot of trust when true danger lurks in LA's hidden places. __________ Brian Harrison wants to keep everyone safe -- especially his beloved sub, Jackie Vasquez -- and he's convinced the only way to do that is to dig ever deeper in a forbidden investigation. Keeping his activities secret from the State Department means keeping them from his own boss, Luki Vasquez, and keeping secrets from Luki means Jackie can't know either. Meanwhile, Jackie keeps his own secrets as his kind heart and indomitable spirit drive him to find and help a mysterious homeless woman, who may be connected to a kidnapping. Both men dance around dangers lurking in LA's hidden places. Love continues to grow, adventurous kink heats up, and a marriage proposal still hangs in the balance. Can a willing shot of trust keep them together and alive when secrets collide?
A Shot of Trust
Pairing: M-M
April 24, 2020
Word Count:
80,000
Character Identities:
Gay
Summary: Sparks fly when Chance meets tall, sexy Xav at a Wilmington bar and they have the hottest one-nighter of their lives. But Chance doesn't do repeats, Xav seems detached, and they go their separate ways without a word. Later, when closeted Assistant District Attorney C. Evan "Chance" Fairchild meets Dare's Landing's newest deputy sheriff, Xavier "Xav" Constantine, Evan isn't only wary. He's irritated as hell. Xavier is a former FBI agent turned deputy sheriff who is hot on the trail of a South American child prostitution ring. Evan is fighting to put an end to rampant cocaine trafficking and chafing under the thumb of an election-hungry boss. When someone tries to kill the eleven-year-old witness who holds the key to both their investigations, they're forced to work together as they put their lives on the line to protect him. As Chance and Xav collide in the heat of a sweltering North Carolina summer, dodging bullets and chasing bad guys isn't the only action going on.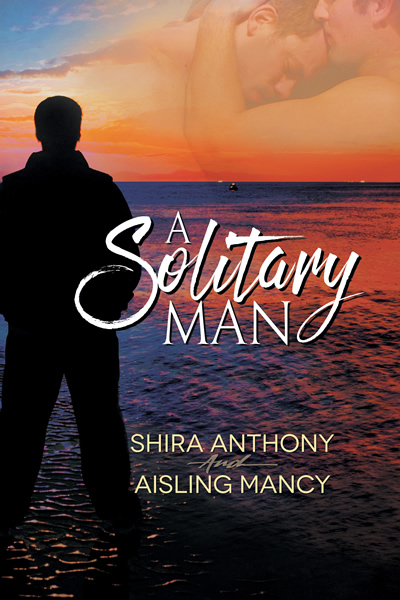 A Solitary Man
Pairing: M-M
November 6, 2015
Word Count:
79000
Character Identities:
Bisexual, Gay
Summary: Coming back from loss, one heartbeat at a time. Alec ran from his grief over the death of his son, throwing a few things in his car and driving west. In the town of Gaynor Beach, CA, he hit the shore and stopped. The next step would be off a broken pier into the ocean and although he stands daily watching the waves, he's not quite ready for that. Especially when a young voice like his son's, behind him, says, "Hey, Mister, you wanna see a picture of an albatross?" Joe brought his preteen son to Gaynor Beach, looking for a better place to raise his kid. Kevin loves California— the beaches, the marine life, the weather, and the freedom. But when Joe finds out Kevin's "ghost down by the pier" is a living, grieving, and much too appealing man, this simple new life is about to change, for all of them. * hurt-comfort, single dad, grief and recovery, sweet rescue dog, bright preteen, HEA The books in the Single Dads of Gaynor Beach series stand alone, but why not discover them all, and meet the wide range of complicated, wonderful men raising kids in this fictional California town.
Alec
September 13, 2022
Word Count:
14500
Character Identities:
Gay
Summary: Good and evil walk hand in hand. Hot, sexy times and instalove in mysterious places. Angels and demons love faster and harder for as long as they can because they know—a being more powerful can change their lives in the blink of an eye. Raziel Eden swiftly learns to blend in with humans and demons after being cast from Heaven by a stronger archangel who, for all his holiness, should reside in Hell. Raz's club, MystEden, is a den of iniquity frequented by beings from both realms. Earth has become his private playground and he delights in tasting its many fruits though Raziel would trade it all to travel heavenward. Then a monster from Hell walks into his club; a satanic minion who captivates Raz with beauty and innocence. Surge Oberon possesses knowledge of many enigmas but he yearns to sit at Lucifer's right hand wielding identical powers of an angelic counterpart, archangel Raziel, Heaven's excommunicated keeper of secrets. He must convince Raziel to trade one confidence, a tale Surge's master plans using to regain his throne in Heaven. What part will Surge play in Hell's hierarchy should Satan succeed? Two beings seeking a path home—only one can win their battle of wits. Contains religious themes some will find offensive. #drama #explicit #gay #HEA #instalove #lgbtq #paranormal #religerotica #shortstory #travel
Angel in Heat
Pairing: M-M
March 5, 2021
Word Count: Information not available
Character Identities:
Gay
Summary: Note: This edition of Because of Jade is out of publication. It will soon be re-released in a new bundle, coming from Changeling Press. Watch for the new listing summer 2019. Vasquez and James series finale Luki Vasquez receives the news he's still cancer free after five years, and he wants to celebrate with his whole family. He and his husband, Sonny James, take a road trip south, intending to gather at the home of his nephew Josh, Josh's wife Ruthie, and Jade—a little girl who was still in the womb when she and her mother helped Luki beat lung cancer. Halfway to their destination, Luki learns Josh and Ruthie have met a tragic death. The horrible news lays Luki low, but he pulls himself together in time to be the family's rock and see to the dreaded business of tying up loose ends. The most important business is Jade, and when Luki and Sonny head home, they take Jade with them. Luki and Sonny must combat self-doubt and fear and help each other learn to parent an unexpected child—and they must also nourish the love that has kept them whole for the past ten years. A relative's spurious claim to Jade threatens the new family, and even if they prevail in court, they could lose their little girl unless they can rescue Jade from evil hands and true peril.
Because of Jade
Pairing: M-M
May 23, 2014
Word Count:
30,048
Character Identities:
Gay
Summary: Big, burly CEO Abe Behr is furious to discover someone—probably a relative—is embezzling from Behr Construction, a family-run business in the Sierra Nevada foothills outside Lake Tahoe. To confirm his suspicions, Abe takes the unprecedented step of hiring a non-family accountant, handsome Jeff Mason, to go over the books and help find the culprit. As they talk to Behr relatives and visit construction sites, Abe and Jeff are drawn to each other, bringing out new, softer emotions in workaholic Abe. Since he has sacrificed romance all his life to build the construction business, Abe's surprised by his feelings for the handsome Jeff. He's even more shocked when they come face to face with homophobia in the small foothills community where generations of Behrs have called home. Abe had always thought Stone Acres was a live-and-let-live kind of town. As he and Jeff get closer, he finds out how wrong he is when he comes out to both family and a community who think he's making a big mistake. Will being the head of a large, powerful family and a pillar of the community be enough to win Abe his happily ever after with Jeff?
Rainbow Award Honorable Mention book.
Behr Facts
Pairing: M-M
August 8, 2020
Word Count:
80000
Character Identities:
Gay
Summary: Everyone is chasing their own dreams, but Johnny isn't sure he even has one. Apex Racing is expanding and absorbing Pilot and his lovers. Everyone is happy with it…except for Johnny. He's constantly feeling left out and more alone than ever before. It's time to seek out his own win, and find his holeshot even if it's off the track and away from Pilot. Gavin is determined to put together the hottest Supercross team, and he wants that to include Bryce Nickels. But that seems almost impossible since Bryce signed with Apex. Perhaps he needs a new angle, like the sexy business partner of the bodyguard, Johnny Killebrew. Maybe he'll sign on more than he bargained for. Praise for Holeshot Christmas: "The writing was spot on once again and the storyline flowed really well. A Christmas feel good sexy story for the win!" ~Morningstar with Diverse Reader Blog. "Holeshot Christmas is a delightful little visit with Davey and Tyler. It's sweet, cute, and a lot of fun." ~Amy's mmromance reviews Bike Business is the fourth title in the Holeshot series. For your reading enjoyment, the preferred reading order is as follows: The Holeshot Holeshot 2 Holeshot Christmas Bike Business: A Holeshot Novel Tricky Tracks
Bike Business
Pairing: M-M
August 23, 2019
Word Count: Information not available
Character Identities:
Gay
Summary: Fruitcake is the laughingstock of the holiday season. But can it be an aphrodisiac instead? Motorcycle mechanic Sam McGuire is surprised to find a gaily wrapped box on his doorstep with a piece of fruitcake accompanying an invitation to a holiday party. Wondering if he'll fit in, Sam attends the party—mostly to get more of the fruitcake he falls in love with—and meets Jay Merriweather, his new neighbor. The lure of Jay's big family and its holiday tradition of enjoying Grandma's fruitcake hook Sam, as does the sexy man himself. But Sam can't imagine why handsome, college-educated Jay would want someone like him, who was raised in a children's home and barely graduated high school. Maybe the magic of the holiday season can help two men who seem so different come together like the ingredients in a well-made fruitcake.
Blame It on the Fruitcake
Pairing: M-M
December 2, 2020
Word Count:
111227
Character Identities:
Gay
Summary: This is part of a continuing series by Amazon International Bestselling Author, Mary Rundle – reading the previous titles is advised. Readers will enjoy catching up with members of the Blackwood Pack and reading about what is happening to them as the pack does what it does best  ̶  caring for one another, fighting evil, and helping shifters everywhere. Finally free after spending more than 50 years controlled by a cruel master, Lucius has one goal only—return to the family taken from him when Valerian transformed him into a vampire. But he soon finds that even though his master is now dead, a death grip on him remains. Stripped of his powers to translocate and in constant pain, Lucius' only hope is to follow a force pulling him toward a place he hopes will end his suffering. Brady, a retired attorney, who worked at the Witches Governing Council, arrives at the Blackwood Pack after agreeing to help one of the pack's brothers whose mate is the new Ruler of the Mystic Realm, and whose life is in danger because he wants to end the blatant corruption and exploitation of low level magic users. Brady meets the pack's members and is in awe of the powers the Fates have bestowed on them. But, after his previous years of dealing with the unscrupulous members of Witches' Governing Council—and then being ousted for his efforts to achieve justice—he's become distrustful of outward appearances. Called into Alpha Blackwood's office, Brady learns the Fates have given him the young vampire as his mate. But Lucius, having been found unconscious, lies dying, and Brady must decide if he is willing to do the only thing that will save his mate. Eventually, Brady and Lucius begin a journey, where their past and present are woven together until both achieve the love and happiness they always desired, but never knew how or where to find. Astounding surprises, rare and unique gifts, action-packed adventures, and many unexpected twists and turns make this passionate love story by Mary Rundle impossible to put down once you've read the first page.
Blood Prophecy
Pairing: M-M
December 12, 2021
Word Count:
11500
Character Identities:
Gay
Summary: When two lives entwine, death becomes abhorrent. Hail Patrascu, an ancestor of Transylvania's Draculesti family line, wields unique powers as the world's oldest living vampire. Searching for death, he becomes something phenomenal after drinking venom infused blood. Not only does he possess vampiric powers, he's been imbued with those of an even older creature—a serpentine. A snake, heretofore unable to change form, is animated with Hail's vampire blood and now the monster seeks life of its own! McCall Stephens had one drink; not nearly enough to imagine what he witnesses after being accosted in an alley. A beast so fiendish, it took the life of a man right before Call's eyes. Now it stalks him. He haunts Call with eroticism, each encounter tugging him closer to a dark abyss with impossible promises. Giving in, he may lose everything—including his life! Or will Call's wildest dreams come true? Take his blood—lose your life! A standalone short paranormal MM romance with coarse language, masturbation, explicit sex, abuse flashback, and a little bloody horror. But there's an HEA and no cliffhanger!
Bloodied Venom
Pairing: M-M
April 1, 2019
Word Count:
22000
Character Identities:
Gay, Transgender
Summary: Colton is a trans man living in a climate-changed world. He plies the canals that used to be city streets, earning a living taking tourists on illicit journeys through San Francisco's flooded edges beneath the imposing bulk of the Wall. Tris is an elf who comes through the veil to the City by the Bay - the Caille - on a coming of age pilgrimage called the Cailleadhama. He is searching for his brother Laris, who went missing after crossing through the Caille years before. The two men find they have common cause, and together they set off to find Laris in a world transformed by the twin forces of greed and climate change. And in the end, they find out more than they ever expected, both about the warming world and their own selves. Note: This story was originally published in the "Myths Untold: Faery" anthology from Wilde City Press. It is presented here in its original form.
Cailleadhama: Through the Veil
Pairing: M-M
November 6, 2019
Word Count:
23800
Character Identities:
Gay, Transgender
Summary: Colton is a trans man living in a climate-changed world. He plies the canals that used to be city streets, earning a living taking tourists on illicit journeys through San Francisco's flooded edges beneath the imposing bulk of the Wall. Tris is an elf who comes through the veil to the City by the Bay - the Caille - on a coming of age pilgrimage called the Cailleadhama. He is searching for his brother Laris, who went missing after crossing through the Caille years before. The two men find they have common cause, and together they set off to find Laris in a world transformed by the twin forces of greed and climate change. And in the end, they find out more than they ever expected, both about the warming world and their own selves.
Cailleadhama: Through the Veil Audiobook
Pairing: M-M
April 26, 2021
Word Count:
73900
Character Identities:
Gay
Summary: Never assume… …that your uber competent personal assistant will get it when you announce your (fake) engagement to him during a live on-air interview with your archnemesis. Never waver… …from your plan to punish your arrogant celebrity boss for his presumption by turning your (fake) wedding into a reality competition for event planners. Never admit… …that the feelings blossoming between the two of you through seven (fake) engagement celebrations, six (fake) bachelor parties, five (fake) wedding party luncheons, and four (fake) rehearsal dinners are about as (real) you can get. Camera Shy is a boss/employee, fake-engagement, right-in-front-of-your-nose romantic comedy featuring a former child model-turned-PA who is so done with cameras, a cocky LGBTQ activist/talk show host who does not lose, more scarves than midwinter in Boston, and banter. So. Much. Banter.
Camera Shy
Pairing: M-M
September 20, 2022
Word Count:
71000
Character Identities:
Lesbian
Summary: Vivian Chastain is an adrenaline addicted veteran, transitioning to civilian life in Sacramento, California. She settles into a new routine while she finishes up college and works as a bartender, covering up her intense anxiety with fake bravado and swagger. All Vivian wants is peace and quiet, but her whole trajectory changes when she stumbles upon a heinous crime in progress and has to fight for her life to get away. While recovering from the fight, she falls in love with someone who is tall in stature but short on emotional intelligence, and this toxic union provides Vivian the relationship that she thinks she needs. Given Vivian's insecurities and traumatic past, she clings to the relationship even while it destroys her. Vivian's relationships are strained to their breaking points as she continues to seek balance. She turns to her best friend for support, only to be left empty handed and alone until she finds comradery and care from the last person she would have thought.
Canopy
Pairing: F-F
October 26, 2020
Word Count:
54663
Character Identities:
Gay
Summary: Destiny rewards those who embrace it. Chris and his alien soul matches, Lasar and Nary, are ready to deepen their new bond as mates. It's also time for Chris to begin his training as a Nasha, or sub, and for Nary to embrace his new role as Ahna, or Dom, to Chris. As three in the soul match they are unique. Not only have Alasharians never matched with a human, they've never matched as three. What makes them special also puts them in danger. The Supreme Soul Healer warned Chris that many changes were ahead, ones even more startling than the original invasion. They must keep their bond a secret until they know who they can trust. Lasar and Nary are invited to a pleasure party by the Alasharian's leader, the Nall, and are forced to bring Chris and his cousin, Morgan. But a terrifying turn of events sets in motion what might be the beginning of the end for them all, unless they can resist the Void.
Cherished by Two
Pairing: M-M-M
April 25, 2017