The Fae Souls V2
by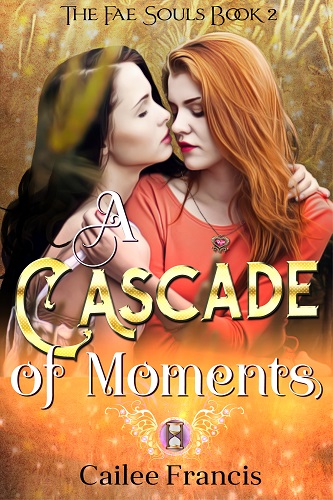 Editions:
Kindle

-

Kindle Edition

:

$ 2.99

A Cascade of Moments is the new, enchanting second installment of 'The Fae Souls' series.
My life started anew when I arrived at Prince Eldran's mansion with my memories absent and my future uncertain. I met a beautiful woman there named Sorcha and we fell in love, creating something special that brought our lives happiness and wonder. When Prince Eldran granted us permission to remain on his island, we built a life together. It couldn't have been more perfect.
Years passed, and our love blossomed. With time on our hands, Sorcha chose to help in the mansion's kitchen, while I worked in the gardens and joined the island's guard detail. It worked well for us, until word reached us that King Auberon and Queen Carisse were returning, and a failed treaty brought about threats of war from a long-standing enemy.
It was important to me to protect Sorcha, our home, and the friends we'd made on the island during our years there. I assumed we might have to fight, but I could only hope there was a chance for us to stay together and make it through - safe and sound.
A Cascade of Moments is a romantic novella of just over 20,000 words, which contains strong steamy content and language.
Published:
August 20, 2017
Publisher:
Independently Published
Genres:
Pairings:
F-F
Heat Level:
5
Romantic Content:
4
Ending:
Click here to reveal
Character Identities:
Bisexual, Lesbian
Protagonist 1 Age:
Ageless/Immortal
Protagonist 2 Age:
Ageless/Immortal
Tropes:
Amnesia, Fated Mates / Soul Mates, Reunited and it Feels So Good, Star-Crossed Lovers
Word Count:
20066
Setting:
Insley Island
Languages Available:
English
Series Type:
Continuous / Same Characters