Word Count:
37,000
Character Identities:
Gay
Summary: Sheriff Avery O'Rourke has tried to obey his strict Christian faith and lead a "normal" life. In 1923 in a rural East Texas town, "normal" means heterosexual. A cholera outbreak has made Avery a young widower, so he is married to his job. When a murder investigation forces him to confront his truth, will he finally be able to accept being gay? Veterinarian Garland Sands has returned from Europe to take over his father's practice. Struggling with shellshock (PTSD) and heartbroken by the suicide of his French lover, he resigns himself to a quiet, solitary life as a country vet. But the murder of the town doctor brings the sheriff to Garland's doorstep looking for help with the investigation. Seeing Avery awakens dormant feelings. Can he love a man who hates what he is? This isn't the lavish 1920s of The Great Gatsby. This is the flip side of that coin—rural East Texas. No electricity. No indoor plumbing. No flappers. In 1923, the timber barons have left and racism, homophobia, and sexism thrive. A Little Sin is a realistic mystery with unlikely heroes and a timeless romance between lovers caught in a world where their love is forbidden. This book contains steamy sex scenes and is intended for adults only.
A Little Sin
Pairing: M-M
February 24, 2018
Word Count:
14000
Character Identities:
Gay
Summary: Reverend Jesse Dixon has always been "the helper." He's the living definition of the expression beauty for ashes. He's experienced a lot of heartbreak in his forty-some years on this earth, including the suicide of his first lover. But he didn't let it define his life or make him bitter. Steven is the exact opposite. Abandoned as a baby on the steps of a west-end church; he grew up in a house for orphan and wayward boys. When a tragic accident happens that takes the life of the home's overseeing Reverend, the church finds itself placing an ad for a new one. One who can handle the challenges of running the church and the boy's home. Steven is eighteen and the former Reverend and he had an arrangement that permitted him to keep living at the home, despite the fact he's too old to be adopted. However, that security come into question when he learns the church has hired a new Reverend, Jesse. At first, he doesn't know what to make of the man. But he decides for fun and games he'll make Jesse sweat a little by shamelessly flirting and teasing him. But Jesse resists his flirtations for the sake of his calling. The last thing on his mind is taking advantage of someone he's mentoring. But just how long can the good Reverend resist Steven's teasing before something happens between them? Join Daniel Elijah Sanderfer for the long-awaited sequel to his best-selling novella, A Prayer For Love.
A Prayer For Love 2
Pairing: M-M
May 1, 2020
Word Count:
31000
Character Identities:
Gay
Summary: Michelin Empyrean, a rare white raven, has lived for centuries and he's tired of loneliness. What makes life more burdensome is increasing responsibility and leadership of socially inclined corvid shifters. Preventing his kind, ravens, and especially crows, from robbing and menacing humans who remain unaware of their existence takes its toll. When one wayward creature's thieving antics come to his attention, Mich decides to personally take the man to task. Terrel Slade is a crow. Practically everything he owns is stolen. His stash of pretties, and the fact he's never been caught, makes him proud as a peacock. As much as he'd like to be the beautiful bird he struts around imitating, he believes his crow is sexier. Terre is no more than an omnivorous crow shifter with a penchant for shiny objects. A cunning bird, his existence is crammed with innovative ways to irritate his archenemy, the raven. That's about to change. When Michelin halts Terrel's lifestyle, more than sparks fly—the whole damn forest might burn to the ground. #darkfantasy #drama #enemiestolovers #gay #HEA #paranormal #religerotica #romance #shifters #travel #violence
A Silver Raven's Tale
Pairing: M-M
February 5, 2021
Word Count:
70000
Character Identities:
Demisexual, Gay
Summary: Reed Matthews lives a quiet and structured life in the small town of Edgewood. Going on his sixth year as the principal of a Catholic high school, Reed thrives on routine, but one unplanned excursion for Chinese takeout is enough to send his meticulously-constructed world into a tailspin. After growing up in foster care, Dominic O'Halloran decided to enter seminary in his early twenties, and he's dedicated his adult life to creating space for the LGBT community. Weeks after answering the call from St. Paul's and moving to Edgewood, Dominic finds himself face-to-face with the one person he's never been able to leave in the past--his childhood best friend. Dominic and Reed find themselves entangled in decades old unresolved feelings and a complicated, new emotions. Reed is terrified of losing his soul, and Dominic is worried about losing his heart. But all it takes is one make-believe kiss for them to realize they'd throw everything away for another chance at happiness.
A Taste of Sin
Pairing: M-M
March 20, 2019
Word Count:
77000
Character Identities:
Bisexual, Gay
Summary: Dr. Miles Grant acknowledges that his destined mate could be either gender even though his bisexuality cost him his family and his pack. Luckily he found the Forbes Pack, who happily accept him just as he is. What he never counted on was finding his mate in Pittsburgh or for his mate to be another species entirely—a cat! Quincy Archer isn't just any jaguar shifter. He is the heir to the leadership of his pride. Destined mates are nothing but legend to the nearly extinct and generally solitary jaguars, and Quincy certainly never expected to find one for himself, much less a male… or a wolf. However, finding each other and coming to terms with their species is the least of their worries. Quincy is expected to select a proper female mate, father a cub, and take his place as heir to the pride. Except Quincy refuses, having no interest in women or leadership and knowing he isn't right for it. But his father will stop at nothing—not even attempting to kill Miles—to get his way. Quincy and Miles must overcome many obstacles to stay together as the destined mates they're meant to be.
Acceptance
Pairing: M-M
December 11, 2019
Word Count:
56000
Character Identities:
Bisexual, Gay
Summary: What happens when a cruise ship romance crashes on the rocky shores of reality? Jonathan Vallen, a gentle musician who loves to garden, is failing miserably at running his father's Boston company. When hotshot executive Marco Pellegrini takes over, a humiliated Jonathan moves to Cape Cod and spends a year transforming from an insecure duckling into a sexy swan. They meet again on an LGBTQ Caribbean cruise and when Marco doesn't recognize him, Jonathan pretends to be someone else for the week—Jonah Rutledge—someone good enough to be loved. Intrigued by Jonah, Marco lets down his defenses and their shipboard fling deepens into something special. Back on land, the romance crashes when Marco discovers who Jonah really is. While Marco struggles to understand the deception, Jonathan resolves to win back Marco's trust. But Jonathan's father takes vindictive action against Marco for daring to get involved with his son. Will Marco and Jonathan defeat their own fears as well as the challenge from Jonathan's father? If you like swoony romances in tropical paradises, hidden identity, and the courage to love in the face of adversity, then you'll love All the Way to Shore.
All the Way to Shore
Pairing: M-M
January 6, 2020
Word Count:
76000
Character Identities:
Gay
Summary: For Andrew Tuttleman, sex is a means to an end. With a mother too sick to pay the bills on her own and college bills to pay, Drew has spent years resorting to sex with strangers to keep a roof over his mother's head and keep himself at school, far away from the hell where he grew up. This summer, his usual tricks are still paying the bills. But there's a new one, Grant, who never got the memo that a trick is a no-strings deal. Convinced that Drew is the answer to a hopeless prayer, Grant seems ready to pursue Drew to the ends of the earth. Drew, on the other hand, isn't so convinced. Grant comes with trouble in the form of a wife and three kids, not to mention a single and unwavering requirement: that Drew give up his livelihood. Grant's kiss makes Drew ache for more, a romance that he never dreamed possible. He finds himself unexpectedly willing to try. Can Drew weather Grant's angry father, wife, and a daughter determined to kick him in the shins so hard that he'll leave Grant's life forever? It all relies on Grant's faith in an impossible prayer.
Andrew's Prayer
Pairing: M-M
September 27, 2017
Word Count:
14500
Character Identities:
Gay
Summary: Good and evil walk hand in hand. Hot, sexy times and instalove in mysterious places. Angels and demons love faster and harder for as long as they can because they know—a being more powerful can change their lives in the blink of an eye. Raziel Eden swiftly learns to blend in with humans and demons after being cast from Heaven by a stronger archangel who, for all his holiness, should reside in Hell. Raz's club, MystEden, is a den of iniquity frequented by beings from both realms. Earth has become his private playground and he delights in tasting its many fruits though Raziel would trade it all to travel heavenward. Then a monster from Hell walks into his club; a satanic minion who captivates Raz with beauty and innocence. Surge Oberon possesses knowledge of many enigmas but he yearns to sit at Lucifer's right hand wielding identical powers of an angelic counterpart, archangel Raziel, Heaven's excommunicated keeper of secrets. He must convince Raziel to trade one confidence, a tale Surge's master plans using to regain his throne in Heaven. What part will Surge play in Hell's hierarchy should Satan succeed? Two beings seeking a path home—only one can win their battle of wits. Contains religious themes some will find offensive. #drama #explicit #gay #HEA #instalove #lgbtq #paranormal #religerotica #shortstory #travel
Angel in Heat
Pairing: M-M
March 5, 2021
Word Count: Information not available
Character Identities:
Bisexual
Summary: Trevor Davidson has everything going for him. He's just moved out on his own with three friends, and he's landed a job as music director at a large Boston church. He has high hopes for marrying his long-term girlfriend and settling into a comfortable, devout lifestyle. Andre Cole has spent the past few years throwing himself into a dead-end job at a Cape Cod-based call center. When an opportunity to move back to Boston arises, Andre believes it will be the do-over he needs to put his past behind him. A chance meeting in a club on New Year's Eve brings Trevor and Andre together for a brief but steamy encounter. Both assuming that's the end of it, they are unexpectedly thrown back into each other's lives when Trevor's church hires Andre for their website design. While Andre is content at first to move on, Trevor's conflicted feelings bubble over into his songwriting. Before he can stop it, his ode to Andre becomes an inadvertent Christian radio hit. Unfortunately for Trevor, he isn't the only one who knows the song's hidden meaning. Someone has leaked the story and upended Trevor's life. In order to put the pieces back together, he needs to learn to be honest with his girlfriend, with Andre, and especially with himself.
Anthem
Pairing: M-F, M-M
March 1, 2016
Word Count:
12200
Character Identities:
Bisexual, Lesbian
Summary: In her teens, Jo spent a summer as a missionary in Chicago. After forty years, two divorces, and a daughter who won't speak to her, a postcard arrives in the mail. Now Jo must decide if she wants to attend a reunion. Going means seeing the woman she once loved and finding out if all they had was one summer or if there's a chance to start over. It also means facing the other women on her team. Maybe it's time for Jo to reconcile all her broken relationships. (Part of Never Too Late - a collection of nine stories featuring LGBTQIA characters over the age of fifty)
Ashes & Alms
Pairing: F-F
December 5, 2017
Word Count:
20000
Character Identities:
Bisexual
Summary: After years of going unnoticed, the darkness has seen her... Annabel has enough to worry about. She's escaped the suffocating clutches of an abusive religious group. She's safe in a new home, with her supportive roommate, Kat, who makes her heart flutter. Every day is an opportunity to heal from her childhood trauma while she explores paganism and develops a relationship with a gentler deity. She would rather not add another spinning plate to her recovery. But when Kat begins a week-long magical ritual to heal her broken heart, she sprains her ankle on the first day and can't continue the process. And though Annabel knows a romance with her straight roommate is unattainable, she can't stop herself from offering to finish the ritual as a proxy. Annabel's role seems simple enough. She must go to the crossroads every night and deliver an offering to the unseen being who resides there. If she is polite and respectful, then by the end of the week, the creature should remove Kat's heartbreak. There is only one rule: she should not look over her shoulder at the crossing. Because if she locks eyes with the spirit, they could take it as an invitation to follow her home—or keep her. At the Crossing is a 20,000-word monster romance novella. It features a F/NBi pairing involving a human woman and an agender demon. This book is intended only for adult audiences. Content warnings may be found in the book's front matter and on the author's website.
At The Crossing
Pairing: F-NB
October 15, 2021
Word Count:
32723
Character Identities:
Gay
Summary: Bryce Harkless is unapologetic. He's raw, rude and arrogant but sweet, gentle and loving. He's a sexy college basketball player from Savannah, GA that everyone loves and wants to sleep with. His life, however, is full of conflicts. He is haunted by the past, yet afraid for the future. He loves his boyfriend, but hates him, too. To avoid facing his troubling past, he lies, cheats and engages in risky behavior. There are layers of pain inside of Bryce that are destined to destroy his life if he doesn't learn how to face them and move on. He was raised in the church, but he doesn't understand God's reasoning for treating him the way he does. He doesn't want to be gay, but women do nothing for him. In turn, he blames God for everything. He hates God. The month of March is the hardest time of the year for Bryce. During this time, he is forced to deal with an event from his past that shattered his young life into pieces. As if dealing with that situation isn't hard enough, an incident involving another man raises questions about his sexuality in the mind of his beloved auntie. However, everything comes to a screeching halt in just one phone call. There, he gets the news that undermines everything else. Come along for the ride in this novella, as the next few days are destined to turn Bryce's already rollercoaster life, even more upside down!
Bad Religion
Pairing: M-M
March 22, 2014
Word Count:
32518
Character Identities:
Gay
Summary: It's been three gut-wrenching days since Bryce received that life-changing phone call in Savannah. He has avoided dealing with the situation, but now that his spring break is ending, he has no choice but to attack and face his truth as he heads back to his college apartment in Atlanta. To Bryce, all of life's issues are hitting him at once. If dealing with the reality of that phone call wasn't bad enough, his closest family members are directly and indirectly questioning him about his sexuality. His conscience is eating him alive as a result of the decisions that he's making. To add insult to injury, his pastor accuses him of something unimaginable. All of this brings Bryce's internal conflict with God to an all-time high, leaving him at the point of no return—emotionally, mentally and physically.
Bad Religion 2: A Sinner's Denial
Pairing: M-M
August 23, 2014
Word Count:
46584
Character Identities:
Gay
Summary: It's summer 2016 and two years have passed since we've last seen Bryce Harkless. He has moved past that devastating but eventual false diagnosis, but has much changed in his life? Is he still doing the harmful things that caused that initial life-changing scare? As Bryce prepares to head into his senior year of college, he plans a relaxing vacation to travel up the east coast with his best friend. Something unexpected happens while on the trip, so they alter their plans and head to the Midwest. While on that journey, Bryce encounters another life-shattering event that will shake him to his core. This unforeseen circumstance will force Bryce into a decision that'll allow him the opportunity to seek vengeance for a previous wrong done to his family. Will Bryce do what his church upbringing taught him and leave it in God's hands, or will he go out and do his own thing? Where will his relationship with God stand when the dust clears? Jaxon Grant, author of the "Incidental Contact" and "Life of a College Bandsman" series, pens a masterfully woven tale of adventure, crime and consequence, lust, secrets, exploration, revenge and mind-blowing sex. In the final book of this trilogy, join Bryce on this two-week voyage as he learns the hard truth about himself—the truth that maybe he isn't even ready to discover.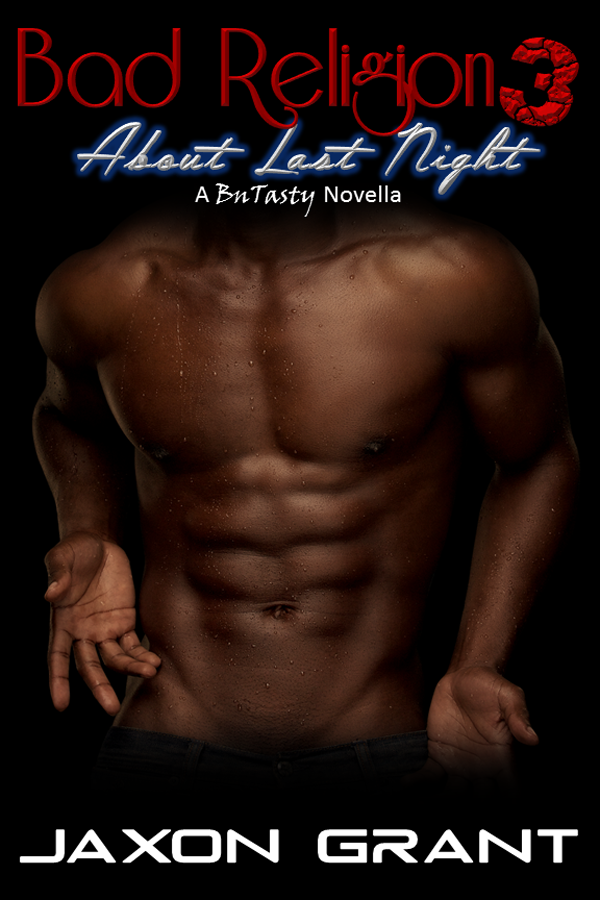 Bad Religion 3: About Last Night
Pairing: M-M
May 22, 2017
Word Count:
12000
Character Identities:
Gay, Lesbian
Summary:
"At first, I tried to pretend that I wasn't different. That these urges I felt were no more than just sinful lust of the flesh. But when I'm near him I can't help but close my eyes and bask in his essence; so fresh, like the smell of the Earth rising after the rain. How can I silence the desires of the flesh? I find myself dreaming of him at night. I find myself craving to taste him, and his body tells me that he desires the same. But I am so afraid."
Johanan is a sweet Amish farm boy with a secret. He and his best friend Amos share a bond beyond what would constitute as "just friends," a love that dare not speak its name. One day after the church picnic, they sneak away, and what originally was intended to be horseplay transforms into a forbidden moment of passion. But when they are discovered by their fathers locked in a kiss, it results in a confrontation and the end of their innocence. They are forbidden to see one another again, and their sacred bond is deemed an abomination.
Will Amos and Johanan ever see one another again, or will they remain forever separated by the punishment for their sin?
Join Daniel Elijah Sanderfer for this heart wrenching inspirational tale of how love can prevail even after all is lost.
Beautiful Abomination
Pairing: F-F, M-M
September 23, 2019
Word Count:
25000
Character Identities:
Gay
Summary: From the outside looking in, John leads a boring life by day as a professor at a small liberal arts school in San Francisco. His nights are saucy, sinful even, when he services clients as a sex worker. He's damned good at it, too, for reasons far surpassing simple technique, whether he's entertaining super-hunky coeds or fulfilling the fantasies of married men on the down-low. Because John has a secret. It's not that he's thirty-five and feeling washed-up or that he's got a crush on one of his clients. His secret could be he's buried his rural, Southern roots, or that Paul, his first lover and preacher from back home, still preoccupies his thoughts. Maybe it's the terrors he faced in conversion therapy as a teenager…but it's none of those things. John's secret is the Fountain, a mysterious well of energy within him he cannot control. Paul knows about the Fountain. So do John's parents. Despite their best efforts to protect their dogma, it will all come out now that Paul has called John home to Georgia. To Bethesda.
Bethesda
Pairing: M-M
November 5, 2019
Word Count:
20000
Character Identities:
Gay
Summary: Persuasion, the action or fact of persuading someone or of being persuaded to do or believe something All my life, I was persuaded to blindly believe in things; that they would get better, that I would never fit in, that the way I felt deep down inside was wrong; that the love I felt was a mistake and a sin. But, whats a coming of age boy to do when all he desires is to kiss his best friend. Growing up in the Blue Ridge Mountains, everything you do whether good or bad is looked upon with judgemental eyes. Just like the mountains that overshadow the valley below, they hide the secret bygones and people I used to know. From tragedies that can tear families apart, to secret kisses stolen in the dark. Join best-selling author Daniel Elijah Sanderfer for this heartwrenching coming of age story about coming to terms with feeling different and about the bygone persuasions of the first time he kissed a boy.
Bygone Persuasions
Pairing: M-M
July 1, 2019
Word Count:
19000
Character Identities:
Gay
Summary: When Delan stumbled into the Temple, he wasn't expecting to be welcomed as a Temple servant. He wasn't expecting his only duty to be to serve Lyander, cloistered son of the High Priestess. He wasn't expecting to fall in love. And he wasn't expecting that he was going to have to choose: love, or saving the world.
Chains of Light
Pairing: M-M
October 1, 2020
Word Count:
83,806
Character Identities:
Gay, Lesbian, Straight
Summary: When chaos strikes at the heart of Milan, it is up to Florentina's alter-ego the Night Flyer to stop it. As Florentina and Madelena's love deepens, so does the well of danger surrounding them. The race is on to discover the mysterious Shadow Guild and uncover who is behind the deadly rampage, but Florentina's mission is threatened by a gang of assassins. Can the Night Flyer prevail, or will Maddie's love be ripped from her arms? Chaos in Milan is the third book in Edale Lane's Night Flyer Trilogy, a tale of power, passion, and payback in Renaissance Italy. If you like action and suspense, rich historical background, three-dimensional characters, and a sweet romance, then you'll want to complete the Night Flyer saga. Order your copy of Chaos in Milan today!
Chaos in Milan
Pairing: F-F, M-F
December 21, 2020
Word Count:
26000
Character Identities:
Gay
Summary: Joshua's spending more and more time at club Sub Rosa. It's time he emerges from the shadows to take a more active role. Pursuit of the aloof nightclub owner obsessed with voyeurism carries him over the edge. The stranger's scent awakens a desire Joshua has not felt in centuries. He vows to have the man. If it means bleeding dry everyone close to either of them, so be it. Mason Kildare, owner of Sub Rosa, doesn't play in his own backyard. Instead he frequents other night spots in search of fulfillment. A reserved disposition coupled with gray hair keeps most of the young men he finds attractive at arm's length, but not Joshua. Joshua storms Mason's defenses, breaking them down one by one. By the time he discovers Joshua's bloody secret, Mason has lost more than his body -- he's given away his soul.
Clandestine, Sanguine Blood Seekers 2, A Razor's Edge Vampire Erotica Short
Pairing: M-M
June 10, 2022