Word Count:
115,000
Character Identities:
Lesbian
Summary: Life hasn't been easy for Aeley since she arrested her brother, and her role as a political leader leaves her feeling isolated and lonely. Days before her brother's trial, she meets Lira, a quiet and modest scribe who makes Aeley want more than just a professional relationship. When she attends the trial and leaves with a marriage contract, Aeley doesn't know what to do. She must choose one of two brothers, marrying into a family she doesn't know. Then she discovers that Lira is part of the same family—a sister to Aeley's suitors and the family's disgrace. And not at all opposed to an intimate relationship. Except random acts of violence against her people test Aeley's ability as a leader, and a web of lies and deceit threaten not only her chance at happiness, but her life...
A Question of Counsel
Pairing: F-F
October 18, 2019
Word Count:
80,000
Character Identities:
Gay
Summary: Sparks fly when Chance meets tall, sexy Xav at a Wilmington bar and they have the hottest one-nighter of their lives. But Chance doesn't do repeats, Xav seems detached, and they go their separate ways without a word. Later, when closeted Assistant District Attorney C. Evan "Chance" Fairchild meets Dare's Landing's newest deputy sheriff, Xavier "Xav" Constantine, Evan isn't only wary. He's irritated as hell. Xavier is a former FBI agent turned deputy sheriff who is hot on the trail of a South American child prostitution ring. Evan is fighting to put an end to rampant cocaine trafficking and chafing under the thumb of an election-hungry boss. When someone tries to kill the eleven-year-old witness who holds the key to both their investigations, they're forced to work together as they put their lives on the line to protect him. As Chance and Xav collide in the heat of a sweltering North Carolina summer, dodging bullets and chasing bad guys isn't the only action going on.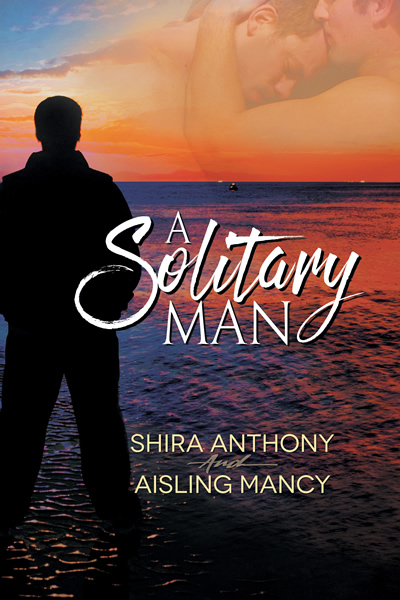 A Solitary Man
Pairing: M-M
November 6, 2015
Word Count:
93000
Character Identities:
Genderfluid, Lesbian, Non Binary, Pansexual
Summary: When a change in collective conscious sends the Outsiders, a group of aliens, to the shadows below the city, humans reason that the demonization of their peers is simply more "humane." There's no question, nor doubt. Just acceptance. Lydia had embraced that sense of "truth" for as long as she can remember. The daughter of a powerful governor, she has been able to live her life with more comforts than most. Comforts can be suffocating, though, and when the opportunity to teach Outsider children in their private, "humane" community becomes available, she takes it. What she finds beneath the city is far from the truth she had grown to know. There she meets Alessia, an Outsider with the knowledge and will to shake the foundation of all those who walk above ground. The two find a new and unexpected connection despite a complete disconnect from the technological world. Or perhaps in spite of it. Still, it takes a lot more than an immutable connection to change the world. Lydia, Alessia, and a small group of Outsiders must navigate a system of corruption, falsehoods, and twists none of them ever saw coming, all while holding on to the hope to come out alive in the end. But it's a risk worth taking, and a future worth fighting for.
Beneath the Surface
Pairing: F-F, M-F, M-M
January 19, 2018
Word Count:
81000
Character Identities:
Genderfluid, Lesbian, Pansexual, Straight
Summary: Alessia is an Outsider—a member of the not-quite-human community that has recently been released from their underground prison. Shortly after their liberation, Alessia is given an ultimatum: obey all the United Earth Alliance's demands, or her mother will forever remain a hostage—a mother she'd believed dead for fifteen years. Reluctantly, she agrees, though she has no idea what those demands may be or how she will balance her obligations to the UEA with her responsibilities to her people and her family. As the UEA tightens its grip on humans and Outsiders alike, it becomes clear that meaningful social change will not be possible without a revolution. Alessia and her peers embark on a mission to discover just how far the government is willing to go to maintain their monopoly on power. What Alessia and her comrades discover, however, goes much deeper than they'd ever anticipated. Who are the Outsiders, really? What secrets of their destiny lay hidden within a top-secret space station? And why are the Outsiders linked to an emerging disease the UEA seems desperate to keep secret?  As they delve deeper, it isn't only Alessia's identity that will be called into question, but the fate of the entire planet.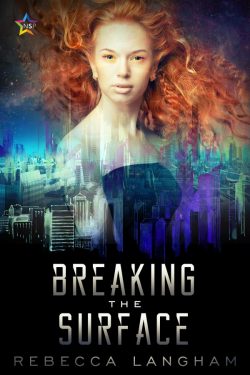 Breaking the Surface
Pairing: F-F, M-F, M-M
January 13, 2020
Word Count:
34613
Character Identities:
Gay
Summary: Jotham was one of the oldest of the paranormal world, and a dragon shifter. He had been one of the attending Councilmen for the mating Games, since its creations. It is a time, for most, to come and have some fun, play some games, and hopefully find their mate. However, for Jotham, it was the time of his worst nightmare. Someone had taken his daughter over a hundred years ago. Discovering that Councilman Troy, his supposed friend, was behind his daughter's disappearance was something Jotham had a hard time dealing with. When he was first approached about the sinister actions of his fellow councilman, Jotham had not believed the men's accusations. Then Ricky, Ian, Joop, their mates, and family proved their words were true. Discovering his daughter had died was heartbreaking, but then he saw a picture in a file and knew the little girl looking back at him could only be one person...his granddaughter. Ricky and Ian convinced him that maybe one of the victims might be able to help them find the other captives. That is how he met his destiny.... his Q... his mate. Q had never really known a life outside the labs and captivity. So many people and no ability to communicate was terrifying. Then he saw the most beautiful sight in the world. His koala wanted to pounce and claim the man...but then he found out Jotham was a man of power and that type of person had only brought him fear and pain. Can Q push past his fear and help his mate find his granddaughter and others still being imprisoned? Can Q push his fear even harder aside and allow his dragon mate to claim him? Or will all be lost forever?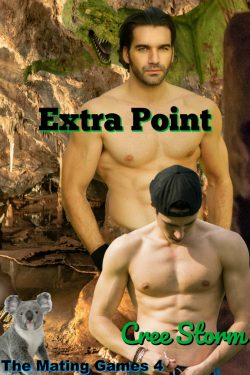 Extra Point
Pairing: M-M-F
June 19, 2016
Word Count:
32850
Character Identities:
Bisexual, Demisexual, Gay
Summary:
One terrorist blast changed Master Tobias Zimmer's entire existence, relegating him to being nothing more than just a "Coppies" because of the metal replacing his flesh. As the once future Shogun of moon colony Orion 1, he now idles his time away keeping tabs on the Loyalists while his father and brother broker negotiations with the Earth Consortium.
A confrontation with his childhood enemy, Dr. Thorsten Nordenfelt, sets into motion events that cannot be undone and puts Tobias's sheltered heart at the center of the colony's attempts to free itself from the repressive Earth's rule.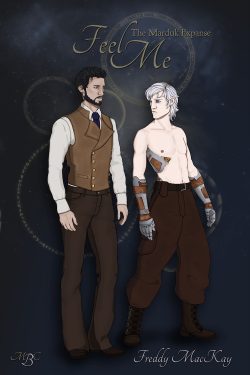 Feel Me
Pairing: M-M
June 7, 2014
Word Count:
112466
Character Identities:
Gay, Lesbian
Summary: Trying to move past that fatal event from seven years ago has been hard for NBA superstar CJ Wright. He hasn't truly dealt with that tragedy from January 11, 2011, and the pressure of it all is starting to consume his life. CJ has made some questionable decisions with the media, and his personal life, and now everything is starting to boil over to the point of no return. He's on the hunt for redemption, but his past actions could have long-lasting impacts on his future. CJ will have to face a series of tough decisions that could forever change his life. In doing so, everything he loves is at risk in this inevitable do-or-die moment. In the next state over from CJ, trouble is looming for Governor J. Nehemiah Reed. The governor is in the midst of a highly contested re-election campaign, but there are forces working against him that could bring the governor, and his loved ones, to the brink of extinction. What will happen when the worlds of a superstar athlete and a rising politician with sights on the White House collide? Will CJ ever find real peace? Will his family remain intact after his new set of revelations? Will CJ ever find true love again? Who is really behind the governor's potential downfall? Will the governor fight off his enemies and win re-election? Will he still be standing once all the dust clears? One thing is for certain, after this series of events, the lives of both CJ and Governor Reed will never be the same. Join CJ on this new journey as the fourth book of the Incidental Contact series is guaranteed to be explosive and will leave you speechless.
Incidental Contact 4: Secret Lovers
Pairing: M-M
September 20, 2018
Word Count:
150751
Character Identities:
Bisexual, Gay, Questioning, Straight
Summary: For every action, there is an equal and opposite reaction. While Kris and Zach remain in critical condition in the aftermath, the fallout begins. Dray and Dwight have another battle as Zach's mom expresses her true feelings. This forces one party to completely walk away. Will this unexpected move guide Zach to his rightful lover? Zach also has the conversation with his birth father that's been eleven years in the making. Will a father-son relationship form, or will that door be forever closed? That, however, will push Zach to do something that may further complicate an already unstable situation. As Dwight receives information on the paternity case, a serious threat forces him to change his tone with the divorce. Just how much is he willing to give up to become a single man? Keston takes a positive step in seeing his wishes come true, but how will his family deal with the revelation? And there are issues with Phoenix due to the new temptation that has entered Keston's life. Will Keston remain faithful or will this mark the end of Keston and Phoenix? In the tenth book of an eleven-book series, the accident forces Kris to make a few decisions that may haunt him for the rest of his life. Kory takes matters into his own hands, Micah's family will hate a choice he makes, and Natasha meets a new love interest that has the potential to turn worlds upside down. Tony has a chance encounter that could destroy another marriage, Elijah comes across devastating information, and Genevieve's holding a big secret. But the ending sequence of events is something that will never be forgotten. This event will shock everyone and forever alter the direction of the story.
Life of an EX College Bandsman 10: Is He The Reason
Pairing: M-F, M-M
July 20, 2017
Word Count:
154047
Character Identities:
Bisexual, Gay, Questioning, Straight
Summary: In the final book of this epic, memorable, mind-blowing series, Zach makes a choice regarding his long-term future. Will he pick Dray, Dwight or neither? Zach also comes face-to-face with his father and that interaction could have long-lasting impacts on the brewing relationship with his brother. In a series of heart-to-heart conversations with his mother, he learns the truth of his childhood foundations which shaped him into the man he is today. Dwight is on the search for liberation as he comes clean to the people he loves the most. He is determined to see his divorce through to the end and doesn't care what all it might cost him. Kris and Rozi come to a resolution about the issues that plague their marriage. While Rozi is forced to deal with her shattered past, she learns more unwanted news about her family. Will Rozi and Kris make it through the fire or has too much damage been done? While Raidon is trying to put his life back together after Micah's devastating situation, Tony makes an announcement that will forever change their relationship. TJ finds himself in a serious bind as Eli plots to remove Trae from their lives. As Dray continues his sessions with the therapist that brings him closer to healing, Phoenix deals with a situation from his past that can cause imminent danger to his livelihood. Join Zach and the crew for one final ride as these characters are forced into decisions that will forever shape their destiny as all of their lives finally come full circle.
Life of an EX College Bandsman 11: The Finale
Pairing: M-F, M-M
February 21, 2018
Word Count:
112680
Character Identities:
Bisexual, Gay, Questioning, Straight
Summary: Zach is forced to make a decision about his future which impacts the people closest to him. While Zach continues to battle his personal demons, someone from his past is heading to Atlanta and once it is revealed how they are connected, fireworks will blast! Zach, however, isn't the only person facing a potential nightmare. Dwight is in the middle of a heated divorce when he receives news that will change his life. Will he be able to keep this information away from Lexi or will it all crash and burn in his face? Kris' lies and deceit have finally caught up with him, putting everything he's worked so hard to achieve at risk. Kris' most valuable friendships could be destroyed, along with his marriage. Has Kris gone too far or is Rozi willing to give him another chance? In the ninth book of an eleven-book series, more secrets will be revealed, as others turn to unusual suspects for steamy sexual encounters. Dray is forced to confront his sexuality, as Phoenix meets a new friend that could pose a threat to some relationships. Elijah makes a big reveal to his parents, while TJ discovers troubling information about his family. More importantly, everything could be at stake for these characters when some of the people they love most is put in a situation out of their control. What will happen to the gang of friends when the unthinkable happens?
Life of an EX College Bandsman 9: Nothing Lasts Forever
Pairing: M-F, M-M
March 23, 2017
Word Count: Information not available
Character Identities:
Bisexual
Summary: Ezra Levin spent years as a soldier, just as his father had wished. But after stints in the Israeli military, the Mossad, and finally as a member of Hercules Security, the man once known as "Ghost" decides to retire and pursue his own dreams of being a chef. At forty-five, he knows his yearning to have a partner and a family of his own are probably unattainable, but as a private chef for Judge Mason Whittaker and his young son, Jamie, Ezra finds some measure of fulfillment. Unfortunately, Mason's past as a District Attorney has made him a lot of enemies - one of whom seems to be looking for payback. When a series of unsettling events disturbs the Whittaker household, Ezra immediately steps up, wanting to protect Mason and Jamie. He calls upon his old friend, Cade Thornton, for help, as a cunning criminal plays a game of cat and mouse that endangers Mason's life. Ezra realizes that Mason has come to mean far more to him than just an employer, and that he's going to have to use all his old skills to stop a killer - or else he just might wind up losing the man he loves.
Once a Hero
Pairing: M-M
November 20, 2016
Word Count:
111330
Character Identities:
Lesbian
Summary: In 2116, Colonel Summer Hawkins's jet crashed off the coast of Iran during a rescue mission and she lost her leg and career because of it. Unable to face the demons the crash provoked, Summer left Washington D.C. and her life behind. Two years later Summer's past intrudes on her new life as a tabloid darling and she's dragged back to Washington D.C. kicking and screaming. Forced to face the life she left behind, and the wife she abandoned, Summer struggles with her sudden reappearance in the nation's capital while balancing her delicate mental state. Will the abrupt disruption be the thing to pull her out of the hell her life has become or will it cause her mental demons and nightmares to worsen making Summer fall deeper into the pit of despair and hopelessness she's lived in for the last two years?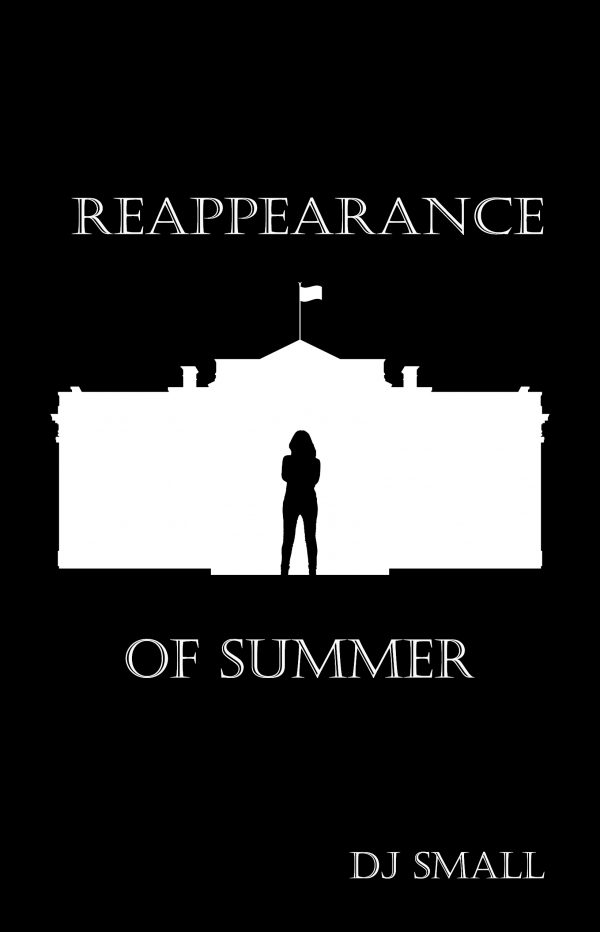 Reappearance of Summer
Pairing: F-F
October 29, 2018
Word Count:
60,000
Character Identities:
Bisexual, Polyamorous
Summary: Tanner Lassiter has easy, straightforward goals. 1. Marry the love of your life. 2. Become Kentucky's youngest governor ever. 3. Become president. Eli Whittaker is a kingmaker with two goals. 1. Use your billions and connections to help Tanner realize all of his dreams. 2. Don't die of a broken heart in the process of achieving #1. Zoë Deliban is a small-town teacher with one goal. 1. Don't mess up Tanner's life by letting him know you still love him. This is an MMF love story. Open-minded adult readers only, please. If you don't mind a few four-letter words and steamy scenes, and you want a book about enduring love, loyalty, and kindness, come on in and enjoy the fun. The Rule of 3 is a "Lovers in Louisville" series spin-off and a standalone book.
The Rule of 3
Pairing: M-M-F
August 17, 2020
Word Count:
108000
Character Identities:
Bisexual, Genderqueer, Non Binary
Summary: Fire. Water. Burn. In the two months since the All Hallows' Eve party, Tally has courted Haru, buying expensive gifts, taking the two of them to upscale restaurants and trying to find a balance in earning Haru's fragile trust while being new parents to the Cohen joeys. Tally sees hope in the new domesticity the family has settled into, despite having some bumps along the way. Gifts and treats have satisfied Haru's otter, but the human half remembers the brutal lessons of giving their trust away. How can two lijun who barely know each other anticipate what will happen when times get tough? There are circumstances Tally doesn't understand yet, and Haru struggles to find their feet with an Urusar who doesn't know the rules. A revelation not only throws the tentative relationship between them askew, but also starts Tally and Haru down a path the two of them can't escape, one so heart-wrenching Haru's not sure their heart will survive. Traditionalist concerns that have always nipped at the Bastille clan's heels come roaring to the forefront with demands and ultimatums. Tally needs to fall in line or face further threats to his otter, his family and his clan. Haru needs to find the strength to believe in the good despite the bad. In an environment where it's vital to know ally from foe, Tally and Haru need to stand united or watch the community Tally's family has built fall under the thumb of heartless, greedy autocrats.
Trysts & Burning Embers
Pairing: M-M, Includes NB
November 20, 2018
Word Count:
95295
Character Identities:
Gay
Summary: Love, served with a twist. Nursing a broken heart when his ex-boyfriend, Riley, leaves him for the love of his life, Carter, Will Martin throws himself into teaching at NYU and writing. An invite from Riley to a speakeasy called Under helps Will begin to heal, and he finds himself enjoying both the drinks and the company. Soon after, he's shaken by news of his father's cancer diagnosis and Will reluctantly returns to Long Island to see the man who disowned him after he was outed. Sparks fly when Will meets his father's mentee, Republican Senator David Mori, who is both mixed race and openly gay. Will is looking for a no-strings-attached fling and David is leery of getting involved with his mentor's son, so they keep their affair a secret. As his father's health worsens, Will elects to remain in Garden City and his relationship with David grows beyond casual sex. Now, both men must decide how to bridge the divide between them.
With a Twist
Pairing: M-M
September 25, 2018