Word Count:
20066
Character Identities:
Bisexual, Lesbian
Summary: A Cascade of Moments is the new, enchanting second installment of 'The Fae Souls' series. My life started anew when I arrived at Prince Eldran's mansion with my memories absent and my future uncertain. I met a beautiful woman there named Sorcha and we fell in love, creating something special that brought our lives happiness and wonder. When Prince Eldran granted us permission to remain on his island, we built a life together. It couldn't have been more perfect. Years passed, and our love blossomed. With time on our hands, Sorcha chose to help in the mansion's kitchen, while I worked in the gardens and joined the island's guard detail. It worked well for us, until word reached us that King Auberon and Queen Carisse were returning, and a failed treaty brought about threats of war from a long-standing enemy. It was important to me to protect Sorcha, our home, and the friends we'd made on the island during our years there. I assumed we might have to fight, but I could only hope there was a chance for us to stay together and make it through - safe and sound. A Cascade of Moments is a romantic novella of just over 20,000 words, which contains strong steamy content and language.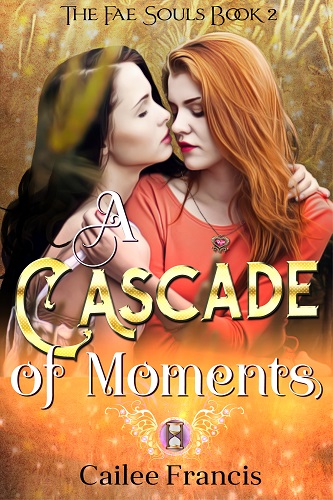 A Cascade of Moments
Pairing: F-F
August 20, 2017
Word Count:
33500
Character Identities:
Gay
Summary: The Christmas Eve Dance six years ago was the scene of angry words and heartbreak. This Christmas, it's time for forgiveness and second chances. Hunter Cavendish fled his hometown six years ago and has avoided returning ever since. Now an up-and-coming designer, he succumbs to family pressure and agrees to come home for Christmas. But the fates must be conspiring against him, because the very first person he runs into is Aaron McBride—the man he's never been able to resist. The man who broke his heart. Aaron McBride loves his small town, loves the gift store he owns, and absolutely adores Christmas—it's his favorite time of the year. That is, until this year. This year he's forced to work alongside the infuriating and entitled Hunter Cavendish on the Christmas Eve Dance decorating committee. There's no way he's going to fall under the spell of his charms again—absolutely not. But the Christmas spirit weaves its magic, bringing the two of them together and providing the perfect opportunity for apologies, fresh starts, and falling in love again. So long as they can put the past behind them… A Christmas Reunion is a cute, feel-good holiday romance featuring enemies-to-lovers, forced proximity, second chances, lots of Christmas sweetness, and a well-deserved happy ending.
A Christmas Reunion
Pairing: M-M
December 1, 2020
Word Count: Information not available
Character Identities:
Lesbian
Summary: One ice queen who likes solitude. One firebrand crashing into her life. One snowstorm trapping them together. Ambitious journalist Amy Kelly has her big break at her fingertips. She's lined up an interview with Morgan Leithe—THE Morgan Leithe, the self-made billionaire who mysteriously vanished from the public eye three years ago. Amy only has to travel to the tiny New Zealand town Morgan's hiding in, nab that interview, and have it published before her big performance review. Wham, bam, thank you ma'am—that promotion is basically in the bag. But Amy didn't plan for the bone-chilling blizzard sweeping through the sleepy little town, and she definitely didn't plan to have to wait out a snowstorm with a woman whose piercing blue eyes seem to see right through her... Betrayed by those closest to her, brilliant philanthropist Morgan Leithe has made a new life for herself far away from the glitz and glamour. She'll keep everyone at arm's length to make sure that no-one can hurt her again. She's sworn off romance. All that she needs in life is a good book, her dogs by her side, and solitude. Life in her cosy mountain cottage is peaceful and quiet, just the way she wants it. But now a tenacious younger woman with sparkling eyes is awakening something in her that she's tried her hardest to bury. Four days. That's how long she'll have to wait before the snowstorm lifts and the stranger with the heart-stopping smile can leave for good. Four days of just the two of them, a crackling fire, and the wild New Zealand scenery around them. She can keep this professional, right?
A Dog Named Bella: A Lesbian Romance
Pairing: F-F
April 6, 2021
Word Count:
20043
Character Identities:
Bisexual, Lesbian
Summary: A New F/F Fantasy Romance from the author of Cynthia and Eve. Book 1 of 'The Fae Souls'. When I first arrived at the mansion, I couldn't remember anything. My name, how I'd got there or who the people were around me. I knew I was a woman, and the pink dress and brown ankle boots I wore felt vaguely familiar, but nothing more. It wasn't long before I was told my name was Celina. I was given a suite to stay in and encouraged to prepare for the mysterious Prince Eldran's masquerade party. I found everything I needed in my suite, other than the answers I sought. Fragments of memory hinted at dark experiences, at love and loss, but there was no context and I was uncertain about my history and what the future might hold for me. A stranger at the time, Sorcha found me alone as I sought solace in an empty room. I discovered she too had missing memories, and in her I found a person to talk to. A friend and more, but did we have a chance? A Masquerade in Time is a romantic novella of just over 20,000 words, which contains strong steamy content and language.
A Masquerade in Time
Pairing: F-F
June 26, 2017
Word Count:
20302
Character Identities:
Bisexual, Lesbian
Summary: A Reverie of Flames is the new, spell-binding third installment of 'The Fae Souls' series. Born again into the mortal world, I'd hoped to escape the war between light and dark fae. I wasn't alone - Sorcha (my love) and Princess Saphira of the seelie (who we were sworn to protect) were with me. Rings gifted by Queen Carisse of the seelie ensured we were born in the same timeframe and we'd remain together. More than chance brought us to the city of Grayhaven. It was magic and destiny. Sorcha had returned to my life the day she saved me from an unseelie attack; that was when my memories had come flooding back. Now I found myself regaining my awareness of who I was and discovering how serendipitous fate can be at bringing you to the right place at just the right time. In the unique position of remembering our fae origins, Sorcha - now Angelica, a white witch who opposed unseelie interests in the city, and I had a lot to catch up on. As she brought me up to speed, I realised the depth of my feelings for her, and that I wanted to continue our romance into this, our next lifetime. Princess Saphira was reborn as Ayla: my sister. Now an 18 year old student and budding witch, she was a prime target for the unseelie who sought to overthrow the seelie royal family. We had to protect her, and Angelica and I would do our best to ensure she stayed safe. A Reverie of Flames is a romantic urban fantasy novella of just over 20,000 words, which contains strong steamy content and language.
A Reverie of Flames
Pairing: F-F
October 27, 2017
Word Count:
20000
Character Identities:
Lesbian
Summary: Emily Williams has always felt driven to follow her dreams. Her art studies took her across the country, but she can't forget the girl she left behind. When she learns that Danica has been in a devastating car accident, she's glad to be returning home for Christmas. She has to see Danica again. Danica Swanson has tried to move on since Emily left but with limited success. The town of Myrton hasn't offered many dating prospects, but she found a job as a barista that made her happy. That was until the crash put her life in jeopardy and left her with little choice but to give up her job. Danica still misses Emily, but she has a lot to deal with as she recovers from her injuries. Meanwhile, Emily wants to give her dream of a relationship with Danica another chance. Can they find a way to rekindle their flame or have they lost each other for good? A Touch of Christmas Magic is a steamy lesfic second chance romance of around 20,000 words. It features sapphic love and adult language, with a pinch of holiday magic.
A Touch of Christmas Magic
Pairing: F-F
November 24, 2019
Word Count:
41,000
Character Identities:
Gay
Summary: What if you fell in love with your best friend? Ben Cooper has spent his life trying to make others happy and sacrificing his own dreams. When one fateful night with his best friend gives him a glimpse of what the future could be, he needs to find the courage to follow his heart. One night gives Spencer Henderson a tantalising taste of the man he loves. But he doesn't fit into Ben's future plans--Spence is a complication. Running may be the only option to protect his heart. With trouble escalating at home and Spence out of reach, Ben's life will finally spiral out of control. Always Been You is a standalone M/M romance between best friends who fear taking the next step in their relationship and need to find the courage to risk it all for their HEA. It features an emotional hurt/comfort theme. Note: This story has been previously published (as It's Not Easy). This edition has been revised, expanded, and re-edited, adding approximately 9k words, but the story largely remains unchanged. It is approximately 41k words.
Always Been You
Pairing: M-M
July 1, 2020
Word Count: Information not available
Character Identities:
Lesbian
Summary:
First loves. Second chances. Three problems.
Dani Smith has a problem. Scratch that: this fun-loving lesbian has three of them. First, she wakes up hungover and married in Vegas. Oops. She was only supposed to be in Sin City for a friend's wedding, but now 
she's
 the one with a shiny gold ring on her finger. Second, she's not exactly sure who she married. She may have a ring, but her bride is nowhere in sight. The third problem is aloof, cold-hearted Mia: Dani's ex. The last thing that Dani needs is that know-it-all ice queen—even if her first love still makes Dani's heart race. But if she's going to track down her mystery bride before she leaves town, she's going to need some help...
Fairytale romances don't exist—and if they did, they wouldn't involve Elvis impersonators.
Mia Reyes has enough on her plate. Between arranging her best friend's wedding and pulling long hours as a family doctor, she has no time for anything else—including herself. But when her ex, Dani, shows up in Vegas, Mia can't resist her irresistible smile. In the City of Lights, old sparks fly. Now, Dani has a wedding ring on her finger, and Mia can't remember exactly what it is that she did last night. But Mia knows she's not the kind of person to get blackout drunk and marry her ex. She's far too sensible for that. Right? Once upon a time, Mia broke Dani's heart. Now, she has a second chance. Can she and Dani rekindle their love, or will their relationship be lost in one big Vegas gamble?
Always Hers
Pairing: F-F
July 1, 2021
Word Count:
18000
Character Identities:
Gay
Summary: Escape with Leo and Zak in outback Australia as they discover it sometimes takes time, distance, and interfering family to amalgamate. After five years of living in the UK, it's time for Leo to return home to his dad's stud farm in outback Australia. He has no idea what to expect when he arrives. He didn't exactly leave with balloons and banners. Nope. His farewell involved destruction and his own heart split in two. He knows seeing the man who's always held his heart, Zak, is going to be awkward. The older farm manager made his feelings pretty damn clear when Leo hightailed it out of there. Leo quickly figures out life is going to get complicated and a whole heap more exciting as his trip home becomes so much more.  Amalgamated is a fun and steamy M/M short story in Becca Seymour's Coming Home collection. Stand-alone romances complete with heat, wit, and happily ever afters. 
Amalgamated
Pairing: M-M
September 28, 2019
Word Count:
61000
Character Identities:
Gay
Summary: Young mechanic Andrew Campbell's life couldn't be better. He is about to restore a Ford Mustang with his dad before heading off on the ultimate cross-country road trip with his best friend, Tanner McKenzie. But tragedy strikes, and Andrew's life is shattered. Worried his family will be torn apart if he doesn't step in, Andrew makes a tough choice between following his heart and doing what he needs to do to protect his little brother. When Andrew pushes Tanner away, Tanner heads off on the planned trip alone. Once Tanner leaves town, his life takes a different path and it's ten years before he returns. Now a firefighter, he's never forgotten his first love, and no one has ever taken Andrew's place in his heart. He's determined to see if Andrew feels the same way. He just hopes Andrew's excited to see him, hopes that he's available—and finally out—after all this time. They might not have been ready to deal with emerging feelings years ago, but now might be the time for their second chance at love.
Andrew's Promise
Pairing: M-M
August 12, 2015
Word Count:
60000
Character Identities:
Bisexual, Gay
Summary: They say magic doesn't exist in our modern age. But is that really true? Without magic, how could a stolen guitar or a lost shoe lead to love? What could spark romance at a workplace assessment, or turn a mean-spirited monster into a man? Six fairytales and myths receive a contemporary MM twist in this collection of stories, which prove that sometimes the mundane can be magical too. Dragged Into Love (Þrymskviða) When Theo's landlord steals his guitar in lieu of overdue rent, he tells Theo he will only return the instrument if he can go on a date with Theo's twin sister. With Fran less than willing to play along, Theo is left with one option: to go in her place. Love's Code (Ariadne and Theseus) In order to keep his job, Andre must pass an examination. However, his unspoken love for fellow programmer Eren proves a constant distraction, as does the identity of a mysterious benefactor who offers helps along the way. Guessing Games (Rumplestiltskin) A little white lie, told in his job interview, won Sasha his dream role. Only now he faces a pile of work he doesn't know how to complete. When someone comes along with a solution to his dilemma, he is thrilled. But what price will he have to pay Assignations and Ultimatums (The Strange Elopement of Tinirau) Hunter and Ross are deeply in love, but Ross's father is intent on setting him up with undesirable, yet powerful, older men. That's bad enough, but the situation worsens when the latest of these potential partners turns out to be Ross's boss. Lost and Found (Cinderella) Attendance at the company's masquerade ball is compulsory. Cillian intends a swift departure once his presence has been noted, but he changes his mind when a dashing stranger asks him to dance. Love is in the air…until he uncovers the man's identity. A Debt is a Debt (Beauty and the Beast) Dunstan Griffin is not a man accustomed to letting a debt slide. Therefore, when Alfred Siskin offers the EA services of his son, Wynn, in lieu of payment, Dunstan accepts. He intends to make the most of his new worker, but soon his desires change.
Beastly Businessmen & Guitar Gods
Pairing: M-M
July 23, 2018
Word Count:
22000
Character Identities:
Bisexual, Gay
Summary: Catch up with Kirkby residents Scott and Davis as they navigate through the ups and downs of fatherhood, relationships, and juggling... balls. In two years, it's clear love can last, just as it can grow. Davis's business remains successful, Scott's clinic is going strong, and Libby is happy and content. But that doesn't mean real life is always perfect, nor does it mean fatherhood isn't as exhausting as it is wonderful. Needing a break from their daily routines, Davis and Scott head away for a weekend of uninhibited fun. With lots of laughter and dancing, Davis has never seen Scott so relaxed and comfortable in public. And he's not quite sure how to handle that. Worried that life in Kirkby is holding Scott back, Davis nearly makes the biggest mistake of his life. But Scott has other ideas. He doesn't need saving. What he needs is his man to step up and fight for their family and their future. And he has just the plan to do it. A True-Blue novella. I've Got You MUST be read prior to reading this story.
Becoming Us
Pairing: M-M
November 23, 2019
Word Count:
18247
Character Identities:
Lesbian
Summary: Confronting the past isn't always easy, especially when you've made the biggest mistake of your life. Lauren: Aisling and I were engaged to be married. I loved her, and I couldn't imagine life without her by my side. But everything changed when I received a letter out of the blue telling me she was cheating on me. I'd never had reason to doubt her, but it placed fears in my heart. Unfortunately, that was what the letter's sender wanted. It seemed the start of a story I'd heard too many times before, and I took some time away to consider our future together. By the time I returned a few days later, it was too late. Aisling: Years have passed since I ended my relationship with Lauren, but now I've found out who sent the letter that destroyed our relationship. I find myself questioning whether I should contact her again. Is it too late to give her another chance? Her social media accounts say she's single, but I don't know if there's someone else in her life now or how she feels about me. Is it too late to re-discover what might've been?
Beloved
Pairing: F-F
September 25, 2021
Word Count:
95000
Character Identities:
Gay
Summary: It's good to be the Boss. That's what I thought my whole life. Now I am the Boss. I'll shoulder that responsibility with my beloved husband beside me. As long as I have Finch, I can handle whatever life throws at me. But what they say is true: Be careful what you wish for. My Family has been decimated. My allies are few. I'm holding onto power by a thread. And the truth is, my husband is more vulnerable than ever. He's always been a lost soul, and now he's suffered yet another crushing loss. I can't protect him from Fate's cruel blows. But I'm determined to protect him from our enemies, no matter what it takes—as soon as I get my own house in order. Because I'm starting to wonder if there's a traitor in the Morelli Family… If I can't even trust my own men, how can I keep my beloved safe?
Beloved by the Boss
Pairing: M-M
August 26, 2020
Word Count:
93000
Character Identities:
Genderfluid, Lesbian, Non Binary, Pansexual
Summary: When a change in collective conscious sends the Outsiders, a group of aliens, to the shadows below the city, humans reason that the demonization of their peers is simply more "humane." There's no question, nor doubt. Just acceptance. Lydia had embraced that sense of "truth" for as long as she can remember. The daughter of a powerful governor, she has been able to live her life with more comforts than most. Comforts can be suffocating, though, and when the opportunity to teach Outsider children in their private, "humane" community becomes available, she takes it. What she finds beneath the city is far from the truth she had grown to know. There she meets Alessia, an Outsider with the knowledge and will to shake the foundation of all those who walk above ground. The two find a new and unexpected connection despite a complete disconnect from the technological world. Or perhaps in spite of it. Still, it takes a lot more than an immutable connection to change the world. Lydia, Alessia, and a small group of Outsiders must navigate a system of corruption, falsehoods, and twists none of them ever saw coming, all while holding on to the hope to come out alive in the end. But it's a risk worth taking, and a future worth fighting for.
Beneath the Surface
Pairing: F-F, M-F, M-M
January 19, 2018
Word Count: Information not available
Character Identities:
Gay
Summary: The groundbreaking romantic horror trilogy, Bonds of Blood, comes to a thrilling conclusion with a story of loss, grief, and redemption. Monsters don't get to be heroes… Betrayed by his brother and imprisoned in his sister's dungeon, Olivier d'Arjou isn't about to let a few chains get in his way. A vampire for six hundred years and a plague on his family for longer, he has no reason to hold back from wiping out the last of his family members and anyone who gets in his way. But first, he'll need to break free. When Oberon North, witch and survivor of one of Olivier's most heinous crimes, comes seeking vengeance, it should be child's play to bend the witch to his will. But Oberon comes with more power and resilience than Olivier expects and forces him to confront truths he'd rather avoid. But Olivier's inner conflict must take a backseat when he learns of his sister Aurelia's plan to save the world from the demon Xadrak. A battle generations in the making, to succeed requires the ultimate sacrifice from both Olivier and his brother Thierry – and the last chance Olivier has to reclaim his humanity and a future he never thought possible.
Binding Blood
Pairing: M-M
December 20, 2018
Word Count:
92000
Character Identities:
Bisexual, Gay
Summary: In a world that is still getting used to shifters, where everyone thinks omegas are second class citizens, nature photographer and omega Braden Payne lets everyone think he's a beta. That way no one gives him a hard time and he doesn't have to live a repeat of his failed relationship. But when his car breaks down in the remote Blackwood forest in Western Australia, without the medication that lets him hide who he is, he's faced with what he fears most: an unmated alpha. Government forest guardian and alpha Coll MacDubhar is tired of illegal loggers, foolish tourists and people who underestimate the wilds of Western Australia. He discovers Braden lost and in need of medical assistance in the forest he protects and knows something's not right. But there's hidden depths to Braden that capture his interest, and no decent alpha would walk away when Braden's unwelcome past comes to visit.
Blackwood
Pairing: M-M
November 23, 2018
Word Count:
82000
Character Identities:
Gay
Summary: Attraction for Adam was not a handsome face, a striking smile, or beautiful eyes, but a scent that would drive him to distraction or a voice that could make his heart beat faster. When the combination of the two walked into his life in Luke, Adam couldn't help but want him. But how was he supposed to know if Luke felt the same attraction? He had no prior experience, no past encounters, nothing to help him. Not even his sight. One look at Adam and Luke wanted him. Sensual, gorgeous, kind, with a strength that Luke was drawn to, Adam was everything Luke desired. Being in Adam's arms, showing him the pleasure of a man's body, being touched, held, and desired in return, had Luke wanting more, had him wanting what he knew he couldn't have. It didn't matter to him that Adam was blind, but Adam deserved more than someone like him. Luke was a man with a broken past and falling in love with Adam was a foolish thing to do, especially because Adam would never love him back if he found out what Luke was hiding.
Blind Passion
Pairing: M-M
February 14, 2018
Word Count:
74000
Character Identities:
Gay
Summary: ~ Sometimes catching a murderer means risking one's heart. ~   As a fae-vampire hybrid, scorned by all, Holden's life has never been easy. The one bright spot is his job testing blood at supernatural crime scenes. It's routine work, until the day he finds a victim he can't read. When one murder becomes two, and then three, it's clear there's a serial killer on the loose—one with a penchant for collecting hearts. Finding the bad guy could cement Holden's career, but he's drawing a blank. And it doesn't help that the expert his boss calls in to assist him is the man Holden's been crushing on for years. With lives hanging in the balance, Holden and Val must solve the case before the killer strikes again. But will they come out with their hearts still intact?
Blood Is Forever
Pairing: M-M
June 3, 2019
Word Count:
60000
Character Identities:
Gay
Summary: Standoffish Aiden is content keeping people at a distance and ensuring his boundaries are impenetrable. There's safety in not opening up, but there's also a loneliness he doesn't realise exists until he meets Riley, a new member of the LGBTQIA+ adventure group Outback Boys. Fascinated by the new guy, Aiden is quick to discover his flirtation skills are rusty and his sweet-talking is cringeworthy. But sweet and clumsy Riley doesn't seem to mind so much. Even though Riley doesn't quite know how to handle Aiden's intensity, he's willing to step out of his comfort zone and see how their tentative friendship unravels. Between a surf lesson that resembles a kangaroo on acid and paddle boarding that is trickier than walking a tightrope, Aiden and Riley discover love may be a possibility after all. Happiness relies on honesty and openness, though. And with both men holding on tightly to past struggles, their future together is at risk. Can the two Aussies bounce back and heal themselves and each other, or are some wounds too raw to recover from? Outback Boys is a sweet and sexy M/M romance series complete with bruised butts, rope burn, and overworked muscles… all in the pursuit of adventure, of course!
Trigger Warning: Contains themes (discussions) of mental illness and suicide.
Bounce
Pairing: M-M
March 27, 2021