Word Count:
87800
Character Identities:
Gay
Summary:
Logan McRae never expected to see two aliens when he woke from cryogenic sleep. He has lost his ship and his people and he questions whether he has lost his mind. As he gets to know Halor and Kit he realises he might just lose his heart as well.
Logan expected to wake on the spacecraft Mercury, ready to pilot the ship down to New Earth. Instead he comes out of cryogenic stasis to find he is on another ship with two alien beings, neither of whom can understand anything he says. Unfortunately, they are all the help he has if he wants to find his people and resume his journey.
Kit doesn't know what sort of creature he has accidentally purchased, but it is definitely male and isn't so very different from him and his lover, Halor. The language barrier might be a problem, but Kit knows the language of love doesn't always need words.
Prince Halor of the Hawk Clan has always been reluctant to expand his nest beyond himself and Kit, but it is obvious from the start that his feline lover is attracted to their unexpected guest. Halor will do anything to give Kit the happiness he deserves, even invite another man into their bed.
Logan has no idea that Kit isn't quite like other men until their passion results in unexpected consequences. Now he must choose between his mission and the two men who have given him everything he ever wanted, as well as things he never dreamed of.
Loving Kit
Pairing: M-M-M
June 2, 2019
Word Count:
79000
Character Identities:
Gay
Summary: Jax has made mistakes in his life, the biggest of which was falling for Lyndon. His love died when Lyndon refused to claim him as his mate after Jax discovered he was pregnant. His feelings turned to hate when his babies were stolen from his care the day they were born. Reliant on Lyndon for the cream he needs to survive, Jax does everything he can to keep him happy and he lives for the day when he will be reunited with his children. When Jax discovers he is pregnant for a second time, he is terrified his second litter will be taken from him, too. Ty is a dual-gendered feline who dreams of carrying his own babies one day. If they are fathered by Cal, the sexy feline he feeds from, it would be even better. Ty's parents have other ideas. They don't wish the public to know that their high-born son is dual-gendered, and arrange for a mating festival to take place so Ty can choose a dual-gendered mate of his own. Although Ty has no intention of submitting to his parents' wishes, something about Jax draws Ty to him and when he and Cal discover Jax's secret, they know they must help. Ty and Cal offer Jax a way to escape Lyndon's clutches, but Jax knows almost nothing about the two felines who have offered to claim him. The stakes have never been higher and Jax must learn to trust again, or risk losing everything.
Saving Jax
Pairing: M-M-M
December 1, 2018
Word Count:
72000
Character Identities:
Gay
Summary: Trix works as a prostitute on the Pleasure Station, a space station devoted to entertainment, gambling, and the pleasures of the flesh. He never intended to spend his life there, but the place offers him security, regular cream, and over time it has become his home. As a dual-gendered feline, Trix knows the risk of pregnancy is high and sets his prices equally high to discourage customers. Trix never imagines that Delta, a canine with credits to spare will call his bluff. When Delta pays for himself and Farron, a naïve avian from the swan clan, to spend the night with Trix, the three of them forge an unexpected bond, one that leaves Trix pregnant. As a swan avian, Farron is incapable of being unfaithful to his mate, even when the bond is only partially formed. To complete the bond Farron must find Trix before the babies are born, or the bond will break forever, and Farron will be forced to live a life of celibacy. In the meantime, the Pleasure Station is under new ownership, and when the humans ban prostitution on the station Trix is left homeless. When Delta hears about the Pleasure Station, he too races back to find Trix. Both Farron and Delta arrive too late. Trix has vanished and the race is on to find him before he gives birth. Only then will they know if the bond they formed on their first night is strong enough to last a lifetime.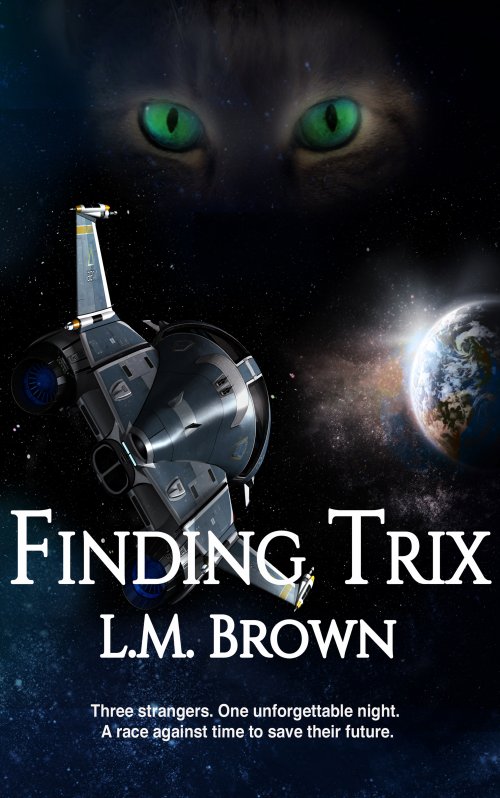 Finding Trix
Pairing: M-M-M
June 7, 2019