Website: http://www.hottreepublishing.com
Books Published By Hot Tree Publishing
Word Count:

30,000
Character Identities:

Ace
Summary: When Andriana Milne-Marchetti kisses an old family friend under an apple tree, she never imagines he'll run halfway around the world and stay gone for three years. Thirty-five-year-old asexual Andie runs a small remote family farm in Scotland. She's happy with her fruit trees and berries. Her Airedale terrier, Rupert, provides all the companionship she needs. But her heart longs for one man, who probably never felt more than friendship for her. Silver fox Docherty Fabre returns home to Scotland, hoping to break through a year-long battle with writer's block. He's taking up residence in a tiny cottage on the Milne-Marchetti farm. Now, if he can avoid embarrassing himself for a second time in front of Andie, everything will be fine. Their second chance at romance comes from a year-long lockdown that prevents them from running away from their feelings. With no one else around, can they find love in the orchard one more time?
Farm to Fabre
Word Count:

50,000
Character Identities:

Ace
Summary: Murder comes knocking when a killer hunts for budding amateur detective Pineapple "Motts" Mottley in the fourth novel of the Motts Cold Case Mystery series. The past and present collide for Motts when two serial killer brothers barge into her plans for Christmas in London. Her desire to solve her childhood friend's murder brings her ever closer to danger. She finds herself one fall away from the grave herself. When one of her former primary school teachers winds up dead in her burning house, Motts realizes the mystery is far more twisted than she ever imagined. Is she running out of time to catch not one but two killers? What sort of macabre gift will Motts find wrapped under the tree?
Purloined Poinsettia
Word Count:

70,000
Character Identities:

Gay
Summary: Hudson West is the enemy. Nico Shah is trouble. However, when they're forced to collaborate on a town project, they can't stop the passion from burning. Hudson West is the enemy. The calm, arrogant, stupidly hot owner of the rival restaurant in town never fails to push Nico Shah's buttons. So when he and Hudson are invited to collaborate to cater the Chesapeake Days festival, he wants to say hell no. But with his mother's upcoming transplant, he needs that money. Nico Shah is trouble. Hudson's noticed the gorgeous, witty flirt and has veered far away. He's looking for commitment while Nico's looking for his next flavor of the night. Except now that they're working together, neither can ignore the chemistry that's one spark away from burning down a forest. And when they finally collide, the connection is beyond anything either has experienced. But with Nico still terrified of the word "boyfriend" and Hudson needing someone who belongs to him, this can only end in heartbreak.
Stronger Than Passion
Word Count:

50000
Character Identities:

Gay
Summary: Months after saving their flamboyant theatre friend from disaster, Dannel Ortea and Osian Garey are back with a thrilling murder investigation in the third London Podcast Mystery series novel. Dannel and Osian's breakfast double date rapidly devolves into a murder mystery when a dead body is found in their solicitor friend's car. Wayne is taken for questioning by police. He was last seen arguing with the deceased. When Wayne's tie is identified as the murder weapon, it's hard to refute the growing evidence stacked against him. Convinced of their friend's innocence, Dannel and Osian throw themselves into the investigation. When Wayne's boyfriend, Roland, finds himself suspended from the police, they realise powerful people are involved in the murder. With a philandering crown court judge, two disgruntled wives, and an angry client as suspects, the clock is ticking for them to find the killer before Wayne winds up arrested—or dead.
Crown Court Killer
Word Count:

70000
Character Identities:

Bisexual, Gay
Summary: One man looking to set down roots, the other looking to leave… Fresh out of a relationship, Nate's searching for a change—what better way is there than renovating his uncle's old coffee shop in Chesapeake City? He has a new job, in a new town, and a new lease. And when he almost runs over his hot neighbor, Linc, who happens to be his contractor? Well, based on the explosive attraction between them, maybe he'll find something new there too. Linc's been treading water ever since his wife passed away in childbirth, focusing all of his energy on raising his son, Beckett. The obvious solution? He needs to get the hell out of Chesapeake City. But when Nate charmingly fumbles his way into Linc's life, he finds his defenses lowering for the first time in years. One date leads to another, and hell, this man makes him feel in ways he'd forgotten. Even though Nate just finished piecing his heart back together, he falls fast. Yet Linc's made it clear he's a bad bet. The man hasn't clicked with anyone since his wife, and if Nate ends up being "not enough" again, that won't shatter just his heart—the fragile home he's trying to build in this town will crumble too.
Stronger Than Hope
Word Count:

45,000
Character Identities:

Lesbian
Summary: Closet Romantic falling for the Hookup Queen? Never gonna happen… until one memorable vacation changes it all. When it comes to women, Aubrey Moore believes in no-strings-attached hookups and keeping things simple. On her beach trip, her plan is clear—hit the bars and find single hotties. What she doesn't bargain on is the phone call from her sister. Distraught, Aubrey would like to have a breakdown in private, but the one woman who's never fallen for her slick lines takes her by surprise and blurs her simple rules. The last thing owner of the Renegades bar, Selina Beckett, expects to see on vacation is Aubrey Moore in the middle of a personal crisis. Every time they meet, they clash—whether Aubrey was picking up women at Selina's bar or flirting to try and get her attention. Selina's not interested in flings, cheaters, or womanizers, so she's made a point to avoid Aubrey at all costs. But this raw, real side of Aubrey convinces her to bend those rules, just a little. The more Selina gets to know Aubrey beyond the bravado, the more she begins to fall. But each day closer to the end of their vacation marks a return to reality—one where this entanglement between them won't survive.
Opposed Desires
Word Count:

50000
Character Identities:

Ace
Summary: Mystery beckons when a young woman seeks out budding amateur detective Pineapple "Motts" Mottley to find her missing mother in the third novel of the Motts Cold Case Mystery series. Murder comes to Motts's doorstep when a stranger asks her to investigate a suspicious disappearance. Past experience tells her to say no yet her curiosity wins out. What's the harm in asking a few questions? The missing person case quickly evolves into murder when a body is found in the strangest circumstances. Motts sifts through various suspects and lies, only to come face to face with danger. Things become even more personal when a killer from her childhood makes an unwelcome appearance. How many close calls can Motts escape? Will she survive amidst a flood of beer and a catastrophic inferno?
Pickled Petunia
Word Count:

51,000
Character Identities:

Gay
Summary: Several months after their first brush with death, Dannel Ortea and Osian Garey are back with a thrilling murder investigation in the second London Podcast Mystery Series novel. While helping their flamboyant neighbour with his play, Dannel and Osian discover more than a ghost haunting the stage at the Evelyn Lavelle theatre. It's all fun and games until a friend is found kneeling over a dead body. Is he the murderer or an unfortunate witness? When one body turns to two, then to three, will the killer ever be found? As Dannel and Osian work together to solve the mystery, the murderer focuses on them. Their drive to clear their friend's name puts them centre stage. But not everything under the glow of the bright lights glimmers. Will anyone be left when the curtain falls?
Ghost Light Killer
Word Count:

50000
Character Identities:

Ace
Summary: On a casual walk along the Cornish Coast, Pineapple "Motts" Mottley stumbles upon a body and a perilous new murder case in the second novel in the Motts Cold Case Mystery series. As spring rolls into summer, Motts settles into her cottage. She's enjoying a daily stroll when a body in the sea destroys her peace and quiet. It brings yet another mystery for her to solve. How does a woman who vanished from Polperro three years prior wind up battered by waves? Motts is drawn into the investigation despite her best attempts. She finds a family in turmoil and loads of suspects. With no easy answers, she tumbles further into chaos and ever closer to danger. Can Motts find the killer before she's the one put on ice? Will she survive a bone-chilling brush with death?
Pierced Peony
Word Count:

43000
Character Identities:

Bisexual, Lesbian
Summary: Sky's crush on her best friend has always been unrequited… until they're stuck in quarantine together and sparks fly. Sky's high school bestie is moving back to the area and staying with her for a few weeks. Easy, right? Not when she'd held a torch for the woman since high school. The moment Mia walks through Sky's door, those unrequited feelings return full-force. So, when a spreading virus keeps them confined in Sky's apartment even longer, Sky is screwed. Mia returns home after a bad breakup, but Sky is the only one who offers a safe place to land. However, the seven years they spent apart has her looking at her best friend through a different lens, attraction sparking with every inside joke, shared dinner, and cuddle on the couch. That flare of desire fast turns physical. They can't get enough of each other. Yet, whenever Mia tries for the "where is this going" talk, Sky dodges. Sky lost her sister in high school, and ever since, she's become ace at keeping dates at a distance. Yet if she doesn't manage to push past her own fears, she might lose her one shot at happiness with the woman she's waited a lifetime for.
Confined Desires
Word Count:

76,000
Character Identities:

Gay
Summary: Heist rule number one? Never fall for your mark. Grif's always followed the one rule in the high stakes business of heists: never fall for your mark. At least, until he meets Danilo Torres... Grif Blackmore's team of thieves, the Outlaws, take down wicked corporations and nab fantastic paydays. However, when their latest heist fails, they end up in debt to the mafia, which puts the pressure on for their next job targeting Torres Industries to go off without a hitch. There's one problem. The CEO of Torres Industries, Danilo Torres, happens to not only be dead sexy but unaware of his company's corruption. When the sparks flare between Grif and Danilo, Grif can't help but fall for his mark. Grif is left with a decision to make. Is he willing to throw it all away for the man who's caught his interest or is there a chance to play Robin Hood without losing it all?
Midnight Heist
Word Count:

74000
Character Identities:

Bisexual, Gay
Summary: Monks, magic, and mermen, oh my! The cast of supporting characters from Natalina Reis's "Of Magic and Scales" are back and stronger than ever, and so are the pop culture references and silly jokes Aiden likes so much. As Aiden and his new family are joined by an unexpected antagonist that may yet prove to be their undoing, will their (un)domesticated new life as a couple be turned upside down? Aiden Mercer's life has changed dramatically since his days of being a man-whore, where he spent most of the time either running his coffee shop in sunny Portugal or man-watching at the beach. He now has Naël, a cranky merman to love and to hold, and his sister, Vee, and friends to care for. Life is good. But life never seems to stop surprising the American ex-detective. A mysterious order of monks, a mermen poacher, shocking revelations about his parentage—and whoever is hunting him down—turn Aiden and Naël's summer into one to remember. Or maybe one they'd rather forget.
Of Scales and Fire
Word Count:

51,000
Character Identities:

Gay
Summary: What happens when an autistic firefighter and his paramedic boyfriend share a thirst for true crime? Osian Garey and Dannel Ortea live together in a colourful flat in Covent Garden. They run a podcast and throw themselves wholeheartedly into Cosplay, video games, and musical theatre.  This year, they're all fired up to attend their annual convention with a group of first responders. When Osian finds a paramedic friend murdered in the middle of the crowded venue, the police immediately turn their attention to him. They have one question on their mind. Is he the first witness on the scene or the killer? As the mystery unfolds, Osian has to face the trauma of his last job as a paramedic. Somewhere in those memories, a killer waits to exact revenge. They'll have to prove Osian's innocence and fight for their own survival when the killer puts them both in their sights.
Cosplay Killer
Word Count:

50000
Character Identities:

Ace
Summary: Autistic, asexual, and almost forty, Pineapple "Motts" Mottley flees London with her cat and turtle to a quaint cottage in Cornwall. She craves the peace of life in a small village. The dead body buried in her garden isn't quite what she had in mind, though. Unable to resist her curiosity, she falls directly into a mess of trouble and runs head-first into the attractive detective inspector, Teo Herceg. She tries to balance her business with the investigation, but as the killer focuses on her, staying alive becomes trickier than advanced origami. Will Motts survive the onslaught of murderously bad luck? Can she solve the mystery before it all spins out of control and off a cliff?
Poisoned Primrose
Word Count:

70000
Character Identities:

Gay
Summary: With a serial killer on the loose, the baffling mystery of Aiden's past, and their tenuous budding romance, Aiden and Fouchard tread through a world of magic and myth on padded shoes, terrified to stir up something neither can control or defeat. Aiden Mercer's life now centers around lounging on the sunny beaches of his adopted country with a beer in one hand and a coffee in the other while admiring the local male population. After a rough life as a respected detective in DC, playing it cool shouldn't be too hard, right? With the magical community on his case and dead bodies piling up around town, the responsibility of finding their killer seems fated to fall on him and deny him of his easy living. Then there is Naël. Cantankerous merman Naël Fouchard's life is focused on bringing up and protecting his little sister. When DNA found at the scene of the murders mark him as the prime suspect, Naël seeks out the help of Aiden, whose reputation as a detective grossly belies his lazy lifestyle and apparent lack of ambition. The chemistry between the strong, stoic Naël and the easygoing Aiden is undeniable, no matter how many walls Aiden builds. If this unlikely pair can't come to terms with their feelings for each other long enough to catch the killer, their emotional turmoil might yet allow the murderer to kill them instead.
Of Magic & Scales
Word Count:

30000
Character Identities:

Gay
Summary: When two small-town country dudes win the lottery, they finally find the courage to speak their truth. An unexpected adventure follows. Linwood "Woody" Robinson has a routine. He works for his baby brother in construction, buys three lottery tickets every week, and lusts after his best friend from high school. He's done the same thing for twenty years. Eddison "Eddie" Howard owns the only gas station in their small South Carolina town, sells lottery tickets, and lusts after his best friend from afar. They joke around but never speak their truth. He knows they're cowards but can't seem to find the courage to bridge the gulf between them. And then they win eighty million dollars. Life changes. They go from never talking about their feelings to facing the world together. Can anything pull them apart?
Pure Dumb Luck
Word Count:

62000
Character Identities:

Gay
Summary:
When evil stirs in the shadow of the Rocky Mountains, heroes come in both ordinary and extraordinary packages. Ignatius Faber knows a few things for absolute certain. He's half-demon, his father is the unequivocal prince of darkness, and demons want to destroy his city. And if he doesn't make the first move on his crush, they're never going to be anything more than a teenage fantasy that's lasted into his thirties. Lalo Pavia grew up hard and fast, orphaned at a young age.  As an autistic, he's learned to approach life cautiously. He throws his energy into gardening and photography—allowing both to provide a buffer between himself and the rest of the world. Except for Iggy. Can they find triumph, life, and even love in the middle of a city in flames? Their fight for the mile high city has just begun.
Here Comes The Son
Word Count:

52000
Character Identities:

Gay
Summary:
What's the perfect recipe for an emotional MMM romance? One autistic coffee shop owner, one morose mug maker, and a mostly cheerful police detective. Fie Morogh Russell goes off to war with a broken heart and returns with a shattered spirit. He hermits away in Bideford, Devon, making mugs, with his service dog, Haggard, for company. Post-traumatic stress turns every memory into a minefield, and life is dismal with one or two rare exceptions. Davet Heuse drags his younger brother to Bideford for a new start. Both autistic, the two siblings have fought hard to enjoy freedom by the seaside. While Davet runs a coffee shop from his tiny house, his brother pursues his dream at university. Detective Sidney Little has transitioned from military service to the police force easily. His unrequited crushes and his estranged father are the only points of frustration in his life. He hasn't quite figured out how to deal with either problem. When a tragic accident brings Davet's world crashing down around him, can Fie and Sid help him through the pain of loss? In this May-December romance with a twist, three men struggle through one obstacle after the other to somehow find themselves in love on the other side.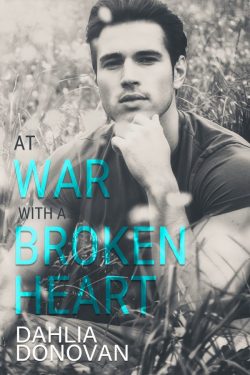 At War With A Broken Heart
Word Count:

30,000
Character Identities:

Gay
Summary: Deadly fire? Check. Fear-induced heart attack imminent? Check. Time running out on them? Not good. Valor Scott wants nothing more than to enjoy life in his little cottage with his boyfriend. The shadows of a serial killer continue to haunt him, though. He only wants the living nightmare to end. He battles one catastrophic event after the other, intent on bringing his loved ones through to the other side safely. As their killer finally comes out into the open, Valor finds himself face-to-face with an obsessed murderer intent on destroying everyone in their path.
Dead in the Shop
Word Count:

30,000
Character Identities:

Gay
Summary: Join bestselling author Dahlia Donovan on a cosy mystery adventure in Grasmere Cottage Mystery book two. With love, wit, and a murder to solve, life for Valor and Bishan continues to be blinkin' complicated in this sweet gay romance. Killer on the loose? Check. Frogs in the garden? Check. Playing a twisted game with a killer? Not good. Bishan Tamboli struggles to recover from his false arrest. He worries the police still aren't as convinced about his innocence. With his longtime boyfriend, Valor, at his side, he intends to solve the puzzles and catch the murderer amongst their former schoolmates. He's fought hard for his independence as an autistic and refuses to throw it all away because of a nameless monster. With friends and family in the killer's crosshairs, Bishan fears the mystery will bring the end of everything and everyone he loves.
Dead in the Pond
Word Count:

30,000
Character Identities:

Gay
Summary: Join bestselling author Dahlia Donovan on a cosy mystery adventure in Grasmere Cottage Mystery book one. With love, wit, and a murder to solve, life for Valor and Bishan is about to get bloomin' complicated in this sweet gay romance. Dead body in the garden? Check. Mystery to solve? Check. Police focused on the wrong person? Not good. All grown up and graduated, Valor Tarquin Scott, son to Earl and Countess Scott, owns The Ginger's Bread, a biscuit shop, in Grasmere in the Lake District. The love of his life, Bishan Tamboli, has turned his music studies into a successful career playing with the London Symphony Orchestra. It's a perfect life with their cat, spending evenings watching Poirot on the television. The nightmare begins with one dead former schoolmate, leading police to believe Bishan is responsible. Valor struggles to solve the cryptic puzzles left behind in a race to prove Bishan's innocence. He can't help wondering how far the body count will rise before they manage to stop the killer.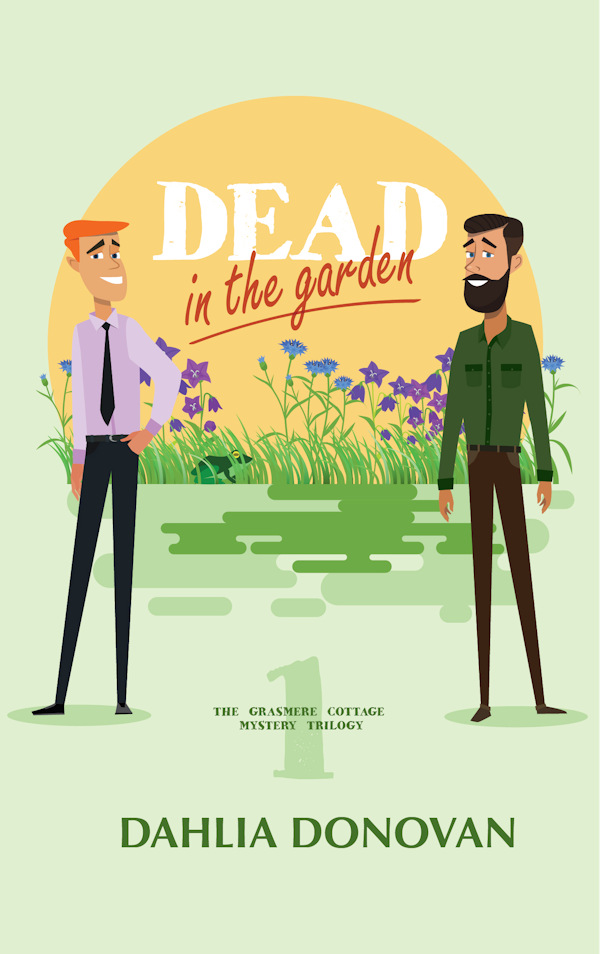 Dead in the Garden
Word Count: Information not available
Character Identities:

Gay
Summary: When a shifter and a human are bound by fate, neither man knows if their connection will be enough to save not only their growing love, but their lives. Shahin Halcón has been taught that if and when he meets his soul mate, he'll know immediately. Always the rebel, he doesn't believe it until the day he crosses paths with Cai, a full-human. Plagued by unsuccessful relationships and heartache, Cai Banes's life is quiet and unexciting. When he meets young and wild Shahin, his life is turned upside down, and he's not sure he likes it. But neither can deny the powerful pull that draws them together. Old secrets and ancient myths about cross-species relationships plague their romance and threaten to put their happiness and life at risk. Will their love for each other be strong enough to survive?
Infinite Blue
Word Count:

10000
Character Identities:

Gay
Summary:
You are cordially invited to the Sin Bin wedding of the year—kilts required, undergarments optional. Taine Afoa has faced opponents on the rugby pitch without an ounce of fear. He hopes to find the same courage when asking the love of his life to marry him. First, though, he has to ask Freddie's fathers for their blessing. If Taine survives, popping the question should be a breeze. Freddie Whittle knows Taine has something up his sleeve. A yes forms on his lips before the question is even asked. But can they survive the madness of friends and family, all wanting to help plan their wedding? As their May-December romance tumbles into happily ever after, one surprise after the other brings them more joy than they ever imagined possible. The short story Haka Ever After is the seventh (and last) book in Dahlia Donovan's international bestselling gay romance series, The Sin Bin. Each one features hot rugby players and the men who steal their hearts.
Haka Ever After
Word Count:

31,000
Character Identities:

Gay
Summary: From best-selling author Dahlia Donovan comes a new witty novella between three very different men. With drama, emotional turmoil, and hilarious banter, be prepared to be swept away in Dahlia's British M/M/M romance. When one drunken night forever scars three best friends, will they ever find a way to pick up the pieces? Eaten up with guilt, Ivan Black spends ten years hiding from the world. He retreats to his family forge to wallow in misery. Alone. So lonely his heart aches with it. Wesley Cook and Rolland Spence have been together since university. They struggle through the physical scars of the accident, building a life in the ruins of their dreams. They find happiness but continue to miss their angry ginger Viking—Ivan. In all the anger of wasted years, the three men find a way to forge a relationship as hot as the fires in the smithy. Forged in Flood is a British contemporary M/M/M romance. With heartache, hot men with foul mouths, and plenty of heat, enjoy getting to know Ivan, Wesley, and Roland.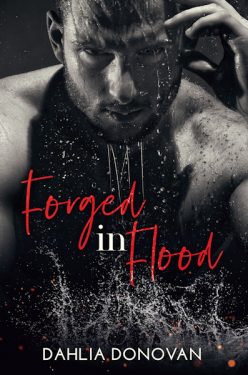 Forged in Flood
Word Count:

50,000
Character Identities:

Gay
Summary: One last heist. It should've been easy. Crack a safe, steal from a villain, and go on vacation. The last thing Mack and Toshiro expect is to descend into a nightmare of betrayal. Mack Ueda-Easton loves three things: his husband, heists, and his odd family of friends. He lives life on the edge. The only cloud on his horizon is the degenerative disease stealing his sight. Toshiro Ueda-Easton tries to juggle his husband, his autistic sister, his interfering mother, and all of their heists. He knows they're spiraling out of control and the journey they're travelling can't last. What neither of them expect is to get catapulted straight into a dangerous conspiracy. They're now in a race to come out on top. If they fail, the consequences are unimaginable.
One Last Heist
Word Count:

50000
Character Identities:

Gay
Summary: One dominant Marine. One troubled rugby player. The Sin Bin will never be the same. Gray Baird's to-do list for the year includes starting a restaurant, claiming his submissive, and keeping his nosy friends out of his business. He has his work seriously cut out for him. Scottie Monk prides himself on bullying his way through problems—and sometimes even people. His life is spiralling out of his control, but he refuses to break. The last thing he expects is to find peace in the confines of submission. One man will try to tame a lion. One man will try to heal. And both men will have to join forces to deal with a toxic family and invasive paparazzi. The Lion Tamer is book six in Dahlia Donovan's international bestselling gay romance series, The Sin Bin. Each one features hot rugby players and the men who steal their hearts. ***It is recommended that readers have read at least The Royal Marine and The Unexpected Santa prior to reading The Lion Tamer
The Lion Tamer
Word Count:

10000
Character Identities:

Gay
Summary: When a rugby bad boy butts heads with a retired Marine, which alpha male becomes top dog? Scottie Monk came out of the womb angry at the world. He's selfish and bitter. "Bah humbug!" rolls off his tongue far easier than "Happy Christmas." Gray Baird has dedicated his life to public service as a Marine Corps officer and later as a police chief. The decorated hero finds it impossible to ignore autistic twins in desperate need of holiday spirit. He'll be the grumpiest Santa in the world if it puts a smile their faces. And he'll drag a reluctant Scottie along for the ride. This December, Gray and Scottie collide while unexpectedly playing Santa. The short story The Unexpected Santa is book five in Dahlia Donovan's international bestselling gay romance series, The Sin Bin. Each one features hot rugby players and the men who steal their hearts. This is not a stand-alone story. It is recommended that readers have read at least The Royal Marine prior to reading The Unexpected Santa.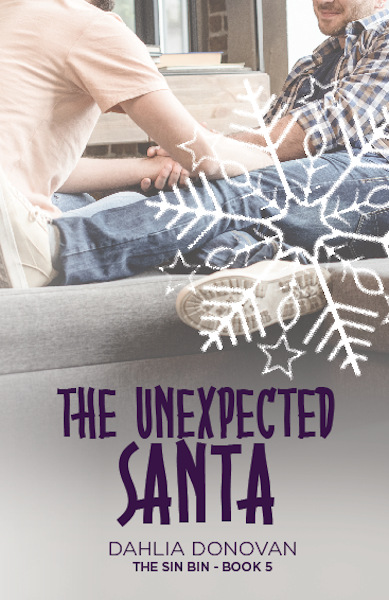 The Unexpected Santa
Word Count:

52000
Character Identities:

Gay
Summary: Who keeps the Royal Marine's heart safe when he's running headlong into danger? Akash Robinson fuses his Indian and British heritage into his baked creations. His life is all things sugar and spice, especially when a blind date leads him to the older military man of his dreams. Family, friends, and an unwanted admirer all threaten both his sanity and his budding romance. Hamish Ross carries the names of his lost soldiers on his back. He takes his work seriously with no time for love. All it takes is one impulsive kiss to lead him into uncharted romantic waters. When a sarcastic baker mixes with a stoic alpha marine, who will come out on top when the flour settles? The Royal Marine is book four in Dahlia Donovan's international bestselling gay romance series, The Sin Bin. Each one features hot rugby players and the men who steal their hearts.
The Royal Marine
Word Count: Information not available
Character Identities:

Bisexual, Gay
Summary:
Wyatt "Earp" Hardy is a US Navy SEAL. His life begins and ends with those two words. He readily risks himself for the men under his command. Trouble is—he can't live for them during a time when military policy weighs heavily on who he is.
Researching for his master's thesis, botanist Aled Demers's life is about to unravel. One torturous nightmare run-in with drug runners leaves him permanently scarred. He knows he's lucky to be alive after being rescued by a group of SEALs, but suffering from PTSD takes its toll.
The SEAL and the botanist come from different worlds, but one rescue links them together. Can Aled recover enough strength to risk his heart? Will Wyatt's leaving the navy force him to reassess more than just his career choices?
The Botanist is a short story introducing two key members to The Sin Bin series.
The Botanist
Word Count:

53000
Character Identities:

Gay
Summary:
***One angel to bind you, one angel to save you.***
Sky Heavensent, an angel of death, is charged with the collection of souls of the recently departed. Known to his peers and immediate supervisor, the archangel Gabriel, as the liability, Sky puts his heart and soul into everything he does. When he meets Caleb Pierce, Sky is immediately smitten. The problem is Caleb is the soul he came to earth to harvest, and saving him means breaking one of the most sacred angelic directives. Already in too deep, Sky pushes aside the consequences and follows his heart. Danger and mayhem follow, but he will do everything in his power to protect his lavender-eyed man.
Lavender Fields
Word Count:

50,000
Character Identities:

Gay
Summary:
Who cares for the caretaker when his burden grows too heavy to bear?
Freddie Whittle devotes his life to his cancer patients, cheese, and his overprotective fathers. His big move to Cardiff is tainted by bigot neighbors and a dismal social life. He wants something more but doesn't know what until he runs headlong into a Scottish-Maori mountain of a man. Taine Afoa retires from international rugby feeling restless. He left his career behind and relocates for a change of pace. The last thing he expects is to become infatuated with someone who seems far too young and innocent for him. No matter how hard he tries, it's impossible to get Freddie out of his mind. Can Freddie handle the intensity of Taine's naughty sexual desires? And when the strong alpha male tangles with the playful nurse, will this May-December romance end before it even begins?
The Caretaker is book two in Dahlia Donovan's international bestselling gay romance series, The Sin Bin. Each one features hot rugby players and the men who steal their hearts.
"Overall, I think that The Caretaker is one of the best reads I have had this year. It was witty, it was passionate, and most of all, it was all incredibly realistic. It was wonderfully written, and as I have said before, such a refreshing read. Dahlia Donovan did such an incredible job on it. I cannot wait to sink my teeth into more of her work. Five stars! Amazing!"
 —Loren E., Amazon Reviewer
The Caretaker
Word Count:

50,000
Character Identities:

Bisexual, Gay
Summary: When life kicks a wanderer in the bollocks, all he can do is fight for his life. Bad boy BC Brooks screwed up his lifelong dream of being captain of the English national rugby team. Lost and confused, he hides from his failures until an unexpected inheritance forces him to make a change. Graham Hodson lives for travel, adventure, and one-night stands. Wanderlust rules his life. He never expects a brief encounter with a stranger to haunt his dreams and follow him across the world. One diagnosis shakes both men to their core. One journey through the depths of recovery brings two perpetual bachelors into the unknown territory of love. The Wanderer is book one in Dahlia Donovan's international bestselling gay romance series, The Sin Bin. Each one features hot rugby players and the men who steal their hearts. "The Wanderer hits some hard truths of how cruel life can really be, but on the flip side of that, it shows that love is such a beautiful and patient thing that seriously will come out of nowhere, knock you flat on your arse and make you a better person than you ever thought you could be." —Lil Maso for PNR Book Lover Reviews
The Wanderer
Word Count:

40000
Character Identities:

Gay
Summary: For Eden, life revolves around making sure his sister and niece are taken care of while building his landscaping business. Love certainly hasn't been a priority. From the moment he meets his new client, his outlook on what's important changes. For Adam, the last two years have been spent helping his best friend, Maggie, grieve for her late husband while helping take care of her kids. Between his work at the hospital, and supporting his friend, finding time for himself has not been his priority. When Eden knocks on his door one summer morning, he knows life will never be the same. Mistakes and misunderstandings are always difficult to navigate. Can Adam convince Eden he's still the only man for him before it's too late?
Still You