by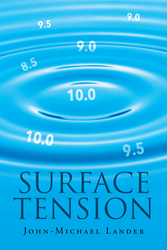 The springboard finals find David leading the best divers in the world, but his internal struggles try to derail his competitive psyche. David must silence the voices in his head to perform a near-perfect final dive and change his life forever. Returning home to Aulden, Ohio, David faces the reality that people aren't what they seem.
In August 2016, David agrees to Dr. Warner's unethical form of therapy. Reflecting on the year he turned sixteen, David discovered he had the God-given talent, determination, and a once-in-a-lifetime opportunity. Several things stood between him and a gold medal at the 1979 World Games Diving Championships: his age, inexperience, and family's secrets.
Published:
May 31, 2017
Publisher:
Akwekon Media
Genres:
Pairings:
M-M
Heat Level:
3
Romantic Content:
3
Ending:
Click here to reveal
Character Identities:
Gay
Protagonist 1 Age:
Under 18
Protagonist 2 Age:
18-25
Protagonist 3 Age:
18-25
Tropes:
Blackmail, Coming of Age
Word Count:
71,988
Setting:
Aulden, Ohio and Tonsberg, Norway
Languages Available:
English
Reviews:
Julie Winslow Lynch

on

itune

wrote:
Surface Tension...breaks the silence
A sensitive and heart wrenching story of how a teen who, by all outward appearances has it all going for him as an athlete, an artist and a physically beautiful boy ; but in reality he carries the ever present secret of being sexually abused and the accompanying burden of unjustified guilt; adding to that the weight of always feeling different; different from his family and from his bullying schoolmates.
(A reader's caveat: this being realistic depiction of a teen's sexual awakening and exploration there are some mildly explicit excerpts and language that may be inappropriate for young readers.)
Mr. Lander's book will give hope to those coping with growing up gay and confused. This book is also an important tool for counselors and even for confused parents to help them understand teens who may struggle with similar issues.