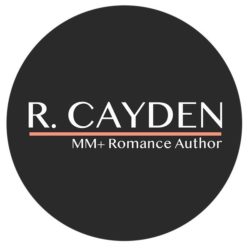 R. Cayden writes sweet and steamy M/M romance. He's usually busy reading and writing, but when he's got some free time, he enjoys catching a game of pool and relaxing at the lake with his husband.
If you want to be notified of new releases, sign up for the newsletter!
You can also send along an email. I love hearing from readers, and knowing what you think of the stories!
rcayden.books[at]gmail.com
Thanks for reading!
This author has been favorited by 7 users.
Contact Information:
Email Address: rcayden.books@gmail.com
Books By R. Cayden
Lake Steamy
R. Cayden ...
Pairing: M-M
July 22, 2021
Shared Secrets
R. Cayden ...
Pairing: M-M-M
December 29, 2020
Geek Tattoo
R. Cayden ...
Pairing: M-M
October 9, 2020
Brick's Geeks
R. Cayden ...
Pairing: M-M-M
August 13, 2019