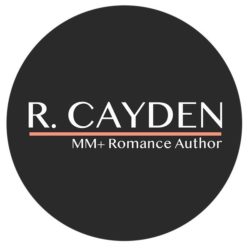 R. Cayden writes sweet and steamy M/M romance. He's usually busy reading and writing, but when he's got some free time, he enjoys catching a game of pool and relaxing at the lake with his husband.
If you want to be notified of new releases, sign up for the newsletter!
You can also send along an email. I love hearing from readers, and knowing what you think of the stories!
rcayden.books[at]gmail.com
Thanks for reading!
This author has been favorited by 7 users.
Contact Information:
Email Address: rcayden.books@gmail.com
Books By R. Cayden
Word Count: Click here to reveal75000 (Click here to hide)

Character Identities: Information not available
Summary: There's no way in hell I'm falling for a man called the Sledgehammer. Enzo is a lot of things. A big grump of a jock. Twenty years my senior. My employer. Straight. I'm living with the retired boxer while he recovers from an injury, just here to earn a good paycheck after my life fell apart. Getting emotionally involved with the man isn't my job, but my gaze keeps lingering on his thick muscles and the storm clouds in his eyes. For a million reasons, my geeky heart shouldn't flutter when Enzo walks in the room. But then he grunts my name, our eyes lock, and the world turns upside down. Filthy and the Beast is a steamy standalone M/M romance featuring an older, grumpy jock and the bubbly geek who lands in his mansion and upends his life. It's got a secret sweetheart, surprise temptation, and a touch of angst. The fourth book in Love Unexpected, Filthy and the Beast can be enjoyed alone or as part of the series.
Filthy and the Beast
Word Count: Information not available
Character Identities: Information not available
Summary: All four bestselling Geek Ink books together in one box set—the complete M/M romance series featuring geeks and bad boys! Geek Tattoo Stone is straight. That's the first reason the brooding tattoo artist can't be the one for geeky animator Matty. But when the two men enter into a fake relationship, cuddling up close starts to feel far, far too real. Crave Me Dedicated botanist Milo is a babbling sweetheart. Tattoos are not his style, but when his friends convince him to get some ink, he ends up in the chair of Joey, a silent, troubled artist. In the quiet drone of the shop, desire bubbles beneath the surface until a fateful blizzard blows through town, and their surprising connection ignites into something neither man expected. Just a Kiss Alexander has always been secretly in love with his best friend and roommate Rafael, who remains blissfully oblivious. When Rafael starts an apprenticeship at the tattoo shop, his confidence grows, and Alexander's pining spikes. Rafael doesn't do relationships, and Alexander doesn't do casual. But that's no reason to turn down the friends-with-benefits arrangement that Rafael proposes, right? Gruff Touch Drew comes to town seeking to learn more about the father he's never met, and grumpy tattoo artist Caesar is his only lead. Caesar pushes the bright young man away. He doesn't want to revisit his past, and especially not with a stranger half his age. But something deep inside Drew insists that Caesar should be his, if only he can get the old grump to see it, too. Four linked, full-length novels with low angst, high steam, and opposites-attract fun! Enjoy!
Geek Ink Box Set
Word Count: Information not available
Character Identities: Click here to revealBisexual, Gay (Click here to hide)

Summary: It's totally normal for two straight guys to do this when they're alone, right? That's what I keep telling myself after I meet Reggie. I'm a pro tennis player, and I usually spend my life on the court. But an embarrassing injury in the middle of the US Open sidelined my career, landing me in the hands of my new athletic trainer. Reggie is a big old jock with an easy smile, and my grumpy butt has never met anyone like him. We start hanging—at the gym and at his place, on the tennis court and out at the bar. I haven't had a real friend in years, and Reggie's big heart warms me deep inside. He finds something I've tried to keep buried, and when we end up sweaty in a hotel bed one night, my world turns upside down. Then comes the cabin weekend, and all the long massages at the gym… Reggie gets his big hands all over me, and I can't stop thinking about him. It's chill, though, because we're a couple of straight guys, and this is just a bromance. A sweaty, grunty, sticky bromance. It can't be more than that, not with my tennis career waiting— and no matter what my heart insists. Filthy Bromance is a friends-to-lovers romance with a grumpy tennis star, his big-hearted athletic trainer, and a mess of unexpected feelings. It features dirty talk and exploration on the way to a well-earned HEA. Book two of Love Unexpected, it can be enjoyed as a standalone or read along with the series.
Filthy Bromance
Word Count: Information not available
Character Identities: Information not available
Summary: Loner. Troublemaker. Rebel. …and secret softie? I try to enjoy the reputation I've earned as a hotshot music exec, even as I'm careful to hide my checkered past. But after another unfortunate scandal catches me with my pants down (literally), I'm forced to clean up my image. Enter Owen: my best friend's little brother. The adorkable sweetheart is my wholesome polar opposite, which makes him perfect for a little fake relationship publicity. Owen's just out of the closet. He acts shy, but the more time we spend together, the more I glimpse his surprisingly filthy imagination. And the more I can't stop thinking about him. I don't do relationships. And with my past crashing down around me, I have no right to drag Owen into the chaos of my life. But then he says my name with his gentle voice, and something unfamiliar stirs. Owen breaks down the walls I've built, but can a guy like me give him the kind of love he deserves? Filthy Sweet is a standalone M/M romance with a naughty geek, a secretly-sweet bad boy, and a dash of fake relationship. It features forbidden, best-friend's-brother steam, dirty talk, and ongoing confusion about a pair of panties. Enjoy!
Filthy Sweet
Word Count: Information not available
Character Identities: Click here to revealGay (Click here to hide)

Summary:
Sometimes, love shines where you least expect it.
Drew
There are a million reasons I shouldn't crush on growly, grumpy Caesar Marin.
For starters, the man is probably twice my age.
He's a famous tattoo artist, a biker with a pit bull, and he's made it clear he doesn't want anything to do with my geeky butt.
He's also apparently my father's old friend.
Not that I ever met my father. I only learned his name this year, and as soon as I tracked him down, I discovered that he had already passed.
And with Mom gone now, too, that leaves Caesar as my only hope for learning more about the man.
Caesar with the sexy growl, silver hair, and thick neck.
Caesar who pushes me away even as his eyes beg me to stay.
He's the last man I should fall for, yet something deep inside insists that Caesar should be mine.
If I can only shine bright enough to warm his grumpy heart…
Gruff Touch is an age gap, grumpy/sunshine, geek and bad boy romance with a guaranteed HEA. It features a growly tattoo artist, a geeky sweetheart who loves repairing pinball machines, and two opposites who spark when they attract. Book 4 in Geek Tattoo, it can be enjoyed alone or as part of the steamy M/M series.
Gruff Touch