Pat Henshaw, born and raised in Nebraska, has lived on the U S's three coasts, in Texas, Virginia, and now California. Before she retired, she held a number of jobs, including theatrical costumer, newspaper features reporter and movie reviewer, librarian, junior college English instructor, and publicist. She also loves to travel and has visited Canada, Mexico, Europe, Egypt, Thailand, and Central America as well as almost all fifty US states.
Now retired, she enjoys reading and writing as well as visiting her older daughter, son-in-law, and grandchildren on the East Coast and playing havoc with her younger daughter's life in NorCal. Pat's pronouns are she / her.
She thanks you for reading her books and wants you to remember that
Every day is a good day for romance.

This author has been favorited by 9 users.
Contact Information:
Email Address: pathenshaw@pathenshaw.com
Books By Pat Henshaw
Word Count: Click here to reveal12241 (Click here to hide)

Character Identities: Click here to revealGay (Click here to hide)

Summary: Following a horrific break up with his fiancé, Luke Bennet spends two years as a social hermit, only going to work and talking with Tina, Gina, and Rita, three friends from high school. Refusing to let him wallow any longer, they intervene and talk him into going on twelve blind dates to get him back in social circulation. The Trio have not only planned the dating venues but also chosen the perfect guys to lure Luke from his isolation. Will he find love through these dates? Or will he run for cover again?
12 Blind Dates
Word Count: Click here to reveal113,441 (Click here to hide)

Character Identities: Click here to revealGay (Click here to hide)

Summary: 2021 Top Ten Gay Romance brings together the best-selling short stories published by JMS Books that year. From first love to true love, from submission to sensual, from heat to sweet and everything in between, the couples in these stories are sure to keep you turning the pages as you fall in love with them. With stories by Kris T. Bethke, Jamie Craig, Holly Day, Ofelia Gränd, Pat Henshaw, Nell Iris, A.C. Katt, Shawn Lane, Wayne Mansfield, and K.L. Noone, this head-over-heels collection goes beyond bedtime reading. Whether happily ever after or happy for now, there's an ending for everyone in here! Contains the stories: Gingerbread and Good Tidings by Kris T. Bethke, First and Always by Jamie Craig, Blown Away by Holly Day, Kisses and Cabins by Ofelia Gränd, A Kiss in Time by Pat Henshaw, Wake Him with a Kiss by Nell Iris, A Permanent Arrangement by A.C. Katt, Holly Jolly by Shawn Lane, Ugly by Wayne Mansfield, and Cinnamon and Strawberries by K.L. Noone.
2021 Top Ten Gay Romances
Word Count: Click here to reveal62083 (Click here to hide)

Character Identities: Click here to revealGay (Click here to hide)

Summary: Bells ring and choirs sing. People bustle with happiness and joy. Calories pile up while everyone gathers to chat with friends and relatives. What's more exciting than all the holidays in December? But sometimes we need a break from the expectations and the wonderment. A great way to revive our spirits is by reading a story to ground us in the true meaning of the season. This collection features four stories infused with happiness, love, and joy. From a small business owner discovering his first fruitcake and a homeless man finding a permanent home to a blacksmith's wish to propose to his childhood friend and a gay man relocating to a small town, each story is a journey of self-discovery leading to happily ever after. Contains the stories: Blame It on the Fruitcake: Motorcycle shop owner Sam McGuire falls for the fruitcake his loft neighbor's grandma makes as well as the man himself. But will handsome, educated, personable Jay Merriweather be attracted to a grease jockey like Sam? The Orpheum Miracle: The son of crack addicts who abandoned him as a child, Mick has found refuge in the historic Orpheum Theater. But when the new owner takes over, will Mick be pushed out on the street or taken into the owner's heart? Making the Holidays Happy Again: Butch has been manning the forge in Old Town and fantasizing over his best friend Jimmy since they were in high school. Does Jimmy feel the same way about Butch? Does Butch want to push their friendship and find out? Heart of the Holidays: When Silicon Valley programmer Dan Lassiter moves to a small California town, he doesn't expect to find love. After Rick Reardon opens his bakery across the street, Dan may change his mind.
Holiday Quartet Box Set
Word Count: Information not available
Character Identities: Click here to revealGay (Click here to hide)

Summary: When does never turn into happily ever after in the search for love? Top accountant of Manzanita Imports in Sacramento, Ted Abbott stopped participating in the love game after he turned thirty quite a few years ago. He's not tempted by the cute young new hires or the product reps his loyal staff suggest he ask out on a date. Chicago contractor Matt Patterson is on the verge of giving up too. He's worked his way up from apprentice carpenter to co-owner of a thriving business. At forty-something, he's considered a lucky catch for anybody looking for a sugar daddy, which he knows only too well. The chance of them meeting is nil until Matt's uncle who lived in Sacramento dies and leaves his estate to his nephew. After they meet in a dilapidated bar called The Roost, could their paths actually merge and become one?
A Handful of Joy
Word Count: Click here to reveal230,861 (Click here to hide)

Character Identities: Click here to revealGay (Click here to hide)

Summary: The tiny Sierra Nevada community of Stone Acres looks benign on the outside, but it's been a hive of activity since gay men from Silicon Valley began moving in. The Old Town establishment is up in arms as newcomers challenge the conservative community to move into the new millennium. Along the way, gay couples find true love and a new home. Contains the stories: What's in a Name?: When barista Jimmy is dumped and gets drunk on his 30th birthday, a handsome, hunky bartender takes care of him, but is mum about his real name. When Jimmy presses him, the bartender makes the quest a game, giving him seven guesses and promising romance each night. For every wrong guess, Jimmy has to forfeit a hot, sexy kiss. Sounds good, but what's the catch? Redesigning Max: Out and proud award-winning designer Fredi Zimmer takes on straight outdoorsman Max Greene's cabin renovation. When he finds out Max is closeted and wants to come out, Fredi helps Max remodel not only his cabin but his life. Angered that Fredi has turned him, Max's former friends intervene. Will Fredi and Max win the fight for their happiness? Behr Facts: After CEO Abe Behr discovers discrepancies in his construction company accounts, he hires CPA Jeff Mason to help him find the embezzler. Searching for the culprit, they become closer, and Abe realizes he's gay. However, coming out to a hostile family and community may break up the couple before they cement their happiness. With so much strife, will love prevail? When Adam Fell: Jason's drug addiction ripped them apart. Does Adam want to get back together now that his former lover says he's clean? Relative Best: When hotel owner Zeke Bandy meets Vic Longbow, he sees stars. But Vic is in town to attend a wedding and to open an office, not to fall in love. Are they doomed as lovers because they're both too busy for happily ever after? Frank at Heart: What will it take to make hardware store owner Frank update himself and his store? Could the new man in town be the key to unlock Frank's life and future happiness? Waking the Behr: Ladies' man and small town contractor Ben Behr is blindsided by his lustful feelings for San Francisco entrepreneur Mitch O'Shea. Can a country mouse and a city mouse bridge the gap in their upbringing and expectations to find love? Short Order: Amid the happiness of the Christmas season, horticulturist Fen Miller and his landlord sous chef John Barton have some serious decisions to make. Fen must decide on a career and John on eluding his grim past. Together can they support each other enough to discover their happily ever after?
Foothills Pride Box Set
Word Count: Click here to reveal65,255 (Click here to hide)

Character Identities: Click here to revealGenderqueer (Click here to hide)

Summary: Is there a time limit on love and forgiveness? Fifteen years ago, Manny didn't show up to take Wes to the Shelby High School prom as he promised. Instead, Wes found Manny's letter jacket at their meeting spot without a note or any explanation. From college to his current job in Monterey, California, Wes has carted the jacket around as a memento of his teenage love and rejection. This year he decides enough is enough. He's attending the high school class reunion, returning Manny's jacket, and going home free to find the real love of his life. When Manny sees Wes at the reunion tour of the new high school facilities, he's determined not to let his teenage lover leave without them clearing the air and possibly getting back together. Through reunion activities such as a quiz bowl, meet-and-greet meals, and a formal banquet with a prom-like ball as well as outside activities like the quinceañera of Manny's niece, Wes and Manny work through the lies and misunderstandings of the past. With so much to reconcile and forgive on both sides, will they end up together? Or go their separate ways with only memories of the past?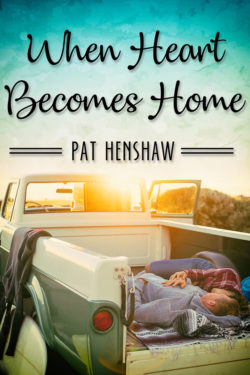 When Heart Becomes Home
Word Count: Click here to reveal8285 (Click here to hide)

Character Identities: Click here to revealGay (Click here to hide)

Summary: Christmas joy is a matter of perspective. For some, it's the happiest time of the year. For others, not so much. Twenty-nine-year-old Mick, the son of crack addicts, isn't exactly a dyed-in-the-wool Scrooge. Mick's been on his own from childhood. As a teen, he lived in a shelter, where for a short time he had a boyfriend. After the boyfriend left, Mick moved to the Orpheum Theater. While squatting there and taking care of the grand old building, Mick watched others celebrate the holidays from a distance, never able to share in their merriment. Only his Technicolor dreams liven his dull, mechanical life until one day the world around him begins to change. Mick is surprised when a man named Jim buys the vintage Orpheum and plans to restore it. Something about Jim makes Mick think they've met before. In fact, Jim rekindles Mick's longing for a better life and a little holiday magic for himself.
Rainbow Award Honorable Mention book 2017.
The Orpheum Miracle
Word Count: Click here to reveal15298 (Click here to hide)

Character Identities: Click here to revealGay (Click here to hide)

Summary: Blacksmith Butch has secretly loved his best friend, science nerd Jimmy, since grade school. Now their shops in Old Town Seven Winds, California, are only doors from each other. They're about to turn thirty, and Butch refuses to wait another day to make a decision: propose to Jimmy and start the family he's always wanted or forget his dream to avoid risking their friendship. Why can't the choice be as easy as creating decorative ironwork in his forge?
Making the Holidays Happy Again
Word Count: Click here to reveal25,778 (Click here to hide)

Character Identities: Click here to revealGay (Click here to hide)

Summary: Everyone hopes his road to happily ever after will be carefree and smooth, but too often hair-pin turns and detours seem to get in the way. Having thought he was on the road to forever before, former Silicon Valley programmer Dan Lassiter is leery about pedaling down it again. His elderly companion Charlie urges him to get to know Rick Reardon whose bakery is across the street from Dan's bicycle shop. Under the watchful eye of Charlie, Dan and Rick take tentative steps toward each other, all the while trying to avoid potholes such as exes, homophobes, and family problems. As summer turns to fall and then winter, they hope that the road will be smooth going from their first date and first kiss to having what Rick's sister euphemistically calls their "sleepovers." At each step, though, they are tripped up and wonder why there seem to be so many bumps in their road. Maybe Dan and Rick should heed some of Charlie's sage advice, or maybe they should listen to their hearts instead of the ghosts from their pasts.
Heart of the Holidays
Word Count: Information not available
Character Identities: Click here to revealGay (Click here to hide)

Summary: Fruitcake is the laughingstock of the holiday season. But can it be an aphrodisiac instead? Motorcycle mechanic Sam McGuire is surprised to find a gaily wrapped box on his doorstep with a piece of fruitcake accompanying an invitation to a holiday party. Wondering if he'll fit in, Sam attends the party—mostly to get more of the fruitcake he falls in love with—and meets Jay Merriweather, his new neighbor. The lure of Jay's big family and its holiday tradition of enjoying Grandma's fruitcake hook Sam, as does the sexy man himself. But Sam can't imagine why handsome, college-educated Jay would want someone like him, who was raised in a children's home and barely graduated high school. Maybe the magic of the holiday season can help two men who seem so different come together like the ingredients in a well-made fruitcake.
Blame It on the Fruitcake
Word Count: Click here to reveal24,189 (Click here to hide)

Character Identities: Click here to revealGay, Questioning (Click here to hide)

Summary: Thirty-three-year-old gay farmer Vladimir Wozniak IV lives for his crops and the hard work that makes them profitable every year. Five miles up the road, former rodeo bull rider and rancher Thomas Sullivan is just as committed to his corn-fed beef. Once best friends until VJ kissed Tommy during freshman year in college, they stopped speaking when Tommy rejected VJ. Ten years later, after the country doctor who helped bring them into the world dies and his will names them as co-owners of property, they decide to check out their inheritance together to see which one wants to buy out the other. As they travel down memory lane through the Doc's correspondence and visit familiar sites on the land, can they work their way back to friendship ... and possibly beyond?
The Thaw
Word Count: Click here to reveal12,381 (Click here to hide)

Character Identities: Click here to revealGay (Click here to hide)

Summary: English writing tutor Steve Smith only has two more semesters to graduate from Vermillion College in California. Then he hopes to get a top-paying job writing copy for a tech firm. Until he reaches his self-fulfilled dreams, however, he's working his way through school without borrowing from his successful Chinese-American parents. Vermillion football star Jason Woodard, on the other hand, grew up in a state-run home and is struggling to make his athletic scholarship and all that goes with it mesh with his academic requirements. He too is about to finish but, having put off first year English composition, has to rely on the writing lab where Steve works for help with an essay about love. Since Jase says he's never encountered love, he can't figure out how to write his essay. As they talk about love, they discover two things: falling in love is easier than talking about it and nobody in the school's athletic program wants two guys to fall in love. When the abuse of athletes across the country comes to light, Steve realizes Jase too has been abused and needs more help than a tutor can give.
A Short Essay on Love
Word Count: Click here to reveal6,609 (Click here to hide)

Character Identities: Click here to revealGay (Click here to hide)

Summary: When former tagger Eric hears a cute fellow student named Joel protesting to a woman that he's gay, Eric goes to his rescue and gives him a big kiss and hug in a City College hallway. Even though sparks fly between them, Eric doesn't expect any reward for saving the guy from being hit on in public, so he's surprised when undercover cop Joel asks him to become his pseudo-boyfriend. How bad can it be for a former high school dropout, who's been to juvie more times than class, to pretend he's a cop's lover?
A Kiss in Time
Word Count: Click here to reveal29,610 (Click here to hide)

Character Identities: Click here to revealGay (Click here to hide)

Summary: Recent graduate Dr. Fenton Miller takes December off to decide which job offer to accept. Then he meets his landlord, sous chef John Barton. Suddenly, thinking about his career becomes his last priority. A better option might be a month-long roll between the sheets with John. While John is attracted to Fen and might even agree to his plan, John has got more pressing matters to worry about. His past has arrived in tiny Stone Acres from San Francisco and is intent on sucking him back into a life he hated. Promising to help John and shelter him if necessary, Fen finds he's also being threatened by a homophobic father who doesn't find Fen as entertaining as his kids do. As they wade through their problems during the happiest time of the year, Fen and John rely more and more on each other for happiness.
Short Order
Word Count: Click here to reveal29689 (Click here to hide)

Character Identities: Click here to revealGay (Click here to hide)

Summary: When he sees entrepreneur Mitch O'Shea whirling around an empty building, contractor Ben Behr is enchanted. Even though his two brothers are gay, Ben always thought he was a ladies' man until he met Mitch. Despite his feelings, Ben knows San Francisco native Mitch is totally out of his league. What could Ben possibly do to get out-and-proud Mitch to notice him? Turns out Mitch is just as attracted to Ben. As they compete in car rallies, camp in the Sierra Navada foothills, and tour the bars Mitch owns in the city, they realize how stifled they've been their entire lives. Maybe looking over the fence and jumping it to explore what's on the other side are good ideas. When these two seemingly opposites get together, will Ben and Mitch find out they have the world at their feet and might even have love in their hearts?
Waking the Behr
Word Count: Click here to reveal30,228 (Click here to hide)

Character Identities: Click here to revealGay (Click here to hide)

Summary: Everything about thirty-five-year-old Stone Acres hardware store owner Frank McCord is old-fashioned -- from his bow tie and overalls to the way he happily makes house calls. He dreams of lasting romance, true love, and marriage. Frank's ancestors have run the store and been mainstays in the small California town for over a century. While genial Frank upholds tradition and earns the respect of friends and neighbors, he fears he's too dull and old to attract a husband. Maybe it's time to break out of his mold. Then handsome thirty-six-year-old electronic games designer Christopher Darling and his fifteen-year-old son, Henry, come into his life. Christopher has everything Frank could want in a potential partner: charm, kindness, and compatibility. Also, he's a terrific father to Henry. When their Stone Acres home turns out to be uninhabitable, Frank offers the Darlings temporary lodging in his ancestral farmhouse, where he and his tenant Emil reside. Since Emil thinks Frank is his, sparks fly. Suddenly, Frank's monotonous life promises to explode with love and change him forever.
Rainbow Award Honorable Mention book.
Frank at Heart
Word Count: Click here to reveal25109 (Click here to hide)

Character Identities: Click here to revealGay, Transgender (Click here to hide)

Summary: Hotel owner and part-time musician Zeke Bandy is too busy for love. His plate is full running the historic Bandy Hotel and upholding his family's tradition of offering refuge to strays and runaways. For fun two nights a week, Zeke also plays and sings traditional folk music with his rewritten gay lyrics at the Stonewall Saloon and for occasional celebrations. Then at a gay wedding, Zeke meets Victor Longbow, who just might be the man of his dreams. However, Vic isn't looking for love either. In fact, because of his upbringing in a strict, white foster family, Vic's not sure he believes in love. He's in Stone Acres to open a branch office of a national brokerage firm. He also hopes to track down a vintage photo of what might be his Native American ancestor. After their paths cross, they become friends. Connected by their experiences as orphans raised by flawed fathers, Zeke and Vic wonder if their future could possibly hold love and family or if they are destined only to be lifelong friends.
Relative Best
Word Count: Information not available
Character Identities: Click here to revealGay (Click here to hide)

Summary: When his lover Jason's drug addiction spiraled out of control, TV celebrity chef and cookbook author Adam de Leon walked away from him. Adam also abandoned his renowned restaurant in San Francisco to start a small bistro in the Sierra Foothills. Five years later Adam is battling the conservative leaders of Stone Acres, California, to open a new restaurant in historic Old Town when Jason turns up on his doorstep—a recovered Jason, now going by the name David and claiming he's overcome his addictions. What's more, he begs Adam to take him back and says he's ready for their happily ever after. Adam has enough on his plate with problems plaguing the opening of his restaurant. And now he's having a hard time deciding which to follow—his head or his heart. Rainbow Award Honorable Mention book 2016.
When Adam Fell
Word Count: Click here to reveal30,048 (Click here to hide)

Character Identities: Click here to revealGay (Click here to hide)

Summary: Big, burly CEO Abe Behr is furious to discover someone—probably a relative—is embezzling from Behr Construction, a family-run business in the Sierra Nevada foothills outside Lake Tahoe. To confirm his suspicions, Abe takes the unprecedented step of hiring a non-family accountant, handsome Jeff Mason, to go over the books and help find the culprit. As they talk to Behr relatives and visit construction sites, Abe and Jeff are drawn to each other, bringing out new, softer emotions in workaholic Abe. Since he has sacrificed romance all his life to build the construction business, Abe's surprised by his feelings for the handsome Jeff. He's even more shocked when they come face to face with homophobia in the small foothills community where generations of Behrs have called home. Abe had always thought Stone Acres was a live-and-let-live kind of town. As he and Jeff get closer, he finds out how wrong he is when he comes out to both family and a community who think he's making a big mistake. Will being the head of a large, powerful family and a pillar of the community be enough to win Abe his happily ever after with Jeff?
Rainbow Award Honorable Mention book.
Behr Facts
Word Count: Click here to reveal32,417 (Click here to hide)

Character Identities: Click here to revealGay (Click here to hide)

Summary: Renowned interior designer Fredi Zimmer is surprised when outdoorsman Max Greene, owner of Greene's Outdoors, hires him to revamp Max's rustic cabin in the Sierra Nevada foothills. Fredi is an out-and-proud Metro male whose contact with the outdoors is from his car to the doorway of the million-dollar homes he remodels, and to Fredi, Max is a typical straight man's man. When Max blatantly and clumsily flirts with Fredi, Fredi's stereotypical view of Max is shattered. Is this a build-up to a gay bashing? Cautiously believing Max is closeted and is trying to come out, Fredi decides he's game to put a little spice into Max's life, whether it's in the colors and fixtures he'll use to turn Max's dilapidated cabin into a showplace or over one of the many lunches and dinners they share talking about the remodel. Who can blame a guy for adding a little sensual pleasure as he retools Max's life visually? Besides, Fredi has a backup plan if he's wrong about Max's intentions. Life would be all wine and roses if it weren't for Max's former friends and their conservative families. Alarmed with Max's obvious infatuation, they make it their business to save him from sliding into hell. With the battle on, will Fredi and Max win the fight for a life of happiness together?
Redesigning Max