Louis is a gay romance author born and raised in South Africa. He was a shy outcast who had few friends in school; generally feeling excluded and on the fringe of society. However, when he discovered gay romance and erotica in 2007, at the age of seventeen, his mind and world opened up.
He wrote his first story, A Better Life, longhand in a 197 page spiral notebook, on his bed every night with a pillow curled under his chin. Although the book wouldn't be published until 2011, with the now defunct Silver Publishing, he found the experience entirely liberating. He's considered himself a writer ever since.
This author has been favorited by 4 users.
Contact Information:
Email Address: londonlouis@gmail.com
Books By Louis Stevens
Word Count: Click here to reveal44000 (Click here to hide)
Character Identities: Click here to revealBisexual, Gay, Straight (Click here to hide)
Summary: Martin is a guy's guy, one who enjoys the simple things in life: baseball games with his son, family days, barbecues, and date nights with his lovely wife. Once a year for two weeks, Martin takes his son, Marty, to Quillon's Covert, a rustic family cabin secluded in the beautiful California mountains. Since before those long days of learning to play ball, Marty has loved his dad, but as Marty matures, Martin starts to see something else settle in his son's uncertain gaze. What's there lingers a little more than it should, and it seems far more appraising than it once was. As Marty shows every sign of taking the lead, Martin is faced with the tough choices most parents never see: lose his son by being a father, or try to balance what's best for their relationship by being something… more. But with another trip to Quillon's Covert on the horizon, has the point of no return already begun?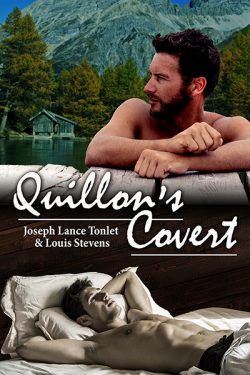 Quillon's Covert
Louis Stevens , Joseph Lance Tonlet ...
Pairing: M-M
December 18, 2015