Mystery, action, chills, and thrills spiced with romance and desire. ELIZABETH NOBLE started telling stories before she actually knew how to write, and her family was very happy when she learned to put words on a page. Those words turned into books and fan fiction that turned into a genuine love of M/M romance fiction. Being able to share her works with others is really a dream come true. She has a real love for a good mystery complete with murder and twisty plots as well as all things sci-fi, futuristic, and supernatural and a bit of an unnatural interest in a super-volcano in Wyoming.
Elizabeth has three grown children, two grandchildren, and is now happily owned by an adorable mixed-breed canine princess and her sidekick tabby cat. Elizabeth lives in her native northeast Ohio, the perfect place for gardening and winter and summer sports (go Tribe and Cavs!) and stargazing all year long. When she's not writing, she's working as a veterinary nurse, so don't be surprised to see her men with a pet or three who are a very big part of their lives.
Elizabeth has received a number of amateur writing awards. Since being published, several of her novels have received Honorable Mentions in the Rainbow Awards. Jewel Cave was a runner-up in the Gay Mystery/Thriller category in the 2015 Rainbow Awards. Ringed Love was a winner in the Gay Fantasy Romance category of the 2016 Rainbow Awards.
This author has been favorited by 5 users.
Contact Information:
Email Address: elizabeth.noble19@gmail.com
Books By Elizabeth Noble
Stand-Alone Books
For the Long Run
Pairing: MM
September 12, 2012
Edge Jump
Pairing: MM
June 16, 2018
Twenty-Nine Hours to Eternity
Pairing: MM
December 1, 2018
Series: Circles
Run for the Roses
SALE
Pairing: MM
May 2, 2014
A Barlow Lens
Pairing: MM
January 14, 2015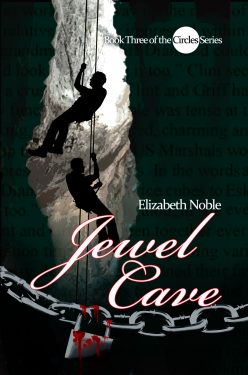 Jewel Cave
Pairing: MM
April 1, 2015
Gone Away
Pairing: MM
January 6, 2016
Bait
Pairing: MM
November 23, 2016
Series: Dreamspun Desires
Whiskey and Moonshine
Pairing: MM
January 15, 2019
High Test
Pairing: MM
December 1, 2017
Series: Pain and Pleasure
Home Coming
Pairing: MM
May 18, 2019
Series: Sentries
Marked Yours
Pairing: MM
May 23, 2011
Together Bound
Pairing: MM
October 17, 2011
Chained Hearts
Pairing: MM
June 11, 2012
Collared Souls
Pairing: MM
April 3, 2013
Tethered Pair
Pairing: MM
November 26, 2014
Ringed Love
Pairing: MM
May 23, 2016
Series: The Sleepless City
Electric Candle
Pairing: MM
April 4, 2014
Shifting Chaos
Pairing: MM
September 7, 2015
Series: The Vampire Guard
Code Name Jack Rabbit
July 12, 2016
Quarry
Pairing: MM
January 17, 2017