Char lives in Kansas and spends most of her time at the library. She wishes she was there strictly to pursue research for her fiction, but alas, the library is her day job. Char's writing roots are in science fiction. Since the mid 1990s, she has published numerous short stories in the Star Wars Expanded Universe, including "A Certain Point of View," in Star Wars: Tales from the Empire. She published her first novel in 2012, and recently finished a historical fiction series filled with war, political intrigue, and a knightly romance of forbidden love set during the reign of Richard the Lionheart in the late 12th century. Men of the Cross, For King and Country, and Swords of the King (Battle Scars I - III) are B.R.A.G. Medallion honorees. King is an HNS Editor's Choice, a finalist in the 2016 Chaucer Awards for pre-1750 Historical Fiction, (Swords was shortlisted for the award in 2018), and King received an honorable mention in the Writer's Digest Self-Published Ebooks Awards. Char is a blog editor for English Historical Fiction Authors and researching/plotting a medieval novel set at the end of King John's reign (featuring characters from Battle Scars). She is currently revising the 2nd draft of Echoes of the Storm, a sci fi/space opera she plans to publish in 2020.
This author has been favorited by 1 user.
Contact Information:
Email Address: charlenenewcomb@gmail.com
Books By Charlene Newcomb
Stand-Alone Books
Word Count: Click here to reveal12000 (Click here to hide)
Character Identities: Click here to revealGay (Click here to hide)
Summary: ~~a short story~~ April 1185 Stephan l'Aigle is the third son of a Yorkshire baron with no hopes of inheriting land or titles, probably a good thing as he has no interest in women, nor any desire to marry or produce heirs. He finds pleasure in the arms of other men. At eighteen years old, Stephan has recently been knighted and must make his living on the tournament circuit or become a soldier for hire. His fortunes change when Richard, Duke of Aquitaine & son of King Henry II, sees his skills in battle. Stephan will hone his sword arm against Richard's enemies, and learn about comradeship, duty, and honor. Will his relationship with one of Richard's knights crack his hard-hearted armor? NOTE: this is not an HEA. It's rather bittersweet.
A Knight's Tale (Passages)
Charlene Newcomb ...
Pairing: M-M
August 6, 2019
Series: Battle Scars
Word Count: Click here to reveal99000 (Click here to hide)
Character Identities: Information not available
Summary: They embarked on the Crusades as strangers. They battled through as more than brothers-in-arms. March 1190. Brimming with the spirit of youth, the idealistic Henry de Grey joins King Richard's army ready to fight for God's glory on the battlefield. But after he bloodies his sword and witnesses the slaughter of innocents, he struggles to justify the violent acts he's committed. Through months of brutal marches and political bickering, Henry finds comfort in the fearless resolve of a brash veteran. But when his feelings of friendship grow into something more, he must put his old convictions through the gauntlet. Stephan I'Aigle would follow the king anywhere, even into the heart of enemy territory. He takes Henry under his wing, but fears his growing attachment and burning passion could make him lose his fighting edge. Will opening up his heart destroy the knights' friendship, or leave them both completely defenseless in the heat of battle? Men of the Cross is medieval historical fiction with elements of an m/m romance. If you like journeys of self-discovery, vivid historical details, and slow-burn chemistry, then you'll love this tale of the knights who served the Lionheart. Man against man. Man against the elements. Man against his own heart. Survival will depend on more than a strong sword arm.
Men of the Cross
Charlene Newcomb ...
Pairing: M-M
April 28, 2014
Word Count: Click here to reveal145000 (Click here to hide)
Character Identities: Information not available
Summary: England 1193 Civil war threatens as battle-scarred knight Henry de Grey returns from the Crusades. King Richard languishes in captivity, a prisoner of the Holy Roman Emperor. Traitors to the crown pit Henry and his friends against dangerous and unknown enemies. Loyalties will be tested, families torn apart. Friend or foe? It is hard to tell one from the other. The king's brother John and his allies plot to usurp Richard's throne. With the knights Sir Stephan and Sir Robin, Henry fights for king and country. But he must keep his feelings for Sir Stephan l'Aigle secret. Sure as arrow or sword, their forbidden love could destroy him.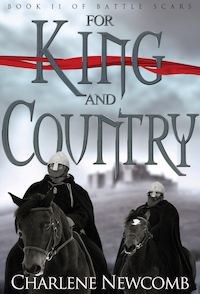 For King and Country
Charlene Newcomb ...
Pairing: M-M
April 27, 2016
Word Count: Information not available
Character Identities: Information not available
Summary: Normandy, March 1196 King Richard has their loyalty. The French would have their lives. And John, the king's brother, will never forget how they betrayed him. The kidnapping of the king's former sister-in-law sets off a chain of events that entangle the knights Henry de Grey and Stephan l'Aigle in politics and intrigue, treason . . . and murder. What begins as escort duty for the knights becomes a chase through the Norman countryside on the trail of her son, the young duke Arthur. Assassins want him—and the knights—dead. If assassins' blades don't kill them, King Richard's war to recover his continental domains from France just might. Former enemies, like the king's brother, are now allies. Can they be trusted? Warriors. Heroes. Traitors. Spies . . . Lovers.  Henry and Stephan will risk their honor and the trust of the king to protect Duke Arthur. They will fight treachery and brave bloody battles, see war in all its horror, and fight their fears of losing each other, all the while keeping their forbidden love secret. With Swords of the King, Charlene Newcomb follows up her award-winning novel For King and Country (Battle Scars II) amidst the turbulent final years of the reign of Richard I of England, the Lionheart. This epic adventure furthers an original Robin Hood origins story and will captivate fans of historical fiction and anyone who likes a little romance—forbidden romance—with their history.
Swords of the King
Charlene Newcomb ...
Pairing: M-M
May 3, 2018