Battle Scars Book II
by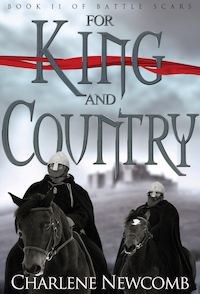 England 1193
Civil war threatens as battle-scarred knight Henry de Grey returns from the Crusades. King Richard languishes in captivity, a prisoner of the Holy Roman Emperor. Traitors to the crown pit Henry and his friends against dangerous and unknown enemies.
Loyalties will be tested, families torn apart. Friend or foe? It is hard to tell one from the other.
The king's brother John and his allies plot to usurp Richard's throne. With the knights Sir Stephan and Sir Robin, Henry fights for king and country. But he must keep his feelings for Sir Stephan l'Aigle secret. Sure as arrow or sword, their forbidden love could destroy him.
Published:
April 27, 2016
Publisher:
Independently Published
Genres:
Pairings:
M-M
Heat Level:
3
Romantic Content:
3
Ending:
Click here to reveal
Protagonist 1 Age:
18-25
Protagonist 2 Age:
18-25
Tropes:
Forbidden Love, Friends to Lovers
Word Count:
145000
Setting:
England
Languages Available:
English
Series Type:
Continuous / Same Characters
Reviews:
Sharon Connolly

on

Amazon

wrote:
A breathtaking gallop through the Lionheart's England, May 10, 2016
By Sharon Connolly
Ten months ago I did my first review for The Review. The book was the first instalment of Charlene Newcomb's Battle Scar's series, Men of the Cross. Ms Newcomb must have been quite happy with the review, as a few months ago she asked me if I'd review Book 2 in the series. I jumped at the chance; I needed to know what happened next, to Henry, Stephan, Robin, Little John....even King Richard. I needed to get back to the action.
And For King and Country did not disappoint.

The story begins with Henry and his friends arriving home to Lincolnshire, but their fight doesn't end there. With Richard still in a German prison, they now have to help Queen Eleanor thwart the plans of King Richard's brother, John, to steal the throne. For King and Country is one of those rare books that is impossible to put down. I often found myself reading late into the night, just to get through one more chapter. The action is fast-paced and unpredictable, keeping you on the edge of your seat all the way. The character interaction is, simply, stunning; the author has a way of evoking your emotions and I found myself deeply affected by the trials and traumas - and victories - of the lead characters.

The strength of the story lies in the characters - and in the interaction between them. They have matured since the first book, changed by their experiences and their friendships. They work together well and their camaraderie and dependence and trust in each other shines through on every page.

As the story progresses we see secrets unravel and conspiracies revealed but the friendship, love and trust of the lead characters, of Henry and Stephan, Robin, Little John and Allan a Dale, grows stronger. In this book, Charlene Newcomb has developed even further the dual story of the relationship of Henry and Stephan and of the legend of Robin Hood.
We are taken on a wild ride through the countryside of Lincolnshire, Yorkshire and Nottinghamshire, taking us as far north as York, as far east as Boston, as far west as Tickhill - and then south to the final showdown at Nottingham Castle. Ms Newcomb's research is meticulous; I could almost imagine myself in the heart of Sherwood Forest, looking up at the keep of Tickhill Castle, or in the caves beneath Nottingham Castle.

The action comes at a fast pace, leaving the reading breathless and yet eager for more. There is tragedy tempered by feel-good moments; there is enough of love to satisfy the incurable romantic and there is sufficient sword-fighting, reckless horse rides, flights of arrows and heart-stopping moments to keep the adrenaline junkie in his element.

Book 2 of the Battle Scars series, For King and Country is a wonderful continuation of the story of Henry and Stephan. In a nutshell, Char Newcomb has surpassed herself. For King and Country is a masterpiece that leaves you at the edge of your seat as you are taken on a breathtaking gallop through Richard the Lionheart's England. The story is eminently readable as a standalone, it ties up all the loose ends and doesn't leave the reader hanging; however, the story itself makes you wish for more. I can't wait to find out what happens next; what happens to Robin and the band of men he is assembling? What happens to Henry's sister and to Henry and Stephan themselves? I hope that their journeys are not at an end, and that there is more to come from this wonderful writer.....
thurinius

on

Amazon

wrote:
A fantastic follow up
By thuriniuson May 4, 2016

For King and Country is the second in a series of novels detailing the adventures of knights and lovers Stephen & Henry and their 'merry' friends Robin, Allan and John.

Book 1 Men of the Cross saw them on Richard the Lionheart's crusade in the Holy Land. For King and Country finds them returning home to an England very different from the one they left. With Richard being held hostage his younger brother Count John is out to take advantage of the situation. Queen Eleanor has enlisted Robin and Stephen to uncover what her scheming younger son is up to.

For Henry meanwhile home means a return to his family estate and pressure from his father to marry and produce the necessary heir. Something Henry is reluctant to do since his heart belongs to Stephen.

What made me such a super fan of Men of the Cross was the beautiful depiction of the growing friendship, attraction and ultimately love between Henry and Stephen. It involved much angst.
In for King and Country the angst is replaced by tension. Tension between Henry and his father in respects to his future. Tension between Stephen and Henry when the latter is left behind whilst Stephen completes Queen Eleanor's mission. And tension for the reader as we realise the exhilaration we felt in Men of the Cross when Henry and Stephen finally admitted their feelings may be fleeting as the pressures and impediments to their love become clear.
To my surprise I found myself wondering whether the relationship is worth the sheet amount of torment both men suffer. Maybe Stephen should go back to his carefree bed hopping ways and maybe for Henry it wouldn't be so awful to marry his lovely neighbour.
Such is the emotional journey the author puts us through!

Elsewhere Robin is facing up to the woman and child he left behind whilst picking up a couple more recruits for his merry band. And romance blossoms for other characters.
With a blistering siege scene, daring escapes and a truly dastardly villain there is something for everyone here.

I'm still worrying about the characters and the fact that I am shows how well they are written.
Recommended. Obviously.