When he is not looking in the mirror, Bill Kieffer is actually a 6 foot tall gray anthropomorphic draft horse that types as Greyflank.  He is a member of the Furry Writers Guild and has recently published short stories in several Furry anthologies put out by Fur Planet.  Past writing credits include comic books like "Billy Joe Van Helsing: Red Neck Vampire Hunter" and "Great Morons in History, the Dan Quayle Bio." More recent publications include a dozen short stories in anthologies and, his novella, The Goat: Building the Perfect Victim, which was released in October 2016. It won the Coyotl Award for Best Novella 2016.
Contact Information:
Email Address: Greyflank@hotmail.com
Books By Bill Kieffer
Word Count: Click here to reveal98000 (Click here to hide)
Character Identities: Click here to revealBisexual, Straight (Click here to hide)
Summary: Six Dark Noir stories from Bill Kieffer's Aesop's World (anthropomorphic people) appear in this collection. Four of these stories are previously unpublished.
Shepard (previously unpublished): It's post Prohibition New Amsterdam and the world is full of conspiracies, syndicates, and crackpot cults. Cops have to be tough. Shepard is as hard headed and as hard hearted as they come. He has just one soft spot, an impossible love for Lynne Black, now married to a childhood friend. When Lynne calls to say her youngest boy was kidnapped, he drops everything to get the boy back. The boy that should have been his.
Brooklyn Blackie and the Dudeless Dude Ranch (previously unpublished): Blake Black is a former beat cop who also happens to be a cunning linguist with a lot of baggage. He goes to Las Vegas in search of a missing woman. Between public sex acts and fighting with his ex partner, the Wolf-Dog hybrid realizes the woman he's been chasing is more than likely dead and not a woman...
Brooklyn Blackie and the Rainbow in the Dark (unpublished): When a Dragon is fatally shot on his office steps, Brooklyn Blackie has to work with a Terrier detective that "heard things" about the Wolf-Dog and believes Blackie might be a vigilante. Despite his homophobia and (justified) suspicions of Blackie, he keeps the Hybrid close to keep an eye on him and take full advantage of his polyglot skills. This story explores the religion of the Chromatics.
Brooklyn Blackie and the Unappetizing Menu (Inhuman Acts, 2015): Out of funds, and ready to take an insurance job rather than starve, Brooklyn Blackie visits his closest Reptilian friend, Dice, to boost his spirits. Instead, he finds a tenement building of full of dead Repts, supposedly frozen to death. No one will believe that it was murder but the weirdo tenement owner. The Warm Blooded police force want to keep the case open only long enough for the coroner to sign the paperwork. But everything turns on a loose piece of coal, leading the Wolf-Dog down a darker path than simple murder, leading him down a world where cannibals wear tuxedos and dine in the darkest shadows.
Brooklyn Blackie and the Reverse Badger Game (unpublished, mature): Things are looking up for the bisexual Wolf-Dog and he's ready to start a life with his Otter and his Bitch. The Otter is mobbed up, but, he has an exit plan that will keep them all safe. And the first step is gang-raping Brooklyn Blackie to prove to his crew who the top dog really is.
Unbalanced Scales (Roar 7, 2016): Rap stars like St. George and Dr. Ice are on the cusp of making millions in record deals... and if they don't kill each other first, it might be the start of a new dynasty.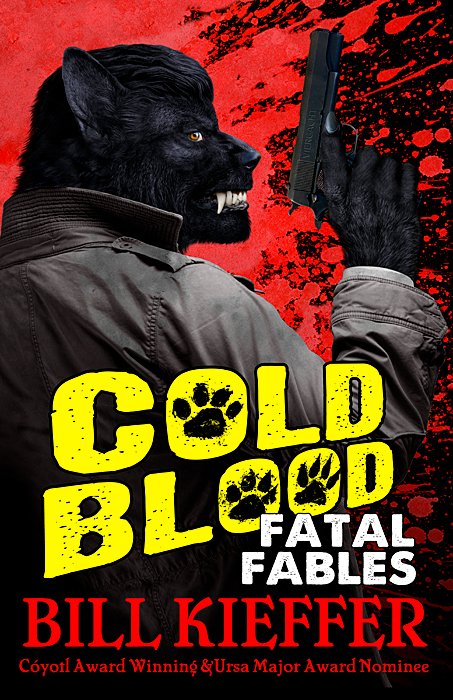 COLD BLOOD: Fatal Fables
Bill Kieffer ...
Pairing: M-F, M-M, M-M-F
May 7, 2018
Word Count: Click here to reveal40000 (Click here to hide)
Character Identities: Click here to revealBisexual, Gay (Click here to hide)
Summary:
WINNER OF THE 2016 COYOTL AWARD FOR BEST NOVELLA The Goat: Building The Perfect Victim is a Romance for Sadists, a Comedy for Sociopaths. Frank was a high school bully but he always paid special attention to Glenn. Now, with his wife gone on yet another separation, Frank is trying to deal with a mid-life crisis that has been brewing for quite awhile. Glenn becomes Frank's new hobby... and eventually Frank is going to have to ask himself... which one of them is actually the victim in his new violent lifestyle. The Goat explores magic and S&M. It contains adult elements.
The Goat: Building The Perfect Victim
Bill Kieffer ...
Pairing: M-M
October 1, 2016
Word Count: Information not available
Character Identities: Click here to revealAce, Bisexual, Gay, Genderqueer, Polyamorous, Straight (Click here to hide)
Summary: Welcome to a LEGENDARY volume of ROAR! That's right, the theme for the seventh volume is legend, and it will take you on a journey from a fortune teller's bamboo hut to the end of the world in the coils of a dead snake god, back in time to the Cretaceous and then up to the stars. You'll meet tigers and cranes practicing Kung Fu, a singing frog, a gambling pigeon, a rap-star bearded dragon, a rhinoceros who's friends with a goat, and several creatures you've probably never seen before. Contents: Crouching Tiger, Standing Crane by Kyla Chapek The Frog Who Swallowed the Moon by Renee Carter Hall The Torch by Chris "Sparf" Williams A Rock Among Millions by Skunkbomb The Pigeon Who Wished For Golden Feathers by Corgi W. Unbalanced Scales by Bill Kieffer Reason by Heidi C. Vlach Old-Dry-Snakeskin by Ross Whitlock Kitsune Tea by E.A. Lawrence A Touch of Magic by John B. Rosenman Long Time I Hunt by Erin Lale The Butterfly Effect by Jay "Shirou" Coughlan The Roar by John Giezentanner Trust by TJ The Golden Flowers by Priya Sridhar A Thousand Dreams by Amy Fontaine Puppets by Ellis Aen Cover art by Kadath, Edited by Mary E. Lowd
ROAR Vol. #7
Bill Kieffer ...
July 1, 2016