Word Count:
12000
Character Identities:
Gay
Summary: The Caribbees, 1661 When Titus Kandel meets Sir Henry Polglase, an irrepressible fire smoulders between them. But Ty belongs to another man—the repulsive Jonkheer Van Wyck. Sir Henry swears he will rescue Ty from his master's clutches. Past disappointments have taught Ty to be wary of idle promises, but somehow he knows the English gentleman is different. Ty can trust him to keep his word. And then he discovers Sir Henry's true purpose in coming to the Caribbean… A Chevalier in Deed is the first installment in the Chevaliers & Charlatans series. Find out what the crew of the Audacious got up to before they became the Pirates of Port Royal!
A Chevalier in Deed
Pairing: M-M
March 9, 2018
Word Count:
12000
Character Identities:
Gay
Summary: The Caribbees, 1661 Sir Henry Polglase—Polly to his friends—cannot deny his desire for Titus Kandel. But there's a grave complication. Titus is a slave, and Polly is a slave trader. It seems unlikely Titus will ever forgive him, but Polly trusts to his luck, letting fate take a hand in the future he hopes they can make together. For hearts as well as fortunes can be won—or lost—on the turn of a card. A Scoundrel in Silk is the second installment in the Chevaliers & Charlatans series. Find out what the crew of the Audacious got up to before they became the Pirates of Port Royal!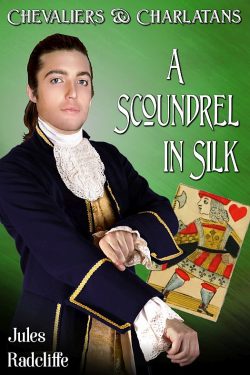 A Scoundrel in Silk
Pairing: M-M
March 8, 2018
Word Count:
123100
Character Identities:
Bisexual, Demisexual, Gay, Pansexual
Summary: Sheltered and lonely, Jon's life changes drastically when a strange ship sails into the harbour of his small port town one day. Trapped between the possessive pirate captain and his murderous first mate, he must learn to adapt or he will lose himself completely. An epic tale of love, treachery and revelation, this first instalment of the Baal's Heart series brings you into the lives of three men so bound together by jealousy and lies that they must sail to the very ends of the earth to find forgiveness.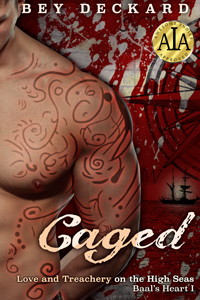 Caged: Love and Treachery on The High Seas
Pairing: M-M-M
February 11, 2014
Word Count:
55 600
Character Identities:
Gay
Summary: Captain Merric A tale of pirates, lost love, and the fight for a happy ending.
After he's set adrift and left to die by his mutinous crew, the last person Royal Navy officer Daniel Horton expects to come to his rescue is Captain Merric. An infamous pirate, Merric is known as much for stealing his victims' hearts as their jewels. Daniel's world is about to be turned upside down when he recognises Captain Merric as none other than Edward Merriston, someone he thought he'd never see again. Edward can't believe Daniel Horton is aboard his ship. While Edward is willing to do anything he can to get a second chance at their happy ending, Daniel isn't interested in digging up the past. But Daniel is one priceless treasure Captain Merric isn't about to let go of without a fight.
Captain Merric
Pairing: M-M
April 6, 2018
Word Count:
13000
Character Identities:
Bisexual, Demisexual, Gay, Pansexual
Summary: A Baal's Heart short, following the events in Fated: Blood and Redemption Plagued by terrible dreams, Jon begins to distance himself from Baltsaros and Tom. Perhaps a little holiday cheer is just the thing to help the three of them find common ground again.
Careened: Winter Solstice in Madierus
Pairing: M-M-M
December 22, 2015
Word Count:
117000
Character Identities:
Bisexual, Demisexual, Gay, Pansexual
Summary: With the captain's mind in shambles, Jon and Tom set out to find the passage home through the black mountain range, hoping to find a cure for Baltsaros's madness. However, when the men are forced to part ways, darkness takes root in the schism created; fate, lust, and vengeance become obsessions threatening to tear apart the fragile bonds holding the three together. Following on the heels of Sacrificed, Fated takes the pirates on a quest to find those responsible for the captain's bloody beginnings. But can they survive what awaits them where past and present meet?
Fated: Blood and Redemption
Pairing: M-M-M
April 11, 2015
Word Count:
3000
Character Identities:
Gay
Summary: It's short and to the point. The story is set in 1655 on a pirate ship. Aksil rescued Edward from a trip back to England for a murder he didn't commit. Now he's got to convince Edward he wants some romance that Edward doesn't think he wants.  It's a sweet story, on the vanilla side. It's interracial, but has a happy ending. I put it out under my old pen name, Nix Winter.
Free Christmas
Pairing: M-M
December 28, 2019
Word Count:
48000
Character Identities:
Gay
Summary: Rhain Morgan is desperate to leave London and move his ailing sister to a climate that will save her life, so he books passage to their Caribbean plantation on the only available ship, captained by Alastair Breckenridge. Rhain fights his attraction to the alluring captain who looks and acts like a pirate, but the man's fairness wins Rhain over. The trip that once seemed endless is now too short. For years, Alastair held people away from his heart, until Rhain. Finally admitting his feelings to himself, he tries to convince Rhain to stay on board, but it's all in vain. Despite his own burgeoning feelings for Alastair, Rhain wants to prove himself and refuses to let go of his dream of making a home for his sister and himself on their plantation. But as Alastair's ship sails away, Rhain is left alone to make the best of disastrous circumstances and overwhelmed by regret, nurses his broken heart. When all seems lost, could they dare hope for a second chance to set things right and love again?
His Pirate
Pairing: M-M
May 17, 2018
Word Count:
46, 750
Character Identities:
Lesbian
Summary: Knife's Edge: Kinky Lesbian Erotica: 12 stories about spanking, surrender, restraints and some of the fun a few inventive gals can cook up with each other.  What else? There are pirates and aliens and cowgirls and the hottest meter maid you'll ever run across. Add in a vampire or two and the hottest fantasies you ever entertained about the girl's field hockey team and you're in for one wild ride. Includes new as well as previously uncollected stories. Table of Contents:
Reunion at St. Mary's On the Spanish Main Arachne The Hands of a Princess El Tigre An Incident in Whitechapel Planet 10 Cowgirls and Science D is for Denial Wage Slave Lovely Rita, Meter Maid
Polar Vortex
Knife's Edge
Pairing: F-F
April 15, 2017
Word Count:
72000
Character Identities:
Gay
Summary: A strait-laced lieutenant. A free-living pirate. A hopeless love. Quinn has never met a man quite like Perry. Stern and cold on the outside, burning up inside with secret passion. Yearning for a mastery only Quinn can satisfy. But Perry is no outcast—he's a respectable officer in His Majesty's navy. Reluctant to test his love for a pirate, Quinn baulks at asking him to give up everything he holds dear. Though Perry has no regrets about their night of glorious sin, he sees no future with Quinn. Unlike the pirates of Port Royal, he isn't free to love where he pleases. If word of his illicit affair came to the ears of Commodore Pobjoy, his career would be at an end. And the disgrace might mean he could never return home to England. With war on the horizon, the Caribbean is a hotbed of intrigue. Quinn is betrayed and thrown into Monte Gris, an impregnable dungeon even the fearsome Brethren of the Coast aren't strong enough to breach. Perry is stunned. Everything he valued is hollow and meaningless without his master. Willing to risk all to get Quinn back, he refuses to abandon hope and plots a daring and dangerous rescue. But he can't do it alone. He'll need every scrap of ingenuity at his disposal to persuade the Black Wolf and the crew of the Audacious that his plan will work. This time, it's not just Perry's career and reputation at stake. If he fails, men will die. And both he and Quinn will suffer a gruesome fate at the hands of a terrifying acolyte of the Spanish Inquisition.
Pirate Master
Pairing: M-M
July 25, 2020
Word Count:
28000
Character Identities:
Gay
Summary: Press-ganged as a boy, Job Wright must learn how to live as a free man. Exploited and degraded by a crooked merchant crew, Job has been a captive for years. Until the day his ship is attacked by the English buccaneer ship Audacious, captained by the notorious Black Wolf. Job thinks he's been rescued at last. He's badly mistaken. As an Englishman aboard a Spanish ship, he's branded a traitor and an enemy. But just when pirate justice is about to be delivered, Garrett Dubh intervenes. The musketeer speaks in Job's defence and saves his life and Job is given his life but is recruited to the Brethren of the Coast, a fearsome brotherhood of free men who owe allegiance to no one but themselves. Fearful of finding himself the plaything of his new shipmates, Job finds protection under Garrett's wing. He's ready to do anything for the handsome pirate—things he'd never willingly do for another man. But Garrett ignores Job's shy overtures. He believes Job is too traumatised by his past. Too young to know what he wants. And nothing Job says will change his mind. Job is determined to show Garrett he can take care of himself, if it's the last thing he does. He leaves the safety of the Audacious and joins the most ruthless Brethren crew in the Caribbean, led by the enigmatic and cruel Rusé. But in the French pirate haven of Tortuga, thoughtless actions can have fatal consequences, something Job is about to discover. And this time, Garrett isn't there to save him.
Pirate's Promise
Pairing: M-M
May 12, 2020
Word Count:
127090
Character Identities:
Bisexual, Demisexual, Gay, Pansexual
Summary: Reunited once more, the crew of Baal's Heart must make the long and treacherous journey south to the towering spires of the Devil's Isles. The path through the mountain range is fraught with peril; mayhem and tragedy plague the pirate ship, but what the men find beyond the spires is the most shocking of all. In this sequel to the acclaimed Caged, the pirates are dragged into a dangerous new world by Captain Baltsaros's all-consuming obsession. In the midst of terror and chaos, Jon learns that the captain and first mate have been keeping secrets from him. But will the truth tear them apart?
Sacrificed: Heart Beyond the Spires
Pairing: M-M-M
October 15, 2014
Word Count: Information not available
Character Identities:
Gay
Summary: Jamie MacDonald, a young Scot mourning the deaths of his father and brothers in the ill-fated battle of Culloden, decides to take his mother to the New World. But tragedy and unforeseen circumstance dog Jamie's journey and he is pressed into service aboard a pirate ship commanded by a ruthless Spaniard. Antonio Rodriguez is a man with a dark past, but also with an allure Jamie cannot resist. The two men embark on a stormy relationship—but can their feelings for each other survive the danger that surrounds them, threatening not only their love, but their very lives?
The Journey Begins
Pairing: M-M
October 2, 2018
Word Count:
90000
Character Identities:
Gay
Summary: Will Perry follow his heart? Or his duty? After peaceful months ashore, Perry and Quinn are ready to return to the life they love—roving with the Brethren of the Coast aboard the pirate ship Audacious. But Quinn is still haunted by his torture in a Spanish dungeon. Perry hopes being back at sea will restore his matelot to his old self. But to Perry's dismay, Raphe Ashburn of Night Hawk has returned to Port Royal. Charming, aristocratic, witty—Captain Ashburn is everything Perry wishes he could be. Once, he and Quinn burned up Port Royal with their passion. Now he wants Quinn back, and he's not above any dirty trick to achieve his aim. But with England on the brink of war, Perry is reluctant to challenge, and perhaps lose, a valuable ally in the coming conflict. And then a rival from Perry's old ship reappears when he's least expected. Perry is forced to return to the navy and renounce his pirate brethren. And he can't tell anyone the truth lest he puts them in grave peril. Perry fears he'll never see his matelot again, for Quinn is not the man to brook such a betrayal. And the dashing Captain Ashburn is waiting in the wings…
The Penitent Pirate
Pairing: M-M
August 31, 2020
Word Count:
46,000
Character Identities: Information not available
Summary: Finding a mate was never in their plans—but fate keeps bringing them together.  Ashlyn Tuesday is a blackguard and a thief, moving from town to town robbing rich men of their gold—and their hearts. Moreover, every time his roguish smile gets him into trouble, one man comes to Ashlyn's rescue, asking for nothing in return. Someday, though, that bill's going to come due—and Ashlyn isn't the type who's ever ready to pay up. Since the day he took up piracy, Captain Dagger Crowe's only love has been the sea. Sure, he's had bedmates—and there's that one sweet little omega he keeps bailing out of trouble—but Dagger's only real desire is to find the sunken treasure of Booker Thorin. Until that is, he actually shares a few kisses with that omega, when Dagger realizes he wants to plunder more than pirate booty. He wants to make the omega his own. More than that, he wants to win the omega's heart. Will his mistress the sea be kind to him and give him what he desires, or will her jealousy be his ruin? The Pirate and His Omega Thief contain sexual content suitable for readers 18+ M This book is not historically accurate. 
The Pirate and His Omega Thief
Pairing: M-M
October 13, 2018
Word Count:
27000
Character Identities:
Gay
Summary: A strait-laced lieutenant. A free-living pirate. Enemies from the first. Lieutenant Thomas Peregrine is outraged when he's ordered to leave his ship and join the Brethren of the Coast. But Perry knows the folly of disobeying the tyrannical Commodore Pobjoy. He enlists with the Audacious, a pirate ship bound for the high seas in search of the Spanish treasure galleons. Aboard his new ship is sailing master Gabriel Quinn, the most beautiful man he's ever laid eyes on. Perry, a devout Puritan, is dismayed by his desire for a godless pirate, and an Irishman withal. He blurts out a shocking insult. And though he tries to apologise, it's too little, too late. There can be nothing between them but bitter hatred. Then one night, in a rowdy Port Royal tavern, Quinn stops him from making a stupid mistake. But there are consequences for carelessness. Perry's orderly world is about to be turned upside down.
The Puritan Pirate
Pairing: M-M
May 12, 2020
Word Count: Information not available
Character Identities: Information not available
Summary: Julian Massey has always been sickly. When the young man's parents send him to the seaside town of Urchin Cove to recuperate, he finds himself stranded in a tiny cabin with only the quirky local inhabitants for company. Then a storm blows through, and he finds an unexpected discovery washed up on the beach: an unconscious man. After stealing a treasure, Kit Archer is taken prisoner by a ruthless pirate, Captain Booth. When a storm hits the pirate ship, Kit is able to escape, but not without serious injuries. Jules nurses him back to health, and friendship grows into desire. But Captain Booth is bound to come in search of his treasure and the man who stole it. In a world with dragons, sprites, and wizards, it's going to take more than a little magic for Jules and Kit to find lasting happiness together.
Treasure
Pairing: M-M
February 3, 2016
Word Count: Information not available
Character Identities: Information not available
Summary: Kiyoshi awakes from a fever aware of two things. One, he is not in the home he can for some reason only vaguely recall. Two, he has fallen for Shelly, the man who cared for him through his fever. Shelly is as enigmatic as the island he has found himself on. With few answers about who he is, Shelly's own identity, how he came to be there with Shelly, and just what this strange place is, Kiyoshi comes to accept just one thing. He and Shelly are meant to be no matter what befalls them. They are tied together by fate, all the way to what just may be the end of their world. 36, 000 words
World's End
Pairing: M-M
June 10, 2014