Word Count:
106000
Character Identities:
Bisexual, Genderfluid, Intersex, Pansexual, Polyamorous
Summary: Information not available
Pairing: M-M
January 30, 2023
Word Count:
47053
Character Identities:
Gay
Summary: It's the last straw when three prudish pigs play a nasty trick on the set. So where else would Wolf go to plan the perfect payback, but Harry's Behind the Scenes Bar, Baths & Grill? Soaking wet when he arrives at the back door, Harry's dragon-magick fireplace soon gets Wolf's fur mostly dry. Shifting to his human, silver-hair-to-his-bare-butt self, he's almost done when the door opens again. And what to his wondering eyes does appear but a trio of boorish boar brothers—without a single reindeer!—all in a row from short to not-very-tall: Guy, Gresham and Grant Graham. Wolf's idea is so brilliant, it's definitely dawn coming up like thunder, "outer China 'crost the Bay." (Wolf really likes Kipling). A maybe mean, surely sneaky, snake-in-Eden idea. Payback is a dish best served hot...and hard. Join the fun as payback plays out. There's help from Tom Thumb, fine food, expensive bottles of Harry's Dragon's Own Special Reserve wine (the only thing which gets a shifter drunk), Death by Chocolate, Lady Flame, a private tour of the baths. Plus rooms of straw and sticks and bricks, and an Easter Egg, which might be hiding in Manhattan. Fair warning: there's a lot of huffing and puffing as part of the plan. Just not at doors. 47,053 words in the story
3 Boars & A Wolf Walk Into A Bar...
Pairing: M-M, M-M-M
December 11, 2019
Word Count:
11,948
Character Identities:
Gay
Summary: A superhero, a ghost, and an angel walk into a bar. Dario, the ghost, feels a sense of déjà vu. He died in a bar, and it seems like he might be reliving that terror over and over again. This time, however, there's an angel at his side, Dondre, and that brings some comfort. After a few too many drinks, Dwight, the superhero, reveals his animosity toward angels. He's angry angels get all the credit when someone survives a deadly incident. People think angels are real, while most believe superheroes are only found in fiction. When a wave of deadly crime sweeps across the country, Dario and Dondre become the prime suspects. Who is setting them up? All signs point to Dwight, the disgruntled superhero. Can the ghost and the angel prove themselves innocent? Will someone else die? And what of Dwight? Is he friend or foe?
3-D: Superhero, Angel, Ghost
Pairing: M-M
October 27, 2021
Word Count:
20066
Character Identities:
Bisexual, Lesbian
Summary: A Cascade of Moments is the new, enchanting second installment of 'The Fae Souls' series. My life started anew when I arrived at Prince Eldran's mansion with my memories absent and my future uncertain. I met a beautiful woman there named Sorcha and we fell in love, creating something special that brought our lives happiness and wonder. When Prince Eldran granted us permission to remain on his island, we built a life together. It couldn't have been more perfect. Years passed, and our love blossomed. With time on our hands, Sorcha chose to help in the mansion's kitchen, while I worked in the gardens and joined the island's guard detail. It worked well for us, until word reached us that King Auberon and Queen Carisse were returning, and a failed treaty brought about threats of war from a long-standing enemy. It was important to me to protect Sorcha, our home, and the friends we'd made on the island during our years there. I assumed we might have to fight, but I could only hope there was a chance for us to stay together and make it through - safe and sound. A Cascade of Moments is a romantic novella of just over 20,000 words, which contains strong steamy content and language.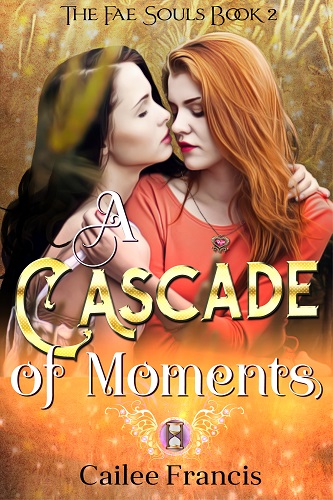 A Cascade of Moments
Pairing: F-F
August 20, 2017
Word Count:
18000
Character Identities: Information not available
Summary: A story from the Dreamspinner Press 2016 Daily Dose package "A Walk on the Wild Side." Jiri's life has been one misery after the next. A cobra shifter, he's held captive by a collector who keeps him—and other shifters—in a private harem-style "zoo" in the Libyan desert. Considered a dangerous predator by the other shifters, and little more than a boy toy to the collector, Jiri is friendless, timid, and despondent. Miksa is the collector's latest find. But honey badgers are known for their bad attitude, fearlessness, and fighting spirit. Miksa has no doubt he'll escape, even if it means taking the whole zoo down with him. When honey badger and cobra meet, there should be instant enmity—after all, honey badgers eat cobras—yet both men find themselves oddly drawn to the other. Romance blossoms, but can it survive captivity and beyond? In order to do so, Jiri will have to find a strength he doesn't know he possesses and Miksa will have to open a heart long closed to anyone except his immediate family.
A Cobra's Charm
Pairing: M-M
May 31, 2016
Word Count:
64000
Character Identities:
Bisexual, Gay
Summary: Old loves, new enemies, ancient legends… and dragons. So many dragons. Philip and Ejoler have been together for twelve years. They've traveled the world, they're raising a child together – their relationship couldn't be more solid. And yet, Philip worries that he's keeping Ejoler from the life he was meant to lead – the life of a dragon. Tris and Ormur's relationship is still new, but they're sure of their future together. Except Ormur's past is something he can't ignore – not when the dragons are calling him. Dragons are gathering for the first time in centuries. It's a meeting that will bring the two couples together to face new challenges. And one that will change the fate of humans and dragons forever.
A Deliberation of Dragons
Pairing: M-M
September 9, 2021
Word Count:
85788
Character Identities:
Bisexual, Pansexual
Summary: Kris Starr used to be famous. Rock and roll. Sold-out shows. Literal magic. Empathic talents and screaming fans. But he has a problem or two. He's having a hard time writing new music. It's Midwinter, which means he's surrounded by depressing holiday cheer. And he's in love with Justin, his manager, who has a talent for rescuing almost- or once-famous bands ... and who's hiding secrets of his own. Justin Moore, on the other hand, is very good at keeping those secrets -- he's had to be for years. One secret involves a demonic inheritance that would make him a target of suspicion. Another involves his past. And the third involves Justin's feelings for Kris Starr, rock and roll icon and now his client ... and a powerful empath.
A Demon for Midwinter
Pairing: M-M
March 10, 2018
Word Count:
12079
Character Identities:
Gay
Summary: Guard your heart, or Jack Frost will freeze it. Jack Frost is all about the freezing cold, and he not only wants to freeze the earth, but he also wants to freeze people's hearts. When he sees two lovers kissing under the mistletoe, he vows to split them up. Teddy and his husband, Kirk, are still in love. Will they let a little frost come between them?
A Frostbite Christmas
Pairing: M-M
December 9, 2018
Word Count:
42,000
Character Identities:
Gay
Summary: James McKinney has always lived life alone. He doesn't have a family, at least none that he remembers. He's always dreamed of having a house of his own, a place he can call home. Finding the right house, ready to work to make it his home, nothing can put a damper on his happiness, or can it? Trey Andral, returning home from college, notices someone moving into his old friend's house next door. Miss Hattie is still waving to him from the bedroom window, even though he knows she's gone. He also knows he can't not help the new guy make the house his own. Trey has always been able to see and hear spirits, but what's normal to him is terrifying to most others. When the spirits seem intent on contacting James, Trey has no choice but to share his secret, risking their friendship. If they work together, maybe they can figure out what the clues the spirits are giving them mean. And maybe they can find family in each other.
A Ghost of a Chance
Pairing: M-M
August 14, 2020
Word Count:
32,600
Character Identities:
Gay
Summary: Jazz has lived with unimaginable guilt his entire life. Why the gods had allowed him to even be born was something he struggled with every day. When he met a man who treated him as Jazz always knew he deserved, instead of telling anyone, he endured. What he didn't expected was for the residents of Miracle to step in and save his life. Wilder loved his job, especially now that the new Council didn't use him to get rid of the shifters that didn't agree with them. He imagined helping shifters around the world for years to come. But all of that changed when he met his mate, who has been terrorized by the man Wilder had been charged to bring before the Council for sentencing. Jazz's fear that no one, not even his mate, would ever really want him seemed to be coming true when Wilder told him he'd need to leave whenever the Council required him to do a job. Wilder's job means everything to him, but having a mate may require changes he is not ready for. Will the two find a compromise? Or will one of them have to give up everything for the other? Warning: This book contains details of child neglect as well as abuse as an adult.
A Grizzly's Justice
Pairing: M-M
May 5, 2019
Word Count:
24000
Character Identities:
Gay
Summary: What surprises await Vic and Kellan when their egg finally hatches? Kellan's new life in the magical town of Vale Valley is filled with more love and joy than he'd ever dared dream of. Even more thrilling is the new life growing inside the egg he and his Alpha wolf mate watch over night and day. When their hatchling still fails to appear after several weeks, Kellan fights his growing fears about the uncertainty of a swan mating with a wolf. All Vic wants is to keep his beautiful swan omega and their egg safe. He'd despaired of ever finding the one who was meant for him, and he'll do everything within his power to protect his true love and their baby. Vic might still be bewildered by nesting and swan cuisine, but whatever his omega wants, Vic makes sure he gets. As Valentine's Day draws near, Vic's plan to do something special for their first celebration of the holiday doesn't seem possible. The egg isn't showing any signs of hatching and no one—not even the avian fertility specialist—knows why. Then, the last person they want to see makes an unexpected appearance. Vic is about to discover how tough his sweet little swan truly is… Note: A Hatchling for Valentine's is the 8th book in Season Two of the multi-author series about Vale Valley, a small magical town open to everyone in need of love and a home. Each installment in the series can be read as a standalone, however, Kellan and Vic's story is a continuation from Season One's A Swan for Christmas. This mpreg romance novella features a swan and wolf who are fated mates and are anxiously awaiting the birth of their first tiny hatchling. So grab a box of chocolates, a glass of champagne and put your feet up and enjoy a sweet dose of smexy mpreg.
A Hatchling for Valentine's
Pairing: M-M
February 8, 2019
Word Count:
24000
Character Identities:
Bisexual, Demisexual, Gay
Summary: A HISTORY OF TROUBLE A Beacon Hill Sorcerer Collection A collection of brand-new short stories, featuring characters from The Beacon Hill Sorcerer Series by bestselling author SJ Himes. Red Wine and Blood The Blood Wars raged for centuries across Boston. Witness a brief glimpse into the brutal history of the Wars with Ignacio Salvatore and the vampire he loves, Ashwin Metcalfe, in 1897. A History of Trouble Angel was joking when he asked O'Malley if someone resurrected a mammoth. Little did he know that was exactly what someone did. Experience the untold story of what happened that unfortunate night at the Boston Public Museum. A Dragon in the City What happens when Eroch goes adventuring in Beacon Hill without Angel? Chaos, pure chaos. Fae's Gold Daniel is helping the newly-resurrected fae Ruairi Brennan become accustomed to modern-day living. A boring trip to the bank quickly escalates, and Daniel calls Angel for help. The day goes downhill from there but ends in a comfy meal in a pub for an ancient fae warrior and a necromancer's apprentice. This is an collection, featuring vignettes and short stories from the universe of The Beacon Hill Sorcerer series. For full enjoyment, the Beacon Hill Sorcerer Series Books 1 through 3 should be read before reading this collection.
A History of Trouble
Pairing: M-M
February 25, 2019
Word Count:
47570
Character Identities:
Gay
Summary: Nigel wouldn't mind if Asher called him Daddy if the age-gap didn't bother him so much. Nigel Blackburn has lived a full like as a private investigator. His job means he travels solo a lot, which is something he enjoys. He's a grouchy, stubborn dragon shifter who is better off alone. The last thing he wants is a mate and certainly not one so young. It doesn't matter that he finds little bobcat shifter, Asher Burkhart, sexy. But all Nigel's dragon wants to do is protect, which is good because danger drives into town. A Little Unsteady (Wingspan #4) is a continuation of Solid Ground (Wingspan #3). For the best reading experience, read them in order.
A Little Unsteady (Wingspan 4)
Pairing: M-M
October 9, 2020
Word Count:
20043
Character Identities:
Bisexual, Lesbian
Summary: A New F/F Fantasy Romance from the author of Cynthia and Eve. Book 1 of 'The Fae Souls'. When I first arrived at the mansion, I couldn't remember anything. My name, how I'd got there or who the people were around me. I knew I was a woman, and the pink dress and brown ankle boots I wore felt vaguely familiar, but nothing more. It wasn't long before I was told my name was Celina. I was given a suite to stay in and encouraged to prepare for the mysterious Prince Eldran's masquerade party. I found everything I needed in my suite, other than the answers I sought. Fragments of memory hinted at dark experiences, at love and loss, but there was no context and I was uncertain about my history and what the future might hold for me. A stranger at the time, Sorcha found me alone as I sought solace in an empty room. I discovered she too had missing memories, and in her I found a person to talk to. A friend and more, but did we have a chance? A Masquerade in Time is a romantic novella of just over 20,000 words, which contains strong steamy content and language.
A Masquerade in Time
Pairing: F-F
June 26, 2017
Word Count:
80.5
Character Identities:
Gay, Polyamorous
Summary: Starting all over again isn't easy, especially for pack alpha River. With his small band of followers and his half-human, half-omega mate by his side, he's left everything he knows for the wilderness. Tragedy brings the group to Cascade City, where rogue werewolves and humans both pose a threat to the pack. River isn't sure he can trust the humans anymore, and telling which rogues are dangerous and which are not is a difficult task. Foremost on the pack alpha's mind is getting those in his charge to safety and after that rebuilding their pack. Beneath River's worries lies an uncomfortable feeling that something isn't quite right with the pack's omegas.
A New Beginning
Pairing: M-M, M-M-M, 4+ or Other
May 9, 2020
Word Count:
45000
Character Identities:
Bisexual, Gay
Summary:
Tre Derringer, perpetual underachiever with negative self-esteem, made a mistake. If he'd been a sleeper—sans and unaware of superpowers, that is—he would've gotten a slap on the wrist. Too bad Tre has awakened hot-thermal superpowers, so he ended up in lockup instead.
One year later, Tre's picked up from prison by a mysterious woman called Amy, who turns out to be a recruiter for an activist group—or so they call themselves. New Dawn, New Day's leader, Vic, is out to bring the presence of the awakened to sleeper attention once and for all, by any means necessary.
Tre becomes a part of the ND2 commune, committed to their mission. But then, at a summer music festival, he runs into a crush from his past, Dorian Archer. Dorian's compassionate, cheerful, and even hotter than he used to be. He might just manage to keep Tre from making an epic mistake… or he might not.
It's only the biggest secret in the world at stake, after all.
While all other Superpowered Love books can be read in any order and without previous knowledge, A New Beginning works better after reading at least book 2, Riot Boy and book 5, Re-entry Burn.
A New Beginning
Pairing: M-M
September 3, 2021
Word Count:
65000
Character Identities:
Bisexual, Intersex
Summary: Having achieved his heart's desire at a high price, Prince Colin of Sendorra and his fiancé, Nobel Prize winner Alain de Gris, find themselves at the epicenter of a twisted plot. Colin's cousin, Drake Bradford, and his grandmother Maura, the high priestess of the Bradford Coven, have conspired for years to bring down the royal family. Resembling his cousin in features and coloring, Drake, the soulless rat, has been using their similarities—and black magic—to his advantage. Princess Charlotte, Colin's ex-girlfriend, is unwittingly drawn into the feud, blissfully unaware she's been sleeping with an impostor. In this anticipated sequel to A Tangled Legacy, Colin and Alain, along with their fearless group of witches, ghosts, and familiars, embark on a convoluted journey to save the people they love and ensure the royal succession.
A Noble Cause
Pairing: M-M
August 26, 2019
A Place for Dreams
Pairing: M-M
July 7, 2017
Word Count:
20302
Character Identities:
Bisexual, Lesbian
Summary: A Reverie of Flames is the new, spell-binding third installment of 'The Fae Souls' series. Born again into the mortal world, I'd hoped to escape the war between light and dark fae. I wasn't alone - Sorcha (my love) and Princess Saphira of the seelie (who we were sworn to protect) were with me. Rings gifted by Queen Carisse of the seelie ensured we were born in the same timeframe and we'd remain together. More than chance brought us to the city of Grayhaven. It was magic and destiny. Sorcha had returned to my life the day she saved me from an unseelie attack; that was when my memories had come flooding back. Now I found myself regaining my awareness of who I was and discovering how serendipitous fate can be at bringing you to the right place at just the right time. In the unique position of remembering our fae origins, Sorcha - now Angelica, a white witch who opposed unseelie interests in the city, and I had a lot to catch up on. As she brought me up to speed, I realised the depth of my feelings for her, and that I wanted to continue our romance into this, our next lifetime. Princess Saphira was reborn as Ayla: my sister. Now an 18 year old student and budding witch, she was a prime target for the unseelie who sought to overthrow the seelie royal family. We had to protect her, and Angelica and I would do our best to ensure she stayed safe. A Reverie of Flames is a romantic urban fantasy novella of just over 20,000 words, which contains strong steamy content and language.
A Reverie of Flames
Pairing: F-F
October 27, 2017
Word Count:
31000
Character Identities:
Gay
Summary: Michelin Empyrean, a rare white raven, has lived for centuries and he's tired of loneliness. What makes life more burdensome is increasing responsibility and leadership of socially inclined corvid shifters. Preventing his kind, ravens, and especially crows, from robbing and menacing humans who remain unaware of their existence takes its toll. When one wayward creature's thieving antics come to his attention, Mich decides to personally take the man to task. Terrel Slade is a crow. Practically everything he owns is stolen. His stash of pretties, and the fact he's never been caught, makes him proud as a peacock. As much as he'd like to be the beautiful bird he struts around imitating, he believes his crow is sexier. Terre is no more than an omnivorous crow shifter with a penchant for shiny objects. A cunning bird, his existence is crammed with innovative ways to irritate his archenemy, the raven. That's about to change. When Michelin halts Terrel's lifestyle, more than sparks fly—the whole damn forest might burn to the ground. #darkfantasy #drama #enemiestolovers #gay #HEA #paranormal #religerotica #romance #shifters #travel #violence
A Silver Raven's Tale
Pairing: M-M
February 5, 2021