Word Count:
24000
Character Identities:
Bisexual, Demisexual, Gay
Summary: A HISTORY OF TROUBLE A Beacon Hill Sorcerer Collection A collection of brand-new short stories, featuring characters from The Beacon Hill Sorcerer Series by bestselling author SJ Himes. Red Wine and Blood The Blood Wars raged for centuries across Boston. Witness a brief glimpse into the brutal history of the Wars with Ignacio Salvatore and the vampire he loves, Ashwin Metcalfe, in 1897. A History of Trouble Angel was joking when he asked O'Malley if someone resurrected a mammoth. Little did he know that was exactly what someone did. Experience the untold story of what happened that unfortunate night at the Boston Public Museum. A Dragon in the City What happens when Eroch goes adventuring in Beacon Hill without Angel? Chaos, pure chaos. Fae's Gold Daniel is helping the newly-resurrected fae Ruairi Brennan become accustomed to modern-day living. A boring trip to the bank quickly escalates, and Daniel calls Angel for help. The day goes downhill from there but ends in a comfy meal in a pub for an ancient fae warrior and a necromancer's apprentice. This is an collection, featuring vignettes and short stories from the universe of The Beacon Hill Sorcerer series. For full enjoyment, the Beacon Hill Sorcerer Series Books 1 through 3 should be read before reading this collection.
A History of Trouble
Pairing: M-M
February 25, 2019
Word Count:
53000
Character Identities:
Gay, Pansexual
Summary: My name is Ezra Clarke, and I'm twenty-three. Forever. If you're counting in vampire years, I'm actually two-hundred and eight, and if living that long has taught me anything, it's that nothing lasts forever. And that's been fine. It's… whatever. I've never wanted anything that long, anyway, which is why I've never taken a mate, but that all changed when I met Declan Byrne. He's young, handsome, and he doesn't do what I tell him to. He smells like cinnamon and has eyes that remind me of the daytime sky. Every kiss we share feels like home, and no touch lasts long enough. I need him to be mine. And for the briefest moment he is, and life is perfect… and then it isn't. Rogue vampires threaten to pull us apart, and complicated politics are painful reminders that a world exists beyond our privacy of our bedroom. But if anyone thinks they can keep me away from Declan, they have another thing coming. My mate and I have a thousand lifetimes to live, and we're just getting started.
A Thousand Lifetimes
Pairing: M-M
October 3, 2019
Word Count: Information not available
Character Identities:
Gay
Summary: Years ago, the true king of the vampires sacrificed his throne and his fated love for the common good. But it wasn't enough… Rune knows the Adini Treasure is real, and he wants it. With the treasure, he'll have the power to crush his enemy—the Adi 'el Lumi—forever. Isaac longs for love but is sick of waiting for it.  When he witnesses the murder of a strange vampire with an even stranger map, he isn't sure what he's found. But he isn't letting it go. Not even for the swoon-worthy vampire prince who comes to claim it. When a witch's calling card leads Rune to a snarky vampire with secrets and a sassy human with a treasure map, he takes them on a perilous hunt into the forgotten vampire cities. His worst fears and darkest desires await him. With everything at stake, he'll have only one chance to either fulfill his destiny… or save Isaac, his fated love.
A Vampire's Honor
Pairing: M-M
February 11, 2020
Word Count: Information not available
Character Identities:
Bisexual, Gay
Summary:
A witch doesn't always wear black, sometimes he wears snark and blood.
Sam is well known for his attitude and now that he's a vampire, he's not taking crap from anyone. Not his mentor Gabe, his rival Seiran, or even his roommate Constantine. He wants to be left alone to be the brooding monster the media promised he could be. But war is on the horizon between vampires and humans. Sam barely has control of his bloodlust, especially when he's not even certain how to stalk the night without becoming a revenant. When his cibo, a blood donor meant to control the beast, arrives to help, Sam finds Luca irresistible, but tied to another powerful vampire. Sam's mentor begins to unravel as the vampires start to rage. Sam can either join the puppets of the darkness, or find his own way. When the magic of vampires and witches collide, Sam hopes the firestorm of his newly awakened powers can save them all.
Absolution
Pairing: M-M, M-M-M
August 23, 2019
Word Count:
57393
Character Identities:
Gay
Summary: Adam Draecon Who knew that a simple visit to Mom in Sedona would change a witch's life forever?  When I first saw Seth, it was love at first sight.  Nero and Zelda were delighted by our fated connection, and called his Sire Bart Magnus, a fact unknown to me at the time, to honor us.  Bart wanted to celebrate at his lodge near the Grand Canyon, but while on a nighttime photography shoot, ancient Arizona secrets are surfacing, and Craig suspects something astounding is coming. Seth Whittaker As I strolled into Zelda's house with Nero, I looked up and saw Adam.  I was stunned and could not breathe.  Within two hours we were on the huge Magnus chopper going to celebrate our fated soulmate connection, but Vito and Craig are not speaking.  I heard Craig did get out there this time, giving pilot Vito a rough landing instead of a happy ending. Craig Wainwright Vito finally got over himself, so now we are out with Adam who is teaching us nighttime photography.  Agnes suddenly appeared looking terrified and talking about finding ancient three thousand year old wards guarding something she felt was sinister.  When she mentioned wrapped up bodies, it sparked a distant memory and if I'm right, this could be beyond belief, and get me off the hot seat at least for a while. Agnes Granville  Zelda and I took a stroll while all the guys were having fun with their cameras, but as we neared the top of a hill, we noticed something extremely odd.  I waved my hand to clarify the shimmering situation, and a hidden cave appeared.  When the others arrived, we all used our witch senses to read the interior of the cave.  At first, we were thrilled, that is until something reached out to touch Nero's mind, demanding to know what a witch wants with him.
Adam Draecon Desert Witch
Pairing: M-M
February 1, 2021
Word Count:
42020
Character Identities:
Bisexual, Gay
Summary: War has a way of binding unlikely creatures together.  Alexander, Prince of the North, Alex, should have anticipated that his profound love for Oleander would blind him—fuel his desire to protect his forbidden love and his love's human companion—far beyond reason. His actions send his small group, including Oleander and Timothy, fleeing into the forest, aligning themselves with distant allies and negotiating with Seraphine, Queen of the North. Grimmr Coven and the Garam Horde are caught in the middle of two enemies bearing down upon one another; Drakkar Coven and the Queen of the North. Something has provoked the queen to march south with her entourage of animated dead, out of her frozen ancestral lands. She has a weapon, in fact two, the taming of which will surely bring about her victory. The first, she must retrieve, the second walks straight into her hands.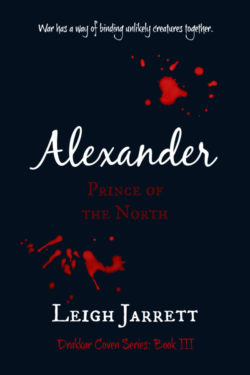 Alexander, Prince of the North
Pairing: M-M
October 20, 2020
Word Count: Information not available
Character Identities:
Gay
Summary: If the rough and tumble man at Ali's door is supposed to be his fate-ordained mate, then he has to wonder what in the Goddess' name Fate was thinking. Ali has always dreamed of his spirit mate, someone classy, intelligent and romantic, but the man who faints in his doorway is anything but. Kalo is loud and pushy, with hair more suited to a caveman and manners to match—all wrapped up in one big package of you've got to be kidding me. Besides, Ali has responsibilities as mama bear to his den of shifters and that's where he needs to be. For Kalo, being rejected by his spirit mate won't be life-threatening. But there's something about Ali that intrigues him and touches his soul. He's ready to offer his already-engaged heart with no strings attached, for a chance to change Ali's mind.
Ali's Intuition
Pairing: M-M
September 3, 2013
Word Count:
50655
Character Identities:
Gay
Summary: 'Old actors never die' shouldn't be literally true. Carrington Loveless III, skim-blood vampire and senior officer of Philly's paranormal police department, has long suspected that someone's targeting his squad. The increasingly bizarre and dangerous entities invading their city can't be a coincidence. So when a walking corpse spouting Oscar Wilde attacks one of his officers, Carrington's determined to uncover the evil mind behind it all. As a rare books librarian, Erasmus Graham thought he understood some of the stranger things in life. Sharing a life with Carrington has shown him he didn't know the half of it. They've survived attack books and deadly dust bunnies together and got through mostly unscathed. Now his world and his vampire's appear ready to collide again. Books are missing from the Rare Book collection—old tomes of magic containing dangerous summonings and necromancy. He's certain whoever has been stalking the Seventy-Seventh is composing their end game. It's going to take a consolidated effort from paranormal police, librarians and some not-quite-authorized civilians to head off the impending catastrophe.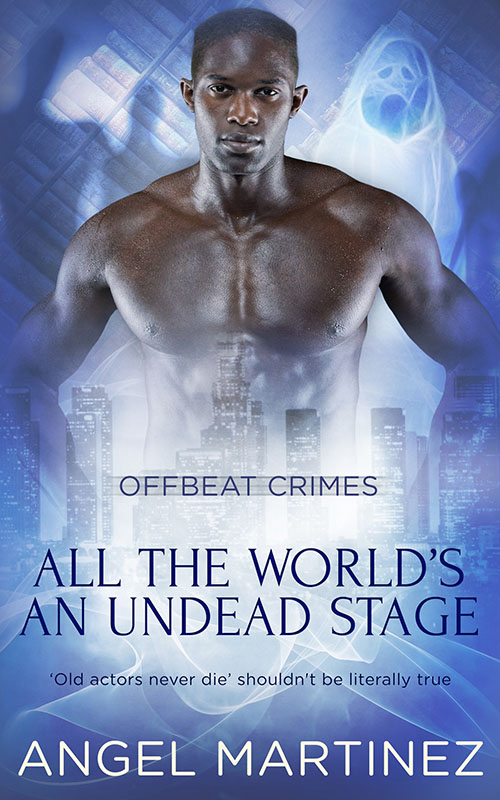 All The World's An Undead Stage
Pairing: M-M
January 2, 2018
Word Count: Information not available
Character Identities:
Bisexual, Gay
Summary: Zain was just a dog walker. It was an unconventional job for a werewolf, even a brand new one, but he liked dogs and they liked him. It only seemed to make sense… right up until the point a vampire called him in to take care of his human pup. When his life collided with Liam and Caleb's, none of them were prepared for the directions it could take. Especially Zain. But between the sexy pup and the vampire's creativity, the power struggles pitting dominance against submission — and acceptance — the two might be too intriguing to just walk away from… When M.A. Innes, bestselling author of sweet taboo romance, and R. Phoenix, author of playful dark erotica, paranormal romance, and horror team up, you should leave your expectations at the door. The duo responsible for Almost Strangers, a sweet contemporary romance with more than a few taboo themes, has collaborated again to bring you something from the other side of the force. That said, here are a few notes from Raissa: This is not an alpha / omega / beta tale, at least not in the usual sense (designation at birth, slick, heats, mpreg, primary focus on the werewolf part, etc.). Alas, "Alpha" in this universe is completely different and refers more to status. I hope you'll give it a shot anyway, but please don't expect A/B/O dynamics! (Though there are plenty of Big Os in here. Just saying.)
Alpha
Pairing: M-M, M-M-M
April 25, 2018
Word Count: Information not available
Character Identities:
Bisexual, Gay
Summary:
He descends from a witch they burned.
With graduation on the horizon Seiran should be flying high with plans for the future. But his lover, Gabe, is saddled with a new vampire apprentice to babysit, leaving Seiran lonely and looking for direction. Gifted with his long dead father's mansion in California, it provides just the escape Seiran needs, and perhaps a chance to learn about the man he never got to meet. A man who died a gruesome death being burned at the stake before Seiran was born. But history isn't always kind, and Seiran discovers his father was embroiled with a coven of witches set to overthrow the Dominion. A battle which led to his father's demise and a legion of male witches secretly siphoning power using black magic fueled by murder. Seiran needs to find a way to break the cycle of blood magic, and bargain with the fae to stop a death spell, all while someone is pulling the strings from the shadows.
Ascendance
Pairing: M-M
January 27, 2016
Word Count: Information not available
Character Identities:
Gay
Summary: One fledgling vampire. One nearly-powerless witch. Two underdogs in society. Will a chance encounter between two should-be enemies lead to anything but violence? Until three weeks ago, Dorian was a human -- one of those subjugated by the supernatural beings who now rule the world. He spent ten years struggling to survive, but now that he's been turned, he needs to learn how to live. Problem is, there's a lot to learn but not much time to learn it in. Loneliness is far from the only problem, but it seems to be the most pressing. Supernatural or not, Emery doesn't have a fancy family name to back up his standing in society. The most memorable thing about him is his red hair, not his magic, and he's had to throw in with those whose price for protection isn't low. Even though he'd never admit he's lonely, he's fascinated enough by his run-in with a brand-new vampire to not dismiss him despite the tensions between their races. Can they cure their loneliness with one another, or will society prevent them from doing anything but wonder what might have been? Asymmetry is approximately 11k words long. Asymmetry, Spoiled* & Anticipation*, the Need Trilogy, the Tamed & Trained Trilogy**, the Fate of the Fallen series, and Gifts can all be read separately from each other. Though they are all set in the same universe and there is occasional crossover, the timeline is ambiguous and there are minimal spoilers across the books.
Asymmetry
Pairing: M-M
July 16, 2018
Word Count: Information not available
Character Identities:
Bisexual, Gay, Genderfluid, Intersex, Lesbian, Straight, Transgender
Summary: Chuck and Whithers are supernatural mercenaries and lovers in a world of monsters. In the past, they hunted beasts in the wilds. But now they face their greatest challenge - life in the big city... Backwater Siren is an ongoing comic featuring a cast of queer characters. The most prominent of these are Smiling Chuck and his humourless boyfriend, Whithers. The comic update twice a week and can be read for free here 
Backwater Siren
Pairing: M-F, M-M, M-M-F
April 25, 2021
Word Count:
50000
Character Identities:
Bisexual, Gay
Summary: Ramsey has enough problems without a little vampire ninja biting him without even a hello first. All Ramsey Somerset wants is for things to remain peaceful. With an impending battle looming over him and the everyday problems of running a clan, his hands are too full for a mate. When he meets Fane, things go from bad to worse. It has taken Ramsey years to gain control of his water monster, but all that goes out the window with Fane. He can't be Alpha and so instinctive toward Fane at the same time. He has to make a choice, either his clan or his mate.
Begin Again (Saint Lakes 5)
Pairing: M-M
August 18, 2017
Word Count:
55275
Character Identities:
Gay
Summary: Ben De Santis I manage a small Western art gallery, where I've flirted on and off for years with Devin, an Arizona ranch owner, and a scruffy sexy artist. I know he likes what he sees but is too shy and never says much to me. Not one soul here knows I'm a witch, but today things suddenly sparked into life, and now Grandpa is calling, and I have no clue what he wants. Devin Hunter I sell my Cowboy art at a small gallery in Carefree, that has a crazy handsome manager, and he is it for me. He's always been friendly but seems quiet so I've left him alone. Now however, I need to make my move, since I'm going to start my own art gallery and want him to come along. When I finally approached him and shook his hand, I had the shock of my life, and soon his phone was ringing. Nero De Santis My grandson Bennie a good boy, respectful, and dense about his fated soulmate, but so is Devin. I felt them connect but they still had no clue what was going on, and I soon filled them in. I scanned Devin naturally, and something is way off with that cowboy. His deadbeat witch parents are a joke, so his immense power makes no sense. I need to consult Agnes as something is very wrong over there. Agnes Granville As a witch dealing with the Magnus coven, I received a concerning call from Nero, about his grandson's fated soulmate Devin. I checked him out as a favor, and while quite powerful, he is unaware he is under a spell, and has no apparent pedigree to back up his dangerous power. I need Vito and Craig to help me sort this out, and do some sniffing around, sorry Craig, no pun intended.
Ben De Santis
Pairing: M-M
October 8, 2020
Word Count: Information not available
Character Identities:
Gay
Summary: The groundbreaking romantic horror trilogy, Bonds of Blood, comes to a thrilling conclusion with a story of loss, grief, and redemption. Monsters don't get to be heroes… Betrayed by his brother and imprisoned in his sister's dungeon, Olivier d'Arjou isn't about to let a few chains get in his way. A vampire for six hundred years and a plague on his family for longer, he has no reason to hold back from wiping out the last of his family members and anyone who gets in his way. But first, he'll need to break free. When Oberon North, witch and survivor of one of Olivier's most heinous crimes, comes seeking vengeance, it should be child's play to bend the witch to his will. But Oberon comes with more power and resilience than Olivier expects and forces him to confront truths he'd rather avoid. But Olivier's inner conflict must take a backseat when he learns of his sister Aurelia's plan to save the world from the demon Xadrak. A battle generations in the making, to succeed requires the ultimate sacrifice from both Olivier and his brother Thierry – and the last chance Olivier has to reclaim his humanity and a future he never thought possible.
Binding Blood
Pairing: M-M
December 20, 2018
Word Count:
70000
Character Identities:
Gay, Genderfluid
Summary: How did a grumpy Dragon shifter like Trace end up fated mates with two vampires who always call him Daddy? Trace Anguis has a secret. A big one. He's not exactly a long-haul trucker. Or he's not only that. He's also a vigilante who provides justice for victims and their families. He's made a lot of enemies over the years, and one is hellbent on exacting revenge. It's one of the reasons he would never take a mate. But Fate has other plans, namely giving him two vampire mates who don't listen even if it would save their life. Trace might be a grumpy, older dragon shifter, but he's determined to keep up with his much younger fated mates.
Blackwing
Pairing: M-M-M
April 28, 2021
Word Count:
78500
Character Identities:
Gay, Straight
Summary: Josh Stanton's mother has been held prisoner by the vampire Balthazar for fifteen years. As Balthazar has turned the residents of Belkin's Pass into vampires under his control, Josh, his lover Dex, former saloon girl Glory, and US Army Sergeant Walker Maxwell, fight to contain the undead uprising. The group is pursued to the abandoned Fort Emmerick where Josh learns to better control his power to raise the dead. There they make plans to take the battle to Balthazar's cave, but will all of them live to see the light of day ever again?
Blood & Stone
Pairing: M-M
March 24, 2017
Word Count: Information not available
Character Identities:
Gay
Summary: Tyger tyger, burning bright… As theriomorphs in the service of Gaia, Tyr Gustavson and his lover Aaron fought against the vampires aiding the Third Reich during WWII. But even the fierceness of Tyr's tiger form couldn't save Aaron from being torn apart when a mission went horribly wrong. Lost in his pain, Tyr remained feral until he was unwillingly recalled to Gaia's service seventy years later. In the forests of the night... When fighter pilot Adam Carson's plane was shot down, he thought the worst that could happen was being sent to a Nazi prison camp. Little did he know there were other monsters in the shadows, and one of them wanted to claim him. But refusing Elizabeth Bathory had a price. Adam was turned against his will and trapped in a coffin as punishment for his resistance. What immortal hand or eye… While hunting ghouls, Tyr and his colleagues discover Adam's prison. Believing he could be an asset, Marielle Du Lac frees him. Adam joins the team and is drawn to Tyr, despite Tyr's hatred of vampires. When Tyr rejects Adam out of fear, Adam accepts a suicidal mission to find Thrace, the original nosferatu. If their desperate plan works, the theriomorphs could destroy not only Elizabeth, but the sire of all vampires as well. But if it fails, they could unleash a force leading to the destruction of them all… and perhaps of Gaia herself.
Blood Bathory: Absence of the Sun
Pairing: M-M
June 4, 2018
Word Count:
123000
Character Identities:
Gay
Summary: Evan St. John, a young fashion photographer running from the pain caused by the death of his younger sister, is thrilled when he is offered a job with House of Nadasdy, a leading fashion house in Paris. What he doesn't know is that Elizabeth Nadasdy, the elegant and powerful owner, is a centuries-old vampire with a penchant for collecting beautiful people. To Evan's horror, he is turned into one of her "children." Unable to bear what he has become, Evan flees to New York and to his best friend, police officer Will Trask. For years, Evan has nursed an unrequited love for Will, but he also knows Will is the one person who might be able to help him. As Evan and Will try to deal with Evan's condition, they are drawn into the world of the theriomorphs: shape-shifters who are guardians of life and the sworn enemies of vampires. Caught in an ancient war between two powerful supernatural forces, Evan and Will find they must choose sides - because if they are to have any chance of a future together, they must destroy Elizabeth Nadasdy before she destroys them.
Blood Bathory: Like the Night
Pairing: M-M
April 9, 2018
Word Count:
75000
Character Identities:
Gay, Pansexual
Summary: Two hundred years can strain even the seemingly eternal love of the youkai. When Hideyoshi's coldness drives them apart, Hiro finds comfort in his friendship with Takanori, a vociferous human man he met at a ramen shop and can't seem to keep away from.. Everything Hiro had to fight for from Hideyoshi, Takanori gives freely, making it all too easy to turn away from his responsibilities--and Hideyoshi--in favor of something sweeter. But while Hiro is off playing human, danger is brewing among the Youkai. Hideyoshi, still reeling from his breakup with Hiro, struggles to uphold the promise they made to the Hunter leader, Kyo, but the Youkai's loyalty has been challenged by Hiro's abrupt disappearance. With Hunters literally banging at the door, Hide must find a way to bring Hiro home or risk igniting the war they've spent the last two hundred years trying to prevent. Content Warnings: graphic violence, terminal illness, depictions of grief and depression/mental illness, suicidal actions
Blood Bound
Pairing: M-M
February 25, 2022