Word Count:
11,948
Character Identities:
Gay
Summary: A superhero, a ghost, and an angel walk into a bar. Dario, the ghost, feels a sense of déjà vu. He died in a bar, and it seems like he might be reliving that terror over and over again. This time, however, there's an angel at his side, Dondre, and that brings some comfort. After a few too many drinks, Dwight, the superhero, reveals his animosity toward angels. He's angry angels get all the credit when someone survives a deadly incident. People think angels are real, while most believe superheroes are only found in fiction. When a wave of deadly crime sweeps across the country, Dario and Dondre become the prime suspects. Who is setting them up? All signs point to Dwight, the disgruntled superhero. Can the ghost and the angel prove themselves innocent? Will someone else die? And what of Dwight? Is he friend or foe?
3-D: Superhero, Angel, Ghost
Pairing: M-M
October 27, 2021
Word Count:
42,000
Character Identities:
Gay
Summary: James McKinney has always lived life alone. He doesn't have a family, at least none that he remembers. He's always dreamed of having a house of his own, a place he can call home. Finding the right house, ready to work to make it his home, nothing can put a damper on his happiness, or can it? Trey Andral, returning home from college, notices someone moving into his old friend's house next door. Miss Hattie is still waving to him from the bedroom window, even though he knows she's gone. He also knows he can't not help the new guy make the house his own. Trey has always been able to see and hear spirits, but what's normal to him is terrifying to most others. When the spirits seem intent on contacting James, Trey has no choice but to share his secret, risking their friendship. If they work together, maybe they can figure out what the clues the spirits are giving them mean. And maybe they can find family in each other.
A Ghost of a Chance
Pairing: M-M
August 14, 2020
Word Count:
58900
Character Identities:
Bisexual, Gay
Summary: It was just a one-time indiscretion after an intense disagreement with the love of his life, David Fulbright.  But little did Cal Anderson know it would change his life forever.  The fallout would take him on an unusual quest – sometimes wittingly, and sometimes not – across the ocean and even across time.  During that journey, he would learn that his love for David was his destiny in more ways than he could have ever imagined.  And a young man named Gunter from another place and time would be the one to show him how important that love is to him.  Join Cal as he takes an extraordinary journey to find redemption, and to be reunited with the man who was meant to be in his life.
A Triangle of Pink
Pairing: M-M
September 26, 2020
Word Count:
75,000
Character Identities: Information not available
Summary: Angels Daniel and Jefferson from Ghost Writer; Snowed In Goose and Patrick; Nine Minutes In Heaven; and Ghosts of Honor recruit a band of heavenly hosts to spread comfort and joy this holiday season after a rough year for all. The five stories in this book intertwine as the angels visit old friends and new, including characters from the authors' best-selling stories Guilt and Innocence, An Arm and a Leg, Monsters, Let's Hang Out, 21 Smiles, and Transitions, among others. Which couples have wed? Who is set to play Tiny Tim and Dopey the Dwarf? Who gets to see his lover for the very first time? Which duos are raising children? Which pair welcomes a new one, and which couple has gone their separate ways? Can Daniel and Jefferson spread enough holiday cheer to bring everyone a merry yuletide season and hope for the new year?
All About Angels
Pairing: M-M
December 9, 2020
Word Count:
1100
Character Identities:
Gay
Summary: A muddy trench in France during the Great War wasn't the most auspicious place for Tom and Michael to reach an understanding of their own natures. A small, individual tragedy unfolds ... But then Tom discovers a place beyond, where he and other men like him are blessed with all that life denied them.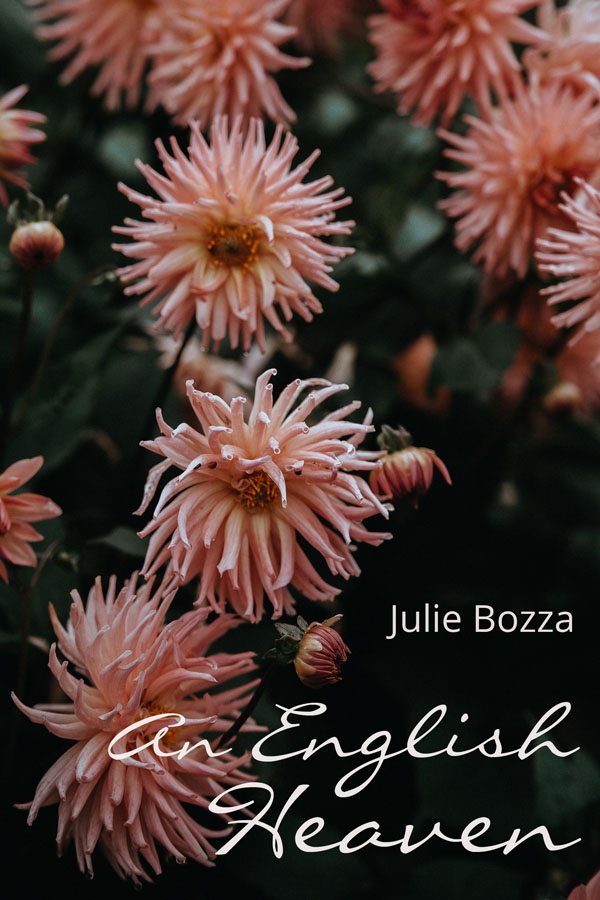 An English Heaven
Pairing: M-M
December 15, 2017
Word Count: Information not available
Character Identities:
Gay
Summary: Show respect whether your belief is strong or non-existent. Growing up with archeologist parents practically guaranteed that Eric would study other cultures, how could he not when his first childhood memory is visiting the tombs at Giza. Doctor Eric Hoffman has held his beliefs in other cultures and religions as the cornerstone of his life and career. After losing Joel, his husband of ten years, to an attack while they were visiting in New Orleans, he's hoping a year later that if he visits the Gates of Guinee and makes his offerings, he'll see his dead husband again. Steven Mallery has two loves in his life — books and Eric Hoffman. Only one problem, there's no room in Eric's heart for him as more than just a friend. Steven had stood by and watched Eric fall for and marry Joel while they were all in college; Christ, he'd been their best man. For the past year, Steven has held a grieving Eric, tamping down his joy at maybe having a chance at the only man he'd ever love. Helping Eric research the Gates of Guinee might have been the stupidest thing Steven has ever done. Messing with loa Baron Samedi wasn't the smartest thing but making Eric happy is Steven's only goal. Can the power of the spirits guide Eric to closing his heart to Joel while opening it to Steven? Maybe Steven needed to make his own offerings.
Approach the Gates
Pairing: M-M
February 12, 2021
Word Count:
83400
Character Identities:
Gay
Summary: Artists use all manner of materials to express their vision, to interpret the world around them, to affect the hearts and minds of their audience. But what if the artist himself were the medium? And what if artistic inspiration weren't the only force at work? If painter Stefan Cobbe and art investigator Luke Morganstern don't answer those questions fast, they stand to lose their reputations, their relationship — and their lives. **Omnibus edition contains both The Artist's Touch and Tested in Fire
Art Medium
Pairing: M-M
June 18, 2018
Word Count:
50000
Character Identities:
Gay
Summary: Three stories of gay bears living their best lives, including: Rough Cut Football players can be gay, too. Chris Hodak, a former college football defensive lineman, never came out. He didn't think big, burly football players could be gay, but he also never got over his crush on Rohan Moore, a hunky teammate with whom he had a fumbling make out session one night after a game. Twenty years after that fateful night, Chris, who is now in his 40s, again meets Rohan, an out and proud big, gay hairy bear who owns a barber shop catering to bears. Rohan is still beautiful but isn't interested in Chris because he hates closet cases. For Chris that spark is still there, and it gets even stronger when he sits in Rohan's chair for a shave and a haircut. In order to get Rohan back, Chris must be braver and tougher than he ever was on any football field. Twinks in Bearland Can a twink fall in love with a bear and keep his friends? The friends of pretty blue-eyed Dustin Garber are about to find out he has a secret. He loves bears, big hairy gay men. None of them know it, but he's just booked them all into the annual Gay Bear Ski week. Craig, beautiful, black and Jewish, is initially indifferent to the fact that he is spending a week with big hairy men. He already has a hook up planned of his own, although that man turns out to have a bizarre secret. Patrick and Ethan, two bear-hating twinks who have been secretly in love with each other for years, take much longer to come around to the idea that bears can be good guys too. Dustin isn't so sure his friendship with them will survive the trip. And then Dustin meets Nate, a big blond bear who is forever single but ready for something a little different. Nate's friends, Casey and Ryland, are fighting about Ryland's porn career. Nate's friend Gil is busy with a Canadian couple, but together Dustin and Nate get lost on a backcountry trail. Deep in the snow away from everyone they may just find the love they've been seeking and the understanding they didn't know they needed. Spooky Ginger Love In one scary weekend, love can set a man free. Keith Norwood, a handsome African American gay bear, came to Camp You-Mee's Bears Haunted Halloween Boo-Nanza Extravaganza for some cheesy holiday thrills and a little ass. A fan of the one-night stand, he thought all he wanted was to get laid. The camp's cute assistant manager with a fantastic butt was Keith's first choice. Instead, he loses his way in the haunted woods. He finds his way and himself with the help of Ronnie Gans, a big, friendly, hairy redhead. But he's unlike any one-night stand Keith has ever had.
Bearland Tales Boxed Set Books 1-3
Pairing: M-M
June 5, 2020
Word Count:
68000
Character Identities:
Gay
Summary: They'll take a leap into the unknown to protect the world. There's something seriously wrong with Earth's magic. A demon has appeared unsummoned out of thin air, familiars can't return Home, and as Grim points out, rats smell like summer in the middle of winter. Grim and Pip can deal with rats; Silas can banish one wayward demon. But soon there are other demons, more each day, and Silas's old mansion is full of mysteries. He and Darien will need their familiars, their friends, plus a whole lot of luck, as they search beyond Earth for the forces that have changed their world. And to have any chance of getting safely home, Silas will have to confront a past he's avoided for ten long years.
Beset by Demons
Pairing: M-M
February 22, 2022
Word Count:
23000
Character Identities:
Bisexual, Gay
Summary: Four short stories from the world of the Undead Canadian series, including two previously unpublished works!
Bits & Bones
Pairing: M-M
January 7, 2018
Word Count:
16670
Character Identities:
Gay
Summary: Can a ghostly hound tell the difference between love and fear? Will man's best friend save the day? Garrick and Tristan thought they were done with hauntings when they rid themselves of the evil ghost of Gabriel Blackthorne. But it seems that their connection to the supernatural runs deeper when howls in the night and glimpses of glowing red eyes gradually manifest into sightings of a mysterious black dog. The ghostly hound seems to be protecting Tristan, but from what? A group of friends visiting for the weekend provide a welcome distraction, but one of them would like to be more than friends with Garrick. Frankie sees Tristan as nothing more than a temporary inconvenience and does everything in his power to tempt Garrick away. Rejected by Garrick, Frankie goes to extreme lengths to get his attention, using Tristan as his pawn in a very disturbing game. How do you demonstrate the difference between love and fear when bondage and submission are parts of the equation? Will the Black Dog fulfil its role as protector or will Tristan pay the ultimate price for love? Reader Advisory: This book contains an established MM D/s relationship, with plenty of hot kinkiness. Outside of this dynamic, the story also features non-consensual kidnap and physical violence.
Black Dog
Pairing: M-M
January 14, 2013
Word Count:
23000
Character Identities:
Gay
Summary: Christmastime brings out memories, and ghosts. Silas tracks down a poltergeist haunting a local tree farm. Darien hopes to convince Silas that despite experiences with demons and hells, Christmas can still be fun. Pip tries to catch his first rat. And Grim watches from a high vantage point and a position of moral superiority—he has holiday memories of his own, but cats know how to keep a secret. - A 23,000 word holiday novella in the Necromancer series.
Bound by Memories
Pairing: M-M
December 19, 2020
Word Count:
36000
Character Identities:
Gay
Summary: 1862 – Maxwell Ryder refused to honor a prearranged marriage with Penelope Walker. Instead, he fell madly in love with her younger brother, Jeremiah. Present – Luke Ryder was the last descendant of the Ryder family. It was on his watch that the family's great home, White Oak Manor, was sold to a rich businessman named, Jacob Walker. Jacob fell in love with White Oaks Manor before he ever met the man who had to sell it to him. He had never met a man like Luke Ryder. He was charming, funny, and very passionate about his family's heritage. As they worked together to restore White Oak Manor to its previous glory, their attraction to each other grew strong. Even when strange things – workers being injured, cold wind from nowhere, wild screams in the night and a train whistle screeching in the distance – they continued to get closer. Penelope Walkers actions in the past condemned her to haunt White Oaks Manor. Only when the two lovers she had kept apart were reunited could so many wrongs be righted. Though she was determined to not see it happen again. Luke and Jacob discovered that to save their new love, they must solve a mystery from the past and reunite fated lovers before Penelope works her evil on them as well. Book 2 of the Legend of the Ghost Train Series
Cannon Fire
Pairing: M-M
May 15, 2020
Word Count:
80,000
Character Identities:
Gay
Summary: In 1888 Austin, Texas, a shy medium with clubfoot is visited by the horrific ghosts of murdered children and enlists the help of a rugged Texas Ranger to pursue their killer. As the two men hunt the murderer, they find themselves not only in the grip of a taboo love that could—at best—send them to prison, but also in danger of becoming the killer's next prey. In the twenty three years of his life, Thomas Carillon has known nothing but unrequited love. People don't notice him; they only notice his clubfoot. He has given himself up to a solitary existence with only the companionship of his cat and the ghosts who visit him. When a rare child ghost, her massive injuries evident, asks Thomas for help, the only law man that will listen is a hard-bitten Texas Ranger who reawaken's Thomas's secret desires. The two grow closer as they chase the killer, but can they hold onto their fragile, budding love in such hard times? Hadrian Burton thinks Thomas looks like an angel, except for whatever horror he's hiding in that strange boot. Temporarily leaving life on the range and his complicated past to track down a killer with Thomas, Hadrian finds himself doing something he vowed never to do again—falling in love. Their "congress," as Thomas calls it, is more intense than he has ever experienced. After a lifetime of virginity, the clubfooted man is going wild, and he doesn't balk at Hadrian's unconventional appetites. But they're too different; Hadrian fears he will only hurt Thomas in the end. And yet, he has never fallen so hard for another man. How can he keep both his and Thomas's hearts from being broken? And how can he bring the elusive Child Slayer to justice with only the help of a medium and ghosts? This erotic gay romance contains violence, period homophobia, period racism, period ableism, and graphic sex scenes.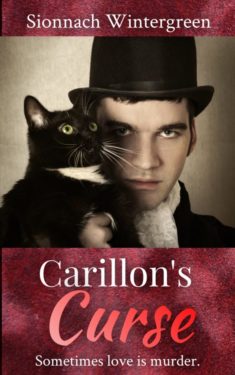 Carillon's Curse
Pairing: M-M
December 10, 2021
Word Count:
17651
Character Identities:
Gay
Summary: Damien is a 14 year old orphan that has grown up  in foster homes all his life. He finds out that he is a "Vampeal" , a child born from a vampire and human. If that wasn't bad enough Damien is a teenager that is dealing with his feelings for other boys. Damien is put into a home that the foster parents are very religious and he ends up on the street. Patrick is Damien's caseworker and if fresh out of college is assigned to look after him but finds out that Damien is no longer at the foster home. So Patrick sets out to look for him, which turns out to be a very dangerous road for both of them.
Child under the Stairs
Pairing: M-M
May 25, 2020
Word Count:
51700
Character Identities:
Gay
Summary: The Legend of the Ghost Train continues: 1930's Harlan County Kentucky Boone Douglas and Tucker Winchester are from different worlds, both knew that being homosexual could be a death sentence in this backwoods hell. Their love blossomed in spite of everything. Two men find love, during a difficult time for the Appalachian states, where many lived in poverty. They struggled, working long days in coal mines for pennies. There were also hostilities between mining companies and the unions who wanted to rally the mine workers. There's a reason it's called Bloody Harlan County. A greedy man, a cave full of miners, and two lovers suffered the worst fate imaginable. Present Craig Waterson, a descendant of Tucker, fell down an abandoned air shift leading to a caved in mine. He dreamed or walked through the past seeing Boone and Tucker fall in love, then lose everything. When he awoke, he discovered that Tucker's ghost had followed him to the present with a request. Craig, Tucker, and Doug Harper, Boone's great nephew, work together to recover the remains of the miners who were killed in the Copperhead Mining Accident. Many secrets have to be uncovered before Boone and Tucker can find peace or Craig and Doug can find their own happily ever after.
Coal Dust
Pairing: M-M
October 27, 2020
Word Count:
83000
Character Identities:
Gay, Transgender
Summary: Ghost wards are failing. Mediums are vanishing. Someone—or something—is stirring up the ghosts of Toronto. It's up to psychic medium Harlan Brand to find out why. After defeating a serial killer who could control ghosts, psychic medium Harlan Brand is feeling much more confident in his abilities working for the Toronto Police Service with his partner, Hamilton, as they protect the city from dangerous spirits. He is expanding his social circle, however reluctantly, to include the other police mediums and Morgan Vermeer, another graduate from the Centre—a school for training psychic children. Harlan and his boyfriend, Charles Moore, are continuing to explore BDSM, their relationship and Charles' strange ability to shield people from ghosts. Hoping to find answers about Charles' power and the serial killer, Harlan returns to the Centre only to find that one of its ghost wards—magical symbols that spirits can't cross—is broken, and it's a mystery as to how and why. The calm and order that Harlan has been building up in his life are shattered when wards start failing across the city and mediums begin to disappear, including one of his new friends and a student from the Centre. Someone—or something—is stirring up the ghosts of Toronto. Reader advisory: This book contains scenes of violence and murder. It is best read as part of a series.
Cold Blood
Pairing: M-M
March 8, 2022
Word Count:
23,000
Character Identities:
Gay
Summary: Private Investigator Frank McGuire is beginning to think Baltimore is a melting pot for serial killers. Another maniac is stalking the streets but this time the killer is targeting gay college students. When an enemy from Frank's past surfaces, he sends Rand, away for his own safety. He has no idea the serial killer already has Rand in his sights. The clock is running. Can Frank find Rand before it's too late? *  The Crossroads series is scorchingly hot and blends mystery, suspense, romance and  the paranormal. *  All four books in the series can be read as stand-alone gay romance novellas with the same characters, a happy-for-now ending and no cliffhangers.
Crossroads Revisited, Book 2
Pairing: M-M
March 20, 2020
Word Count:
23,000
Character Identities:
Gay
Summary: Frank and Rand travel into the heart of New Orleans to solve the latest case. This should be the perfect opportunity to introduce Rand to the dangerous and sometimes dirty world of private investigating. But the case is riddled with complications and trouble A century-old ghost has taken two young boys into the seedy bowels of another realm for desecrating his grave. To add to Frank and Rand's dilemma, gay-haters stalk the streets of New Orleans, intent on wreaking havoc among the community. With the assistance of a nun, Sister Francoise Genevieve, Frank must enter that other realm to rescue the missing young boys and dispense a little street justice in the human world to save the man he loves. The Crossroads series is scorchingly hot and blends mystery, suspense, romance and at times, the paranormal. RAVES "Diablo's Crossroads Shadowland was an incredible story. Rand & Frank are so well developed they feel like old friends. The plot leaves you with the chills as you experience true evil and, then, relief when good intervenes. Hot passion & spine-tingling danger combine with the gratification and sorrow of the ending to produce a tale that will continue to haunt you even after you're done reading. We can only urge Keta Diablo to finish Book Five so we can see what happens next." CataNetwork Reads, 5 Stars. TOP REVIEWER PICK ⭐️⭐️⭐️⭐️⭐️ "Crossroads: Shadowland is Keta Diablo's 4th installment in a series of novellas. If you enjoy a dash of the paranormal along with some HOT M/M action this book is for you. Keta Diablo is a great author and Crossroads is a wonderful series. I just wish her stories were novel length because she always leaves me screaming for more!" Top Pick, Night Owl Reviews ⭐️⭐️⭐️⭐️⭐️ "Diablo writes gritty, emotional characters. Frank & Rand aren't on a sweet journey into love but one that leaves you a bit breathless and a bit abused. The sex is titillating and powerful. Their connection is palpable. I love how in each story, the author has upped the stakes for these 2 memorable men." Seriously Reviewed ⭐️⭐️⭐️⭐️⭐️ "The paranormal element in Crossroads: Shadowland is not just ghostly this time but takes on a slightly more frightening aspect. Diablo keeps her readers on their toes & takes Frank's experience to a new level with the haunting at the Hotel Provincial. I enjoyed the intensity of this novella & will be looking forward to any additional stories Diablo might pen that feature this mismatched pair of heroes." Book Wenches ⭐️⭐️⭐️⭐️⭐️ "Another great addition to the Crossroads series. Keta tends to dish it out on a platter, serving it up to give you just a taste with an unexpected twist & leaves you dangling with want for the main course & you haven't even hit on the dessert yet. In this one Frank heads back to New Orleans with Rand to crack the case of two boys gone missing at a local cemetery, only to discover there's more to this that meets the naked eye. What will transpire in this book will get your temperature soaring to unhealthy levels and I'm not just talking about the steaming sex scenes." Four Stars Sidney, Goodreads ⭐️⭐️⭐️⭐️⭐️ "Crossroads: Shadowland is the fourth story of the Crossroads series. Keta Diablo's characters are evolving with each new tale. Traveling to New Orleans for this story was a nice change of setting. I'm anxiously awaiting the next installment to get that answer and to see if the events have left Frank more protective or if he will see the error of his ways." Literary Nymphs ⭐️⭐️⭐️⭐️⭐️ "I truly liked this story. The plot is well-developed; the story flows smoothly & the climax (pun intended) are clearly defined. The interactions between all characters are well-thought & very clear. Frank & Rand's relationship dynamics are also clear to the reader & people can easily identify with either and/or both." ⭐️⭐️⭐️⭐️⭐️  
Crossroads Shadowland, Book 4
Pairing: M-M
March 25, 2020
Word Count:
21,000
Character Identities:
Gay
Summary: Tough PI Frank McGuire agrees to help the FBI locate three abducted children from a small town in West Virginia. When Frank channels his inner spirit for assistance, he mistakenly calls forth a ghost. As Frank races against time to locate the missing girls, he receives help from a dead spirit. Rand issues an ultimatum―commit to a relationship or risk losing his love when he returns from chasing ghosts. The Crossroads series is a scorchingly hot and blends mystery, suspense, romance and at times, the paranormal. All four books in the series can be read as stand-alone gay romance with the same characters, a happy-for-now ending and no cliffhangers. * * * * * * * "This book is a must have! If you read Crossroads and loved it as much as I did, you need to get your hands on a copy of Crossroads Showdown. This book gives you a deeper look into the tough PI Frank (which some readers have said is a bit tough and sometimes a bit cruel). In this novel, you'll see a new side of Frank. He's not a cruel man but someone who has lived a rough life. The suspense in this novel will keep you guessing about where things will lead Frank in the end as well as what will happen between Frank and Rand." Talk About My Favorite Authors ⭐️⭐️⭐️⭐️⭐️ "I have loved watching Rand grow through the series and become the man Frank needs. This series is 4 dynamic books that carry elements of suspense and romance. Coming from Keta Diablo this are a killer combination. Book Junkie ⭐️⭐️⭐️⭐️⭐️ "Frank's demons are definitely out to play this round, but it was nice to see him shove them to the side and do what he knew in his heart was right for Rand Literary Nymphs ⭐️⭐️⭐️⭐️⭐️ . "Franks cases are interesting and always keep me guessing. I can't wait to start Diablo's next Crossroads book Crossroads Shadowland, Book 4." Night Owl Romance ⭐️⭐️⭐️⭐️⭐️ "Ms. Diablo is a writer of imposing imagination, creating characters the reader connects to and situations that are intriguing and fresh. I have the feeling we've been set up for more from Frank and Rand in the future and I, for one, am eager to see what's next for these two." Whipped Cream Erotic Reviews ⭐️⭐️⭐️⭐️⭐️ "I will have to say this novella was very good! I really wanted the story to be the focal point and it did shine through. The ghost theme brought a little supernatural mix to the story which I loved as well." Steph, Goodreads ⭐️⭐️⭐️⭐️⭐️ "Keta Diablo delivers yet another steamy, hot, sexy and mysterious male/male erotic romance novel that will have you panting as well as making you want more. You won't want the story to end." Phoebe Jordan, Goodreads ⭐️⭐️⭐️⭐️⭐️
Crossroads Showdown, Book 3
Pairing: M-M
March 20, 2020