Word Count:
311000
Character Identities:
Gay, Lesbian
Summary: Everyone has secrets… but some are fatal. 1932, London. Late one December night Simon Sampson stumbles across the body of a woman in an alleyway. Her death is linked to a plot by right-wing extremists to assassinate the King on Christmas Day. Simon resolves to do his patriotic duty and unmask the traitors. But Simon Sampson lives a double life. Not only is he a highly respected BBC radio announcer, but he's also a man who loves men, and as such must live a secret life. His investigation risks revealing his other life and with that imprisonment under Britain's draconian homophobic laws of the time. He faces a stark choice: his loyalty to the King or his freedom. This is the first in a new series from award-winning author David C. Dawson. A richly atmospheric novel set in the shadowy world of 1930s London, where secrets are commonplace, and no one is quite who they seem.
A Death in Bloomsbury
Pairing: F-F, M-M
November 10, 2021
Word Count:
37,000
Character Identities:
Gay
Summary: Sheriff Avery O'Rourke has tried to obey his strict Christian faith and lead a "normal" life. In 1923 in a rural East Texas town, "normal" means heterosexual. A cholera outbreak has made Avery a young widower, so he is married to his job. When a murder investigation forces him to confront his truth, will he finally be able to accept being gay? Veterinarian Garland Sands has returned from Europe to take over his father's practice. Struggling with shellshock (PTSD) and heartbroken by the suicide of his French lover, he resigns himself to a quiet, solitary life as a country vet. But the murder of the town doctor brings the sheriff to Garland's doorstep looking for help with the investigation. Seeing Avery awakens dormant feelings. Can he love a man who hates what he is? This isn't the lavish 1920s of The Great Gatsby. This is the flip side of that coin—rural East Texas. No electricity. No indoor plumbing. No flappers. In 1923, the timber barons have left and racism, homophobia, and sexism thrive. A Little Sin is a realistic mystery with unlikely heroes and a timeless romance between lovers caught in a world where their love is forbidden. This book contains steamy sex scenes and is intended for adults only.
A Little Sin
Pairing: M-M
February 24, 2018
Word Count:
33100
Character Identities:
Gay
Summary: As Brad Kelly studied his face in the mirror, trying to wake up for "The Big Day" today, he noticed a picture he kept in the bathroom of himself, along with his first partner, Randy Ogden. The picture was taken over two and a half decades ago in front of this very house, when it was brand new. It was the day they moved in, and one of the happiest days of Brad's life. It was supposed to be Brad's and Randy's home for decades to come. Little did Brad know at the time, but the fates had something quite different in mind. Brad's life would soon be thrown into unexpected turmoil, and this house would become Brad's sanctuary, away from the storms that were awaiting him. Thankfully his friends were fast becoming the "family" he needed to get him through. And when he comes out the other side, his family if far bigger and very different than he ever imagined it would be. "A New Beginning" is the second installment of the A Different Kind of Family Trilogy. This time in Brad's life mirrors what was happening in the 1990s as the LGBTQ community began to show it could produce "families" and be a productive part of society as a whole. More and more celebrities were coming out of the closet, and it became easier for gay couples to start families of their own. There were still complications – marriage equality was still decades away, and homophobia and persecution of gays continued. But overall, things were looking up for the LGBTQ community, just as they are in this part of Brad Kelly's life.
A New Beginning
Pairing: M-M
July 22, 2018
Word Count:
47832
Character Identities:
Gay
Summary: A Hampton Road Club story. Angelo wonders if the Hampton Road Club will offer him a new beginning and whether he can love two men at the same time. Angelo escaped his family's farm to be with his first and only love in Los Angeles. He meets up with him at Walter's speakeasy, but their reunion is short-lived when Angelo discovers that his lover is embracing the Roaring Twenties with as many men and as much hooch as he can. With nowhere to stay and no job prospects, Angelo faces an uncertain and scary future. Ex-prizefighters Bruce and George enjoy their employment at the Hampton Road Club for more than one reason. They can indulge in their passion for sadomasochism and search for the boy who will be the submissive they keep forever. Unfortunately, none of the men at Hampton Road are good prospects. When they run into a forlorn Angelo in the alley outside a speakeasy, their protective instincts kick in. But will they want to do more than just protect Angelo? And will the shy and inexperienced man embrace a lifestyle he never knew existed?
A New Beginning For Angelo
Pairing: M-M-M
July 10, 2018
Word Count:
58900
Character Identities:
Bisexual, Gay
Summary: It was just a one-time indiscretion after an intense disagreement with the love of his life, David Fulbright.  But little did Cal Anderson know it would change his life forever.  The fallout would take him on an unusual quest – sometimes wittingly, and sometimes not – across the ocean and even across time.  During that journey, he would learn that his love for David was his destiny in more ways than he could have ever imagined.  And a young man named Gunter from another place and time would be the one to show him how important that love is to him.  Join Cal as he takes an extraordinary journey to find redemption, and to be reunited with the man who was meant to be in his life.
A Triangle of Pink
Pairing: M-M
September 26, 2020
Word Count: Information not available
Character Identities:
Gay
Summary: Free gay shifter novella when you join TJ's newsletter Renny knew the risks when he started working for the Résistance, but he never expected to be captured and branded as a loup-garou and traitor to the State of France by the occupying Germans. Now on the run and wounded, he needs a place to hide and heal. A blacksmith's on the edge of a small town looks like the ideal place. At first Marc doesn't want to believe Renny is a shapeshifter, but his curiosity and desire to help outweighs his caution. It feels good to lie to the soldiers. Better to see the heat in Renny's eyes. One night together makes Marc realize he wants more from life than hot coals and cold nights, but with no end to the war in sight, neither man can make promises. A wolf shifter seeking refuge from the Nazis WW2 Urban Fantasy set in occupied France A Happily Ever After in a time when the world was falling apart "I was intrigued from the minute I read the blurb..." Love Bytes Reviews "They only have a handful of hours together but Nichols captured the energy of the era brilliantly." Boy meets Boy Reviews
A Wolf's Resistance
Pairing: M-M
January 1, 2020
Word Count:
16759
Character Identities:
Gay
Summary: Jefferson Sebring wined and dined, charmed and cajoled, and lured and seduced handsome men into his bed. However, he never wanted to keep one longer than a few dates or a few months. He had his work with the CIA and his duties to his family, and with those and his men, he was content - until Ludovic Rivenhall came into his life, first squiring his sister Portia around town, then falling into Jefferson's bed as so many others had. But Ludo wanted more than a same time next year type of relationship; he wanted to stay there, and Jefferson found he was willing to allow it as long as they both still wanted it. Years later, they both still wanted each other - but men didn't marry men. Or did they, in this new world they had survived to see?
Ace-High Royal Flush
Pairing: M-M
February 7, 2016
Word Count:
34000
Character Identities:
Gay
Summary: Stiles Long emphatically did not want his lover, Michael O'Leary to go on the assignment he had been given. He didn't care that Michael was an amazing poker player or that his commander thought Michael was the perfect man for the job. He almost lost Michael once. He couldn't go through that again. Michael needed this. He needed to prove that he was able to take care of himself. He didn't need Stiles to take care of him. He needed to be Stiles' equal. The poker game in Durango, Colorado was his chance to prove that. The fact that Stiles didn't want him to go didn't matter. Michael had to do this. Lizzie Ferguson was Stiles partner in the Pinkerton Agency. She was a good agent. That didn't mean, she had to like being dressed in satin and lace, showing way too much of her body to total strangers. Lizzie knew there was more going on at Maverick's Saloon, and it might just cost her life. None of them suspected that a simple poker game would turn into a deadly nightmare. If the three of them weren't careful, one of them might just end up the next victim.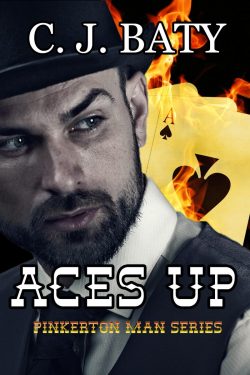 Aces Up
Pairing: M-M
June 25, 2019
Word Count:
8300
Character Identities: Information not available
Summary: England, 1910 It's Valentine's Day and Gareth, footman at the local manor, is determined to make his true feelings known for his companion, Robbie. Robbie has big dreams for his future and Gareth is hoping he can be a part of them. Armed with a box of chocolates, a solicitor's letter of good news, and hopeful determination, Gareth goes to meet Robbie for lunch. But will Robbie be as eager as Gareth to make their situation permanent? Or will the pressure of having to keep their love a secret be too much for their dreams to handle? 'All Tall Flowers' is a sweet, historical romance short with a happy and hopeful ending. It is a short story of about 8300 words or approx. 25 pages in print.
All Tall Flowers: A Short Story
Pairing: M-M
June 15, 2021
Word Count: Information not available
Character Identities:
Gay
Summary: It is 1969 when Dewey Snodgress, high school theater star, meets irrepressible hippie Jeep Brickthorn, who quickly inserts himself into Dewey's life—and eventually, into his heart. Meanwhile, Dewey prepares to appear in a production across town, a play about protestors of the Vietnam War, where he befriends the wild and wonderful Lucretia "LuLu" Belton, who is also determined to follow her dreams and become an actress—whether her parents approve or not. The show has a profound effect, especially on Dewey's father, who reconsiders his approval of the war after his son's performance. But Dewey knows his dad won't be so accepting if he reveals the love he's developing for Jeep, so he fights to push his feelings away and keep the peace in his family. Still, Dewey can't ignore the ripples moving through society—from the impending Woodstock Festival to the Stonewall Riots—and he begins to see that the road to happiness and acceptance for him and Jeep might lead them away from conservative Fort Worth, Texas—and Dewey's dad.
All You Need Is Love
Pairing: M-M
March 21, 2017
Word Count:
56, 430
Character Identities:
Gay
Summary: In the winter of 1944, Lt. Kenneth Hellman, an ace fighter pilot and leader of a young inexperienced but promising fighter squadron, is shot down on a mission to escort American bombers to their industrial targets inside Nazi Germany. He is captured and interrogated by one of the most ruthless men in the Waffen SS, Oberführer Wolfgang Farber, who instructs his henchmen to extract military secrets from him using any methods necessary. After his eventual transfer to Stalag VIII-b, Hellman exacts revenge by joining forces with an unlikely hero, his German Commandant Wilhelm Braun, clandestine leader of the European Resistance movement and the man Kenneth yearns to have as his life-long partner. But with the Russian Army closing on the camp and Wilhelm's refusal to follow the German High Command's orders to set his poorly clothed and emaciated POW's on a march in the middle of one of the harshest winters on record, they have little choice but to flee the country, their attempt fraught with grand adventures and many close calls with death.
American Flyboy 2nd Edition
Pairing: M-M, M-M-M
October 14, 2020
Word Count:
1100
Character Identities:
Gay
Summary: A muddy trench in France during the Great War wasn't the most auspicious place for Tom and Michael to reach an understanding of their own natures. A small, individual tragedy unfolds ... But then Tom discovers a place beyond, where he and other men like him are blessed with all that life denied them.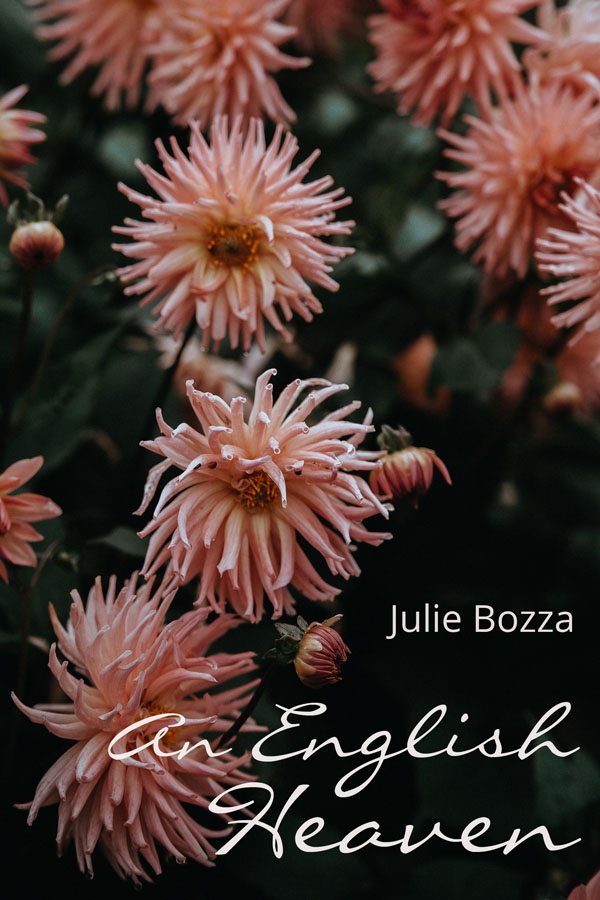 An English Heaven
Pairing: M-M
December 15, 2017
Word Count:
110000
Character Identities:
Gay
Summary: Welcome to another place in time...where one can be swept away into lands and eras long forgotten. This collection of short stories was birthed because a sworn "I don't like historicals" reader fell in love with what have become some of her favorite books by most of her favorite writers. Surprisingly, they were all historicals. Determined to make others feel the love, these authors were asked to contribute small tastes of how amazing historical storytelling can be. Along with a foreword written by Alex Beecroft, enjoy these original short stories that make up "Another Place in Time". Office Romance by Tamara Allen The post-war economy is at a standstill, much like Foster Wetherly's life until he's forced to do battle with irritatingly confident—and competent—fellow ex-doughboy Casey Gladwin for a position in their shrinking department at Manhattan Security Mutual. Introducing Mr. Winterbourne by Joanna Chambers Lysander Winterbourne appears to lead a charmed life. Handsome, amiable, and a renowned sportsman, he is the darling of London society. As far as Adam Freeman is concerned though, Lysander is just another spoiled aristocrat. A wealthy mill owner, Adam has no time for the frivolous world of the ton, but when his younger brother becomes engaged to Althea Winterbourne, he reluctantly agrees to be introduced to society–with the Winterbourne clan's golden boy as his guide. Resigning himself to a few days of boredom, Adam is surprised to learn that there is much more to Lysander than his perfect surface. But will Adam have the courage to introduce Lysander Winterbourne to his own secret self? The Ruin of Gabriel Ashleigh by KJ Charles Lord Gabriel Ashleigh is a ruined man. Last night he lost everything at the card tables to his brother's worst enemy, notorious gambler Francis Webster. Tonight, he's going back for one more game. Ash thinks he has nothing left to lose. But Francis sets the stakes, and they're higher than Ash could have imagined… Two Regency bucks. One game of cards. Everything to play for. Unfair in Love and War by Kaje Harper Many men lost brothers overseas in the summer of 1944. Warren Burch was one of them. For months he still clung to his big city life in Philadelphia, but finally he's made the difficult choice to return to his home town. Warren's polio-stricken leg won't let him serve, so the least he can do is be there for his mother, when brother Charlie never again will. Arriving home means a whole new life, constrained by the rhythms and prejudices of a small town. Fortunately, it's made more interesting by the mysterious and attractive young man next door. Carousel by Jordan L. Hawk When a child goes missing, is it a simple case of a young runaway, or are more sinister forces at work? "Carousel" is part of the Whyborne & Griffin series and takes place between the events of Stormhaven and Necropolis. It can be read as a standalone. Deliverance by Aleksandr Voinov This is a re-vamped, re-edited, improved version of "Deliverance". It's about William Raven, a templar, who thought he'd escaped his past. (Same character as in "The Lion of Kent".)
Another Place in Time
Pairing: M-M
October 1, 2014
Word Count:
60,000
Character Identities:
Gay
Summary: The 1950s. Postwar exuberance. Conformity. Rock and roll. Homophobia. Russell tells himself he'll marry Susie because it's the right thing to do. His summer job coaching her water ballet team will give him plenty of opportunity to give her a ring. But on the team's trip to the annual Aqua Follies, the joyful glide of a trumpet player's solo hits Russell like a torpedo, blowing apart his carefully constructed plans. From the orchestra pit, Skip watches Poseidon's younger brother stalk along the pool deck. It never hurts to smile at a man, because sometimes good things can come of it. Once the last note has been played, Skip gives it a shot. The tenuous connection forged by a simple smile leads to events that dismantle both their lives. Has the damage been done, or can they pick up the pieces together?
Aqua Follies
Pairing: M-M
June 15, 2017
Word Count: Information not available
Character Identities:
Bisexual, Gay, Straight
Summary: Summer. 1939. Germany and Poland on the verge of war. Since childhood, twenty-four-year-old Owen Linet has been plagued by bad dreams, or rather the same bad dream, of a man called Hector, who claims to be dead. Hector possesses a strange black cloak on which is stitched a series of golden symbols—"Words" that Hector, their "bearer", claims have miraculous powers when spoken. Hector gifts a Word to Owen—one that he claims can not only take life, but also restore it. Twenty-two-year-old Polish partisan, Jacek Tarasek, is ordered to follow a suspicious foreigner, a British artist named Owen Linet, who closely resembles a man from Jacek's past—someone Jacek would just as soon forget. Jacek's worst fears are soon realized when he learns that Owen is not only his avowed enemy, but something infinitely worse—a devil in human form, with the power to take life with a mere word. When Jacek can't bring himself to destroy the man with whom he is falling deeply in love, he is forced to confront his flawed understanding of good and evil. Beautiful to Behold is the first book in The Dark Brethren Series, but can be enjoyed as a stand-alone story.
Beautiful To Behold
Pairing: M-F, M-M
November 14, 2013
Word Count:
105000
Character Identities:
Bisexual, Gay, Polyamorous
Summary: A Lambda Literary Awards Finalist for Bisexual Fiction (2019) London, 1906 Lucien Saxby is a journalist, writing for the society pages. The Honourable Aubrey Fanshawe, second son of an earl, is Society. They have nothing in common, until a casual encounter leads to a crisis. Aubrey isn't looking for love. He already has it, in his long-term clandestine relationship with Lord and Lady Hernedale. And Lucien is the last man Aubrey should want. He's a commoner, raised in service, socially unacceptable. Worse, he writes for a disreputable, gossip-hungry newspaper. Aubrey can't afford to trust him when arrest and disgrace are just a breath away. Lucien doesn't trust nobs. Painful experience has taught him that working people simply don't count to them. Years ago, he turned his back on a life of luxury so his future wouldn't depend on an aristocrat's whim. Now, thanks to Aubrey, he's becoming entangled in the risky affairs of the upper classes, antagonising people who could destroy him with a word. Aubrey and Lucien have too much to hide—and too much between them to ignore. Rejecting the strict rules and closed doors of Edwardian society might lead them both to ruin… but happiness and integrity alike demand it.
Behind These Doors
Pairing: M-M, M-M-F
June 22, 2018
Word Count:
68000
Character Identities:
Gay
Summary: They'll take a leap into the unknown to protect the world. There's something seriously wrong with Earth's magic. A demon has appeared unsummoned out of thin air, familiars can't return Home, and as Grim points out, rats smell like summer in the middle of winter. Grim and Pip can deal with rats; Silas can banish one wayward demon. But soon there are other demons, more each day, and Silas's old mansion is full of mysteries. He and Darien will need their familiars, their friends, plus a whole lot of luck, as they search beyond Earth for the forces that have changed their world. And to have any chance of getting safely home, Silas will have to confront a past he's avoided for ten long years.
Beset by Demons
Pairing: M-M
February 22, 2022
Word Count: Information not available
Character Identities:
Gay
Summary: The only way to survive as a witch during Prohibition is to keep your head down. That's what Michael's been doing: his old ways of bending people's will to suit his whims are long over. Until notorious Mafia leader Cesare Pastore kidnaps him and binds him, all in a plot to bring a detective to his knees. Now Michael has to figure out how to fulfill Cesare's request, without becoming superfluous in the process. This 30k novella features dark themes and unhealthy relationships.
Binding Breath
Pairing: M-M, M-M-M
January 31, 2020
Word Count:
17,314
Character Identities:
Bisexual, Gay
Summary: IChurch Chetwood, renowned motion picture director, is given an ultimatum by his studio: film a movie with romance or else. Since this is the height of the Depression, and since Church enjoys eating, he reluctantly agrees. He finds a beautiful woman who's willing to sail on the August Moon to the uncharted island of Iwi Po'o. While there, he makes the discovery of a lifetime, guaranteed to make them all millionaires ... Only it doesn't exactly turn out like that. The "discovery of a lifetime," a saber-toothed tiger the press dubs Chetwood's Kitty, breaks free and runs amok in Manhattan, causing death and mayhem. Months later, Church is facing indictment and a long stretch up the river and has no choice but to lie low until he can get out of town. While nursing his troubles in a saloon, he spots a young man who's even more down on his luck than Church. Johnny Smith has been on his own since Black Tuesday, four years earlier, and he does what he has to in order to keep body and soul -- what's left of it -- together, even if it isn't what he ever expected to do. He enters the saloon, hoping for a little warmth and perhaps a meal. What he finds is Church Chetwood, the director whose documentaries have fascinated him for years. Mr. Chetwood buys him that meal, and Johnny willingly goes with him to his rooming house, ready to do whatever Mr. Chetwood wants, even if Mr. Chetwood claims he isn't "like that." Is Johnny's luck about to take a turn for the better? After all, Mr. Chetwood has a plan to get out of town, and if Johnny's really lucky, maybe Church will let him come along.
Call Me Church
Pairing: M-M
April 4, 2020
Word Count: Information not available
Character Identities:
Lesbian, Transgender
Summary:
Preacher always said New Orleans was a den of sin, but of course Clarabelle had to see for herself…
Momma says a body reaps what they sow, and Clarabelle's planted the seeds of trouble. The year is 1933, and not much else is growing in the Oklahoma dirt. Clarabelle's gone and fallen in love with her best friend, so she figures it's time to go out and see the world. If she's lucky, she'll find the kind of girl who'll kiss her back. Clarabelle heads for New Orleans, and that's where she meets Vaughn. Now, Vaughn's as pretty as can be, but she's hiding something. When she gets jumped by a pair of hoodlums, Clarabelle comes to her rescue and accidentally discovers her secret. She has to decide whether Vaughn is really the kind of girl for her, and though Clarabelle started out a dirt-farming Okie, Vaughn teaches her just what it means to be a lady.
Change of Heart is an Hours of the Night story, an early prequel to Vespers and Bonfire. It's not a paranormal, but a certain vampire may have a role…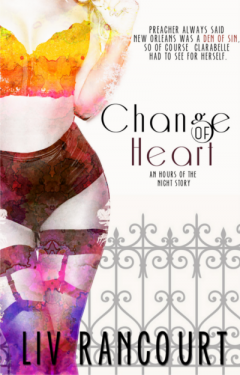 Change of Heart
Pairing: F-F
March 1, 2017