Word Count:
20066
Character Identities:
Bisexual, Lesbian
Summary: A Cascade of Moments is the new, enchanting second installment of 'The Fae Souls' series. My life started anew when I arrived at Prince Eldran's mansion with my memories absent and my future uncertain. I met a beautiful woman there named Sorcha and we fell in love, creating something special that brought our lives happiness and wonder. When Prince Eldran granted us permission to remain on his island, we built a life together. It couldn't have been more perfect. Years passed, and our love blossomed. With time on our hands, Sorcha chose to help in the mansion's kitchen, while I worked in the gardens and joined the island's guard detail. It worked well for us, until word reached us that King Auberon and Queen Carisse were returning, and a failed treaty brought about threats of war from a long-standing enemy. It was important to me to protect Sorcha, our home, and the friends we'd made on the island during our years there. I assumed we might have to fight, but I could only hope there was a chance for us to stay together and make it through - safe and sound. A Cascade of Moments is a romantic novella of just over 20,000 words, which contains strong steamy content and language.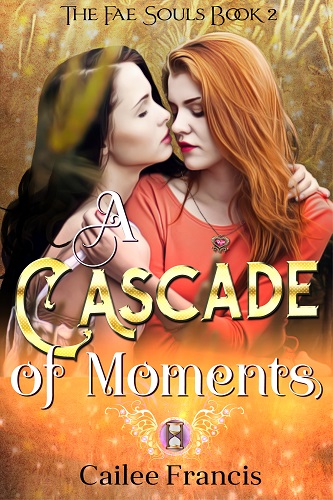 A Cascade of Moments
Pairing: F-F
August 20, 2017
Word Count:
85788
Character Identities:
Bisexual, Pansexual
Summary: Kris Starr used to be famous. Rock and roll. Sold-out shows. Literal magic. Empathic talents and screaming fans. But he has a problem or two. He's having a hard time writing new music. It's Midwinter, which means he's surrounded by depressing holiday cheer. And he's in love with Justin, his manager, who has a talent for rescuing almost- or once-famous bands ... and who's hiding secrets of his own. Justin Moore, on the other hand, is very good at keeping those secrets -- he's had to be for years. One secret involves a demonic inheritance that would make him a target of suspicion. Another involves his past. And the third involves Justin's feelings for Kris Starr, rock and roll icon and now his client ... and a powerful empath.
A Demon for Midwinter
Pairing: M-M
March 10, 2018
Word Count: Information not available
Character Identities:
Lesbian
Summary: Carmen is eleven years old and wants to get her dragon. Since she was seven years old, she understood two things. One, she was going to be the strongest Dragon Keeper there ever was. The second was that she was going to marry her best friend, Mattie. As Christmas approaches the magical charms Carmen has to use to fight off her curse are taking a toll on her health. But that can't stop her from taking her final test to become a Dragon Keeper. If she passes her test she gets her dragon, if not, she has to start all over, relying on different magical charms to fight the curse for her. That is something Carmen doesn't want to have to go through. The testing is difficult and charms make her sick. Carmen has decided that if she doesn't get her dragon this Christmas she's not going to go for a third attempt, even if that means she can't marry Mattie when she grows up.
A Dragon for Christmas
Pairing: F-F
December 18, 2017
Word Count:
12079
Character Identities:
Gay
Summary: Guard your heart, or Jack Frost will freeze it. Jack Frost is all about the freezing cold, and he not only wants to freeze the earth, but he also wants to freeze people's hearts. When he sees two lovers kissing under the mistletoe, he vows to split them up. Teddy and his husband, Kirk, are still in love. Will they let a little frost come between them?
A Frostbite Christmas
Pairing: M-M
December 9, 2018
Word Count:
24000
Character Identities:
Gay
Summary: What surprises await Vic and Kellan when their egg finally hatches? Kellan's new life in the magical town of Vale Valley is filled with more love and joy than he'd ever dared dream of. Even more thrilling is the new life growing inside the egg he and his Alpha wolf mate watch over night and day. When their hatchling still fails to appear after several weeks, Kellan fights his growing fears about the uncertainty of a swan mating with a wolf. All Vic wants is to keep his beautiful swan omega and their egg safe. He'd despaired of ever finding the one who was meant for him, and he'll do everything within his power to protect his true love and their baby. Vic might still be bewildered by nesting and swan cuisine, but whatever his omega wants, Vic makes sure he gets. As Valentine's Day draws near, Vic's plan to do something special for their first celebration of the holiday doesn't seem possible. The egg isn't showing any signs of hatching and no one—not even the avian fertility specialist—knows why. Then, the last person they want to see makes an unexpected appearance. Vic is about to discover how tough his sweet little swan truly is… Note: A Hatchling for Valentine's is the 8th book in Season Two of the multi-author series about Vale Valley, a small magical town open to everyone in need of love and a home. Each installment in the series can be read as a standalone, however, Kellan and Vic's story is a continuation from Season One's A Swan for Christmas. This mpreg romance novella features a swan and wolf who are fated mates and are anxiously awaiting the birth of their first tiny hatchling. So grab a box of chocolates, a glass of champagne and put your feet up and enjoy a sweet dose of smexy mpreg.
A Hatchling for Valentine's
Pairing: M-M
February 8, 2019
Word Count:
24000
Character Identities:
Bisexual, Demisexual, Gay
Summary: A HISTORY OF TROUBLE A Beacon Hill Sorcerer Collection A collection of brand-new short stories, featuring characters from The Beacon Hill Sorcerer Series by bestselling author SJ Himes. Red Wine and Blood The Blood Wars raged for centuries across Boston. Witness a brief glimpse into the brutal history of the Wars with Ignacio Salvatore and the vampire he loves, Ashwin Metcalfe, in 1897. A History of Trouble Angel was joking when he asked O'Malley if someone resurrected a mammoth. Little did he know that was exactly what someone did. Experience the untold story of what happened that unfortunate night at the Boston Public Museum. A Dragon in the City What happens when Eroch goes adventuring in Beacon Hill without Angel? Chaos, pure chaos. Fae's Gold Daniel is helping the newly-resurrected fae Ruairi Brennan become accustomed to modern-day living. A boring trip to the bank quickly escalates, and Daniel calls Angel for help. The day goes downhill from there but ends in a comfy meal in a pub for an ancient fae warrior and a necromancer's apprentice. This is an collection, featuring vignettes and short stories from the universe of The Beacon Hill Sorcerer series. For full enjoyment, the Beacon Hill Sorcerer Series Books 1 through 3 should be read before reading this collection.
A History of Trouble
Pairing: M-M
February 25, 2019
Word Count:
45000
Character Identities:
Bisexual, Gay
Summary:
Tre Derringer, perpetual underachiever with negative self-esteem, made a mistake. If he'd been a sleeper—sans and unaware of superpowers, that is—he would've gotten a slap on the wrist. Too bad Tre has awakened hot-thermal superpowers, so he ended up in lockup instead.
One year later, Tre's picked up from prison by a mysterious woman called Amy, who turns out to be a recruiter for an activist group—or so they call themselves. New Dawn, New Day's leader, Vic, is out to bring the presence of the awakened to sleeper attention once and for all, by any means necessary.
Tre becomes a part of the ND2 commune, committed to their mission. But then, at a summer music festival, he runs into a crush from his past, Dorian Archer. Dorian's compassionate, cheerful, and even hotter than he used to be. He might just manage to keep Tre from making an epic mistake… or he might not.
It's only the biggest secret in the world at stake, after all.
While all other Superpowered Love books can be read in any order and without previous knowledge, A New Beginning works better after reading at least book 2, Riot Boy and book 5, Re-entry Burn.
A New Beginning
Pairing: M-M
September 3, 2021
Word Count:
20302
Character Identities:
Bisexual, Lesbian
Summary: A Reverie of Flames is the new, spell-binding third installment of 'The Fae Souls' series. Born again into the mortal world, I'd hoped to escape the war between light and dark fae. I wasn't alone - Sorcha (my love) and Princess Saphira of the seelie (who we were sworn to protect) were with me. Rings gifted by Queen Carisse of the seelie ensured we were born in the same timeframe and we'd remain together. More than chance brought us to the city of Grayhaven. It was magic and destiny. Sorcha had returned to my life the day she saved me from an unseelie attack; that was when my memories had come flooding back. Now I found myself regaining my awareness of who I was and discovering how serendipitous fate can be at bringing you to the right place at just the right time. In the unique position of remembering our fae origins, Sorcha - now Angelica, a white witch who opposed unseelie interests in the city, and I had a lot to catch up on. As she brought me up to speed, I realised the depth of my feelings for her, and that I wanted to continue our romance into this, our next lifetime. Princess Saphira was reborn as Ayla: my sister. Now an 18 year old student and budding witch, she was a prime target for the unseelie who sought to overthrow the seelie royal family. We had to protect her, and Angelica and I would do our best to ensure she stayed safe. A Reverie of Flames is a romantic urban fantasy novella of just over 20,000 words, which contains strong steamy content and language.
A Reverie of Flames
Pairing: F-F
October 27, 2017
Word Count:
32100
Character Identities:
Gay
Summary: An Alpha wolf and an omega swan can't be fated mates… Right? Abandoned by his swan herd and lost in a snowstorm, Kellan has nowhere to go. When he's near death, he's discovered by a wolf shifter in the woods surrounding a mysterious town filled with magic and hope. Could there also be love? Vic, the owner of Vale Valley Inn and Restaurant, has been alone since a virus claimed the lives of most of his pack. He's found acceptance and built a good life for himself in the beautiful town that has become his home. Still, facing another Christmas without a mate is heartbreaking, even if he's accepted that he'll never find his true wolf omega. When Vic rescues Kellan, he plans to do anything he can to help the skittish man forge a new life in Vale Valley. He's all too familiar with having to start over. But as they grow closer, something else starts happening that he's not familiar with—the mating pull and a swan's heat. A Swan for Christmas is the fourth book in a multi-author series about Vale Valley, a small town open to everyone in need of love and a home. Each installment can be read as a standalone. This mpreg romance story features an omega virgin desperate for love, a lonely Alpha who is perplexed by the mechanics of nesting and a whole lot of hurt/comfort and smexy times.
A Swan for Christmas
Pairing: M-M
December 7, 2018
Word Count: Information not available
Character Identities:
Bisexual, Gay
Summary:
A witch doesn't always wear black, sometimes he wears snark and blood.
Sam is well known for his attitude and now that he's a vampire, he's not taking crap from anyone. Not his mentor Gabe, his rival Seiran, or even his roommate Constantine. He wants to be left alone to be the brooding monster the media promised he could be. But war is on the horizon between vampires and humans. Sam barely has control of his bloodlust, especially when he's not even certain how to stalk the night without becoming a revenant. When his cibo, a blood donor meant to control the beast, arrives to help, Sam finds Luca irresistible, but tied to another powerful vampire. Sam's mentor begins to unravel as the vampires start to rage. Sam can either join the puppets of the darkness, or find his own way. When the magic of vampires and witches collide, Sam hopes the firestorm of his newly awakened powers can save them all.
Absolution
Pairing: M-M, M-M-M
August 23, 2019
Word Count:
57393
Character Identities:
Gay
Summary: Adam Draecon Who knew that a simple visit to Mom in Sedona would change a witch's life forever?  When I first saw Seth, it was love at first sight.  Nero and Zelda were delighted by our fated connection, and called his Sire Bart Magnus, a fact unknown to me at the time, to honor us.  Bart wanted to celebrate at his lodge near the Grand Canyon, but while on a nighttime photography shoot, ancient Arizona secrets are surfacing, and Craig suspects something astounding is coming. Seth Whittaker As I strolled into Zelda's house with Nero, I looked up and saw Adam.  I was stunned and could not breathe.  Within two hours we were on the huge Magnus chopper going to celebrate our fated soulmate connection, but Vito and Craig are not speaking.  I heard Craig did get out there this time, giving pilot Vito a rough landing instead of a happy ending. Craig Wainwright Vito finally got over himself, so now we are out with Adam who is teaching us nighttime photography.  Agnes suddenly appeared looking terrified and talking about finding ancient three thousand year old wards guarding something she felt was sinister.  When she mentioned wrapped up bodies, it sparked a distant memory and if I'm right, this could be beyond belief, and get me off the hot seat at least for a while. Agnes Granville  Zelda and I took a stroll while all the guys were having fun with their cameras, but as we neared the top of a hill, we noticed something extremely odd.  I waved my hand to clarify the shimmering situation, and a hidden cave appeared.  When the others arrived, we all used our witch senses to read the interior of the cave.  At first, we were thrilled, that is until something reached out to touch Nero's mind, demanding to know what a witch wants with him.
Adam Draecon Desert Witch
Pairing: M-M
February 1, 2021
Word Count: Information not available
Character Identities:
Gay
Summary: If the rough and tumble man at Ali's door is supposed to be his fate-ordained mate, then he has to wonder what in the Goddess' name Fate was thinking. Ali has always dreamed of his spirit mate, someone classy, intelligent and romantic, but the man who faints in his doorway is anything but. Kalo is loud and pushy, with hair more suited to a caveman and manners to match—all wrapped up in one big package of you've got to be kidding me. Besides, Ali has responsibilities as mama bear to his den of shifters and that's where he needs to be. For Kalo, being rejected by his spirit mate won't be life-threatening. But there's something about Ali that intrigues him and touches his soul. He's ready to offer his already-engaged heart with no strings attached, for a chance to change Ali's mind.
Ali's Intuition
Pairing: M-M
September 3, 2013
Word Count:
30500
Character Identities:
Gay
Summary: Caleb has been cursed for two hundred years. He is doomed to watch every man he has sex with forget him as soon as they part company. Each of his lovers then meets their true love within hours of leaving his presence. As rumours about his strange ability spread, more and more men come to his bed, hoping to find love—just not with him. When Ethan's best friend makes him an appointment with the mysterious Caleb, Ethan is sceptical but curious. Despite a shaky start, Ethan and Caleb connect sexually and emotionally then soon begin to wonder if Ethan has the power to break the curse by being the only one to remember Caleb after he leaves. Whether Ethan remembers Caleb or not, with a warlock standing between them, the road to happiness is going to be tough.
Always Forgotten
Pairing: M-M
May 23, 2019
Word Count:
53000
Character Identities:
Gay
Summary: "There's no time. Remember, I love you." It all started with a discovery. A cave beneath a waterfall that held a crystal. Two boys—best friends—embark on a journey they're told will help all mankind. As the years go by, their friendship turns to love, and their adventure turns into a battle. Drew Langly is the keeper of the crystal. With his contact, the crystal allows them to jump to different timestreams and help, if they can, to further that society or fix anything that improves their lives. When he's ripped from the timestream, it's the beginning of what will change everything they've come to know about how the different timestreams function. Colby Adams is Drew's boyfriend, fellow traveler, and jump partner. When Drew is left vulnerable after a failed jump, he's there to help and try to figure out what went wrong. They soon discover another team of travelers is in trouble, but they've been warned against trusting them. The more they learn, the more they realize everything has been a lie. To rewrite a history that's been full of deceit, they'll need to put their trust, once again, in strangers. Can they rewind it all and begin again? Experience the history they were always meant to? With some unconventional help, maybe… Amos Ridge is the fifth book in the multi-author series, Beyond the Realm: Remember. Each book is set in its own world and can be read as a standalone novel. Join eight authors on eight very different, romantic, and magical stories as each one writes their own take on the same concept.
Amos Ridge
Pairing: M-M
October 20, 2020
Word Count:
110000
Character Identities:
Gay
Summary: Welcome to another place in time...where one can be swept away into lands and eras long forgotten. This collection of short stories was birthed because a sworn "I don't like historicals" reader fell in love with what have become some of her favorite books by most of her favorite writers. Surprisingly, they were all historicals. Determined to make others feel the love, these authors were asked to contribute small tastes of how amazing historical storytelling can be. Along with a foreword written by Alex Beecroft, enjoy these original short stories that make up "Another Place in Time". Office Romance by Tamara Allen The post-war economy is at a standstill, much like Foster Wetherly's life until he's forced to do battle with irritatingly confident—and competent—fellow ex-doughboy Casey Gladwin for a position in their shrinking department at Manhattan Security Mutual. Introducing Mr. Winterbourne by Joanna Chambers Lysander Winterbourne appears to lead a charmed life. Handsome, amiable, and a renowned sportsman, he is the darling of London society. As far as Adam Freeman is concerned though, Lysander is just another spoiled aristocrat. A wealthy mill owner, Adam has no time for the frivolous world of the ton, but when his younger brother becomes engaged to Althea Winterbourne, he reluctantly agrees to be introduced to society–with the Winterbourne clan's golden boy as his guide. Resigning himself to a few days of boredom, Adam is surprised to learn that there is much more to Lysander than his perfect surface. But will Adam have the courage to introduce Lysander Winterbourne to his own secret self? The Ruin of Gabriel Ashleigh by KJ Charles Lord Gabriel Ashleigh is a ruined man. Last night he lost everything at the card tables to his brother's worst enemy, notorious gambler Francis Webster. Tonight, he's going back for one more game. Ash thinks he has nothing left to lose. But Francis sets the stakes, and they're higher than Ash could have imagined… Two Regency bucks. One game of cards. Everything to play for. Unfair in Love and War by Kaje Harper Many men lost brothers overseas in the summer of 1944. Warren Burch was one of them. For months he still clung to his big city life in Philadelphia, but finally he's made the difficult choice to return to his home town. Warren's polio-stricken leg won't let him serve, so the least he can do is be there for his mother, when brother Charlie never again will. Arriving home means a whole new life, constrained by the rhythms and prejudices of a small town. Fortunately, it's made more interesting by the mysterious and attractive young man next door. Carousel by Jordan L. Hawk When a child goes missing, is it a simple case of a young runaway, or are more sinister forces at work? "Carousel" is part of the Whyborne & Griffin series and takes place between the events of Stormhaven and Necropolis. It can be read as a standalone. Deliverance by Aleksandr Voinov This is a re-vamped, re-edited, improved version of "Deliverance". It's about William Raven, a templar, who thought he'd escaped his past. (Same character as in "The Lion of Kent".)
Another Place in Time
Pairing: M-M
October 1, 2014
Word Count: Information not available
Character Identities:
Bisexual, Gay
Summary:
He descends from a witch they burned.
With graduation on the horizon Seiran should be flying high with plans for the future. But his lover, Gabe, is saddled with a new vampire apprentice to babysit, leaving Seiran lonely and looking for direction. Gifted with his long dead father's mansion in California, it provides just the escape Seiran needs, and perhaps a chance to learn about the man he never got to meet. A man who died a gruesome death being burned at the stake before Seiran was born. But history isn't always kind, and Seiran discovers his father was embroiled with a coven of witches set to overthrow the Dominion. A battle which led to his father's demise and a legion of male witches secretly siphoning power using black magic fueled by murder. Seiran needs to find a way to break the cycle of blood magic, and bargain with the fae to stop a death spell, all while someone is pulling the strings from the shadows.
Ascendance
Pairing: M-M
January 27, 2016
Word Count:
62951
Character Identities:
Gay
Summary: Family, friends and more spice than our shifters know what to do with in their Autumn Feast. The shifters move into the autumn season with anticipation of upcoming celebrations and thankful for their family and friends around them. But of course, there is always something, or someone, to add a little spice to their lives. The Autumn Feast anthology features six more shifter stories from some of eXtasy Books' top authors and follows the lives of those who have previously featured in Spring Fever and Winter Magic. Join them in tales where the fiery color of the leaves may not be the only heat of the season.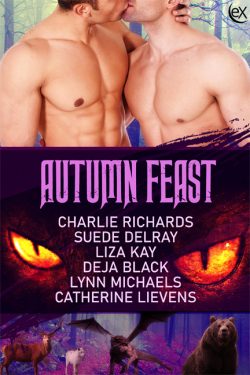 Autumn Feast
Pairing: M-M
October 25, 2019
Word Count:
78000
Character Identities:
Ace, Demisexual, Gay, Pansexual, Polyamorous
Summary: In the final installment in the SoulShares series, author Rory Ni Coileain weaves together the myriad threads of this compelling paranormal romance in a climax that crosses time and space. Sometimes Fae love stories aren't what you expect. The Marfach—devourer of magick, long-imprisoned mortal enemy of the Fae race—is free of its Antarctic prison. The Demesne of Purgatory—Fae, humans, a Fade-hound puppy, a Gille Dubh, and a darag—is all that stands between the monster and the power it needs to destroy both the Fae Realm and the human world. The only clue they have as to how to kill the unkillable is a cryptic note from the Loremasters: "Osclór, Nartú; Tobar, Soladán; Nidantór, Breathea; Glanadorh, Coromór, Farthor; Scian-omprór, Nachangalte; Crangaol, Síofra; Gastiór, Laoc, Caomhnór; Fánadh, Ngarradh." Opener, Strength; Wellspring, Channel; Unmaker, Judge; Cleanser, Equalizer, Sentry; Blade-bearer, Unbound; Tree-kin, Changeling; Binder, Warrior, Guardian; Wanderer, Sundered. As they rebuild Purgatory from the rubble the Marfach left behind, they have to stand together, using everything they know—everything they are to their partners, lovers, husbands. Everything SoulSharing has made them. And not everyone who enters the final battle will leave it.
Back Door Into Purgatory
Pairing: M-M, M-M-M
October 2, 2019
Word Count:
72579
Character Identities:
Bisexual, Gay, Non Binary
Summary:
A Dark Steamy Superhero Yaoi Romance
❤️former super-powered hotties returning to action!
❤️ second chance at love for a Hero and a Villain 
❤️ amazing secondary cast with their own love stories
BOOKS 1 - 6 NOW AVAILABLE ON AMAZON & KU
BOOK 7 - Series Finale - COMING IN APRIL 2021!
Several years past 50, Matt thought that his days as a Villain in the staged Chosen fights were long over.
But then his powers returned in the wake of a devastating attack that took the powers of all the active Chosen, perpetrated by a young Hero.
With no other choice, Matt goes to the one man who might understand what is happening to him - Colton. The man who was Matt's main rival back in the days of his fighting career. A man Matt hasn't seen since the day he burned out and walked away from the fights.
That would be complicated enough. But back then, they were also secret lovers. Matt walked away from that as well without a goodbye.
Now after nearly twenty five years, these two men are coming face to face for the first time. Can they handle their personal issues while trying to save the world from a Hero gone bad?
Trigger warnings for dub/noncon, super tragic backstories, explicit on page sex, angsty gay dudes, and cliffhangers.
Back Issues
Pairing: M-M
March 6, 2020
Word Count: Information not available
Character Identities:
Bisexual, Gay, Genderfluid, Intersex, Lesbian, Straight, Transgender
Summary: Chuck and Whithers are supernatural mercenaries and lovers in a world of monsters. In the past, they hunted beasts in the wilds. But now they face their greatest challenge - life in the big city... Backwater Siren is an ongoing comic featuring a cast of queer characters. The most prominent of these are Smiling Chuck and his humourless boyfriend, Whithers. The comic update twice a week and can be read for free here 
Backwater Siren
Pairing: M-F, M-M, M-M-F
April 25, 2021