Word Count:
37500
Character Identities:
Gay
Summary: When a young girl implores Edgar Finch to marry her older brother because "Charlie is unhappy," Edgar is at first amused. But Charlie is nephew to the horribly abusive Lord Fitzhannon, whom Edgar has set himself against, and the lad is suffering under Fitzhannon's cruelty. Marriage is not in Edgar's plans, but he'll save the lad if he can—and marriage may be his one shot. Charlie is nineteen, wild and wounded, and extraordinarily beautiful. The marriage of convenience to Edgar is just what he needs to get free of his awful uncle, and to protect his innocent little sisters. A rocky alliance between Edgar and Charlie grows into something more companionable, from reluctantly relying on one another to trusting and warm. But Edgar's heart is set on revenge against Fitzhannon, who is responsible for the death of the only man he ever loved. Nothing must get in his way. He would rather not drag his young husband down with him, much less develop feelings for the brat. Now, if only Charlie would have the good sense not to fall in love with him...
37,500 words
A "Marrying Men" story. These pseudo-historical tales feature men marrying one another in various worlds and ways. Happy ending are to be expected.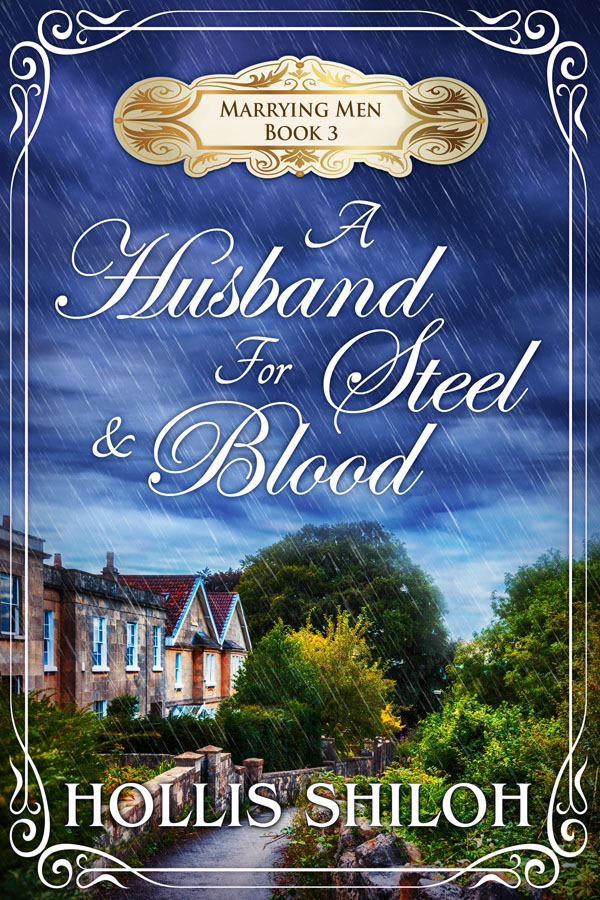 A Husband for Steel and Blood
Pairing: M-M
September 14, 2018
Word Count:
17081
Character Identities:
Gay, Pansexual
Summary: In a world where magic is hated and feared, sometimes the bravest thing a man can do is trust. Daymon is the second prince of a kingdom in which Evokers—those who possess intuitive magical abilities—have long since been treated with fear and mistrust. Marked as an Evoker himself, Daymon is captured by those who wish to take advantage of these powers. Now, the prince must put his faith in Rhyder, the captain of his guards—and the man Daymon has claimed as his own—to free him.
A Trust to Follow
Pairing: M-M
May 25, 2018
Word Count:
32000
Character Identities: Information not available
Summary: Elliot's magic is broken—and so is he. The trip to the lighthouse isn't a vacation. It's a place where he can't do much harm, while he waits to find out what his punishment will be. Oh, it's not his fault his magic is broken—nobody knows what happened or why. But he's dangerous now, too dangerous, perhaps, to be allowed to live. In his state of shock, the sea and his sister are good company. And so is Rue, the handsome young man he meets there. Rue is sweet and strong and kind, and isn't afraid of him. Being around Rue calms Elliot's magic in unexpected ways. He's not sure why he's so drawn to Rue, or what it might mean about his sexuality, but the friendship between them is a lifeline in a turbulent sea. Rue has some mysteries, too—specifically, his heritage. He's a selkie, and selkies mate for life, if at all. Loving Elliot would be a huge risk for him, but he can't let Elliot go, either. Whatever the truth of Elliot's magic, and the risk for Rue, the two of them are better together. If they'll be allowed to stay together. Heat level: sweet
A Wizard's Shelter
Pairing: M-M
May 29, 2020
Word Count: Information not available
Character Identities:
Bisexual, Polyamorous
Summary: The search for the swords brings Douglas and Margaret back to England, where Mystere has hidden the sword Almace -- his own sword. Four months pass with no signs of Mystere, and Douglas and Margaret start to make plans to go in search of him. Then they accidentally become the caretakers of an injured street urchin. The boy — a sweep's apprentice — tells them that there is something invisible haunting the rooftops of London, preying on the children who make their living there. In the absence of Mystere, Margaret insists that they need to help, but Douglas refuses. Margaret defies him and goes anyway, only to discover that what lurks on the rooftops is far worse than she had imagined -- Caedda has taken the rooftops of London as his domain. Worse, he has taken Mystere prisoner, he holds the sword Almace, and he knows that Margaret is there. Trapped on the roofs, unable to reach Douglas, Margaret has to rely on her wits and her memories in order to save Mystere, herself and her unborn child.
Ashes and Light (Swords of Charlemagne, Book 3)
Pairing: M-M-F, M-M-M
July 20, 2021
Word Count:
21000
Character Identities:
Ace, Gay
Summary:
Alistair Click set out to lay to rest the superstitious fears about the Mad Prince's clockwork tower. If that meant he might bring the ghost city of Avalonia back to economic life, connecting the western kingdoms once again, so much the better. So what if no adventurer who'd entered the tower in the last century of desolation had ever re-emerged? They didn't have his skill and wit. He could do better.
The tower turns out to be far more than Alistair expected, however. Not only are there clockwork puzzles to open every door, but one of them drops a boy from a strange world into his lap—figuratively speaking, if only just. Marco Murphy was just gaming in his New Jersey apartment, and now he's stuck in what feels like a never ending LARP nightmare.
The deeper they delve into the Mad Prince's tower, the darker the secrets they uncover. They're not entirely sure they'll ever be able to get out again, either. It'll take all Marco's charm and Alistair's cleverness, plus the strange bond growing between them, to get them out together... and alive.
Blood and Clockwork
Pairing: M-M
March 16, 2016
Word Count:
125000
Character Identities:
Bisexual, Gay
Summary: Conquer. Own. Sacrifice everything. Gaius Fabius knows a healthy son will secure his claim to the throne of Rome, but his devotion to his illegal Dacian pleasure slave, Allerix, could destroy his dreams of supreme power. Determined to solve the mysterious murder of a dear friend, Gaius searches for clues hidden deep in the palace that threaten his future and his family. But while he and Allerix share passions in and out of the bedchamber, another assassination sends Gaius and his captured prince back to the vanquished kingdom of Dacia. In order to protect his beloved concubine, can Gaius find the courage to sacrifice his own heart? Lose. Submit. Betray everyone. Allerix knows vengeance for the vicious destruction of his homeland is within tantalizing reach, but only if he can convince his Roman master to trust him. When an unexpected ally interrupts his plans, Alle sets aside his lust for revenge to embrace the ecstasy of Gaius's unbridled devotion. But a surprise reunion with a childhood friend and an unforeseen return trip to Dacia remind Allerix of all he has lost while revealing the honor and glory that remain to be won. To earn the respect of his surviving kinsmen, can Alle betray the only man he has ever loved? Dominus is a plot-packed m/m historical fantasy set in ancient Rome during the reign of Trajan (AD 98-117). Blood Before Wineis the third book in this four-book alternative history saga—a tumultuous adventure of forbidden love, humor, friendship, political intrigue, deception, and murder.
Blood Before Wine
Pairing: M-M
Word Count: Information not available
Character Identities: Information not available
Summary: Brute leads a lonely life in a world where magic is commonplace. He is seven and a half feet of ugly, and of disreputable descent. No one, including Brute, expects him to be more than a laborer. But heroes come in all shapes and sizes, and when he is maimed while rescuing a prince, Brute's life changes abruptly. He is summoned to serve at the palace in Tellomer as a guard for a single prisoner. It sounds easy but turns out to be the challenge of his life. Rumors say the prisoner, Gray Leynham, is a witch and a traitor. What is certain is that he has spent years in misery: blind, chained, and rendered nearly mute by an extreme stutter. And he dreams of people's deaths—dreams that come true. As Brute becomes accustomed to palace life and gets to know Gray, he discovers his own worth, first as a friend and a man and then as a lover. But Brute also learns heroes sometimes face difficult choices and that doing what is right can bring danger of its own.
Brute
Pairing: M-M
December 3, 2012
Word Count:
123100
Character Identities:
Bisexual, Demisexual, Gay, Pansexual
Summary: Sheltered and lonely, Jon's life changes drastically when a strange ship sails into the harbour of his small port town one day. Trapped between the possessive pirate captain and his murderous first mate, he must learn to adapt or he will lose himself completely. An epic tale of love, treachery and revelation, this first instalment of the Baal's Heart series brings you into the lives of three men so bound together by jealousy and lies that they must sail to the very ends of the earth to find forgiveness.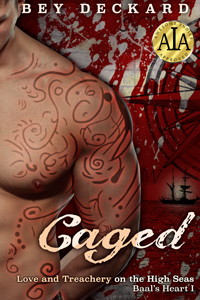 Caged: Love and Treachery on The High Seas
Pairing: M-M-M
February 11, 2014
Word Count:
113000
Character Identities:
Bisexual, Gay
Summary: A twist of fate changed both their destinies. The wyrbears, once a long-lived species, were being lost to the forest in their prime. A people borne of a curse, their abilities not a gift but something wrongly taken, they nonetheless live in harmony with their animal spirits. But over time the curse they lived under changed, mutated, and now what once was a refuge from the world when they became too weary is culling mathan in their prime. Ewen mhic Friscalach, the leader of his peoples, lost his father too early and is now a widower with four children. The vow he made as a youth to break the curse afflicting wyrbears has been buried by grief and responsibility. Roi mhic Alric, a priest of Cerridwen and seer, watched his fellow priests slaughtered and his temple desecrated. The only thing that kept him going the last three horror-filled years was the vision Cerridwen had granted him of his emancipation. If freedom came at the cost of his life, well, he was more than ready for the Otherworld. A fated meeting upon a bloody field of battle. A wrong done long ago. Their choices could save a people… or send them into extinction. Either way, their love will be legend.
Caledonia Destiny
Pairing: M-M
July 9, 2018
Word Count:
17,314
Character Identities:
Bisexual, Gay
Summary: IChurch Chetwood, renowned motion picture director, is given an ultimatum by his studio: film a movie with romance or else. Since this is the height of the Depression, and since Church enjoys eating, he reluctantly agrees. He finds a beautiful woman who's willing to sail on the August Moon to the uncharted island of Iwi Po'o. While there, he makes the discovery of a lifetime, guaranteed to make them all millionaires ... Only it doesn't exactly turn out like that. The "discovery of a lifetime," a saber-toothed tiger the press dubs Chetwood's Kitty, breaks free and runs amok in Manhattan, causing death and mayhem. Months later, Church is facing indictment and a long stretch up the river and has no choice but to lie low until he can get out of town. While nursing his troubles in a saloon, he spots a young man who's even more down on his luck than Church. Johnny Smith has been on his own since Black Tuesday, four years earlier, and he does what he has to in order to keep body and soul -- what's left of it -- together, even if it isn't what he ever expected to do. He enters the saloon, hoping for a little warmth and perhaps a meal. What he finds is Church Chetwood, the director whose documentaries have fascinated him for years. Mr. Chetwood buys him that meal, and Johnny willingly goes with him to his rooming house, ready to do whatever Mr. Chetwood wants, even if Mr. Chetwood claims he isn't "like that." Is Johnny's luck about to take a turn for the better? After all, Mr. Chetwood has a plan to get out of town, and if Johnny's really lucky, maybe Church will let him come along.
Call Me Church
Pairing: M-M
April 4, 2020
Word Count:
13000
Character Identities:
Bisexual, Demisexual, Gay, Pansexual
Summary: A Baal's Heart short, following the events in Fated: Blood and Redemption Plagued by terrible dreams, Jon begins to distance himself from Baltsaros and Tom. Perhaps a little holiday cheer is just the thing to help the three of them find common ground again.
Careened: Winter Solstice in Madierus
Pairing: M-M-M
December 22, 2015
Word Count: Information not available
Character Identities:
Lesbian, Transgender
Summary:
Preacher always said New Orleans was a den of sin, but of course Clarabelle had to see for herself…
Momma says a body reaps what they sow, and Clarabelle's planted the seeds of trouble. The year is 1933, and not much else is growing in the Oklahoma dirt. Clarabelle's gone and fallen in love with her best friend, so she figures it's time to go out and see the world. If she's lucky, she'll find the kind of girl who'll kiss her back. Clarabelle heads for New Orleans, and that's where she meets Vaughn. Now, Vaughn's as pretty as can be, but she's hiding something. When she gets jumped by a pair of hoodlums, Clarabelle comes to her rescue and accidentally discovers her secret. She has to decide whether Vaughn is really the kind of girl for her, and though Clarabelle started out a dirt-farming Okie, Vaughn teaches her just what it means to be a lady.
Change of Heart is an Hours of the Night story, an early prequel to Vespers and Bonfire. It's not a paranormal, but a certain vampire may have a role…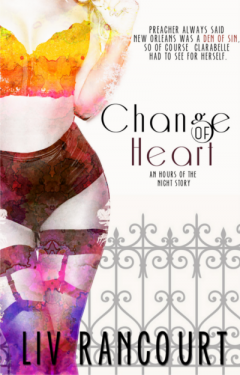 Change of Heart
Pairing: F-F
March 1, 2017
Word Count:
83,806
Character Identities:
Gay, Lesbian, Straight
Summary: When chaos strikes at the heart of Milan, it is up to Florentina's alter-ego the Night Flyer to stop it. As Florentina and Madelena's love deepens, so does the well of danger surrounding them. The race is on to discover the mysterious Shadow Guild and uncover who is behind the deadly rampage, but Florentina's mission is threatened by a gang of assassins. Can the Night Flyer prevail, or will Maddie's love be ripped from her arms? Chaos in Milan is the third book in Edale Lane's Night Flyer Trilogy, a tale of power, passion, and payback in Renaissance Italy. If you like action and suspense, rich historical background, three-dimensional characters, and a sweet romance, then you'll want to complete the Night Flyer saga. Order your copy of Chaos in Milan today!
Chaos in Milan
Pairing: F-F, M-F
December 21, 2020
Word Count:
51700
Character Identities:
Gay
Summary: The Legend of the Ghost Train continues: 1930's Harlan County Kentucky Boone Douglas and Tucker Winchester are from different worlds, both knew that being homosexual could be a death sentence in this backwoods hell. Their love blossomed in spite of everything. Two men find love, during a difficult time for the Appalachian states, where many lived in poverty. They struggled, working long days in coal mines for pennies. There were also hostilities between mining companies and the unions who wanted to rally the mine workers. There's a reason it's called Bloody Harlan County. A greedy man, a cave full of miners, and two lovers suffered the worst fate imaginable. Present Craig Waterson, a descendant of Tucker, fell down an abandoned air shift leading to a caved in mine. He dreamed or walked through the past seeing Boone and Tucker fall in love, then lose everything. When he awoke, he discovered that Tucker's ghost had followed him to the present with a request. Craig, Tucker, and Doug Harper, Boone's great nephew, work together to recover the remains of the miners who were killed in the Copperhead Mining Accident. Many secrets have to be uncovered before Boone and Tucker can find peace or Craig and Doug can find their own happily ever after.
Coal Dust
Pairing: M-M
October 27, 2020
Word Count:
25,056
Character Identities:
Gay, Transgender, Genderfluid
Summary: PHOTO DESCRIPTION: Two half-snake men, one a green anaconda and one a brown python, sit coiled together on rocks with their eyes half-lidded. The anaconda is sitting higher than the python. The python man is holding the anaconda man at the waist, and one hand lower on the scaly lower half. He has a tattoo on his upper right arm. The anaconda man is holding the python man's face, while he looks down with tenderness. He has a tattoo on his left shoulder. See the photo here STORY LETTER: Dear Author, That dark-headed man, who is looking up at his lover, is me. We have been through a lot of heartache and trials, but we have finally made our relationship permanent. As two different types of snake shifters, we had to overcome some major obstacles. Our families put us through a lot of headaches trying to keep us part, but we overcame it all. Can you tell us how we managed to overcome those differences and our families to get us to where we are now, happy and so deeply in love? Triggers: rape, incest Sincerely, Ashley STORY INFO: Genre: paranormal Tags: snake shifters, shifters non-wolf-cat, angels/demons/gods, mythology, magic, corporate espionage, reunited, soulmates/bonded Word Count: 25,056
Coil Me Up
Pairing: M-M
October 13, 2015
Word Count:
105000
Character Identities:
Bisexual, Demisexual, Gay, Lesbian, Polyamorous
Summary: Coulta was born with a curse, one that forces him to obey the commands of those with authority over him. At only five years old, his father gives him up into service of a powerful lord, hoping to give Coulta a better life. But it was a mistake. Varin turns Coulta into an assassin, someone who can't stop himself from killing even the most innocent person he was commanded to murder. Despite the pain of a life out of his control, Coulta does have hope; hope that he will one day meet the person his mother claimed would free him of his curse. Wildas is the Crown Prince of Phelin. He has known nothing but luxury and comfort, not the pain and suffering of a cursed killer. He has no idea that his life is in danger, that assassins are lurking in the shadows of the next city he will visit on behalf of the Crown. Nor does he know that his very soul is tied to one of those assassins, a tie that not even death could ever break. Together they will discover that even chance encounters have meaning, and that their own personal struggles are nothing compared to what is to come when their kingdom is launched into a civil war that puts all of lives in danger. Only by relying on each other will they have any chance of survival. Content Warning: Contains bisexual characters and polyamorous arrangements.
Curse of Blades
Pairing: 4+ or Other
June 1, 2018
Word Count:
88296
Character Identities:
Gay
Summary: J Tanner was a valued member of National Security 3, an obscure branch of MI5, an expert in undercover work, excellent at many languages, and in love with his superior, James Trevalyan and his voice of crushed velvet. For years he hid his love, certain James could not, would not return it. And yet, once his latest dangerous mission as a dense associate to the evil Callisto Malossini, one of the chief principals of the London underworld, was done and he was back in the safety of NS3, he found himself helping James unravel the mystery of his sister Pamela's disappearance and even going after James when he vanished to the States and spending a wild night of passion with him. Then James vanished again. Would he come back? If so, would Tanner let himself believe that his James really cared after so many years of certainty that no man ever would care for him?
Darling James
Pairing: M-M
November 15, 2015
Word Count:
87000
Character Identities:
Bisexual, Gay
Summary: In AD 107, after a grueling campaign against Rome's fierce enemy, the kingdom of Dacia, Gaius Fabius returns home in triumph. With the bloody battles over, the commander of the Lucky IV Legion now craves life's simple pleasures: leisurely soaks in fragrant baths, over-flowing cups of wine, and a long holiday at his seaside villa to savor his pleasure slaves. On a whim, he purchases a spirited young Dacian captive and unwittingly sparks a fresh outbreak of the Dacian war; an intimate struggle between two sworn enemies with love and honor at stake. Allerix survived the wars against Rome, but now he is a sex slave rather than a victor. Worse, the handsome general who led the destruction of his people now commands his body. When escape appears impossible, Alle struggles to find a way to preserve his dignity and exact vengeance upon the hated Romans. Revenge will be his, that is, if he doesn't lose his heart to his lusty Roman master. Dominus is a plot-packed erotic m/m historical fantasy that transports readers back to ancient Rome during the reign of the Emperor Trajan (98-117). This is the first of four books in an alternate history saga—a tumultuous journey filled with forbidden love, humor, sex, friendship, political intrigue, deception and murder.
Dominus (Dominus Book 1)
Pairing: M-M, M-M-M
April 21, 2014
Word Count:
43,390
Character Identities:
Gay
Summary: As a young man, Martel stood against a tyrant and it nearly cost him his life. When the prince who saved him ascended the throne, Martel swore himself to the new king's service. But over the years his gratitude and loyalty have deepened to something far more. To stop a madman, Pyrrhos sacrificed his chance at happiness. So he devoted himself to leading his people out of his father's shadow, no matter the resistance he faced. Now he has been given the gift of a grandson to pass his legacy on to and he is determined to secure the throne for his chosen heir. And even though it is selfish when he knows his time is running out, he cannot stop reaching for the man who should have been his. As Pyrrhos' fate draws closer, treachery from within the court will threaten everything he holds dear, forcing him into a painful choice. When the truth about Pyrrhos is revealed, Martel will have to defy fate itself to save the man he loves. ​
Dragon Born
Pairing: M-M
February 7, 2020
Word Count:
37,030
Character Identities:
Gay
Summary: When Josiah defies a powerful man to save his sister, he is left as a sacrifice to the mountain dragon. To his shock, instead of being killed, he is given a chance of a new life. Drawn to the dragon, Alaric, Josiah yearns for more than friendship and finds it could be possible. He could be part of triad mating with Alaric and his mate, Krystos, who is away serving as guard to the dragon king. When Krystos returns, a tragic misunderstanding almost shatters them before they begin, yet Josiah will not give up the opportunity fate has offered. But how can they claim him, a human? Except, Josiah could be more than he appears. When Alaric is threatened while Krystos is pulled back into royal duty, it will be up to Josiah to save him. If Josiah is strong enough to embrace what sleeps deep within his blood. ​
Dragon Claimed
Pairing: M-M, M-M-M
January 16, 2020