Word Count:
8300
Character Identities: Information not available
Summary: England, 1910 It's Valentine's Day and Gareth, footman at the local manor, is determined to make his true feelings known for his companion, Robbie. Robbie has big dreams for his future and Gareth is hoping he can be a part of them. Armed with a box of chocolates, a solicitor's letter of good news, and hopeful determination, Gareth goes to meet Robbie for lunch. But will Robbie be as eager as Gareth to make their situation permanent? Or will the pressure of having to keep their love a secret be too much for their dreams to handle? 'All Tall Flowers' is a sweet, historical romance short with a happy and hopeful ending. It is a short story of about 8300 words or approx. 25 pages in print.
All Tall Flowers: A Short Story
Pairing: M-M
June 15, 2021
Word Count:
40,000
Character Identities:
Gay
Summary: He'd risk his life to find his brother. But he never expected to risk his heart. Three months since his brother went MIA, and Lane Matthews is tired of waiting for answers from overseas. Calling in a favour from his CO, he gets a posting to Jeddah—his first overseas deployment and where his brother was stationed—and the opportunity to try to find him. Life in a foreign land isn't quite as he imagined, and neither are his duties. And while his first encounter with his housemate, Tristan, may be memorable, it's for all the wrong reasons. Tristan catches him off guard but falling for the hot—straight?—soldier is definitely not in his future. Tensions rise as Lane gets closer to discovering the truth behind his brother's disappearance, but even the best-laid plans can get swept off course and lost like a grain of sand in the desert. This MM military romance from Beth Laycock features an age gap, a bratty MC, forced proximity, hurt/comfort, and of course a HEA.
Caught Off Guard
Pairing: M-M
June 15, 2022
Word Count:
9000
Character Identities:
Gay
Summary:
Waking up dead sucks. And now it's up to the Ancient vampire who turned him to teach photography student Morgan how to live.
When faced with the loss of everything he's known, Morgan isn't sold on an eternity spent with an emotionless, 2,000 year old record producer with fangs. Trapped on top of a mountain in a vampire's retreat, Morgan must grapple with the reality of his demise. But the true challenge is whether to kill or kiss the one being walking the earth who can make his heart beat again.
Can Morgan face his new undead reality?
Chew Toy
Pairing: M-M
January 15, 2021
Word Count:
62000
Character Identities:
Gay
Summary:
Knitting. Ice Cream. And a Matchmaking Fae.
Quiet, industrious Finn dreams of his own knitting store. He needs Leo's enthusiasm to make him reach for what he wants. Cheerful, adventurous Leo sells artisan ice cream but shies away from fulfilling his grandmother's last wish. He needs Finn's love and support to put his past to rest for good. Add a Saxon treasure, a fae stranded in the human world, and an empty store with very unusual rental terms - and falling in love is not the only challenge Finn and Leo have to face.
Making a dream come true takes work. But there's magic in dreams if Finn and Leo can hold on tight.
***
Tags: I'm only here for socks and ice cream. Sometimes you just click with another guy even if you're opposites. I look at you and know what I'll be knitting. How to share a house with someone you've just met. Utensils don't sparkle, right? Grandmas rock. Making a deal with a burglar. Roisin is a decorating wiz and Finn worries about antique furniture. If you don't talk to me, I can't help you. Finding treasure at inopportune moments. And yes, there's a happy ending.
Cosy & Chill
Pairing: M-M
November 10, 2021
Word Count:
72000
Character Identities:
Gay
Summary: Trix works as a prostitute on the Pleasure Station, a space station devoted to entertainment, gambling, and the pleasures of the flesh. He never intended to spend his life there, but the place offers him security, regular cream, and over time it has become his home. As a dual-gendered feline, Trix knows the risk of pregnancy is high and sets his prices equally high to discourage customers. Trix never imagines that Delta, a canine with credits to spare will call his bluff. When Delta pays for himself and Farron, a naïve avian from the swan clan, to spend the night with Trix, the three of them forge an unexpected bond, one that leaves Trix pregnant. As a swan avian, Farron is incapable of being unfaithful to his mate, even when the bond is only partially formed. To complete the bond Farron must find Trix before the babies are born, or the bond will break forever, and Farron will be forced to live a life of celibacy. In the meantime, the Pleasure Station is under new ownership, and when the humans ban prostitution on the station Trix is left homeless. When Delta hears about the Pleasure Station, he too races back to find Trix. Both Farron and Delta arrive too late. Trix has vanished and the race is on to find him before he gives birth. Only then will they know if the bond they formed on their first night is strong enough to last a lifetime.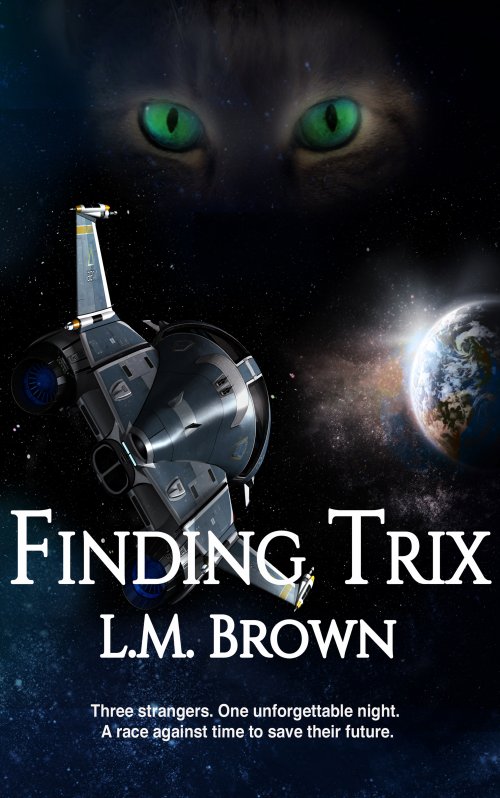 Finding Trix
Pairing: M-M-M
June 7, 2019
Word Count:
18300
Character Identities:
Gay
Summary: Hayden Knight's job is simple. All he has to do is sell his father's latest invention to Tate South, the Acquisitions Manager of the biggest supplier of the best in cutting-edge technology.  The virtual assistant is designed to help the user in all aspects of their life, but Hayden views the holographic helper as nothing but a nuisance.  Keeping his annoyance to himself is relatively easy until a major technical glitch causes Tate to see and hear Hayden's assistant. Hayden and Tate are thrown together while they try to figure out what has happened, and the chemistry between them is electric. Hayden soon finds that convincing Tate that he needs a Holo-Assistant isn't as important to him as persuading him he needs Hayden in his life. The attraction is mutual and the sparks fly. If only they could get rid of their holographic third wheel.
Holographic Havoc
Pairing: M-M
October 27, 2017
Word Count:
68000
Character Identities:
Bisexual, Gay
Summary: August Morrison and Ricardo Torralba would really like to live a quiet life—as quiet as life can be for a couple of eccentric hitmen, anyway. Unfortunately for them, they pushed their luck with the authors and demanded a second book. So now, whether they like it or not, they're getting a third installment. Yes, this is a revenge book. Because we're the authors, that's why. This time, August and Ricardo are in way over their heads, because there are few things more dangerous than owing a favor to the mafia. When that favor gets called in, though, it's not to kill anyone—it's to save them. Time is running out to find the source of tainted street drugs poisoning innocent people. Now they're caught in the middle of a deadly war between rival families, all while trying to dodge suspicious police and merciless drug cartels. Maybe this time, August and Ricardo will learn their lesson and not demand another book… assuming they survive this one. Killer vs. Kingpin is book 3 in the Hitman vs. Hitman series that seems to have evolved from an alleged "standalone" to "yeah, we don't even know." They're just too much fun to torture! Err, write. Too much fun to write.
Killer vs. Kingpin
Pairing: M-M
March 29, 2022
Word Count:
22400
Character Identities:
Gay
Summary: When King Lucius is imprisoned in a magic mirror by an evil wizard, he is forced to watch as his life is destroyed and his kingdom brought to the brink of ruin.  Trapped in his own reflection, he only has the freedom to move and talk when the wizard sleeps. With his subjects under the dark spell of the wizard, Lucius is forced to rely on the most unlikely of heroes if he hopes to get his life back. Harry comes from a long line of assassins and prides himself on being one of the best in the kingdom, but when he is hired to kill King Lucius he discovers that all is not as it seems in the Kingdom of Cinders. Harry agrees to help Lucius in return for a full pardon for his crimes, but to complete his quest he may have to give up everything, including his freedom and the king he has come to love.
Magic & Mirrors
Pairing: M-M
November 2, 2019
Word Count:
93511
Character Identities:
Gay
Summary: He specializes in drinks, not feelings. With a passion shaken not stirred, can the new guy serve up romance? If love ever walked into his bar, mixologist Nicholas Valentine would send it right back out the door. Figuring casual hookups are the best he can expect, he'd rather give his time to his makeshift family of inebriated patrons. But when the delicious new bouncer catches his eye, he can't deny the flutters of his watered-down heart. Former soldier Davis "FatBoy" Newman can't imagine coming out. But when the snarky hunk behind the bar proves irresistible, he wonders if he should risk it all for love. And after days of subtle hints and flirty looks, the smitten security man finally secures an after-hours first kiss. Just as Nicholas thinks he might have something real, St. Patrick's Day shenanigans and an offensive live Irish band conspire to keep them apart. And while FatBoy is head-over-heels, staying safely in the closet may cost him everything. Can their perfectly mixed connection pour them a happily-ever-after?
Make Mine a Double
Pairing: M-M
March 17, 2021
Word Count:
90000
Character Identities:
Bisexual, Gay
Summary: Crofton Hall is buzzing with anticipation for the filming of the Secret Histories TV special about a scandalous affair that has been hidden for over four hundred years. The hall's new historian, Dara Callaghan, is drawn not just by the hall's rich history but to TV producer, Nathan Lorimer. Nathan is finally ready to start dating again, several years after the death of his husband. There's something about Dara, a quietly spoken Irishman, and the romance that surrounds Crofton Hall, that makes him want to take a chance. Meanwhile, Ben Redbourn, 16th Earl of Crofton, is trying to persuade his boyfriend Ashley Niven that he'd like to don doublet and hose and play Sebastian to his Anthony. But Ashley's not having any of it... until someone else agrees to the take the part of the 1st Earl of Crofton's lover. This is the second Modern Crofton novel, featuring Benjamin Redbourn, the 16th Earl of Crofton and descendant of Anthony Redbourn, 1st Earl of Crofton from my historical series, The Crofton Chronicles. While designed to be read as a standalone, events that lead to this novel follow chronologically from Saving Crofton Hall. Trigger warnings: discussion of grief and dealing with bereavement
Making History at Crofton Hall
Pairing: M-M
February 24, 2022
Word Count:
42000
Character Identities:
Gay
Summary: Hopefully Andy's love life won't be as big a farce as the play he's landed a part in... but it's a close call! Andy Marshall moved back to London with plans for a fresh start. He might be a little heart sore from a nasty break up, but with a bit of encourage from a new colleague, he joins a local amateur dramatics society called the Sarky Players. Despite his best efforts at the audition, Andy lands a leading role in play called Whoops, Vicar, There Goes My Trousers, a ridiculous farce written by a local first-time playwright. The play might be bad, but the Sarky Players are a friendly bunch. Andy quickly makes new friends and finds himself drawn to Phil Cormack, a local artist helping with the set and props. But despite their growing attraction, Phil's not in the right place to date, and Andy won't wait forever. Life doesn't run to a script, and if Andy and Phil want to get their happy ending, they need to move past rehearsals and put each other centre stage. Overly Dramatic is 'A Treading the Boards ' a series of stand-alone stories based around the London amateur dramatics group The Sarky Players.
Overly Dramatic
Pairing: M-M
November 18, 2019
Word Count:
28000
Character Identities:
Gay
Summary: A modern fairy-tale retelling with a paranormal twist! Concerned for his gran's health, Red braves the snow-covered forest to ensure she's safe in the worsening weather. After several encounters over recent months, Red is both hoping to run into the huntsman again whilst also dreading he might because he knows their friendship can't lead to more, no matter how much he wishes it might. A glimpse of his huntsman distracts Red and he stumbles away from the safety of the woodland path straight into the danger known as the wolf of Bowland. Shaken, but unharmed, Red manages to escape to the safety of his gran's cottage to recover. Despite Red's reservations, the pair grow closer after they end up snowed in together at the huntsman's cabin, but can Aldrich help Red accept there is nothing wrong with who he is? Or will Red let his secret and insecurities come between them? Especially when he finds out his huntsman is hiding a secret of his own. This M/M romance from Beth Laycock features friends to lovers, an age gap, snowed-in together, shifters and witches, fated mates, and of course a HEA.
Red's Wolf
Pairing: M-M
November 10, 2021
Word Count:
79000
Character Identities:
Gay
Summary: Jax has made mistakes in his life, the biggest of which was falling for Lyndon. His love died when Lyndon refused to claim him as his mate after Jax discovered he was pregnant. His feelings turned to hate when his babies were stolen from his care the day they were born. Reliant on Lyndon for the cream he needs to survive, Jax does everything he can to keep him happy and he lives for the day when he will be reunited with his children. When Jax discovers he is pregnant for a second time, he is terrified his second litter will be taken from him, too. Ty is a dual-gendered feline who dreams of carrying his own babies one day. If they are fathered by Cal, the sexy feline he feeds from, it would be even better. Ty's parents have other ideas. They don't wish the public to know that their high-born son is dual-gendered, and arrange for a mating festival to take place so Ty can choose a dual-gendered mate of his own. Although Ty has no intention of submitting to his parents' wishes, something about Jax draws Ty to him and when he and Cal discover Jax's secret, they know they must help. Ty and Cal offer Jax a way to escape Lyndon's clutches, but Jax knows almost nothing about the two felines who have offered to claim him. The stakes have never been higher and Jax must learn to trust again, or risk losing everything.
Saving Jax
Pairing: M-M-M
December 1, 2018
Word Count:
14000
Character Identities:
Gay
Summary: Being called upon to pull Santa's sleigh is an honour for any reindeer shifter, but for Dashiel the timing couldn't be worse. Stuart was looking forward to his Christmas Eve date with Dashiel, only to have him cancel at the last minute. He puts his disappointment aside and instead focuses on making his younger brother's Christmas as wonderful as it can be, despite the loss of their parents the previous winter. While flying over his home town, Dashiel spots a young boy on the streets, and he knows he has to help. When the young runaway turns out to be his date's little brother, he brings him on board the sleigh, determined to see him safely home to Stuart. Can a reindeer shifter pull Santa's sleigh, reunite two brothers, and find love this Christmas?
Sleigh Duty
Pairing: M-M
December 7, 2019
Word Count:
16000
Character Identities:
Gay
Summary: When Todd Hunter went to university he left behind his boyfriend, Deacon Jones. Todd knows Deacon is the one he wants to spend the rest of his life with, but for some reason Deacon has stopped returning his calls and is ignoring all his letters. Now Todd is home for the holidays, and he wants to spend them with Deacon. It might not be so easy though. Neither Todd's family nor Deacon's are happy about their relationship, and while Todd knows if they stand together they can make it work, convincing Deacon may be the greatest challenge of all. Note: This is a re-release title which has been revised and re-edited with a brand new ending.
Someone Like You
Pairing: M-M
December 7, 2019
Word Count:
95000
Character Identities:
Gay, Polyamorous
Summary: When Orion joins an established coven of powerful mages he is unsure how he will fit into the group. The four elemental mages have had centuries to build both their powers and their relationships while Orion is little more than a stranger. As a light mage, Orion has the power to heal, but as he comes to know the other members of the coven, he learns that not all wounds are visible, and healing tortured souls and broken hearts isn't as easy as fixing broken bones. Orion must bring them all together before they tear themselves apart. Only when the coven is strong will they be able to welcome the dark mage who will complete the circle and give them the power to defeat a mage who has waited centuries to exact revenge on the former members of his coven. READER ADVISORY: This story is a ménage and more story with emphasis on the more.
Soul Magic
Pairing: M-M, M-M-M, 4+ or Other
October 31, 2020
Word Count:
53000
Character Identities:
Gay
Summary: Protecting his shifter from threats is easy, but can he protect him from his own ambition? As part of the G-Force Federation, gargoyle Jude is a newly promoted pilot eager to prove himself on his first solo assignment. Unfortunately, his plans go awry when his craft is shot down, leaving him stranded in the desert. Kirby is a fennec fox shifter on the desert world of Cairo. When Jude's ship comes under attack he races to help him, and after the crash he offers to guide him back to the base. Their journey across the harsh desert is fraught with dangers, one of which is the lure of Kirby's scent as he goes into heat for the first time. Jude's protective attitude towards him pushes all the right buttons with Kirby, and it doesn't take much for him to persuade the gargoyle to be his first lover. When Kirby discovers he is pregnant they know one of them will have to make a sacrifice if they want to raise their baby together, but can either of them give up everything they have ever known?
Space Fox
Pairing: M-M
January 31, 2020
Word Count:
144300
Character Identities:
Ace, Bisexual, Gay, Non Binary, Polyamorous
Summary: Book 1-5 in the TALES OF THE FOREST series The Forester Kelnaht, a cloud elf, is a truth seeker caught between love and faith, when a murder reveals an illicit affair between two tree elves he desires more than he can admit. Kelnaht's former lover Ianys once betrayed him, and the shunned forester Taruif is not allowed to talk to anyone but the guide, their spiritual pathfinder. Lost and Found A stripling goes missing from the tribe, and heavy rainfall hides all traces of his whereabouts. With days creeping by without a lead, it's hard to keep the tribe's spirits up, more so when Kelnaht's own future depends on the elders. Taruif has been shunned for almost twenty turns, but now that a possible forester's apprentice is coming of age, the elders consider reducing his sentence. Taruif could be set free. Full Circle When several children fall ill with more than a summer bug, truth seeker Kelnaht is assigned to investigate. What he finds is deadly and threatens the life of every underage child in the tribe, including Ianys' daughter Atèn. Then a wounded traveller is found in the forest, left to die after a vicious attack. Oren's Right Forester Veld loses a piece of himself to mute baker Oren when they first meet, but Oren is vowed to Haram. When Haram is killed, Veld has no intention of dishonouring his memory, but his death may not have been an accident. Only a forester can learn what the trees have seen. However, Oren's independence is threatened, and if Veld does not offer what Oren needs, Oren may never be his to claim. Twenty-Five Turns Fear of moving farther away from his family had cost Eer the love of his life. When Kat returns after twenty-five turns…with a son, any hope Eer has of rekindling their love seems doomed to fail because a murderer's taste for revenge forces Kat to choose between endangering their family or running… and leaving Eer behind, again. ___________________________ TALES OF THE FOREST is an ongoing series of standalone stories linked by a forest world. Content warnings are available in the books' front matter and on the author's website.
Tales of the Forest Bundle
Pairing: M-M, M-NB, M-M-M
March 31, 2022
Word Count:
57000
Character Identities:
Gay
Summary: When Simon hooks up with commitment-shy Jeremy the attraction is immediate.  Convincing Jeremy to give a relationship a chance is a longer process.  When Jeremy suggests a non-exclusive relationship, Simon is reluctant, but agrees rather than lose the man he's falling for. Their relationship is put to the test when Jeremy meets Max on a business trip abroad. Secure in the knowledge that Max is on the other side of the ocean, Simon does his best to put Jeremy's other man from his mind.  At least until the night Max shows up on his doorstep looking for their mutual boyfriend. Max is everything Simon had feared, as well as everything he had ever wanted.  But can the three of them really make this work? CONTENT ADVISORY: This title is a re-release. It originally appeared in the Silver Presents: Three's a Party anthology, then as a stand alone short story.  The current version is a revised, extended, and re-edited full length novel.
The Other Man
Pairing: M-M-M
May 13, 2020
Word Count:
26000
Character Identities:
Gay
Summary: A farmer in the otherworld. What could possibly go wrong? Colton deserved a token for going through the portal. Was it stealing if he took lube? He should get a pass because it was otherworld lube. Who wouldn't want some of that? It turns out that yes, it was still stealing. One thing was for sure, the otherworld was about as unique a vacation as Colton would get, even if he spent most of it in the dungeon. Except it's not a cell they throw him into but a pit. And, of course, he meets his soulmate down there. Could his luck get any worse?
The Thief's Warrior
Pairing: M-M
October 20, 2021