The Warfield Hotel Mysteries
by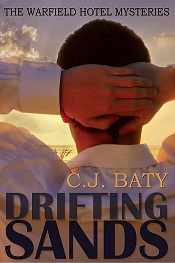 As he approaches his fortieth birthday, Justin Warfield feels alone, drifting like the sand that blows along the beach near his family's hotel. He has done exactly as his father wanted. Married the right girl and carried on the family tradition of running the Warfield Hotel. On paper things seem perfect, but happiness hasn't been a part of his life for a very long time.
Marcus Drummond once spent a summer with his best friend Peter at the Warfield Hotel and fell hard for Peter's much older brother. Five years later he's back, and this time hopes that Justin will see him as more than his kid brother's friend.
Sparks fly when the two meet again, but there are a few things standing in their way. The closet that Justin has himself buried in and someone on a killing spree, dumping bodies on the Warfield beach . . . victims that indicate Justin may be involved in some way.
This book is on:
2 To Be Read lists
1 Read list
Published:
July 12, 2017
Publisher:
Independently Published
Genres:
Pairings:
M-M
Heat Level:
3
Romantic Content:
3
Ending:
Click here to reveal
Character Identities:
Gay
Protagonist 1 Age:
36-45
Protagonist 2 Age:
26-35
Tropes:
Age Difference, Best Friend's Sibling, Coming Out / Closeted
Word Count:
57000
Setting:
Beaufort North Carolina USA
Languages Available:
English
Series Type:
Continuous / Same Characters