Word Count:
30000
Character Identities:
Gay, Transgender
Summary: Devin is enjoying his new ability to pass as male. Maybe a little too much. He's jumping from guy to guy leaving a trail of broken hearts behind him. When an attractive new guy Peter steals his heart, Devin realizes that he might want more. More than just another one-night stand or friend with benefits. Peter has just moved from Idaho to Portland, and is enjoying being able to openly date for the first time now that he no longer lives in a tiny conservative town. When the handsome Devin asks him out, he's ecstatic. Can Devin overcome his instinct to ride off into the sunset alone? And can Peter really settle for settling down? This 30,000 word novella has a fake relationship and is a low-stakes, homopobia-free feel good steamy story with two dudes who love each other and their new, open lifestyle. Each book in the T-Guides series stands alone and they can be read in any order.
A Roadie's Guide to Boyfriends
Pairing: M-M
March 2, 2022
Word Count:
16000
Character Identities:
Gay
Summary: A different kind of home invasion... When Adam Tyler's sister announced she was pregnant, Adam decided to move from Portland, Oregon, to Phoenix, Arizona, to fully embrace the uncle experience. However, he didn't count on the move being delayed until three days before Christmas--and three days before his sister's due date. And he definitely didn't count on finding a scorpion in his bedroom. Cue the panicked calls to exterminators. A different kind of knight to the rescue... Garrett Strong doesn't consider himself at all remarkable--his ex certainly didn't think so--and Garrett's pest-control business is circling the drain. Although Adam is his first new client in months, that isn't the only reason Garrett goes above and beyond for him. He feels a real connection to the younger man and intends to do everything in his power to make sure Adam feels safe and welcome in Phoenix--venomous intruders notwithstanding. An Everyday Hero is a short and sweet opposites-attract, age-gap rom-com featuring a fish-out-of-water geek (who still manages to get a bit soggy), a stand-up blue-collar guy (who can't see his own worth), unexpected additions to the holiday festivities (some less welcome than others), and more than one serious discussion about the true meaning of the word hero.
An Everyday Hero
Pairing: M-M
December 1, 2018
Word Count: Information not available
Character Identities:
Bisexual
Summary: Trevor Davidson has everything going for him. He's just moved out on his own with three friends, and he's landed a job as music director at a large Boston church. He has high hopes for marrying his long-term girlfriend and settling into a comfortable, devout lifestyle. Andre Cole has spent the past few years throwing himself into a dead-end job at a Cape Cod-based call center. When an opportunity to move back to Boston arises, Andre believes it will be the do-over he needs to put his past behind him. A chance meeting in a club on New Year's Eve brings Trevor and Andre together for a brief but steamy encounter. Both assuming that's the end of it, they are unexpectedly thrown back into each other's lives when Trevor's church hires Andre for their website design. While Andre is content at first to move on, Trevor's conflicted feelings bubble over into his songwriting. Before he can stop it, his ode to Andre becomes an inadvertent Christian radio hit. Unfortunately for Trevor, he isn't the only one who knows the song's hidden meaning. Someone has leaked the story and upended Trevor's life. In order to put the pieces back together, he needs to learn to be honest with his girlfriend, with Andre, and especially with himself.
Anthem
Pairing: M-F, M-M
March 1, 2016
Word Count:
80000+
Character Identities:
Bisexual, Gay
Summary: Sereno Hidalgo, newly divorced from his husband, flies to San Juan, Puerto Rico to reconnect with Esteban, an estranged cousin who owns a coffee plantation. But with Hurricane María only days away, the reunited Hidalgo cousins—together with Esteban's wife—are forced to prepare for the worst storm to strike the island in a century. As with any natural disaster, there is invariably something to grab you by surprise, something to take you by storm. For Esteban, it's the shock of a family scandal long kept secret, but revealed by an unusual acquaintance. For Sereno, that surprise is Augusto Toro, the splendid personification of African, Native American, and Spanish cultures that produce the great majority of Puerto Ricans. As María churns in the Atlantic, ever closer, Sereno finds himself inexplicably attracted to the handsome man everyone calls Chocolate, pronounced Cho-koh-lah-teh. Sereno was never noted for detecting red flags in his affairs. The only thing he was ever good at was running away once trouble become clear. Now he can't. He's too far gone, in too deep, and the hurricane is way too close to run. Sereno must find a way to cope with both the fear of loving a bisexual man and handling the mind-numbing, horrifying impact of the ravaged land called La Isla del Encanto.
Café y Chocolate
Pairing: M-M
February 3, 2019
Word Count:
7100
Character Identities:
Gay
Summary: DOMINATION-LEATHER MASTERS and slaves is the eagerly awaited sequel to Alex Ironrod's highly successful SUBMISSION -LEATHER MASTERS and slaves. It continues the story of Tarquin and Paul in their turbulent relationship within the BDSM Leather world of Los Angeles. In graphic detail,  Alex spells out the challenges of the Master-slave lifestyle, as the two men work out their real feelings for one another. In addition to the heavy sex and violence, there is quiet passion and tenderness. The setting also expands beyond California to Britain, where Paul goes on a work-related project. There he meets the volatile Rufus who has risen the hard way from college "rent-boy" to television star. When Tarquin takes Grant as his new slave, he finds himself in the exciting world of show jumping There is danger as well as friendship in the horse business. There one Master punishes his treacherous prize student by bending him to his darker desires. Full of vivid characters and stimulating man-sex sequences, DOMINATION will raise your expectations even higher than SUBMISSION did.
Domination
Pairing: M-M
April 23, 2018
Word Count:
68000
Character Identities:
Gay, Transgender
Summary:
"He's waiting for me to ask, and I'm afraid."
"I'm just one more gay guy here." Moving to the suburbs of L.A. was supposed to give Nic Montero a fresh start. After escaping his family, coming out as a gay trans man, and excelling in computer programming out of desperation to get financially stable or die, everything should be easy. But joining gay culture now, post-transition, feels impossible... until he runs into the force of nature that is Kyle. Everything Nic isn't, Kyle embodies. Green hair, garters and cut-off shorts, sports jerseys, and all, brash Kyle is the most gorgeous man he's ever laid eyes on, and he pulls Nic headlong into the center of his world. If only Nic felt like enough for a man like Kyle. "One-night stands are my only option." Loud, loving, and too much for most men to handle, Kyle Everett catches eyes and occasionally scorn... even at his job at the local HIV charity, Plus. His days and nights are spent at work, his precious spare moments spent with his son, Kevin, when it's his turn to co-parent, or his best friend, drag queen River. He only has money or time for cheap flings, but the lanky otter who walks into his life makes Kyle want to hold him for longer than a night. He knows what it's like for Nic to be without a family, but he isn't brave enough to let this man into his life... until his charity is targeted by bigots, and Nic's there for him. "I'll stay with you if you're brave enough to be you." Nic spent his twenties avoiding family and even his own femininity, but his yearning is impossible to ignore. Kyle's used to flying solo, but Nic offers him safety and fills gaps in his life he never realized existed and now can't stand. Living in close proximity, they can't run from their attraction, but they're each used to being rejected, with the emotional scars to prove it. Can two men who feel like they're not enough and too much find something just right? Flaunt is a standalone gay romance novel with a happily ever after ending. 2017 Rainbow Awards Winner in Best Transgender Contemporary Romance & Finalist in Best Transgender Book!
Flaunt
Pairing: M-M
January 31, 2017
Word Count:
230,861
Character Identities:
Gay
Summary: The tiny Sierra Nevada community of Stone Acres looks benign on the outside, but it's been a hive of activity since gay men from Silicon Valley began moving in. The Old Town establishment is up in arms as newcomers challenge the conservative community to move into the new millennium. Along the way, gay couples find true love and a new home. Contains the stories: What's in a Name?: When barista Jimmy is dumped and gets drunk on his 30th birthday, a handsome, hunky bartender takes care of him, but is mum about his real name. When Jimmy presses him, the bartender makes the quest a game, giving him seven guesses and promising romance each night. For every wrong guess, Jimmy has to forfeit a hot, sexy kiss. Sounds good, but what's the catch? Redesigning Max: Out and proud award-winning designer Fredi Zimmer takes on straight outdoorsman Max Greene's cabin renovation. When he finds out Max is closeted and wants to come out, Fredi helps Max remodel not only his cabin but his life. Angered that Fredi has turned him, Max's former friends intervene. Will Fredi and Max win the fight for their happiness? Behr Facts: After CEO Abe Behr discovers discrepancies in his construction company accounts, he hires CPA Jeff Mason to help him find the embezzler. Searching for the culprit, they become closer, and Abe realizes he's gay. However, coming out to a hostile family and community may break up the couple before they cement their happiness. With so much strife, will love prevail? When Adam Fell: Jason's drug addiction ripped them apart. Does Adam want to get back together now that his former lover says he's clean? Relative Best: When hotel owner Zeke Bandy meets Vic Longbow, he sees stars. But Vic is in town to attend a wedding and to open an office, not to fall in love. Are they doomed as lovers because they're both too busy for happily ever after? Frank at Heart: What will it take to make hardware store owner Frank update himself and his store? Could the new man in town be the key to unlock Frank's life and future happiness? Waking the Behr: Ladies' man and small town contractor Ben Behr is blindsided by his lustful feelings for San Francisco entrepreneur Mitch O'Shea. Can a country mouse and a city mouse bridge the gap in their upbringing and expectations to find love? Short Order: Amid the happiness of the Christmas season, horticulturist Fen Miller and his landlord sous chef John Barton have some serious decisions to make. Fen must decide on a career and John on eluding his grim past. Together can they support each other enough to discover their happily ever after?
Foothills Pride Box Set
Pairing: M-M
July 31, 2021
Word Count:
65000
Character Identities:
Gay
Summary: He can't have the family he wants, but he may get the love he deserves. Isaac didn't expect to find love at his family's Christmas dinner, but that was before he met his sister's new fake boyfriend. Tall, muscular, and tattooed, Logan is what Isaac would love in a partner—and also everything his parents would hate in one. Not that they know Isaac's gay. That doesn't stop him from dating Logan—unbeknownst to his parents, and with his sister's approval after she fake dumps him. The pair dive into a whirlwind romance of motorcycle rides, cheesy puns, and hot sex. They meet each other's friends and fill their time with happiness and laughter. It's all perfect. Until Isaac suggests they move in together, and Logan asks Isaac to come out to his parents. Isaac wants to, but he's scared; he doesn't want to lose his family. Unfortunately, he can't see that his real family has been right beside him all along.
Hard Truths
Pairing: M-M
October 1, 2018
Word Count: Information not available
Character Identities:
Bisexual, Gay
Summary: In one tragic night Steven loses everything: his lover, his dreams, and his sight, but he gains the compassionate, caring dominant he has always longed for. He starts to rebuild with Nick, a fellow survivor of the tragedy, and together they discover new heights of love and ecstasy, and the real magic they can create together. Nick must teach Steven not only how to have a healthy and consensual BDSM relationship, but how to navigate the ways of magic. You see, Nick is secretly a mage, and the longer they're together, the more obvious it becomes that Steven is one, too. But as Steven begins to wield his new--and terrifyingly strong--powers, he draws the attention of evil beyond our world. The ancient enemies of the faerie courts have banded together under a cruel, calculating leader, and Steven is the only one standing in his way. Only Steven can defeat this threat... And he doesn't have the first clue where to start.
Heart's Master
Pairing: M-M
December 15, 2016
Word Count:
53000
Character Identities:
Gay
Summary: Years ago, empath Elijah Long made a bad decision, and he is still paying for it. He's kept hidden from his abusive werewolf ex for years, but when he wakes in a dark room, cuffed to a wall, he knows he's out of luck. Elora, his psychic sister, will come for him, he just has to endure long enough to give her a chance to find him. Captain Kol Jaecar of Rockshade's Paranormal Investigations Department detests slow times at work, so when Elora wants time off to search for her brother, Kol treats it as if it's a real case and starts an investigation. What he assumed was a brother not picking up when his sister called turns out to be something else. Elijah experiences people's emotions so strongly, it prohibits him from living a normal life. Spending time in the city is out of the question, yet it's where Elora takes him once she finds him. Elijah does his best to keep his distance, especially from the growling man Elora brought to his rescue. Elijah will never make the mistake of getting close to a shifter again. The moment Kol smells Elijah, he knows he's his mate, but how to get close to someone who doesn't want to be near you? The man who abused Elijah is still on the loose, and Kol calls in the entire team to hunt him down. But how are they to keep Elijah safe when he can't be around people? And how will Kol stay sane if he can't touch his mate?
Mind Scrambler
Pairing: M-M
January 30, 2021
Word Count:
94k
Character Identities:
Bisexual, Gay, Straight
Summary: Things are changing fast in Karrie Hayes's young life. The pressure from an unknown stalker has become incessant, fear is a constant companion, and her place in Darrius's bed as one of three appears cemented now. But her hand is forced by things greater than herself, and although Darrius is hesitant to settle down with Karrie, there is a man who would kill to capture that fairy tale future with her. Ty Lansing's outlandish life has become more than his boyfriend, Otto Ryerson, can handle. When murder comes knocking on Otto's door, his incessant hunt for answers causes Ty to make a move that shatters Otto's already fragile heart. However, the dangerous situation building around Otto and his friends requires a clearer mind than Otto would like, and it changes Ty's plans and cuts his timeline short. The stakes are high, no one is safe from the finger of accusation or the pain of guilt, but Ty has the opportunity to save the girl and clear his name—but will he be smart enough and quick enough to pull it off? With the final book in Set 2 of the Blurred Lines Series, Remote Capture will have you riding on the edge of your seat, cheering the hero!
Remote Capture
Pairing: M-F, M-M, M-M-F
August 21, 2020
Word Count:
18000
Character Identities:
Gay
Summary: College professor and website designer Drew Hampton has had only one great love in his life. A loner as a teen, he found solace in art, his self-styled mullet, and the television show ALF. Then a new boy moved in next door, and he discovered love. Mechanic Wes Harrison was thrown into adult responsibility at a young age. He's managed to build a good life through hard work and determination; however, he hasn't been in a relationship since high school. Drew and Wes were deeply in love thirty years ago, but then they were torn apart. Unlucky at relationships after their separation, both men treasured memories of their one true love. Fate intervenes and gives them a second chance. Will they rekindle their once great love and find happiness, or has too much time gone by?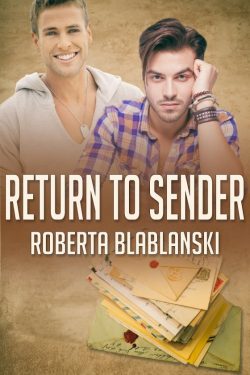 Return to Sender
Pairing: M-M
November 17, 2018
Word Count:
51000
Character Identities:
Gay
Summary: Brent shows up on Corey and Shane's doorstep in the dead of winter needing a place to stay—and hopeful his mates will provide it, and not mind he's a frog shifter. Being a shifter is nothing new to Corey and Shane, but neither is being mates. They've been together since before they first met Brent ten years ago—back when Brent was Brenda. Bringing a third into their relationships is more than a little complicated, but they're willing to try.
But change is always easier said than done, and Brent wonders if he ever really stood a chance at being happy with the men he has always loved and admired.
Sharing a Pond
Pairing: M-M-M
November 18, 2015
Word Count:
34,000
Character Identities:
Gay
Summary: Trey has a problem he's worked hard to manage. It involves not turning into a bumbling mess while around a gorgeous brown-haired man who's way out of his league. Eight months' practice from being part of the same LGBTQIA+ adventure group, Outback Boys, means he's perfected the skill. That's until an epic stumble makes his head spin and he throws all caution to the wind. But there's no turning back now, especially since a snow-filled trip means they're forced to spend even more time together. Mark has no concerns about the changes unfolding between him and Trey, the giant of a man who's adorably reserved. He's been crushing on him for so long that he's eager to explore more. But when their latest adventure is over and they fall back into the real world, balancing work, life, and a relationship proves more challenging than he envisioned. Something has got to give, and neither man knows the best way ahead without upsetting the status quo. Can the two Aussies work their way through their new connection, or will they stumble at the first hurdle in their way?
Stumble
Pairing: M-M
January 14, 2021
Word Count:
115000
Character Identities:
Bisexual, Gay, Straight, Transgender
Summary: A group of strangers meets at Ragazzi, an Italian restaurant, for a cooking lesson that will change them all. They quickly become intertwined in each other's lives, and a bit of magic touches each of them. Meet Dave, the consultant who lost his partner; Matteo and Diego, the couple who run the restaurant; recently-widowed Carmelina; Marcos, a web designer getting too old for hook-ups; Ben, a trans author writing the Great American Novel; teenager Marissa, kicked out for being bi; and Sam and Brad, a May-September couple who would never have gotten together without a little magic of their own. Everyone in the River City has a secret, and sooner or later secrets always come out.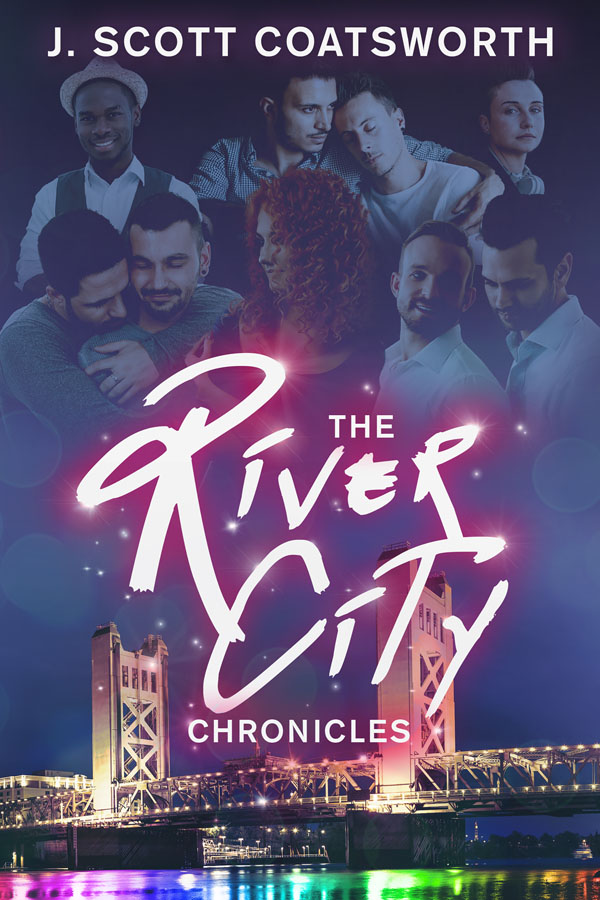 The River City Chronicles
Pairing: M-F, M-M
May 30, 2018
Word Count:
115000
Character Identities:
Bisexual, Gay, Straight, Transgender
Summary: A group of strangers meets at Ragazzi, an Italian restaurant, for a cooking lesson that will change them all. They quickly become intertwined in each other's lives, and a bit of magic touches each of them. Meet Dave, the consultant who lost his partner; Matteo and Diego, the couple who run the restaurant; recently-widowed Carmelina; Marcos, a web designer getting too old for hook-ups; Ben, a trans author writing the Great American Novel; teenager Marissa, kicked out for being bi; and Sam and Brad, a May-September couple who would never have gotten together without a little magic of their own. Everyone in the River City has a secret, and sooner or later secrets always come out. Narrated by Michael Lysan.
The River City Chronicles Audiobook
Pairing: M-F, M-M
November 10, 2021
Word Count:
29672
Character Identities:
Gay
Summary:
It wasn't supposed to be REAL! Bigfoot doesn't actually exist. Yetis, shifters, creatures of the night…none of those exist. Right? Right?
There's nothing about perky—some might even say twinkie—Oliver Hughes that would make a skeptic like Sensational News' (Never Fake! We Swear!) reporter Wilson Banks think otherwise. But while pursuing soundbites for a tabloid story about Bigfoot, Wilson witnesses something he wasn't meant to see.
In Wilson's new reality, is there room for love with someone whose dreams are as big as his…er…feet?
This fun novella has a paranormal twist, a hint of mystery, and a flavorful dollop of romantic comedy. Mix it all together for a satisfying HEA!
Keywords: shifter, Bigfoot, comedy, fun, California, mystery, twink, reporter, tabloid
Weekend at Bigfoot's
Pairing: M-M
October 19, 2019
Word Count:
20000
Character Identities:
Gay, Straight
Summary: Eleven lovelorn singletons. Eleven tales of Cupid, catastrophe, and maybe more… These characters have had it with love—or, if not with that, with Valentine's Day. But no matter how they fight it, Cupid refuses to relent. From struggling singles to secret crushes to enemies turned much, much more, these lightning strikes of love will add a spark of hope to your holiday. Worst Valentine's Day Ever flips the script on lonely hearts who seem destined for Valentine's disaster. If you like laugh-out-loud rom-coms, terrible dates gone right, and gorgeous happily-ever-afters, then you'll love this adorable collection. It ain't all hearts and roses; but these tales of triumph will find your faith in Valentine's Day—and your faith in love—restored. The Worst Day Ever Series The Worst Day Ever Series collects tales of hilarity, hope and survival for characters facing classically-stressful situations. From not-so-happy holidays to doomed-to-be-a-disaster predicaments, they find the love they need to get them through. This series is proud to feature characters from diverse backgrounds, #ownvoices authors, and a range of romantic themes: contemporary to paranormal, cis/hetero to LGBTQ+, sweet to steamy, body-positive, neurodiverse, interracial/multicultural, and more.
Worst Valentine's Day Ever
Pairing: M-F, M-M
January 21, 2019